This Dark Chocolate Sea Salt Caramel Banana Bread is studded with dark chocolate sea salt caramels make for a great salty-sweet combo.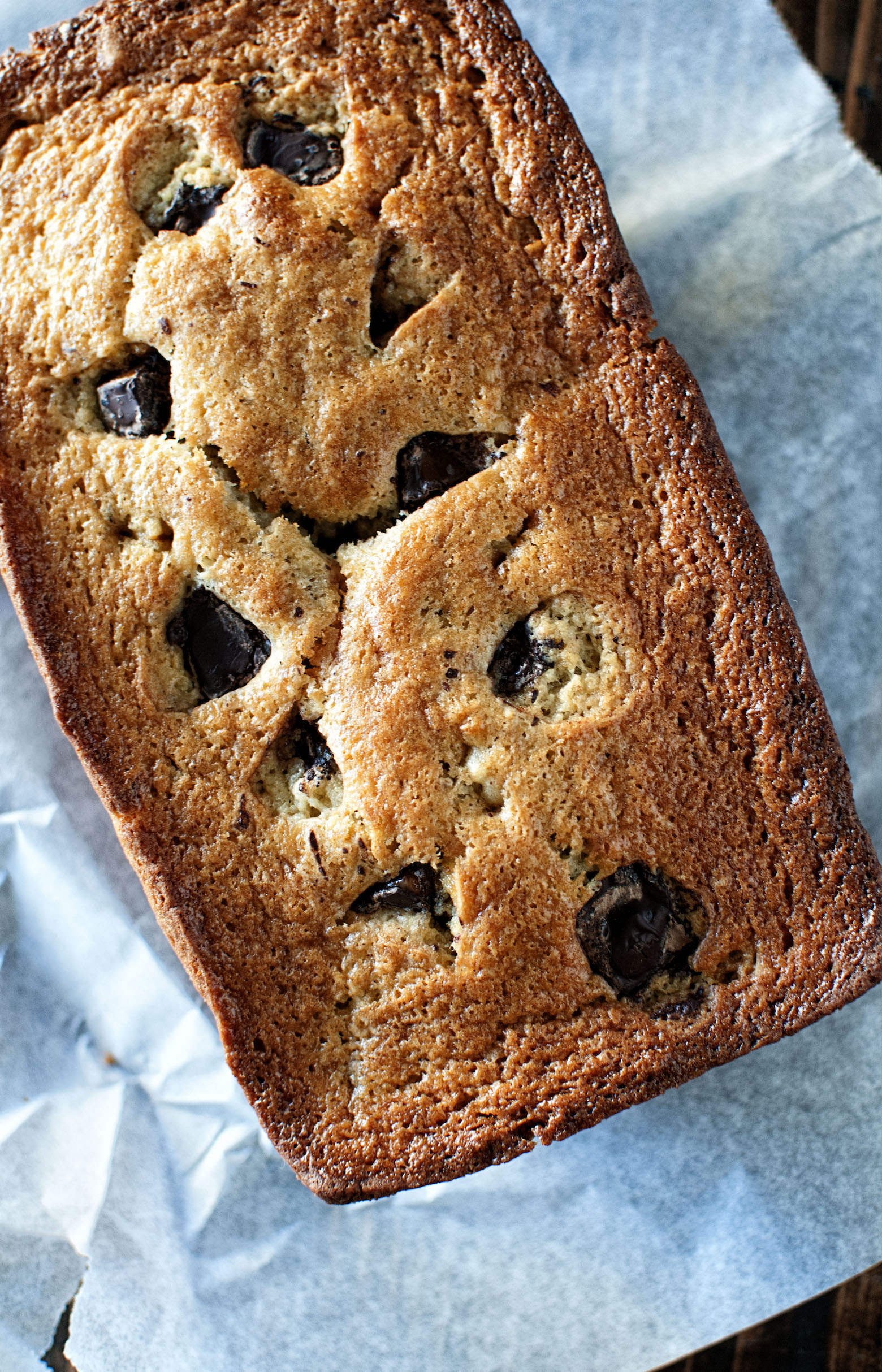 So I am one of the few people that didn't gain weight over the holidays.
In fact, based on my clothing I may have even lost a few.
Why is that?
Was I dieting Thanksgiving through New Years?
Nope.
I was eating normal.
And by being normal I mean not stuffing any and all things in my mouth because I knew come January 1st I was going to deprive myself of all the foods I like.
Now let us all keep in mind that I am fat. I'm running a good 14/16 these days thanks to Prednisone and have for quite some time.
Anyone who is a long time reader of this blog knows that I'm okay with that.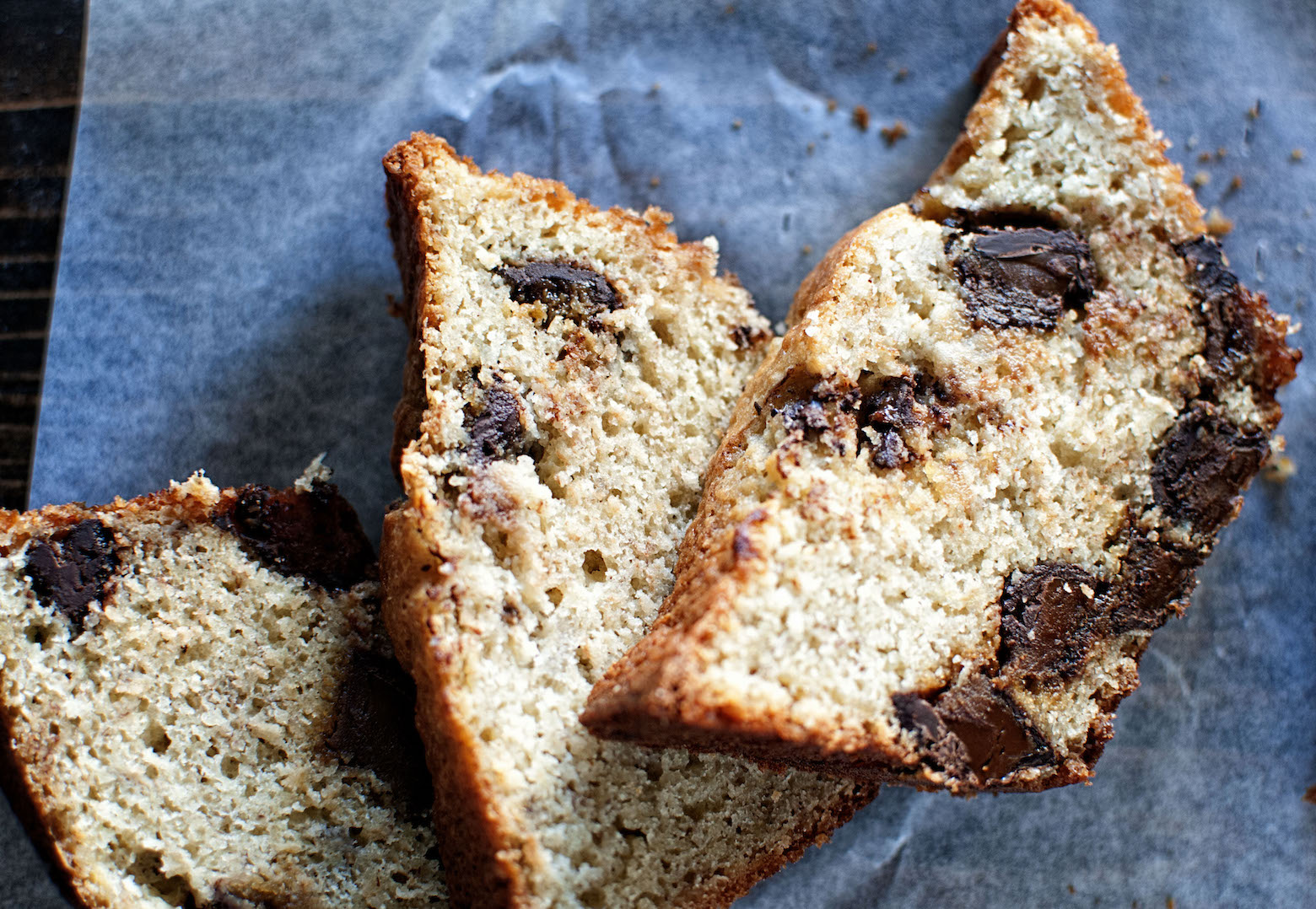 I watched friend and family eat and eat and eat like I had never seen them eat before all saying the same thing…"come January".
I believe in the crazy idea of not eating and eating and eating and then starving and starving and starving.
Because you will lose weight in January.
You may stick with it for some time but at the end of the day if you are a lover of food you will come back to food.
Sorry folks…numbers don't lie.
Another reason to be choosing this banana bread over a kale smoothie right now…besides the obvious kale smoothies suck is that our president has gone a tad crazy on Twitter as of late and is threatening nuclear war with North Korea.
And you don't want to have the last thing you ate be kale…now do you? 😛
This Dark Chocolate Sea Salt Caramel Banana Bread originally started with me trying to use up some fudge.
I thought how yummy would it be to have chunks of fudge in banana bread?
Except I made that three times and it did not turn out.
Mostly due to the butter content in fudge.
But I was rather determined and so I looked at the large jar of Dark Chocolate Sea Salt Caramels (we buy ours at Costco) and thought to myself…hmmm, let's chop up those babies and see what happens.
Yum happens.
You want to make sure to really spray your pan or use parchment and spray…the bread will stick because of the caramels if you don't grease it up good. 🙂
P.S. It's a great day to buy my cookbook Holy Sweet!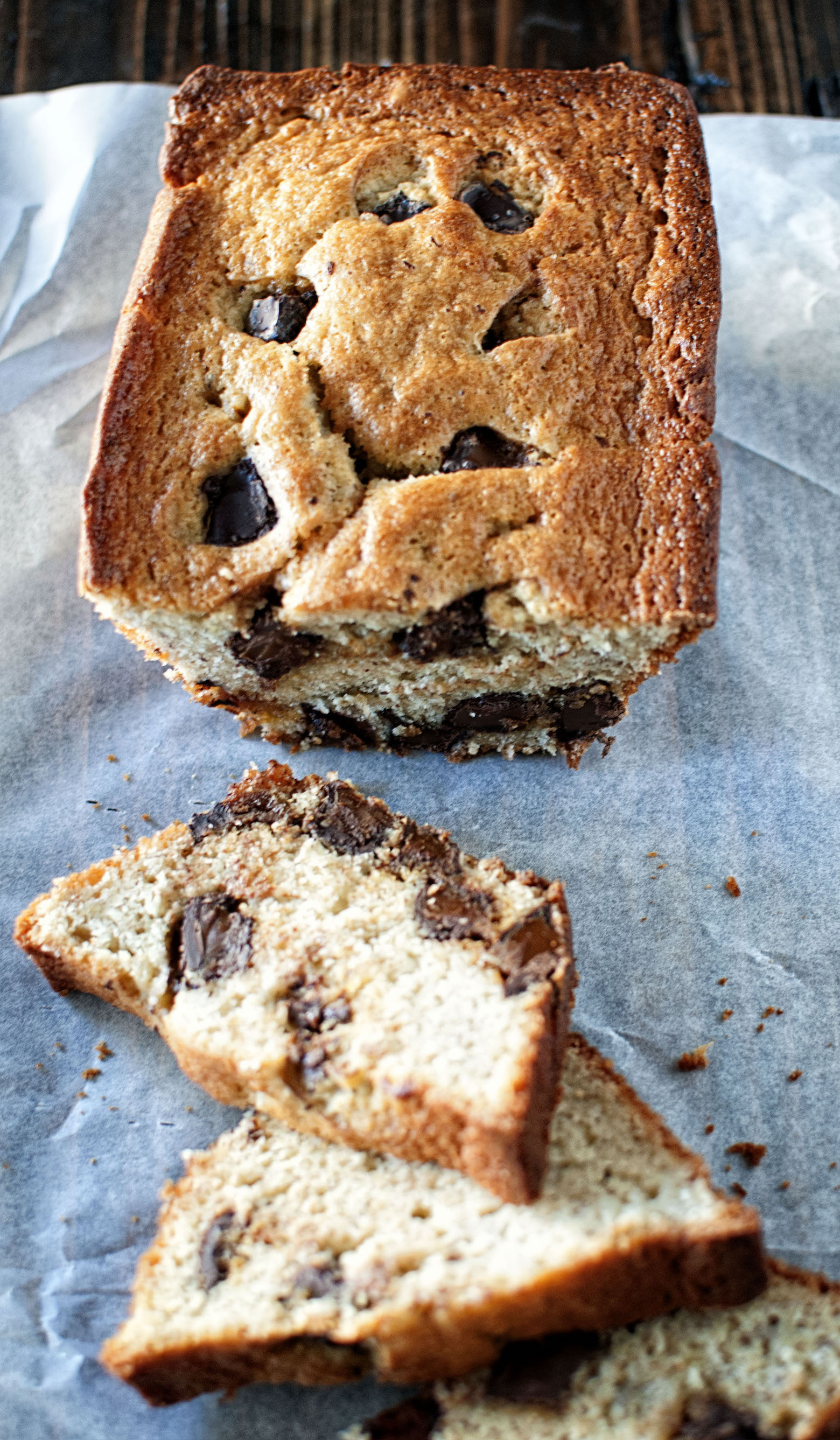 Want more Banana Bread Recipes?
Chocolate Chocolate Chip Sourdough Banana Bread
Dark Chocolate Sea Salt Caramel Banana Bread
Ingredients
½ cup unsalted butter, at room temperature
1 cup granulated sugar
2 large eggs
1 tsp. vanilla extract (I used Rodelle)
1 cup mashed overripe bananas (it's about two medium bananas)
¼ cup buttermilk
1½ cups all-purpose flour, with 1 TBSP removed and set aside
1 tsp. baking powder
¼ tsp. baking soda
½ tsp. fine sea salt
3/4 cup chopped Dark Chocolate Sea Salt Caramels
Instructions
Prepare a 9-x-5-inch metal loaf pan with baking spray. Set aside.
Place the chopped caramels in a bowl with the 1 TBSP all-purpose flour. Coat the caramels in the flour. Set aside.
Using a stand mixer with a paddle attachment cream the butter and sugar until light and fluffy, 3 to 4 minutes on medium.
Add the eggs one at a time and beat.
Then add vanilla extract, bananas and buttermilk.
Sift flour, baking powder, baking soda and salt and fold it by hand using a rubber spatula until the banana batter is smooth.
Fold in the caramel pieces and any remaining flour in bowl with the caramels.
Pour batter into the prepared loaf pan.
You can add a few more dark chocolate sea salt caramel pieces to the top if desired.
Bake for 45 to 55 minutes.
Check the cake with a skewer to see that it is done.
Transfer to a wire rack and let cool for 10 minutes then remove and let the cake cool on a cooling rack. Let the cake cool completely at room temperature for at least a few hours or overnight to let the brownie layer solidify before cutting into slices.
The cake can be wrapped in plastic wrap and stored at room temperature for up to 3 days.