This Crumb Topped Carrot Coffee Cake is a simple single layer carrot coffee cake topped with crumb and they covered in brown sugar cinnamon icing.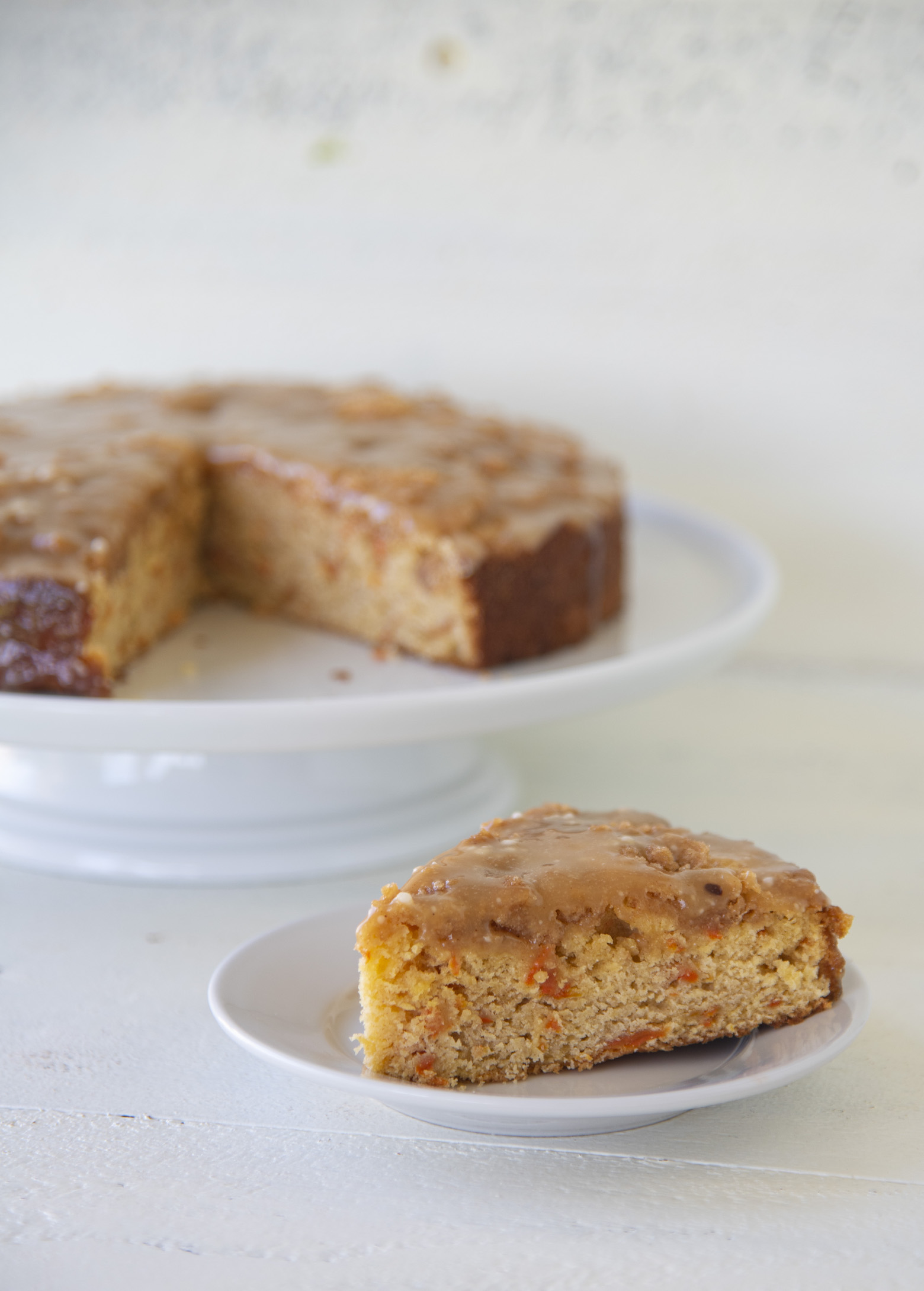 Our president this week came out to say that when this is all over we are to forget about it as quick as possible.
I strongly disagree.
As tragic as it is this pandemic has been a lesson in a lot of things.
It's taught us that there is good in so many people.
So many stepping up and doing what they can to help others.
It also taught us there is bad in people as well.
Who felt the need to buy up supplies and then charge outrageous prices for them.
Or those that ignore our healthcare workers begging us to stay home and they have gone on about their lives and endangering others.
We have learned that even the most introverted need human contact from time to time.
That if we don't drive as many cars around not only are there fewer accidents but the sky gets clear.
I've learned that even though I am for limited government, it is the government that we look to in a time of need.
For me personally and all of my friends who are in the healthcare profession, we believe our federal government didn't do so great.
They are getting better but the denial in the begging made things worse not better…and they did that for the stock market.
I learned that even though we are told over and over how strong our economy is that is not the case.
Our stock market may be strong but that's not the economy.
When businesses, even really big ones, lose a couple weeks of revenue that they might not be able to continue.
People desperately hoping for a single check of $1200.
Because they have no savings and live paycheck to paycheck like many do then the economy is not that great.
And while our stock market rebounds and our president says we will come back stronger from this he isn't talking about the little people, the average person.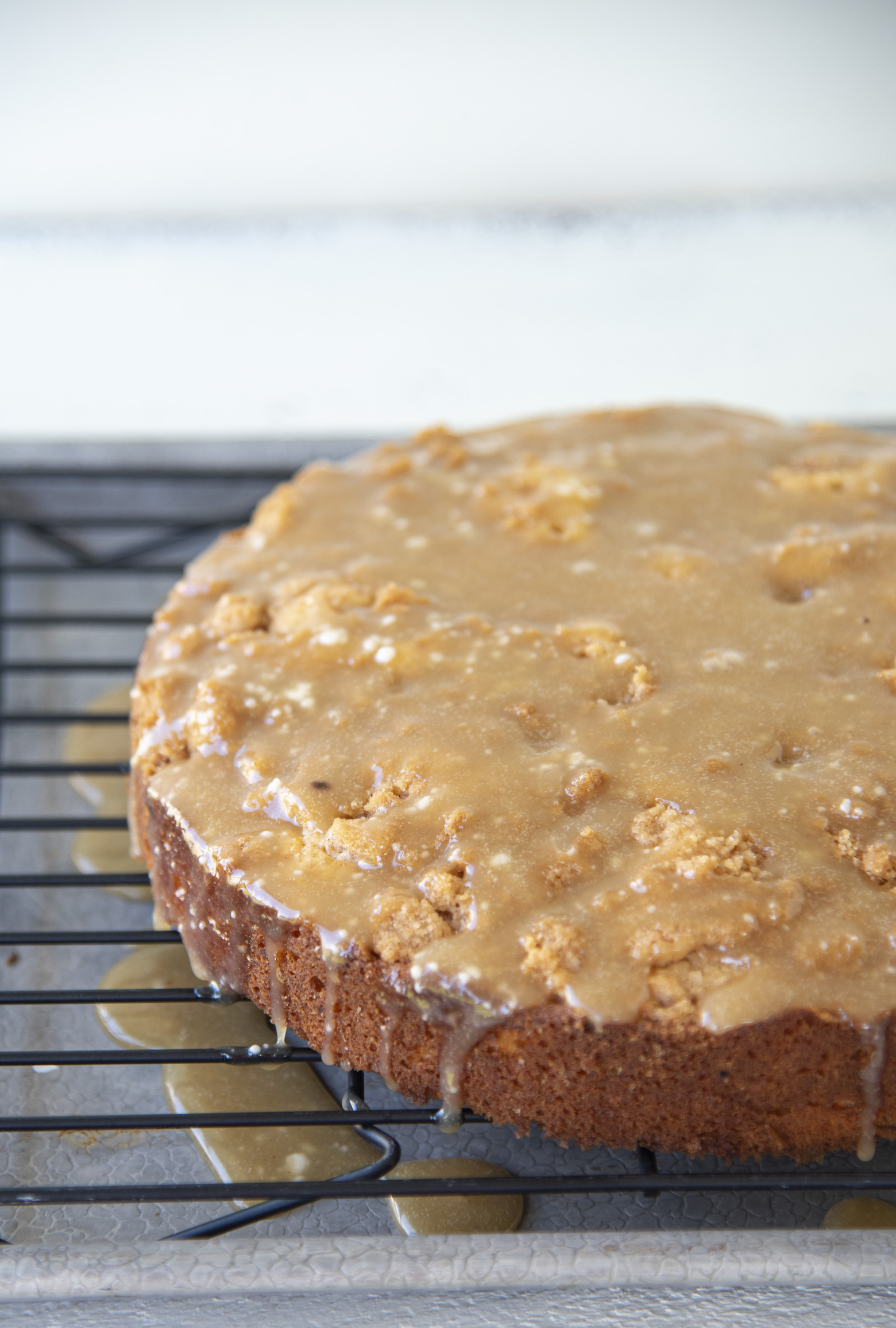 I've discovered that I like the same three pajama bottoms. 🙂
That Netflix and Hulu were a good investment instead of cable.
I've learned that I'm glad I have invested in good cookware and bakeware because cooking and baking have become even more important to me in this time.
I really look forward to new cookbooks coming out.
People are discovering the joy of baking bread.
The real kind.
Bread that takes hours and hours to form it's flavors.
That slowing down isn't a bad thing. Not every hour of my day needs to be filled with something.
I've learned I don't seem to worry about things like sifting powdered sugar.
As is obvious from my photos of the glaze. 😛
That a simple Crumb Topped Carrot Coffee Cake is just as good as a complicated layer cake.
So when all is said and done I hope you don't forget what we all have been going through.
Nothing in my lifetime has ever happened like this (and I hope it does not again).
But it's not something to forget but rather to reflect.
And as always wash your hands and be sure to pre-order my cookbook. 
If you love the recipes on the blog you will love the ones in the book!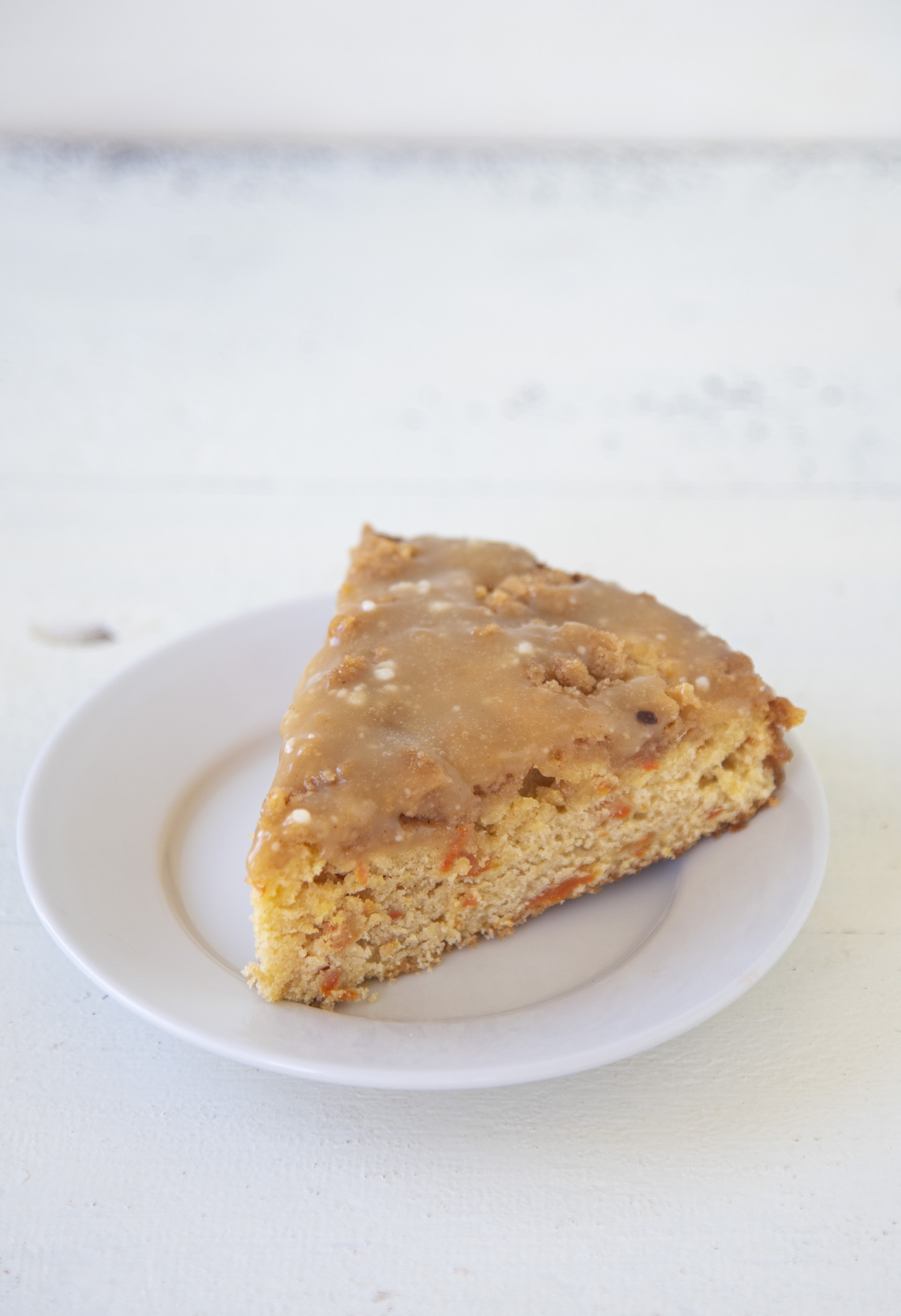 Want More Crumb Cake Recipes?
Blackberry Brown Butter Crumb Coffee Cake
Strawberry Lemonade Crumb Cake
Hummingbird Streusel Loaf Cake
Ingredients
For the Crumb:
1/3 cup brown sugar
1/2 cup all-purpose flour
1/4 tsp cinnamon
pinch salt
3 TBSP melted butter, cooled
For the Carrot Cake:
1/2 cup unsalted butter

1 1/4 cups all-purpose flour

1 tsp baking powder

1/2 tsp salt

1 tsp cinnamon

1/2 tsp ginger

1/2 tsp fresh ground nutmeg
1 cup granulated sugar

2 large eggs

1 tsp vanilla extract

1/2 cup full fat buttermilk
1 1/4 cups grated carrots

For the Glaze:
1/2 cup brown sugar
3 TBSP unsalted butter
3 TBSP heavy cream
3/4 cup powdered sugar
Instructions
For the Crumb:
Mix together the sugar, flour, cinnamon, and salt in a small mixing bowl. 
Add the butter and stir until the dry ingredients are moistened and small clumps form. 
Place the streusel in the freezer as you prepare the cake batter.
For the Carrot Cake:
Pre-heat the oven to 350°F.  Grease and flour a 9-inch springform pan and set aside.
Melt butter in a saucepan over medium-high heat. 
Continue to cook the butter until it browns, about 8 minutes. 
Stir the butter as it browns to keep the butter fat from sticking and burning at the bottom of the pan. 
Meanwhile, whisk together the flour, baking powder, salt, cinnamon, ginger, and nutmeg.  Set aside.
And the sugar to the browned butter and mix on medium speed for a couple minutes.  Make sure the mixture has cooled to room temperature before adding the eggs or you will scramble them. This will take about 10 minutes.
Add the eggs and vanilla and mix until fully combined.
Add in the buttermilk and mix on low speed until just combined.
Turn the mixer to low and add in the flour mixture in two batches.  Stop the mixer before the dry ingredients are fully incorporated.  Fold in the carrots until combined.
Scoop batter into the prepared pan.
Sprinkle the crumb topping over the top of the cake batter.  Bake for 30 to 40 minutes, or until a toothpick inserted into the centre of the cake comes out clean. 
Cool the cake on a wire rack before removing the the ring of the springform pan.  
For the Glaze:
In a small saucepan melt together the brown sugar, butter, and heavy cream.
Bring to a boil and remove from heat.
Stir in the powdered sugar and pour glaze over cake.
Let glaze set up, about 30 minutes.
Serve at room temperature.