This Creamsicle Crumb Cake is topped with buttery crumbs covered in orange vanilla bean ice cream glaze will remind you of your favorite frozen treat.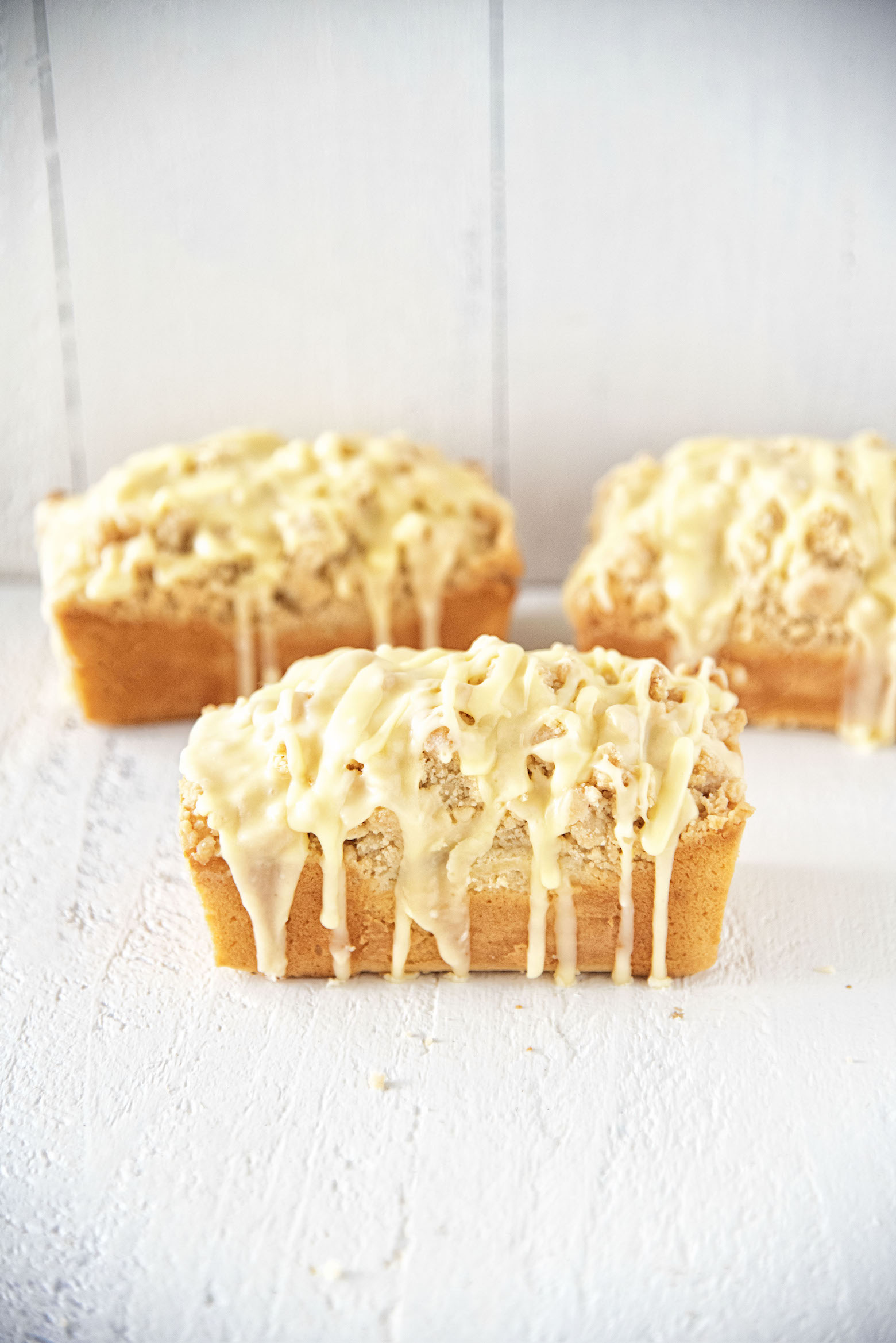 It was daylight savings time today.
And so naturally, like everyone else, I'm all messed up.
Sadly, I shouldn't be.
I mean, I work from home.
So I don't have to go to bed or really get up at a certain time for work.
But I do have to get up to give the dogs pills and breakfast.
Though I fully admit 9 times out of 10 we go back to bed after that. 🙂
If you are suffering like me then you probably need cake to make it better.
I know I do.
I would say a cocktail but those tend to make me sleepy and the last thing I need today is to be more sleepy.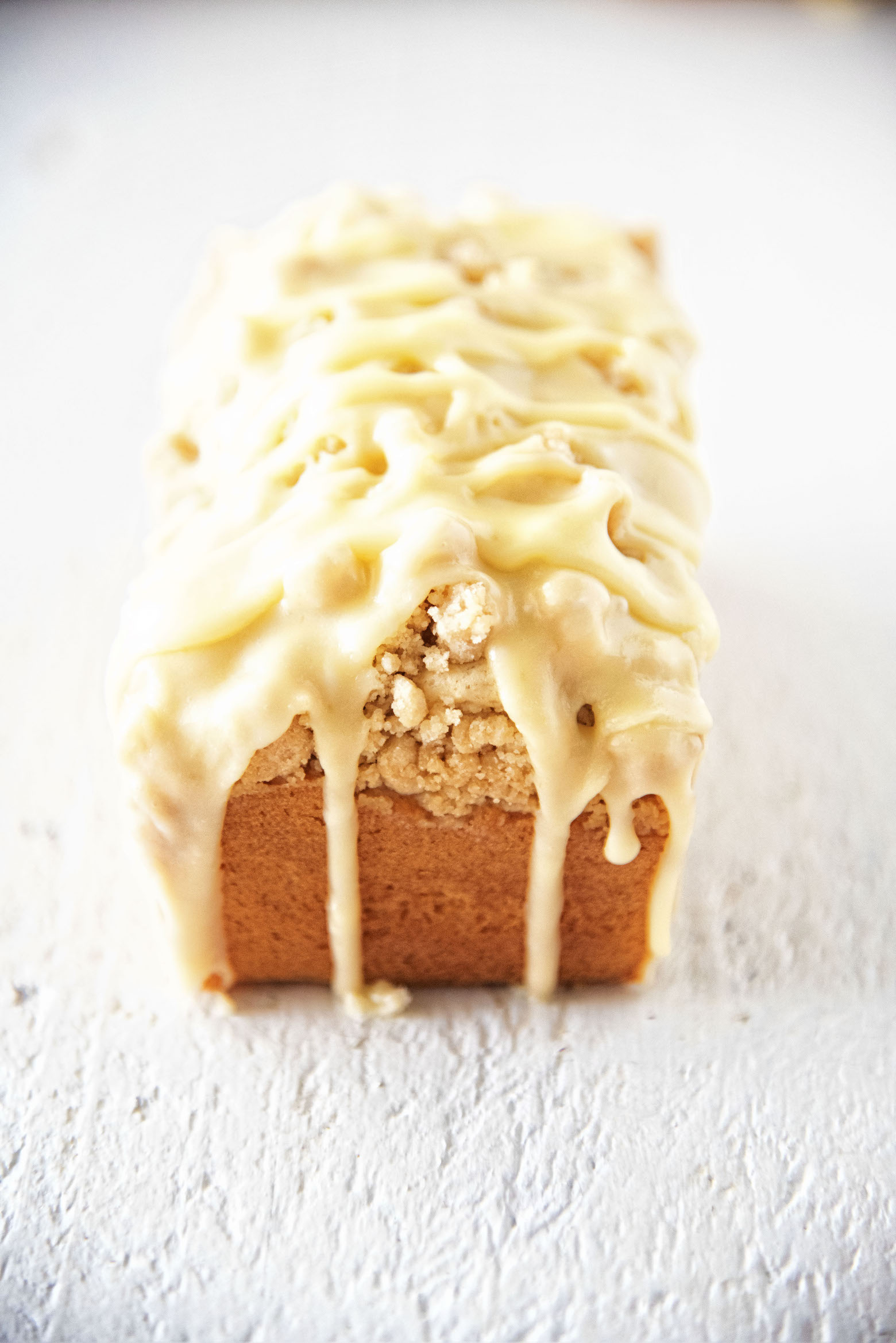 Creamsicles are one of my all time favorite frozen treats.
Crumb cake is one of my all time favorite cakes.
So I decided they needed to join as one and create this Creamsicle Crumb Cake.
One of the great things about this cake is that you use melted ice cream in the glaze.
It really goes from making it just be vanilla and orange to a creamsicle flavor.
And can you really go wrong with crumb topping?
I would put crumb topping on just about anything if I could.
Probably have. 🙂
Been super busy lately but did finally get some baking in.
You can make it as one large loaf but I really do prefer the mini.
I find they bake up nicely and you get to share.
Or if you don't want to share you don't feel as bad polishing off a whole mini loaf. 🙂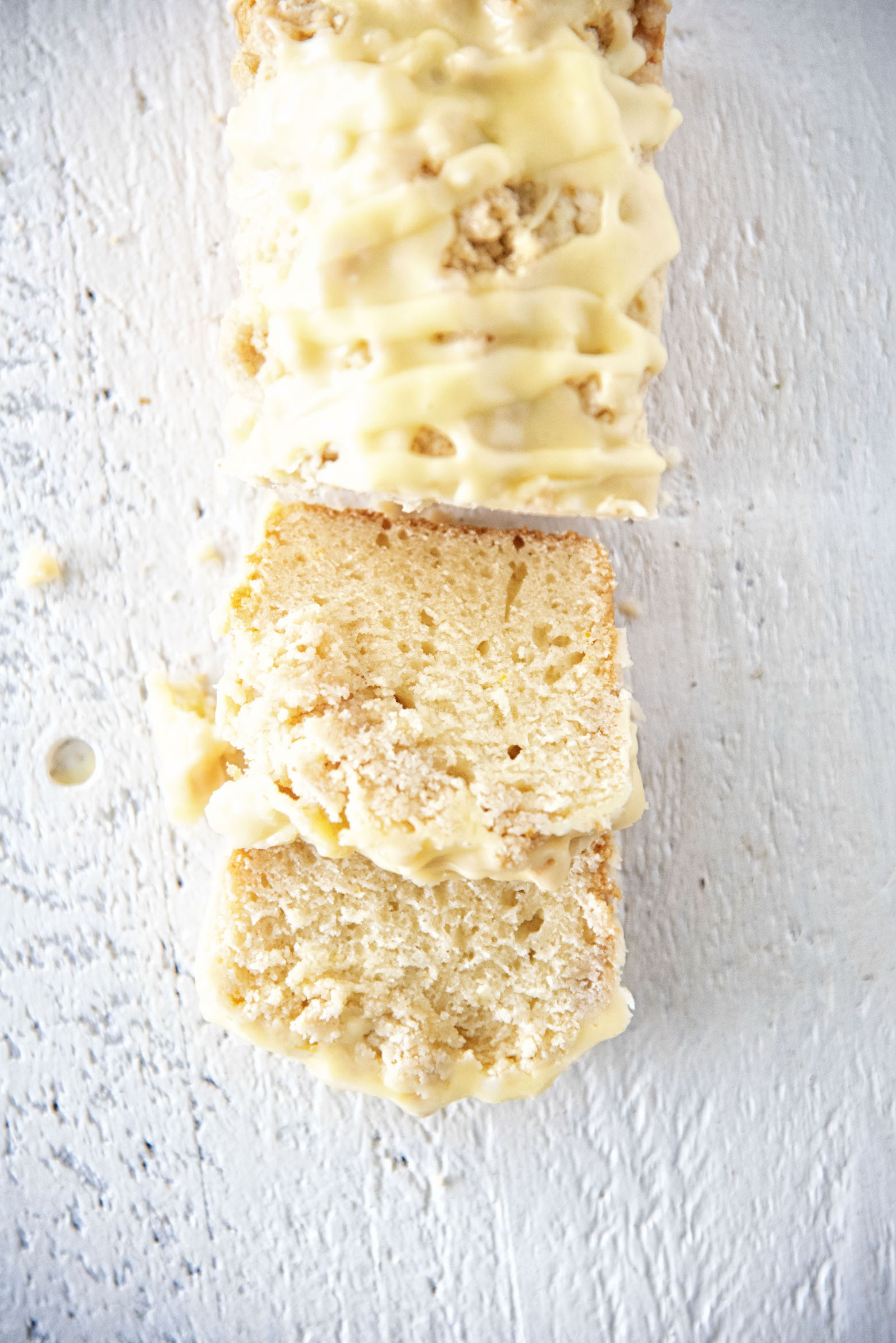 Want More Creamsicle Recipes?
Creamsicle Crumb Topped Cinnamon Rolls
Orange Vanilla Creamsicle Whoopie Pies
White Chocolate Chip Creamsicle Cookies
Orange Vanilla Creamsicle Cupcakes
Creamsicle Marshmallow Jell-O Salad
Ingredients
Crumb Topping:
1/3 cup granulated sugar
1/3 cup brown sugar, packed
¼ tsp. salt
8 TBSP unsalted butter, melted and then slightly cooled
1 ¾ cup cake flour
Cake:
½ cup unsalted butter, at room temperature
1 cup granulated sugar
2 large eggs
zest of one orange
1 cup buttermilk
1 cup sour cream
1 tsp. vanilla bean paste
2 ½ cups cake flour
2 tsp. baking powder
½ tsp. baking soda
Pinch of salt
Icing:
6 TBSP orange juice, fresh squeezed
6 TBSP melted vanilla bean ice cream
4 TBSP melted butter
3 cups powdered sugar
Instructions
For the Crumb Topping:
In a medium sized bowl, put sugars, and salt, and stir until combined.
Add the melted butter and then cake flour and mix (hands work best for this). Set aside.
For the Cake:
Preheat oven to 325F.
Spray baking spray 4 mini loaf pans and set them aside.
In a stand mixer with a paddle attachment cream together the butter and sugar until light and fluffy, about 3 minutes.
In a separate bowl add the buttermilk, sour cream, vanilla bean paste, orange zest, and eggs and whisk until fully combined.
In another bowl add flour, baking powder, baking soda, and salt.
Alternate adding dry ingredients, then wet, then dry, then wet, and finish with dry.
Mix on low until fully combined. Be careful to not over-mix.
Using a regular size ice cream scoop, scoop three scoops per pan. Even out with a spatula.
Evenly divide crumb topping (as evenly as you can) into pieces over top of the batter.
Bake for 30-35 minutes depending on your oven.
Check by using a wooden skewer or knife to see if it comes out clean.
Let cool on wire rack.
While cooling make glaze.
Simply whisk together the orange juice, melted ice cream, butter, and powdered sugar in a medium bowl.
When cakes are cool pour glaze over the top of them. Let glaze firm up.