This Creamsicle Angel Food Cake has a hint of orange in the cake covered in a creamsicle glaze made with melted creamsicle.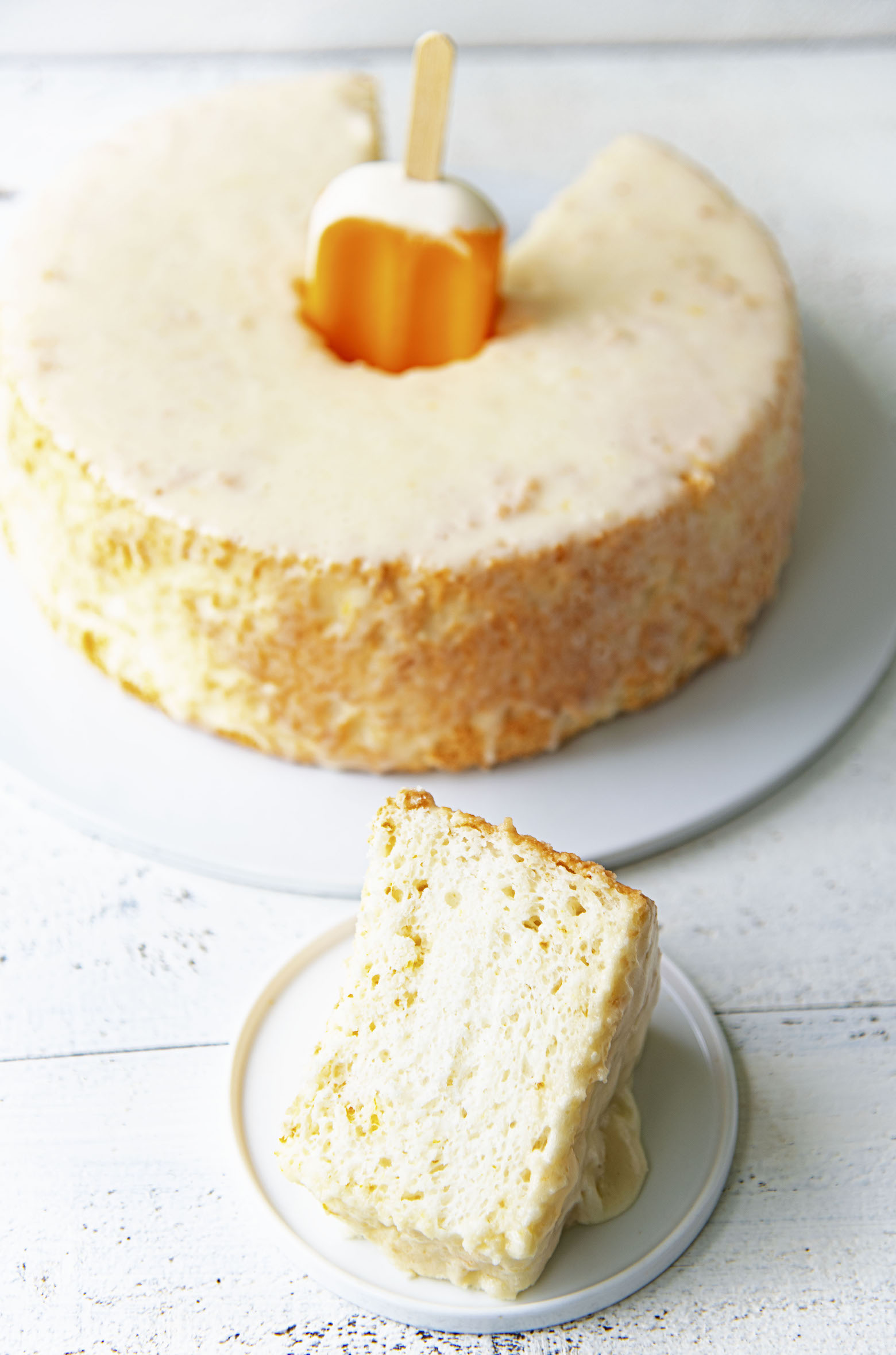 This Creamsicle Angel Food Cake was made for my 17th blog anniversary a few weeks ago.
What I posted for the actual anniversary was the Atlantic Beach Pie.
Which is like a key lime pie.
And it takes yolks.
Angel Food Cake takes egg whites only.
So whenever you see an angel food cake on here, know that I also made a key lime pie. 😀
I've made a variety of angel food cakes on here but this time I wanted something that screamed summer.
Creamsicles scream summer to me….and today is the Summer Solstice.
Many a summer day had me chasing down the ice cream man to get either a creamsicle or drumstick.
And when living in a hot climate that was dedication to run in 100F plus weather to get that. 🙂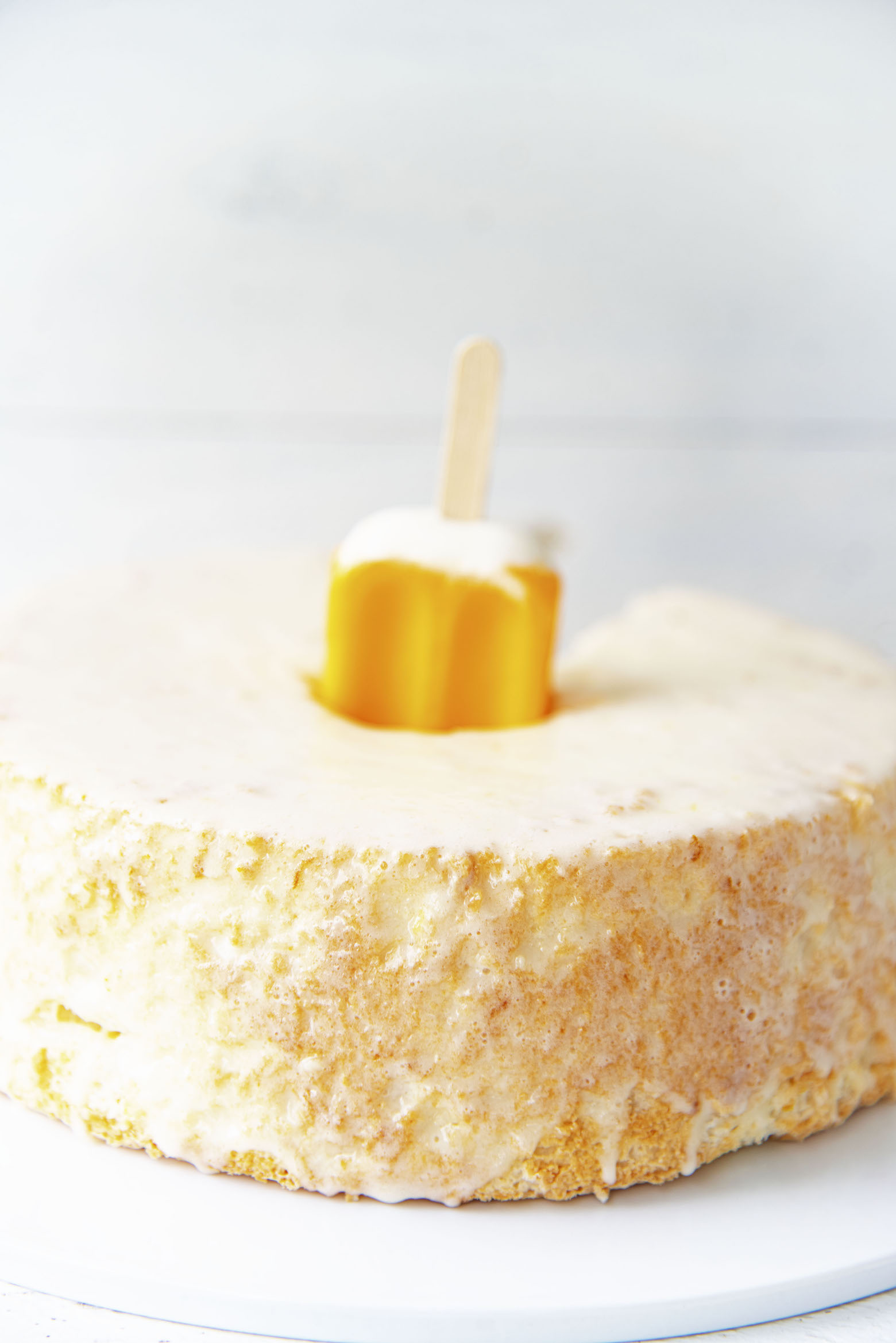 I do make a lot of things creamsicle flavored on the blog.
From Crumb Cake to Jello Salad.
And many, many more.
So I'm actually surprised I hadn't made this flavor before.
This cake does actually use a melted creamsicle.
They do vary in size so you may have to adjust when making your glaze.
If you like a thinner glaze you can add more creamsicle.
Or if you want your glaze thicker you can add more powdered sugar.
I was going to run out of light to photograph the cake so I did not let my glaze set up properly like I should of.
Which is fine because we weren't waiting until the next day to eat it!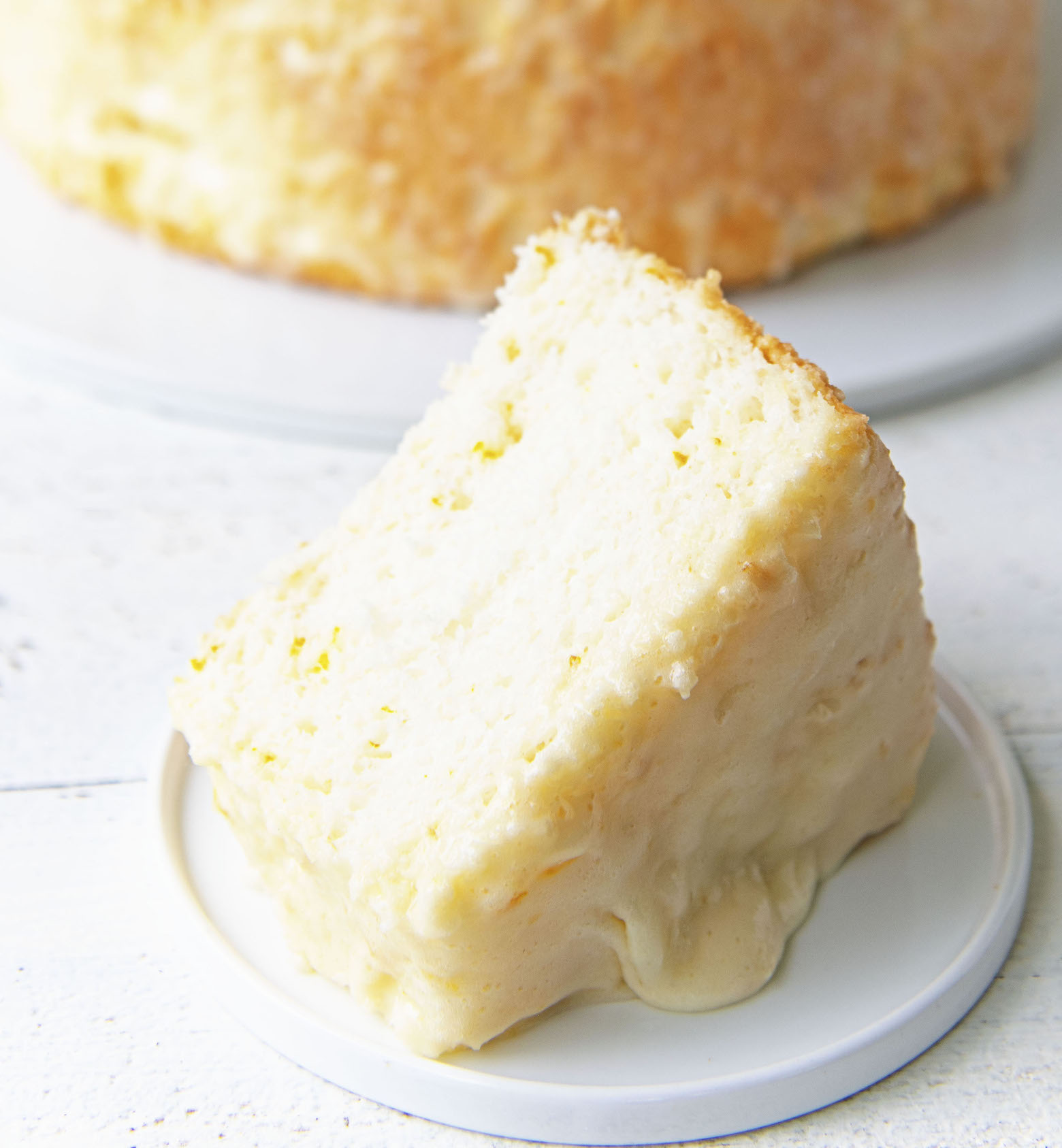 You can eat the cake as is and that would be great.
Since it's berry season we used it as a base for strawberry shortcake.
I highly recommend going that route.
So good.
You can serve it with ice cream.
I think a combo of one scoop vanilla and one scoop of orange sherbet would be awesome with it.
P.S. It's a great day to order my cookbook.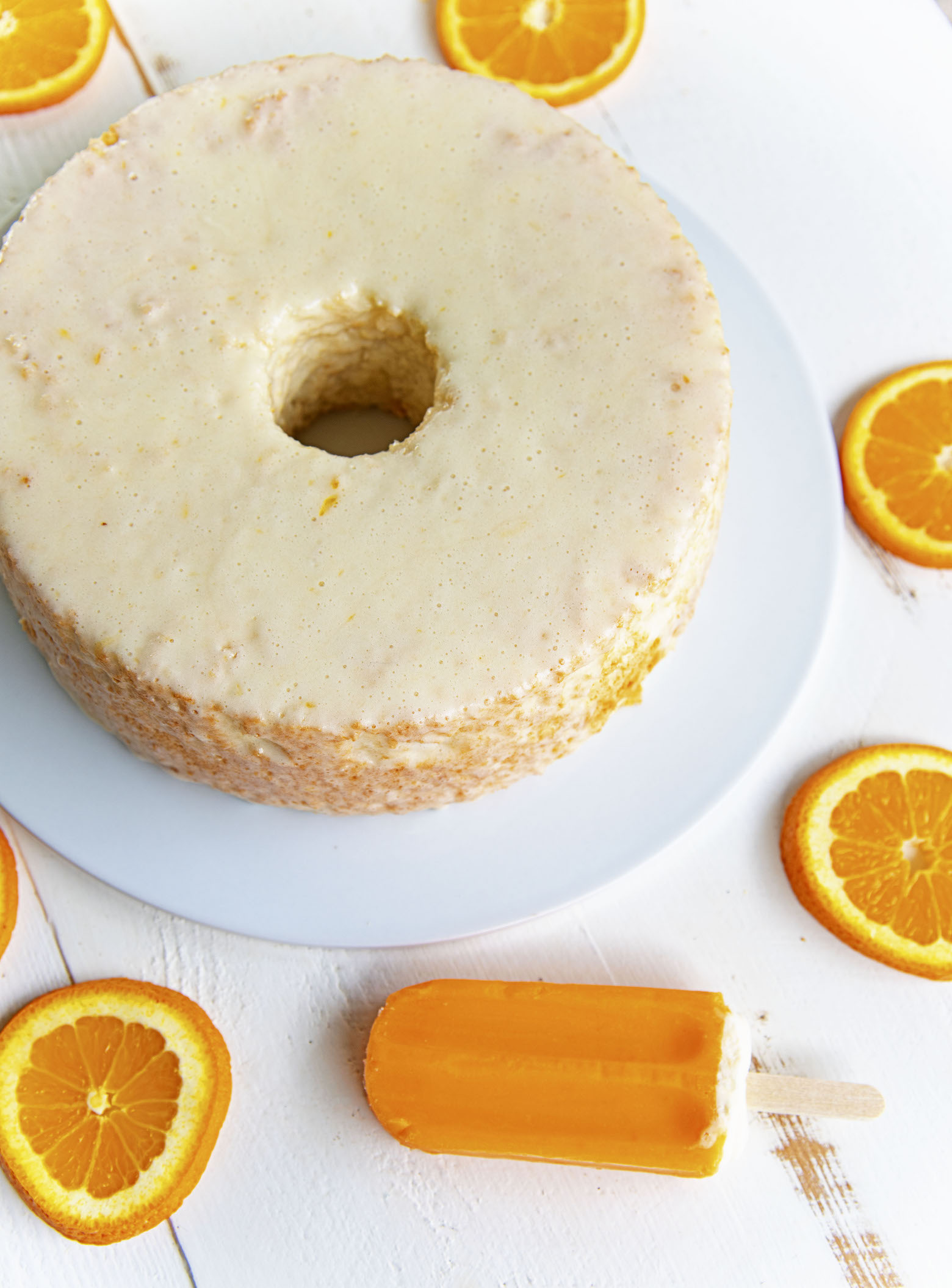 Tips for making Angel Food Cake:
Do NOT grease the pan. You will be tempted to but don't.
Separate the egg yolks from the egg whites while eggs are fresh out of fridge and cold.
Be sure that NO egg yolk is in the egg whites or your whites will not whip up.
Save the egg yolks for making key lime pie or whatever you want.
Once separated leave the egg whites out to reach room temperature.
This will give you higher volume.
Don't overbeat the egg whites.
While you want them stiff you don't want them dry.
Make sure your flour is sifted to make it lighter or else it will weigh down the batter.
Gently fold in the batter.
Carefully transfer the batter (I use an ice cream scoop) to the ungreased pan.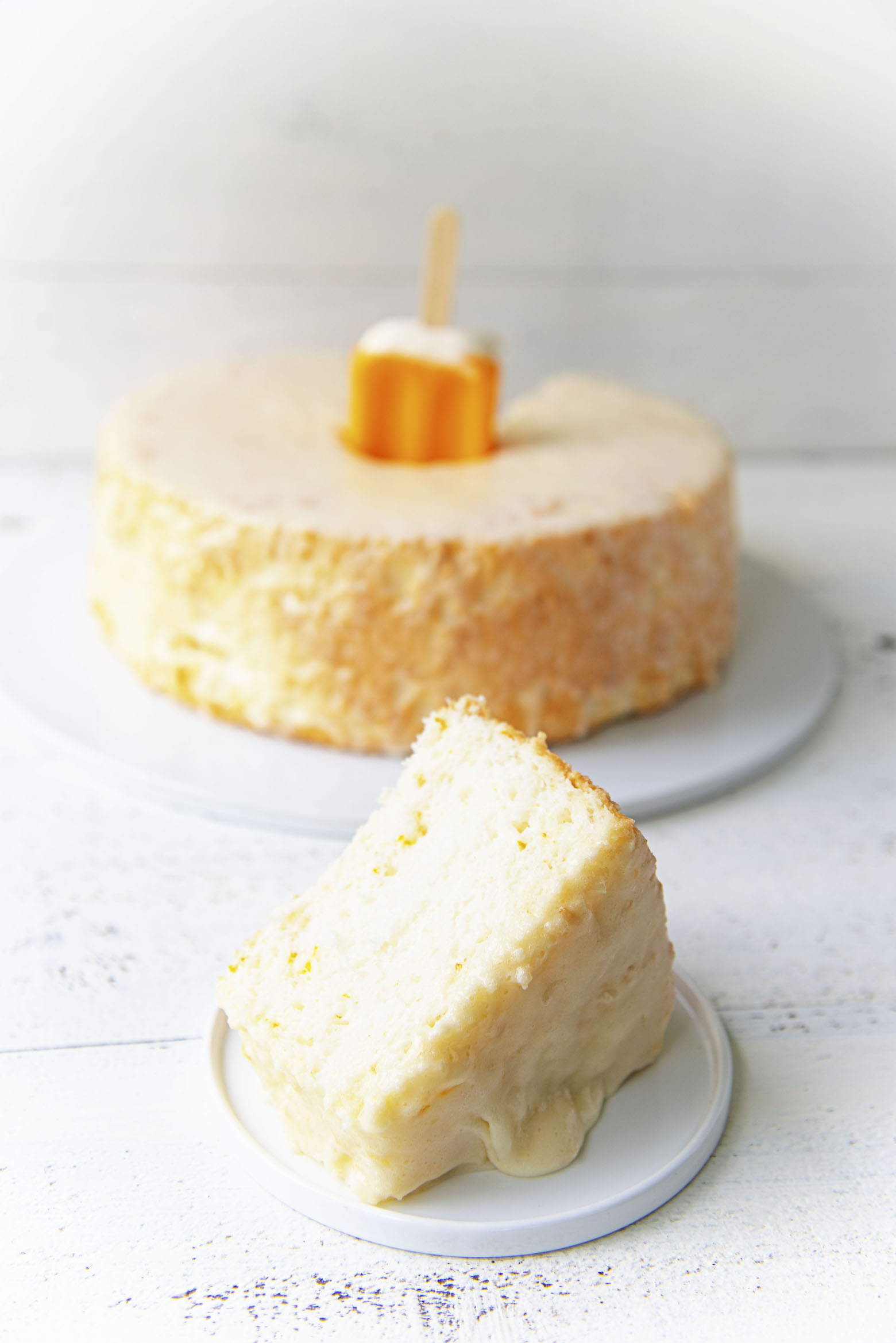 Want More Angel Food Cake Recipes?
Ruby Red Grapefruit Glazed Angel Food Cake
Cherry Cheesecake Angel Dessert
Ingredients
For the Cake:
1 and 3/4 cups superfine sugar, divided
1 cup + 2 TBSP cake flour
1/4 tsp salt
12 large egg whites, at room temperature
1 and 1/2 tsp cream of tartar
1 tsp vanilla extract
zest of one orange
For the Glaze:
3 TBSP unsalted butter, at room temperature
1 ½ cups powdered sugar
1 creamsicle melted
Instructions
For the Cake:
Adjust the oven rack to the lower middle position and preheat oven to 325°F.
Using a stand mixer fitted with a whisk attachment, whip egg whites and cream of tartar together on medium-low until foamy, about 1 minute.
Switch to medium-high and slowly add the 1 cup of sugar one TBSP at a time.
Whip until soft peaks form, about 5-6 minutes.
Add the Buttery Sweet Dough Bakery Emulsion and vanilla extract and beat just until incorporated.
Combine the remaining 3/4 cup of sugar with the salt the cake flour.
In 3 additions, slowly sift the flour mixture into the egg white mixture using a fine mesh strainer, gently folding with a rubber spatula after each addition.
To avoid deflating or a dense cake, don't add the flour mixture all at once. Sift and very slowly fold in several additions.
Pour 1/3 of the batter and carefully sprinkle 1/3 of the sprinkles on top of the batter.
Then add another third of the batter and 1/3 of sprinkles.
Then add remaining batter and sprinkles.
Spread carefully with a spatula to smooth the batter into an ungreased 9 or 10 inch tube pan.
Bake the cake until a toothpick inserted comes out clean, about 40-45 minutes. Rotate the pan halfway through baking.
Remove from the oven, then cool the cake completely upside-down set on a wire rack, about 3 hours.
Once cooled, run a thin knife around the edges and gently tap the pan on the counter until the cake releases.
For the icing:
Whisk all the ingredients together and drizzle over the cake.