This Cream Soda Brownie Pudding Cake is a rich brownie cake that is self saucing with a lovely cream soda brown sugar sauce.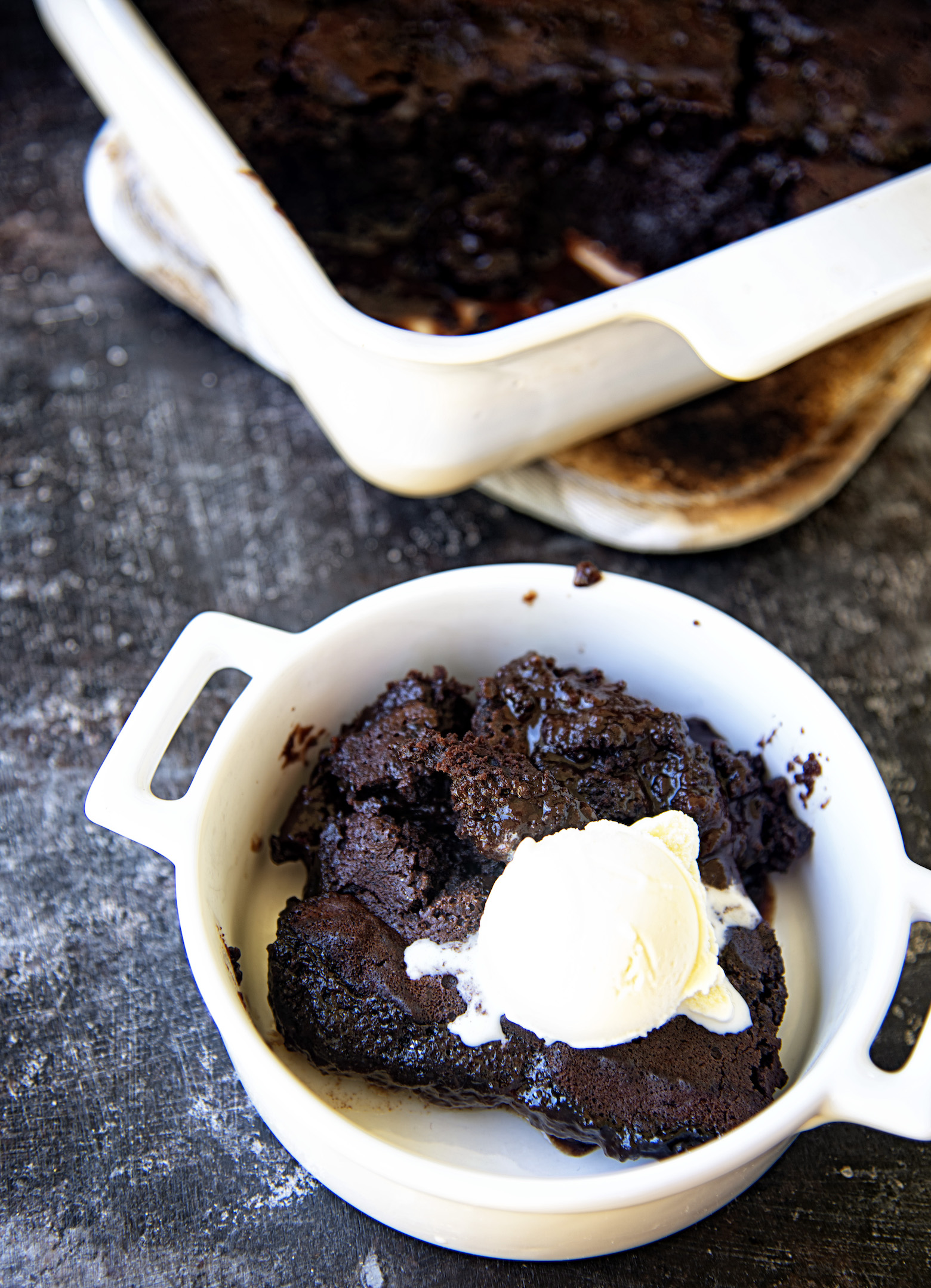 You may have noticed that I'm baking a lot lately.
A lot.
For the first time in a little over 6 years one of our dogs is in hospice mode.
Now we have had dogs pass in those six years.
But the dogs we adopt have heart conditions and they usually pass of congestive heart failure.
Which comes on suddenly and traumatically.
They will seem fine one minute and then 12 hours later you are saying goodbye to them in an ER.
But right now our old grumpy man Mickey is declining.
And while he does have heart disease, the most likely scenario is me having to choose when to say goodbye.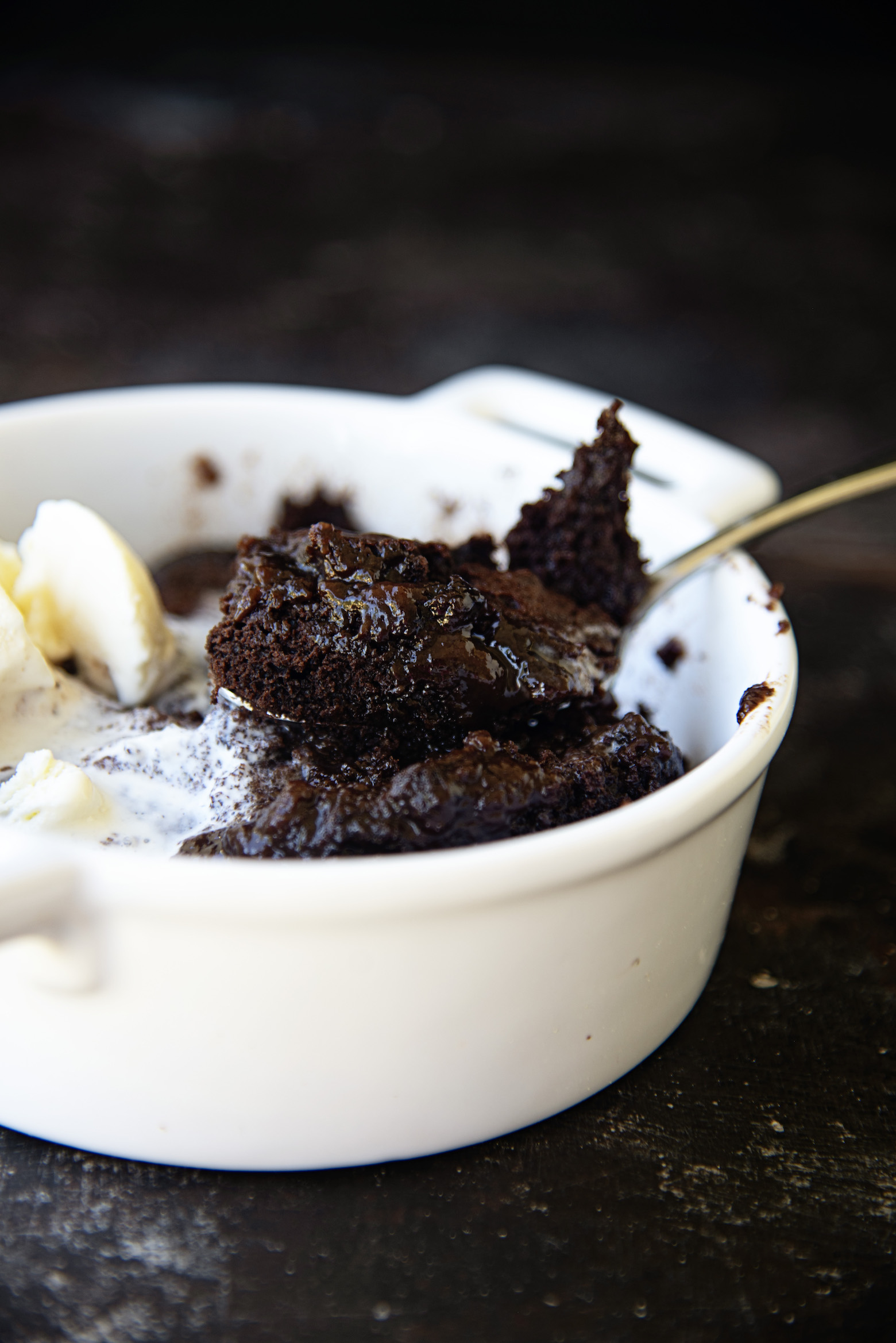 Mickey has a list of ailments a mile long.
Almost every thing a Cavalier King Charles Spaniel can get genetically he got it.
From heart disease to Syringomyelia (a spinal condition).
He always just kept going.
And I think we always just assumed he would keep going.
This summer however took a toll on him.
First he got his paw punctured and then infected with 3 different bacteria, including MRSP (which is the animal version of MRSA).
It took almost three months to clear that up.
During all that time he developed paroxysmal supraventricular tachycardia.
Which we got under control but that took awhile getting the medication right.
And with all that he developed a bulging disc somewhere in the middle of his spine.
Mickey already has two spinal conditions that are progressive.
As the years have gone on the use of his back legs have sometimes become unsteady but he has always balanced himself out with the front ones.
But with the addition of the bulging disc he has to use his front legs so much that the too become too tired and he just flattens like Bambi on ice.
Right now he still has quality of life.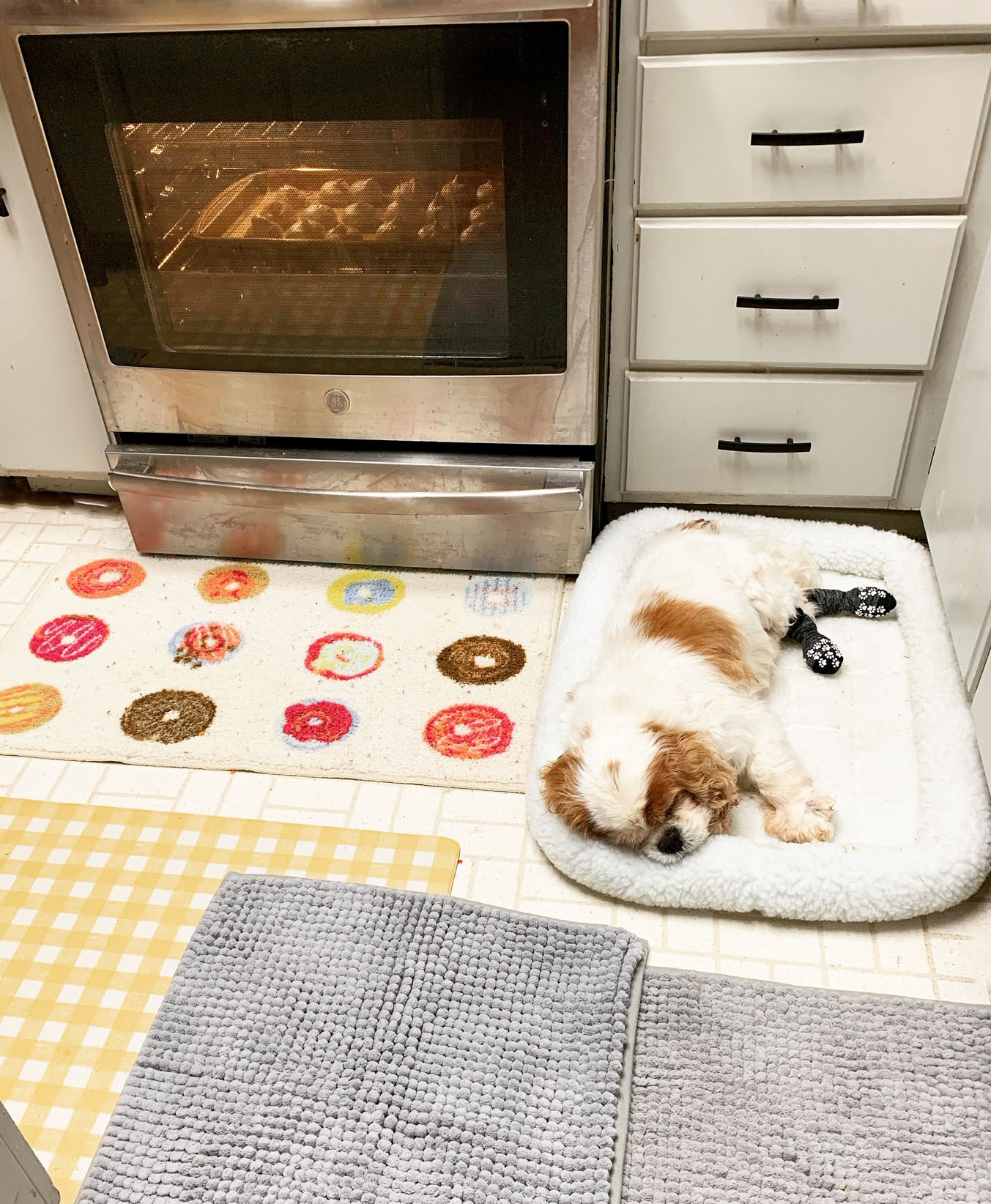 Our house (as you can see) is a patchwork quilt of rugs to make it easier for him to walk.
He has grippy socks on his back paws all day, everyday and on his front paws on the days he is having a hard time.
He spends most of the time in the kitchen.
While my kitchen is only 81 square feet I don't mind working around him because I know one day soon that won't be the case.
When that will be, who knows?
The disc can degenerate slowly or quickly.
And based on how he is progressing I would say it's going quickly.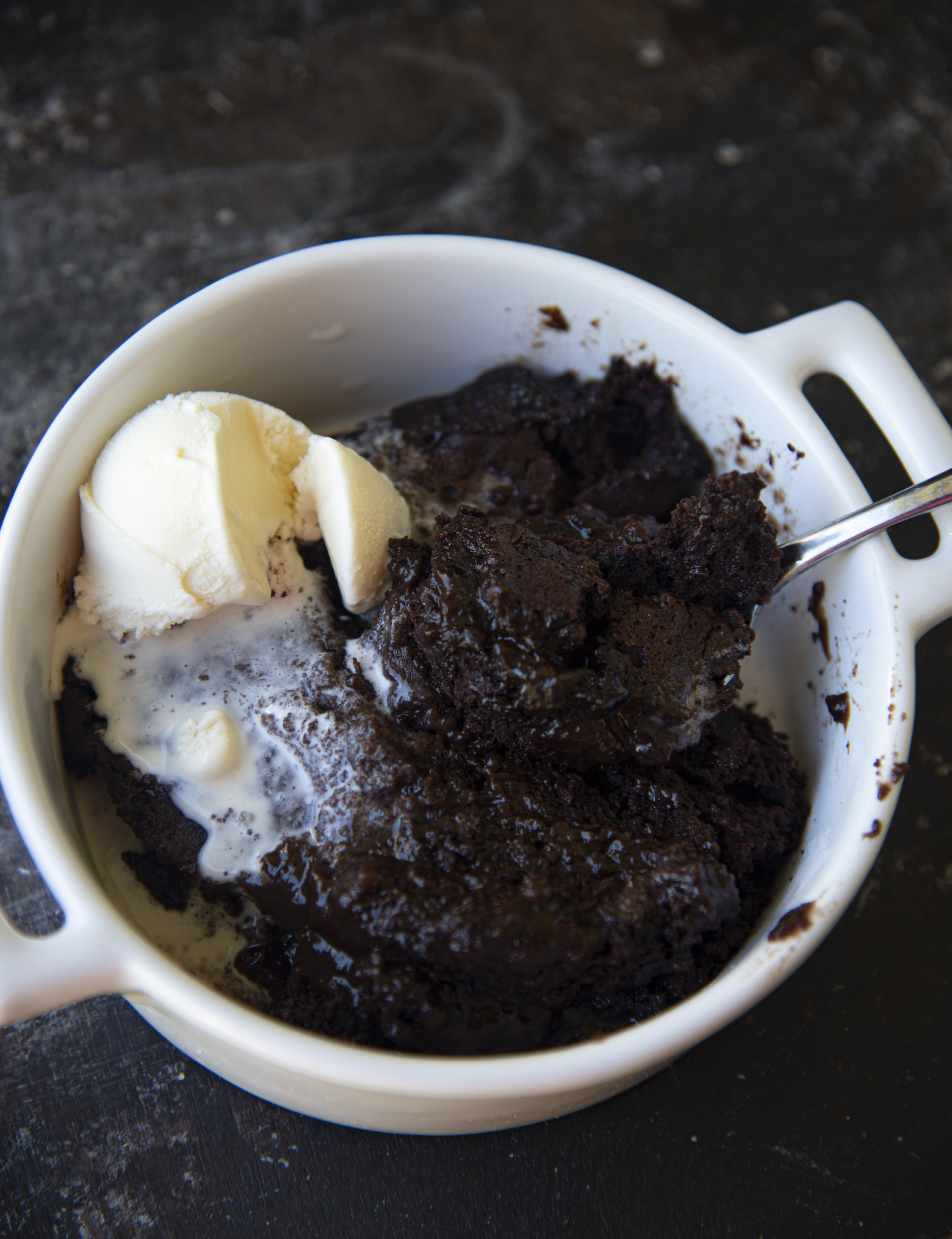 And so I bake to distract myself.
To spend time with him while he lays in the kitchen while I bake.
I also watch a lot of The Great British Bake Off even though I've seen it a million times because it makes me happy and keeps my mind off things.
The British seem to love them some self saucing pudding and so I decided to make one.
I happened to be watching the episode where Nadia makes a cream soda cheesecake and so I was craving cream soda.
Self saucing puddings are ugly.
Especially dark brown ones.
But I kind of wanted a brownie so what I got was a Cream Soda Brownie Pudding Cake.
The cream soda just adds a more creamy vanilla taste.
You won't be able to say hey, cream soda.
But it was something fun to try and it tastes yummy.
Oh, and if you want to cheer me up, feel free to order my cookbook. 🙂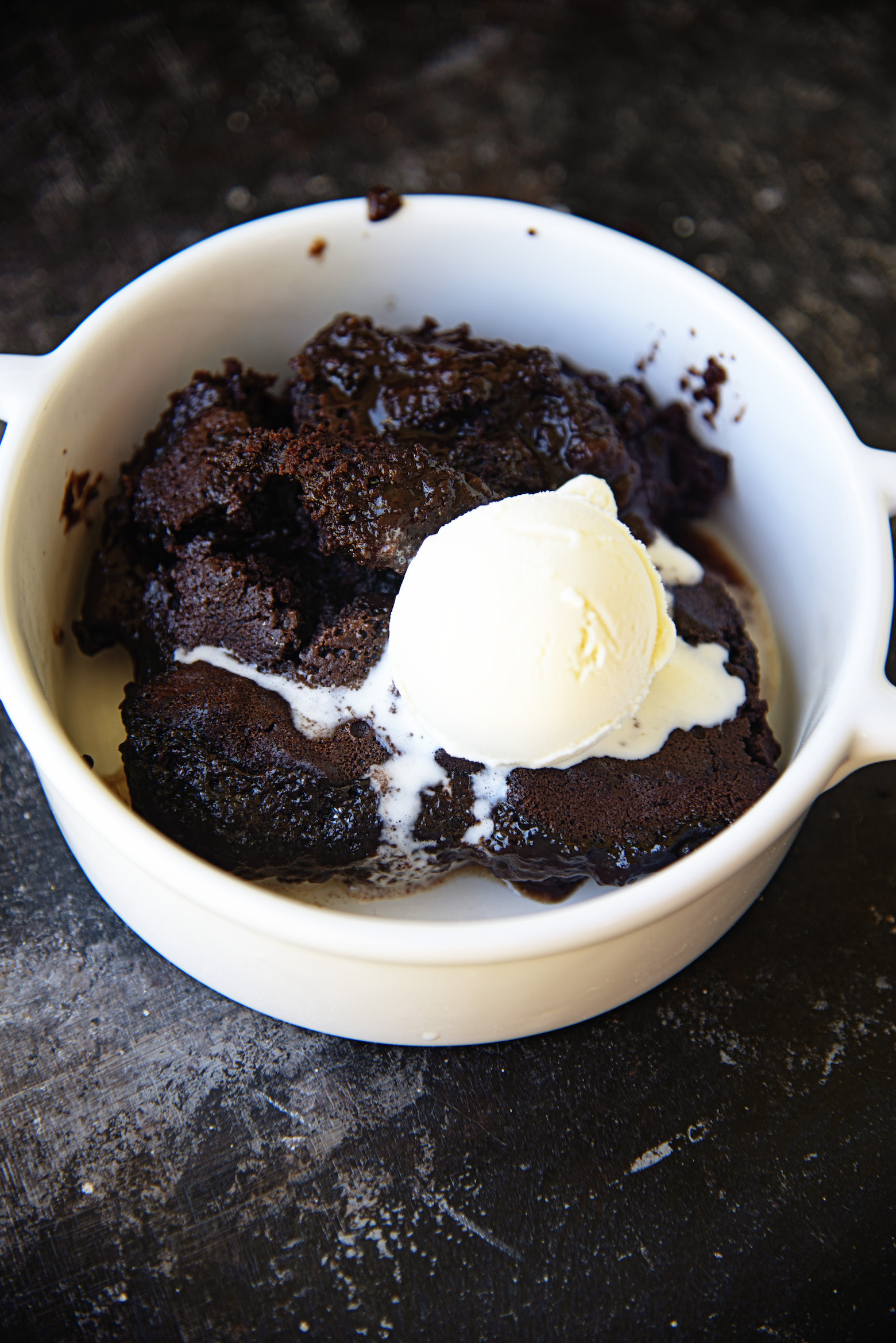 Want More Brownie Recipes?
Marshmallow Crunch Brownie Bars
Ingredients
1 cup all-purpose flour
2/3 cup unsweetened cocoa powder (I used Rodelle)
3/4 tsp baking powder
1/2 tsp salt
2 large eggs
3/4 cup granulated sugar
1/2 cup (1 stick) unsalted butter, melted and cooled
1/2 cup whole milk
1 tsp vanilla extract
1 1/3 cups (roughly one 12 oz soda) Cream Soda
1/2 cup packed brown sugar
Instructions
Preheat oven to 375°F.
Spray a 8-x-8-inch baking pan with baking spray.
Add the flour, cocoa powder, baking powder and salt to a large bowl and whisk together until combined.
In a separate bowl, beat together the eggs, sugar, butter, milk and vanilla.
Pour the egg mixture into the flour mixture and stir just until combined.
Pour into an ungreased 8-inch-square baking pan.
Stir the brown sugar and cream soda together.
Pour over the batter and bake 20 to 25 minutes, or until the sides are set but the center is still slightly jiggly.
Let cool 15 minutes.
Serve warm with ice cream.