These Cream Cheese Frosted Gingerbread Sweet Rolls are made with gingerbread brioche and topped with cream cheese frosting.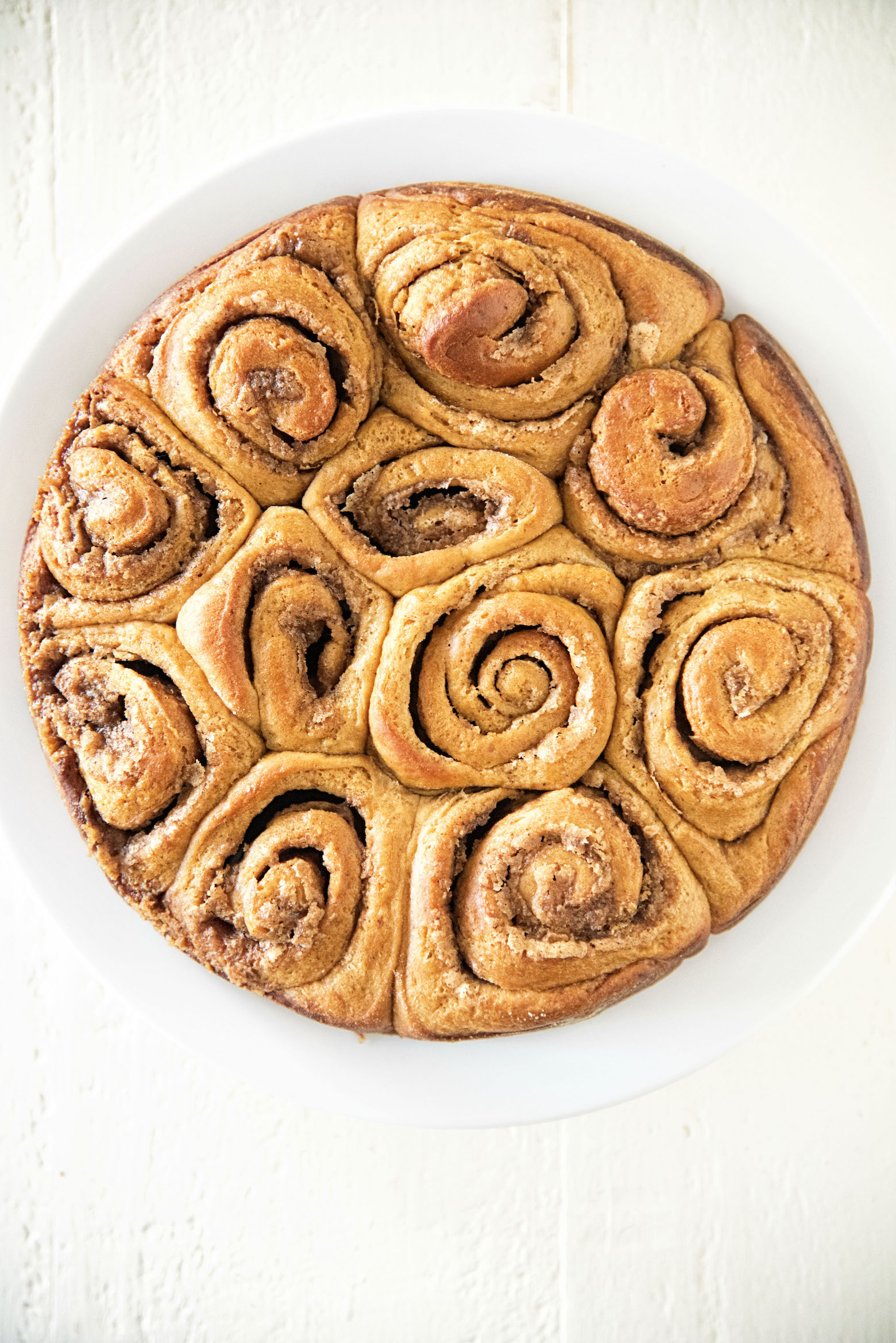 In case you haven't caught on I'm in total gingerbread mode.
Maybe because I put up the tree.
No ornaments yet because our tree has a bad strand of lights and we have to wait on replacement for it.
But the colored lights work so those are on.
It's one of those fancy trees that have the lights built in…to save time.
Ironically, it's been a bigger pain that just stringing lights.
But my husband has definitely spent more time battling these lights than the old tree where you just threw on the lights.
With it up I've been playing holiday music while I bake.
I'm sure by the end of this weekend the house will be all decked out.
We will be going out on Thanksgiving this year so there is no need to keep things looking fall.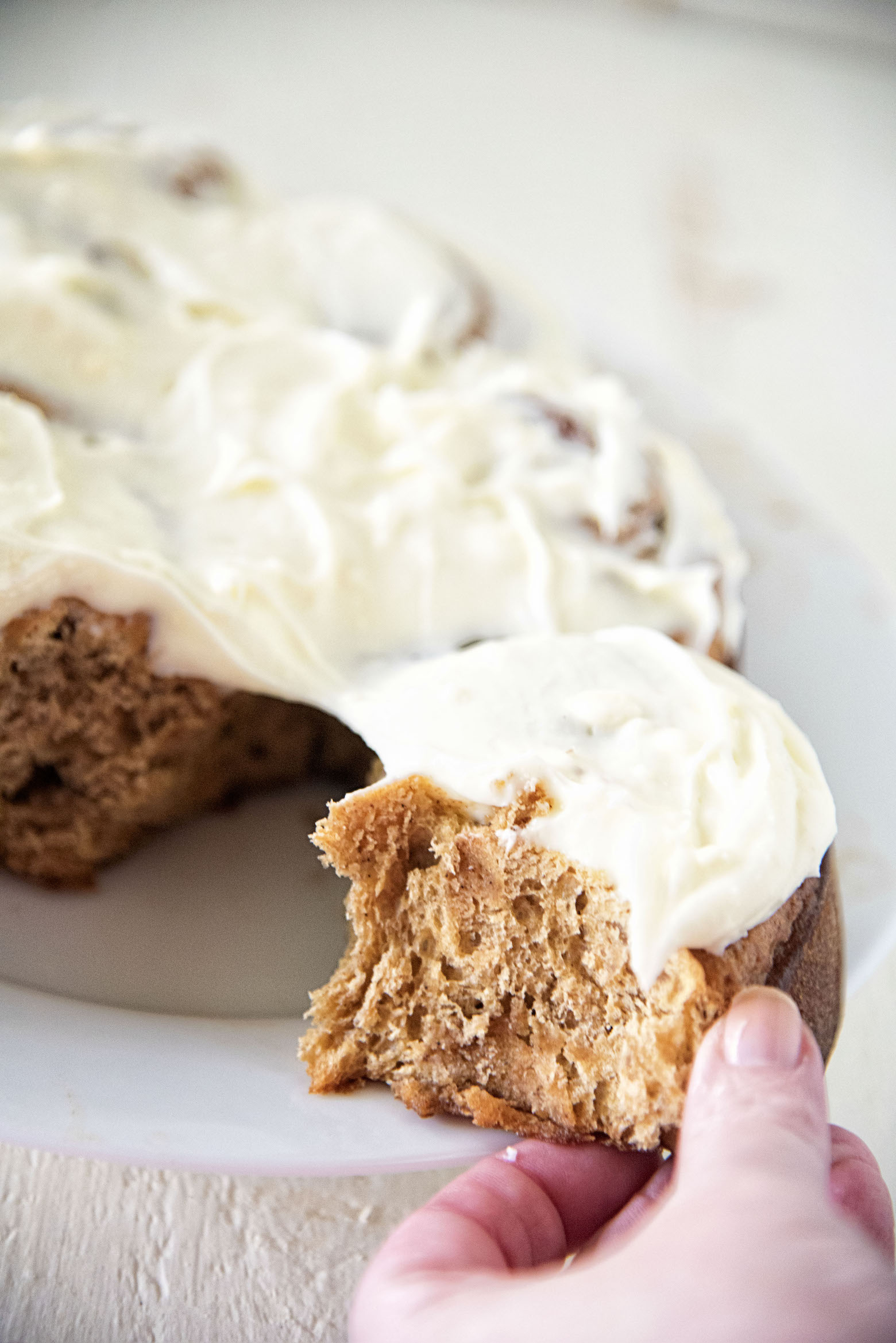 Now on to these Cream Cheese Frosted Gingerbread Sweet Rolls.
Soft gingerbread brioche.
Brown sugar and gingerbread spices make up the filling.
And of course topped with cream cheese frosting.
I added orange juice to mine to thin out the frosting.
Because I love orange and gingerbread together.
If you don't want to add the orange juice substitute milk instead.
P.S. It's a great day to buy  my cookbook.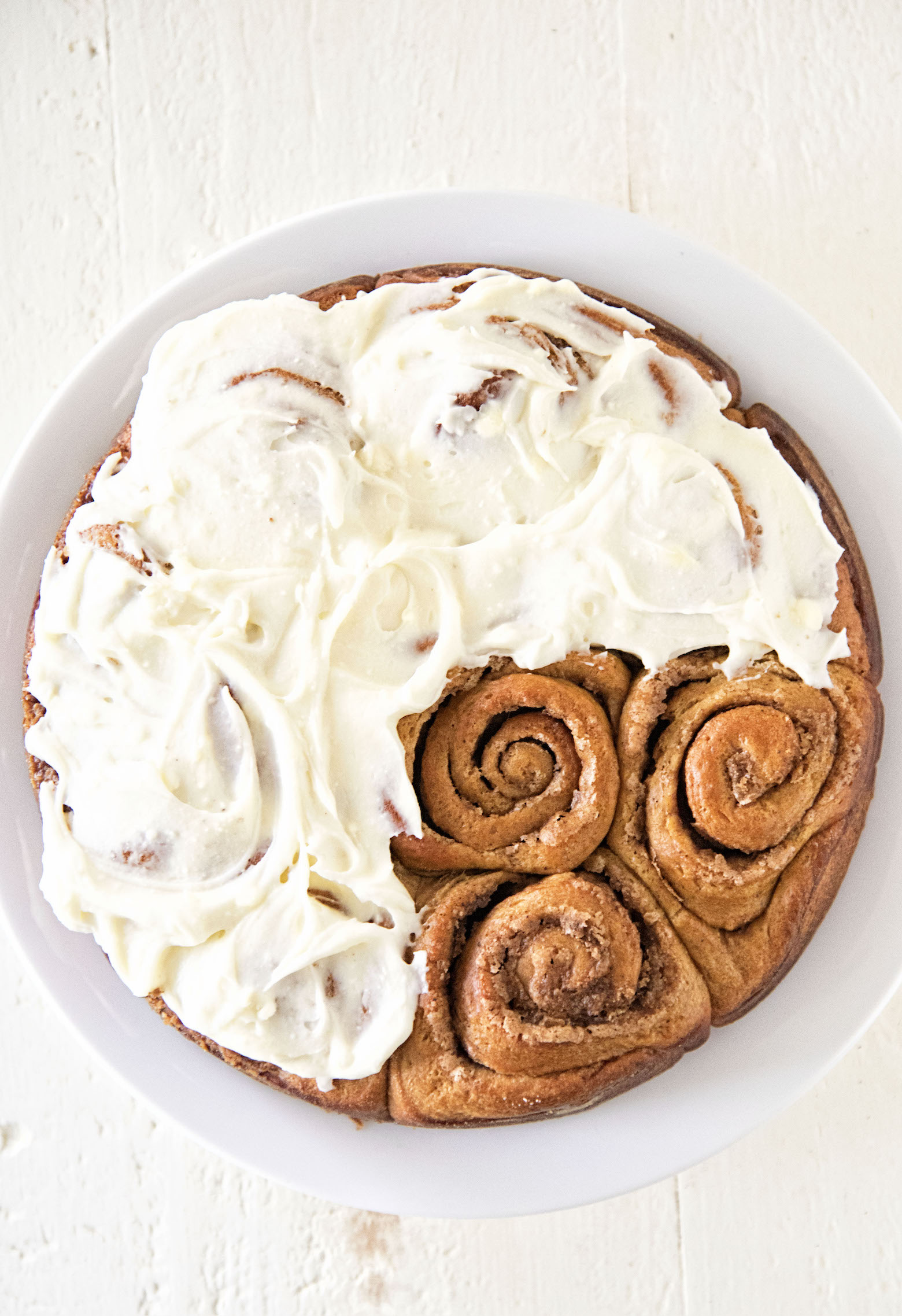 Want more Sweet Roll recipes?
Bourbon Butterscotch Sweet Rolls
Chocolate Clementine Sweet Rolls
Bourbon Brown Sugar Caramel Peach Sweet Rolls
Pineapple Upside Down Sticky Buns
Ingredients
Gingerbread Brioche
For the sponge:
½ cup whole milk, at room temperature
1 TBSP Red Star® Platinum Superior Baking Yeast®
2 TBSP granulated sugar
½ cup bread flour
For the dough:
⅓ cup un-sulfured black-strap molasses
3 TBSP packed light brown sugar
2 ½ TBSP gingerbread spice
4 cups bread flour
2 tsp. salt
6 large eggs, slightly beaten
9 oz. unsalted butter, softened but still cool
For the Buns:
Filling:
3 TBSP unsalted butter, room temperature
1 cup of brown sugar
2 tsp. gingerbread spice
For the Frosting:
8oz. cream cheese, at room temperature
4 oz. unsalted butter, at room temperature
4 cups powdered sugar
2 TBSP (or more)
Instructions
Gingerbread Brioche:
For the sponge:
Combine milk and yeast in the mixing bowl of a standing mixer.
Whisk and let sit for 5 minutes.
Add flour and sugar, mix to form a thick batter.
Cover with plastic wrap and let rest at room temperature for 30-45 minutes, until bubbles form.
For the dough:
Add the molasses, brown sugar, spice, flour, and salt to the sponge.
Add the eggs.
Beat with the paddle attachment on low speed for 2 minutes, until the eggs are absorbed. Increase the speed to medium and knead the dough for 5 minutes.
Switch to the dough hook at this point.
The dough will be sticky. Hold the mixer when necessary if it starts to dance on you.
Turn the machine down to medium low speed and add the butter, 2 TBSP at a time.
Knead for another 5 minutes, until the dough is shiny.
Scrape out the dough and clean and lightly oil the bowl. Don't worry if the dough is difficult to work with (it will be).
Place the dough in the bowl then turn it over so that the top is oiled. Cover with plastic wrap and let rise at room temperature for 2 hours, until doubled.
When dough is has doubled in volume, punch it down by folding it two or three times. Cover and refrigerate for 4 hours or overnight.
For the filling:
Mix the brown sugar and gingerbread spice.
After the second rise, the dough is ready to be shaped.
Turn the dough out onto a lightly floured surface.
Using a rolling pin, roll it into a rectangle approximately 12 by 16 inches.
Use a pastry brush(or your hands if you like to get messy) to spread 3 TBSP of butter around the rolled out dough, leaving an 1-inch margin at the top edge with no butter.
Sprinkle filling evenly over the surface, again leaving the 1-inch margin.
Starting from the long side closest to you, roll up the dough like a jellyroll.
Transfer the log to a baking sheet, cover with plastic wrap and freeze for 10 minutes.
This will make cutting the buns clean and even.
Remove from freezer, cut buns into 1 ½-inch pieces, you should get around 12.
Place them back onto a greased baking pan.
Spread out so they are not touching.
Wrap with plastic wrap and let rise at room temperature for 1 ½ to 2 hours.
Preheat the oven to 400F.
Bake buns for 10 minutes and reduce heat to 350F.
Bake for another 10-15 minutes depending on the size of your buns.
Allow to cool on a wire rack for 10 minutes.
For the Frosting:
Using a stand mixer beat together the cream cheese and butter until fully combined.
Add powdered sugar, 1 cup at time.
Add orange juice to thin frosting to the consistency you want.