This Cranberry Orange Layer Cake is an orange scented cake filled with dried cranberries and frosted with an orange cranberry buttercream.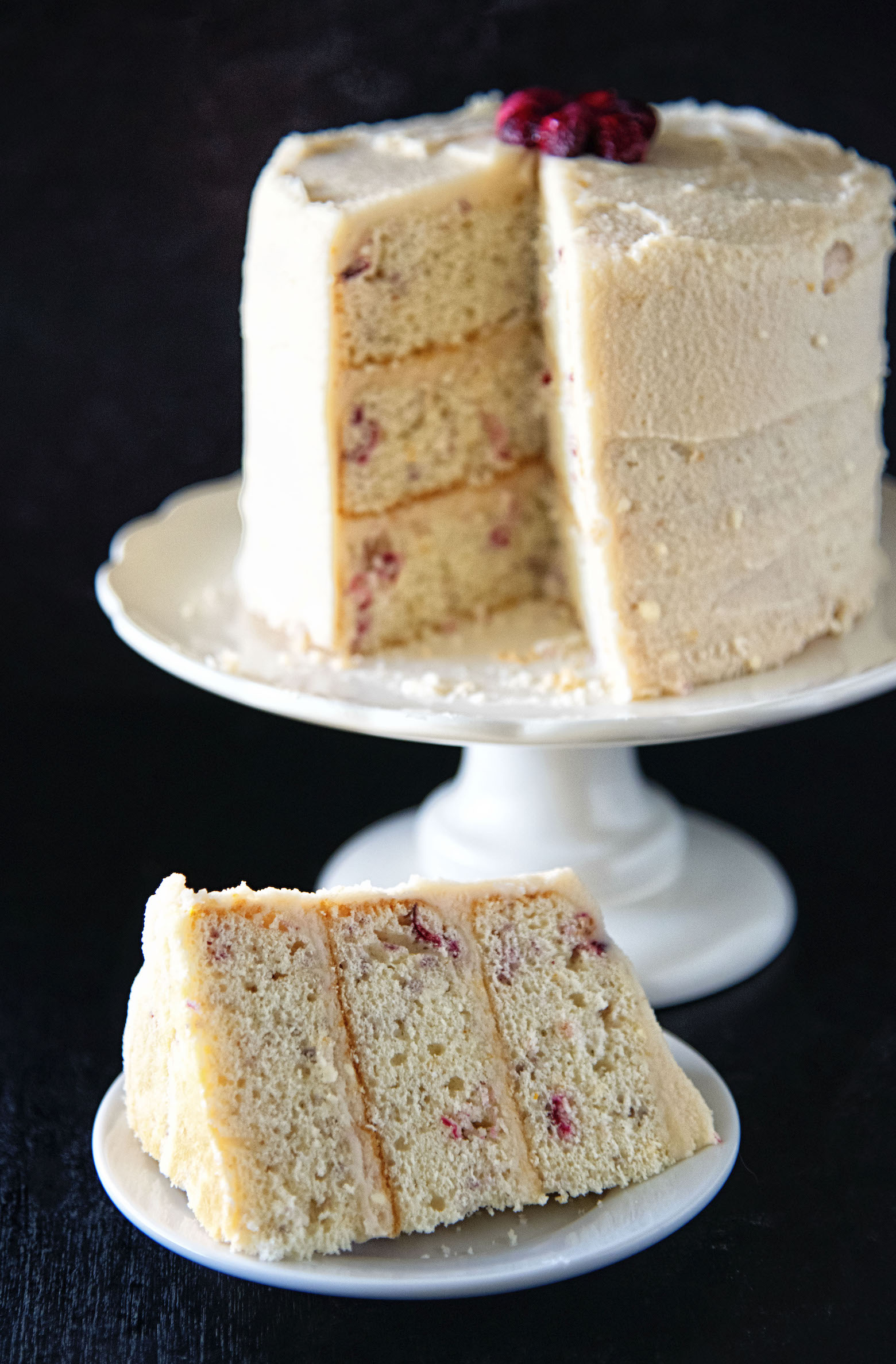 So I had not made American buttercream in awhile.
I'm usually a Swiss meringue buttercream girl but I don't always have a ton of eggs to use in the house.
Also, I tend to use the Swiss meringue buttercream because it's less sweet.
But with this Cranberry Orange Layer Cake using the tart cranberries, I wanted to go a little sweeter.
Anyway, I forgot how hard it is to frost with American buttercream when it's cold in the house.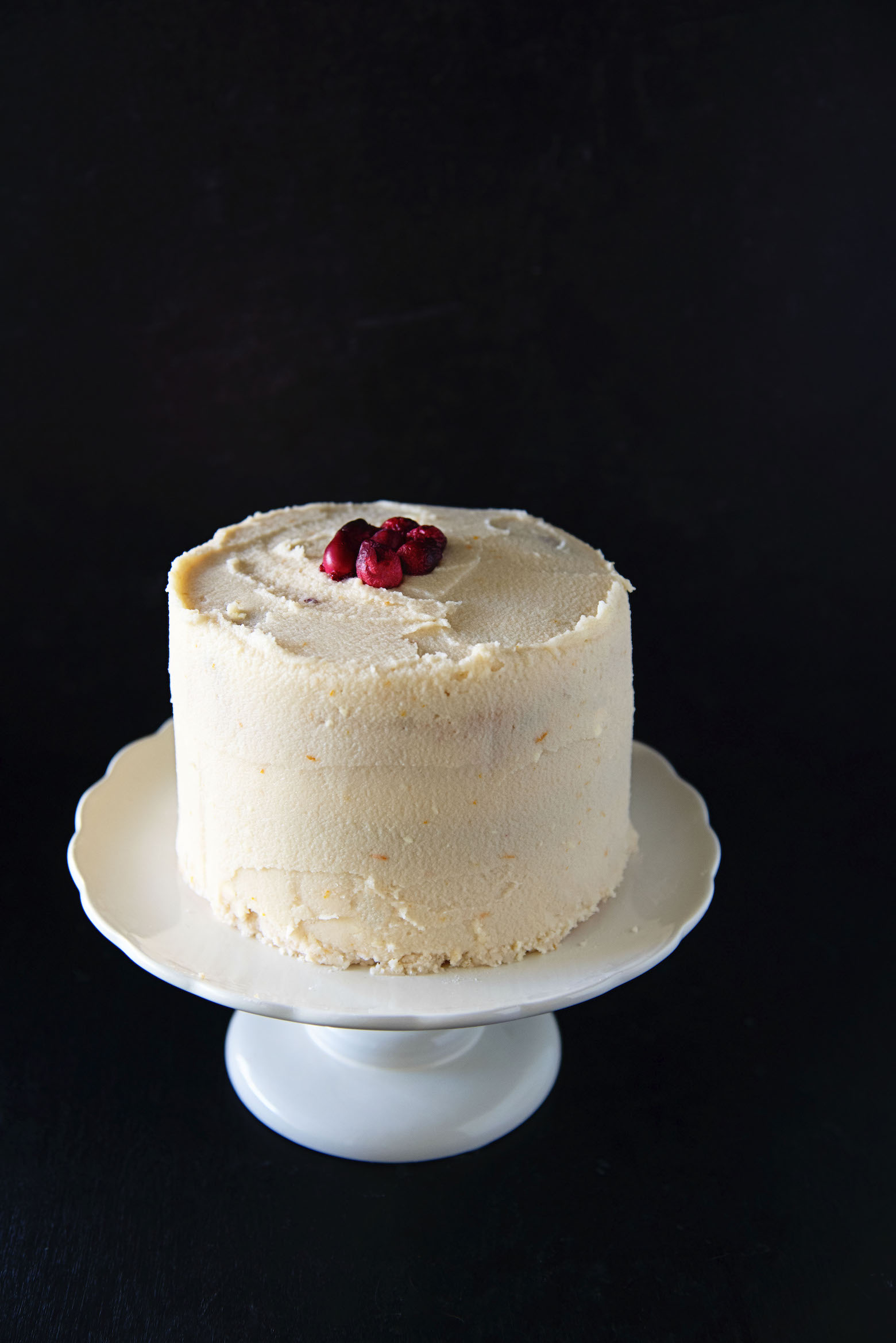 See our house is cold.
Year round.
In the summer we blast our four portable air conditioners (most Seattle are homes do not have central a/c).
And in winter we hardly turn on the heat.
Why?
The dogs.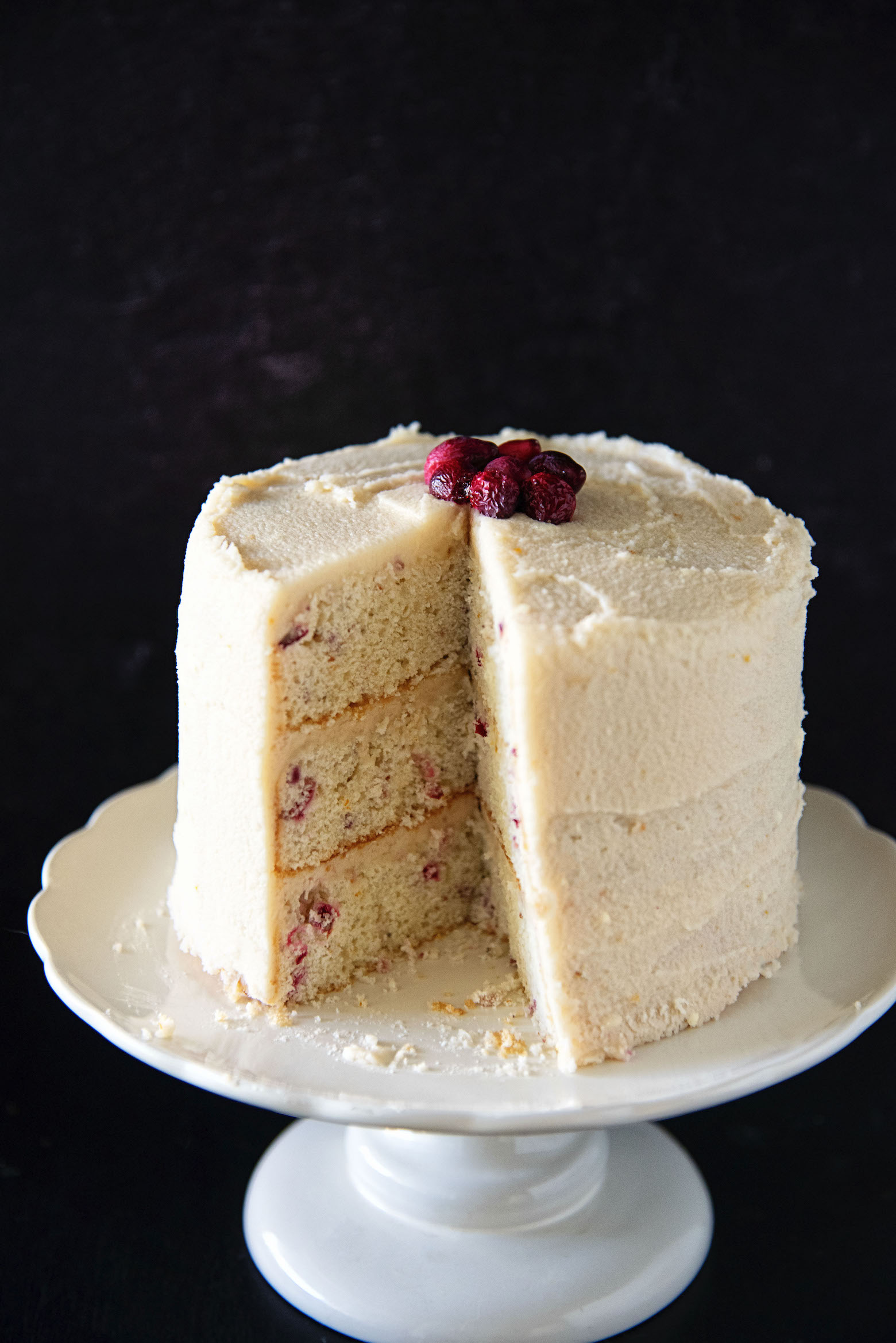 Dogs with heart conditions do much better in the cooler temperatures.
And so we keep our house in the winter at about 58-60F.
Bundle up when you come over. 🙂
Summer we can't keep it that cold because the a/c units can't keep up with that but we do keep it at about 63F.
In summer people are confused when I come to the door in sweatshirts and hats. 🙂
At least in winter people just think we are cheap and don't want to turn on the heat. 😛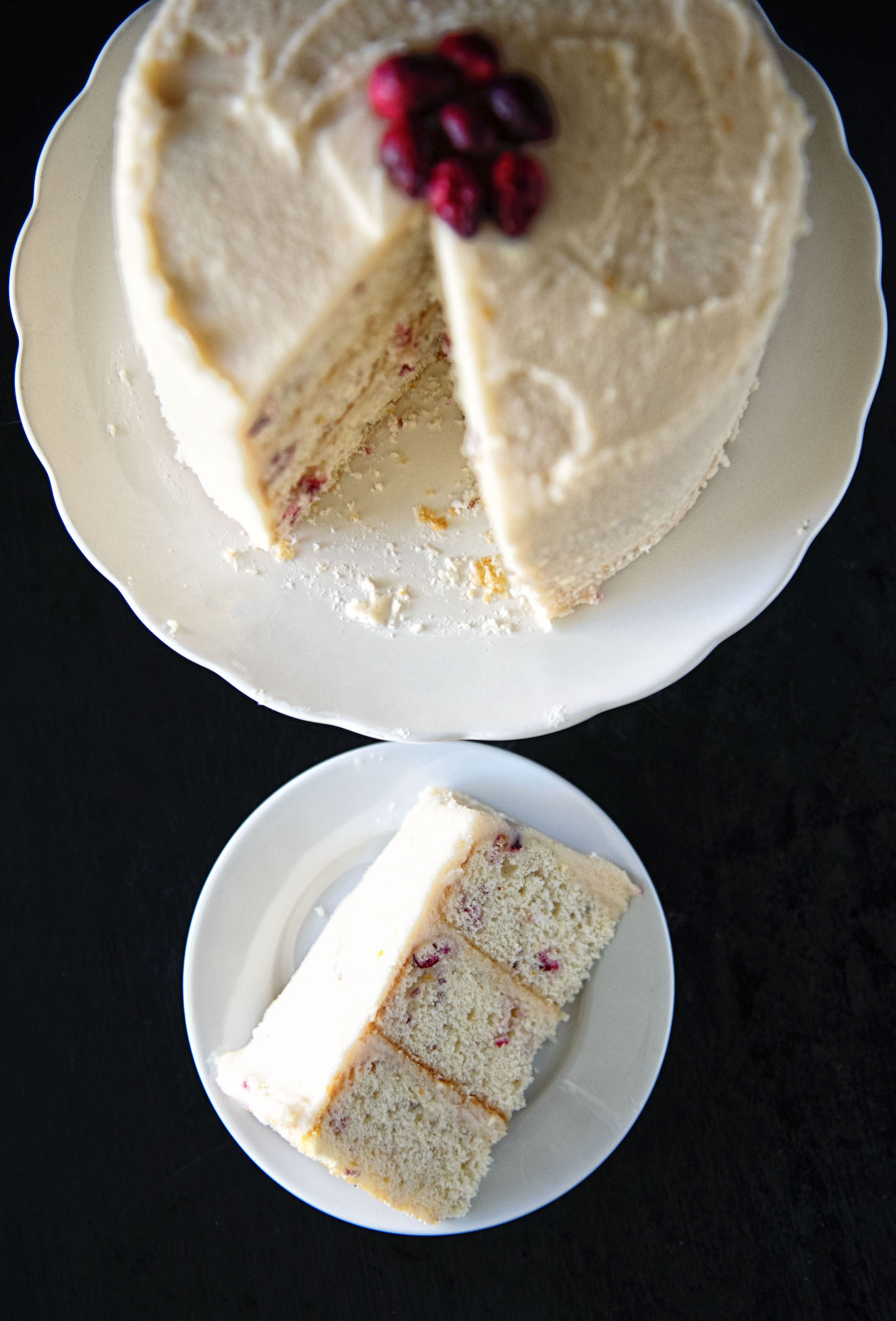 I did not however take that into consideration when frosting this cake.
Because this frosting and my cold house were not friends.
At all.
I had not used bad language at a bake good in a while.
Until this cake.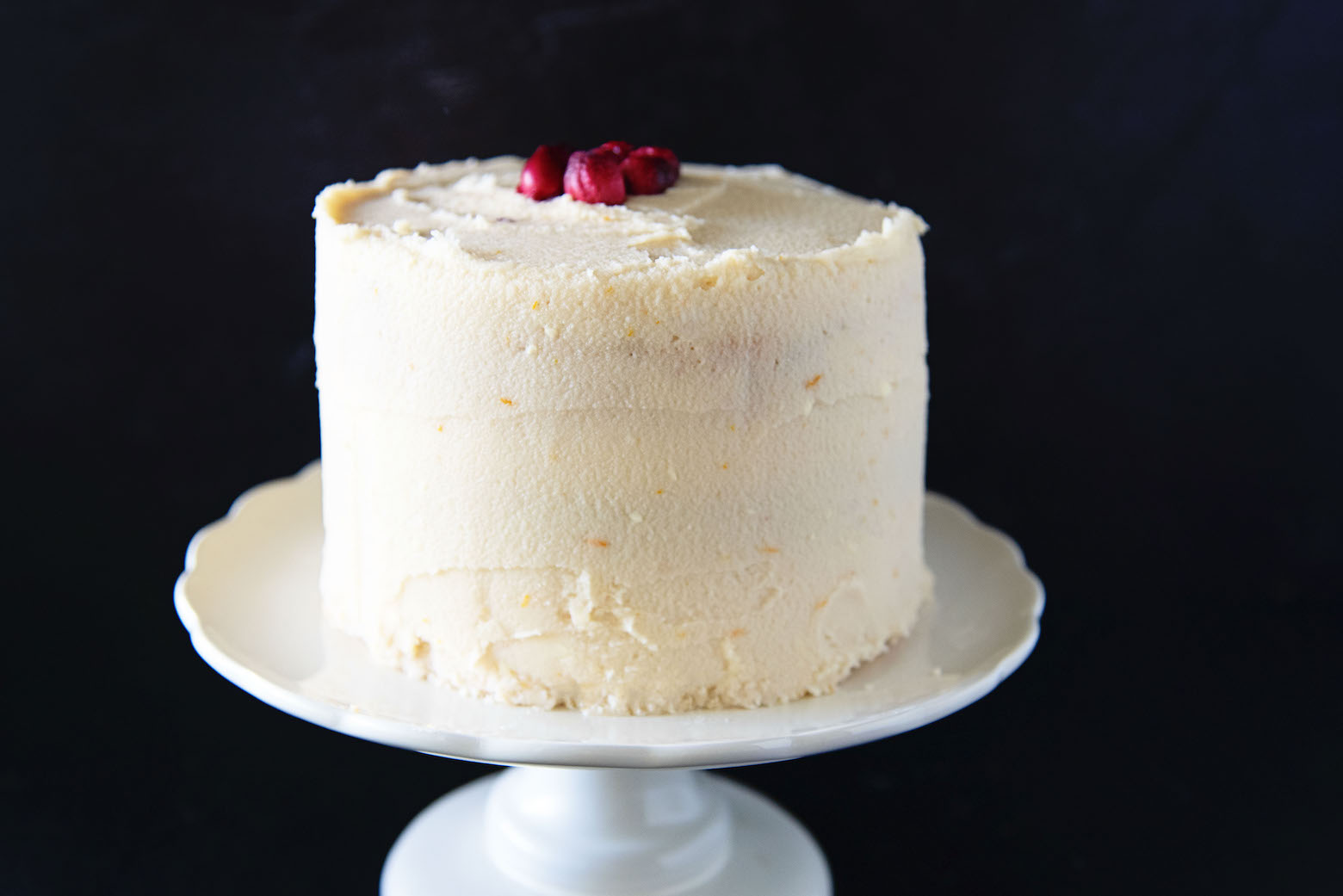 It's not the cake's fault or the frosting's fault.
People who live in normal temperature houses will have no issue in making and frosting this cake.
But me?
I struggled.
The frosting kept setting up as I tried to frost.
I didn't even need to do a crumb coat in the fridge because my first coat was already set before I even finished it. 😀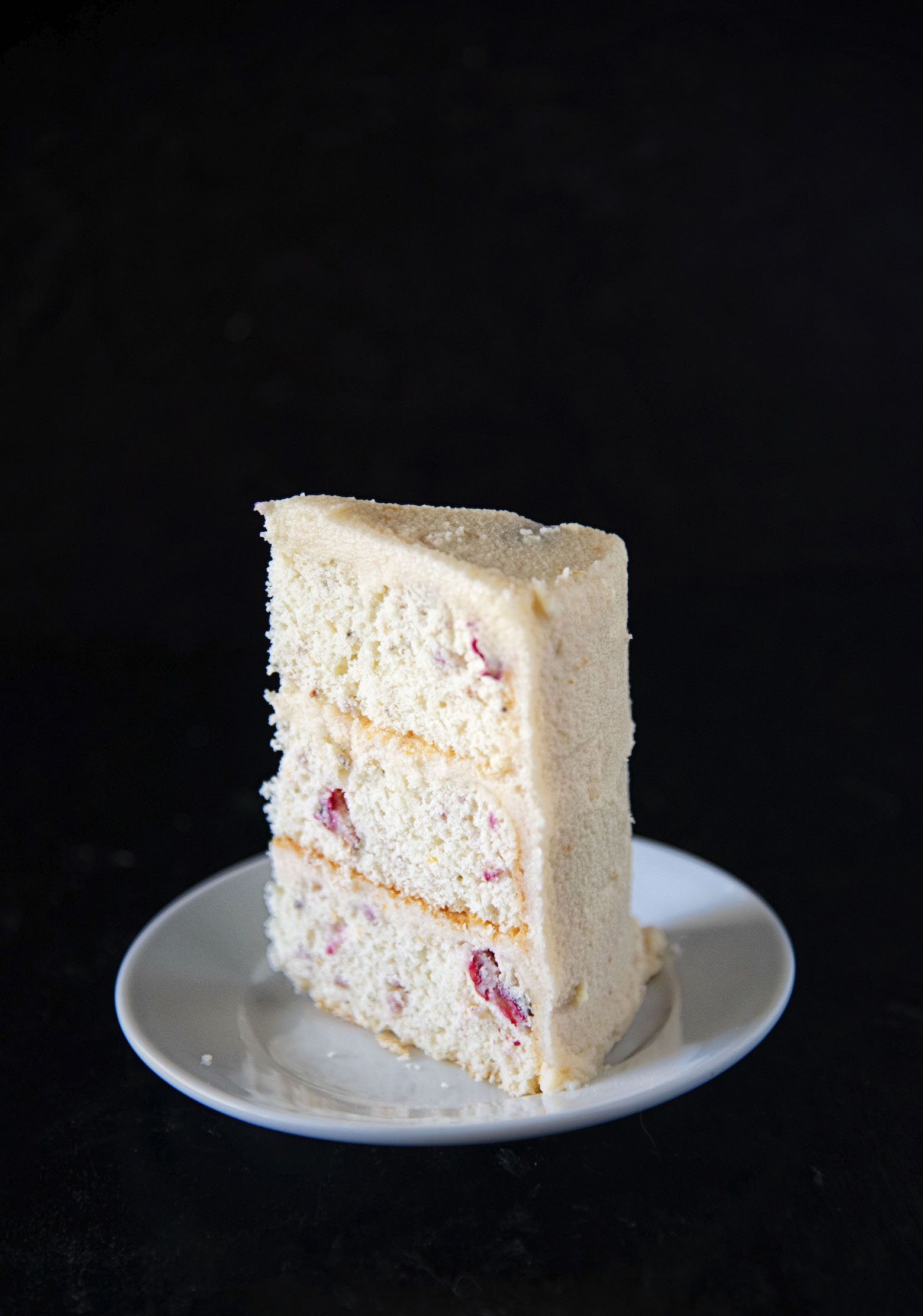 I use the cranberry juice powder in my smoothies and realized that it would be great in frosting and baked goods.
And it is.
If you don't want to buy the powder you can make your own by taking the freeze dried cranberries and crushing them finely.
You can either do that by using a rolling pin or put into a food processor.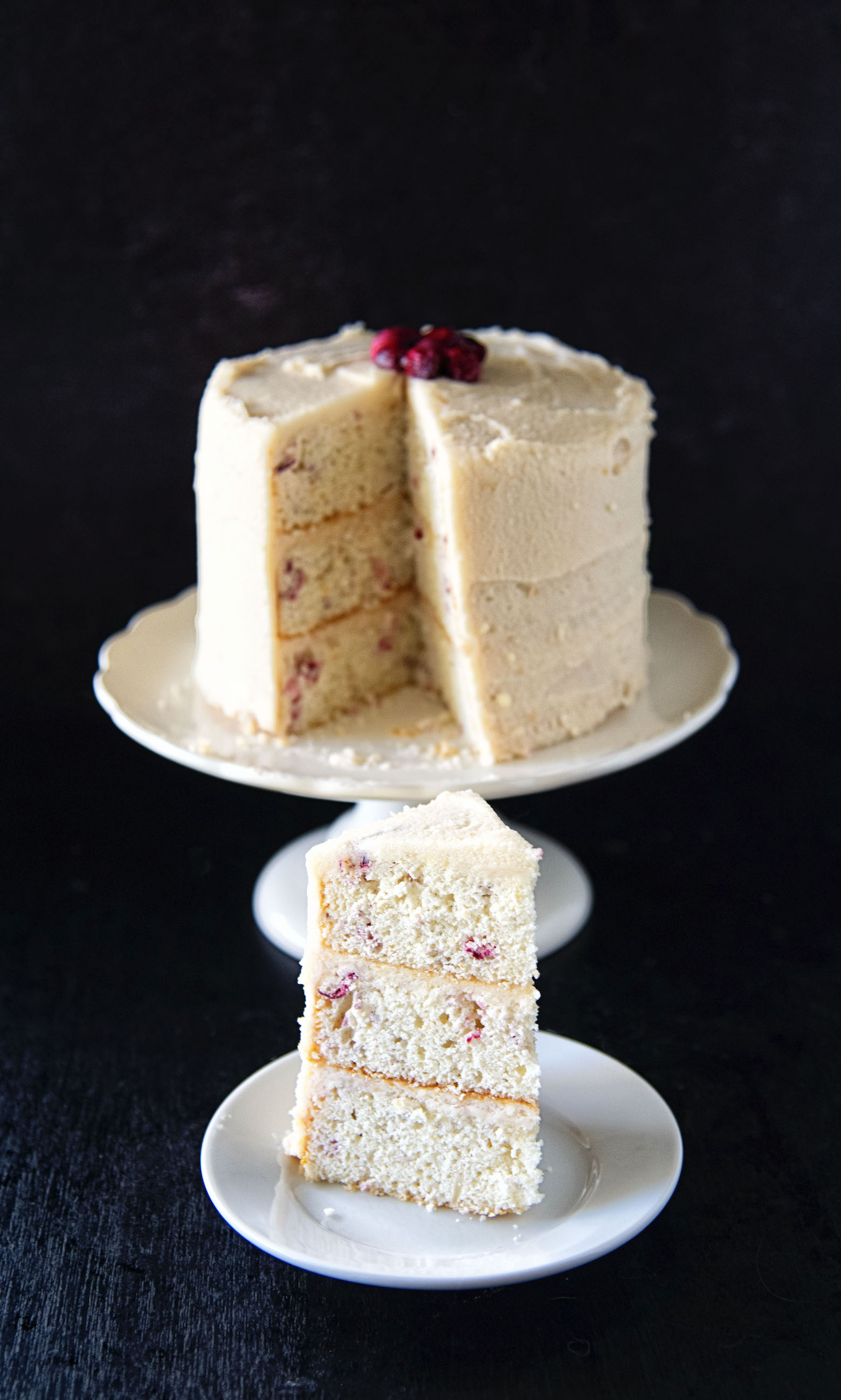 The advantage of the freeze dried and the powder in cake is that it does not add moisture to the cake.
And therefore does not interfere with how the bake of the cake goes.
Same thing with frosting.
If I were to use fresh cranberries I could not get the flavor needed without a wet mess of a frosting.
And as always it's a great day to order my cookbook.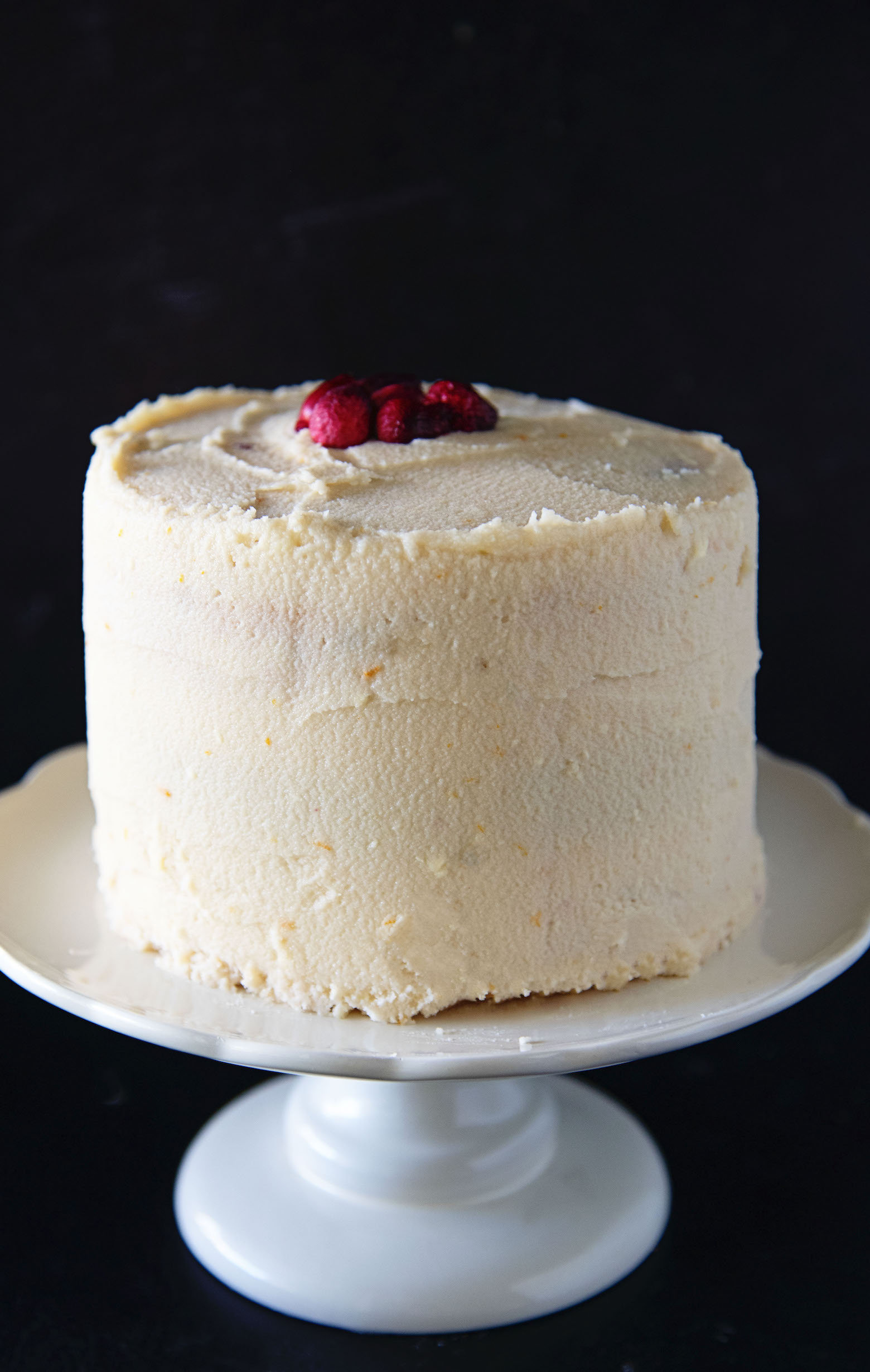 Want More Cranberry and Orange?
Orange Blossom Honey Pistachio Cranberry Sticky Buns
Cranberry Orange Pistachio Cookies
White Chocolate Cranberry Cheesecake with Satsuma Caramel Sauce
Cranberry Orange Spice Bundt Cake
Ingredients
For the Cake:
2 1/4 cups cake flour
1 cup whole milk at room temperature
6 large egg whites at room temperature
1 tsp. vanilla extract
zest of two oranges
1 TBSP fresh orange juice 
1 3/4 cups granulated sugar
4 tsp. baking powder
1 tsp. salt
1 1/2 sticks unsalted butter, softened but still cool
3/4 cup freeze dried cranberries, crushed 
For the Frosting:
6 cups powdered sugar, sifted
1 cup unsalted butter at room temperature
1 cup shortening
zest of two oranges
3 TBSP cranberry powder
4 TBSP heavy whipping cream
Instructions
For the Cake:
Heat oven to 350F.
Prepare two 8-inch cake pans or three 6-inch cake pans with baking spray and parchment paper at the bottom to prevent sticking. I used 6-inch.
Make sure milk and eggs are room temperature.
Pour milk, egg whites, zest, orange juice, and vanilla extract into medium bowl and mix with fork until blended.
Mix cake flour, sugar, baking powder, and salt in bowl of electric mixer at slow speed.
Add butter, cut into cubes and continue beating on low for about 1-2 minutes.
Add all but 1/2 cup of milk mixture to flour mixture and beat at medium speed for 1 1/2 minutes. Add remaining 1/2 cup of milk mixture and beat for about 1 minute.
Fold in the freeze dried cranberry pieces. 
Pour batter evenly between two prepared cake pans.
Bake until toothpick inserted in the center comes out clean, 27 to 30 minutes.
Allow cake to cool to room temperature.
For the frosting:
Prepare a stand mixer with a whisk attachment.
Whisk butter and shortening until creamy.
Reduce speed to low and add in icing sugar 1 cup at a time until well blended. Increase speed to med and beat for 3 minutes.
Add in the zest, cranberry powders, and  2 TBSP cream and continue to whip on medium for 1 minute.
Add more cream as needed until desired consistency is reached. 
Whip until the frosting is smooth
To assemble cake:
Set one cake layer on turntable cake stand. 
Top with 3/4 cup frosting and spread out frosting to the edge.
Top with a second cake layer.
Top with 3/4 cup frosting and spread out frosting to the edge.
Place the last layer on top.
Use an offset spatula to frost cake with buttercream.
If desired, first make a thin coat to seal in crumbs and chill for 30 minutes.
Cover completely with another layer of frosting.
Add some freeze dried or fresh cranberries on top as garnish if desired.