This Cranberry Lemon Poppyseed Loaf is a flavorful and pretty want to add a little extra tartness and color to lemon poppyseed cake.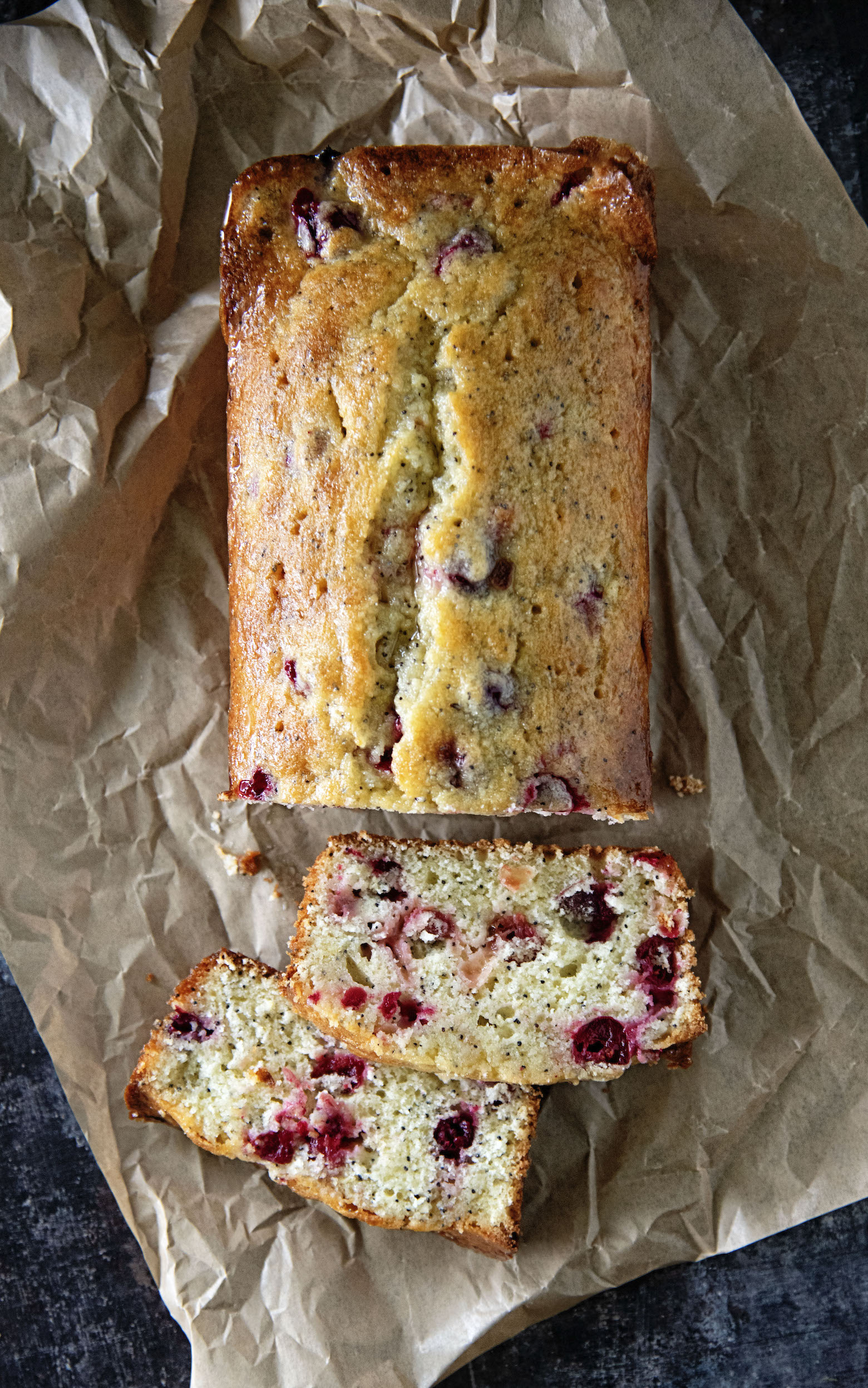 My husband and I were friends for quite some time before we started dating.
In fact he was my roommate before we started dating.
And I have known him for many years now.
Yet, all this time I had NO idea that he really, really liked lemon poppyseed baked goods.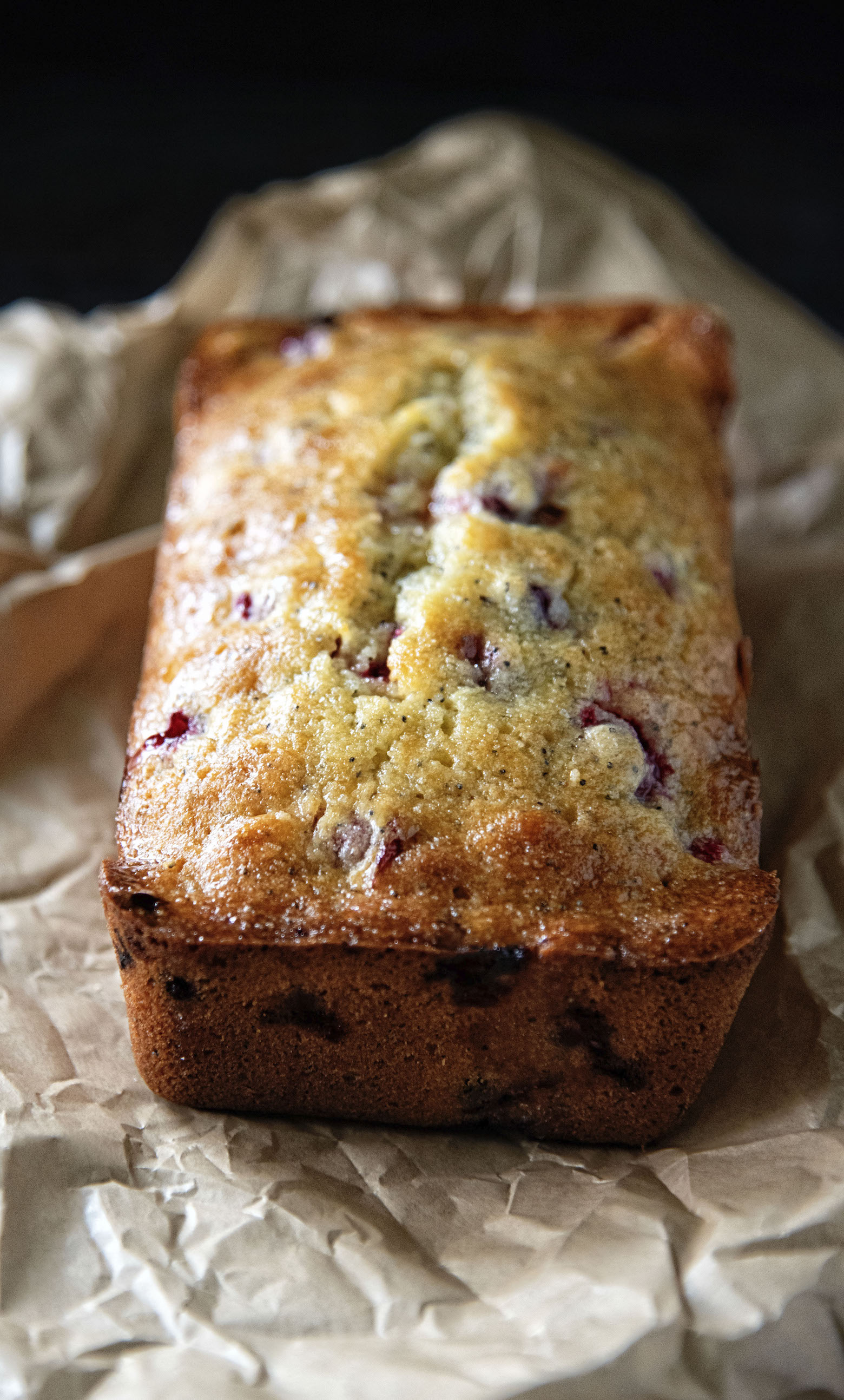 You think you would tell your wife that little tidbit since she bakes all the time.
But no, it took us watching The Great British Baking Off for me to find this out.
When someone had made a lemon poppyseed cake and he commented how much he loved lemon poppyseed.
He did not get why I was upset that I never knew this about him.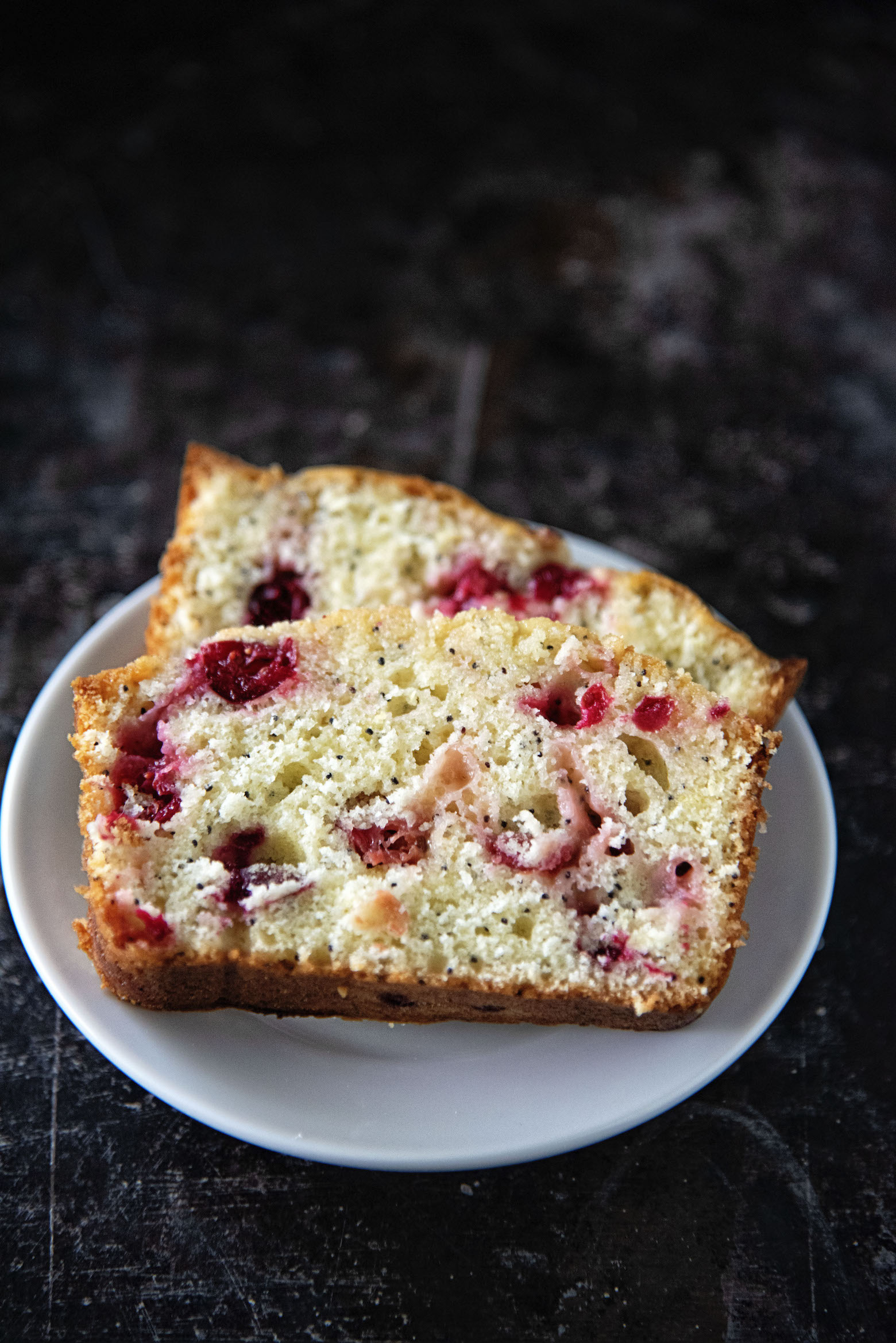 His favorite Costco muffin?
Lemon Poppyseed.
I mean I probably should have guessed that because he loves citrus based desserts especially key lime.
But still, it did really throw me that all this time I didn't know his love of lemon poppyseed.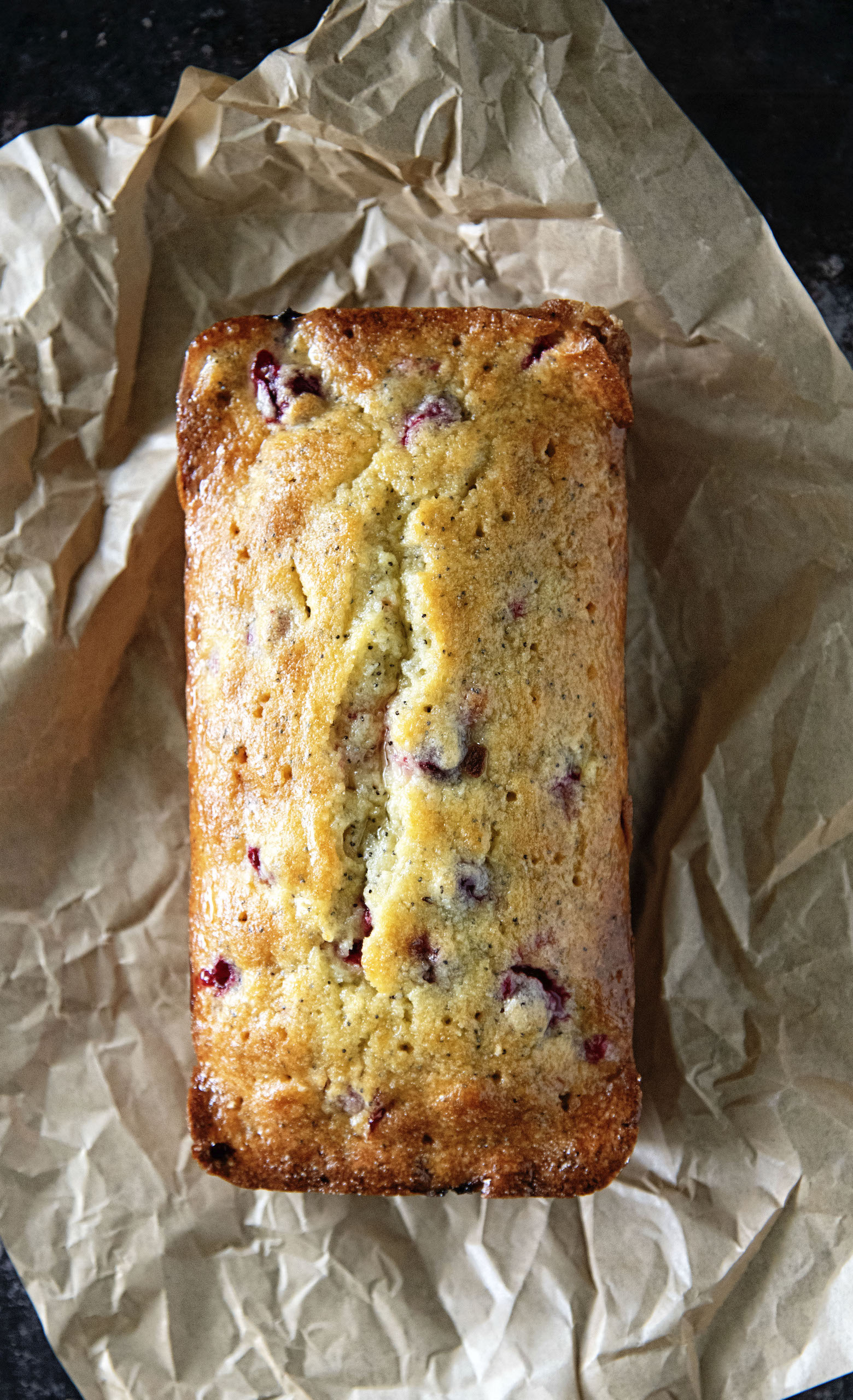 So you are probably going to be seeing a little more lemon poppyseed items on here now that I know it's one of his favorites.
This Cranberry Lemon Poppyseed Loaf is an easy and pretty straight forward loaf cake.
The cranberries do add even more tartness to the cake and add beautiful color to the cake.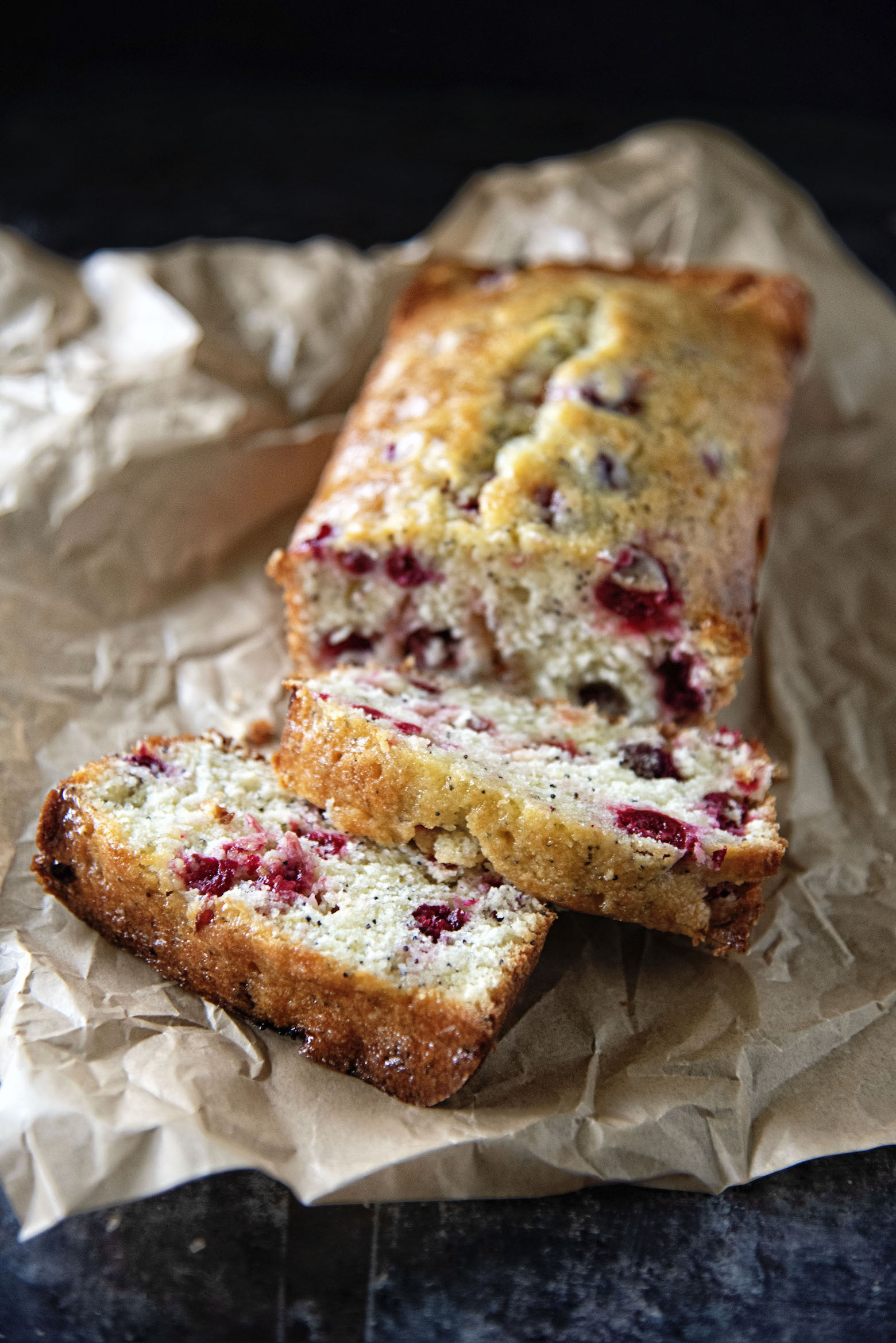 The glaze is more of a simple syrup.
And it's very tart.
If you want less tart you can add a little more sugar to the syrup.
Be sure to poke the holes way down into the cake so that the syrup can get down to all the places in the cake.
P.S. It's a great day to buy my cookbook.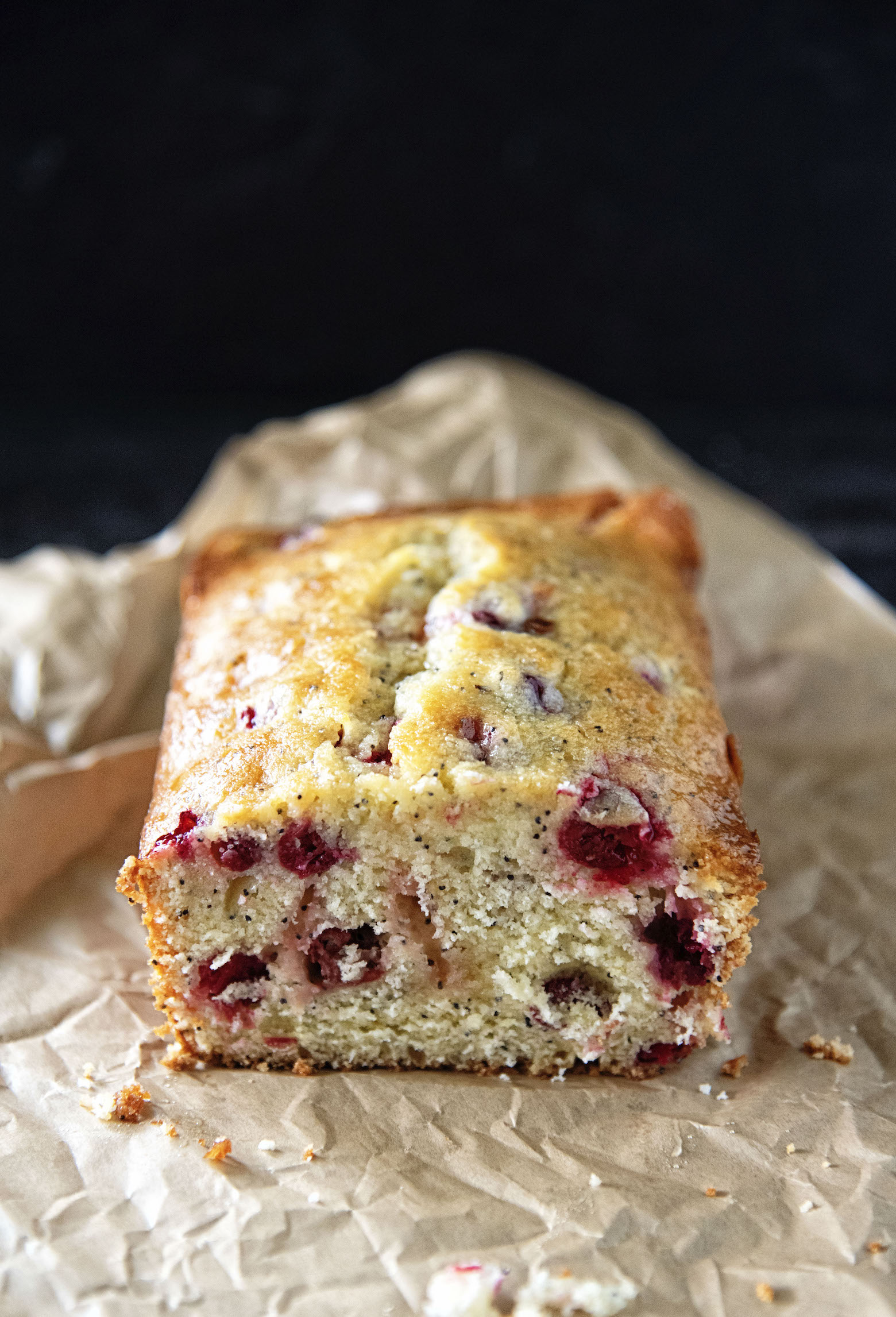 Want more Loaf Cakes?
Hummingbird Streusel Loaf Cake
Chocolate Peanut Caramel Quick Bread
Ingredients
1 cup fresh cranberries
1 2/3 cup flour + 1 TBSP flour
1/2 cup butter, at room temperature
1 cup granulated
2 eggs
1 TBSP lemon zest
2 TBSP poppyseeds
1 1/2 tsp baking powder
1/4 tsp salt
1/2 cup whole milk
For the glaze:
1/4 cup lemon juice
1/4 cup sugar
Instructions
Preheat the oven to 350F.
Spray a 9 x 5 inch loaf pan with cooking spray and line with parchment paper and spray the parchment paper as well.
Toss the cranberries with 1 Tbsp flour and set aside.
Using a stand mixer with a paddle attachment cream together the butter and sugar until light and fluffy, about 2-3 minutes.
Add the eggs and lemon zest and beat until thoroughly combined.
Stir together the flour, poppyseeds, baking powder, and salt.
Add half of the mixture and mix on low speed just until combined.
Add half of the milk and mix on low speed just until combined.
Add the remaining flour, mixing just until combined, and then the remaining milk.
Fold in cranberries and mix until combined.
Pour the batter into the pan and bake 55-60 minutes, until a skewer comes out with moist crumbs attached.
Cool the cake for 15 minutes and then remove it from the pan.
To make the lemon glaze, combine the sugar and lemon juice in a small saucepan.
Bring the mixture to a boil for 30 seconds.
Remove the pan from the heat.
Gently pierce the top of the loaf cake many times with a wooden skewer. A toothpick can work but the wooden skewer is longer and therefore the glaze can go farther down into the cake.
Use a pastry brush to apply the warm glaze evenly over the top of the loaf.