This Cookies and Cream Cake is filled with Oreo cookies and covered in a rich and fudgy chocolate frosting all topped with more cookies.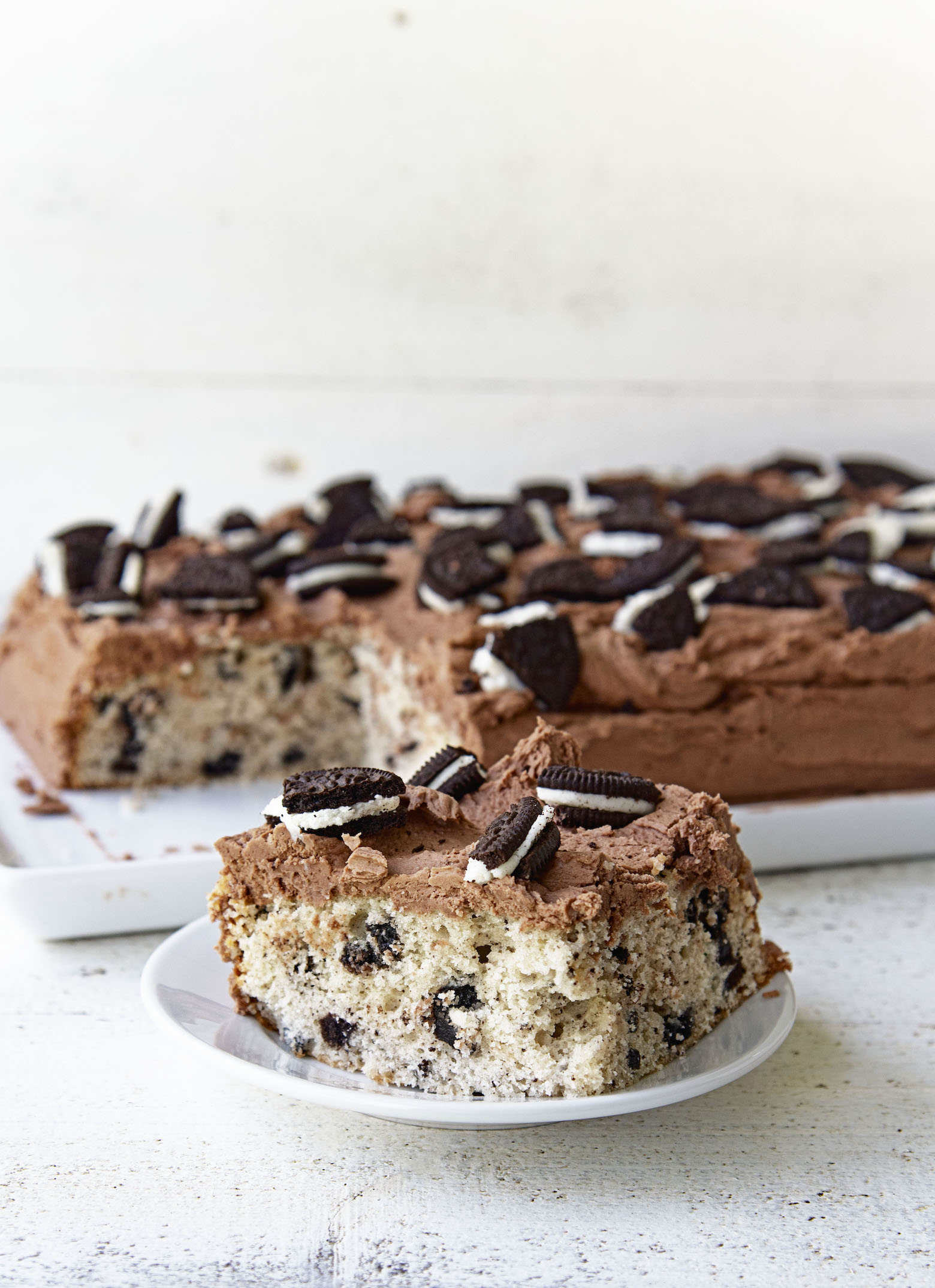 I made this Cookies and Cream Cake for my mom's birthday.
Now her birthday isn't until May but this was a practice cake.
I'll be at my parents place this year for it. So will my brother and sister in law.
Two sets of aunts and uncles, one set who I haven't seen in probably 30 years.
And, well, I'm in charge of all the cooking.
All of it.
Which the cooking part and baking part is totally fine.
I love to do it.
It's the figuring out what everyone will all eat is a whole other ballgame.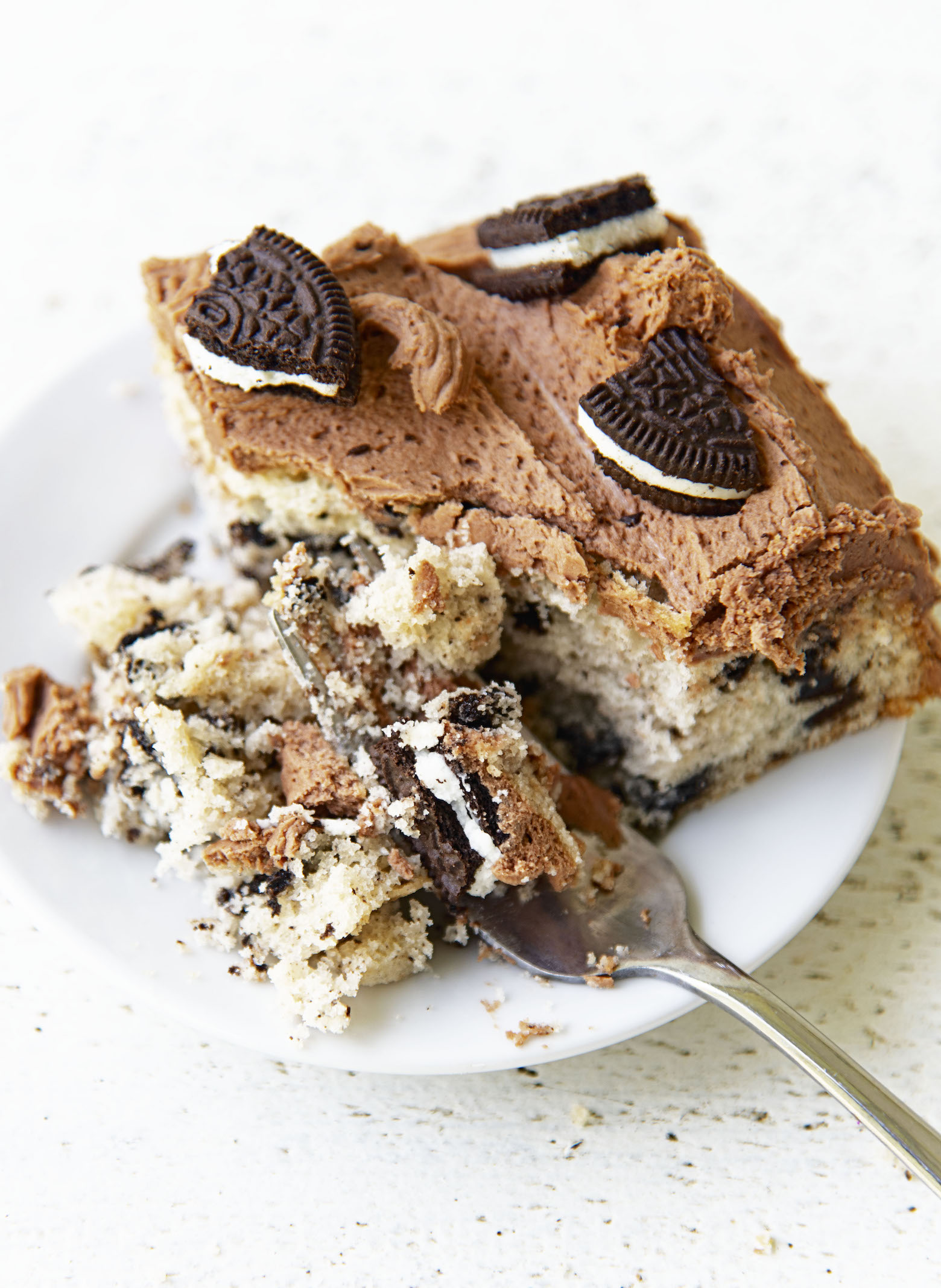 My husband, myself, and my one aunt and uncle tend to be more adventurous.
I'm not actually sure about my brother but considering he wants all my mom's favorites I'm guessing his is like hers.
And then you have my other aunt and uncle who are very Midwest.
My mom and dad are the same way.
So I'm pleasing the Midwest taste palate since the adventurous eaters will eat most things.
Then of course, whatever I make for them, I have to make a vegetarian version for my husband and I. 🙂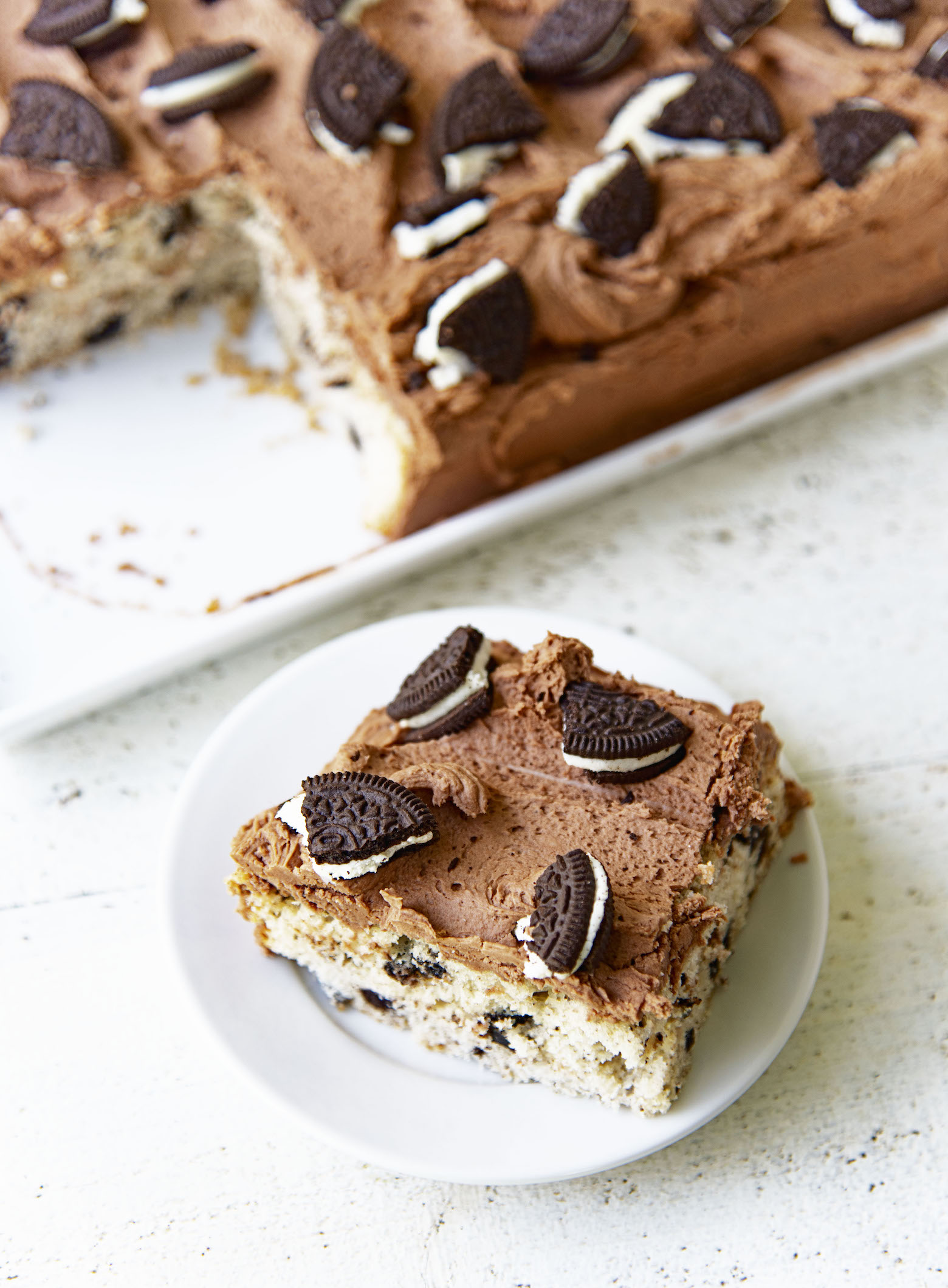 The cake was pretty simple to figure out.
My mom loves Oreos.
And since it's her birthday I figure we should have something she likes. I am offering another dessert as well (not sure what yet) that will be fruit based for the off chance that someone is not a fan of Oreos or chocolate.
What's scary is if there is someone in the group that doesn't like Oreos…I'm related to them. 😀
This cake is one layer.
I wouldn't call it a true sheet cake because it's only 9-x-13-inches.
And that's not true sheet pan size.
In case you are curious now, the average sheet cake size is 18-x-24-inches.
You are welcome for your useless bit of trivia there.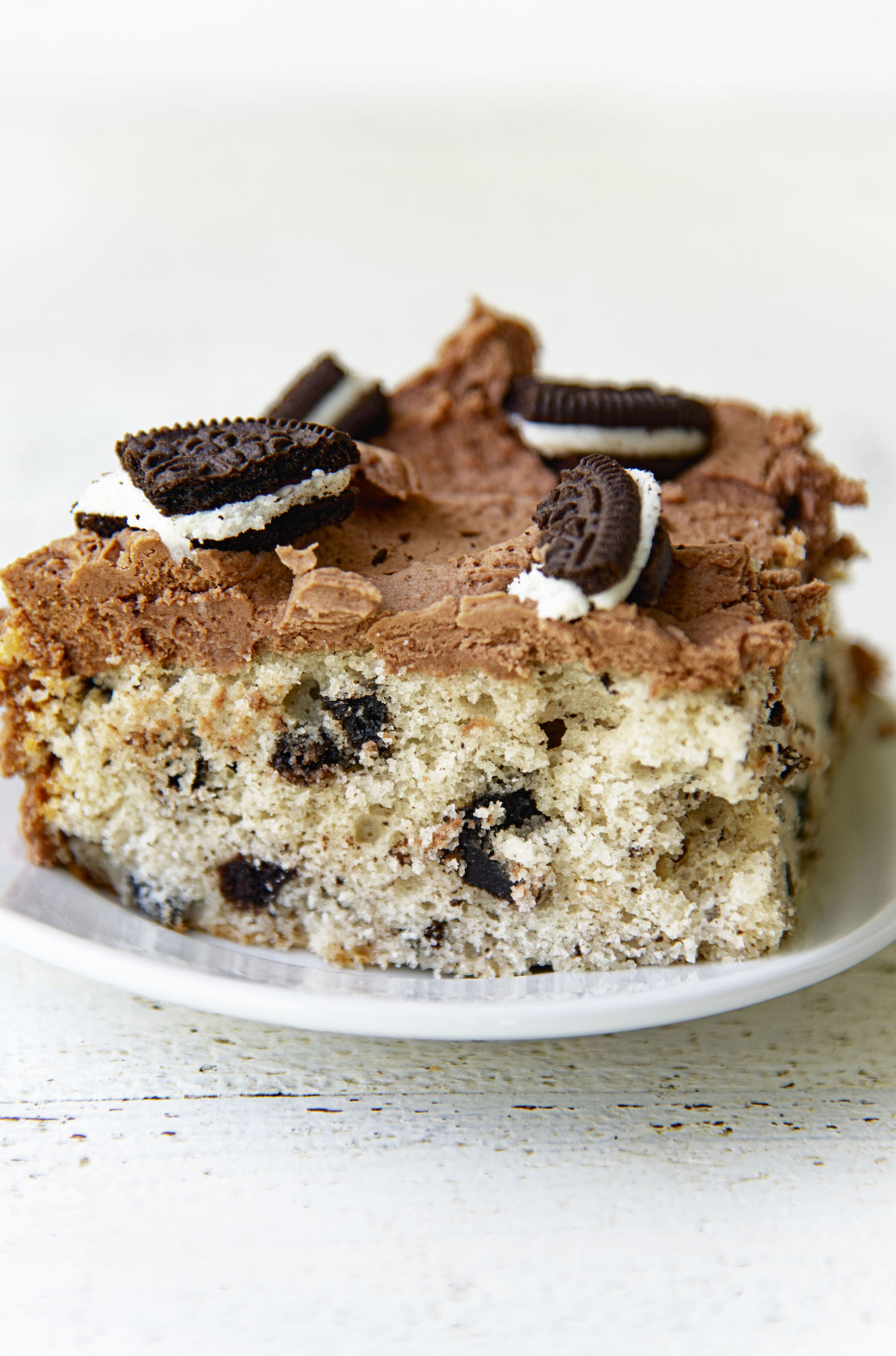 I chose to bake this in a springform pan.
They do make them in 9-x-13-inch believe it or not.
I wanted to use the springform because I wanted the cake to have sides.
If you don't want the cake to have sides you can bake this in just a standard 9-x-13-inch pan.
If you don't have sides you will have leftover frosting.
That's okay because this is the best frosting.
You will just want to get a spoon and stand there eating it.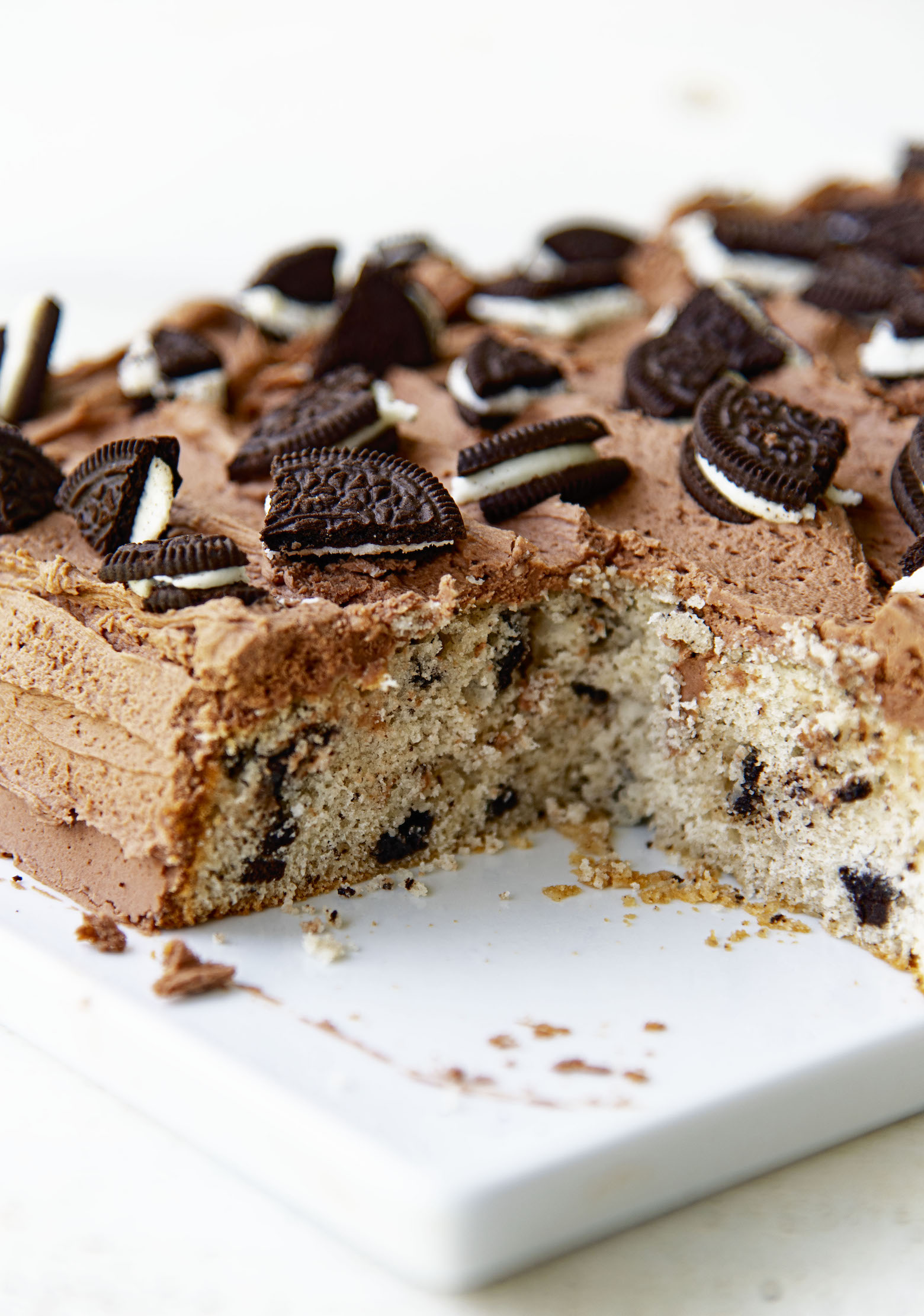 The test run went well.
Hockey team and friend approved.
As well as my husband.
And me of course.
So if no other food is enjoyed over the birthday weekend I will at least know the cake will be enjoyed. 😛
P.S. It's a great time to order my cookbook. 😀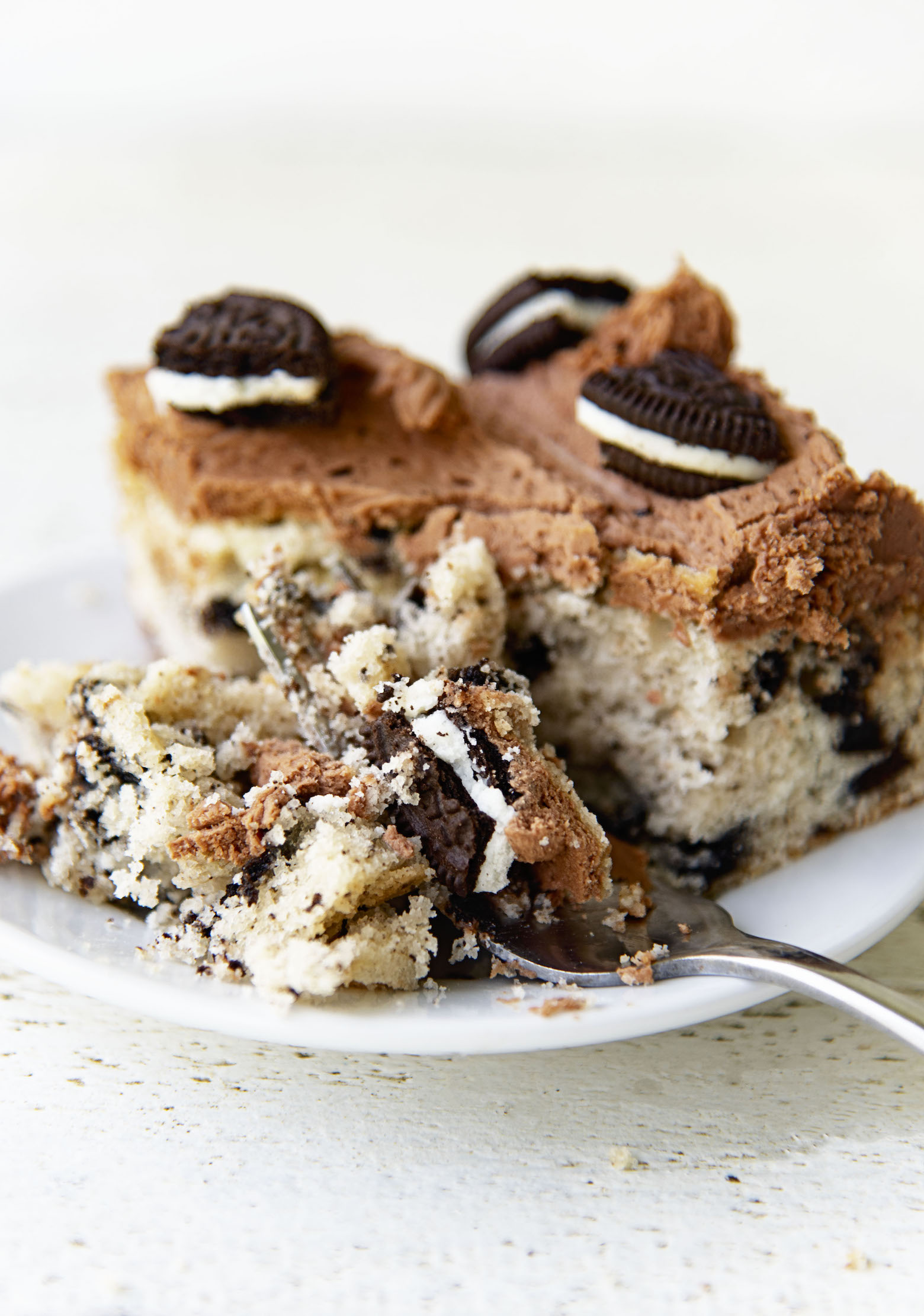 Want More Cake Recipes?
Circus Animal Cookie Layer Cake
Strawberry Mascarpone Buttermilk Layer Cake
Chocolate Salted Caramel Popcorn Layer Cake
Strawberry Lemonade Layer Cake
Ingredients
For the Cake:
2 and 1/2 cups cake flour (spoon & leveled)
2 tsp baking powder
1/2 tsp baking soda
1 tsp salt
3/4 cup (1.5 sticks) unsalted butter, at room temperature
1 and 1/2 cups granulated sugar
4 large egg whites, at room temperature
3/4 cup full fat buttermilk or sour cream, at room temperature
1 TBSP pure vanilla extract
3/4 cup whole milk, at room temperature*
1 and 1/4 cups chopped Oreos (I used Double Stuffed)
For the Ultimate Fudge Frosting:
2 cups unsalted butter, at room temperature (I used Plugra)
12 ounces semisweet chocolate, melted, slightly cool
4 cups powdered sugar
2 TBSP unsweetened cocoa powder
Extra Oreos to decorate
Instructions
For the Cake:
Preheat the oven to 350°F.
Generously grease a 9×13 inch cake pan. I used this springform pan.
Whisk the cake flour, baking powder, baking soda, and salt together. Set aside.
Using a stand mixer fitted with a paddle attachment, cream the butter and sugar together on high speed until it becomes light and fluffy.
Scrape down the sides and up the bottom of the bowl with a rubber spatula as needed.
Add the egg whites.
Beat on high speed until combined, about 2 minutes.
Then beat in the buttermilk and vanilla extract.
Scrape down the sides and up the bottom of the bowl as needed.
With the mixer on low speed, add the dry ingredients just until incorporated.
With the mixer still running on low, slowly pour in the milk until combined. Do not overmix.
Whisk it all by hand to make sure there are no lumps at the bottom of the bowl, then fold in the chopped Oreo pieces. Avoid over-mixing.
Pour batter into prepared cake pan.
Bake for around 32-35 minutes or until the cake is baked through. To test for doneness, insert a toothpick into the center of the cake. If it comes out clean, it is done.
Allow cake to cool completely in the pan set on a wire rack.
The cake must be completely cool before frosting.
For the Frosting:
Using a stand mixer with the paddle attachment, cream butter and 2 cups sugar until fully combined.
Add melted chocolate and cocoa powder, and beat on low speed until fully incorporated.
Add the remaining two cups of sugar. You might need to thin it out, I never had.
This is a fantastic frosting and I don't even really like chocolate that much…yeah I know, but you could seriously bath in this.
Frost the cake and top with more Oreos if desired.
Notes
Cake portion of the recipe is slightly adapted from Sallys Baking Addiction
Nutrition Information:
Yield: 15
Serving Size: 1
Amount Per Serving:
Calories: 553Total Fat: 34gSaturated Fat: 21gTrans Fat: 0gUnsaturated Fat: 12gCholesterol: 70mgSodium: 321mgCarbohydrates: 63gFiber: 2gSugar: 52gProtein: 4g