These Confetti Vanilla Marshmallow Peep Cupcakes are vanilla sprinkle cupcakes topped with Swiss meringue buttercream and a Party Cake Peep.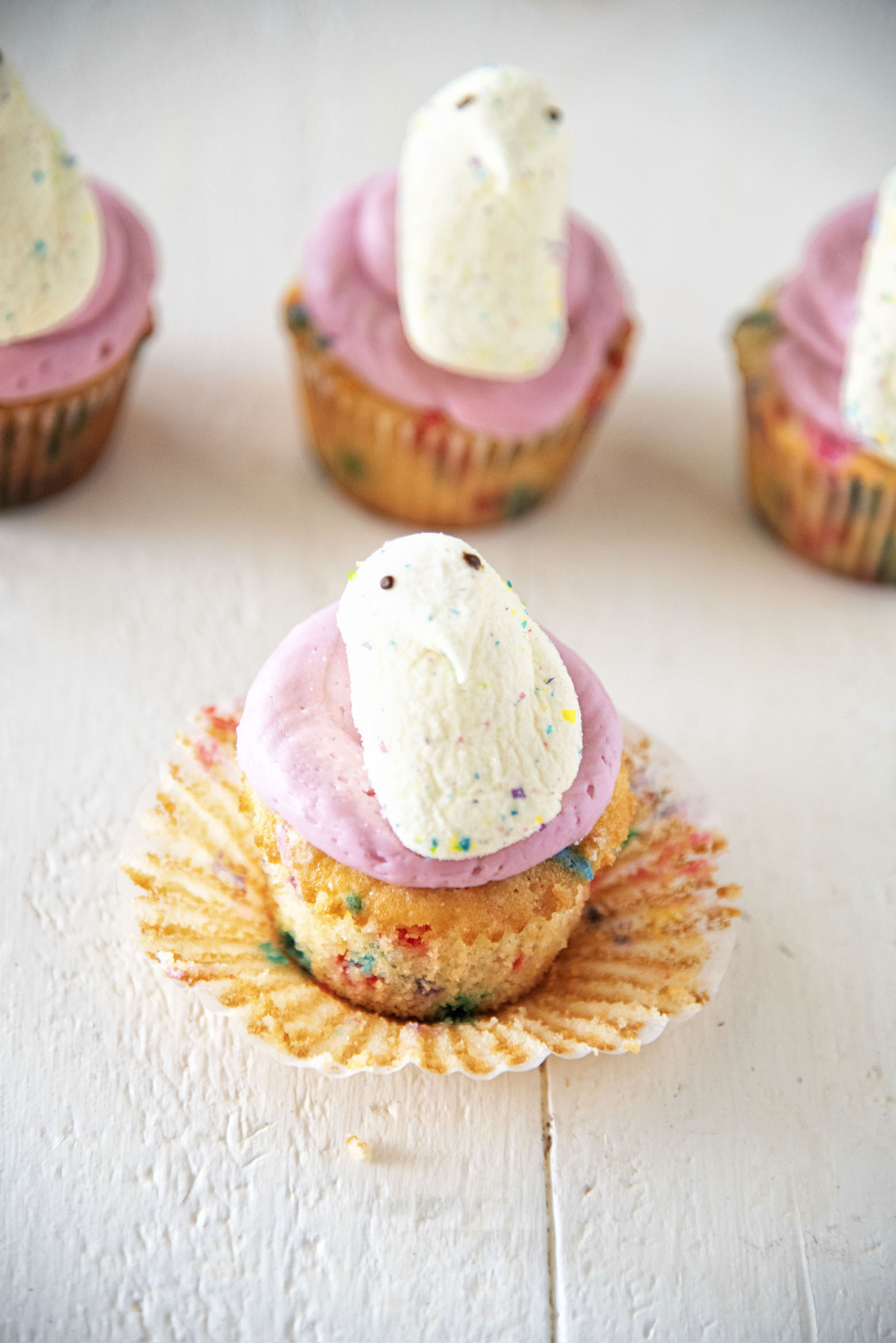 Friday was my 5 year wedding anniversary.
Neither my husband and I are big celebrators of things like this.
It's part of what makes us work so well.
This year he didn't even get a card.
Well, he did.
But I bought it off Etsy and didn't realize it was a digital download.
Only to find out a little too late.
So his card is coming…he just didn't get it on our anniversary.
He got me a card.
A nice one.
And a salad serving set.
You know the giant fork and spoon.
Which was made of wood.
Because 5 years is wood.
Now, you might think that is an odd gift but I was super happy to get it.
We eat a lot of salad around here.
At least 5 times a week.
And every time we make salad we complain that we can't get it out of the bowl.
Then do nothing about that. 🙂
Until now.
We had a low key day and it ended with playing ice hockey.
Which was only fitting because that is how we met.
And we won…which is why we got sprinkles in our cupcakes.
Sprinkles are for winners.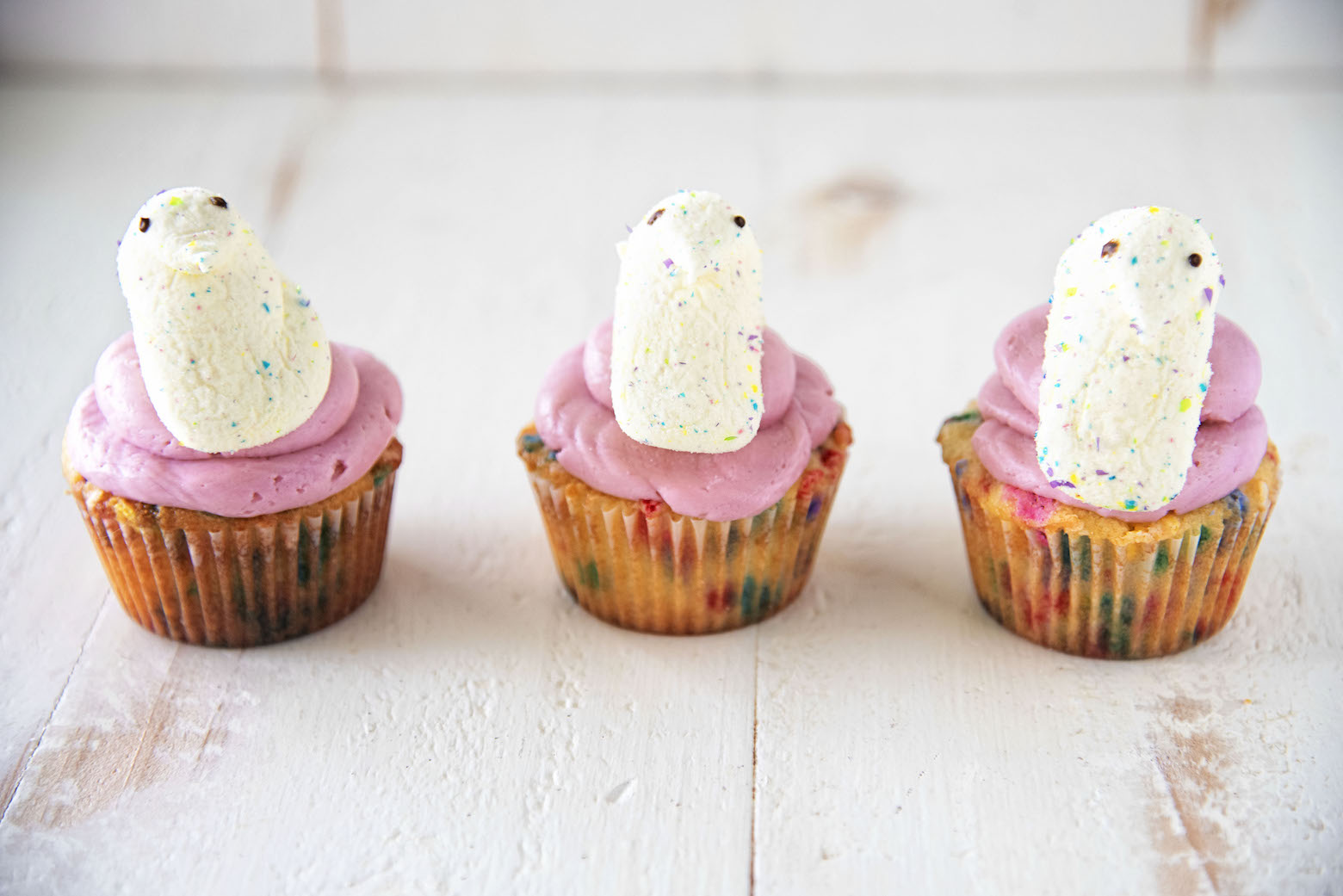 Since we served confetti cake and cupcakes at our wedding I decided I needed to make some cupcakes in honor of that.
But since it's Easter next week…they also have Peeps on them.
Party Cake Peeps.
To make Confetti Vanilla Marshmallow Peep Cupcakes.
For our wedding we went with a more traditional American buttercream but it was cake batter flavored.
But since these have a sugary Marshmallow Peep on top of them I decided to go with a less sweet frosting.
Swiss Meringue Buttercream.
It's pretty much everyone's favorite frosting these days.
P.S. It's a great day to buy my cookbook Holy Sweet!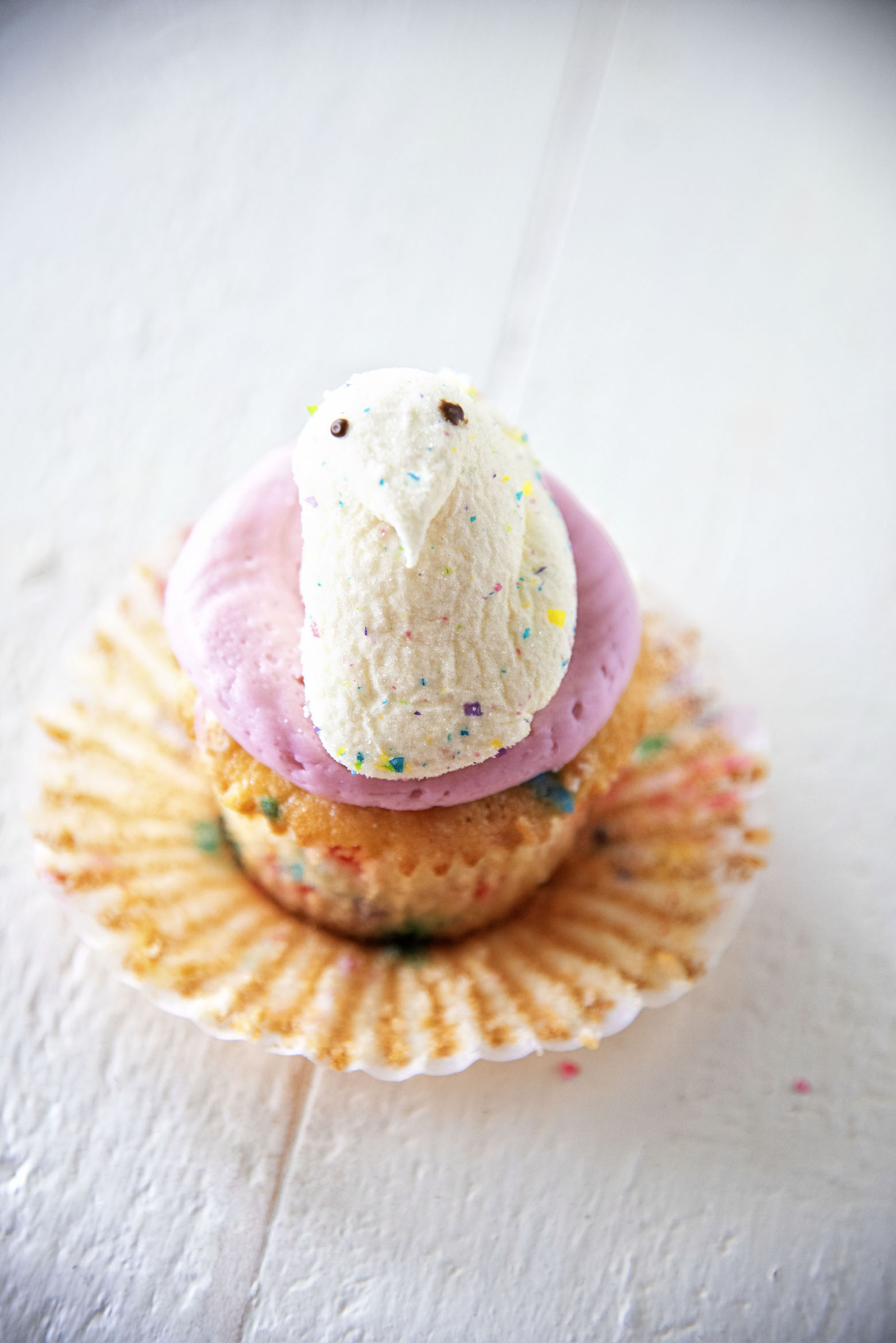 Want More Recipes that have Sprinkles?
Crumb Topped Cake Batter Blondies
Giant Cinnamon Roll with Cake Batter Icing
Cake Batter Cheesecake Cheeseball
Ingredients
For the Cupcakes:
4 large eggs
8 TBSP unsalted butter, at room temperature
1/4 cup vegetable oil
1 cup whole milk
1 tsp. Butter Vanilla Bakery Emulsion
1 tsp. kosher salt
2 cups all-purpose flour
1 3/4 cups granulated sugar
2 tsp. baking powder
1/2 cup rainbow sprinkles
For the Frosting:
1/2 cup egg whites
1 cup granulated sugar
1 1/2 cups unsalted butter, cubed and at room temperature
pinch of salt
1 tsp. vanilla extract
food coloring if desired
20 Party Cake Marshmallow Peep (as garnish)
Instructions
Preheat the oven to 350°F.
Line a cupcake pan with 20 baking cups.
In a stand mixer with a paddle attachment, beat the butter, sugar, and oil together until it becomes lighter in color, about 3 minutes.
Add eggs on medium-low speed for 2 minutes.
With the mixer running, add the milk, vanilla, and salt. Mix for 1 minute until well combined.
Sift together the flour and baking powder and add to the batter.
Mix on medium until just combined, 10 to 20 seconds.
Remove the bowl and paddle from the mixer and use the paddle to scrape the bottom and sides of the bowl, ensuring that everything is well mixed.
Fold in the sprinkles. I suggest a half a cup but I really love sprinkles and used about a cup.
Scoop the batter into the prepared baking cups, filling them two thirds of the way.
Bake in the middle of the oven for 20 to 25 minutes, rotating the pan halfway through.
The cupcakes are done when the centers spring back when you touch them.
For the Frosting:
Place the egg whites and sugar in the metal bowl of a stand mixer and set over a small pot of simmering water (the bowl should not touch the water).
Heat, stirring occasionally, until mixture is 160F or hot to the touch.
Transfer bowl to stand mixer and beat on high speed with a whisk attachment to medium stiff peaks, about 8 minutes.
Reduce mixer speed to medium low and add butter a tablespoon at a time, letting it incorporate into the meringue for few moments before adding more.
Add vanilla extract and salt and beat on high for 1-2 minutes until smooth and creamy.
If using food coloring, add now, and beat until frosting is the same color.
To assemble.
Frost cupcakes and place a Peep on top of each cupcake.