This Coke and Salted Peanut Bundt Cake really does have Coke in it and is studded with salted peanuts for this Southern salty sweet treat.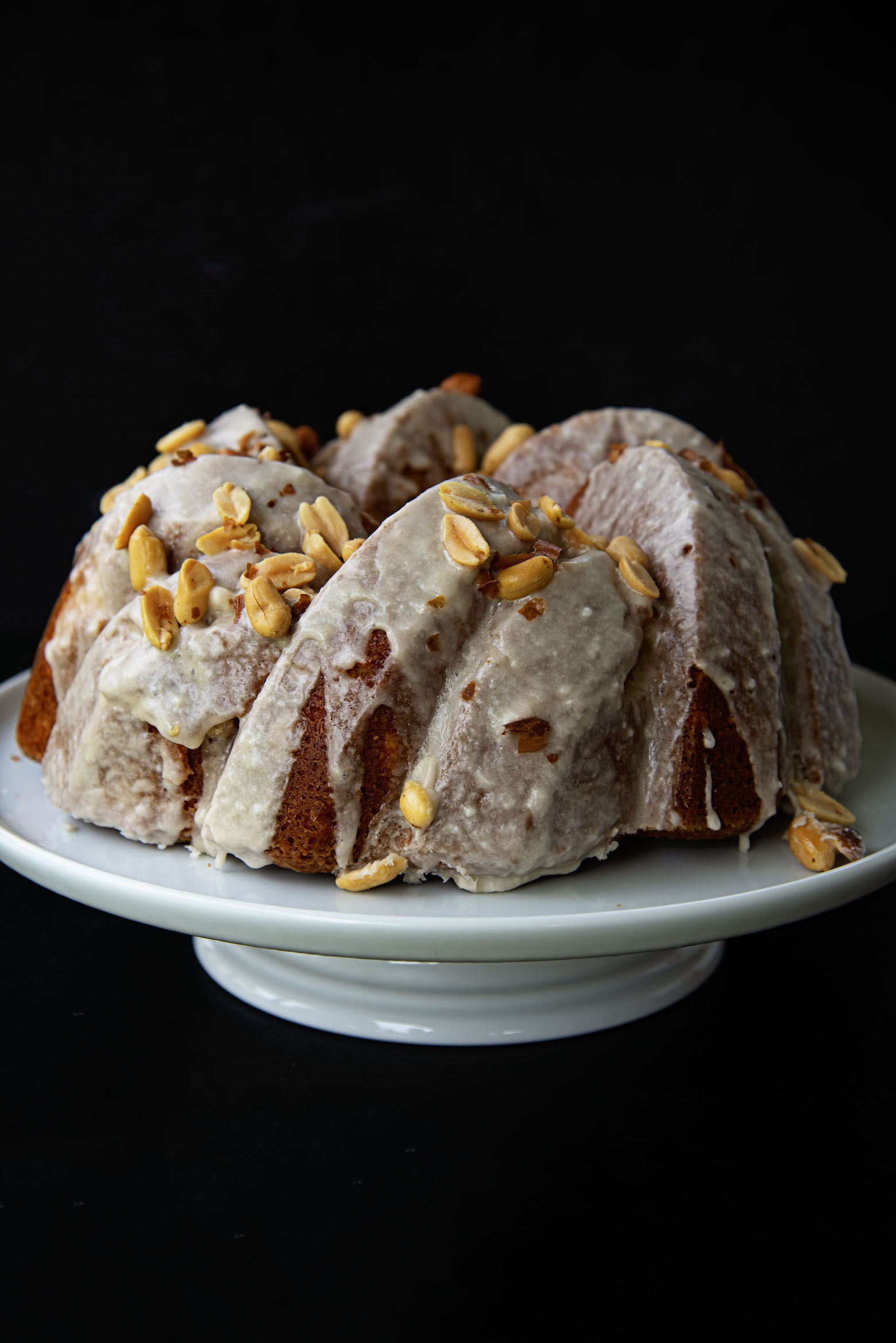 If you've never heard of it before you may be thinking the combo of Coke and salted peanuts as odd.
And technically it is odd.
When I was in college I had a handful of girls on my floor (of the dorm) who all came together from Georgia.
They drank Coke with salted peanuts in it.
I tried it and decided that was pretty good.
Forgot about it for quite some time until I saw Sprinkle Bakes make cupcakes years ago.
In which I made it into an ice cream.
And again forgot all about it again.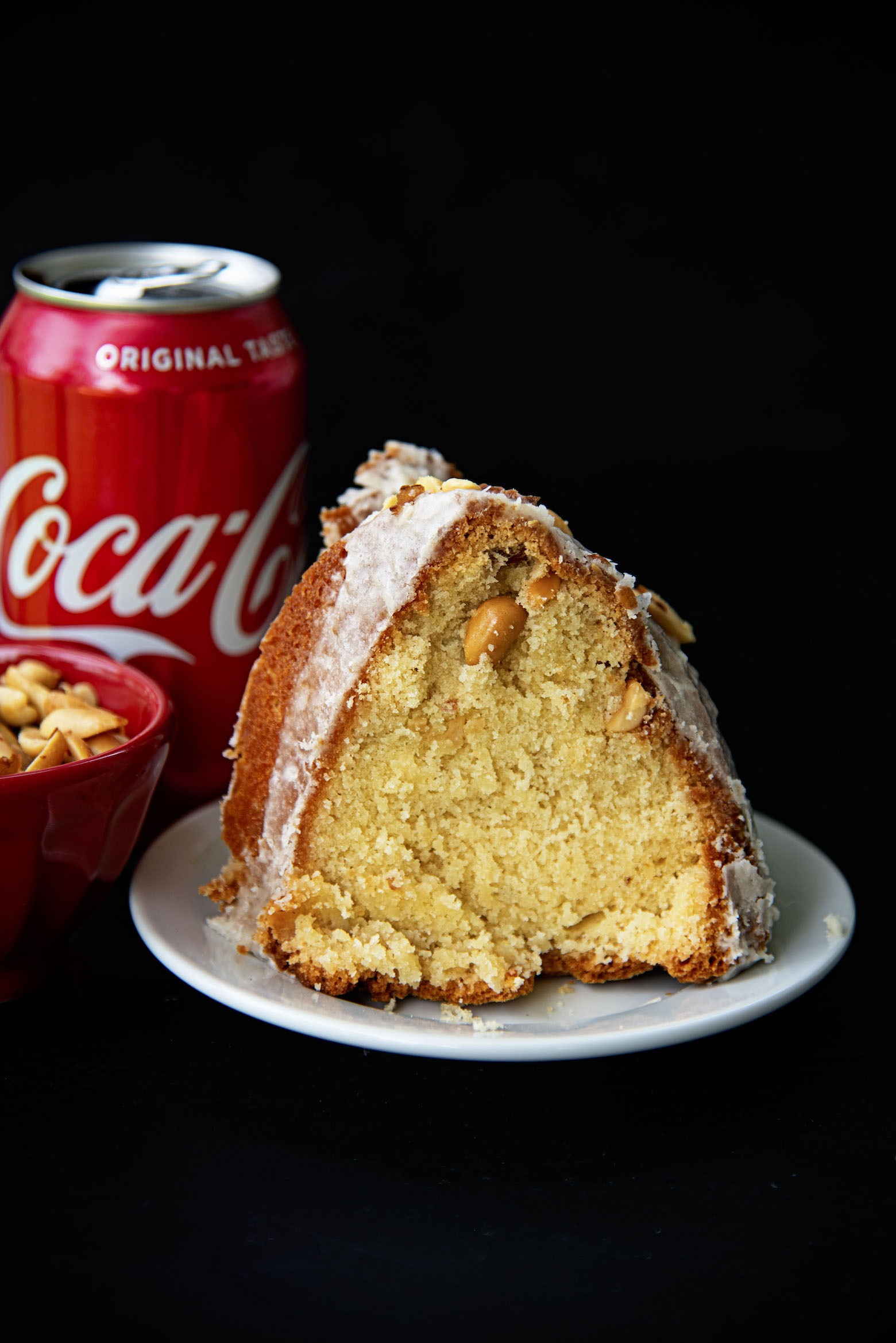 I'm not sure what prompted me to think of it again.
I was dying to try out the new Bundt pan that Nordicware came out with in honor of their 75th anniversary.
It's a really cool design.
You can only get it at Williams Sonoma though…so get it while you can.
They have mini versions too.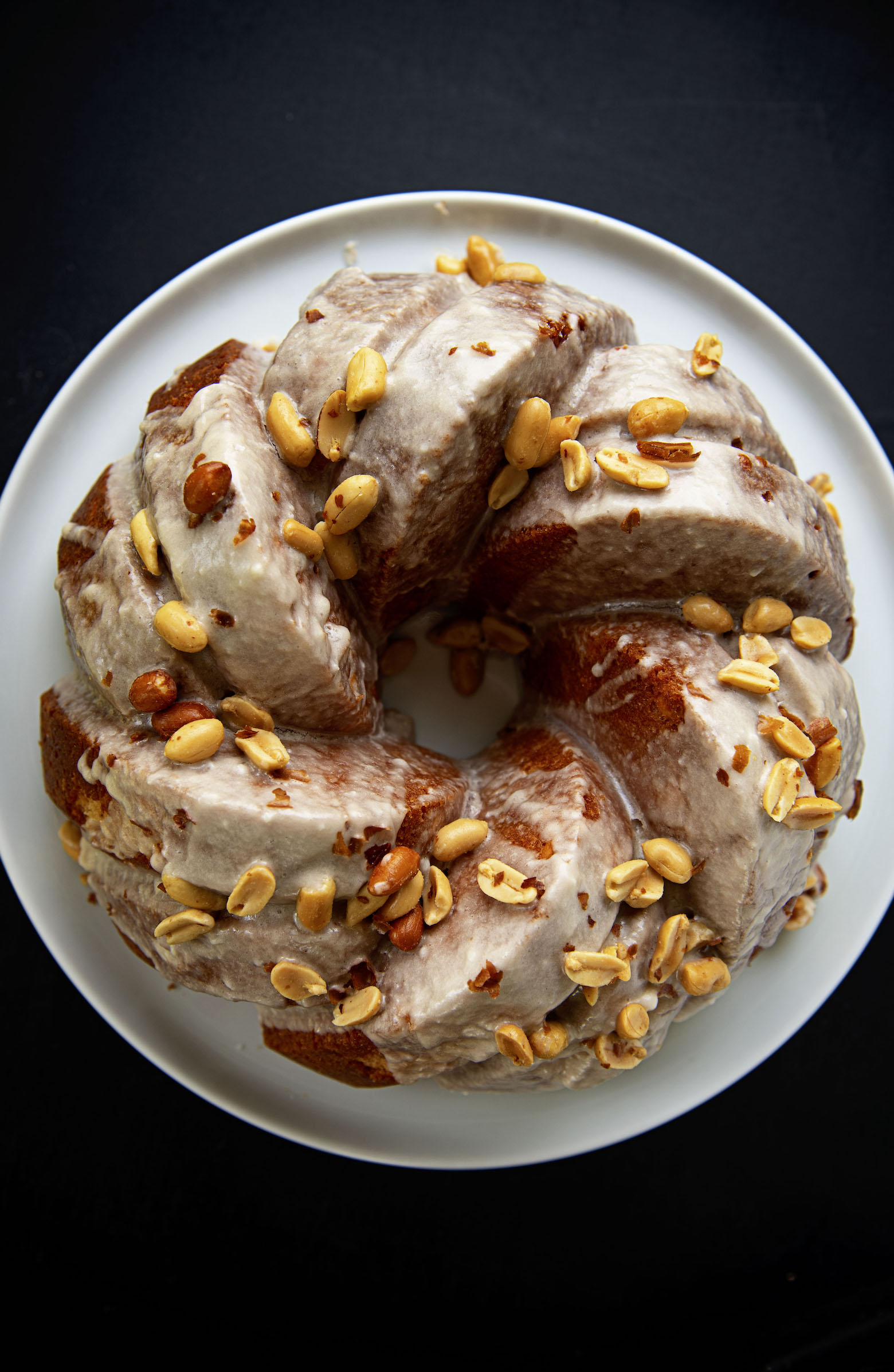 This Coke and Salted Peanut Bundt Cake turned out better than I had hoped.
My ideas sometimes don't turn out. 🙂
I do get a little crazy from time to time.
The Coke adds a caramel flavor and color for that matter (you cake will be on the darker side, less golden).
Make sure to get salted peanuts as that is key to the recipe.
And as always it's a great day to order my cookbook. 😀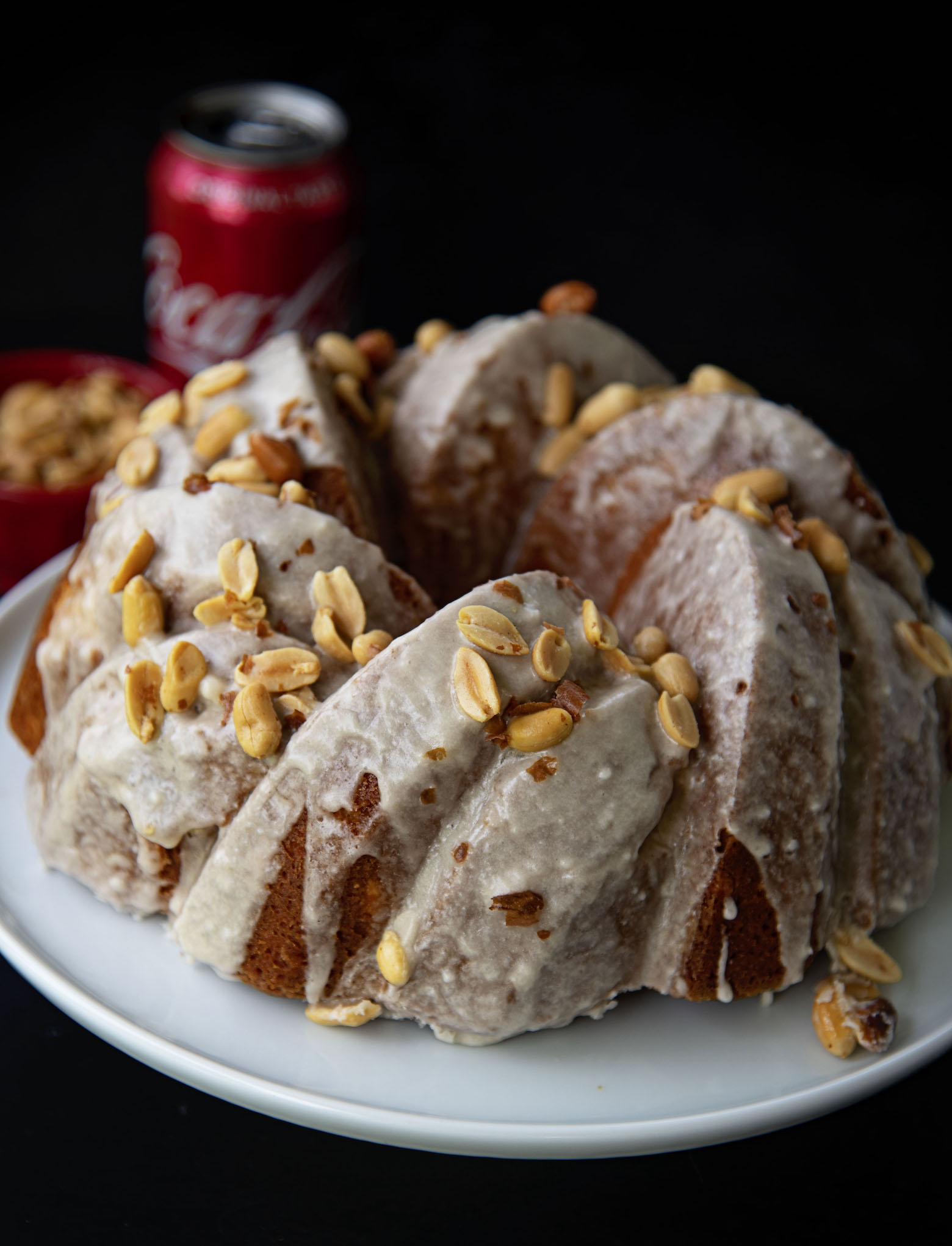 Want more recipes using Coke?
Jack and Coke Chocolate Cupcakes
Coke and Salted Peanut No Churn Ice Cream
Jack and Coke Texas Sheet Cake
Ingredients
For the cake:
1 1/2 cups salted peanuts
3 cups cake flour, divided
1 cup unsalted butter, at room temperature
1/2 cup vegetable shortening
3 cups granulated sugar
5 large eggs
1 tsp vanilla extract
3/4 cup Coke (or your favorite regular cola)
For the Glaze
2 TBSP unsalted butter, at room temperature
6 TBSP Coke
1 1/2 cups powdered sugar
Instructions
Preheat oven to 350°.
Grease and flour a 10-in. fluted or plain tube pan.
Place salted peanuts in a medium size bowl and toss them with 1 TBSP cake flour. Coating the peanuts in flour will help prevent them from sinking to the bottom of the cake.
In a large bowl, cream butter, shortening, and sugar until light and fluffy, about 3 minutes.
Add eggs, one at a time, beating well after each addition.
Beat in vanilla extract for 30 seconds.
Add the remaining flour alternately with Coke, beating well after each addition.
Fold in the flour coated salted peanuts.
Pour into the prepared Bundt pan.
Bake 60-70 minutes or until a toothpick inserted in center comes out clean.
Cool in pan 20 minutes before removing to a wire rack to cool completely.
For the Glaze:
Simply whisk together the Coke, butter, and powdered sugar in a medium bowl.
When Bundt is cool pour glaze over the top of it.
Let glaze firm up. Will take about 30 minutes.