This Coffee and Donuts Bread Pudding is made with glazed donuts in a coffee cocoa custard and topped with a mocha toffee sauce.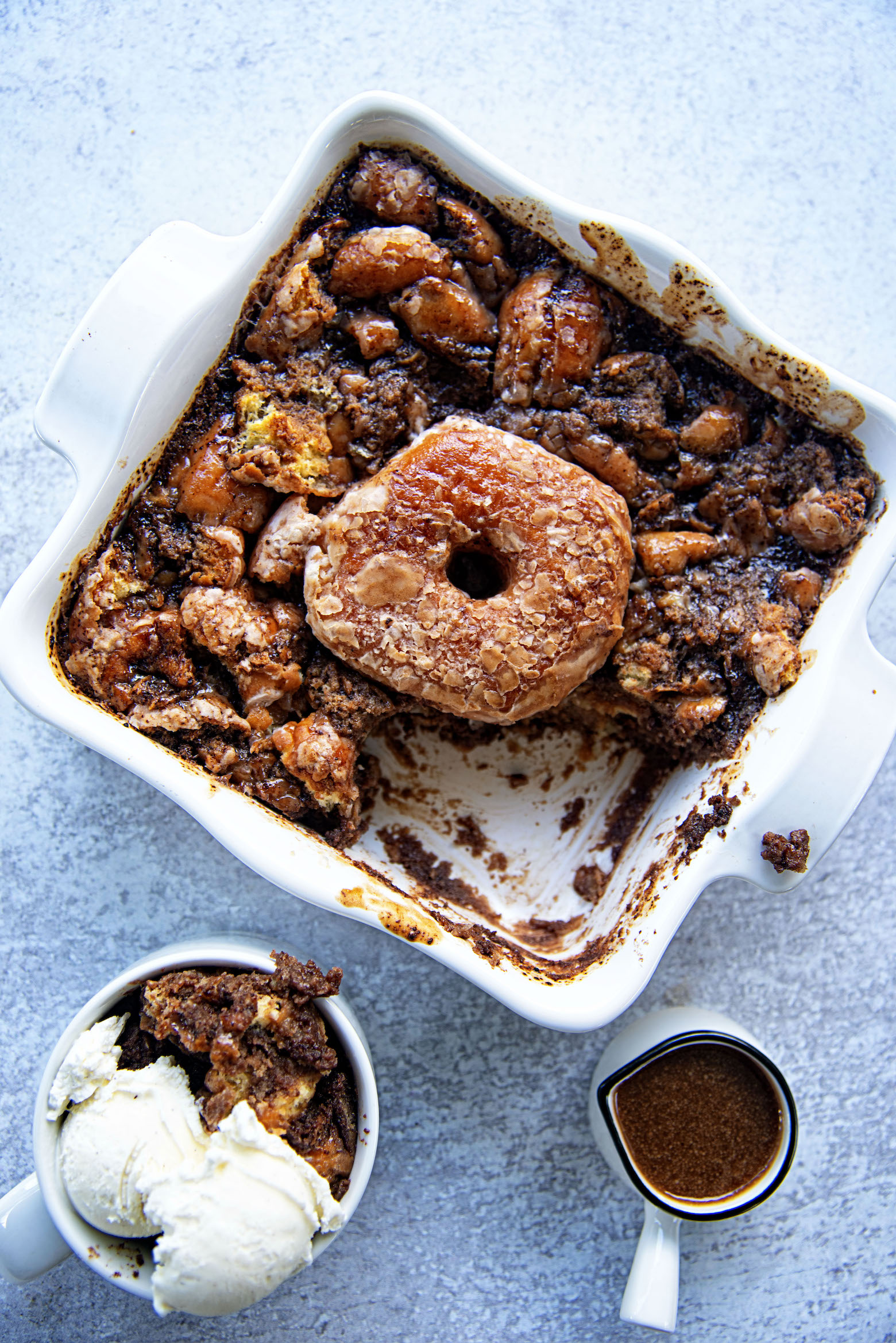 It's no secret that I love me some bread pudding.
I have a ton of bread pudding recipes on this blog.
As well as several in my cookbook, Holy Sweet!
Sometimes I make a recipe and wonder to myself how did it take 15 and a half years for me to make this recipe.
And put it on the blog.
Yes, I'll be rolling into year 16 of my blog in 2021!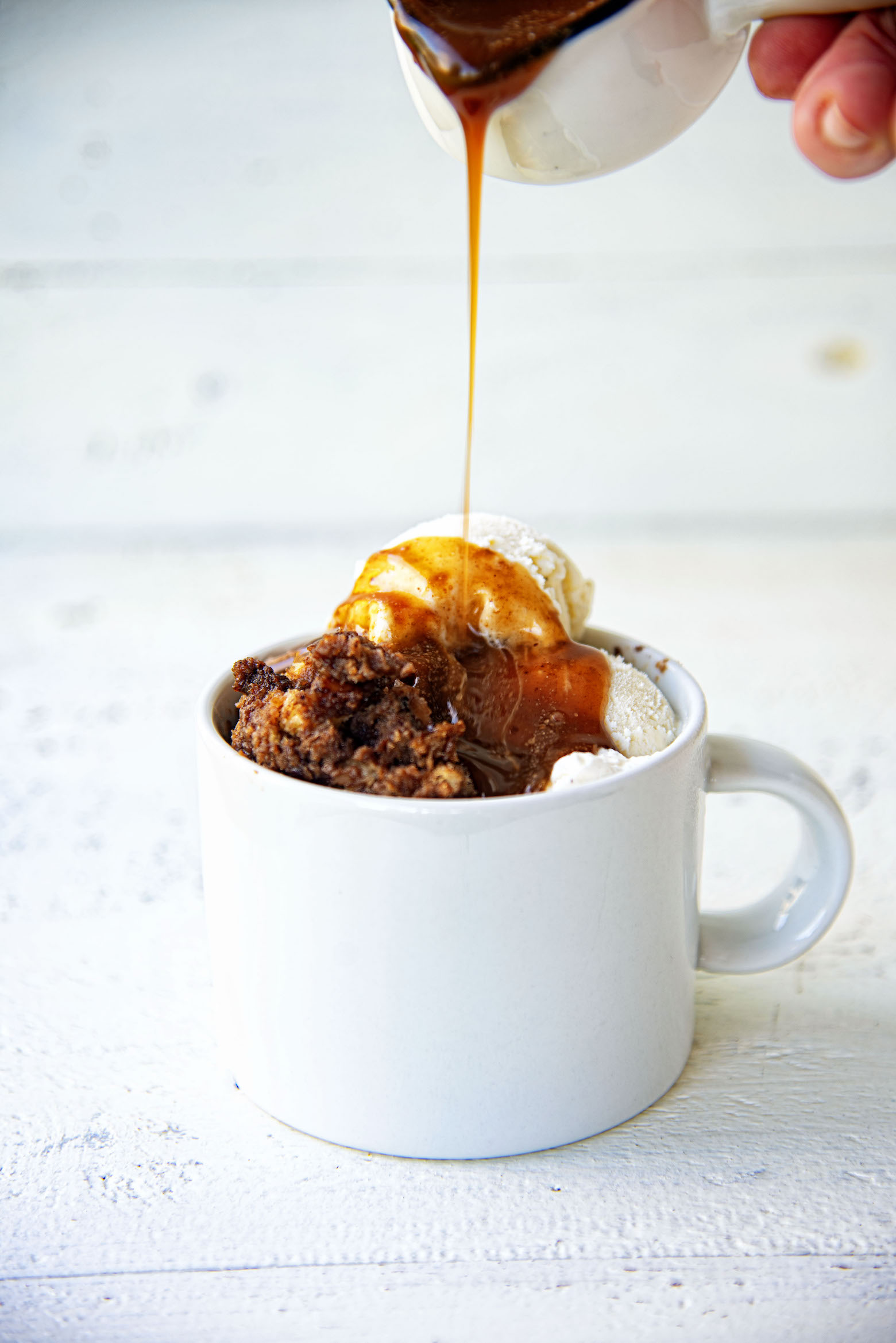 My book has a Honey Bun Bread Pudding which is one of my favorites and a very popular recipe from the book.
There is also a Cookies and Cream Ice Cream Bread Pudding that has actual ice cream in it.
In the Fair Enough section there is a Sweet Corn Bread Pudding that has a lovely Honey Raspberry Caramel Sauce.
And there is Maple Bar Pumpkin Cheesecake Bread Pudding.
Yes, you read that right.
And yes, it's awesome.
Do you have my book?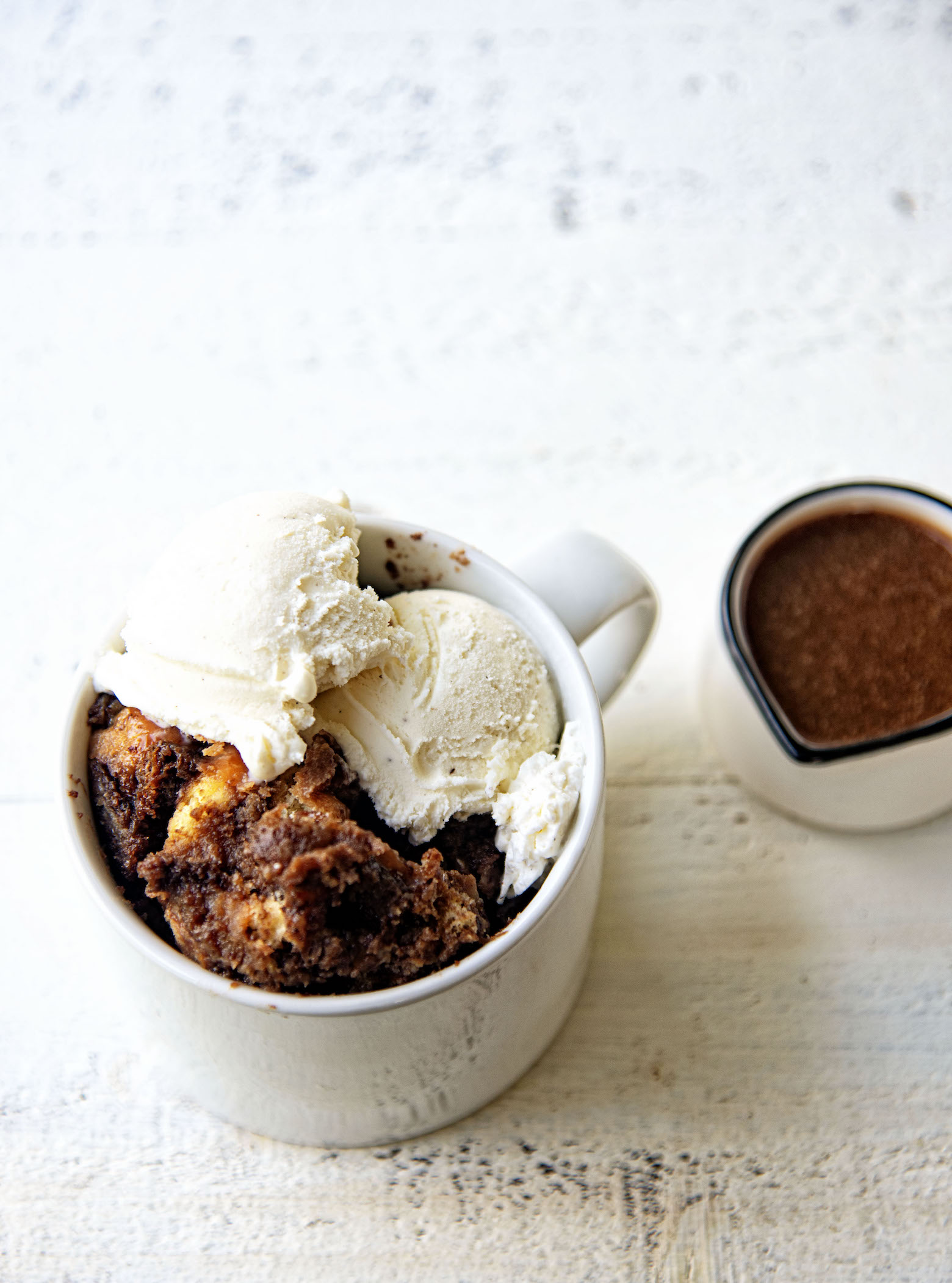 Yes, this Coffee and Donuts Bread Pudding is ugly.
There, I said it.
Brown and brown and more brown isn't really that attractive.
But DANG is it tasty.
The coffee does a great job of cutting the sweetness of the glazed donuts.
But don't worry it's more than sweet.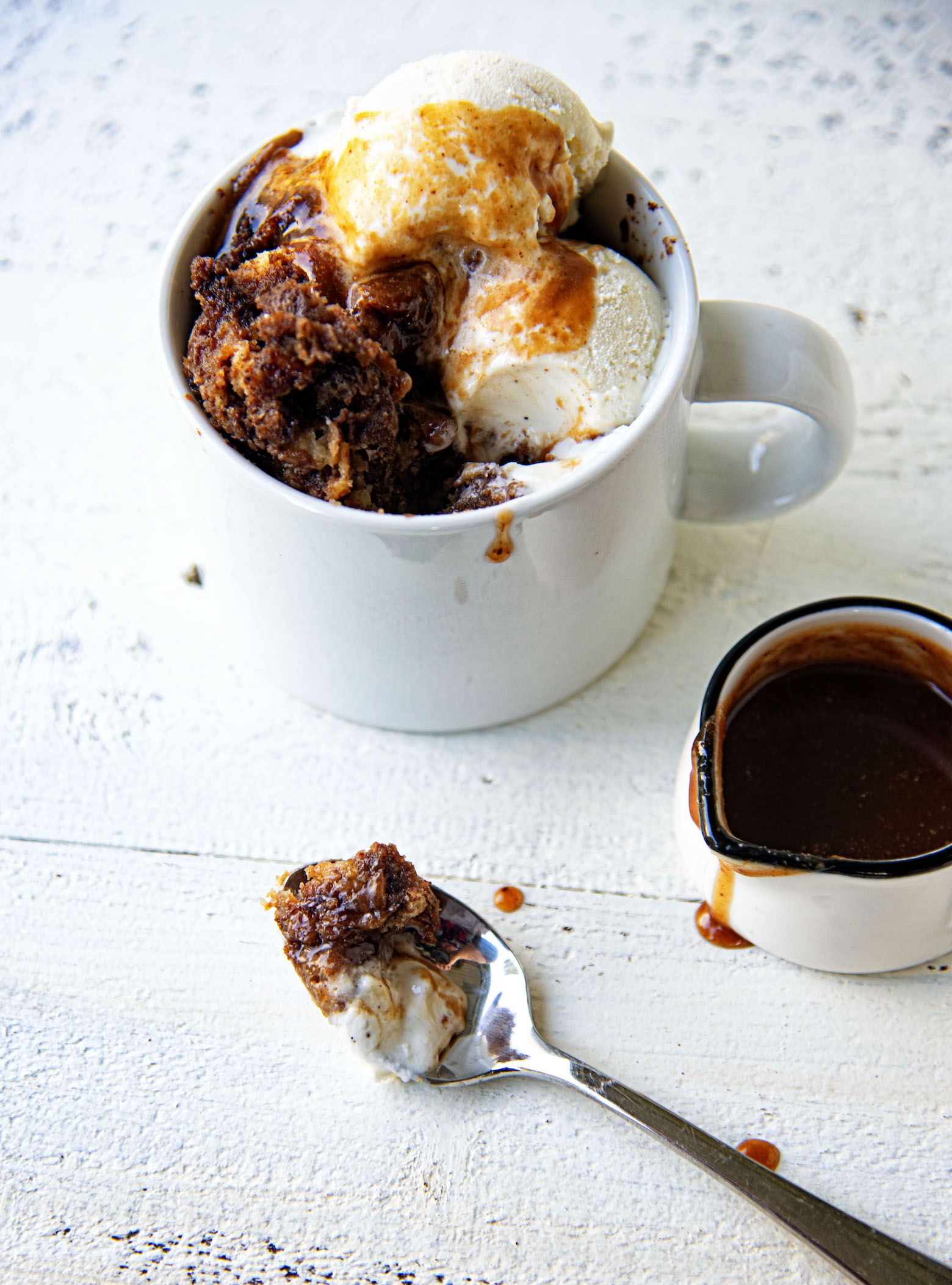 I did add some chocolate to both the custard and the sauce.
I just felt it needed it.
If you would prefer just coffee with no mocha feel free to omit from the recipe.
P.S. It's a great day to buy my cookbook Holy Sweet!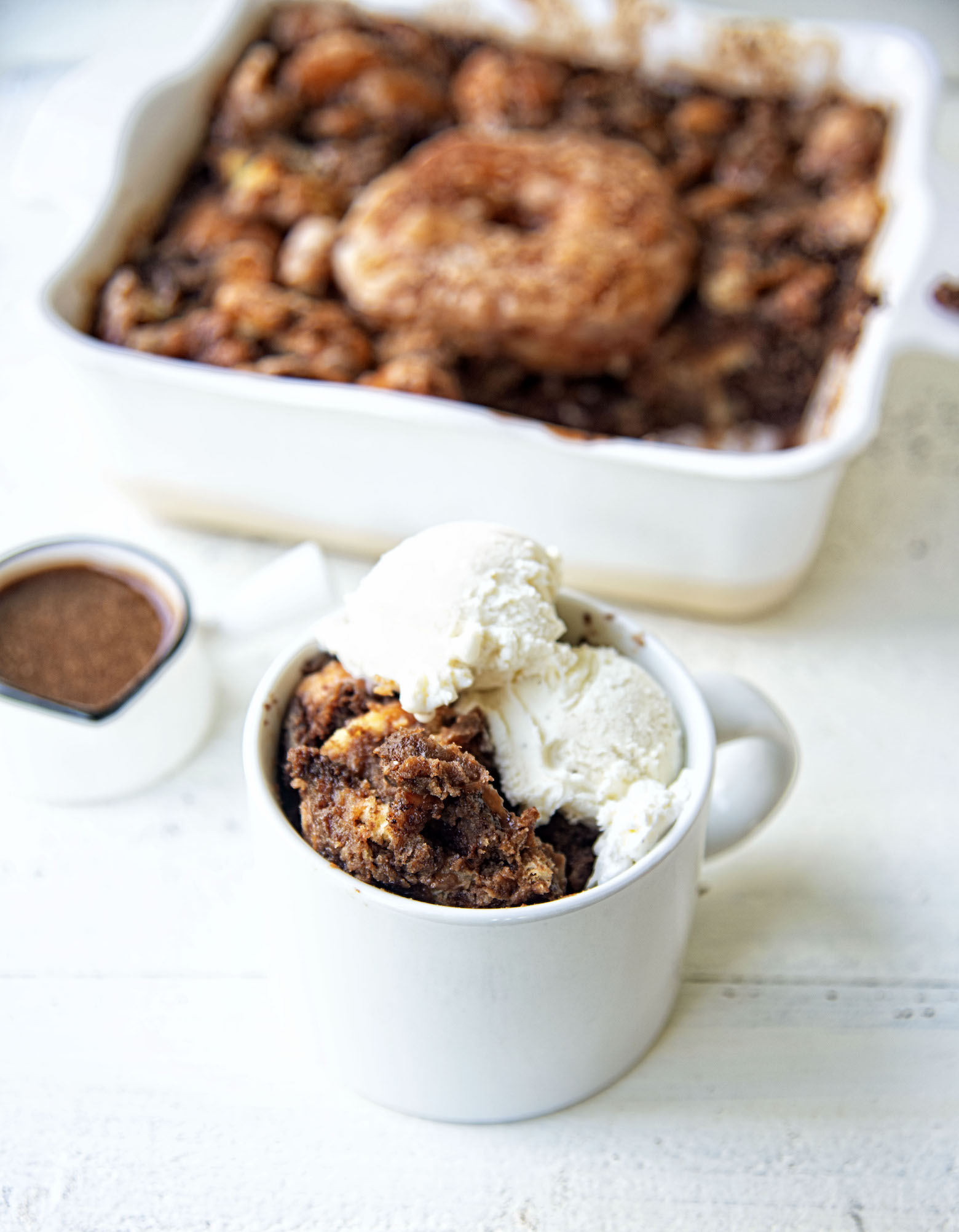 Want More Bread Pudding Recipes?
Bailey's Irish Nut Bread Pudding
Oatmeal Raisin Cookie Bread Pudding
Sticky Toffee Pudding Bread Pudding
Ingredients
For the Pudding:
10 Glazed Donuts, torn into pieces, leave one whole for middle
2 cups heavy cream
3/4 cup granulated sugar
2 tsp. powdered instant coffee (I used Via by Starbucks)
2 TBSP unsweetened cocoa powder
3 eggs
2 egg yolks
1 tsp vanilla extract (I used Rodelle)
For the Sauce:
1 cup brown sugar, tightly packed
1 tsp powdered instant coffee
1/2 cup unsalted butter
1/2 cup heavy whipping cream
1/3 cup mini chocolate chips
Instructions
To make the bread pudding:
Preheat oven to 350F.
Spray an 8-x-8-inch pan with baking spray.
Whisk together the eggs, yolks, powdered coffee, cream, sugar, and vanilla until fully combined.
Place half of the donut pieces into the bottom of the pan.
Pour half the custard mixture in and press the bread down to soak up the custard base.
Break the remaining donut pieces off and place on top of the bottom layer.
Place one whole donut on top of the torn pieces in the center.
Add the remaining custard base and again press the bread pieces down.
Cover with foil and bake for 30 minutes.
Remove foil and bake another 15-20 minutes. Just making sure none of the custard mixture is still liquid.
Remove from oven and let cool while you prepare sauce.
For the Sauce:
Stir brown sugar, instant coffee, and butter in a heavy medium saucepan over medium heat until melted and smooth, about 2 minutes.
Add cream and chocolate chips and bring to a simmer.
Simmer for about 5 minutes.
Serve on top of bread pudding.