This Circus Animal Cookie Layer Cake is a fun vanilla sprinkle cake filled with Vanilla Malt Swiss meringue buttercream and circus animal cookies.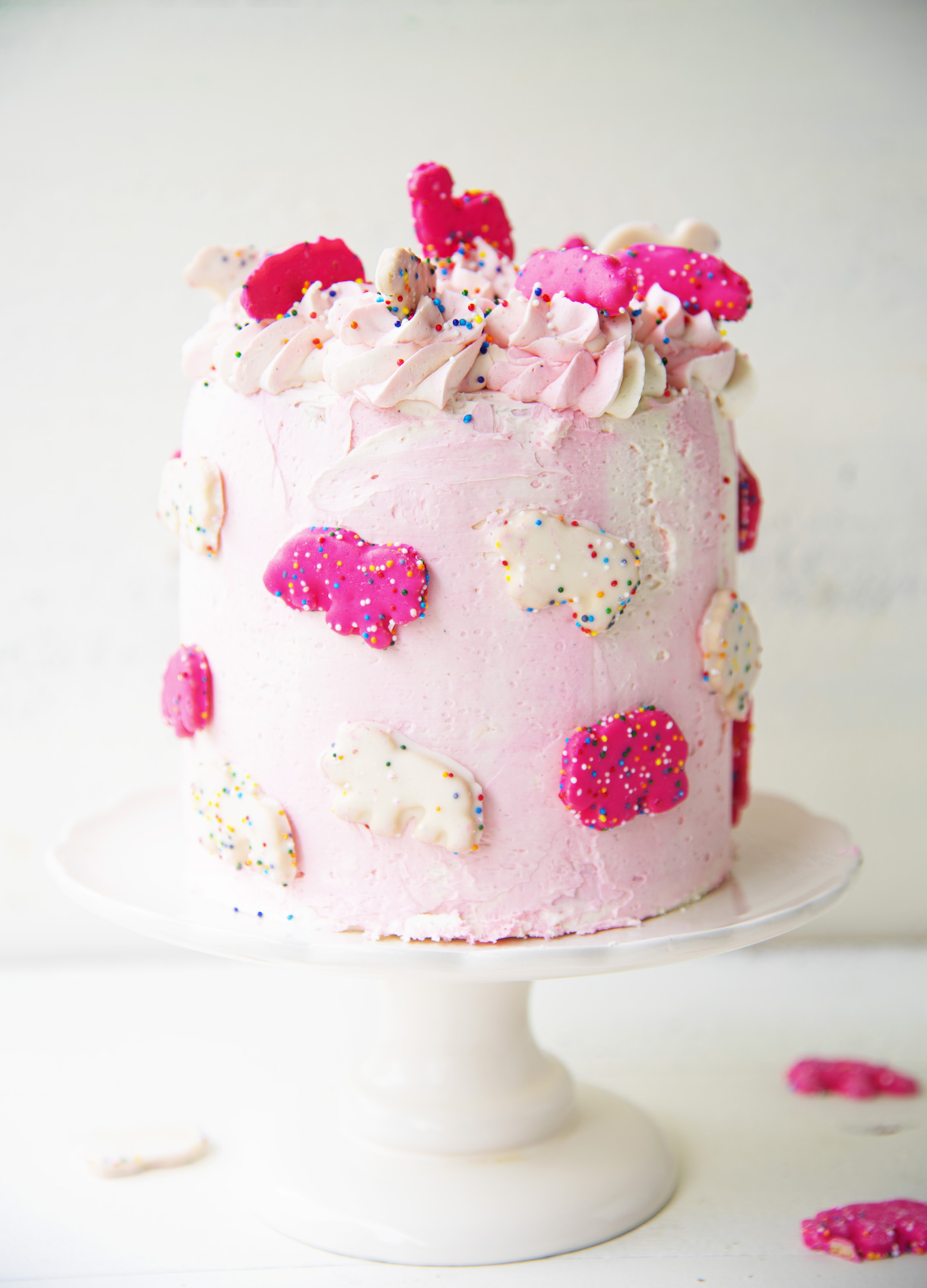 15 years.
Fifteen years of my life.
Dedicated to this blog.
Well, sometimes dedicated to this blog. 🙂
There have been countless times I wanted to quit. Countless.
Mainly back when I was trying to keep up with all the things I was supposed to do to make this blog "successful".
It wasn't until I decided to stop doing that and just blog how I want to that it became my happy place again.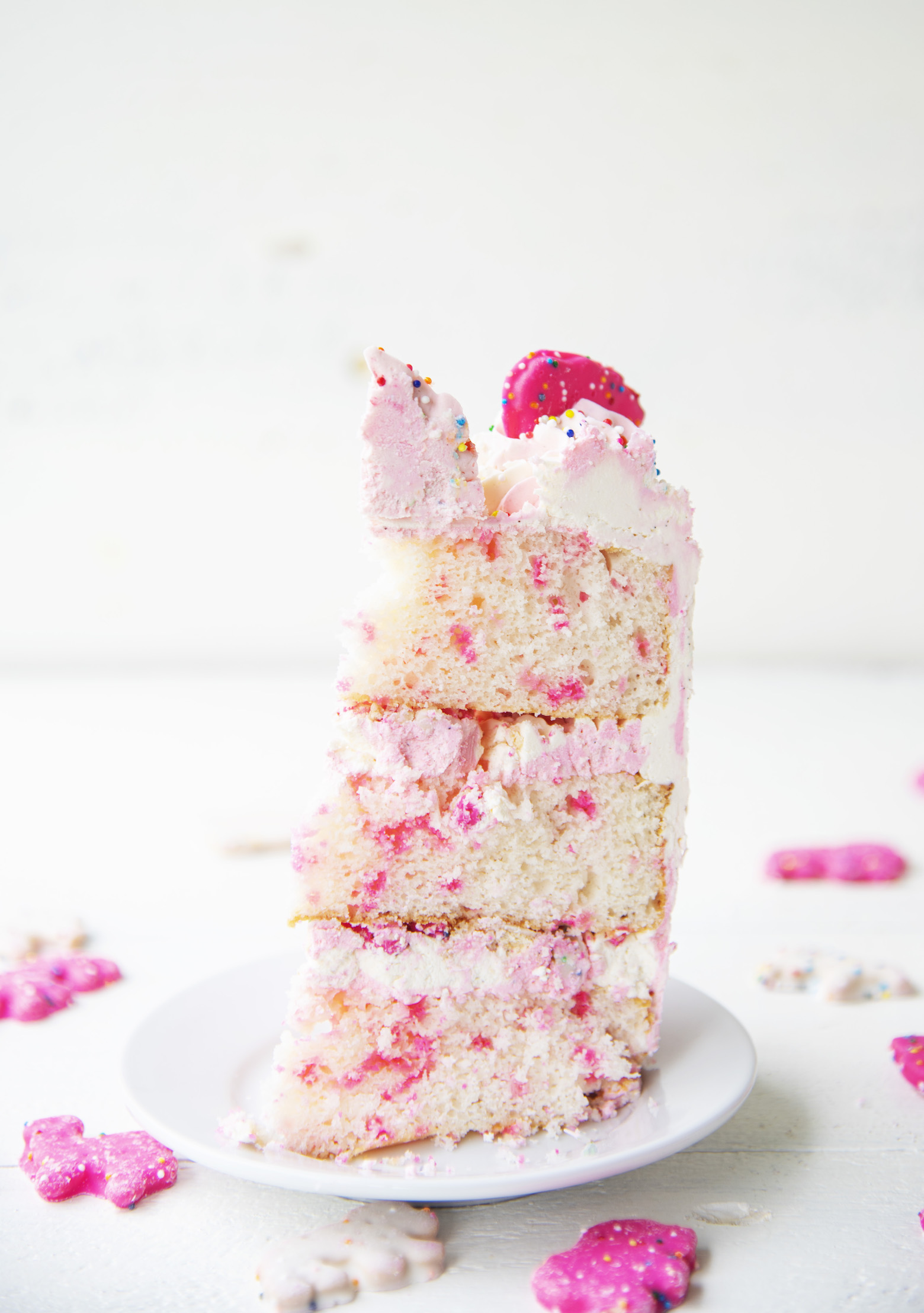 This year is a big year for me since I have a cookbook coming out.
Seeing it come together this last few weeks has got me very excited.
I mean, I was excited before but when it's just words in a Word document it doesn't exactly have a wow factor.
With it all laid out and formatted makes it all seem that much more real.
Everything I was trying to convey in the book: fun, whimsey, nostalgia seemed to shine though.
And the feedback I have gotten from bloggers and cookbook authors who got a sample has been overwhelmingly wonderful.
Which fills my heart because I admire these people so much.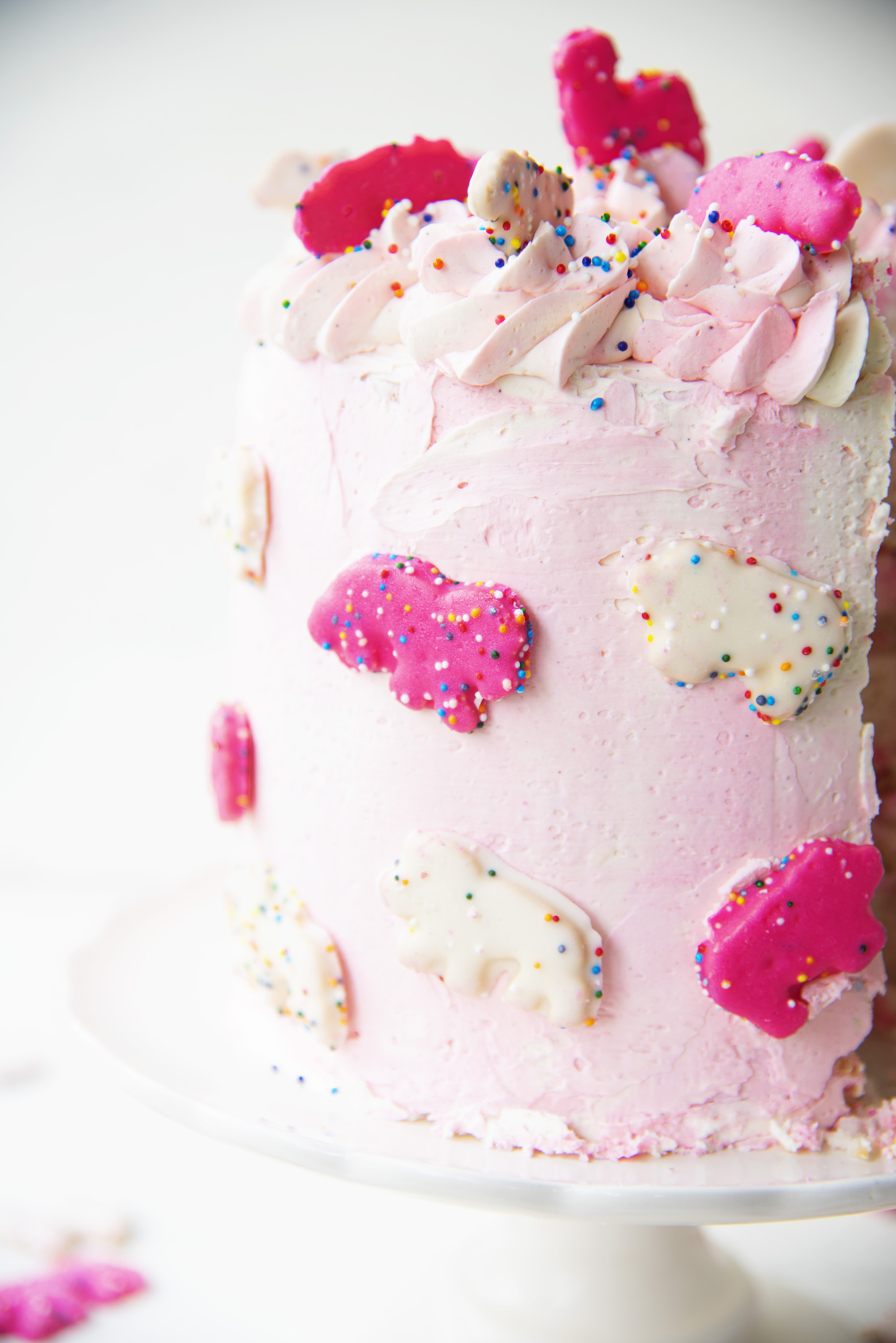 Many, many things have changed in the 15 years since I started blogging.
Some of them for the better….my photos are not longer blurry blobs with the flash on. 😀
And some not for the better…far less community among food bloggers.
There are cliques…but not community the way we used to have it (Ha! I sound so old).
I used to get to just press publish and that was that.
Now I have to go around and put it on all the different social media sites.
And go interact on all of the different places.
Before people just came to the blog to comment and we could all interact in one spot.
You're supposed to follow the food trends and blog recipes about that (cough, cough Instant Pot and Keto).
Clearly I just do what I want. 😛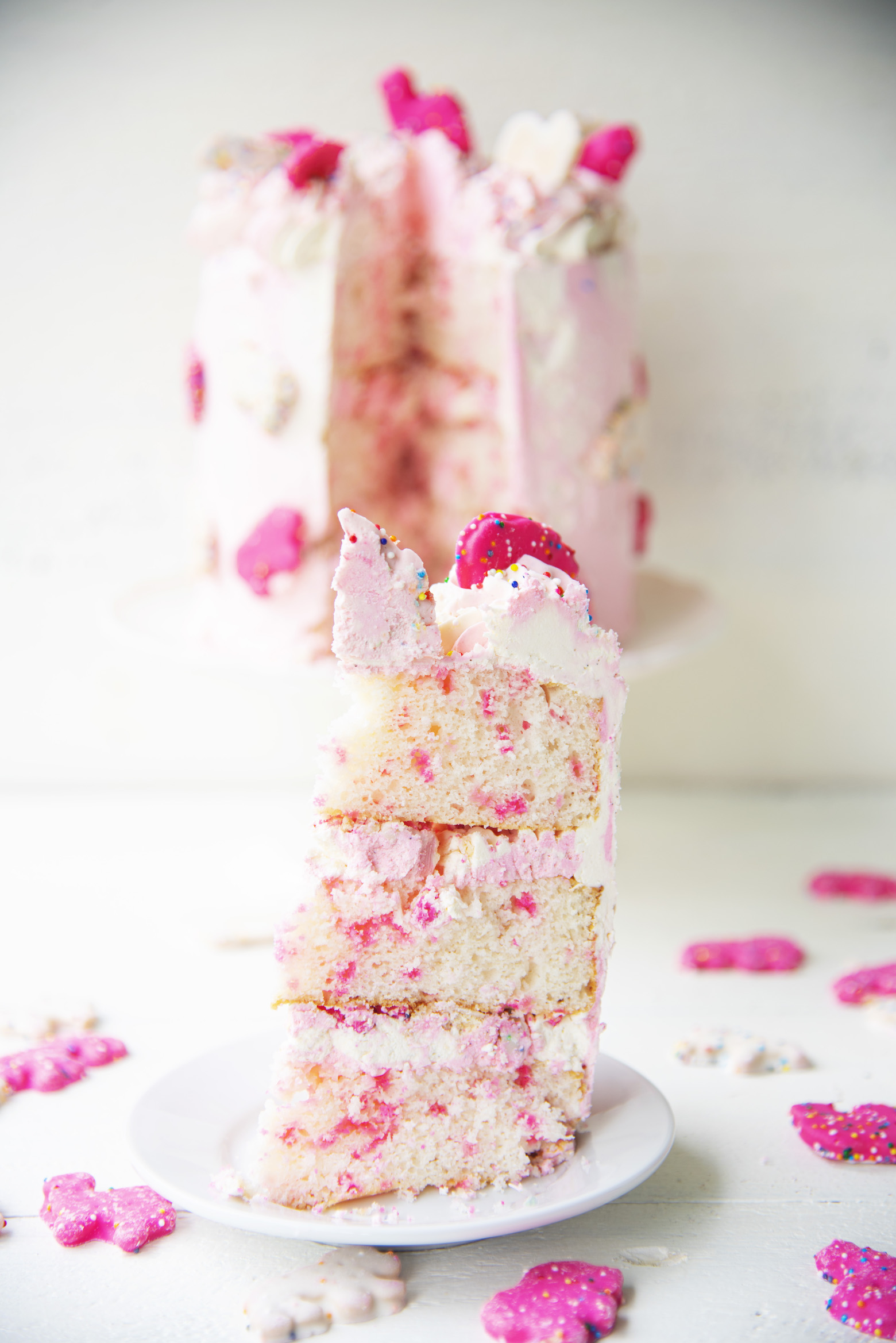 So how do I celebrate 15 years?
With some of my favorites.
Sprinkles.
Circus Animal Cookies.
Malted Milk.
Swiss meringue buttercream.
I thought about not making this Circus Animal Cookie Layer Cake.
I have seen a lot of circus animal cakes out there why make one more?
Then I realized because I want to make the cake. 🙂
It's a vanilla white cake base with pink sprinkles.
Layered with Vanilla Malt Swiss meringue buttercream.
Crushed Circus Animal Cookies.
Then frosted in more buttercream.
And covered in cookies.
So many of my favorites in one spot.
Thank you all for supporting me over the years…here is to many more!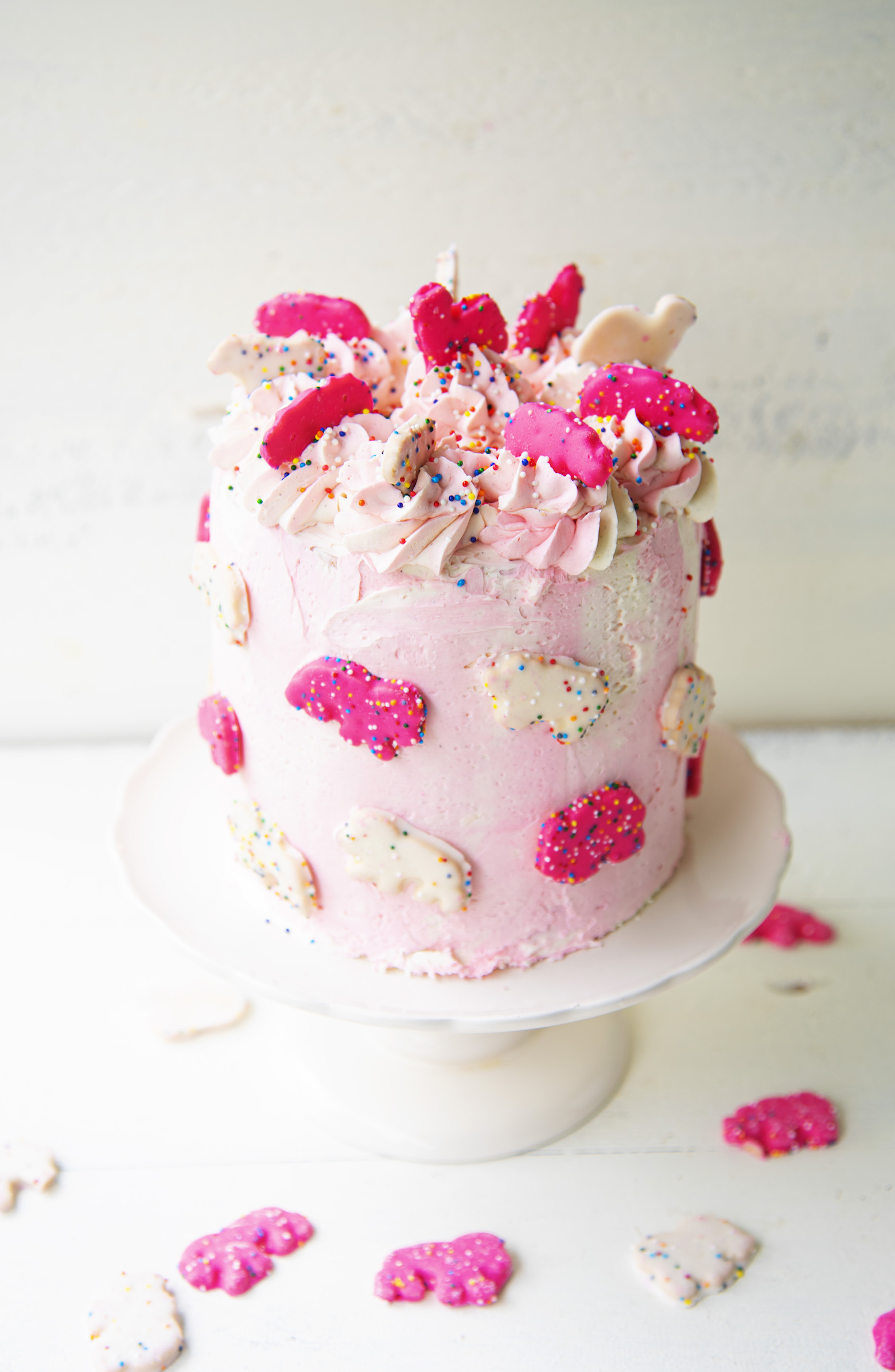 Want More Circus Animal Cookie Recipes?
Circus Animal Cookie Ice Cream
Yummy Circus Animal Cookie Cheesecake Cheeseball
Fun Circus Animal Cookie Blondies
Peabody's 37th Birthday Circus Animal Cookie Cheesecake "Cupcakes"
Ingredients
For the Cake:
4 large egg whites
8 TBSP unsalted butter, at room temperature
1/4 cup vegetable oil
1/3 cup sour cream
1 cup whole milk
1 tsp vanilla extract
1 tsp. salt
2 cups all-purpose flour
1 3/4 cups granulated sugar
2 tsp. baking powder
1/2 cup pink sprinkles
For the Frosting:
1 cup egg whites
2 cups granulated sugar
3 cups (6 sticks) unsalted butter, cubed and at room temperature
pinch of salt
2 tsp. vanilla bean paste (I used Rodelle)
1/3 cup malted milk powder
food coloring if desired
1 cup Circus Animal Cookies, finely crushed
extra Circus Animal Cookies for garnish
Instructions
Preheat the oven to 350°F.
Line a three 6-inch cake pans with baking spray and parchment circles.
Using a stand mixer with a paddle attachment, beat the butter, sugar, and oil together until it becomes lighter in color, about 3 minutes.
Add egg whites on medium-low speed for 2 minutes.
With the mixer running, add the milk, sour cream, vanilla, Butter Vanilla Bakery Emulsion, and salt. Mix for 1 minute until well combined.
Sift together the flour and baking powder and add to the batter.
Mix on medium until just combined, 10 to 20 seconds.
Remove the bowl and paddle from the mixer and use the paddle to scrape the bottom and sides of the bowl, ensuring that everything is well mixed.
Fold in the sprinkles. I suggest a half a cup but I really love sprinkles and used about a cup.
Dived the batter evenly into the prepared baking pans.
Bake in the middle of the oven for 25 to 28 minutes, rotating the pan halfway through.
Cakes are done when the centers spring back when you touch them.
For the Frosting:
Place the egg whites and sugar in the metal bowl of a stand mixer and set over a small pot of simmering water (the bowl should not touch the water).
Heat, stirring occasionally, until mixture is 160F or hot to the touch.
Transfer bowl to stand mixer and beat on high speed with a whisk attachment to medium stiff peaks, about 8 minutes.
Reduce mixer speed to medium low and add butter a tablespoon at a time, letting it incorporate into the meringue for few moments before adding more.
Add vanilla bean paste, malted milk, and salt and beat on high for 1-2 minutes until smooth and creamy.
If using food coloring, add now, and beat until frosting is the same color.
Divide the frosting equally among two bowls.
Add pink food coloring to one bowl and mix until fully combined. Leave the other bowl alone.Put frosting into two separate piping bagshttps://www.youtube.com/watch?v=JuzXzcTlpv0. Then place both piping bags into a third piping bag that has no frosting in it. You will get a swirl of orange and cranberry frosting if you do it this way.
Place a cake layer on cake plate and pipe 1/2 cup of the frosting and top with 1/2 cup crushed circus cookies.
Place second layer on top of the frosting and cookies and push down slightly until you see the frosting come to the sides.
Pipe another 1/2 cup of the frosting followed by another 1/2 cup of the crushed cookies.
Top with the last cake layer.
Frost the cake with a crumb coat layer and let set up for 30 minutes in fridge.
Remove from fridge and frost the cake.
Add Circus Animal Cookies as garnish if desired.