This Cinnamon Toast Crunch Apple Slice is my version of the midwest staple of Apple Slice. But uses Cinnamon Toast Crunch instead of Corn Flakes.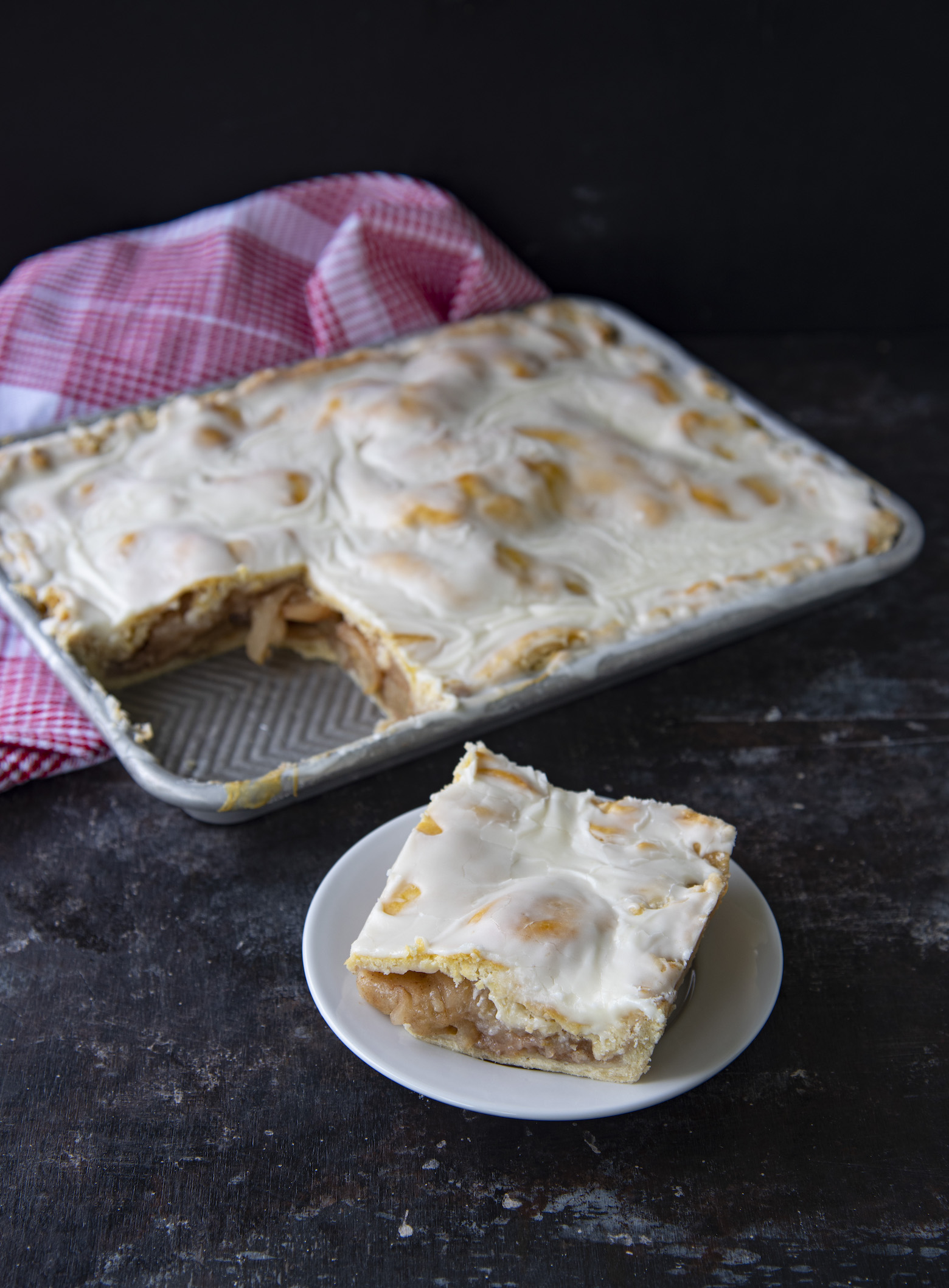 Apple pie is one of my ultimate comfort foods.
I think it is for a lot of people.
It's also one of the few desserts that I really can't stop eating.
So I try not to make it that often.
The way that I love to eat it most is in the form of Apple Slice.
It's called different things different places.
But its apple pie that is made in a sheet pan instead of a pie pan.
The other difference is that it usually has crushed Cornflake cereal in it as well.
It's also GIANT and you see it mostly at potlucks when baking for a crowd.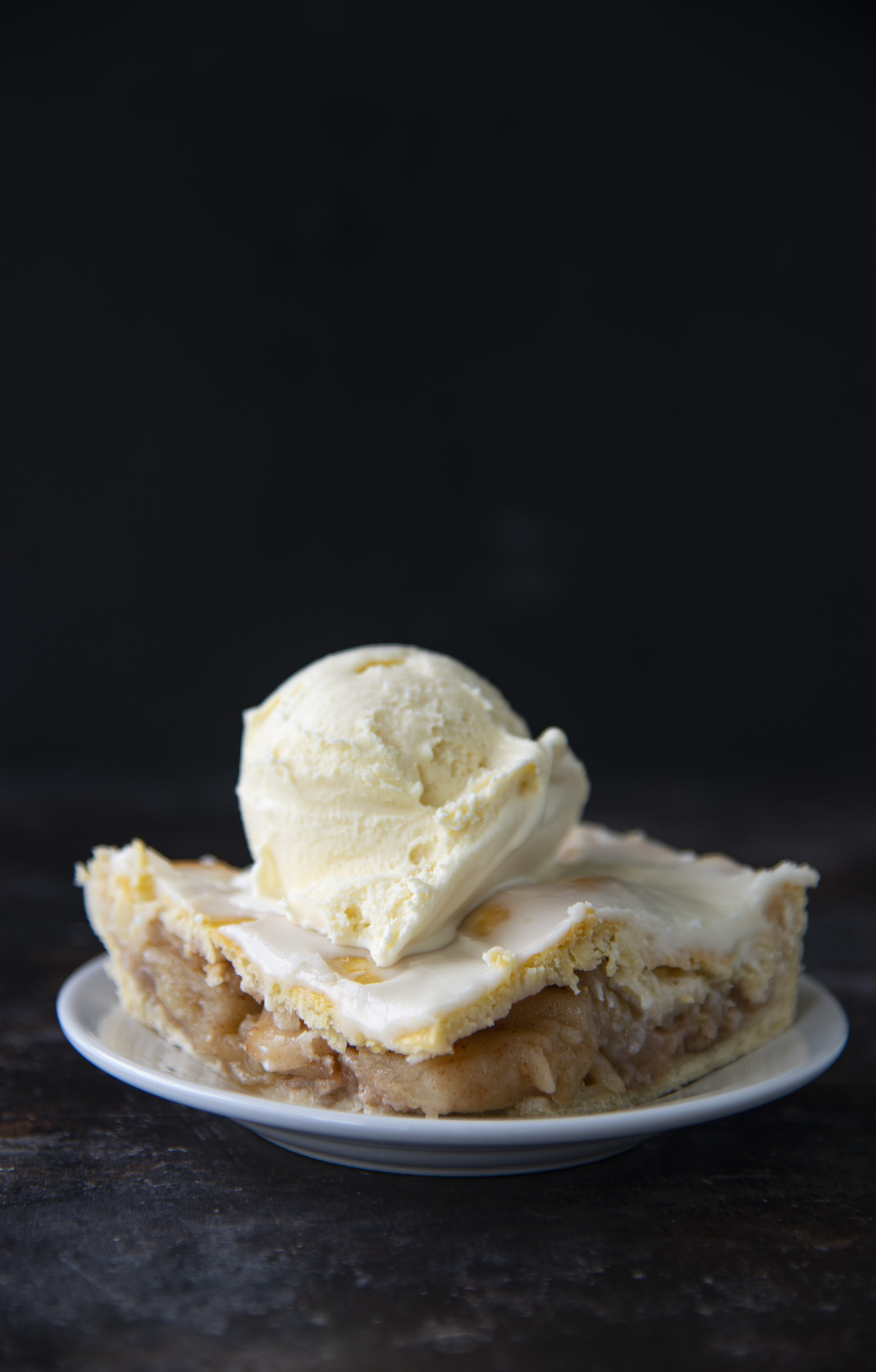 Since it is so large, I put off making it until now.
That is when I realized that I could just make a smaller version of it so that I don't eat a whole sheet pan of it.
That and I only had 5 apples and the average apple slice takes about 10.
Like I said above traditional Apple Slice has crushed cornflakes.
I'm not sure why but sure, why not?
But since I rarely do traditional and it made more sense to me I used Cinnamon Toast Crunch.
I mean I'm already using cinnamon in the pie, why not use a cinnamon cereal?
I definitely like my Cinnamon Toast Crunch Apple Slice version better than the original.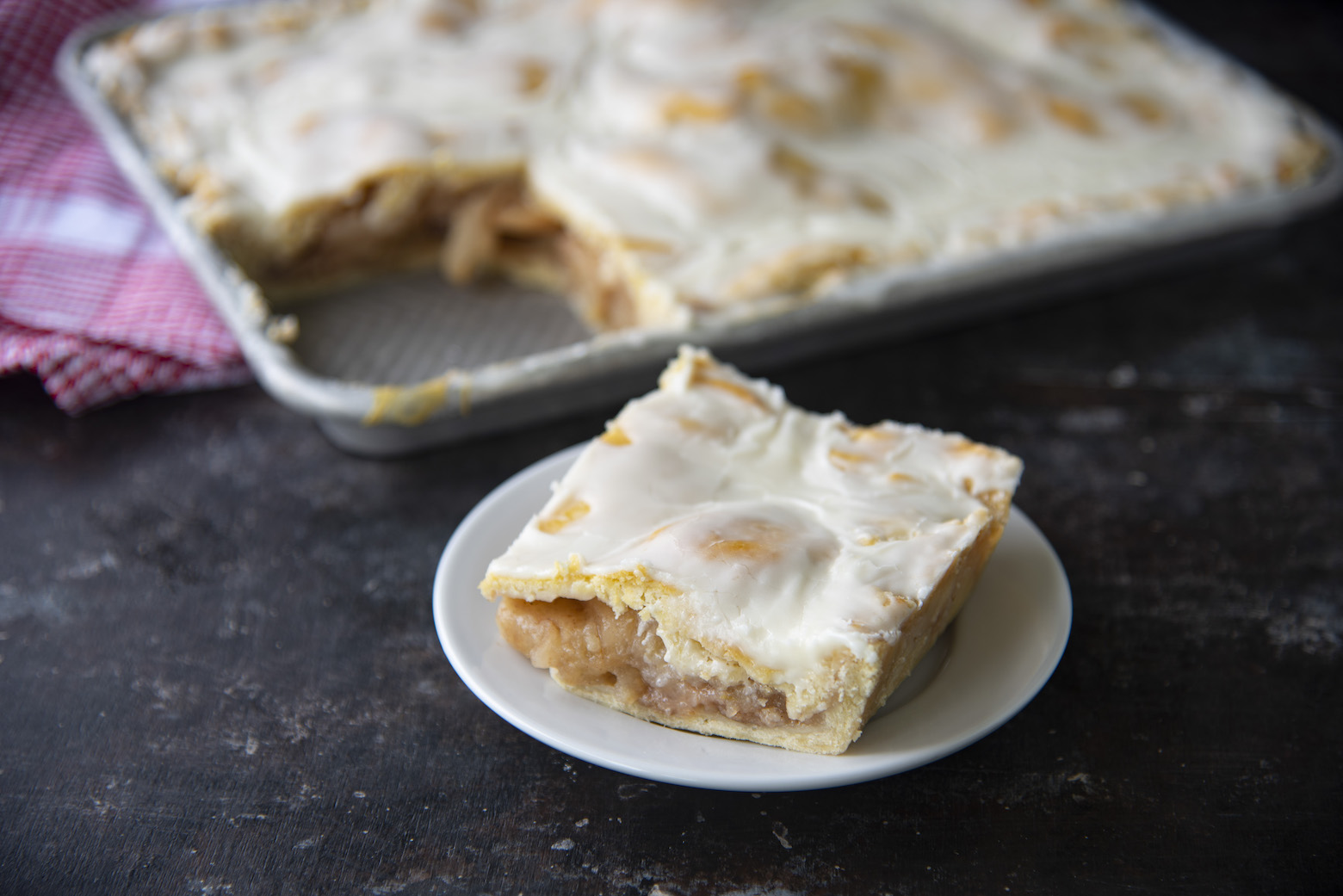 Threw in some toffee pieces to the pie.
You don't have to but I did for a little bit of extra flavor.
I also used a good amount of glaze because I love glaze.
But you can half the amount of glaze if needed.
And as always it's a great day to order my cookbook. 
If you love the recipes on the blog you will love the ones in the book!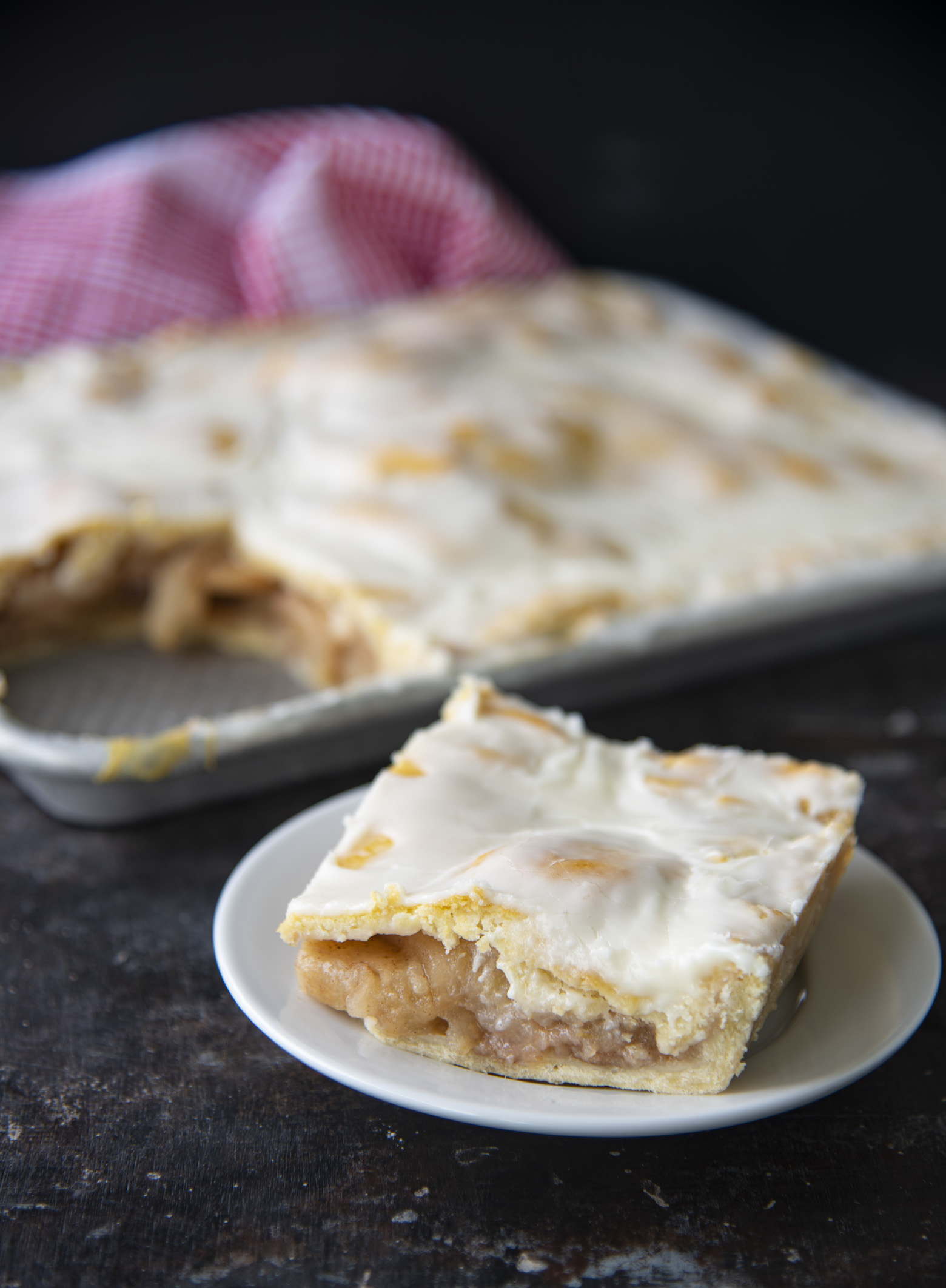 Want More Apple Recipes?
Cinnamon Sugar Apple Babka Buns
Cider Glazed Apple Fritter Muffins
Salted Caramel Apple Fritter Bread
Ingredients
For the Slice:
2-1/2 cups all-purpose flour
1 tsp salt
1 cup cold unsalted butter, cubed
1 egg, separated
3 to 4 TBSP whole milk
1 cup crushed Cinnamon Toast Crunch cereal
5 cups thinly sliced peeled tart apples (about 5 large)
1/2 cup granulated sugar
1 1/2 tsp ground cinnamon
1/2 tsp ground nutmeg
1/2 cup toffee pieces (I used Heath Bit O Brickle)
For the Glaze:
1 cup powdered sugar
1/2 tsp vanilla extract
1 to 2 TBSP whole milk
Instructions
1. In a large bowl, combine flour and salt; cut in butter until mixture resembles coarse crumbs.
2. In a measuring cup, combine egg yolk and enough milk to measure 1/3 cup. Gradually add to the flour mixture, tossing with a fork until dough forms a ball.
3. Preheat oven to 350F.
4. Divide dough in half and let rest for 10 minutes.
5. Roll one portion into a thin 13×10-in. rectangle. Transfer to the bottom of an ungreased quarter sheet (12.9 x 9.6 x 1.1 inches) baking pan.
6. Sprinkle with Cinnamon Toast Crunch.
7.. In a large bowl, combine apples, 1/2 cup sugar, 1-1/2 tsp cinnamon and nutmeg; toss to coat. Spoon over crust.
8. Sprinkle toffee pieces over apples.
9. Roll remaining dough into a thin 13×10-in. rectangle; place over apple filling.
10. Beat egg white; brush over pastry.
11. Bake 45-50 minutes or until golden brown.
12.  For Glaze:
13. Combine the powdered sugar, vanilla and enough milk to achieve a drizzling consistency. Drizzle over warm pastry. Cool completely on a wire rack. Cut into squares.