These Cinnamon Sugar Apple Babka Buns are a mash up of babka and sweet rolls. Filled with cinnamon sugar and apples and covered in sweet glaze.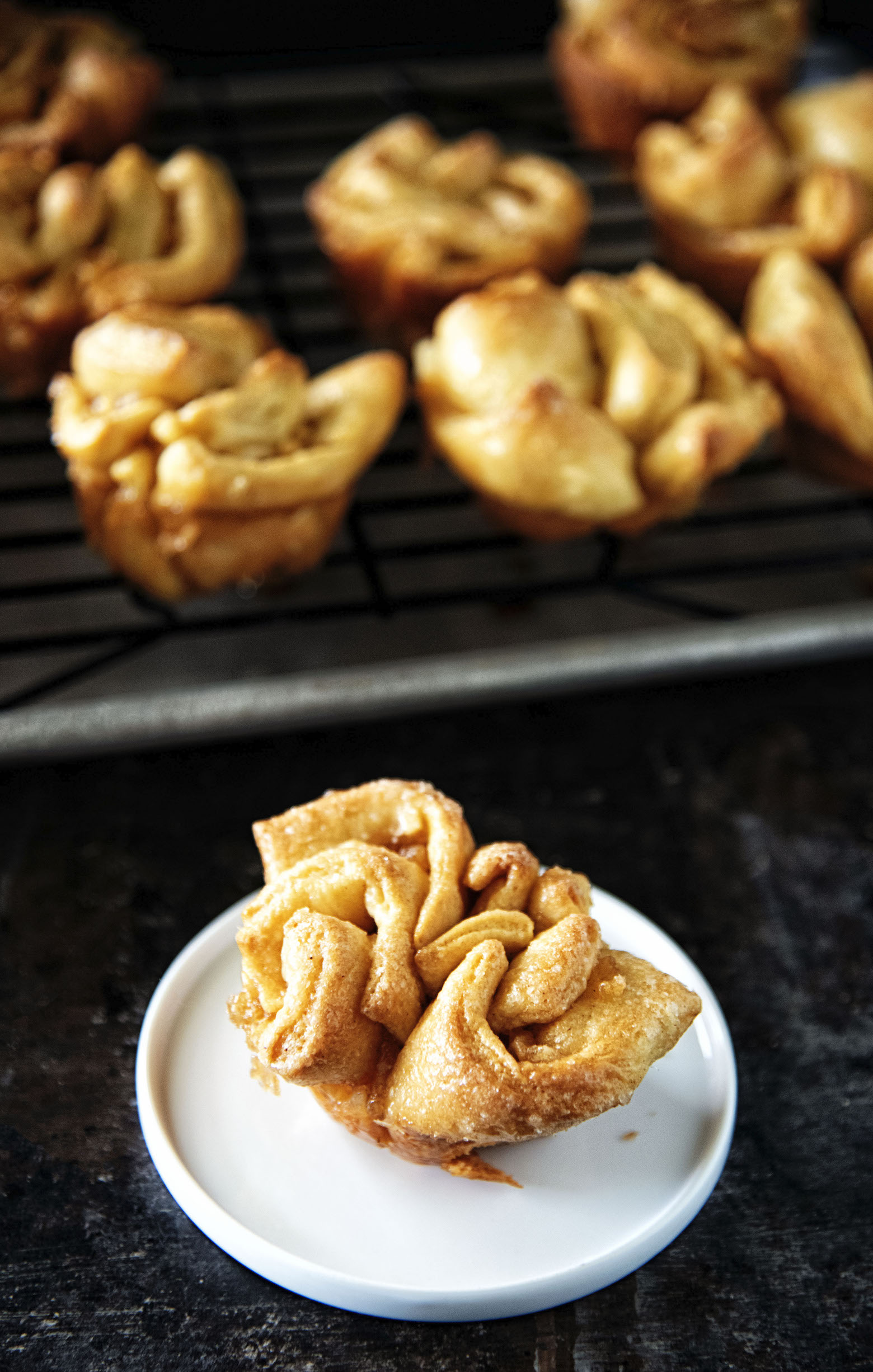 Fall and Winter make me a baking with yeast-aholic.
This fall is no exception so far.
Almost daily I want to bake something with yeast.
Thank goodness I work with Red Star Yeast (not an ad) so that they can enable my habit.
I had posted on Instagram stories that I couldn't decide between making babka or some sort of sweet roll.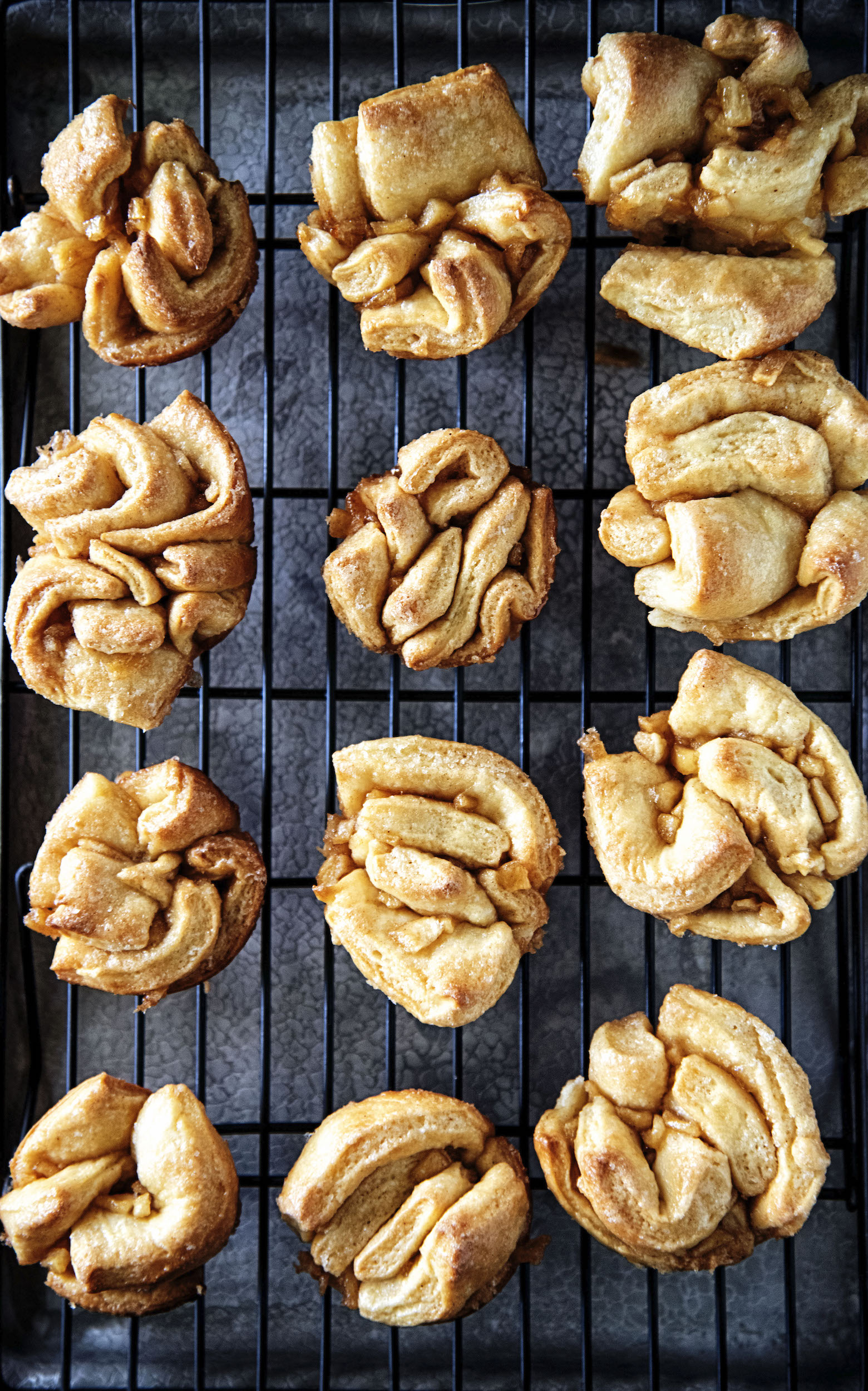 An overwhelming amount of people all asked can't you combine them?
I hadn't thought of that so thank you readers for that suggestion.
So off I set out to see if anyone had already made Babka Buns.
Smitten Kitchen had, though hers were more a traditional chocolate babka and I wanted cinnamon sugar.
And apples because I had a ton of those at the time after apple picking.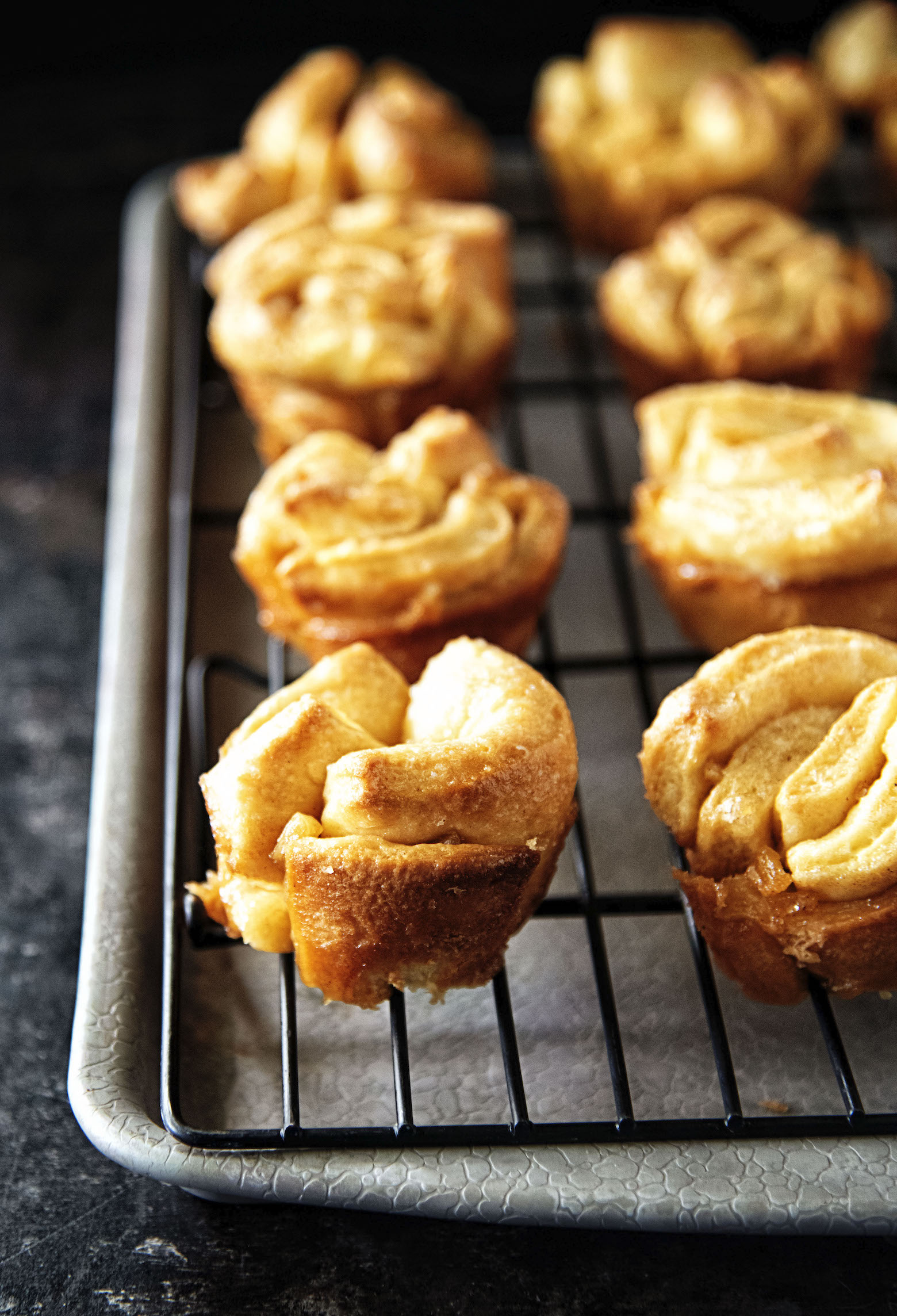 So I made these Cinnamon Sugar Apple Babka Buns.
The original recipe is shaped more like a traditional cinnamon roll type bun.
But that wasn't the look I was going for.
One of the things I love about Babka is the filling being exposed.
You do not have to do that but I wanted it.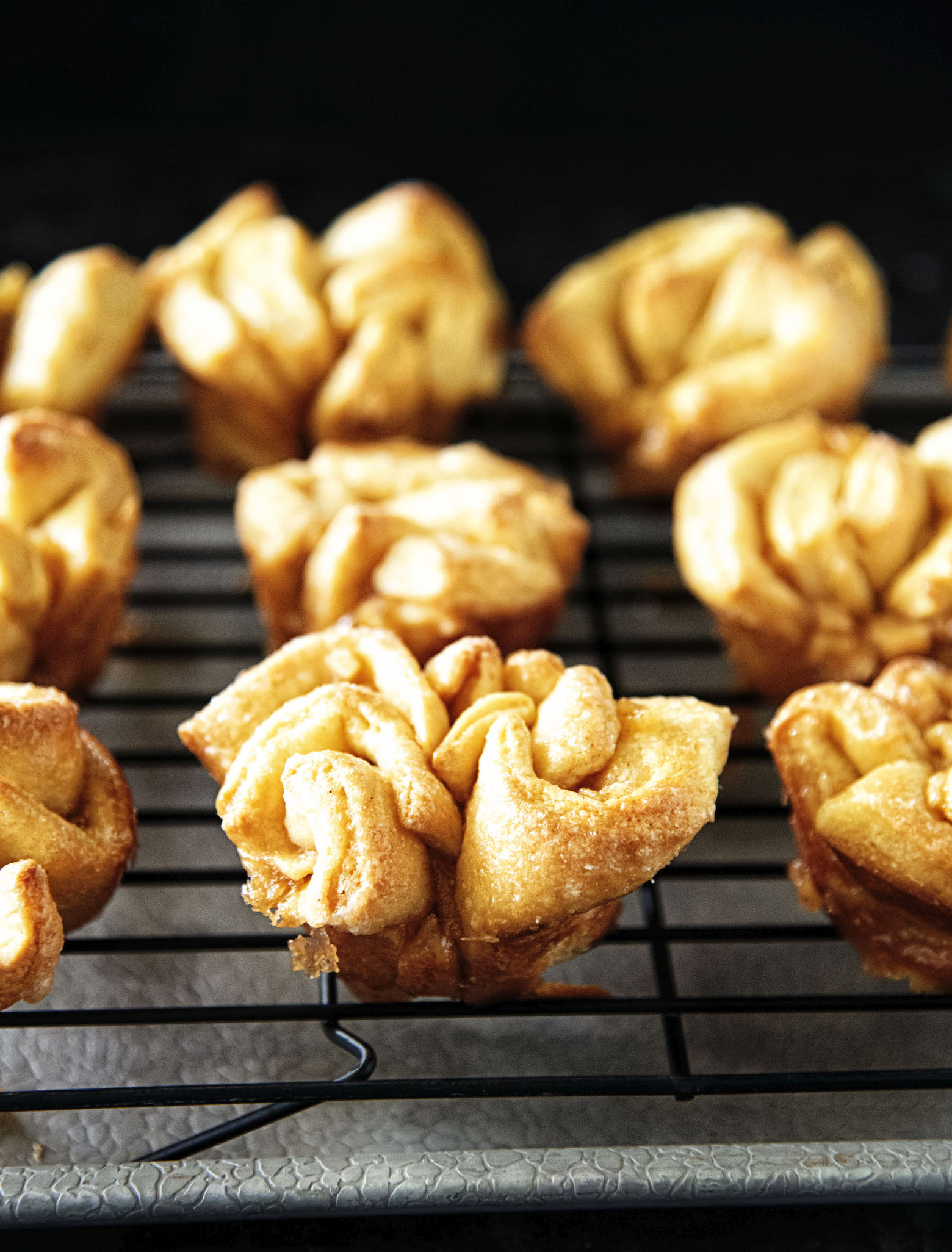 Know that if you choose to roll them like cinnamon rolls and not slash them like you do for babka yours will look nothing like mine.
Because I slashed mine you can see that I kind of had to just shove them in.
They come out similar to pull apart bread.
What I loved about doing them this way is that the buns got far more glaze than if they were just rolls.
Every nook and cranny on these buns got glaze on them.
And in my world the more glaze the better.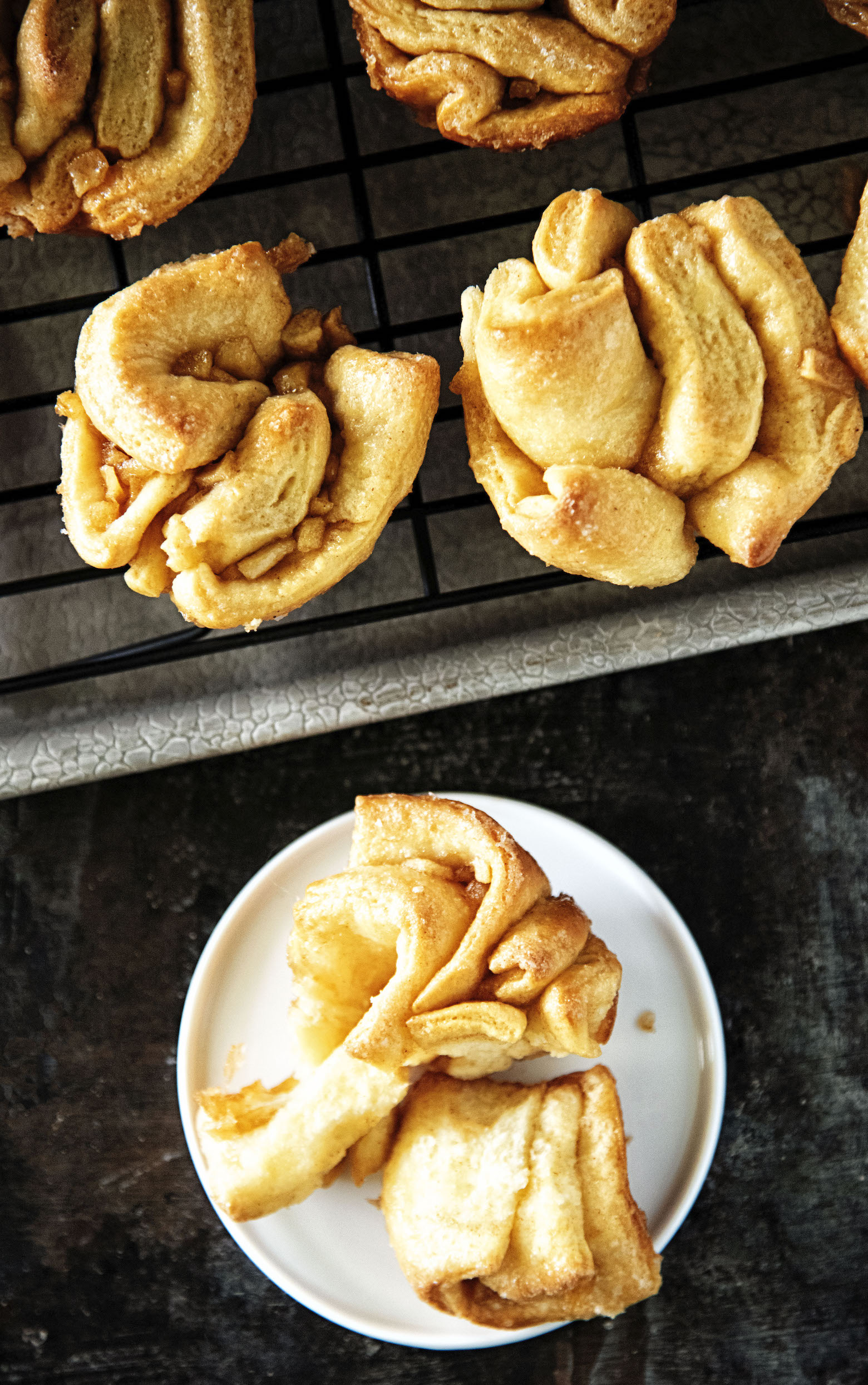 Tips for Making These Buns:
Really, really grease the muffin pan.
While I normally would use baking spray because I really want to grease the pan up I used butter.
Tons of butter.
The greasing of the pan is super important because while you are baking these you add some of the glaze.
So they will get stick and really stick if they don't have enough butter.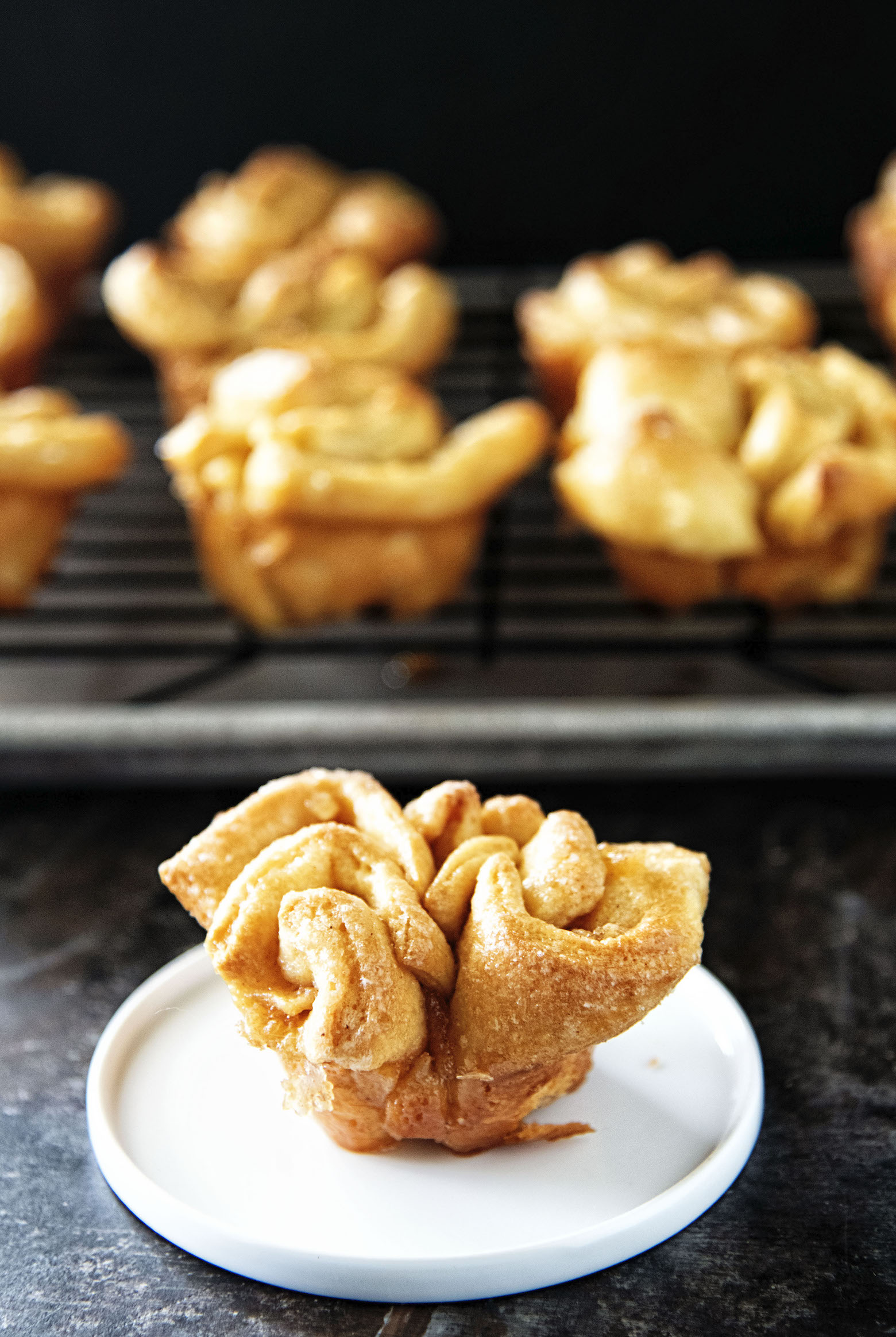 Even if they don't appear to be sticking it's best to run a knife around them before unmolding.
While unmolding you will want to take them out carefully and make sure to run the knife on the bottom as well.
If you are a babka fan you should totally give these a try.
And as always it's a great day to order my cookbook.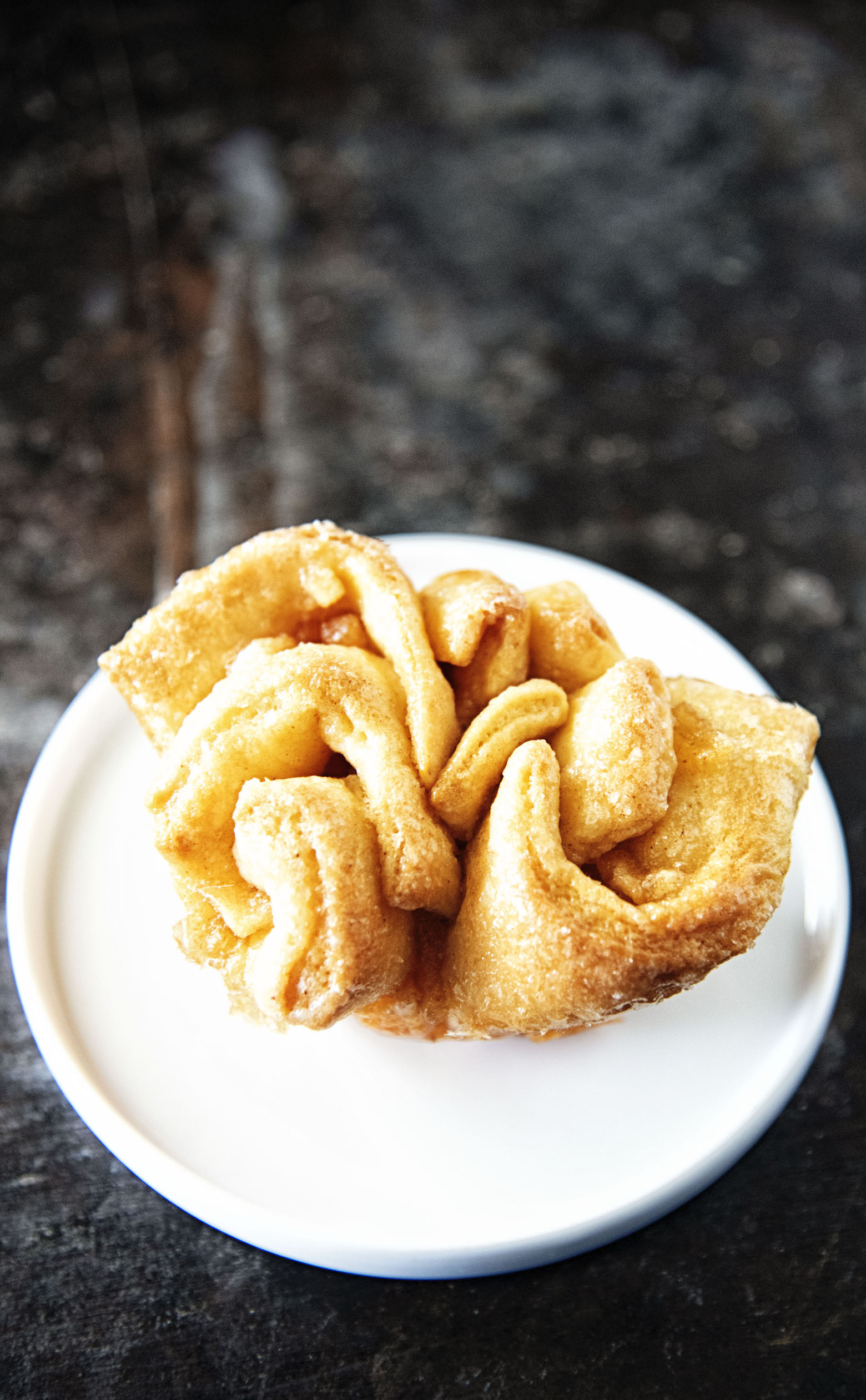 Want More Bun Recipes?
Whiskey Butterscotch Pecan Sticky Buns
Coconut Cream Pie Breakfast Buns
Sourdough Everything Bagel Spiral Rolls
Bourbon Brown Sugar Caramel Peach Sweet Rolls
Ingredients
For the Filling:
2 Honey Crisp Apples, peeled and diced
3/4 cup butter, at room temperature
3/4 cup granulated sugar
1 1/2 TBSP cinnamon
1/2 tsp. fresh ground nutmegFor the Dough:
1/2 cup whole milk
1/4 cup plus a pinch of granulated sugar
2 1/4 tsp. active dry yeast
1 large egg, brought to room temperature
2 cups all-purpose flour, plus more for work surface
1/2 tsp.table salt
3 TBSP) unsalted butter, at room temperature, plus additional for bowl and muffin tins
For the Glaze:
1/3 cup water
1/3 cup apple juice
1 cup granulated sugar
Instructions
For the filling:
Using a stand mixer with the paddle attachment beat together the butter, sugar, and cinnamon. Set aside.
Dab diced apples with paper towel to soak up some of the extra juices that were produced in cutting the apples.
For the Dough:
Warm milk and a pinch of sugar to between 110 to 116°F.
Sprinkle yeast over milk and let stand until foamy, about 5 minutes.
In a small bowl, whisk together egg and remaining 1/4 cup sugar, then slowly whisk in yeast mixture.
Using a stand mixer fitted with the paddle attachment, combine flour and salt.
Run mixer on low and add egg mixture, mixing until combined.
Add butter and mix until incorporated.
Switch mixer to dough hook and let it knead the dough for 10 minutes on low speed. At 10 minutes, it should be sticky and stringy and probably worrisome, but will firm up a bit after it rises.
Spray a large bowl with baking spray or butter it and place dough in it. Cover loosely with a lint-free towel or plastic wrap and let rise for 1 hour, or until doubled.
Generously butter a standard 12-muffin tin; set aside.
Once dough is doubled, turn it out onto a well-floured surface and gently deflate it with floured hands.
Let it rest for another 5 minutes. Once rested, roll dough into a large, large rectangle.
The short sides should be a scant 11 to 12 inches. The other side can be as long as you can roll it. The longer you can make it — I got mine to 20 inches before I ran out of counter space.
Sprinkle the filling evenly over the dough's surface.
Tightly roll the dough back over the filling from one short end to the other, forming a 12 to 13-inch log.
I cut mine down the long end to expose the filling like I do for babkas. You don't have to. This method makes them bake more like individual pull apart breads.
With a sharp serrated knife, gently saw 1-inch segments off the log and place each in a prepared muffin cup. This is messy and some filling might come out…just shove it back in.
Loosely cover buns with plastic wrap and let them rise for another 30 minutes.
Preheat your oven to 350°F.
Make the Glaze:
Combine water and sugar in a medium saucepan.
Bring to a low boil until the sugar has dissolved.
Add the apple juice and whisk until fully combined.
Set aside to cool.
To Bake the Buns:
Bake buns for 10 minutes.
Remove from oven and brush the tops of the buns with two brush with two layers of the glaze.
Put back in oven and bake another 10-15 minutes. If you have an instant read thermometer, you can take the buns out when it reads 185 to 190 degrees in the middle of each bun.
Set buns on cooling rack.
Immediately brush with another 3 layers of the glaze.
Before unmolding them run a knife or thin spatula to make sure nothing has stuck to the sides and bottom.
Let glaze firm up a little and serve at room temperature.
Notes
Adapted from Smitten Kitchen