This Cinnamon Roll Pumpkin Crunch Cake is simple to make and a great alternative to pumpkin pie with a yummy cinnamon crunchy top.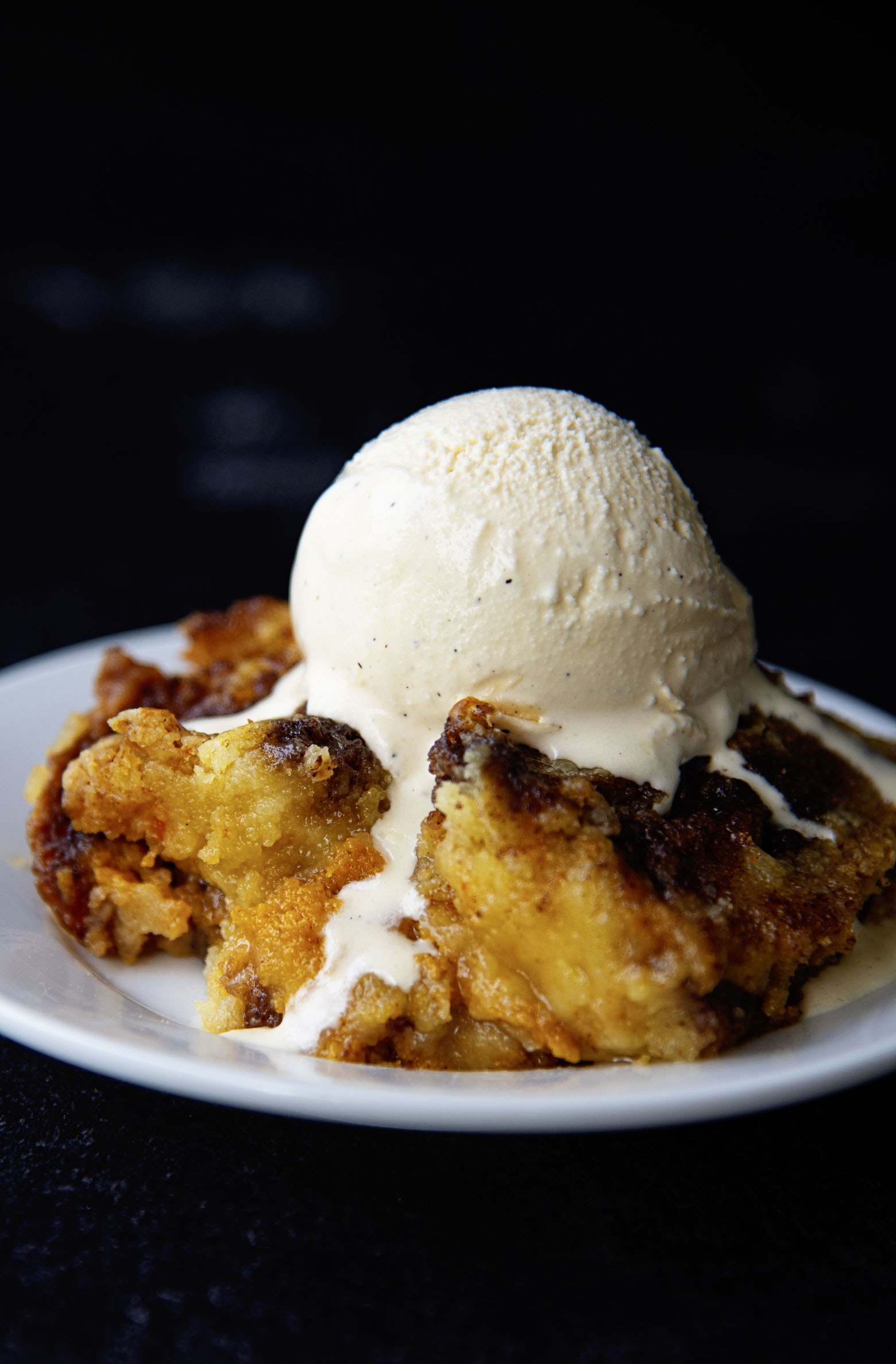 I was looking for a new pumpkin dessert.
Well, new to me.
And I kept seeing pumpkin crunch cake on Pinterest.
Some were calling it crunch cake.
Others were calling it dump cake.
I get why they were calling it dump cake.
Because you sprinkle dry cake mix on top just like you do with dump cake.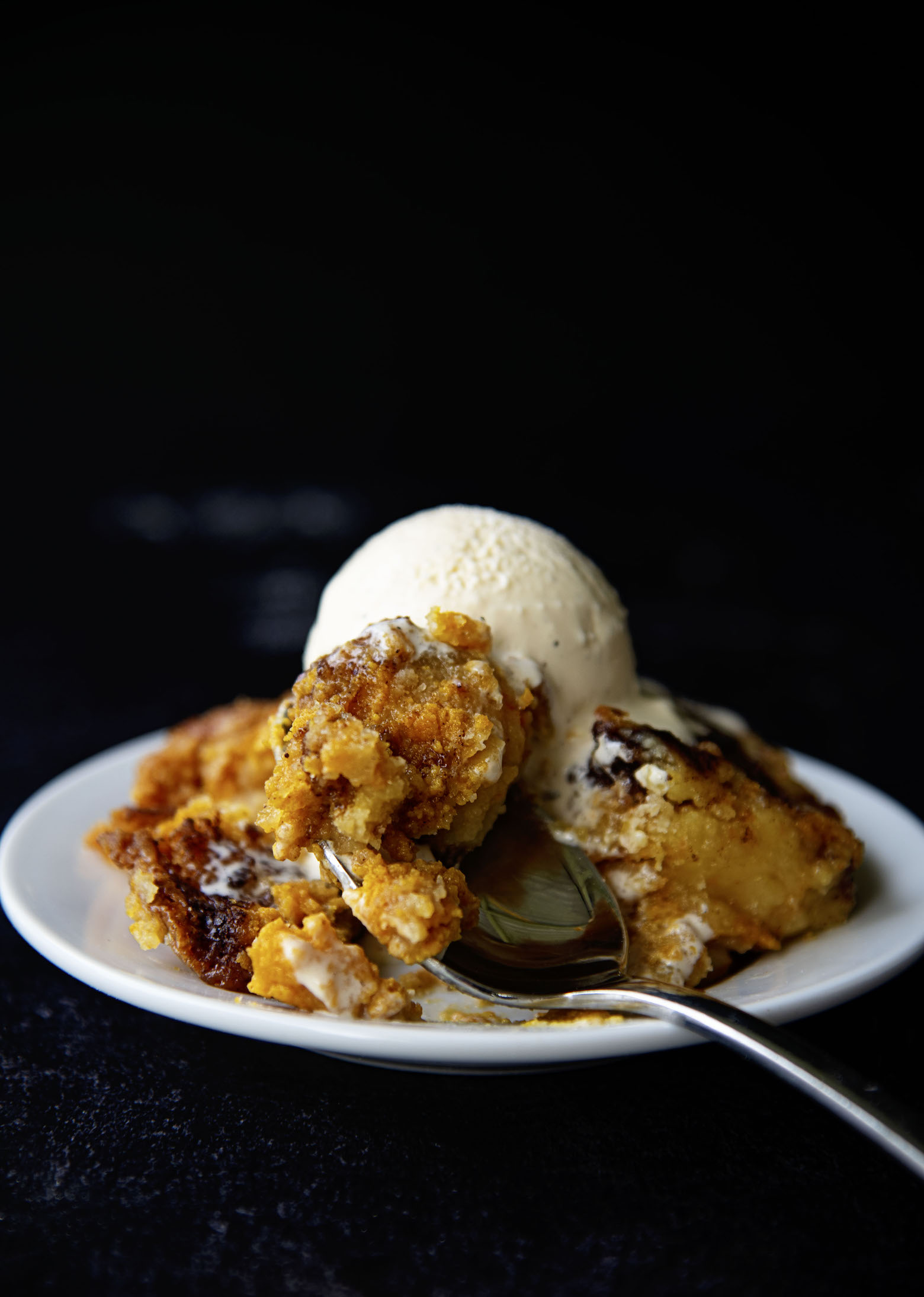 However, dump cake you literally just dump the ingredients for the bottom layer into the pan.
Not so much with this cake.
It's basically a crustless pumpkin pie for the bottom.
That you do have to mix.
So I decided I would not call this a dump cake.
But I also didn't end up using pecans because I made a cinnamon roll.
So I wondered if I could call it crunch.
However, the top does get crunchy without the pecans it turns out.
So Cinnamon Roll Pumpkin Crunch Cake it became.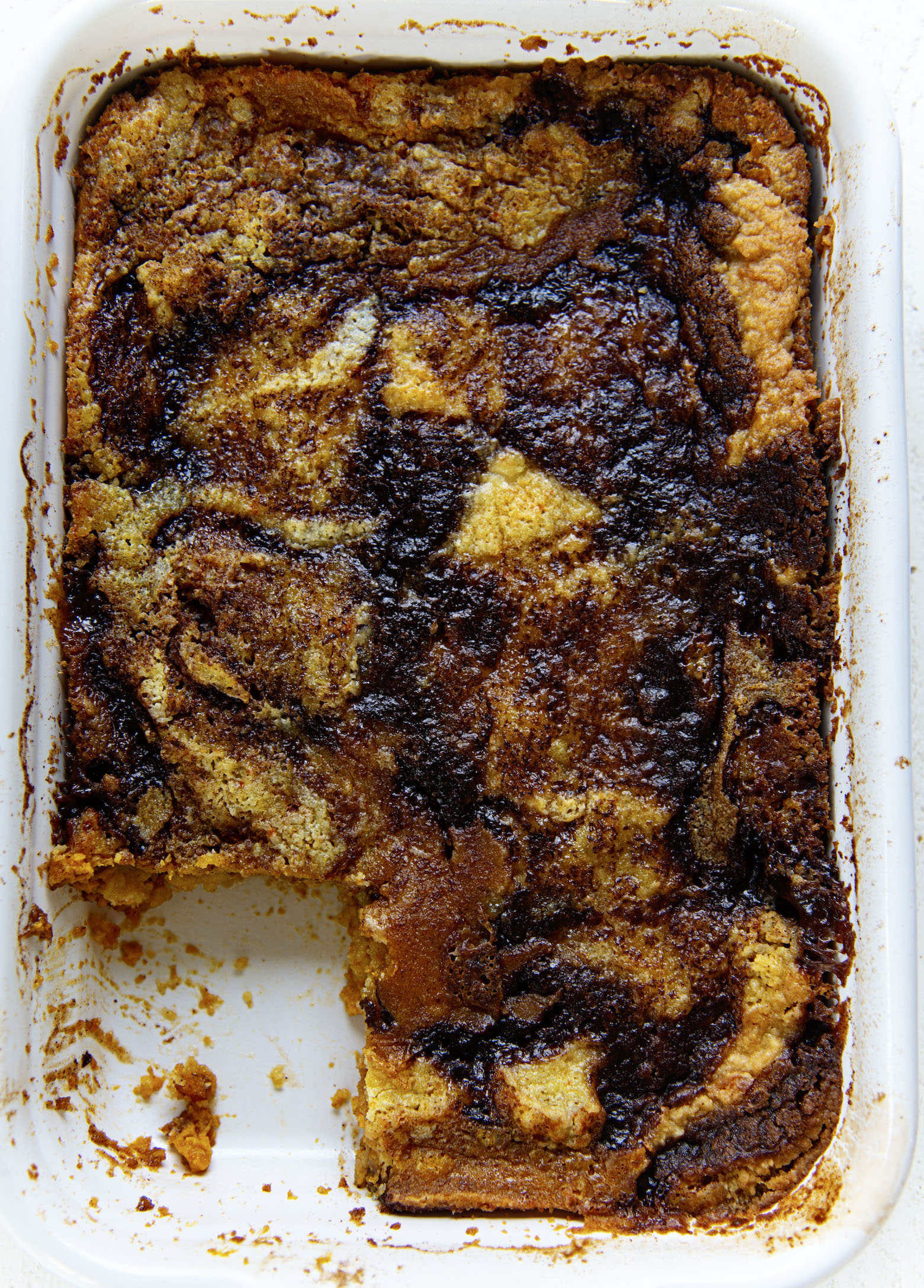 Like I said above this cake is basically pumpkin pie on the bottom without a crust.
You have your canned pumpkin.
Evaporated milk.
Sugar.
Eggs.
Pumpkin Pie spice.
Which is what makes up a pumpkin pie.
Well, normal pumpkin pie.
We all know I rarely do normal pumpkin pie. 🙂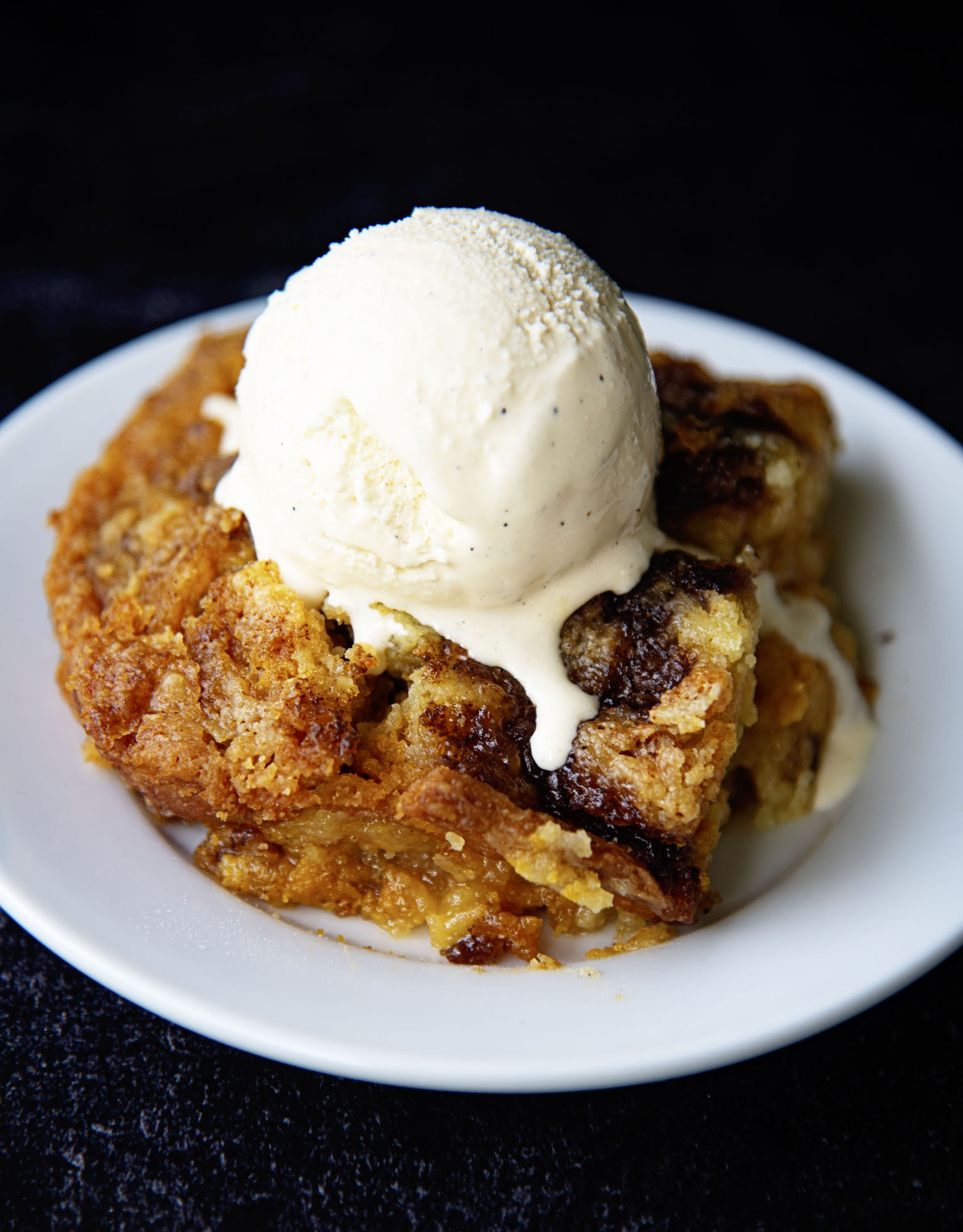 The top is dried yellow cake mix.
I imagine it would go good with spice cake mix as well.
You keep the cake mix dry.
That is very important.
And then you add melted butter.
I added a cinnamon filling.
Which is from when I made Cinnamon Roll Whoopie Pies.
It just sounded really good at the time.
And it was a good idea.
I did try and swirl the filling.
But reality was that just sort of all melted together and formed no pattern.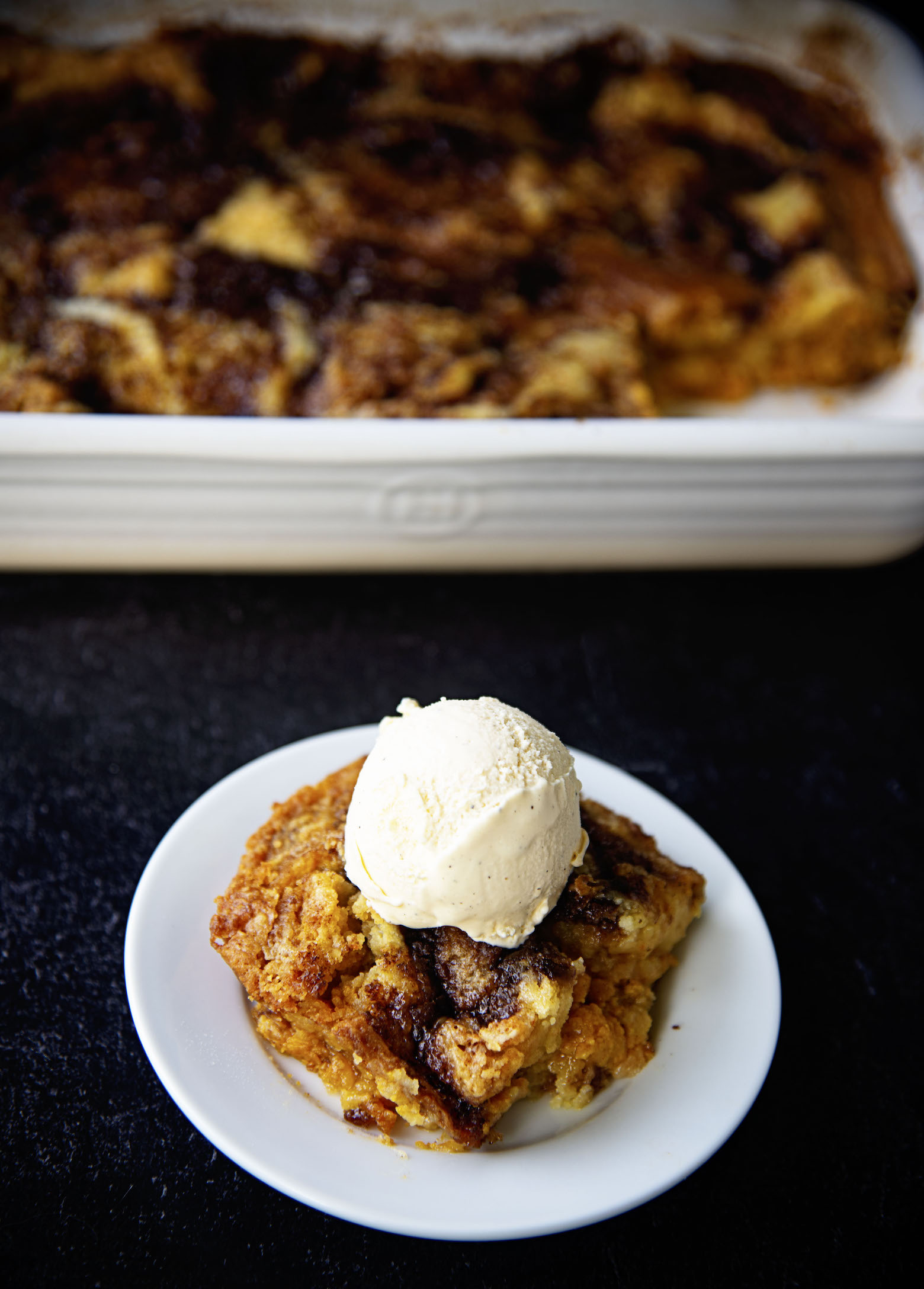 All that matters is that it tastes good.
And it does.
Definitely serve it with ice cream.
Either vanilla or cinnamon or ever butter pecan would be great.
And as always it's a great day to order my cookbook.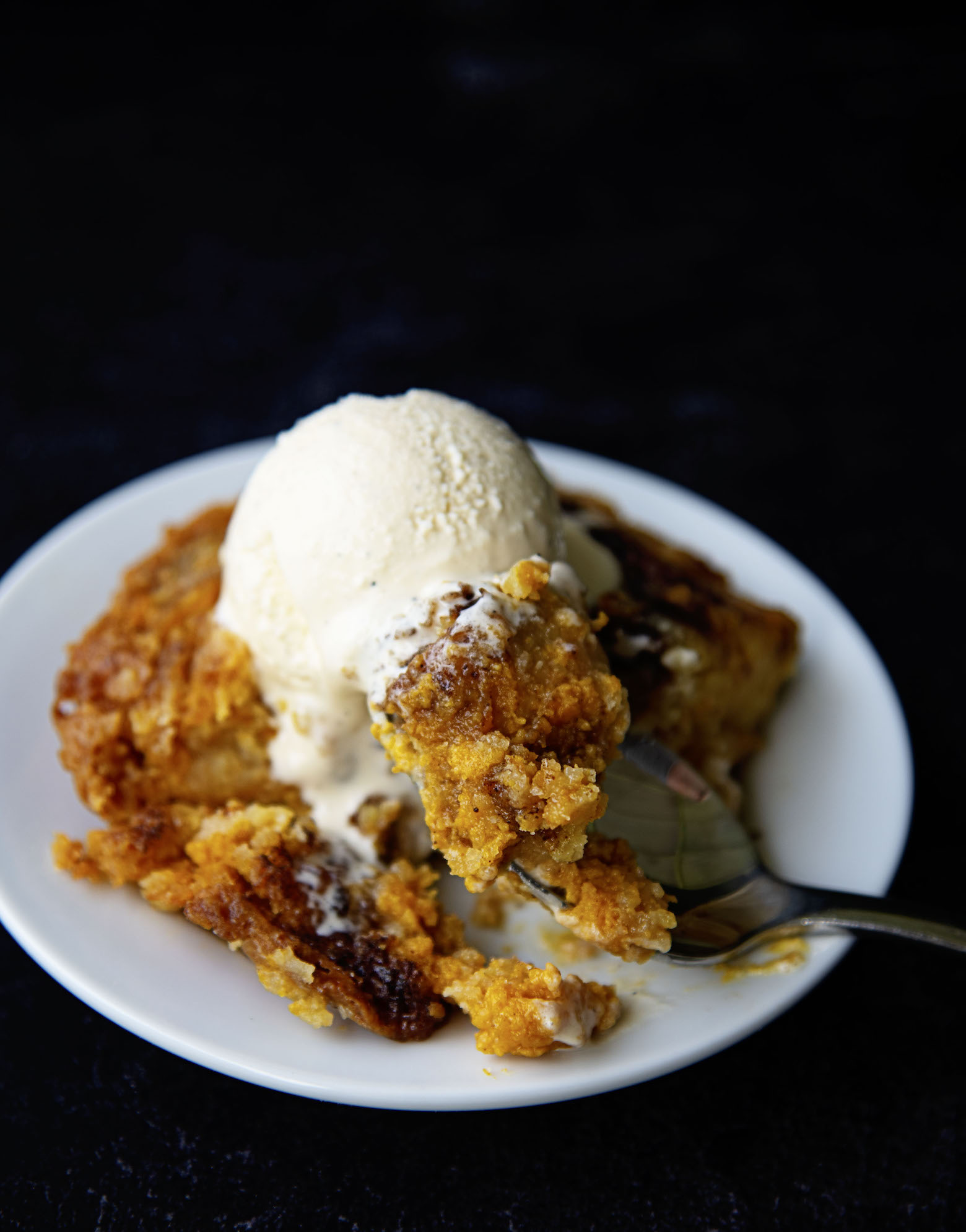 Want More Pumpkin Recipes?
Pumpkin Creme Brûlée Tartlets with Chocolate Ginger Crust
White Chocolate-Pumpkin Topped Blondies
Pumpkin Pecan Pie Gingerbread Bars
Brown Butter Pumpkin Pie Layer Cake
Ingredients
Cinnamon Topping:
11 TBSP packed brown sugar
1/4 cup butter, melted
3 tsp. ground cinnamon
For the Cake:
15 ½ ounces canned pumpkin
12 ounces evaporated milk
3 large eggs
1 cup granulated sugar
1 tablespoon pumpkin pie spice
¼ teaspoon salt
1 package yellow cake mix
1 cup unsalted butter melted
Instructions
Preheat oven to 350°F.
For the Cinnamon Topping:
Combine brown sugar, 1/4 cup melted butter, and cinnamon in a small bowl.
Place a 1-quart resealable bag into a glass or cup.
Pour cinnamon mixture into the bag; refrigerate until filling is as thick as toothpaste, about 10 minutes.
Fill a piping bag with the cinnamon swirl filling and cut a very tiny hole at the bottom for the filling to come out.
Grease and flour a 9×13 pan and set aside.
In a bowl, combine pumpkin, milk, eggs, sugar, pumpkin pie spice, & salt.
Pour into the prepared pan.
Gently sprinkle the cake mix powder over the pumpkin mixture.
Drizzle melted butter over the cake mix layer.
Pipe the cinnamon filling on top of the buttered cake mix. You can do whatever pattern you would like.
Bake 25 minutes uncovered.
Then cover with foil and bake an additional 25 minutes.
Remove from oven and uncover (be careful, the steam will be hot).
Cool completely.
Cut into squares and serve with vanilla or cinnamon ice cream.