These Cinnamon Red Hots Chocolate Chip Cookies are chocolate chip cookies get a kick of heat from Cinnamon Red Hots.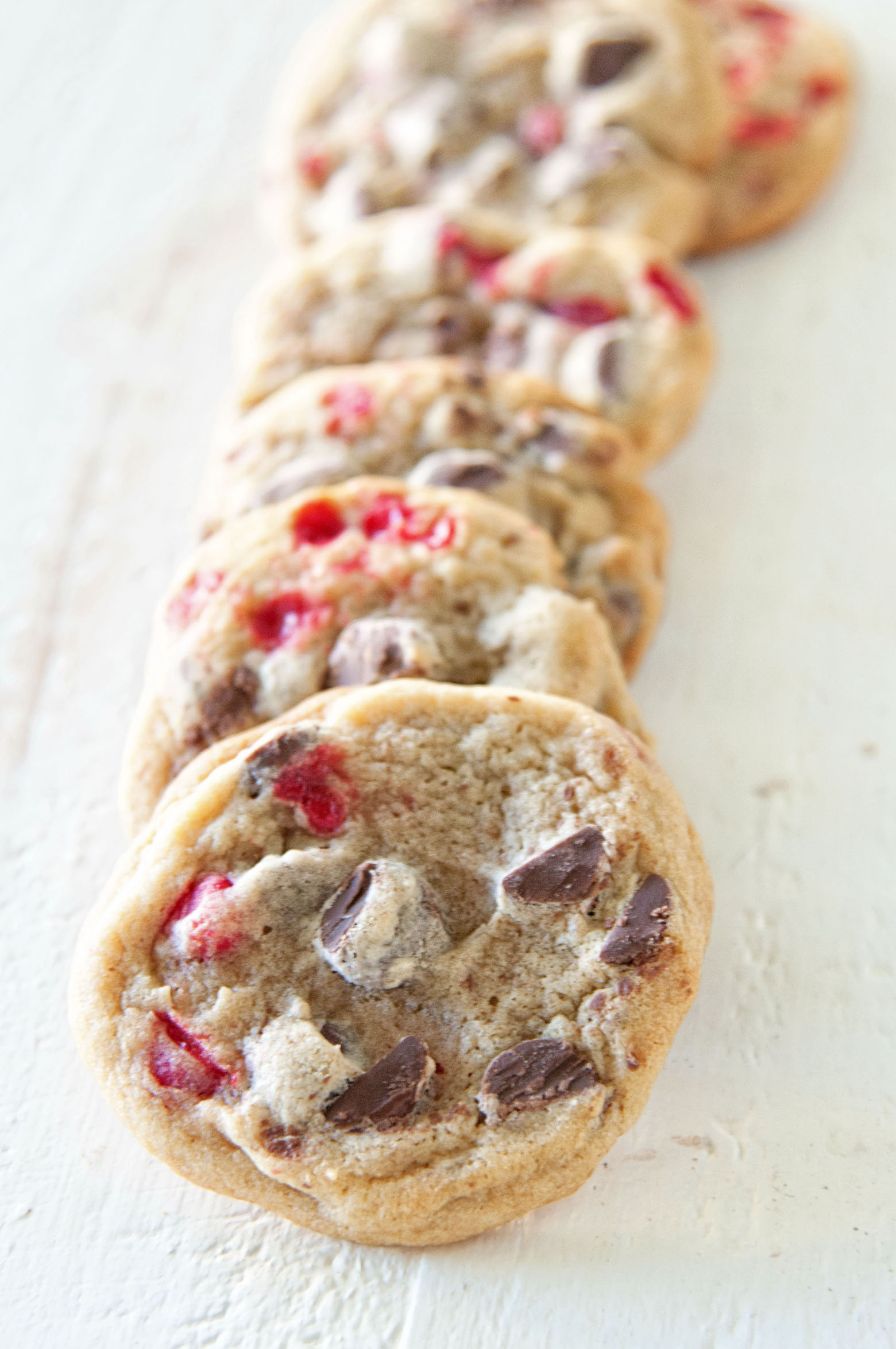 Dear Universe,
I realize you are under the impression that I can handle a lot.
And I can.
But I would have liked it spaced out a little more.
Sincerely, Peabody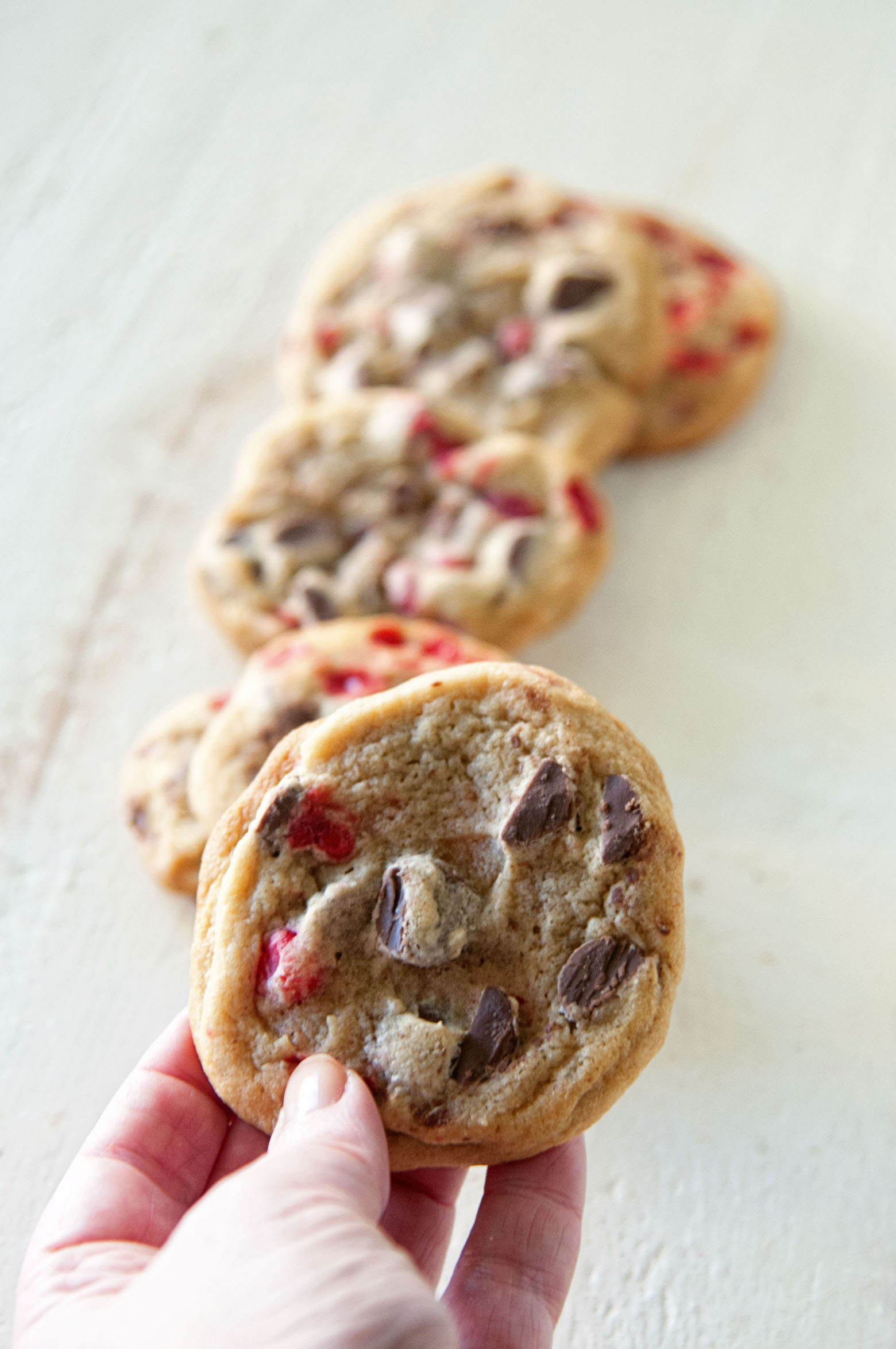 Once again life went in a different direction than planned.
As most of you know my husband and I take in special needs/senior dogs.
We know that between their age and their conditions their time with us is less than most people get.
We accept that.
Mickey (pictured above) came to us when his owner died.
He was deaf, had altanoaxil malformation (where his C1 overrides his C2 in his neck/spine causing compression) and a condition called Syringomyelia (another spinal condition that is painful).
Since having him he has had two…now three middle ear infections.
The first one caused him to have facial paralysis on his right side.
With acupuncture he got most of the function back on that side but not all…he can't close his eye fully.
Like most Cavaliers, Mickey ended up getting Mitral Valve Disease which eventually leads to congestive heart failure.
Basically he is a hot mess.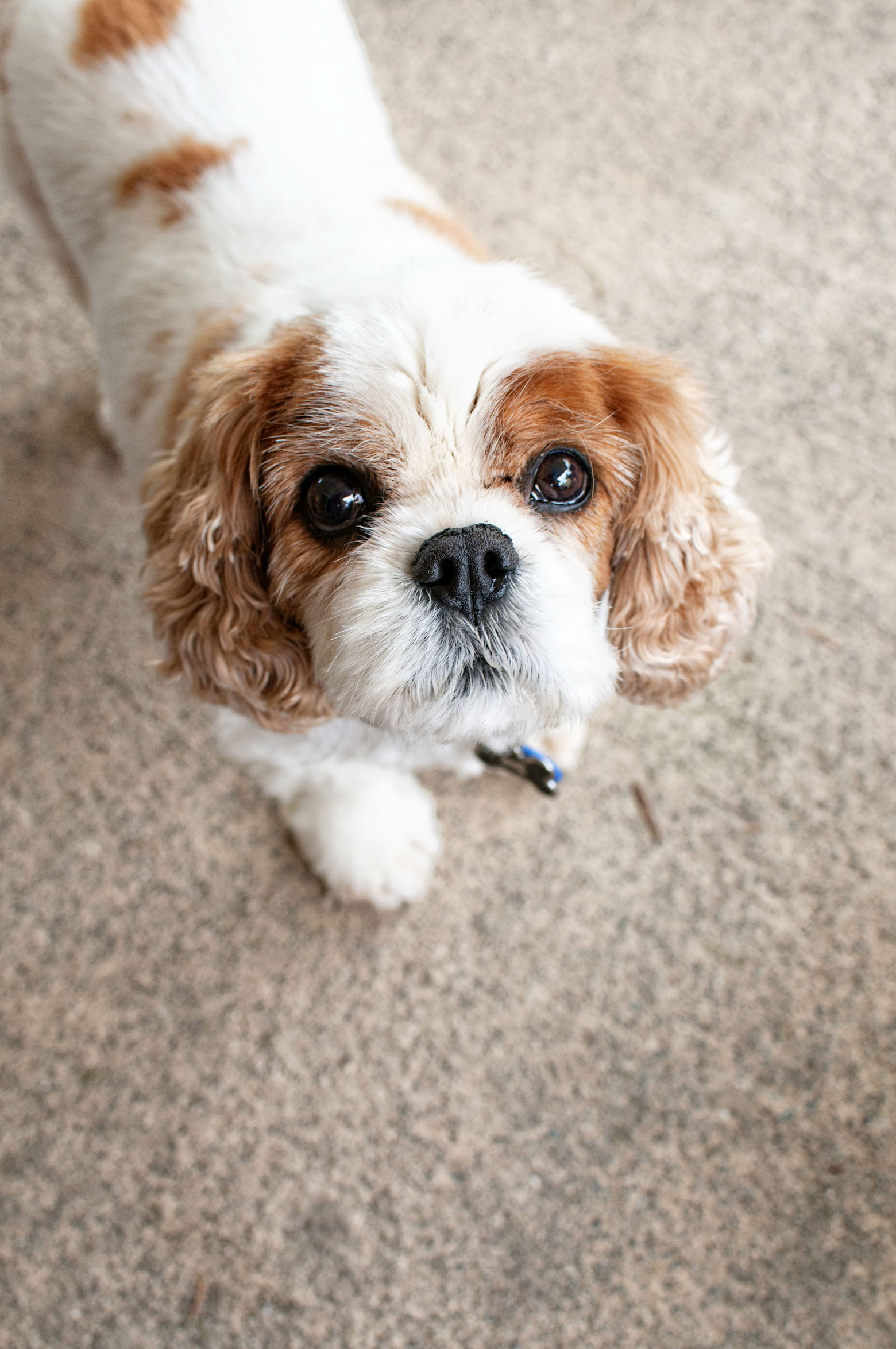 So imagine the surprise when I took him in yesterday for his possible middle ear infection again…and left with him having cancer.
It's not 100% diagnosed yet (waiting on the labs)…but the vet knows…and I know.
He has lymphoma.
He has bilateral swelling of the lymph nodes and while his ear is getting better the antibiotics are not shrinking the nodes.
Crazy Cocker Spaniel had lymphoma…hers was of the skin called cutaneous lymphoma.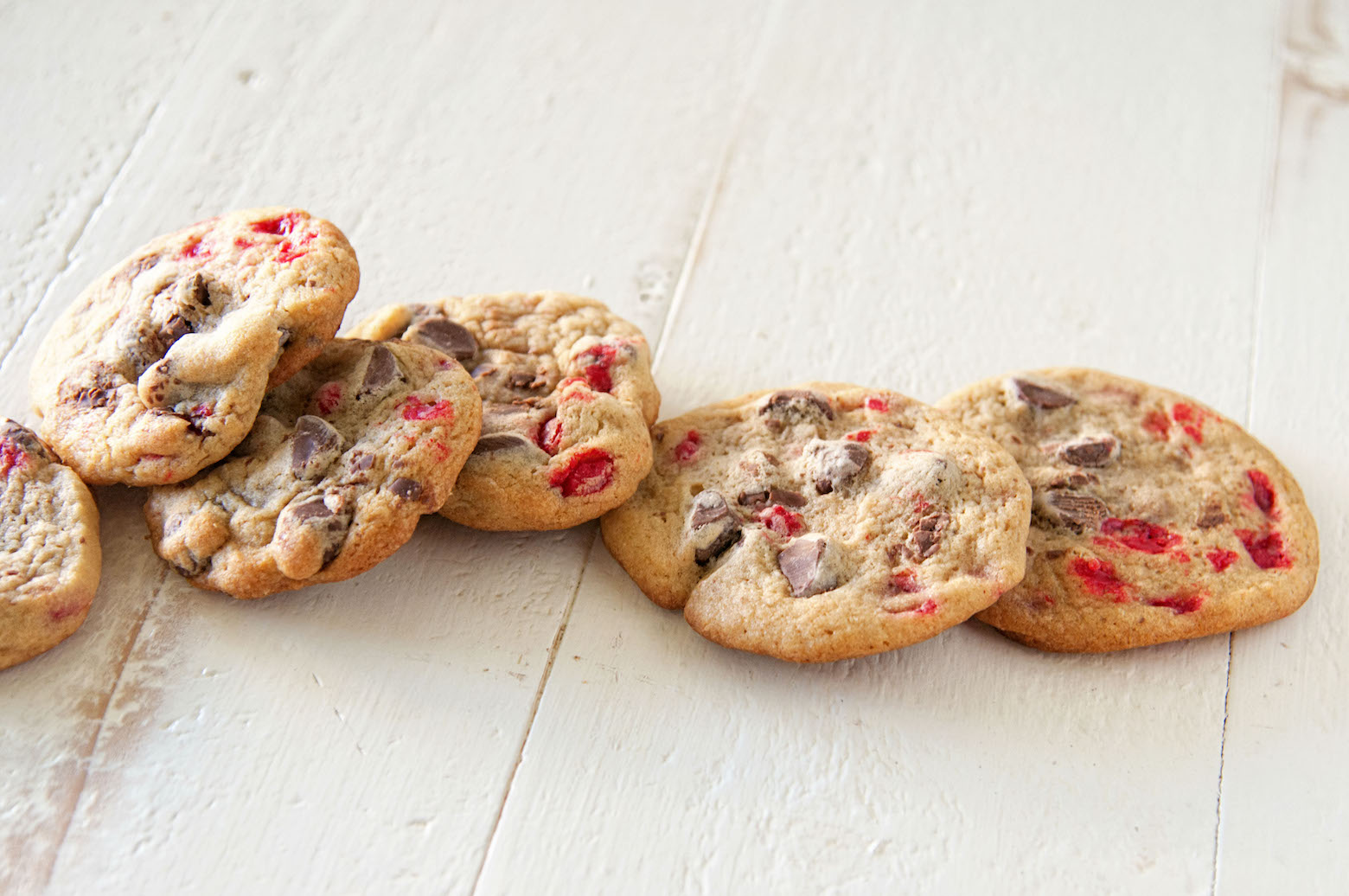 Mickey most likely has multicentric lymphoma.
While it can be controlled with chemotherapy,
Mickey, due to all his ailments would most likely not respond well to it and his last months would be miserable.
So we are trying an alternative treatment.
We head to the holistic vet on Tuesday hoping to give him enough time to complete a bucket list while feeling good…not sure how long that will be.
So the baking and the blogging I thought I would be doing.
I made this over the weekend to go with the ice cream to make ice cream sandwiches.
These are soo good.
Like soo good.
Make sure and let the dough rest for 24 hours. Yes, hours.
These Cinnamon Red Hots Chocolate Chip Cookies are worth it.
P.S. It's a great day to buy my cookbook Holy Sweet!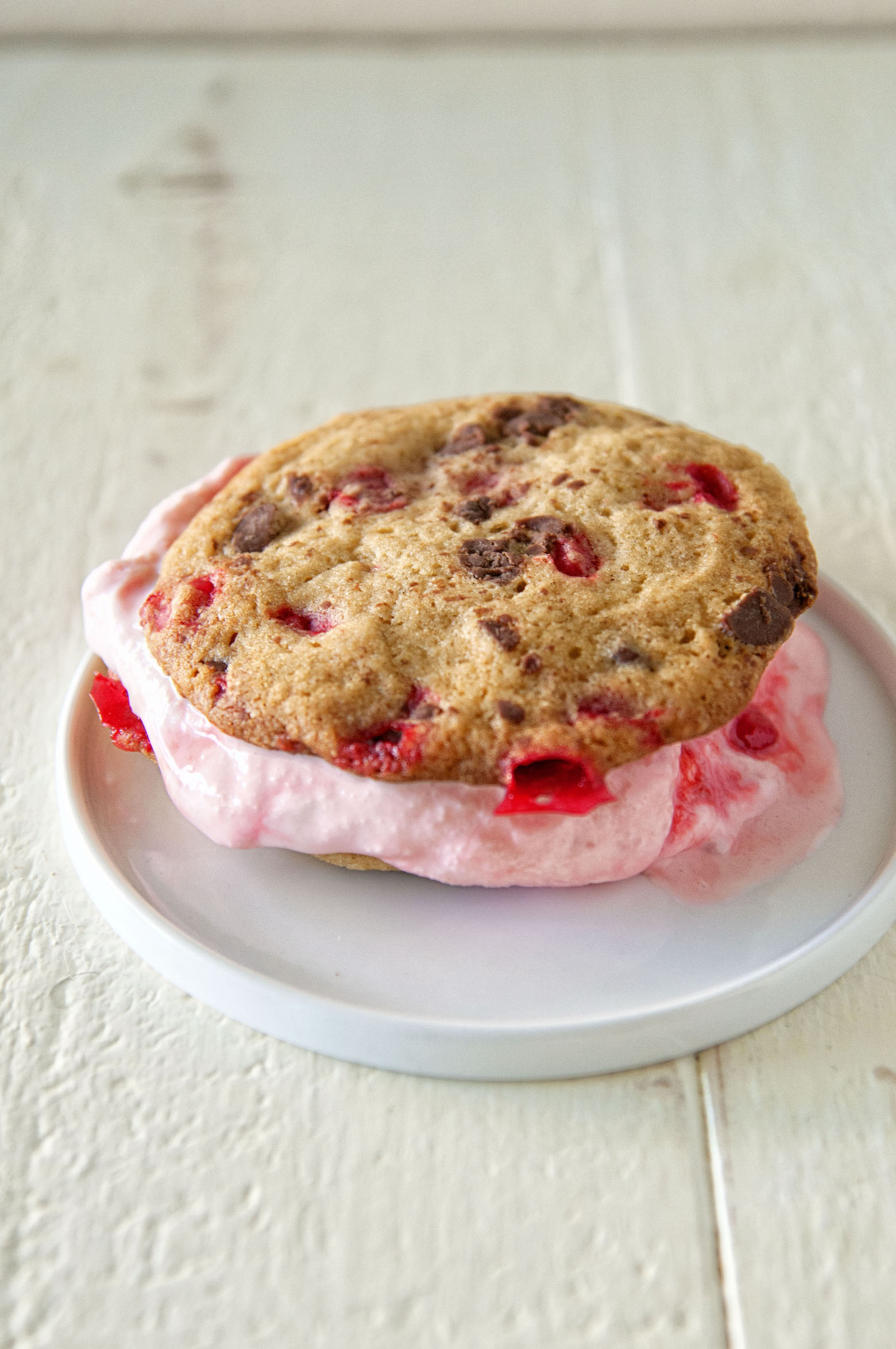 Want More Cookie Recipes?
Roll Out Shortbread Sugar Cookies
White Chocolate Chip Creamsicle Cookies
Vanilla Bean Caramel Thumbprint Cookies
White Chocolate Dried Pineapple Salted Macadamia Nut Cookie
Ingredients
2 ½ cups all-purpose flour
¾ tsp. baking soda
⅛ tsp. salt
1 cup unsalted butter, at room temperature
1 cup packed light brown sugar
¾ cup granulated sugar
1 tsp. vanilla extract
2 large eggs, at room temperature
7 ounces milk chocolate chips
7 ounces Cinnamon Red Hots Candies
Instructions
In a small bowl, whisk together the flour, baking soda, and salt; set aside.
Using a stand mixer fitted with the paddle attachment (or in a bowl by hand), beat together the butter, brown sugar, granulated sugar, and vanilla on medium speed just until smooth, about 2 minutes.
Beat in the eggs one at a time until thoroughly incorporated, then stir in the flour mixture followed by the chocolate and cinnamon red hots candies.
On a lightly floured work surface, divide the dough into quarters.
Shape each quarter into a log about 9 inches long.
Wrap the logs in plastic wrap and refrigerate until firm, preferably for 24 hours (do this part for real please).
Position racks in the upper and lower thirds of the oven; preheat the oven to 350°F.
Line 2 baking sheets with parchment paper or silicone baking mats.
Slice the logs into disks ¾ inch thick and place the disks 3 inches apart on the prepared baking sheets.
If the chips and candies crumble out (and they will), simply push them back in, they reshape nicely.
Bake, rotating the baking sheets midway through baking, until the cookies are very lightly browned in the centers, about 10 minutes.
If you like soft chocolate chip cookies, as I do, err on the side of underbaking.
Let the cookies cool on the baking sheets until firm enough to handle, then use a spatula to transfer them to a wire rack.