This whimsical Chocolate Truffle Pumpkin Spider Cake is made with layers of pumpkin chocolate chip cake, a fudgy frosting and chocolate truffle spiders.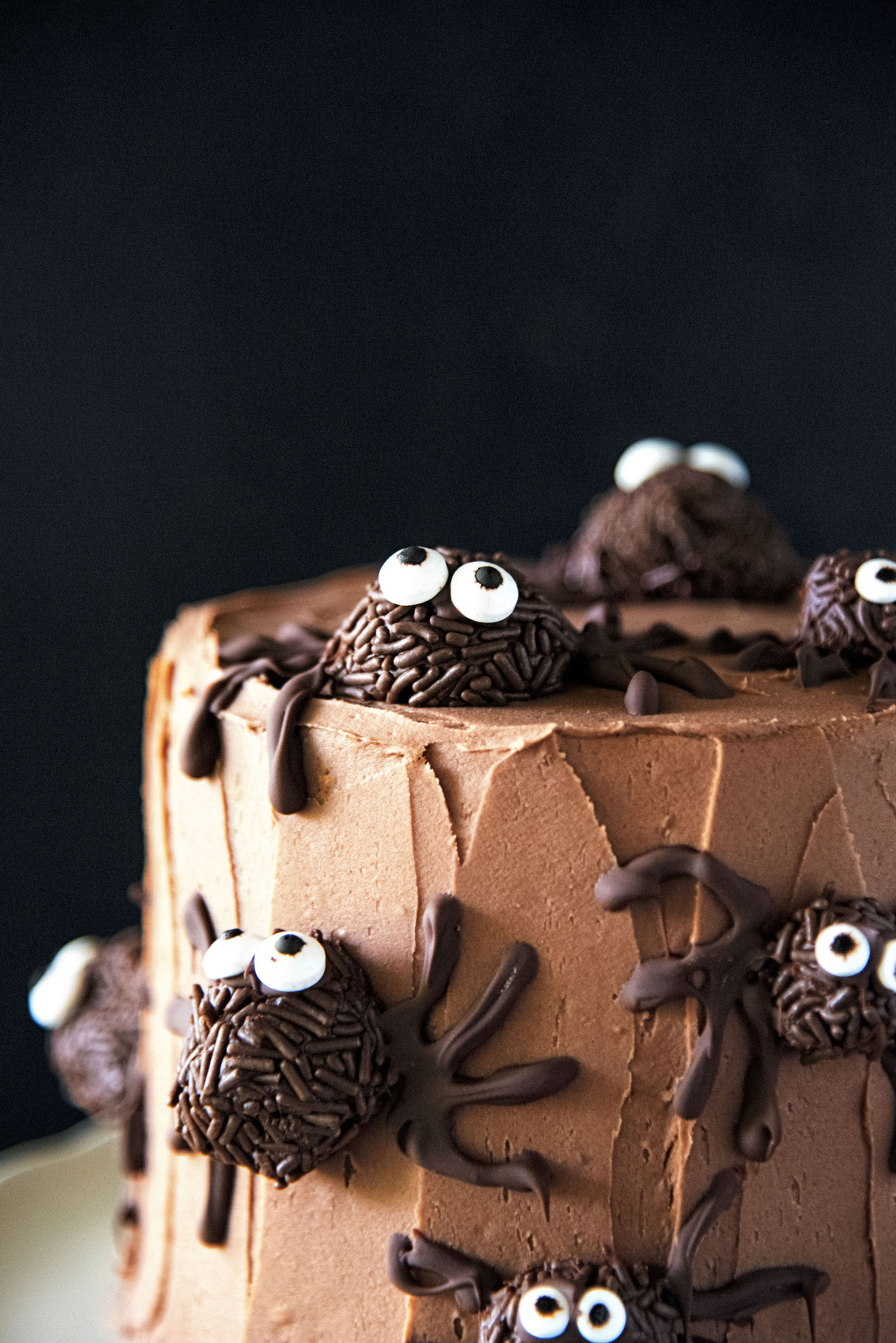 This post and recipe was created for #HalloweenTreatsWeek!
I was sent products by some of the sponsor companies but as always opinions, bad grammar, and overuse of emojis are 100% mine.
In this post I used Dixie Crystals Sugar granulated sugar as well Wilton Candy Eyes and sprinkles (I already had) which were sent to me free by both companies for participating in #HalloweenTreatsWeek.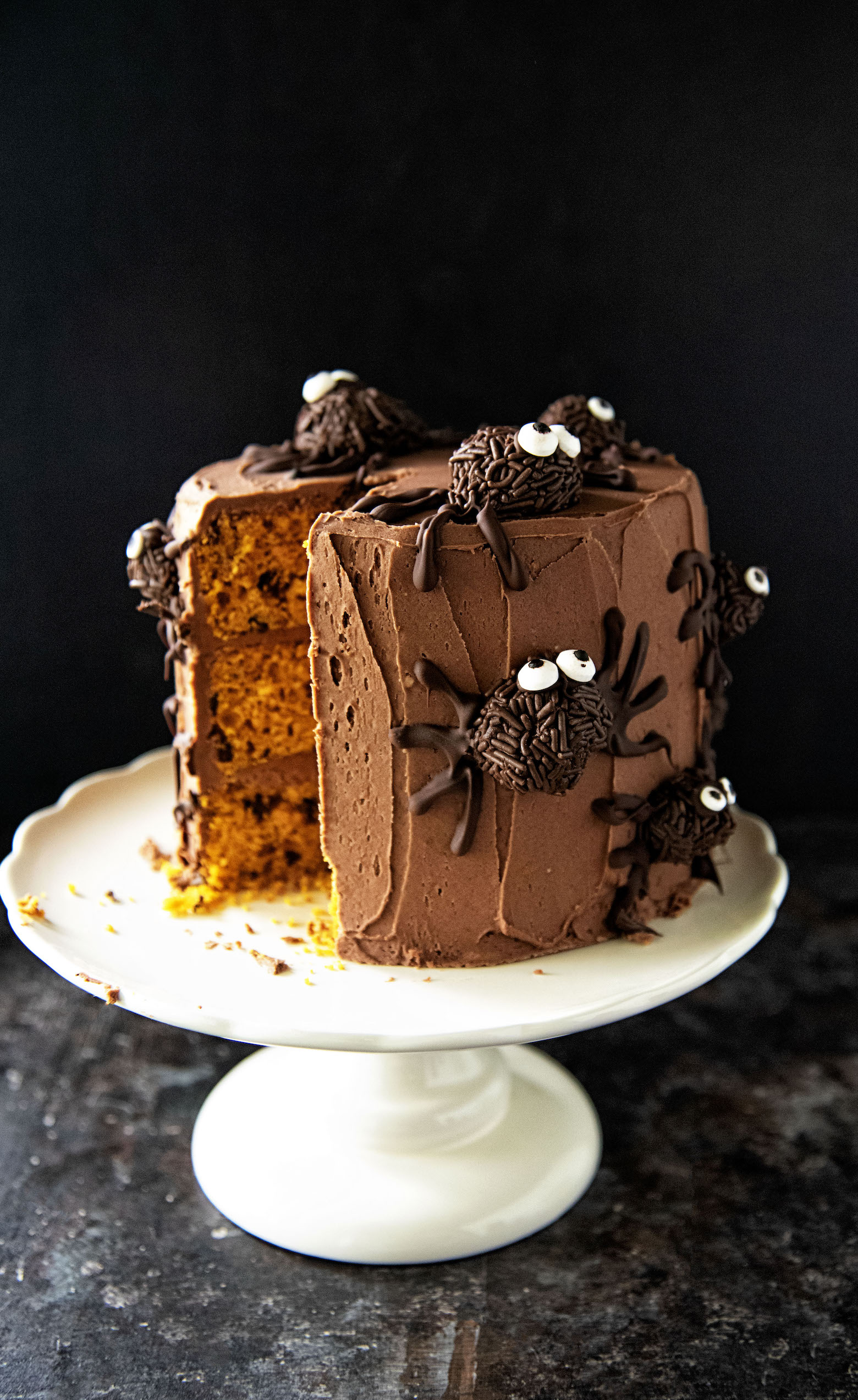 It's that time of year again… Halloween Treats Week.
I participated in it last year and enjoyed it so much that I'm doing it again.
Last year I only participated in 3 out of the 6 days (we are required 2) but this year I'm doing all 6.
Starting with this Chocolate Truffle Pumpkin Spider Cake.
Just like the previous times there is a fun giveaway including a crock pot, a large baking pan package, sprinkles galore, and may other items.
You can enter to win at the end of this post.
Here we go….get ready for some Halloween fun!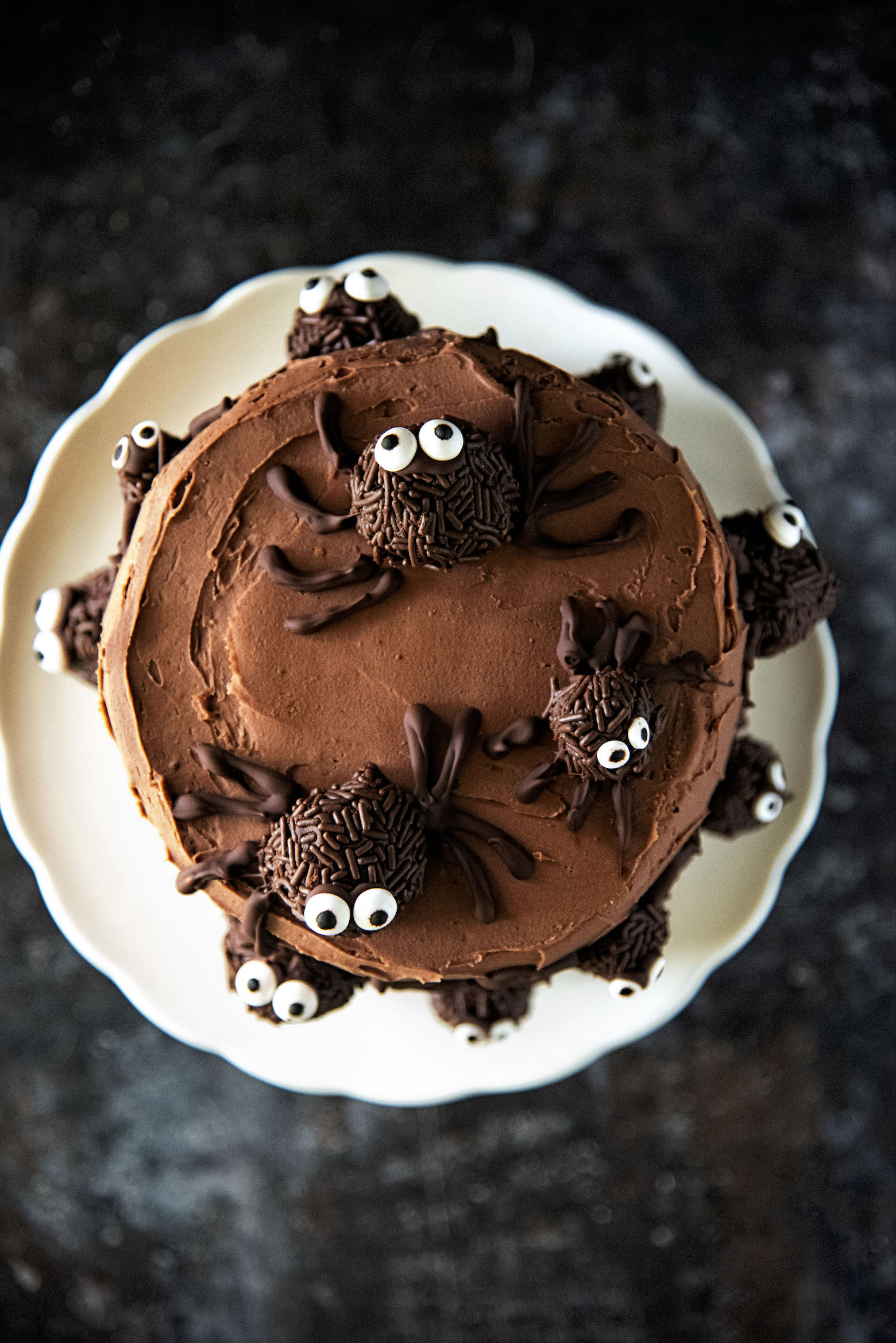 It's rather ironic that I chose to make a spider cake because I'm super afraid of spiders.
And yet, I made a spider dessert last year too.
I think perhaps I'm channeling my inner Dr. Richard Nygard and facing my fears head on.
For those who are not Parks and Rec fans Dr. Nygard is a characters shrink.
So I face my fears and in the process make them cute.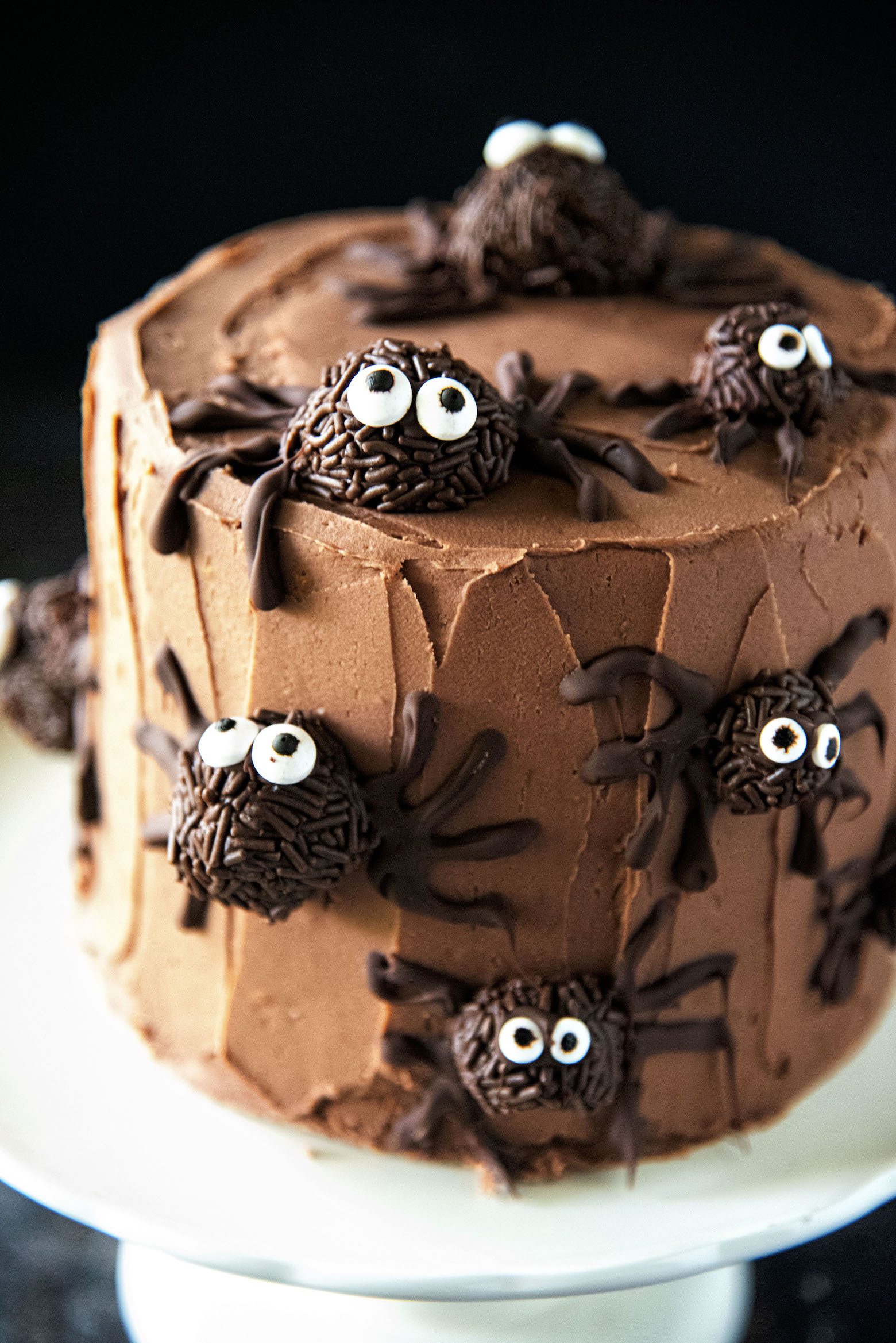 It's always a big gamble with me when I make a cake or dessert that involves some decorating.
Because I got skipped over in the decorating gene lottery.
Also sometimes I have an issue where the nerves in my hand move over a bone spur I have and make my hand go numb.
When that happens, decorating goes very badly. 🙂
But I'm really happy with how it turned out.
So happy that I actually felt guilty cutting into the cake.
Because the way I decorated it the spiders were going to lose at least their legs if not more.
And normally I don't worry about spiders keeping their body parts. 😀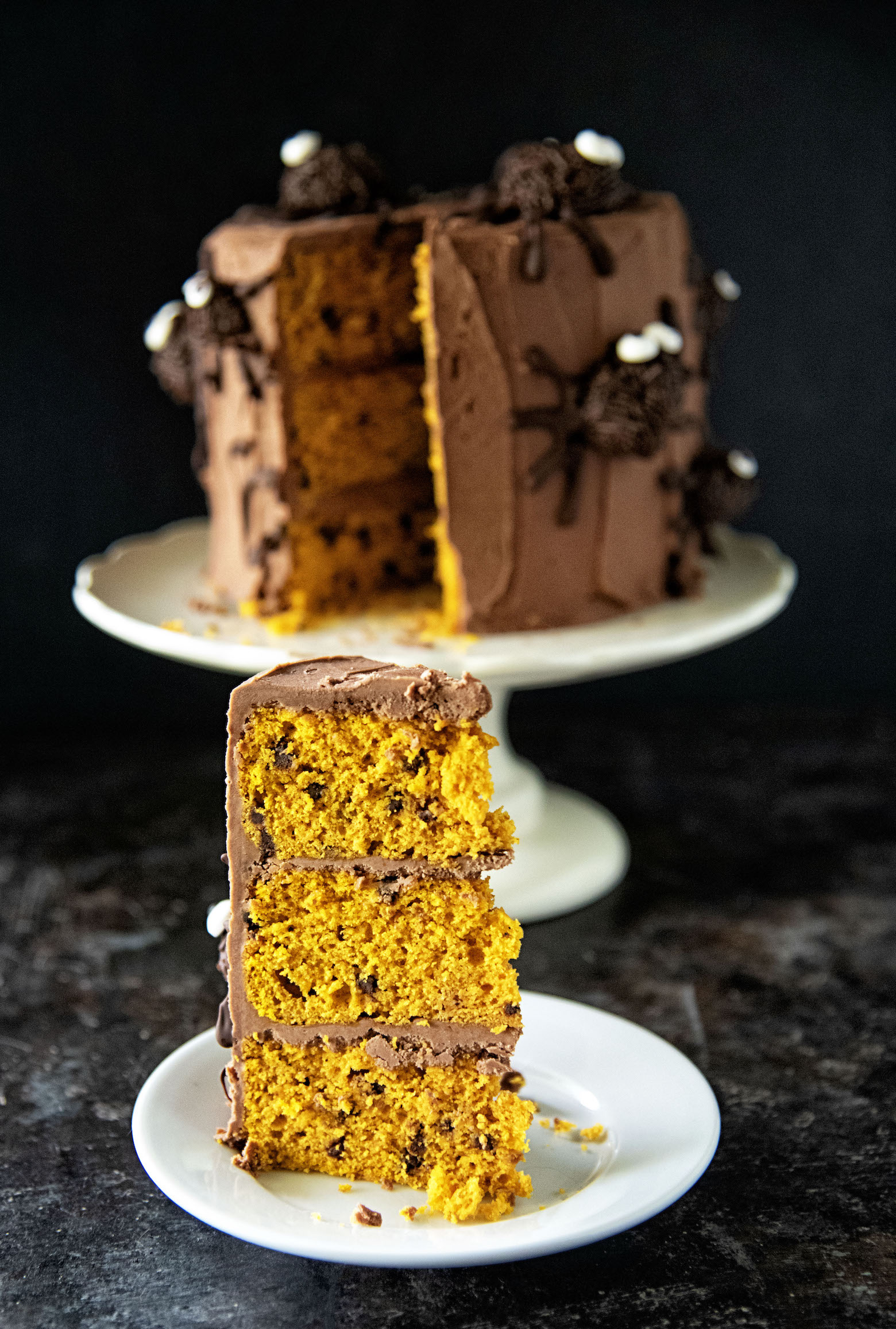 The cake itself is a pumpkin chocolate chip cake.
There is a little bit of pumpkin spice in there but this is definitely not a pumpkin spice cake.
I used mini chocolate chips but if you don't have them you can use standard size.
Mini chips just seem to work better in my opinion though.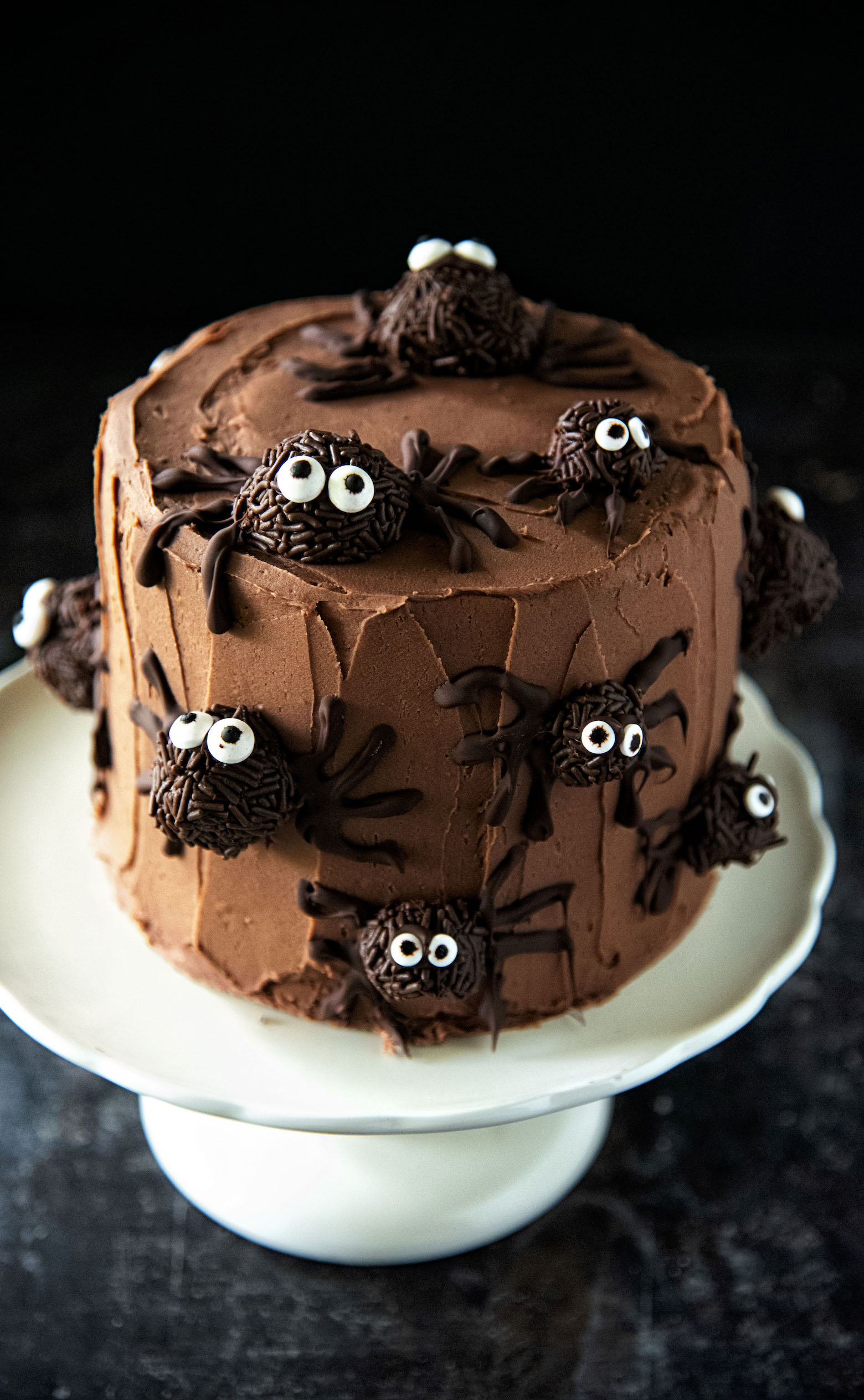 The frosting is my favorite chocolate frosting of all time.
I use it a lot on this blog.
I'm not even that big of a chocolate fan but this stuff is so good that there is only a thin layer of frosting on this cake because I sampled too much frosting as I was making it. 😛
For real.
So you will probably have more frosting than what is in the picture.
Unless of course, you are like me and can't control yourself.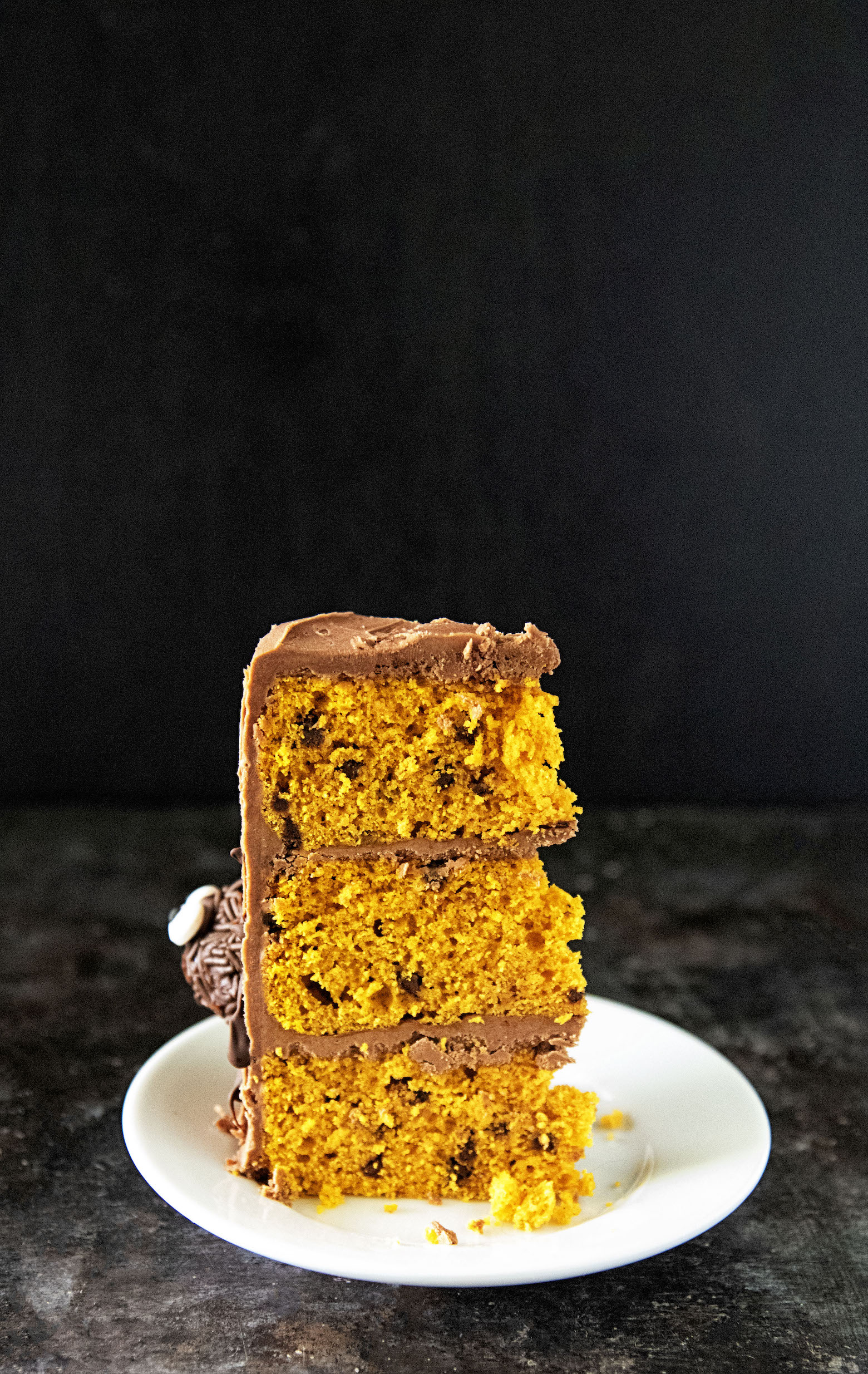 The spider idea came to me when flipping through a magazine.
In the magazine, the cake was a bright orange color and the spiders were all gumdrops.
I live in horror thinking about a purple or green spider.
So that was a big no on the gum drops.
Truffles sounded way better.
And I'm glad I went that route because not only are they cute but tasty.*
*Many, many chocolate spiders were harmed in the making and eating of this cake.
P.S. It's a great day to buy my cookbook Holy Sweet!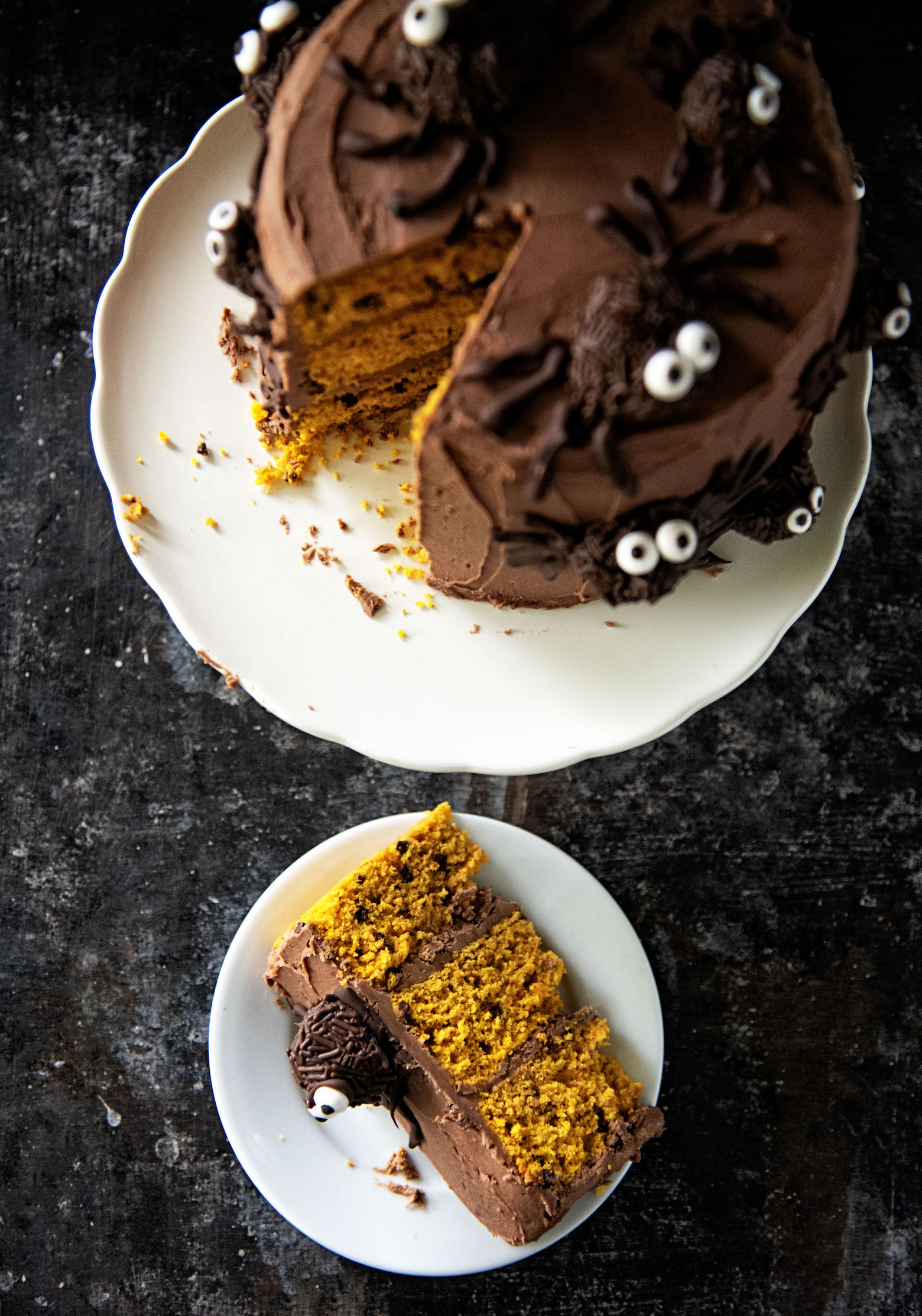 See what the other bloggers made:
Check out the amazing #HalloweenTreatsWeek recipes from our bloggers today!

But wait there's more:
And more!
Ingredients
For the Complete Cake:
one recipe chocolate truffles (recipe follows)
one recipe pumpkin chocolate chip cake (recipe follows)
one recipe ultimate fudge frosting (recipe follows)
8 oz melted semi-sweet chocolate (for spider legs)
Chocolate Truffles:
9 oz. semi-sweet chocolate, chopped finely
7 TBSP heavy whipping cream
1 TBSP unsalted butter
1/3-1/2 cup chocolate sprinkles
Pumpkin Chocolate Chip Cake:
3 cups all-purpose flour
1 TBSP baking powder
1 TBSP pumpkin pie spice
1/2 tsp. salt
3/4 cup vegetable oil
1 1/2 cups packed brown sugar
1/2 cup granulated sugar
4 large eggs
2 cups pumpkin puree
1 cup mini chocolate chips
Ultimate Fudge Frosting:
2 cups unsalted butter, at room temperature
12 ounces semisweet chocolate, melted, slightly cool
4 cups powdered sugar
2 TBSP unsweetened cocoa powder
Instructions
For the Chocolate Truffles:
Place finely chopped chocolate in a medium-sized mixing bowl. 
Heat cream and butter in a small saucepan over medium heat until just starting to simmer.
Immediately add cream mixture to chocolate and loosely cover with a cooking lid or towel to trap the heat in. Do not touch for 5 minutes. 
Then lift cover and use a mixing spoon to gently stir, trying not to incorporate air. Continue stirring until completely melted, creamy, and smooth.
Cover the bowl with plastic wrap and place into fridge for at least 3 hours. 
Take out pie plate, I prefer these over a regular plate because of the sides. Add the chocolate sprinkles onto the pie plate.
Use a Tablespoon-sized scoop and a teaspoon sized scoop then use your hands to gently but quickly roll/form the chocolate into balls. You can have all TBSP or tsp. sized spiders that is up to you. I liked having the two sizes.
Roll them in chocolate sprinkles, then set on a parchment-lined serving dish. Continue until all chocolate is scooped. 
Place in fridge again until ready to decorate cake. 
For the Pumpkin Chocolate Chip Cake
Pre-heat oven to 350°F.
Grease and flour two 8-inch cake pans or three 6-inch cake pans and set aside. I used the three 6-inch cake pans.
Sift together the dry ingredients and set aside.
Using a stand mixer fitted with the paddle attachment, mix together the oil, brown sugar and granulated sugar for about 3 minutes.
With the mixer on low, add in the eggs, one at a time. 
Stop the mixer and scrape down the sides and bottom of the bowl.
With the mixer on low, add in the dry ingredients in two additions, mixing well in between.
Just as the last streaks of flour begin to disappear, stop the mixer.
Add in the pumpkin and mix until combined.
Fold the chocolate chips into the batter.
Evenly distribute the batter between the three pans and bake for 35 to 40 minutes or until a toothpick inserted into the center of the cakes comes out clean. *Note that the pumpkin makes for a denser cake so you may need more time just depending. If baking two 8-inch cakes bake for 30-35 minutes.
Let cool on a wire rack for 10 to 15 minutes before removing the cakes from their pans.
For the frosting:
Using a stand mixer with the paddle attachment, cream butter and 2 cups sugar until fully combined.
Add melted chocolate and cocoa powder, and beat on low speed until fully incorporated.
Add the remaining two cups of sugar. You might need to thin it out, I never have had to.
To assemble the cake:
Set one cake layer on turntable cake stand.
Cover with 3/4 cup frosting.
Top with another cake layer.
Repeat till cake is assembled.
Use an offset spatula to frost a crumb coat with frosting and chill for 30 minutes.
Remove from fridge and cover completely with another layer of frosting.
Remove truffles from fridge and slice in half as one truffle makes two spiders.
Place the cut side against the cake. It should stick to the frosting. If not add a little frosting to the bottom of the truffle and use the frosting to kind of glue the spider to the cake.
You can make as many or as little spiders as you can.
Once the truffles are all on the cake melt 8 oz. of semi-sweet chocolate until smooth and pipeable.
Place eyeballs on truffles using the melted chocolate and pipe out legs for the spiders as well.
Once you have done how many spiders you want, place cake in fridge to chill again.
Remove from fridge about 15 minutes before serving.