This Chocolate Peanut Butter Stout Layer Cake has chocolate stout cake layers that have both peanut butter and chocolate frosting.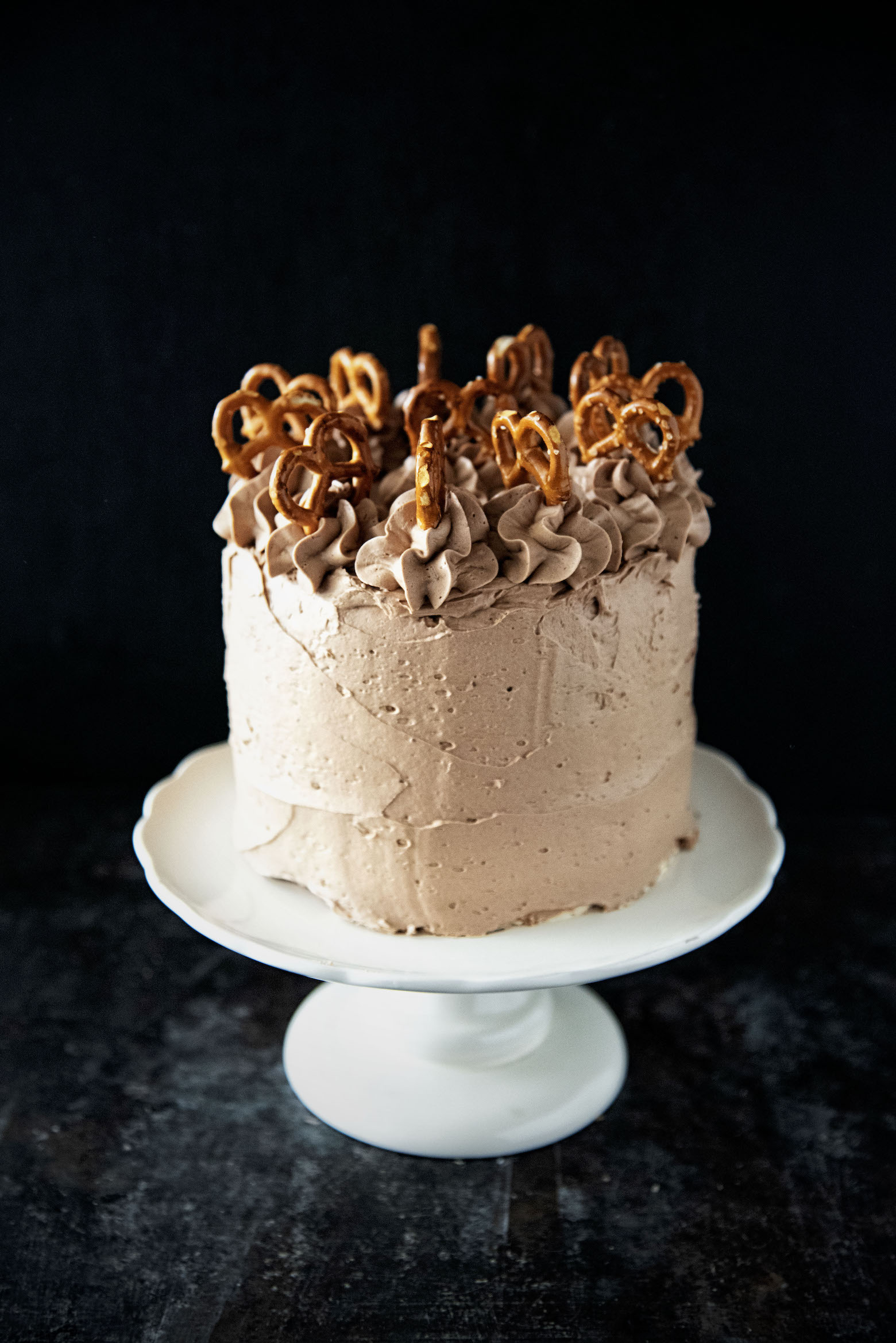 The beer holiday is coming up.
St. Patrick's Day.
My younger days of St. Patrick's Day were spent in bars holding warm glasses of green beer.
The beer was warm because green beer is gross.
Because it's just cheap watered down beer with food coloring.
And that's not my thing.
I used to not even like beer.
In college I would gag down maybe a half a beer at a party and would look at people like they were insane for loving this stuff.
Then my senior year of college there was a boy.
That boy loved beer.
But he loved dark beers.
I remember our first date where he ordered a stout.
It was so dark I told him it reminded me of motor oil.
He asked if I wanted to try it.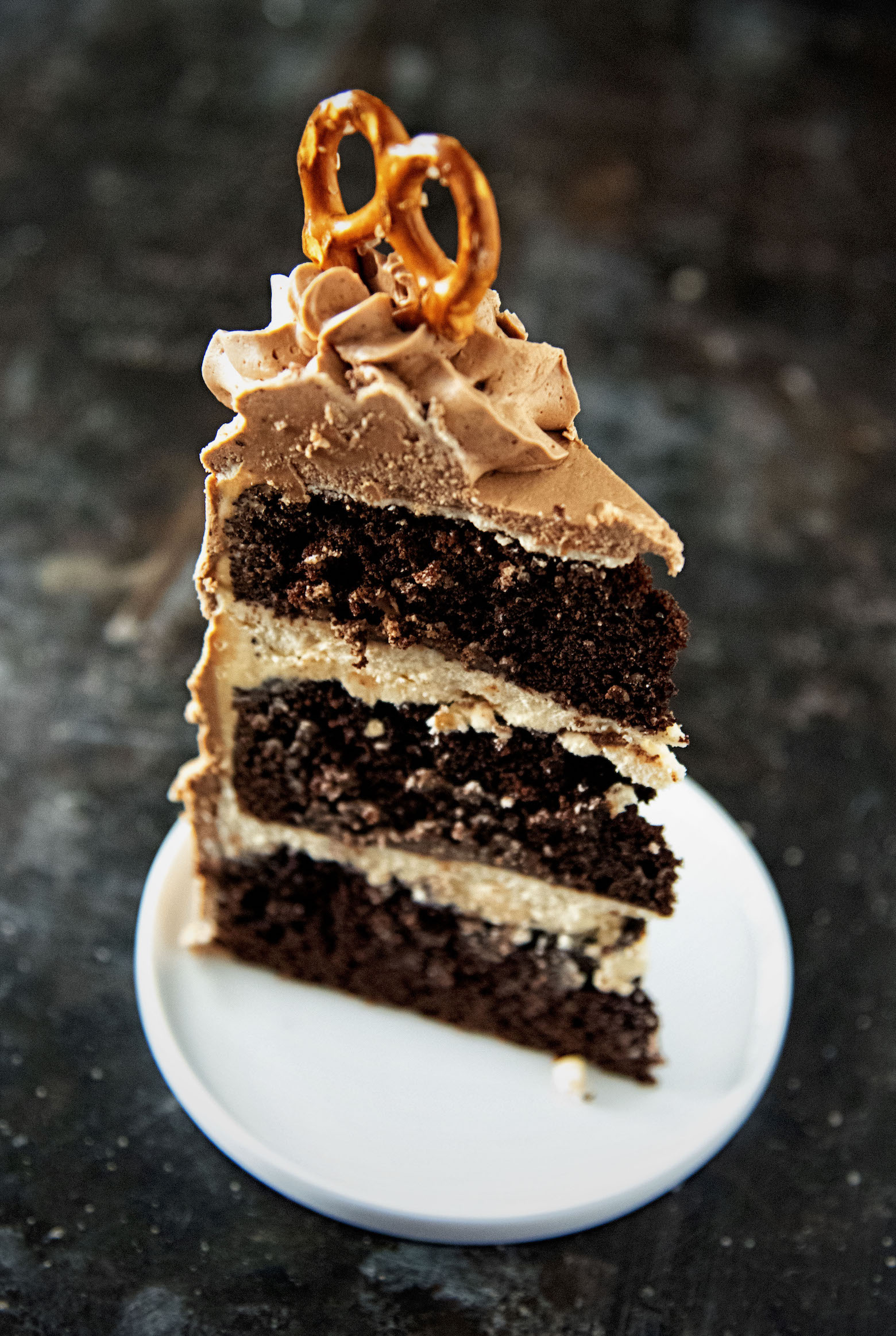 I did not.
But that boy was cute and so I took a sip.
I got a lot of things out of that relationship.
My love of dark beer is one of them.
Guinness made stout popular but honestly it's one of my least favorite ones.
I love me a cream stout.
Especially if it's on nitro (beer drinkers know what that is).
I like baking with chocolate and stout and often do for St. Patrick's Day.
Enter this Chocolate Peanut Butter Stout Layer Cake.
I had a chocolate peanut butter fan over for dinner and watching hockey and she happens to also love beer.
So this cake came about.
The frosting is a Swiss Meringue Buttercream base and you use powdered peanut butter.
Why powdered?
Because it's less greasy and gives a way better texture.
It also concentrates the flavor.
P.S. It's a great day to buy my cookbook Holy Sweet!
Want more Layer Cake Recipes?
Circus Animal Cookie Layer Cake
Strawberry Lemonade Layer Cake
Strawberry Mascarpone Buttermilk Layer Cake
Ingredients
For the Cake:
1 cup Chocolate Stout beer
3/4 cup (1 1/2 sticks) unsalted butter
2/3 cup sour cream
3/4 cup unsweetened cocoa powder
2 large eggs
1 1/2 tsp. vanilla extract
2 cups all purpose flour
3/4 cup granulated sugar
1 cup brown sugar, packed
1 1/4 tsp. baking soda
1 tsp. baking powder
1/2 tsp. salt
For the Frosting:
7 egg whites
2 cups granulated sugar
3 cups unsalted butter
1 tsp. vanilla extract
5 oz. semisweet chocolate, melted and cooled
pretzels for garnish (if desired)
Instructions
For the Cake:
Prepare three 6-inch cake pans with baking spray and parchment paper.
Pre heat oven to 350F and prepare baking pans.
Sift together flour, baking soda, baking powder, and salt. Set aside
Combine stout and butter in a medium-large sauce pan.
Heat until butter is melted.
Meanwhile, combine sour cream, eggs, and extract. Set aside.
Over medium heat, whisk in the cocoa powder and sugar into the stout/butter mixture until combined.
Remove from heat and stir in sour cream mixture.
Whisk in dry ingredients until smooth.
Divide evenly among prepared baking pans.
Bake until centers are done (about 22-24 minutes)
For the Frosting:
Place the egg whites and sugar in the bowl of an electric mixer. Whisk to combine.
Fill a medium saucepan with an inch of water and place over medium heat.
Place the mixing bowl on top of the saucepan to create a double boiler.
Heat, whisking occasionally, until the egg mixture is hot to the touch (about 160 degrees on a candy thermometer)
Once hot, carefully transfer mixing bowl back to the mixer.
Beat on high with the whisk attachment until the bowl of the mixer returns to room temperature.
Swap out the whisk for the paddle attachment. 
With the mixer on medium-low, add in the vanilla, peanut butter powder, and the butter.
Mix until fully incorporated and smooth.
Remove about 1/3 of the buttercream into a bowl and set aside.
Add chocolate to the remaining 2/3 peanut butter flavored buttercream and mix until fully combined.
Place the bottom layer of cake on a cake board or serving dish.
Dollop on 1/2 of the peanut butter buttercream and spread with an offset spatula.
Place the next layer of cake on top and repeat.
Frost outer cake with the chocolate peanut butter buttercream.
Add pretzels for garnish if desired.
Notes
I use these 6-inch cake pans.