Chocolate Orange Frosted Vanilla Malted Cake: Vanilla cake with malted milk, filled and frosted with Chocolate Orange Swiss Meringue Buttercream and topped with candied orange peel.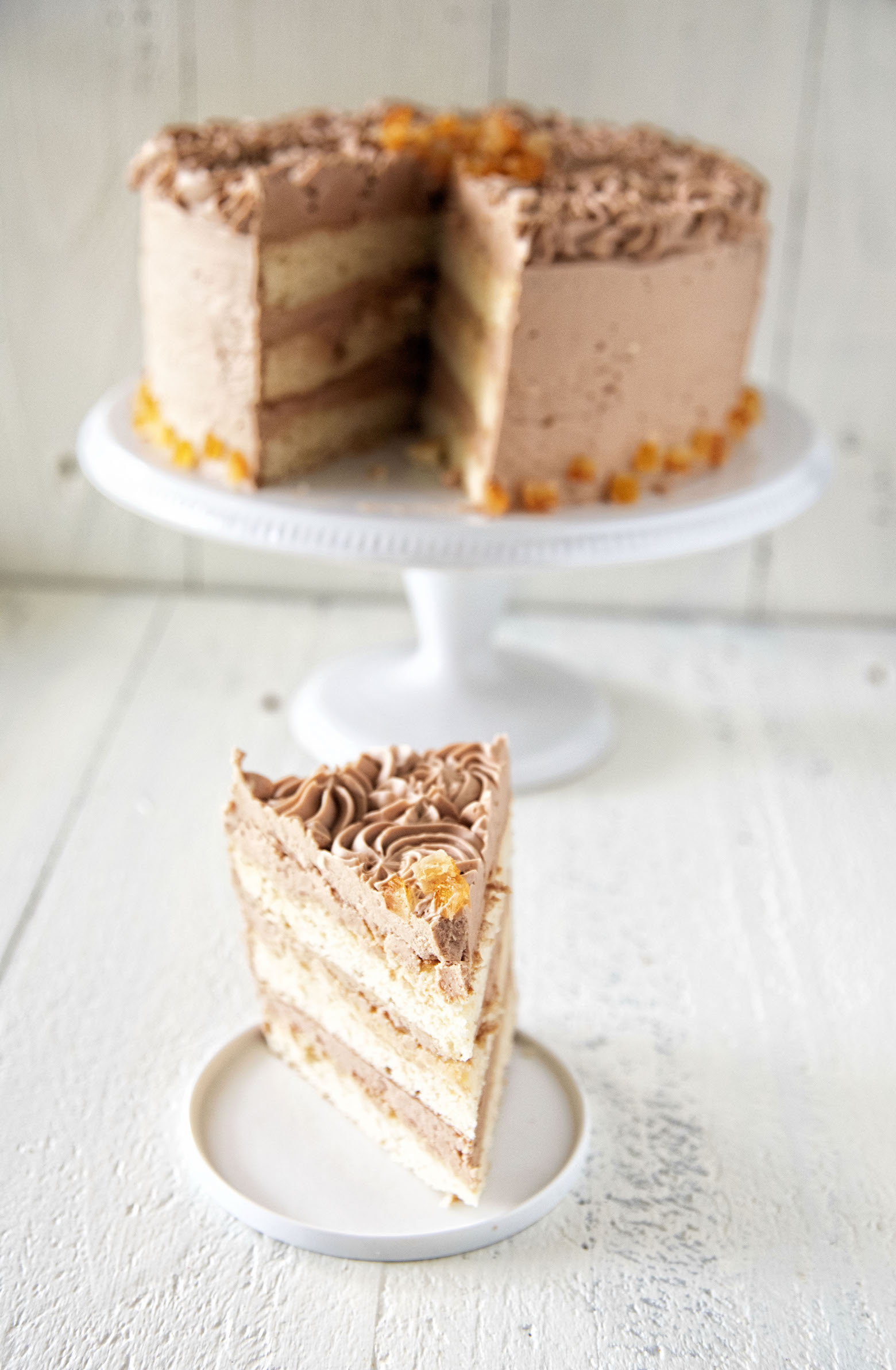 The parents are packed up and on the road and we have less than a week until the new year.
As food bloggers we do so many holiday foods ahead of time.
That by the time we get to the actual holiday we don't want food from that holiday. 🙂
So when making my own Christmas dinner dessert I don't want anything peppermint, eggnog, or cranberry flavored.
My dad really wanted a layer cake this year (and homemade cinnamon rolls).
He sees them on the blog all the time.
But they are usually made so far in advance that by the time he gets here they are no longer good.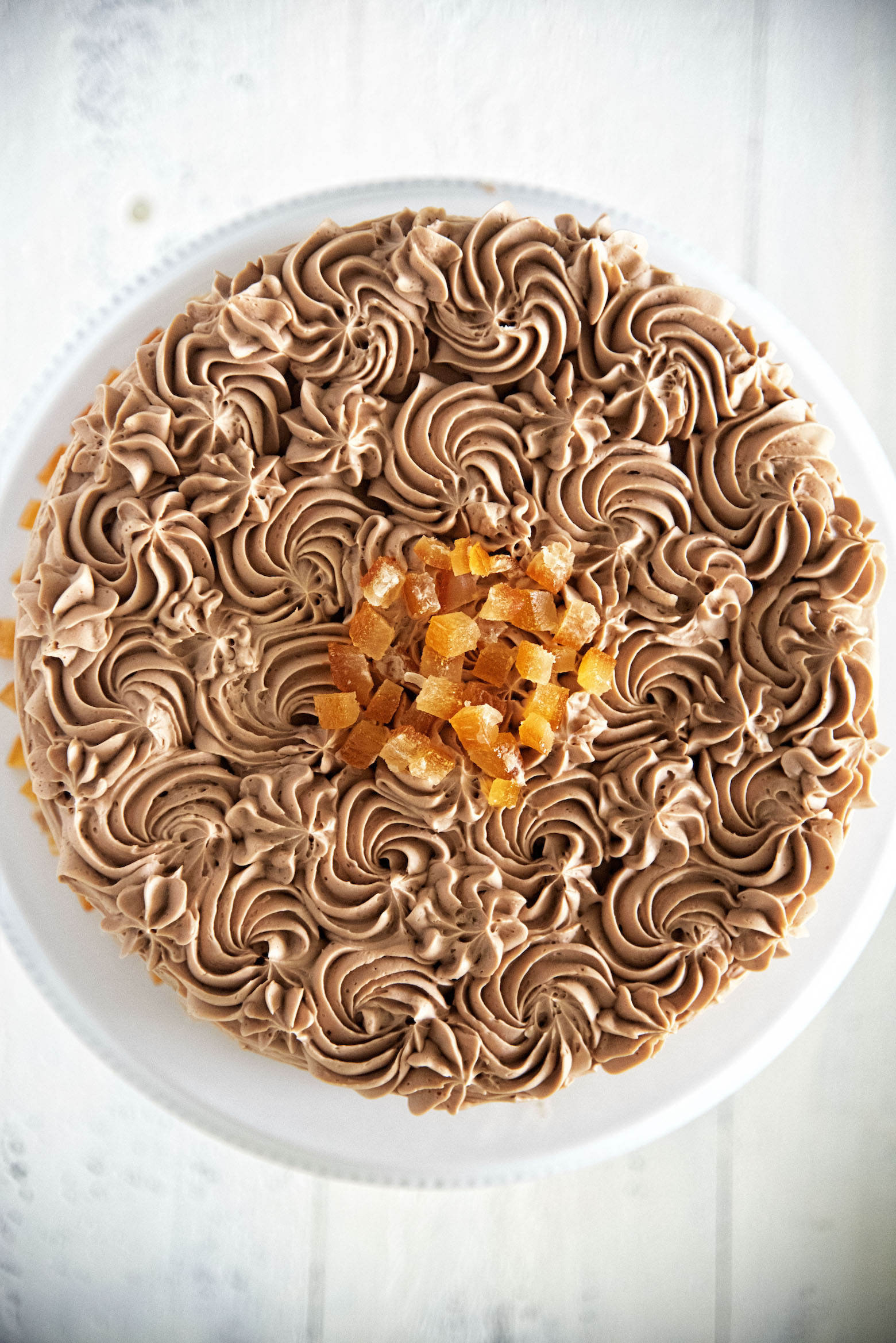 I had already made him red velvet peppermint bark cupcakes (peppermint is his favorite).
And the chocolate dipped candy cane fudge.
And a Pistachio Dried Cranberry Caramel Tart.
This cake is a white vanilla cake with malted milk added in.
My dad and I are big malted milk fans.
The cake is then filled and topped with a chocolate orange Swiss meringue buttercream frosting.
It's a tasty cake and it's one that can be served all year round.
P.S. It's a great day to buy my cookbook.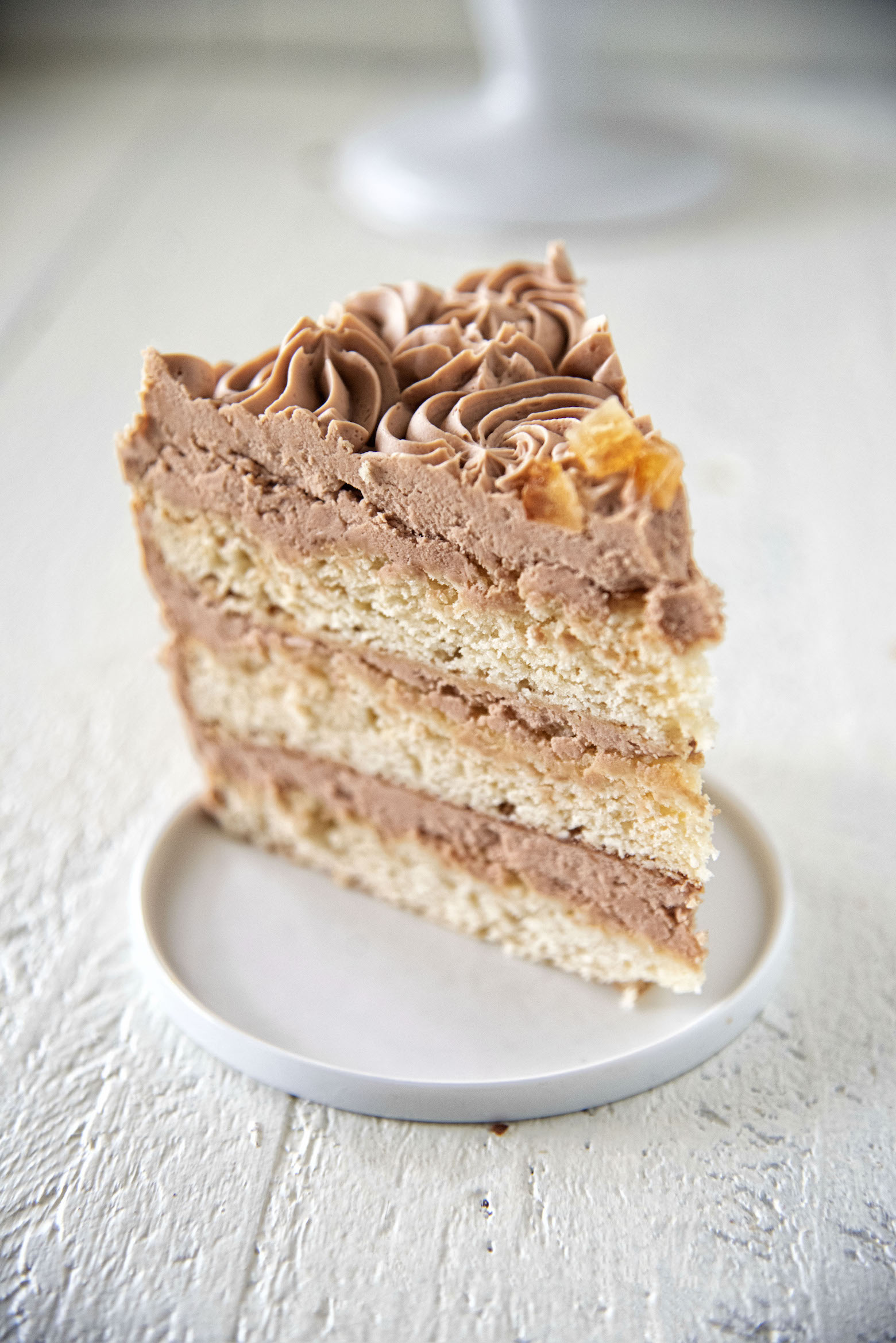 Want More Cake Recipes?
Chocolate Salted Caramel Popcorn Layer Cake
Strawberry Lemonade Layer Cake
Chocolate Peanut Butter Stout Layer Cake
Vanilla Cheesecake Funfetti Pink Ombre Layer Cake
Ingredients
For the Cake:
1 1/2 cups (3 sticks) unsalted butter, room temperature
2 1/3 cups sugar
3 large egg whites
1 tsp. vanilla extract
3 cups cake flour
1/3 cup malted milk powder
3/4 tsp. baking soda
3/4 tsp.salt
1 1/2 tsp. baking powder
1 1/2 cups buttermilk
1/3 cup fresh orange juice
For the Frosting:
1 cup (about 9) egg whites
2 cups granulated sugar
3 cups unsalted butter, cubed and at room temperature
3 TBSP frozen orange juice concentrate
1/2 tsp. vanilla extract
1/4 tsp. salt
10 oz. semisweet chocolate, melted and cooled slightly
candied orange peel for garnish
Instructions
For the Cake:
Preheat oven to 350F.
Have a rack one-third from the bottom of the oven and a second rack two-thirds from the bottom.
Line three 9-inch cake pans with parchment paper rounds and spray with baking spray or butter and flour.
In a medium bowl, combine flour, baking soda, malted milk, salt, and baking powder.
Using an electric mixer, beat butter and sugar on medium speed with a paddle attachment until light and fluffy, about 2 minutes.
Scrape down sides of bowl and add egg whites and vanilla.
Beat on medium speed for 1 minute.
Add 1/3 of flour mixture and beat on medium speed until incorporated.
Add half of buttermilk and beat on medium until mixed in.
Scrape down sides of bowl and repeat adding flour mixture and buttermilk, finishing with remaining 1/3 of flour.
Batter will be thick and glossy.
Pour batter evenly into prepared pans, I like to use an ice cream scoop because the batter is so thick.
Set two cake pans on 1 oven rack and the third pan on the second rack, staggering them so cakes are not directly over each other.
Bake 25 to 35 minutes, until the tops are flat and browned.
Brush cake layers with orange juice while still warm.
Cool cakes in pans for 10 minutes.
Invert onto racks to cool completely. (Cakes can be wrapped in plastic wrap and frozen for up to 3 weeks.)
For the Frosting:
Place the egg whites and sugar in the metal bowl of a stand mixer and set over a small pot of simmering water (the bowl should not touch the water).
Heat, stirring occasionally, until mixture is 160F or hot to the touch.
Transfer bowl to stand mixer and beat on high speed with a whisk attachment to medium stiff peaks, about 8 minutes.
Reduce mixer speed to medium low and add butter a tablespoon at a time, letting it incorporate into the meringue for few moments before adding more.
Add vanilla extract, frozen orange juice concentrate, melted chocolate, and salt and beat on high for 1-2 minutes until smooth and creamy.
Assembly of Cake:
Set one cake layer on turntable cake stand.
Cover with 3/4 cup buttercream.
Top with another cake layer.
Repeat till cake is assembled.
Use an offset spatula to frost cake with buttercream.
If desired, first make a thin coat to seal in crumbs and chill for 30 minutes.
Cover completely with another layer of frosting.
Pipe some decorative swirls on top of cake and top with chopped candy orange peel (optional).
Chill cake for 30 minutes.
Serve chilled or at room temperature.