These Chocolate Clementine Sweet Rolls are made with a rich buttery brioche filled with chocolate filling and topped with clementine glaze.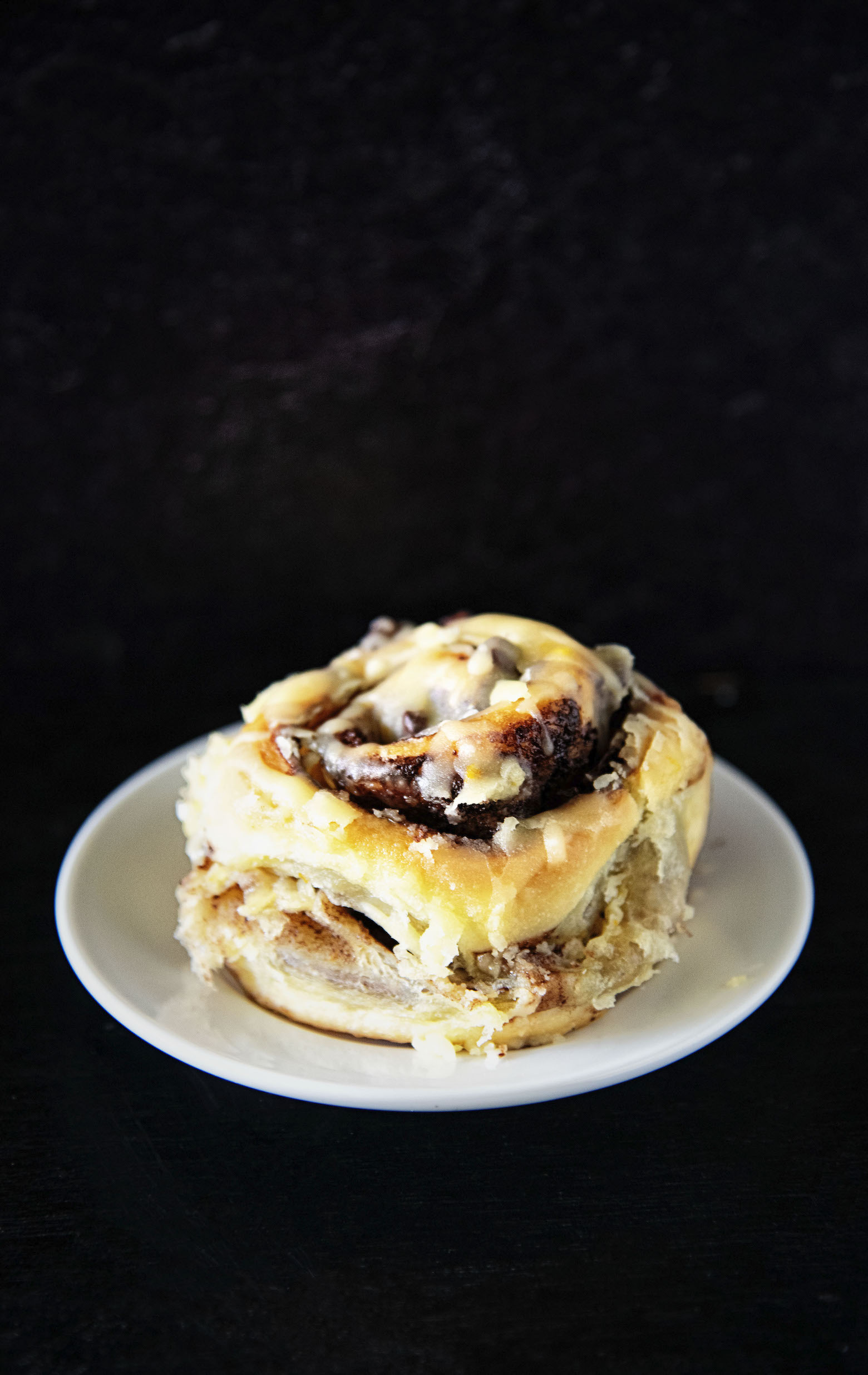 So I know you are going to look at this recipe and freak out a little.
6 eggs? 2 egg yolks?
One POUND of butter?
The answer to all those questions is yes.
Really 6 eggs, 2 yolks, and 4 sticks of butter.
But trust me, it's worth it.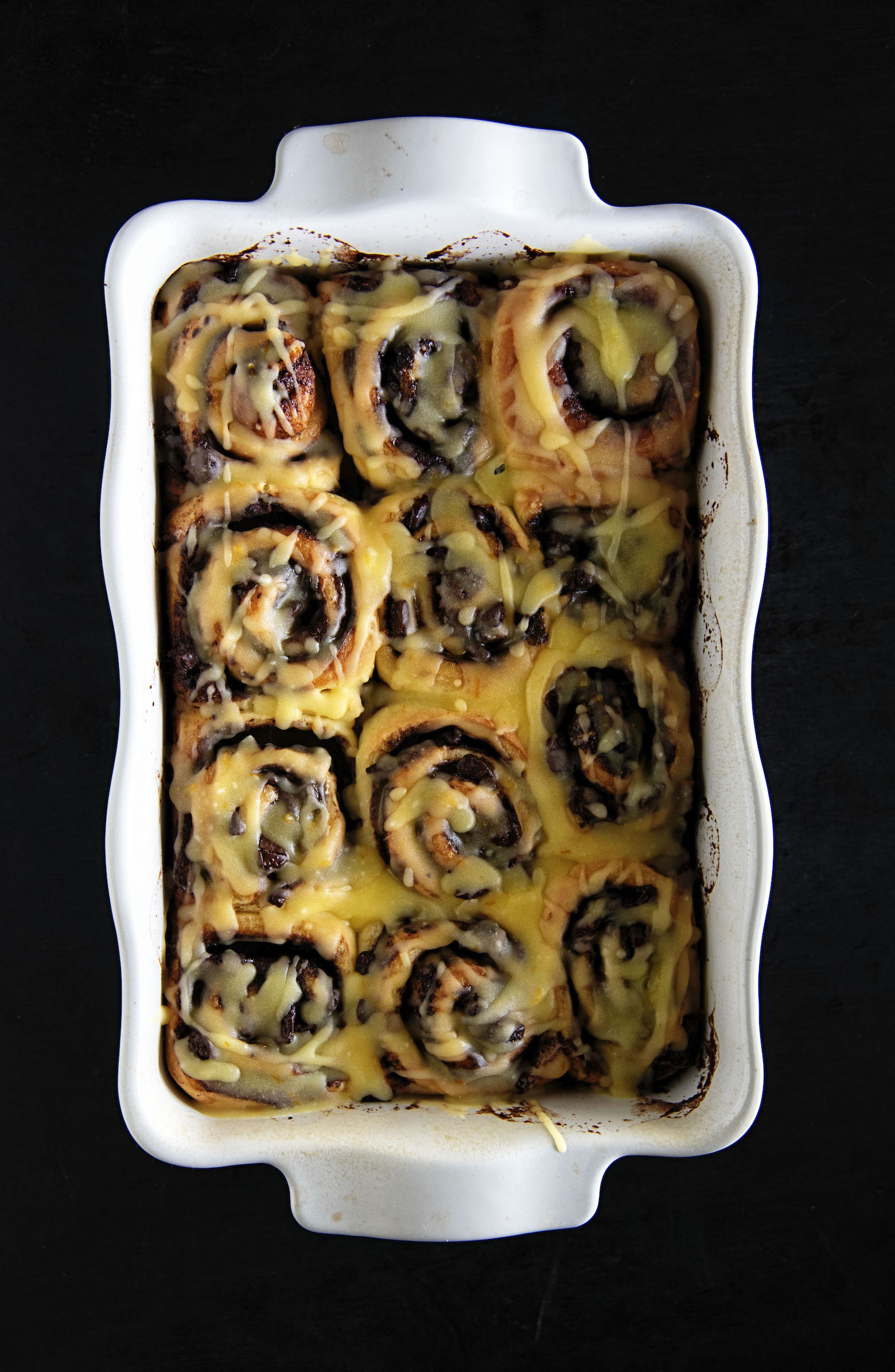 These Chocolate Clementine Sweet Rolls are made with a rich brioche.
A very rich brioche.
Though keep in mind the rolls only use half the batch of dough.
So they only have a half a pound of butter in them. 🙂
Not counting the filling and glaze of course. 😛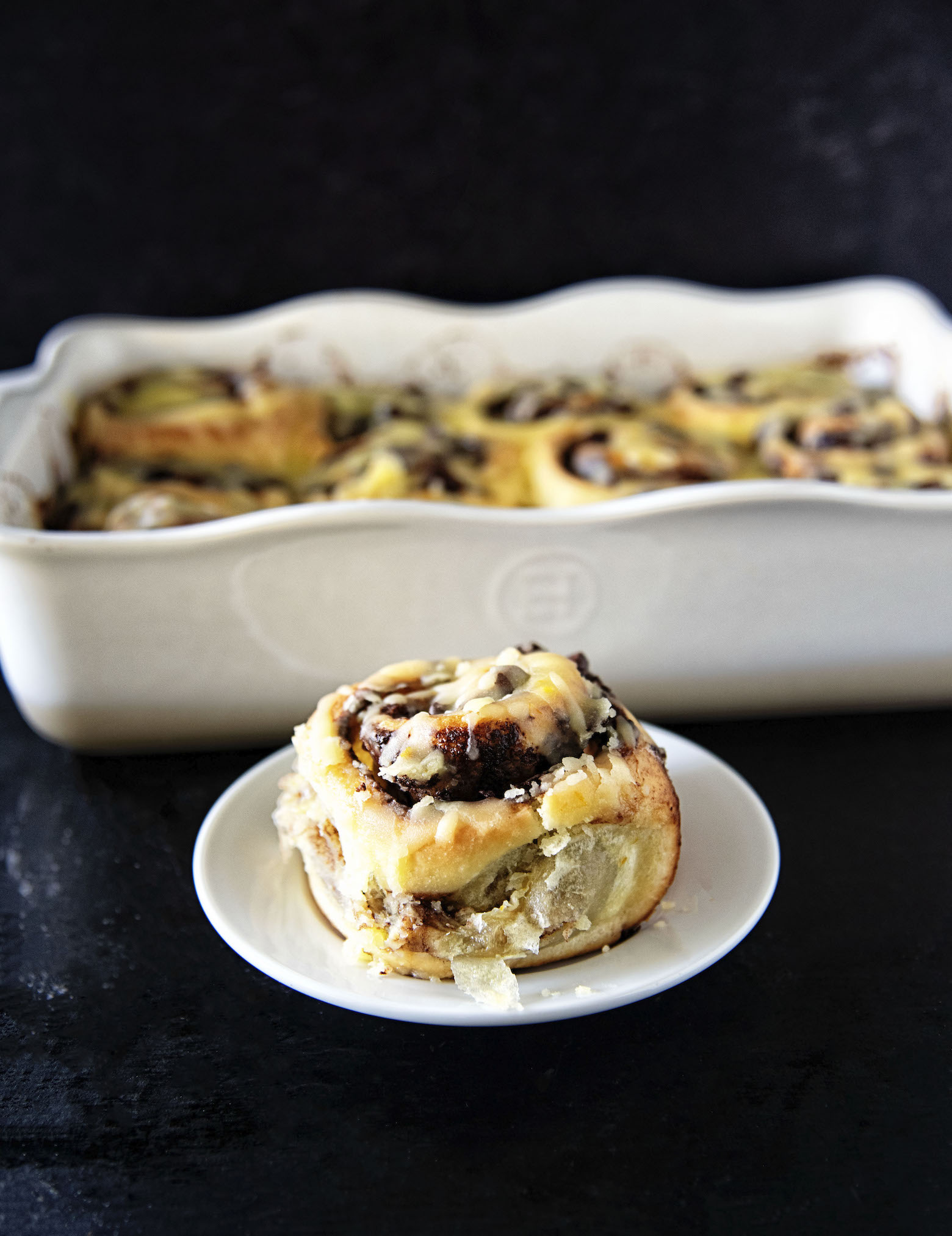 The filling is a double chocolate buttery goodness that can't be explained, it should just be eaten.
Brown sugar, cocoa powder, and butter.
Then semisweet chocolate pieces scatter on top of that.
This is definitely the time to use your good chocolate.
For these rolls I used TCHO which is my favorite.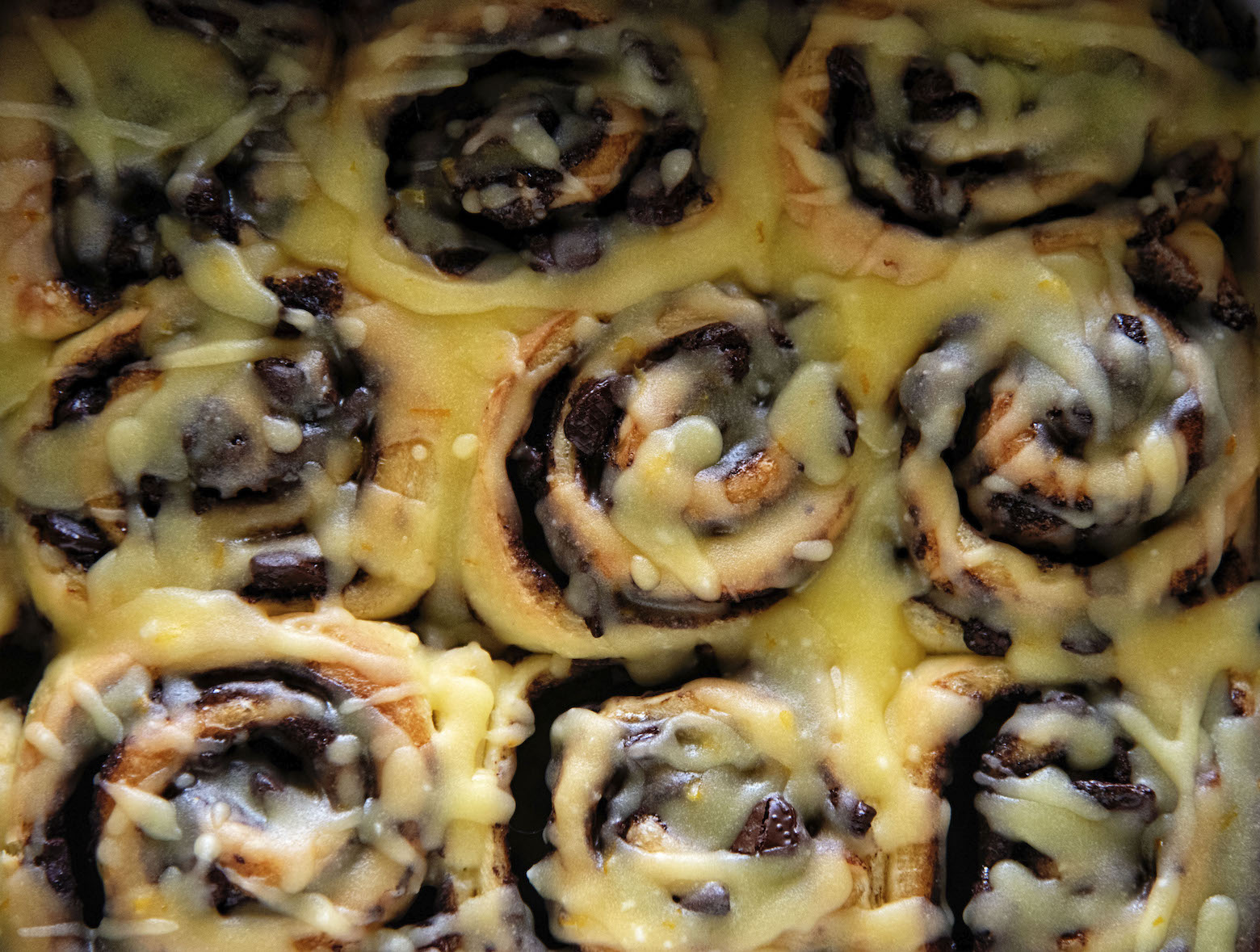 Once you wrap that chocolate goodness up with the rich brioche you bake them.
Hot out of the oven you make a buttery clementine glaze.
Yes, more butter. 😛
I used clementines for this recipe because it's what my husband brought home from Costco.
Feel free to use any type of orange you would like.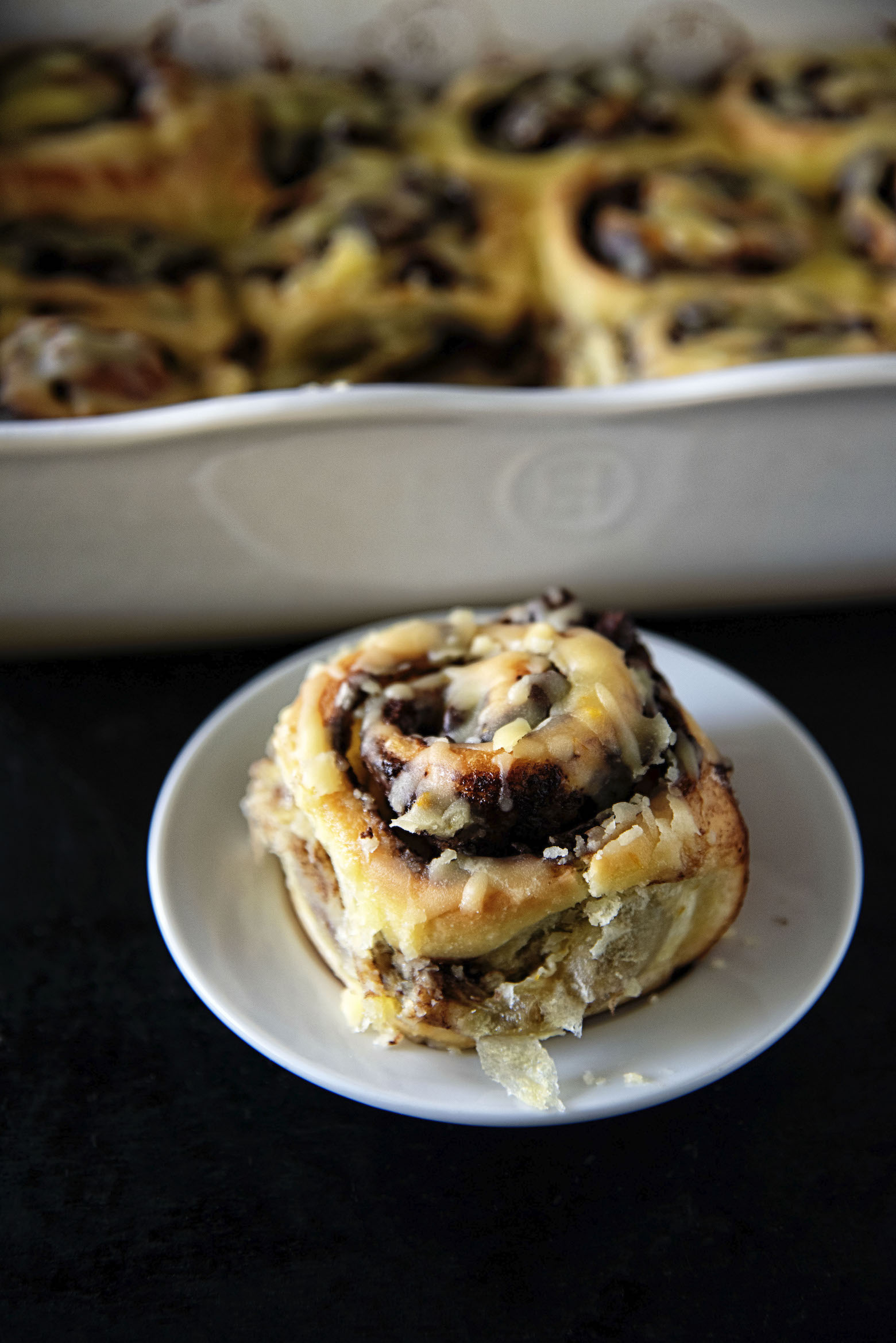 Now I make a lot of bread.
A lot of rolls.
And I can say that these are exceptional.
How can they not be?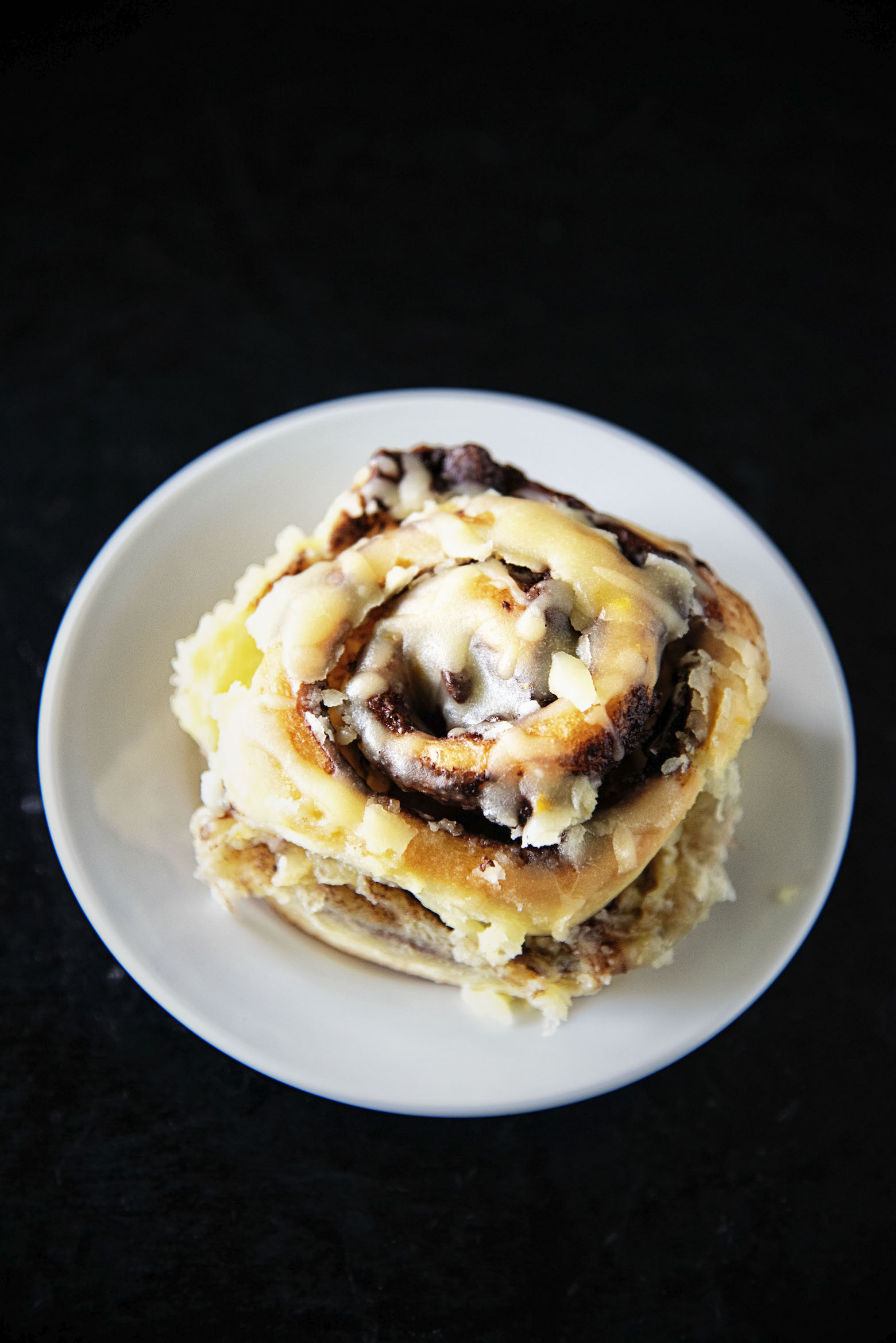 These would be a great treat to serve to family or friends who are in town for Thanksgiving.
Or save them for Christmas.
Better yet, just make every day a holiday and make these.
It's a great day to order my cookbook.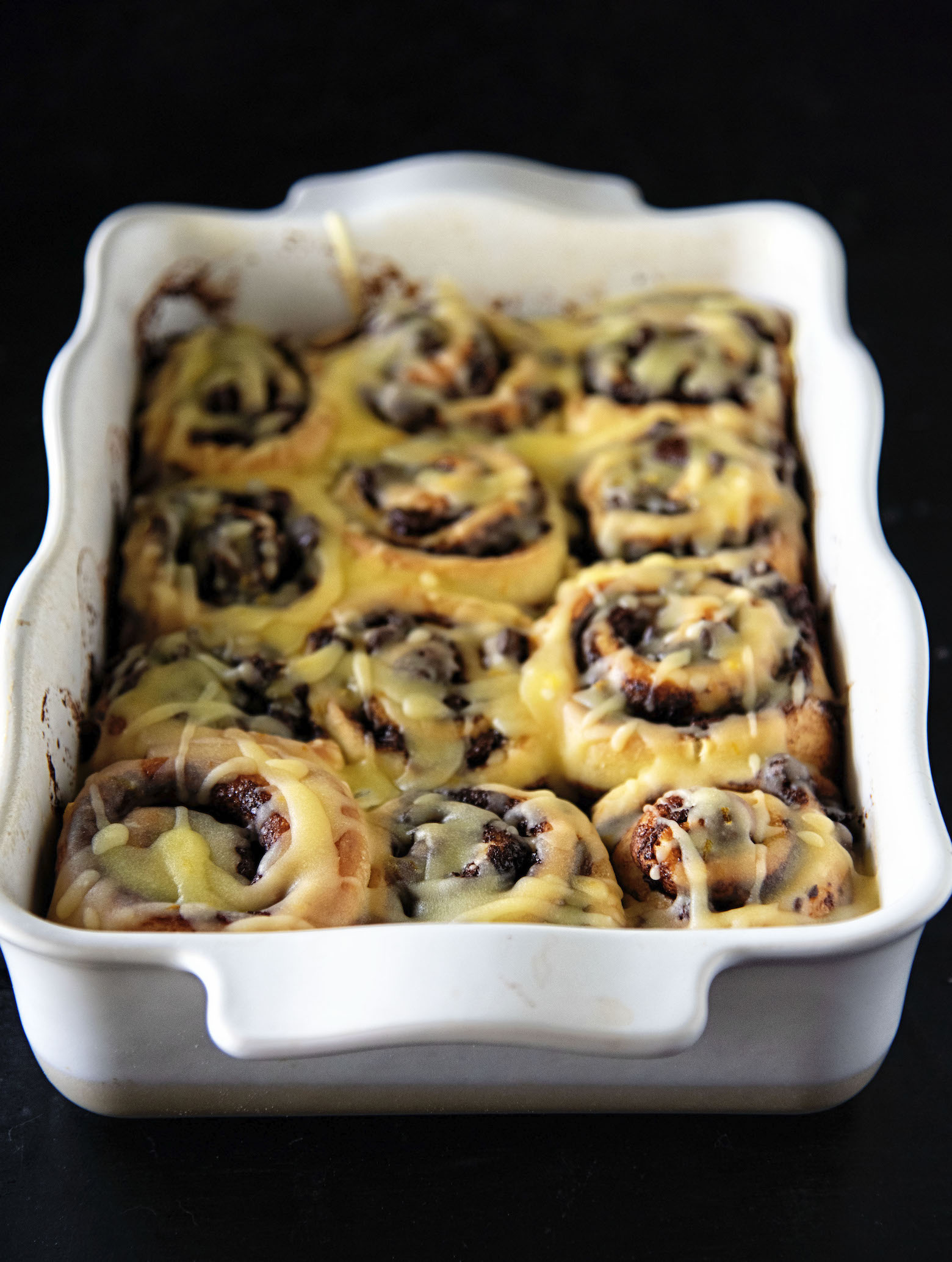 Want More Sweet Rolls?
Bourbon Brown Sugar Caramel Peach Sweet Rolls
Cream Cheese Frosted Gingerbread Sweet Rolls
Blackberry Laminated Brioche Brown Butter Crumb Rolls
Coconut Cream Pie Breakfast Buns
Ingredients
For the sponge:
2 TBSP water
1 TBSP active dry yeast (I used Red Star Yeast)
1/3 cup whole milk, at room temperature
¼ cup granulated sugar
½ cup bread flour
For the dough:
3 1/2 cups bread flour (or AP)
2 tsp. salt
6 large eggs, lightly beaten
2 large egg yolks
1 pound (4 sticks) butter, softened, but still cool
Zest of 5 clementines
For the Filling:
3 TBSP unsalted butter, melted
2 TBSP cocoa powder (I used Rodelle)
1/2 cup brown sugar, packed
1/8 tsp. salt
1 cup semisweet chocolate, finely chopped
For the Glaze:
3 TBSP unsalted butter, melted
1 ½ cups powdered sugar
zest of one clementine
1/3 cup clementine juice (approximately)
Instructions
Sponge: 
Combine the yeast and water in the bowl of standing mixer fitted with a paddle attachment and whisk until the yeast is dissolved. 
Stir in the sugar, milk, and flour, forming a thick batter. 
Cover with plastic film and let rest in a warm environment for 30-45 minutes. As fermentation begins, bubbles will form.
Dough:
Add the bread flour and salt to the sponge, then add the eggs. 
Mix on low speed for 2 minutes, or until the whole eggs are absorbed. 
Then add the egg yolks and mix until the egg yolks are absorbed. 
Its going to look eggy and gross right now…keep going it gets better. 🙂
On medium speed, add the butter, 2 tablespoons at a time. Stop the mixer and scrape down the sides of the bowl occasionally. This process takes awhile. Don't rush it. 
Add in the zest and mix until fully combined. 
Knead until the dough is shiny and smooth, about 5 minutes. Note it will still be very sticky.
Place the dough in the a well oiled bowl and turn it so the top is coated with oil. 
Cover with plastic film and let rise at room temperature until doubled in volume, about 2 hours.
After the dough has doubled in volume, press down to deflate, folding one half into the other. 
Fold two or three times, either in the bowl or on a lightly floured surface. 
Cover with plastic film and place in the refrigerator for at least 4 hours or overnight.This is the second rise.
Spray a 9-x-13 inch pan. You will only be using half the dough recipe for the roll recipe. 
Remove the dough from the refrigerator. 
Turn it out onto a lightly floured surface. 
Divide the dough evenly in half. 
Turn the dough out onto a lightly floured surface. 
Using a rolling pin, roll it into a rectangle approximately 12 by 16 inches.
In a microwave safe bowl melt butter. 
Add the brown sugar, salt, and cocoa powder. Mix until fully combined.
Spread the filling evenly across the dough leaving an 1-inch margin at the top edge with no filling.
Sprinkle chocolate pieces over the filling. 
Starting from the long side closest to you, roll up the dough like a jellyroll.
Transfer the log to a baking sheet, cover with plastic wrap and freeze for 10 minutes. This will make cutting the buns clean and even.
Remove from freezer, cut buns into 1 ½-inch pieces, you should get around 12
Cover the dough with plastic film coated with pan spray and let rise at room temperature until it has doubled in size and filled the pans completely. It should take 1 ½-2 hours, depending on the temperature of your room.
Toward the end of the proofing, preheat the oven to 400F. Adjust the rack to the center of the oven.
Bake rolls for 10 minutes. 
Then turn down the oven temperature to 350F and bake for 15-20 minutes.
Remove from oven and allow to cool while you prepare glaze.
For the glaze:
Whisk together the butter, powdered sugar, and zest.
Add juice and mix. This is when I got bad about measuring and just kept adding juice until it was at the consistency I wanted. 
Drizzle over rolls.