These Chocolate Chunk Churro Cookie Bar are brown sugar cookie bars full of chocolate chunks and sprinkled with cinnamon and sugar for a twist on a churro.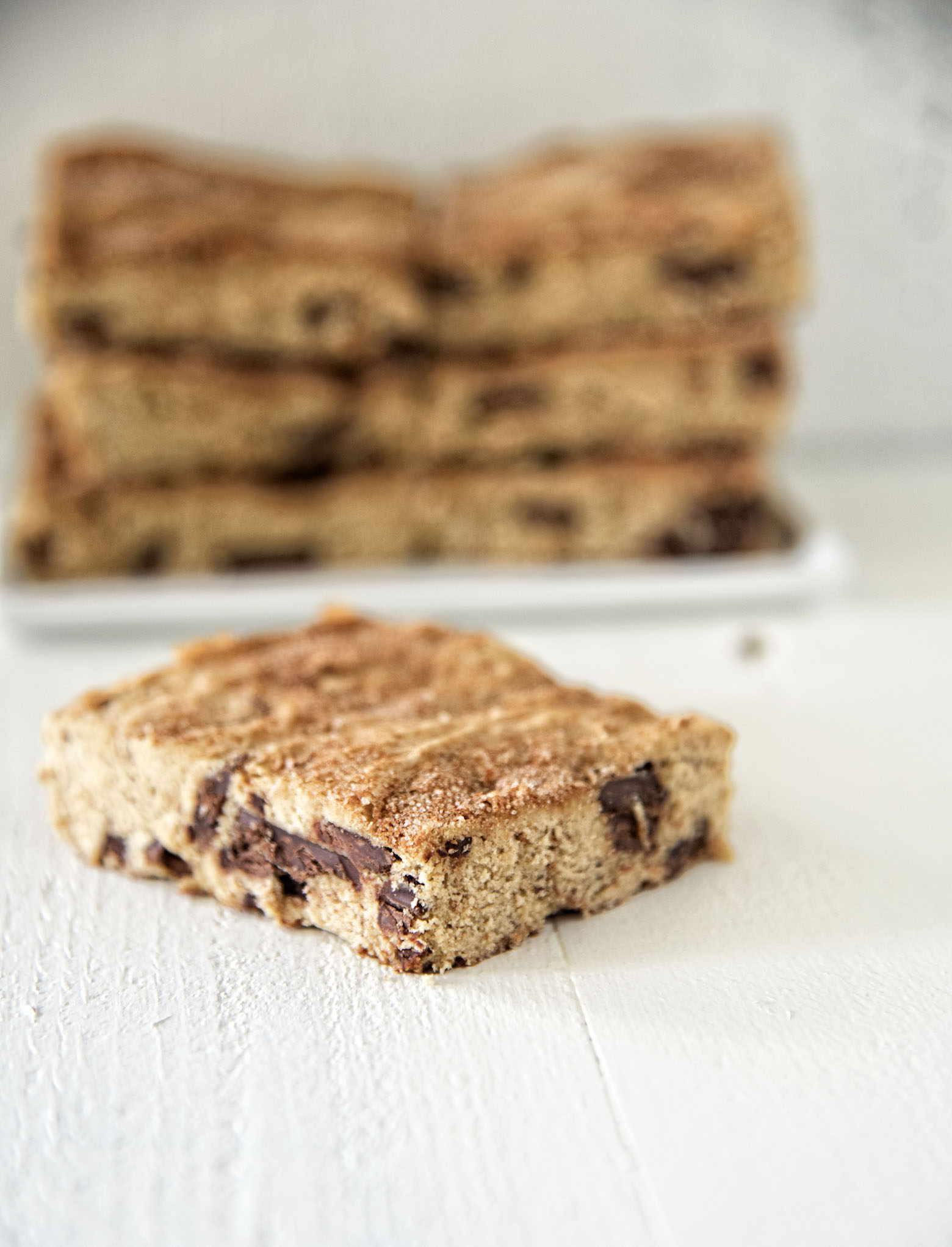 Each month my husband and I attend a Meet Up for cavaliers (dogs not the basketball team :P). 
I never thought that would be something I would do or that I would even look forward to going to. 
Just like with kids you go to a house or a small dog off leash park and meet up with all of your cavalier dog buddies.
The dogs go off and play and the adults catch up. 
After having other dogs and then cavaliers I can say that we are kind of like a cult. 
You bond over what great dogs they are.
Sometimes you bond over standing in parking lots with basically a stranger hugging and crying while taking her heart meds from her because she wants them out of the house because her baby passed of Congestive Heart Failure.
And you are taking the meds because your dog is in congestive heart failure…only to die a few weeks later herself. 
Only to bond and cry more with people because their dogs at some point passed of congestive heart failure as well.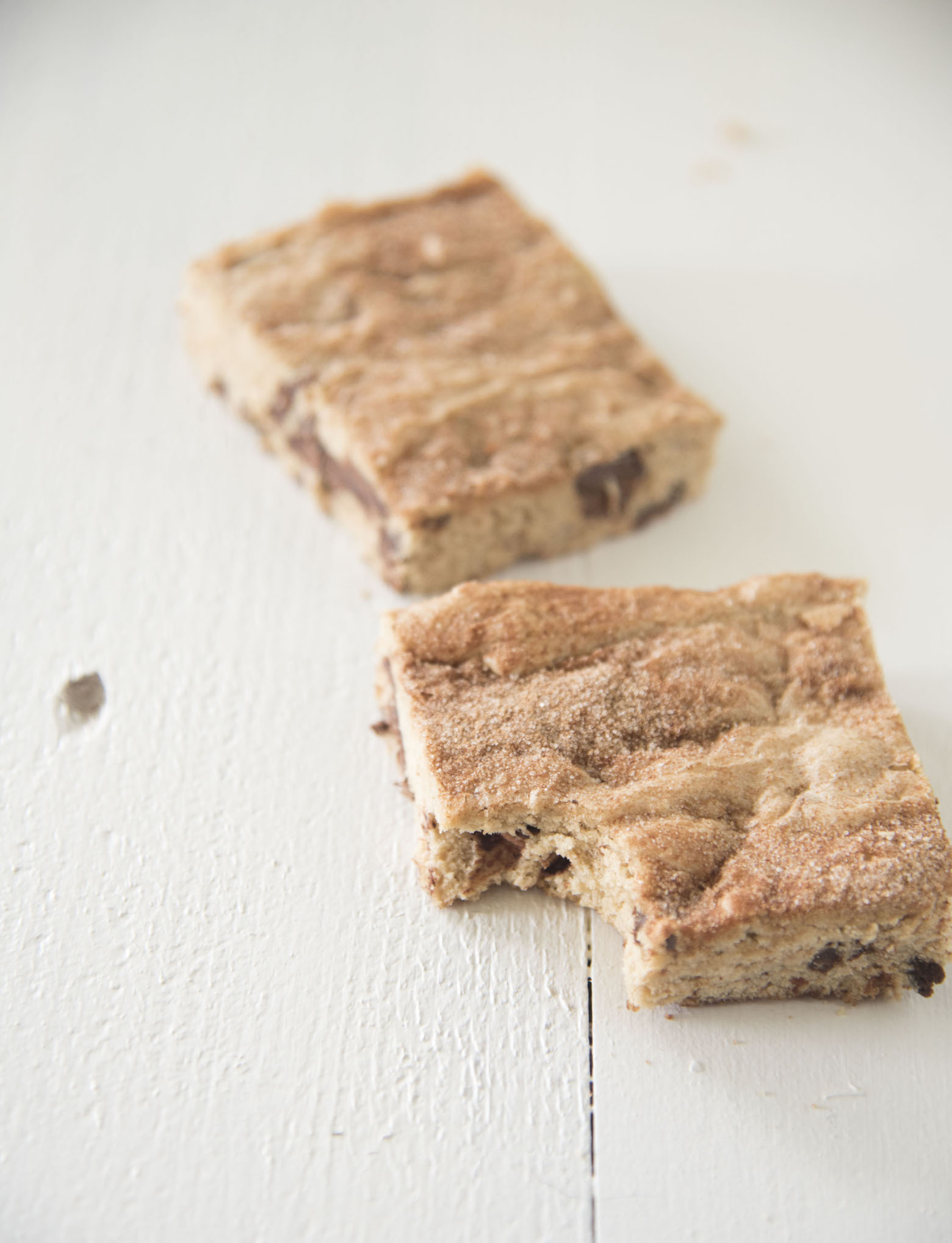 We have met so many wonderful people through simply owning cavaliers (and English Toy spaniels). 
Our last Meet Up was a potluck. Often, if they are held at someone's home we tend to have food. 
We spend our time eating the food and then getting our dogs not to try and eat the food. 😀
Anyway, the potluck had a Mexican food theme which was hard for me since I am allergic to most Mexican food and of course, we don't eat meat or cheese. 🙂
So I had a vegetarian bean and lettuce taco. Yeah.
The downside of eating plants. 🙂
But I signed up to bring dessert (shocking I know). 
I made a key lime cornmeal cake (recipe will be on the blog probably Sunday but don't quote me on that) and these Chocolate Chunk Churro Cookie Bars.
Technically these could be called blondies too but I really felt like they were more cookie than cakey.
The only thing that really makes them churro is the cinnamon sugar but it sounds more fun when you say churro. 🙂
Last but not least…it's a great time to order my cookbook. 😀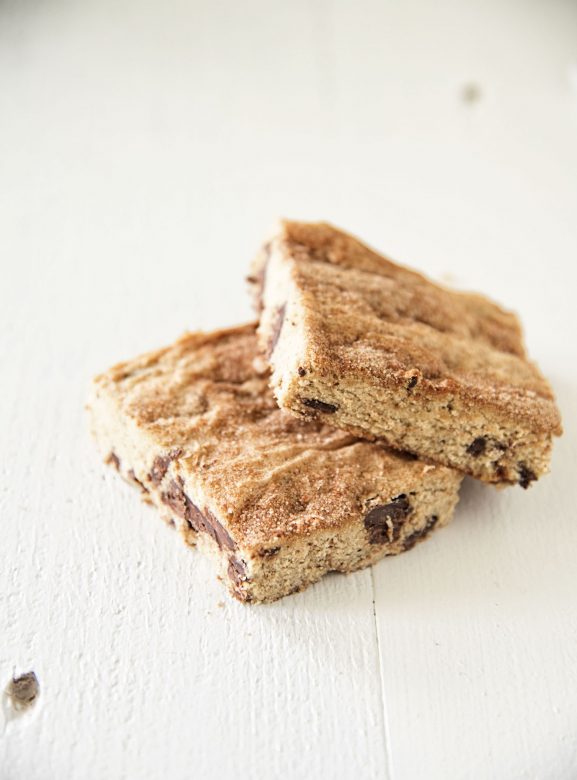 Want More Bar Cookie Recipes?
Butterscotch Honey Roasted Cashew Bars
Salted Chocolate Chip Butterscotch Toffee Cookie Bars
Strawberry Lemonade Lemon Bars
Ingredients
2 cups unbleached all-purpose flour
1 tsp. salt
1 1/2 sticks (3/4 cup) unsalted butter, at room temperature
3/4 cup granulated sugar
1 cup brown sugar, loosely packed
3 large eggs
1 tsp. vanilla extract
2 cups semisweet chocolate pieces
1/2 cup cinnamon sugar
Instructions
Preheat oven to 325 degrees F.
Grease a 9×13-inch baking pan or heat proof glass dish with butter and sprinkle 1/4 cup of the cinnamon sugar in the pan.
Move the cinnamon sugar around the pan so that it sticks to the bottom and sides of the pan.In a medium bowl, whisk together the flour and salt to blend. Set aside.
Using a stand mixer with the paddle attachment beat together the butter, granulated sugar, and brown sugar on medium speed.
Beat in the eggs, one at a time, blending thoroughly and stopping to scrape down the sides of the bowl after each addition.
Mix in the vanilla.
Stir in the flour mixture until well combined. 
Stir in the chocolate pieces.
Spread the batter evenly in the prepared pan with the back of a spoon or a rubber spatula.
Sprinkle the remaining cinnamon sugar evenly over the top.
Bake for 30 minutes, or until a wooden skewer inserted near the center comes out clean.
Set the pan on a wire rack to cool for 15 minutes.
Cut into bars.