This Chocolate Chip Oatmeal Cream Pie Cake has layers of oatmeal brown sugar chocolate chip cake layered with chocolate marshmallow filling.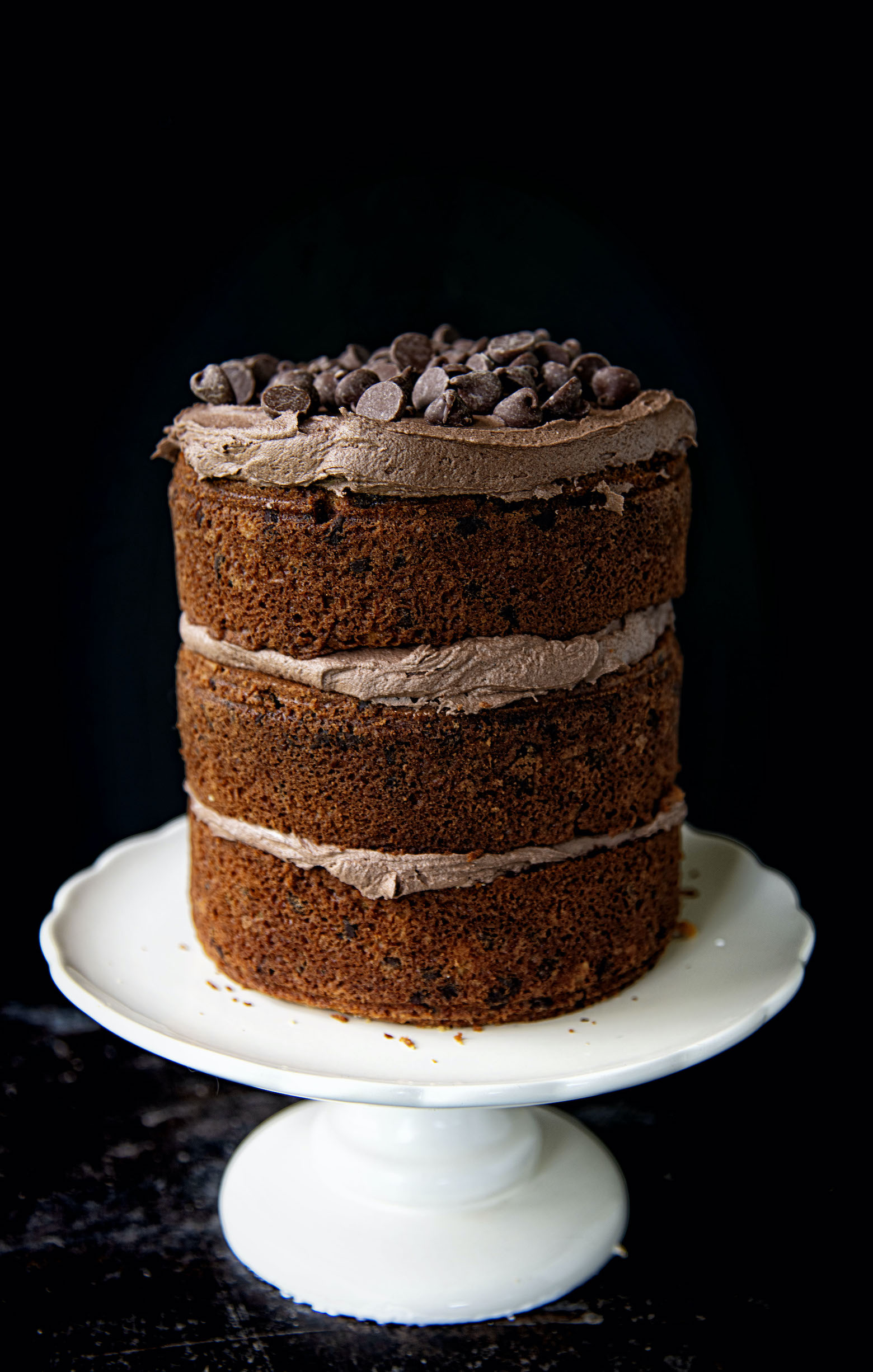 While there may be long standing division in our country right now.
There has long been a division among those who like raisins in cookies.
And those who can't stand raisins in cookies.
I personally like them.
I mean I prefer them dipped in chocolate as they are far more nature's candy that way.
But throw them in a cookie and I'm fine with it.
Throw it my trick or treat bag and I secretly dislike you a lot.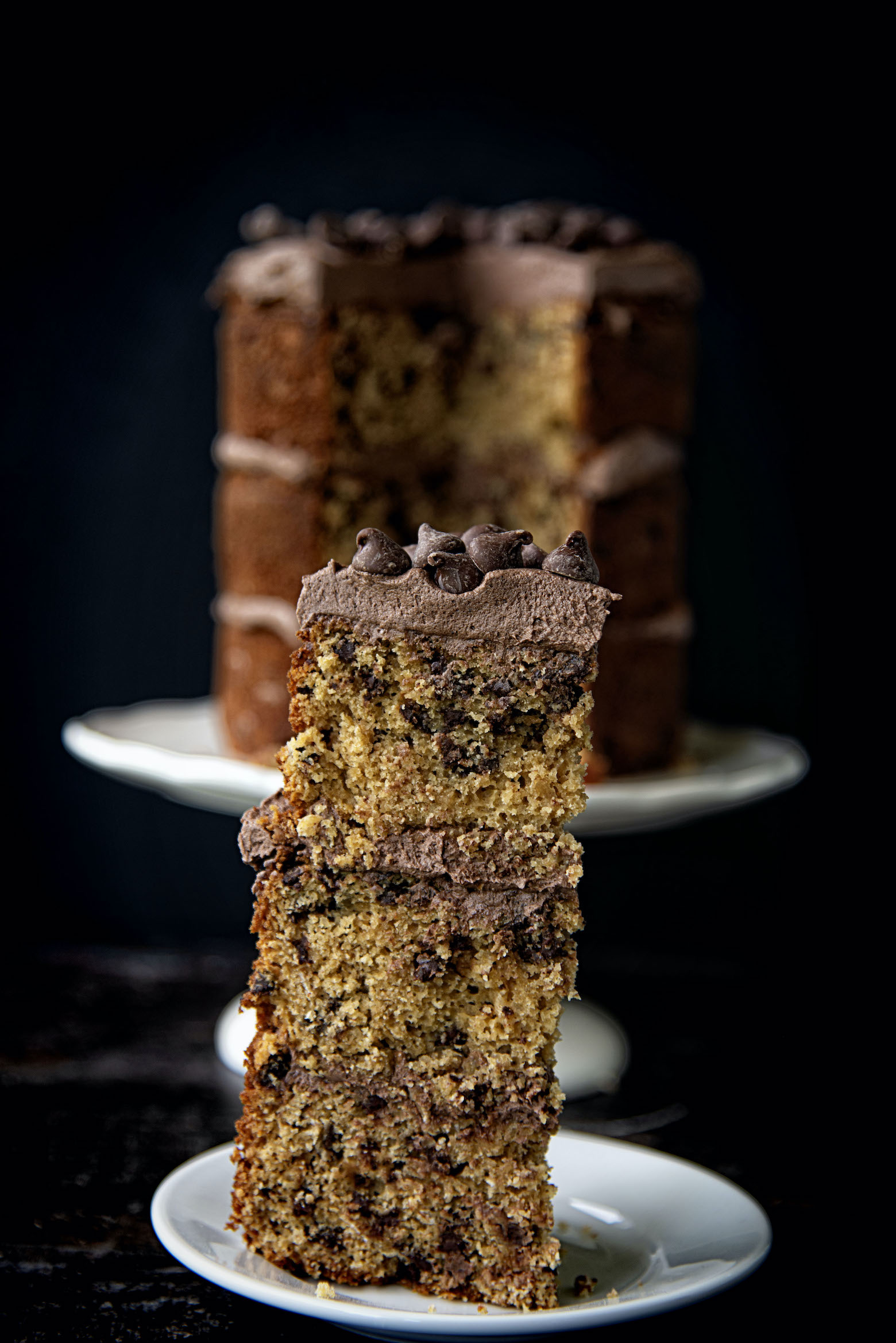 Though I do like a raisin in my oatmeal cookie I have to admit I prefer a chocolate chip.
Last year I made an Oatmeal Cream Pie Cake.
It was a big hit both in real life and on Pinterest.
I had wanted to make it again but just like all things I want to make again I feel guilt.
Guilt that as a food blogger I should be doing something different.
Enter the chocolate chips.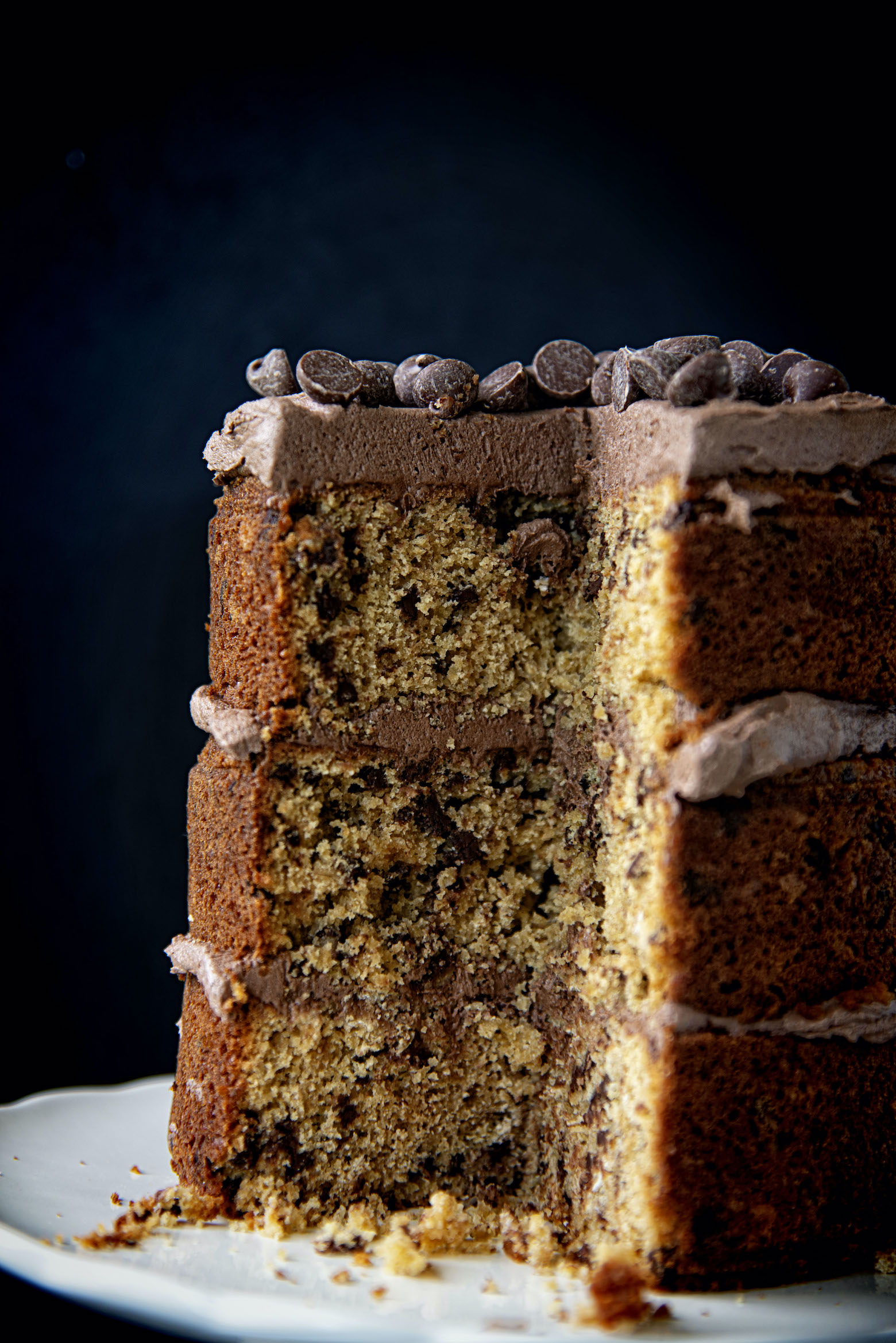 I thought about adding chocolate covered raisins for a bit.
But figured the outrage would be too much.
You laugh but I get anti-raisin and anti-coconut emails more often than you would think.
Which, honestly, is rather fascinating to me that people take the time to do that.
Or care so much about an ingredient that they take the time to write.
But they do write.
And so I went with just chocolate chips.
The cake uses mini chocolate chips but I went with milk chocolate chips up top for garnish.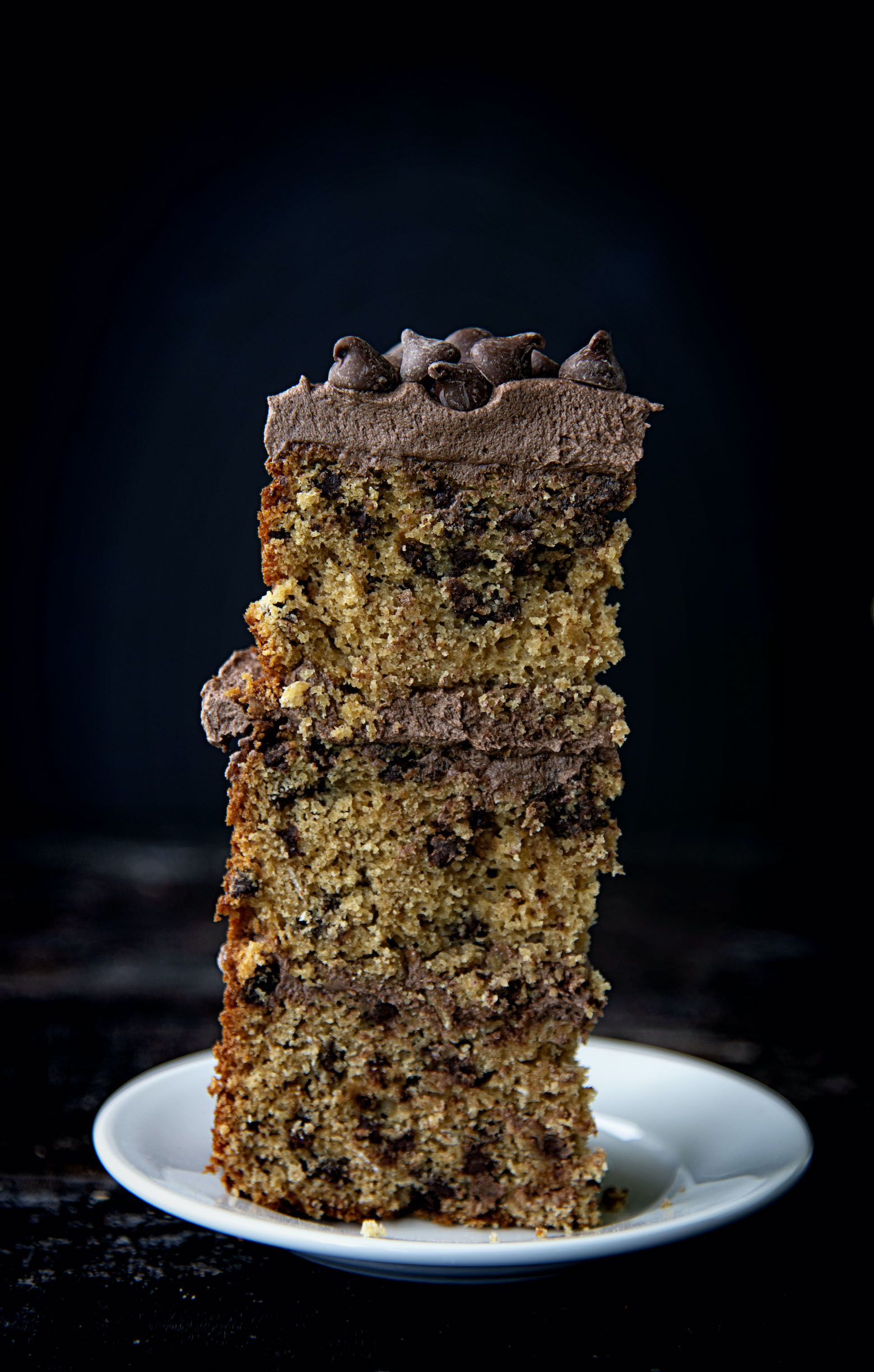 You would think that this Chocolate Chip Oatmeal Cream Pie Cake would be sweet.
I mean the frosting has marshmallow fluff in it.
But believe it or not it's not that sweet at all.
Or at least to me.
But then again my cookbook is called Holy Sweet!
So not sure you can go by my assessment. 😀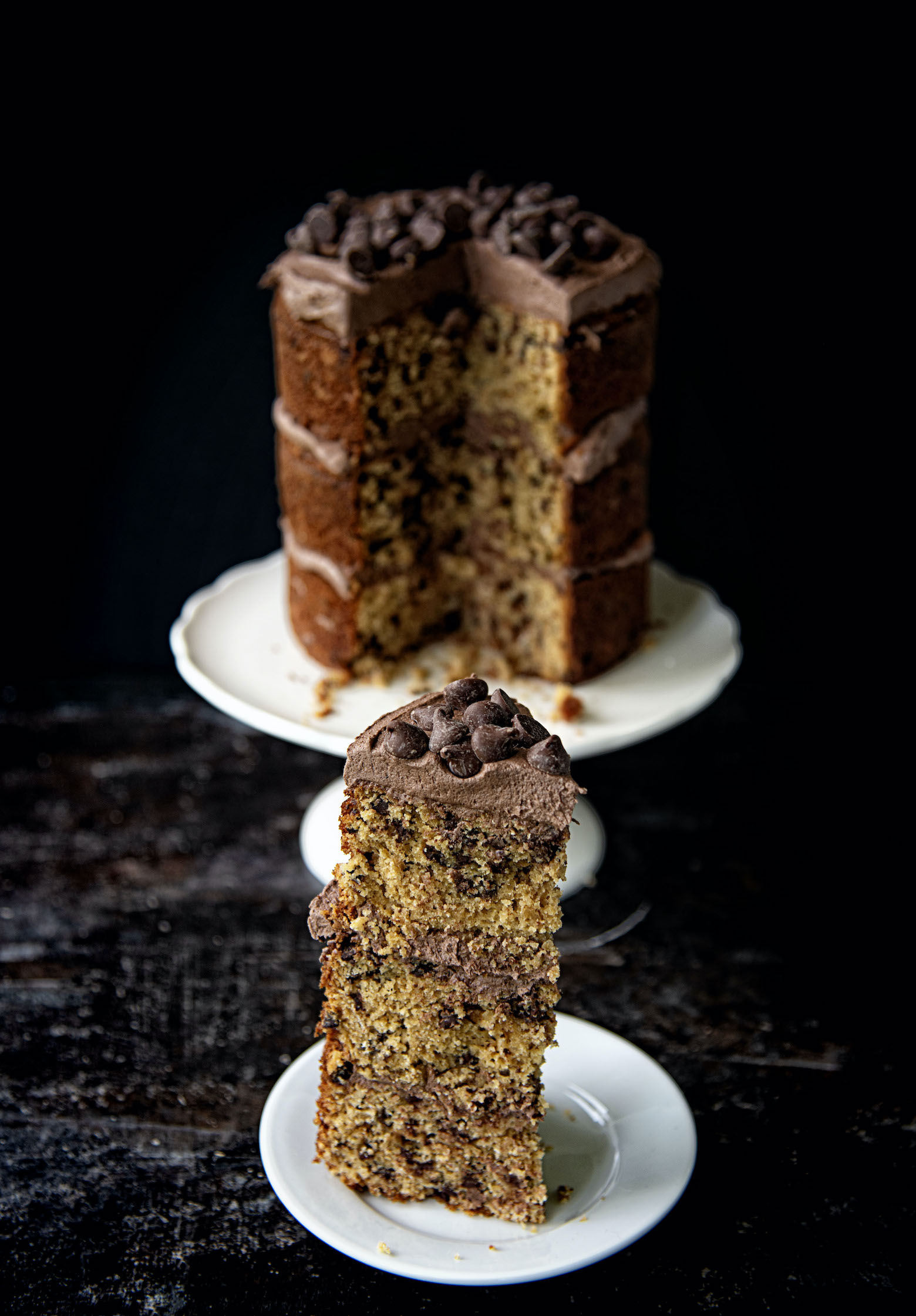 Want More Oatmeal Recipes?
Oatmeal Cookie Irish Cream Cheesecake Pie
Mixed Berry Oatmeal Cookie Cobbler
Oatmeal Raisin Cookie Bread Pudding
Snickerdoodle Oatmeal Butterscotch Chip Cake
Oatmeal Raisin Cookie Caramel Corn
Ingredients
For the Cake:
3 cups cake flour
3/4 cup uncooked oatmeal
2 tsp. baking powder
1 tsp. baking soda
1/2 tsp. salt
1 cup unsalted butter, at room temperature
1 cup light brown sugar, firmly packed
1/2 cup granulated sugar
2 TBSP molasses
2 tsp. vanilla extract
3 large eggs
2 large egg yolks
1 cup plus 2 TBSP full fat buttermilk
12 oz mini chocolate chips
For the Filling:
1 cup shortening
1 cup powdered sugar
1/4 cup unsweetened cocoa powder
1 (7oz) jar marshmallow fluff
1 1/2 tsp. Vanilla extract
chocolate chips for garnish
Instructions
For the Cake:
Preheat oven to 350°F.
Grease and flour three 6 inch pans and set aside.
Sift together the flour, oatmeal, baking powder, baking soda, and salt set aside.
In the bowl of a stand mixer fitted with a paddle attachment, beat the butter on medium speed until smooth.
At the sugars and mix on medium high until the butter is light and fluffy, about three minutes.
Stop the mixer and scrape down the bowl.
The mixer to medium low and add the molasses, vanilla, and the eggs and egg yolks, one at a time until combined.
Stop mixer and scrape down the bowl.
Turn the mixer to low and add the flour mixture in three batches, alternating with the buttermilk, beginning and ending with the flour mixture.
Mix on medium for no more than 30 seconds after the last streaks of dry ingredients are combined.
Fold in the mini chocolate chips and try to evenly distribute them in the batter as best you can.
Evenly divided the batter between the prepared pans.
Bake for 30 to 35 minutes or until a toothpick inserted into the center of the cakes comes out clean.
Let them cool on wire rack for 10 to 15 minutes before removing the cakes from their pans.
Keep the oven at 350F for the crumbles.
For the Filling: 
Cream the shortening, powdered sugar, unsweetened cocoa powder, and vanilla together until smooth.
Add the marshmallow fluff and mix until fully combined. 
Putting the cake together:
Place a cake layer on a cake pan. 
Take 1/3 of the filling and spread it on top of the layer.
Repeat until all the filling and cake layers are gone.