These Cherry Limeade Breakfast Buns are a lime brioche dough filled with fresh cherries and sugar and topped with a cherry limeade glaze.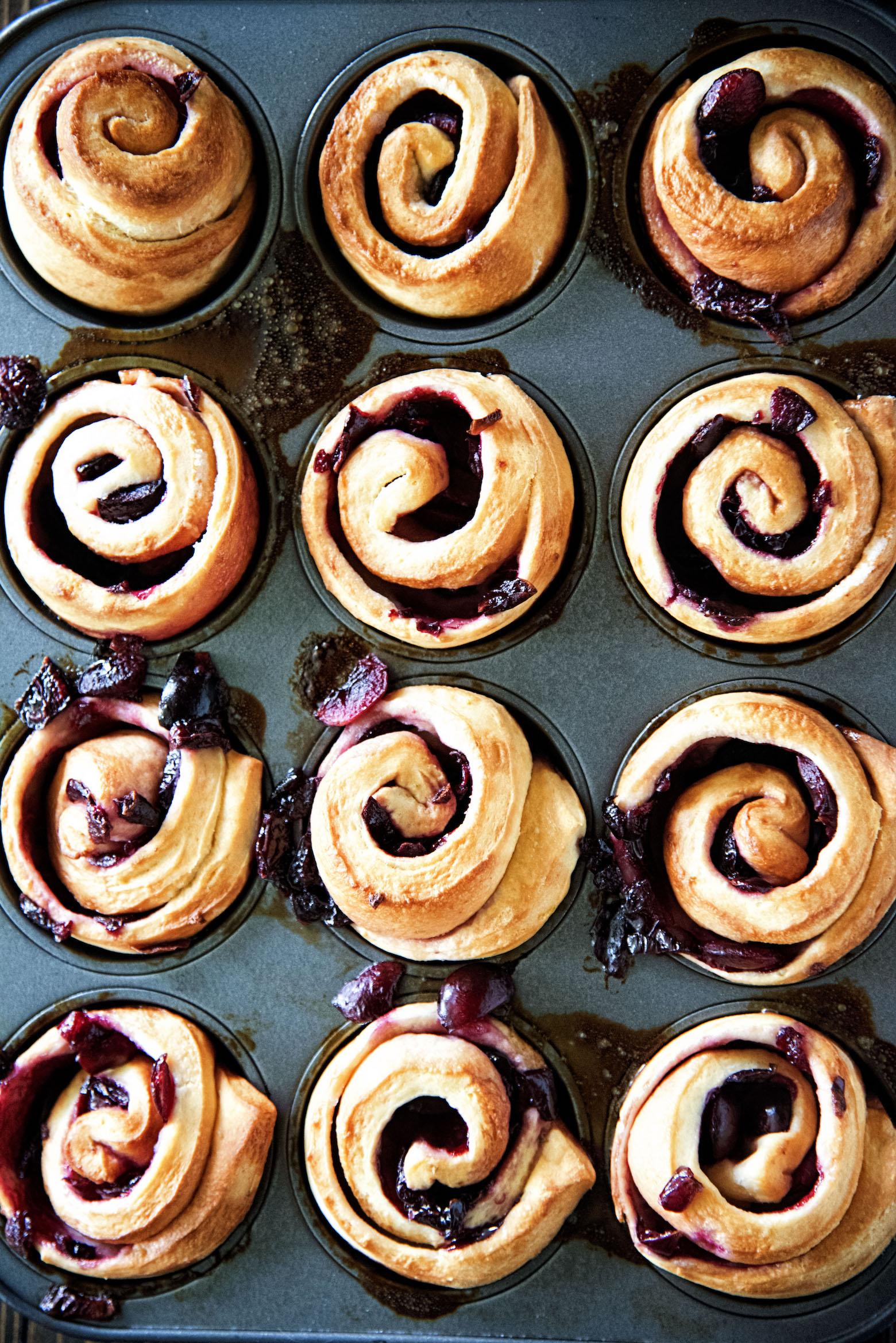 My friend and former boss died this week.
I knew it was coming.
We had all just hoped for much more time.
He had metastasized skin cancer.
Sadly he did not discover it until he had trouble walking one day only to discover there was a tumor on his spine…and it was in many, many other places.
7 years ago he survived a heart attack and stroke on the ice while playing hockey.
My Facebook has been filled with stories all echoing the same sentiment…what a great guy with a great attitude and a generous soul.
When I first moved to WA state I knew no one.
I had always score kept and so I called up the various leagues and asked if they were hiring.
They were not.
But then one of the leagues asked if I had tried the new Everett league. I had not.
I called and asked if they needed score keepers.
For pay I was asked?
Yes.
Long pause.
I guess that could work, right now we just pull people from the stands is what I was told.
He told me he didn't know what that pays so he would just start me out at minimum wage.
That was fine with me as I was really just doing this to do something since I had no social life in WA yet.
He sat and chatted with me fascinated with my knowledge of hockey and how to run the score box.
At that point I had already been score keeping for 17 years of my life.
So yeah, I knew a few things.
At the end of the night he told me that I was providing a valuable service he didn't know he needed.
That he was going to pay me $25 a game (there were three games) instead of the minimum wage he suggested as he already knew he didn't want to lose me to another league.
He handed me cash and told me to come back next week.
Ironically that first night…the first person in the penalty box was my now husband. 😀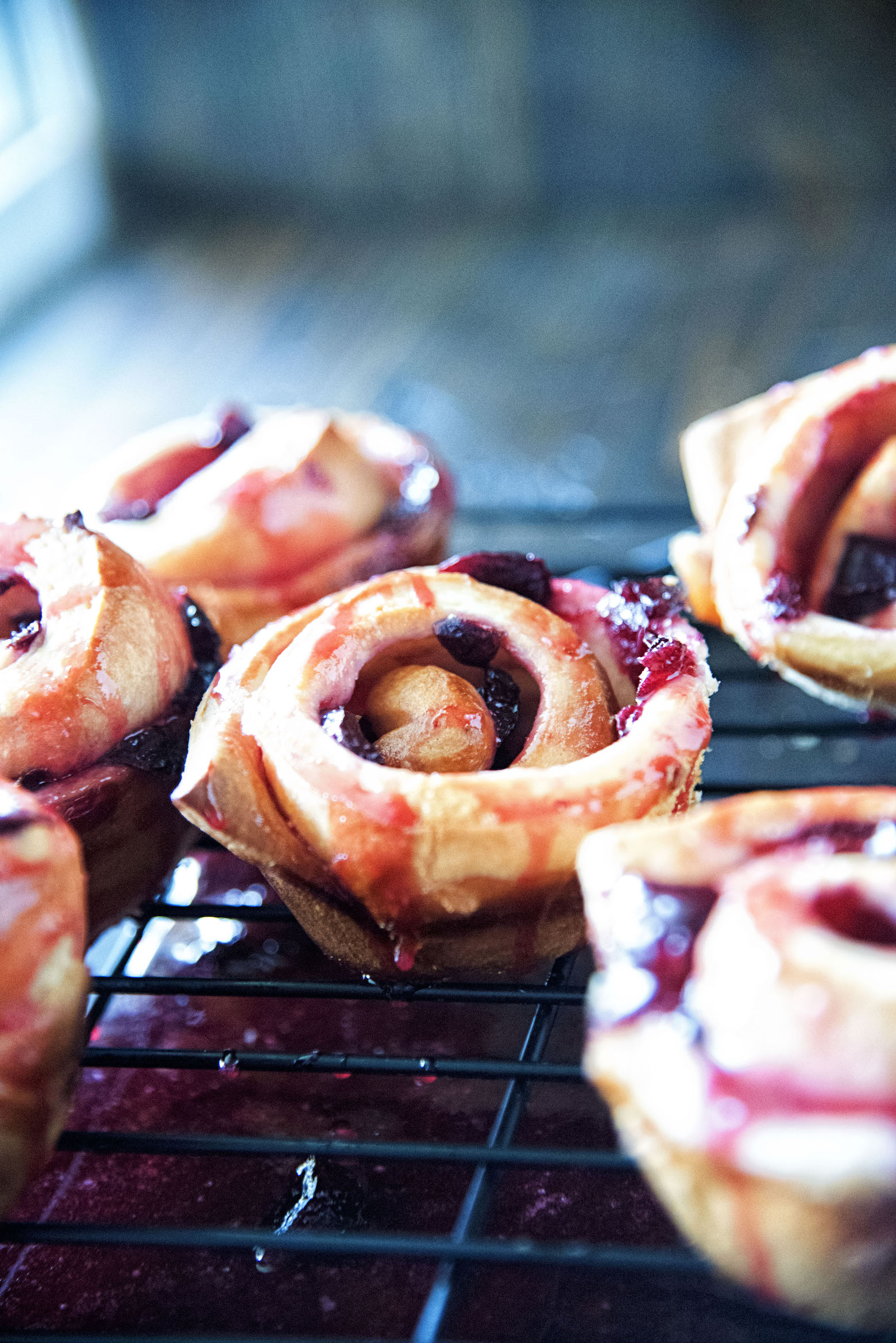 He was a generous boss who would even pay me for the weeks we didn't have hockey, such as Christmas and 4th of July.
He said it was my bonus.
I had a stipend for Ugg boots to keep my feet warm and for electric blankets.
If I did anything extra for the league he paid me even though I was just really doing it as a favor not expecting to be paid.
I never had to ask for a raise because he would randomly give them to me.
He would just hand over more cash and I would say oh you gave me too much and his response was no, that's what you make now.
He stood up for me if any player was rude to me and if they continued to be rude they were kicked out of the league.
We spent many a Thursday night chatting about random stuff and therefore a friendship was formed.
Quite a few years ago now, we merged with another league (the one I work for now) and he made sure it was part of their deal that I get to keep Thursday nights.
Thursdays have never been the same without our weekly chats.
He was always smiling.
Always in a good mood even when in a bad mood.
If you hadn't seen him in awhile it was as if no time had passed.
My husband and I went to visit him in May after his surgery to remove the tumor from his spine.
In typical form even though he was in pain and hadn't slept for days he was in good spirits.
And in typical form he was worried about how we were doing.
That was just who he was.
RIP Barry…you were one of a kind.
Not related in any way are these Cherry Limeade Breakfast Buns. 
These were among the many, many things I baked while we had super cool temperatures.
I love all things Cherry Limeade and so I felt the need to figure out how to make it into a breakfast treat.
It's a great day to order my cookbook.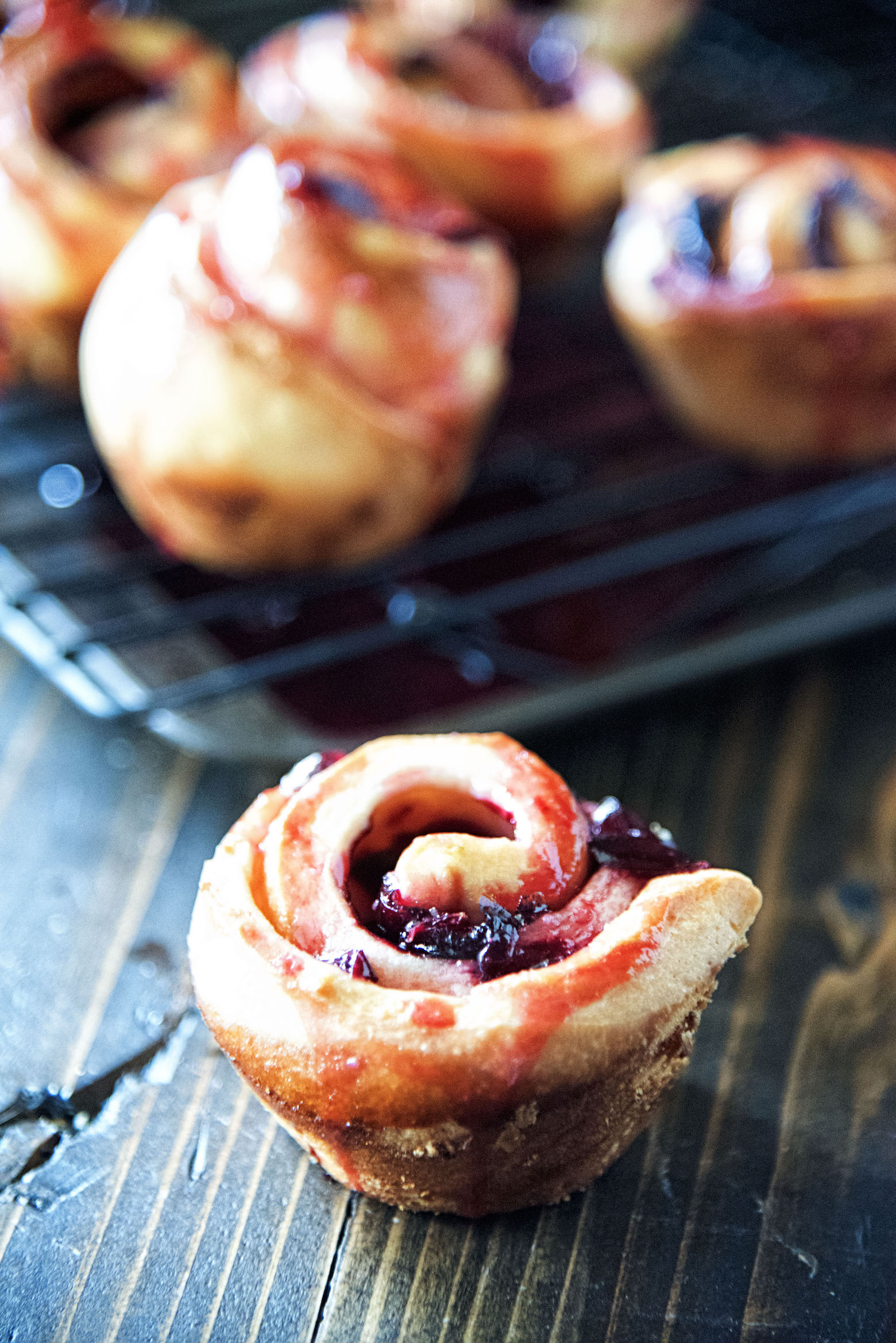 Want More Sweet Roll Recipes?
Bourbon Brown Sugar Caramel Peach Sweet Rolls
Salted Caramel Apple Sweet Rolls
Cinnamon Sugar Apple Babka Buns
Coconut Cream Pie Breakfast Buns
Ingredients
For the Sponge:
½ cup whole milk, at room temperature
2 ½ tsp. (1 envelope) active dry yeast
¼ cup granulated sugar
½ cup bread flour (or all-purpose)
For the dough:
3 cups bread flour (or AP)
1 ¼ tsp. salt
4 large eggs, lightly beaten
½ pound (2 sticks) butter, softened, but still cool
zest of one lime
Cherry Filling:
4 oz. unsalted butter, at room temperature
½ cup granulated sugar
2 cups cherries, chopped
zest of one lime
Cherry Limeade Glaze:
3 TBSP limeade concentrate
2 TBSP cherry juice
2 cups powdered sugar, sifted
Instructions
For the Sponge:
Combine the yeast and milk in the bowl of standing mixer fitted with a paddle attachment and whisk until the yeast is dissolved.Stir in the sugar and flour, forming a thick batter.Cover with plastic film and let rest in a warm environment for 30-45 minutes.
As fermentation begins, bubbles will form.For the Dough:
Add the bread flour and salt to the sponge, then add the eggs.
Mix on low speed for 2 minutes, or until the eggs are absorbed.Increase the speed to medium and knead the dough for 5 minutes.
The dough will eventually begin to slap around and pull away from the sides of the bowl.
Then it will form a ball on the paddle.Finally it will relax and reach back out to the sides of the bowl.
At this point, it will be a shiny, satiny dough.
While all of this is going on, don't walk away.Watch the transformation and hold on to the mixer when necessary, since it may jump around.
Mix in the lime zest.
On medium speed, add the butter, 2 tablespoons at a time.
Stop the mixer and scrape down the sides of the bowl occasionally.
Knead until the dough is shiny and smooth, about 5 minutes.
Scrape out the dough, wash and dry the bowl, and coat it lightly with oil.
Place the dough in the oiled bowl and turn it so the top is coated with oil.
Cover with plastic film and let rise at room temperature until doubled in volume, about 2 hours.
After the dough has doubled in volume, press down to deflate, folding one half into the other.
Fold two or three times, either in the bowl or on a lightly floured surface.
Cover with plastic film and place in the refrigerator for at least 4 hours or overnight. (If you don't have that much time, you can let the dough rise for the second time at room temperature. It will take 45-60 minutes.) This is the second rise.
Forming the Buns:
In a medium sized bowl mix together the butter, zest, and granulated sugar until fully combined. Set aside.
Turn the dough out onto a lightly floured work surface.Using a rolling pin, roll it into a rectangle approximately 12×18 inches.
Spread the butter/sugar/zest mixture on top of the dough, leaving a 1-inch margin at the top edge.
Sprinkle the cherry pieces evenly on top of the sugar butter.
Starting from the long side closest to you, roll up the dough like a jellyroll.
Transfer the log to a baking sheet, cover withy plastic film, and freeze for 10 minutes.This will make cutting the buns clean and even.
Using a bench scraper or chef's knife, cut the log crosswise into 12 pieces, about 1 ½ inches thick.
Place a bun cut side up 1 inch apart in a cake pan.
Cover the dough with plastic film and let rise for 1 ½-2 hours (10 to 20 minutes if the second rise was at room temperature), or until the buns have doubled in size.
Toward the end of the proofing, preheat the oven to 400F.
Adjust the rack to the center of the oven, with a baking sheet on the lower rack to catch drips.
Bake for 10 minutes.Turn down the oven temperature to 350F and bake for 15-20 minutes more.Remove from oven and glaze.
For the Glaze:Whisk together the ingredients.
If glaze is too thin add more powdered sugar.
Too thick, thin out with more juice.
Drizzle over buns.