This very unique Cherry Limeade Biscuit Cobbler is easy to make and brings sweet and sour by using a variety of sweet cherries and limeade.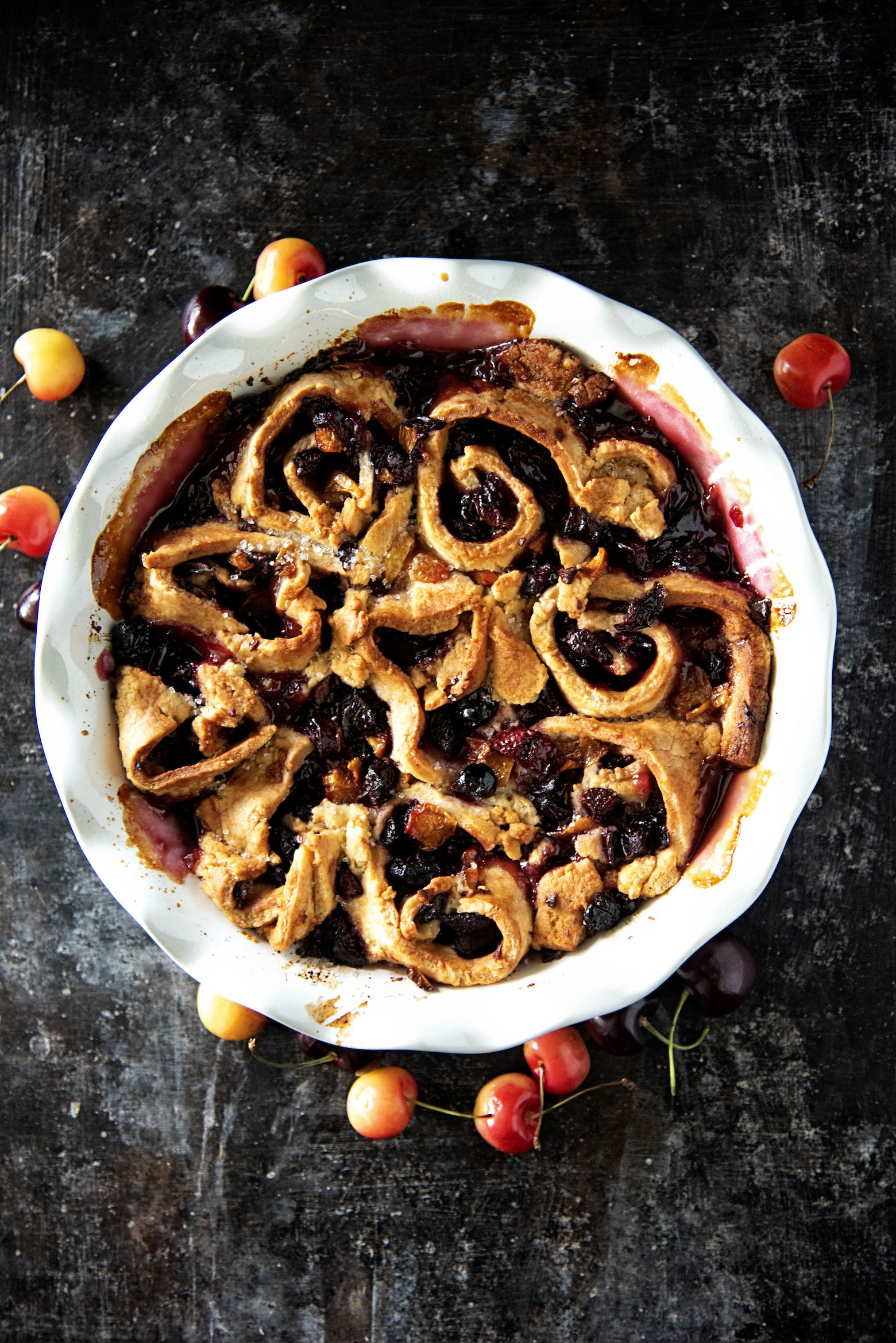 We are very fortunate to live in a state that has so much fresh produce.
Late June and July bring the cherry stands.
You will see them on the side of the road for a few weeks.
I'm not quite sure how they all claim their spot but every year I buy my cherries from the same people on the side of the road.
A pop up in the middle of no where.
I rarely buy cherries in the store.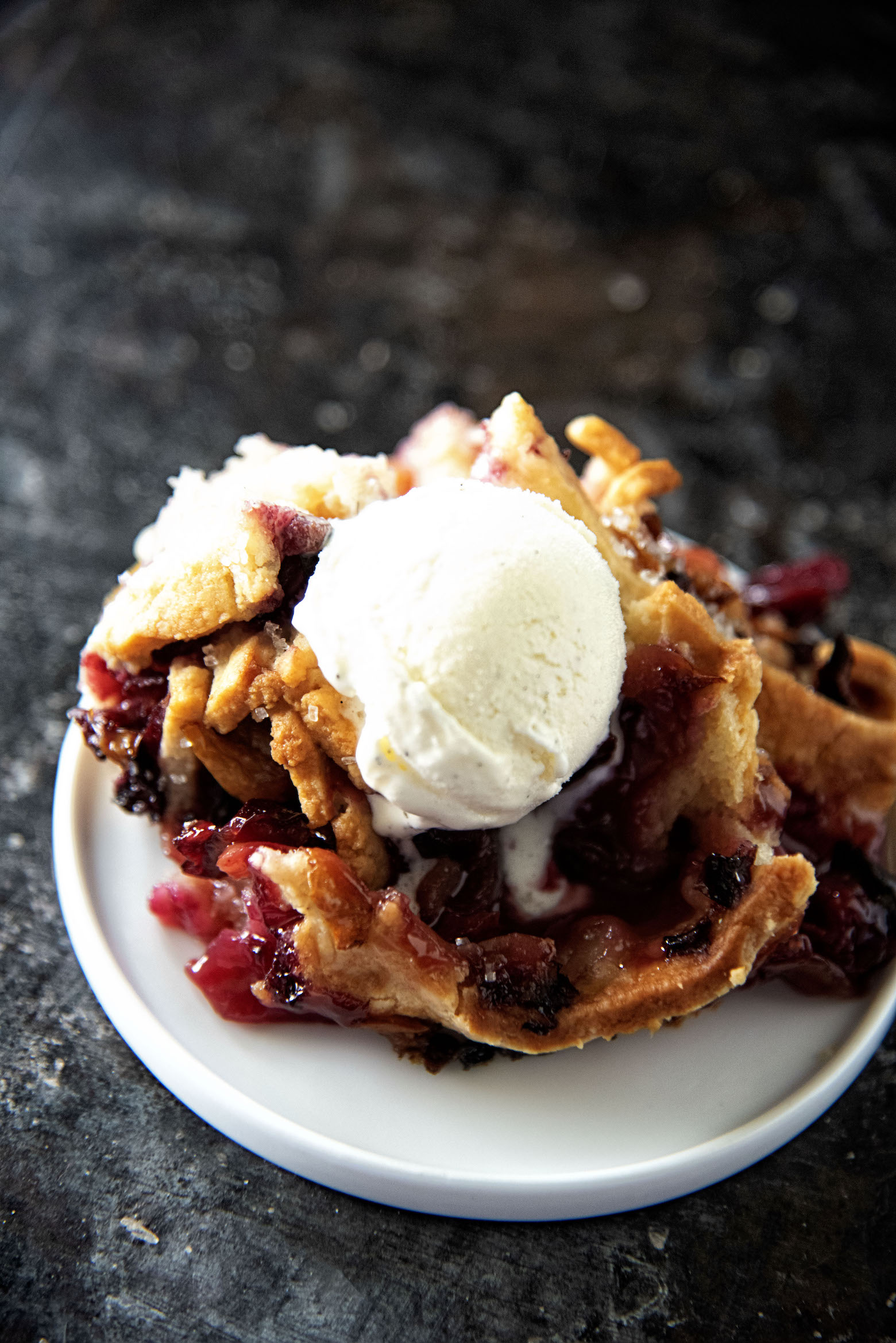 Washington has a ton of cherry varieties but I think Rainier is what we are best known for.
Just like all regional fruit, they are not a cherry you are going to find everywhere.
And if you do find them they might cost an arm and a leg.
As where I am buying the dirt cheap on the side of the road. 🙂
Sweet cherries don't make for very good pie.
Or so I am always told.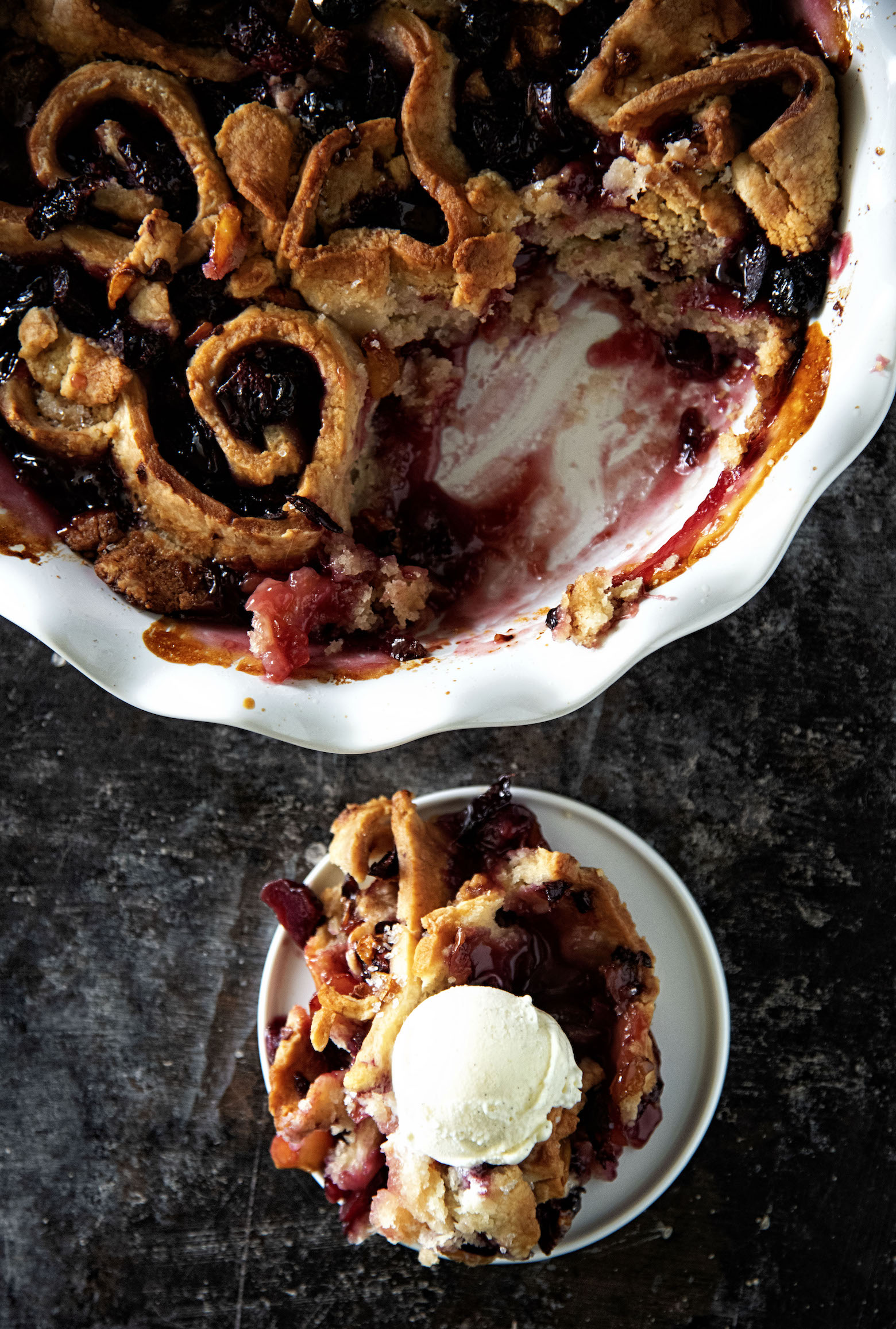 But my husband and I were both lamenting that the recent Tayberry cobbler was gone and we still wanted cobbler.
Only having the sweet cherries and having leftover limeade from making the caramels I got an idea.
Cherry Limeade Biscuit Cobbler.
I really wasn't sure if it would work.
As I haven't had a lot of limeade in my cobblers or pies before.
But I was genuinely curious to see what it would taste like.
It worked out just as I had hoped.
The limeade is not overpowering but instead cuts down the sweetness of the cherries.
So if you have a bunch of sweet cherries lying around go get yourself some limeade and make this cobbler.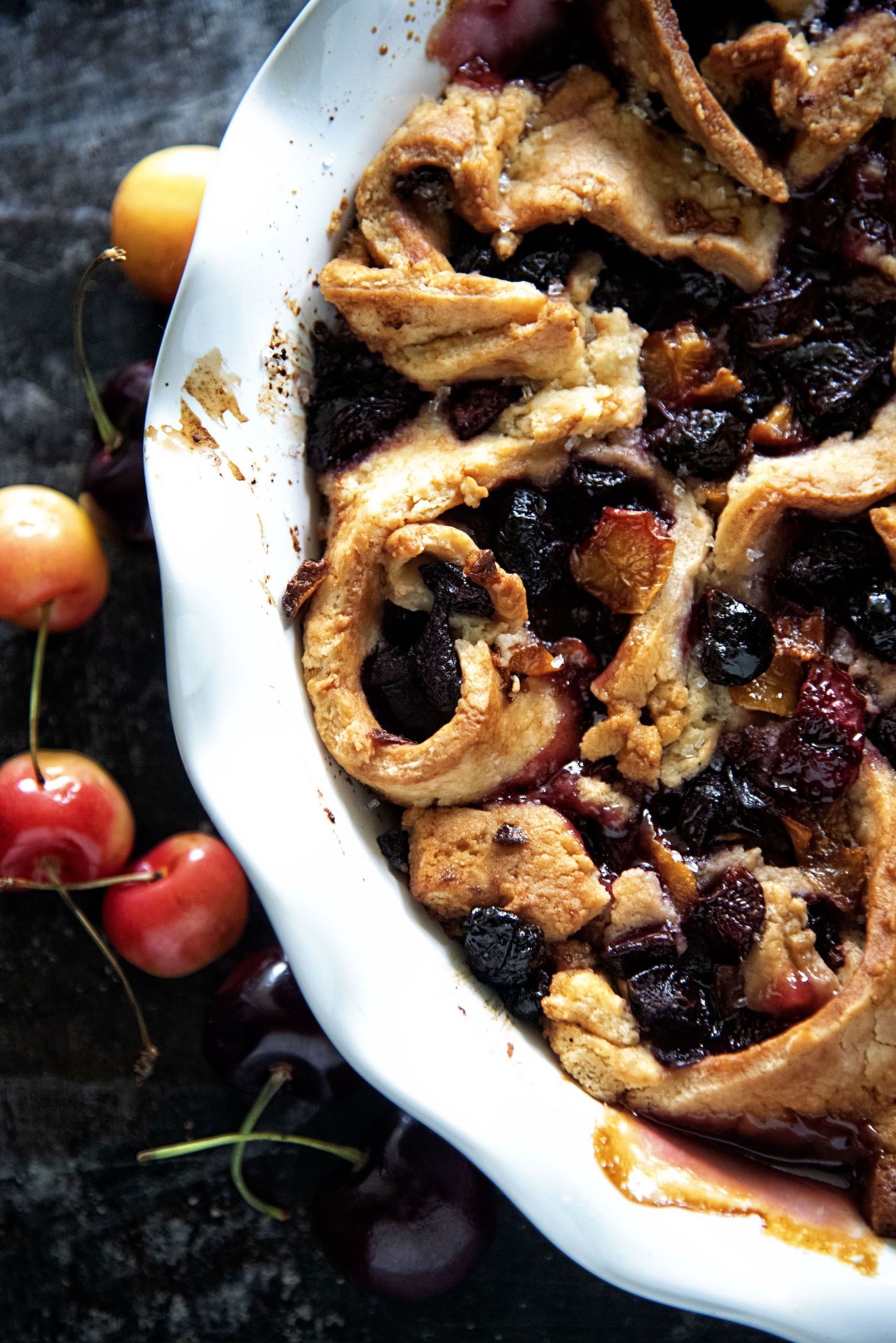 How to make your own Self-Rising Cake Flour:
Often recipes call for self-rising flour but it's not something people always have at home unless they are a food blogger.
And while people do have self-rising flour they rarely have self-rising cake flour.
I have to order mine.
But you can make it just as easily as you can buy it online.
To make:
Take 1 cup cake flour.
Add 1 1/2 tsp. baking powder.
And then add 1/4 tsp. salt
That's it.
Mix it all together.
P.S. It's a great day to buy my cookbook Holy Sweet!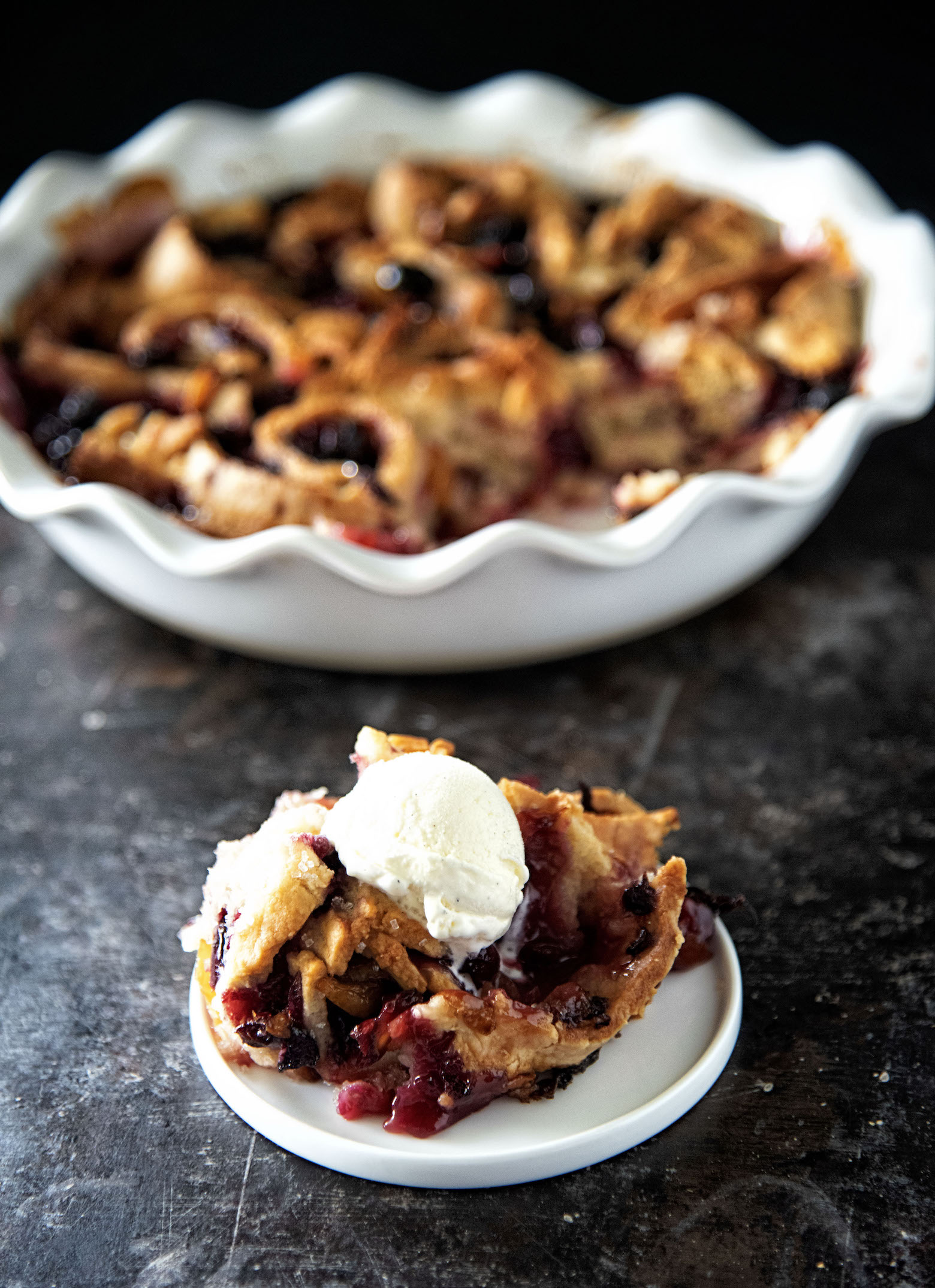 Want more recipes? Try these:
Mixed Berry Oatmeal Cookie Cobbler
Iced Oatmeal Cookie Apple Cobbler
Cherry Toaster Strudel Cobbler
Ingredients
1 stick (1/2 cup) unsalted butter, plus 1/2 stick (4 TBSP) cut into bits and chilled
1 cup limeade
1 cup granulated sugar
1 1/2 cups self-rising cake flour (regular self-rising if you can't find cake)
1/3 cup milk
3 cups fresh sweet cherries (Bing and Rainier are what I used)
2 TBSP sparkling sugar
Accompaniment if desired: vanilla ice cream
Instructions
Preheat oven to 350°F.
In a 10-inch glass pie plate or baking dish melt 1/2 cup uncut butter in oven.
In a small saucepan combine limeade and 1 cup sugar and heat over moderate heat, stirring occasionally, until sugar is completely dissolved.
In a food processor pulse together flour and remaining 1/2 stick (4 TBSP) cut-up butter until mixture resembles fine meal.
Add milk and pulse just until a dough forms.
Turn dough out onto a lightly floured surface and with a floured rolling pin roll into an 11- by 9-inch rectangle.
Scatter cherries evenly over top of the dough.
Beginning with a long side roll up dough jelly-roll fashion and cut into 1 1/2-inch thick slices. (Slices will come apart and be messy).
Arrange slices, cut sides up, on melted butter in pie plate or baking dish.
Pour sugar syrup over slices, soaking dough, and bake cobbler in middle of oven 45 minutes.
Sprinkle sparking sugar over cobbler and bake 15 minutes more, or until golden.
Serve cobbler warm with ice cream.