This Cherry Lemonade Dump Cake is a super easy dessert made with canned cherries, lemonade concentrate, and lemon cake mix. All topped with lemonade glaze.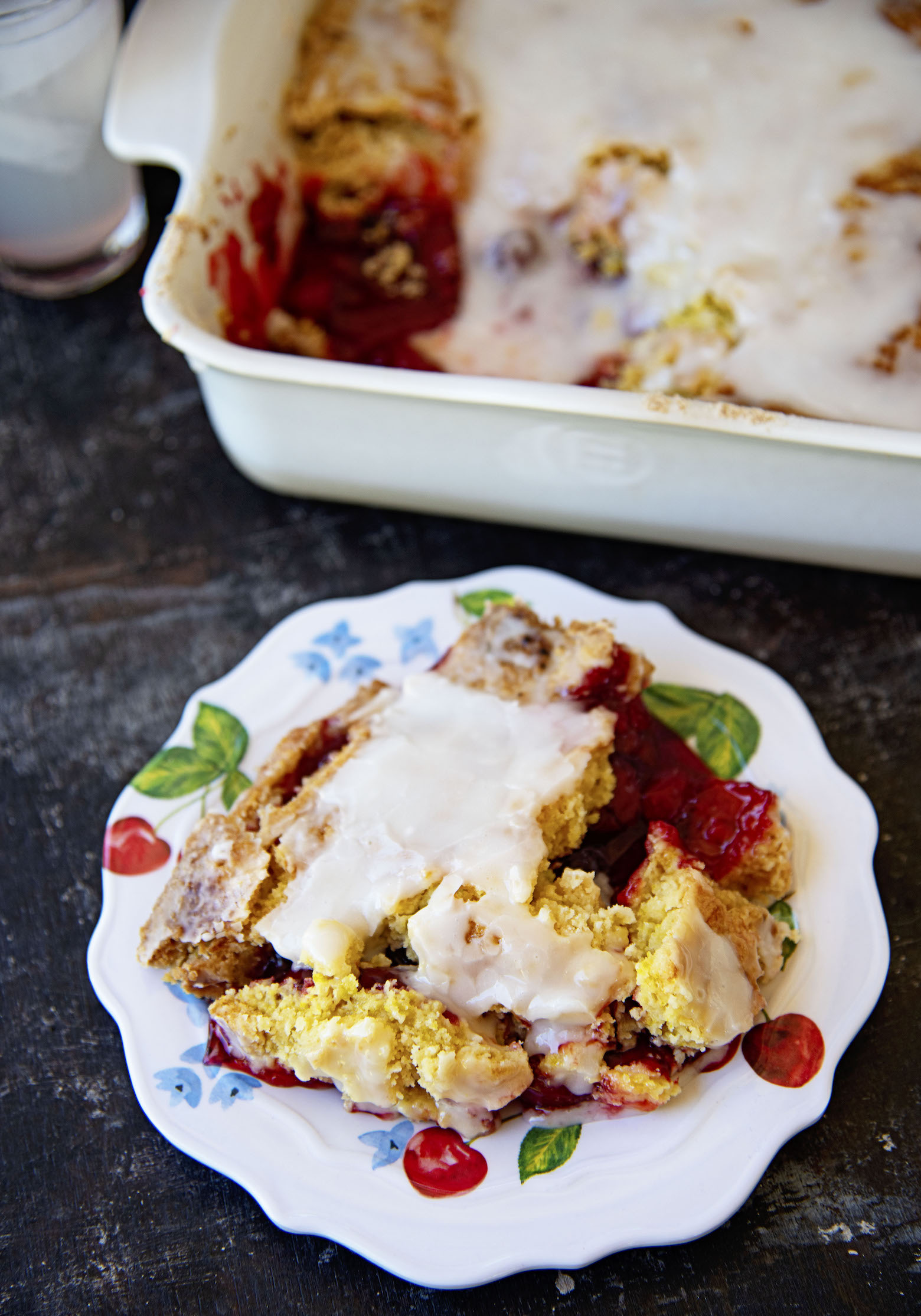 Spend a little time on this site and you will see that I love me some lemonade.
And dump cake for that matter.
But there are quite a few baked goods on here that feature lemonade.
And Jello shots.
There is even a recipe in my cookbook with lemonade.
While I do drink it year round, there is not denying that lemonade was made for summertime.
It's just so refreshing.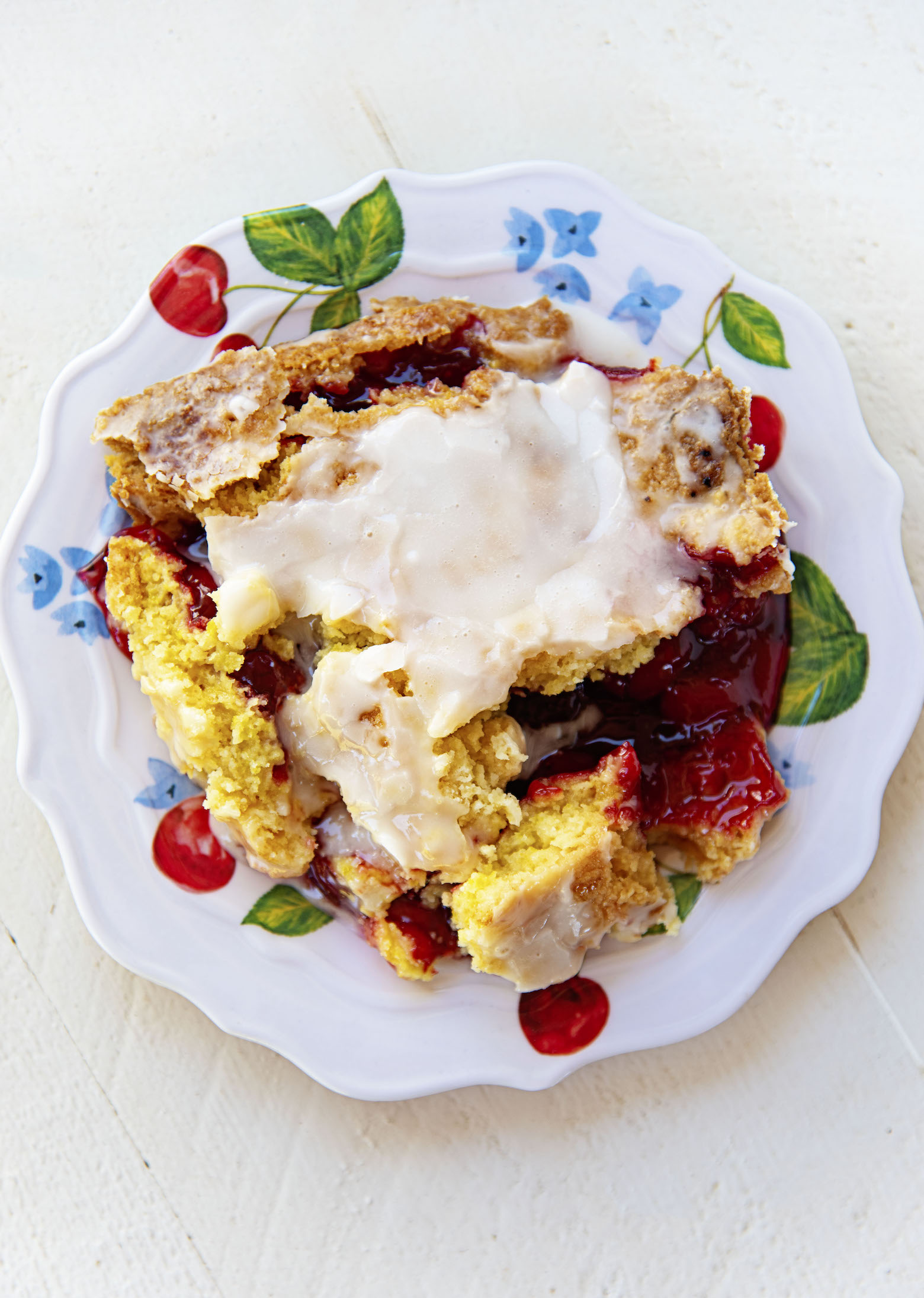 And I love making different kinds depending on what is in season.
Right now since it's berry season I have a bunch of mixed berry syrup that I made and add to my lemonade.
If you haven't done that before I highly recommend it.
I was going to make some cherry puree for lemonade this past week with the Rainier Cherries I had.
But I decided to make those into a savory jam and put it on flatbread.
But cherry lemonade was still on my mind.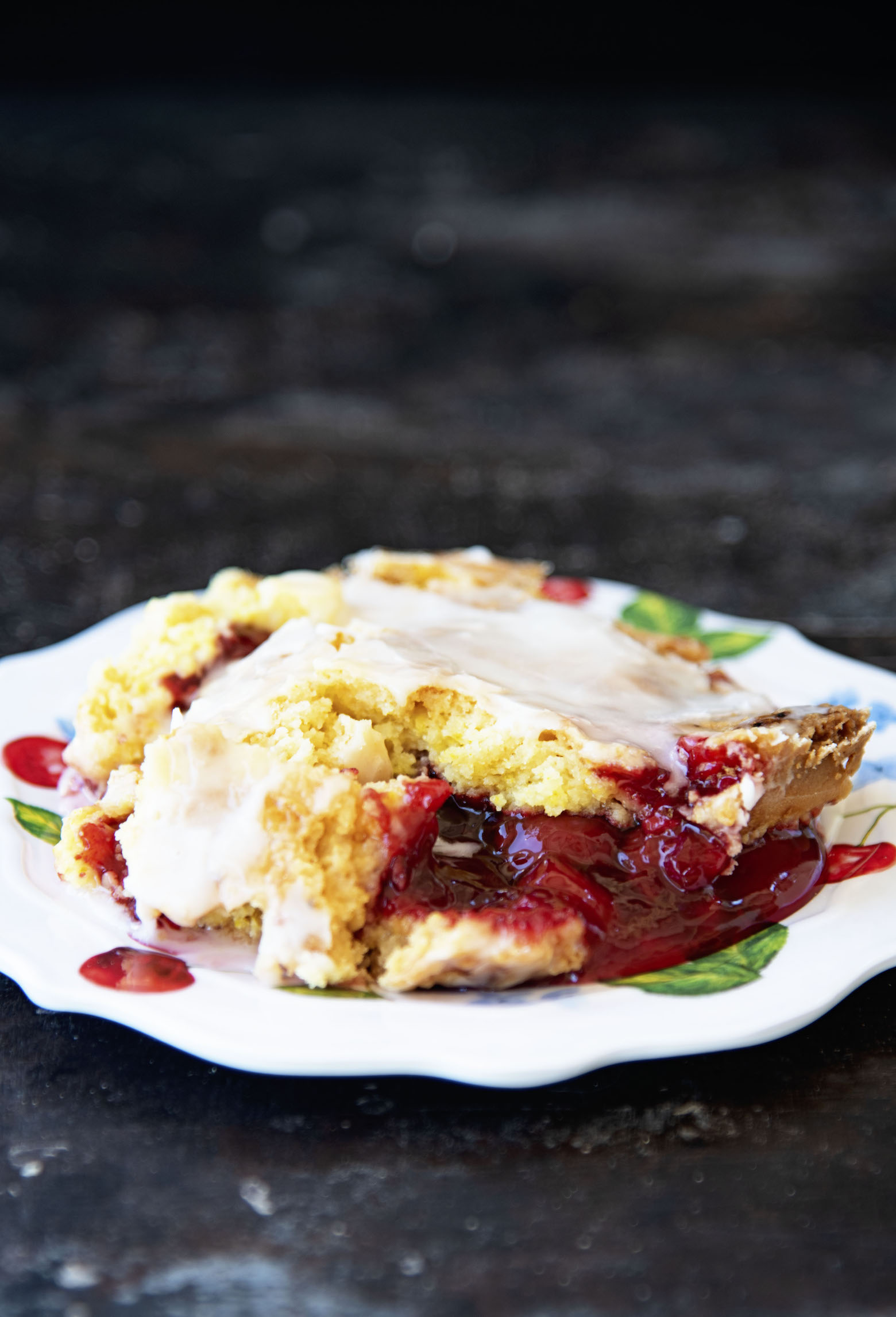 I often go to my pantry and just stare.
I have a lot of things in my pantry because well, my mind goes a mile a minute sometimes when it comes to creating baked goods.
And I like to have things in the house when an idea pops into my head.
I saw the lemon cake mix and immediately knew I wanted dump cake.
I realized I have never made a dump cake with lemon cake mix.
Which after making this Cherry Lemonade Dump Cake I wish I had thought of it sooner.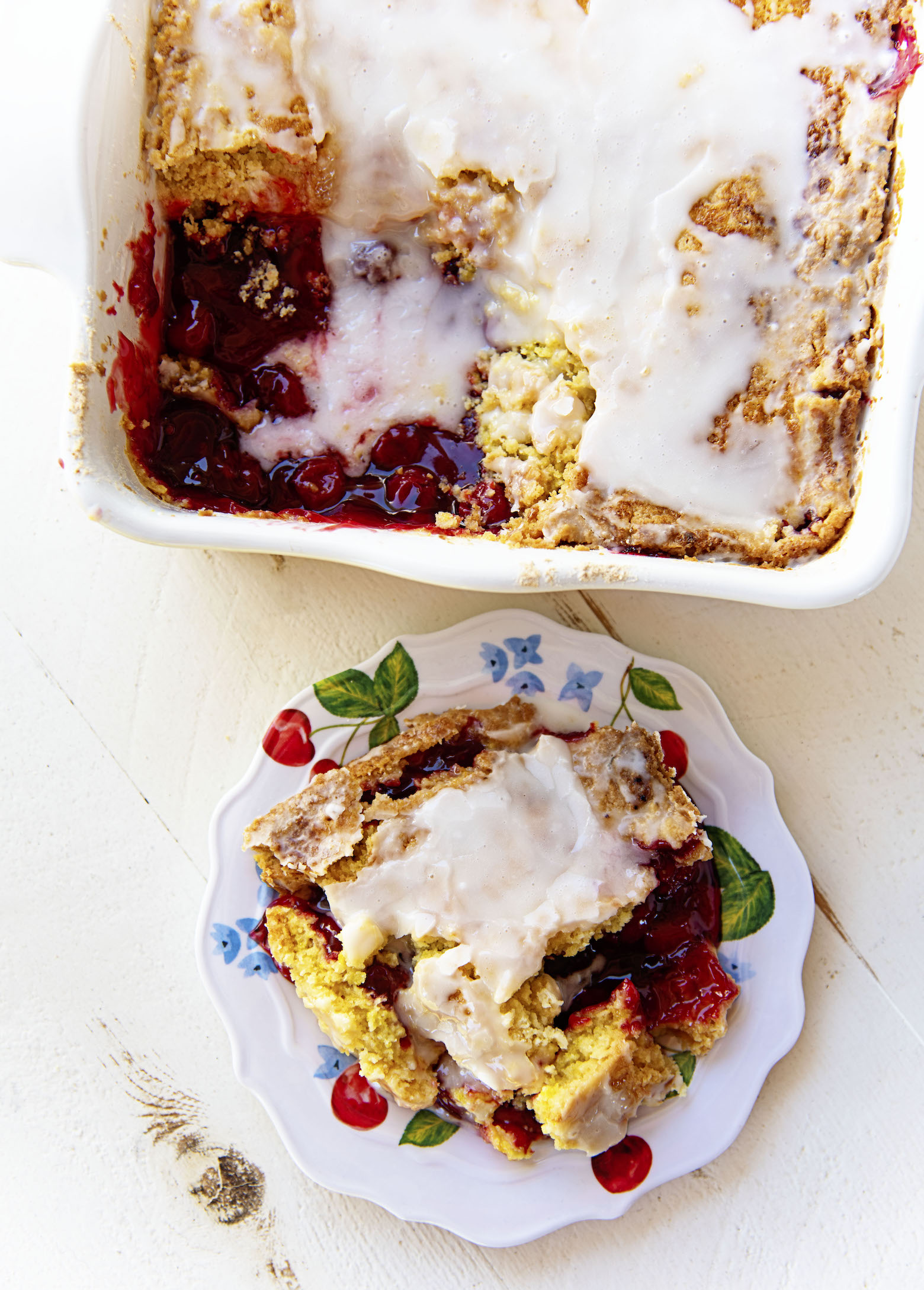 This cake could not be more simple.
Dump two cans of cherry pie filling into the pan.
Add some thawed out frozen lemonade concentrate and mix it around.
Dump the lemon cake mix on top of it.
Then dump melted butter on top of the lemon cake mix.
Then bake.
And top with the lemonade glaze.
That's it.
This was a huge hit and no one knew it took me no time at all.
Until this very moment when the people who ate it are reading this. 😛
Last but not least…it's a great time to order my cookbook. 😀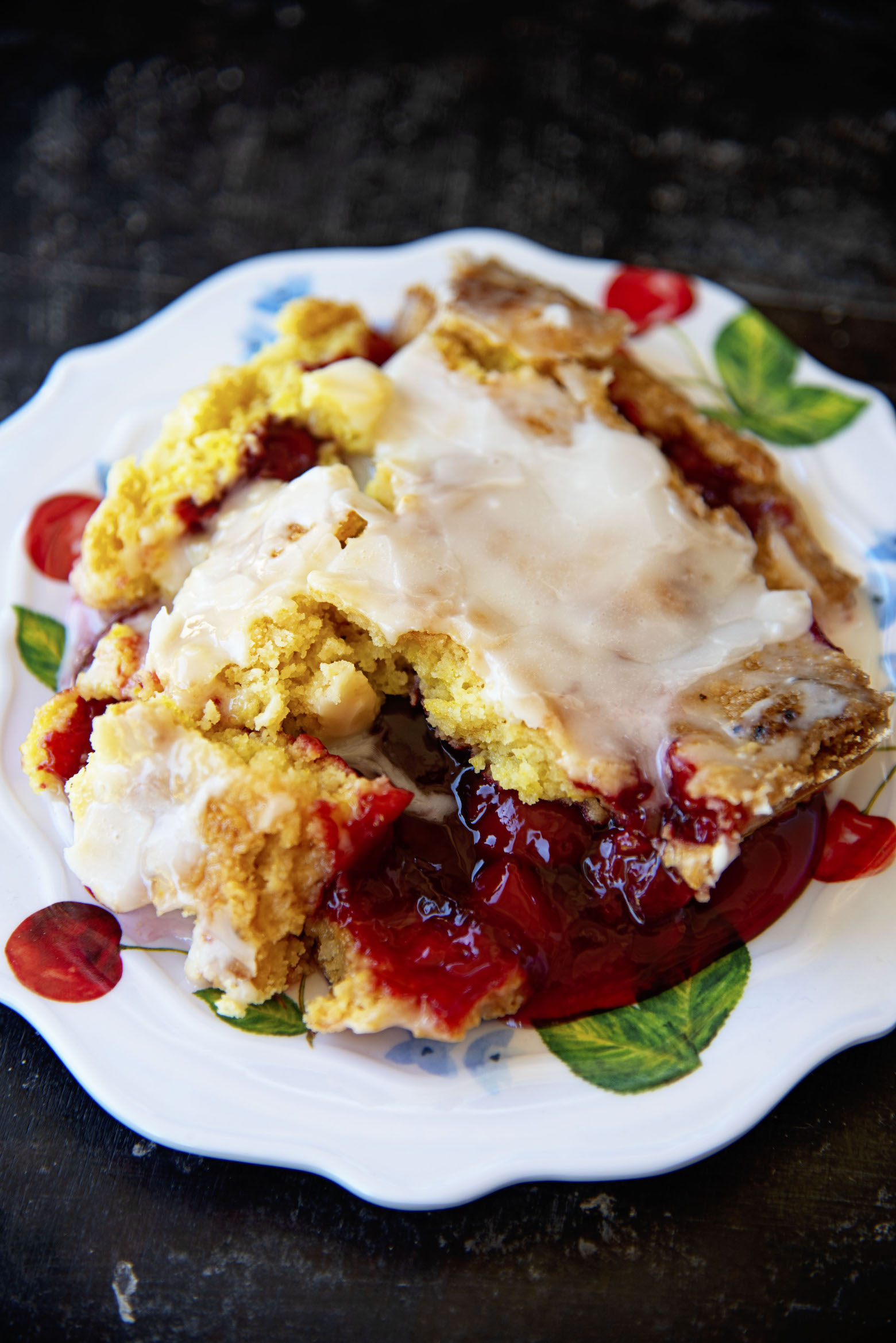 Want more Dump Cake recipes?
Peach Blackberry Oatmeal Cookie Cobbler
Ingredients
For the Dump Cake:
1 box Lemon Cake Mix (I used Betty Crocker)
2 cans (21 ounces each can) cherry pie filling
3 TBSP lemonade frozen concentrate (thawed)
8oz (1 cup) unsalted butter, melted
For the Glaze:
1 cup powdered sugar
3 TBSP lemonade frozen concentrate (thawed)
milk to thin
Instructions
Heat oven to 350F.
Spray a 9×13 inch pan with baking spray.
Dump the two cans of cherries into the pan.
Then add the frozen lemonade concentrate.
Spread with a spatula to make even.
Sprinkle cake mix over the cherries, doing your best to evenly distribute the mix.
Pour butter evenly as best you can over the cake mix.
Bake for 50-60 minutes.
Remove from oven.
Let cool completely before glazing.
For the Glaze:
Whisk together the powdered sugar and frozen lemonade concentrate. If too thick add some milk to thin to your desired consistency.
Pour glaze over cake.
You can serve dump cake warm or cold. I prefer mine warm for dessert and cold for breakfast. 🙂