This Cherry Cheesecake Jello Pie combines cherry jello with no bake cheesecake with cherry pie filling all in a graham cracker crust.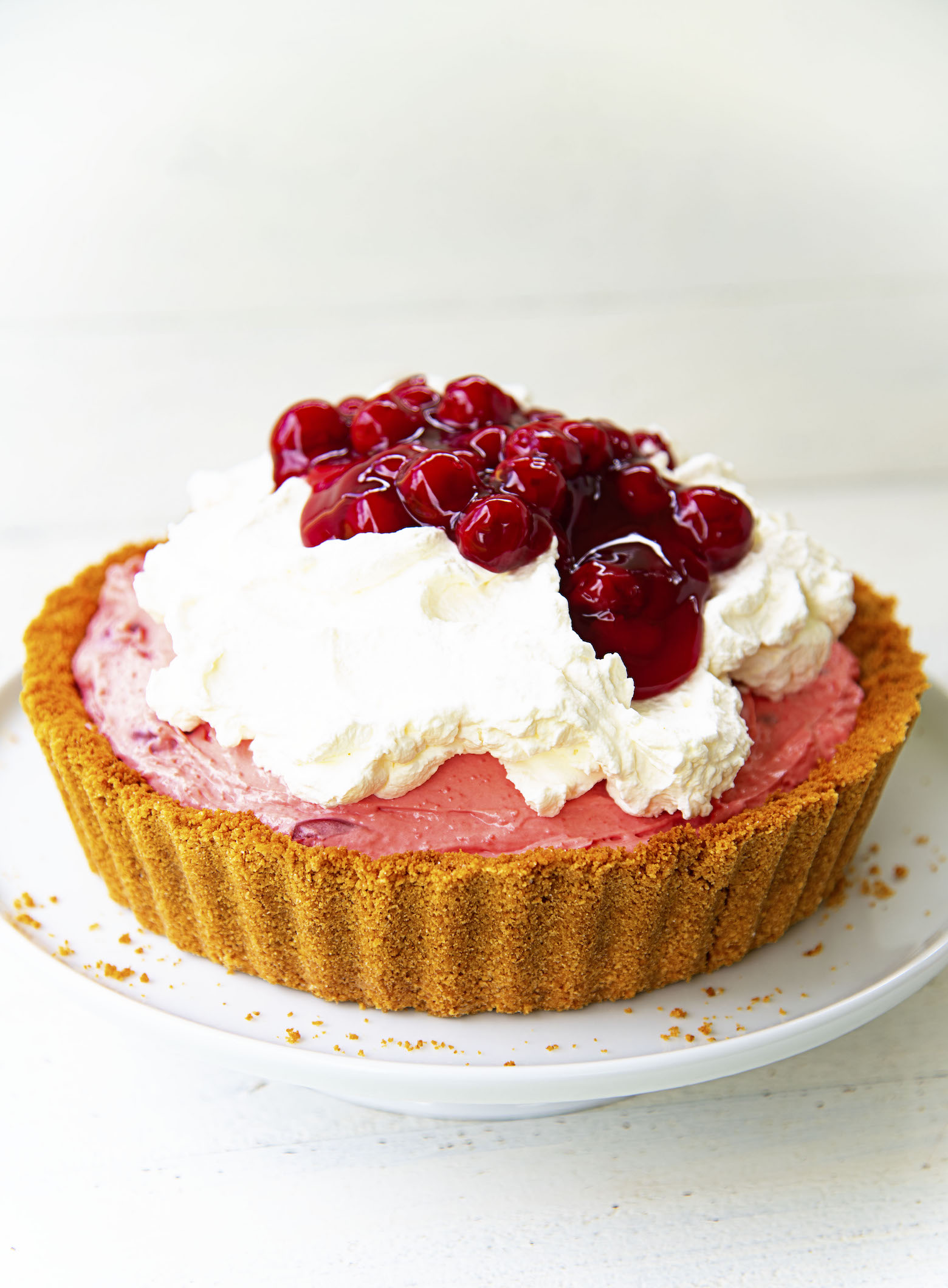 Jello and pudding shots have definitely been a thing lately.
And jello molds.
Because of our nationally covered heat wave here in the Pacific Northwest.
And because of my utter lack of desire to want to turn the oven on.
Or do anything other than sit around and eat popsicles.
Luckily we have finally started to cool down to the normal temperatures for this time of year.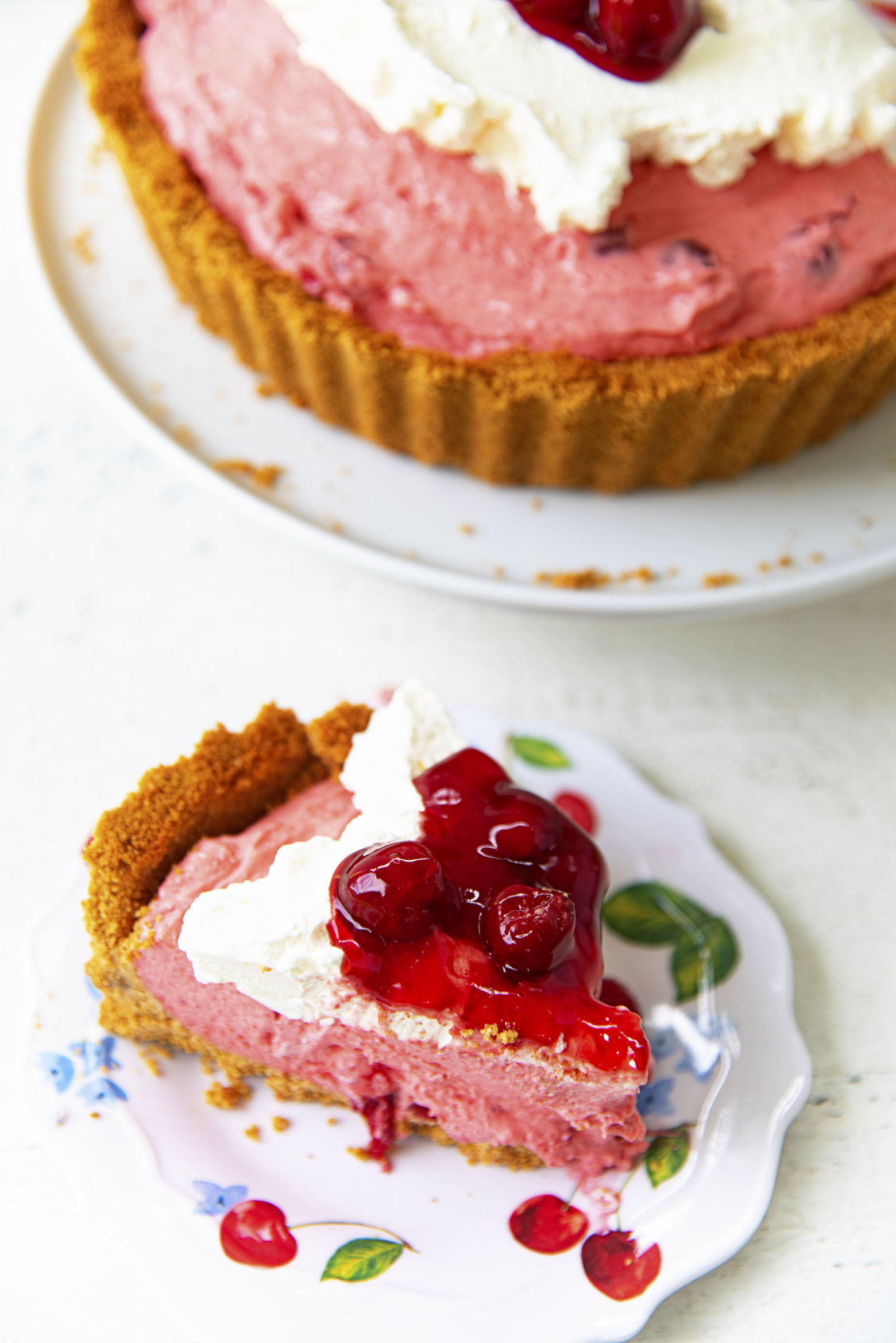 Now, this Cherry Cheesecake Jello Pie isn't fully no bake.
You do have to bake the crust.
Because there is a lot of filling you need a tall crust.
And well, the graham cracker crust makers have not figured out that not all pies are shallow.
I actually use a deep quiche dish to bake this in.
The kind with a removable bottom.
But you can just use a regular 9-inch pie pan.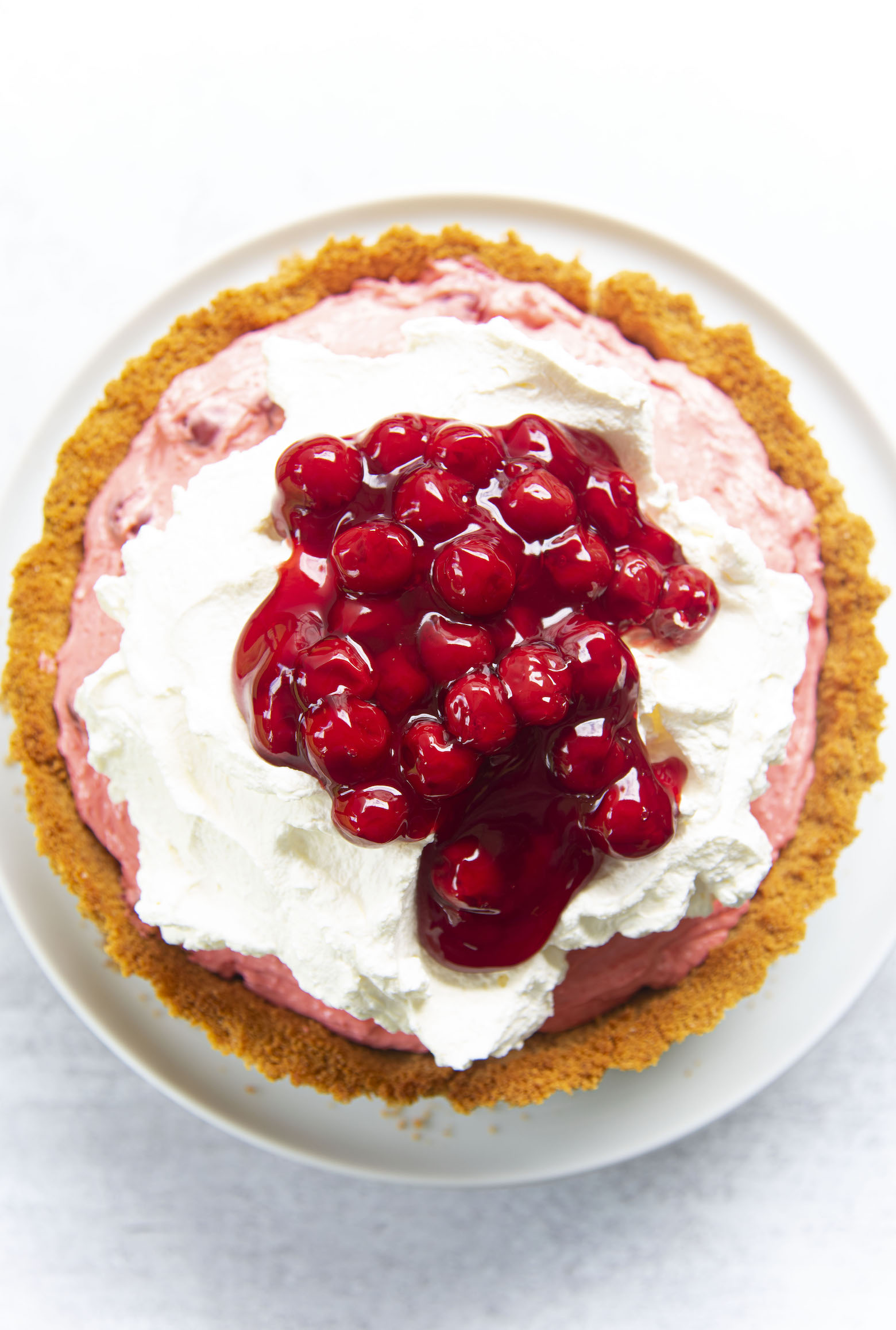 I had thought about making a jello shot that used cherry jello and the jello no bake cheesecake.
Then thought to myself why not just make it into a pie.
So that I could add cherry pie filling to it.
The first time I made this I didn't put the pie filling in, just on top.
But decided it was missing something.
So the fruit went in the pie the second time.
Much better.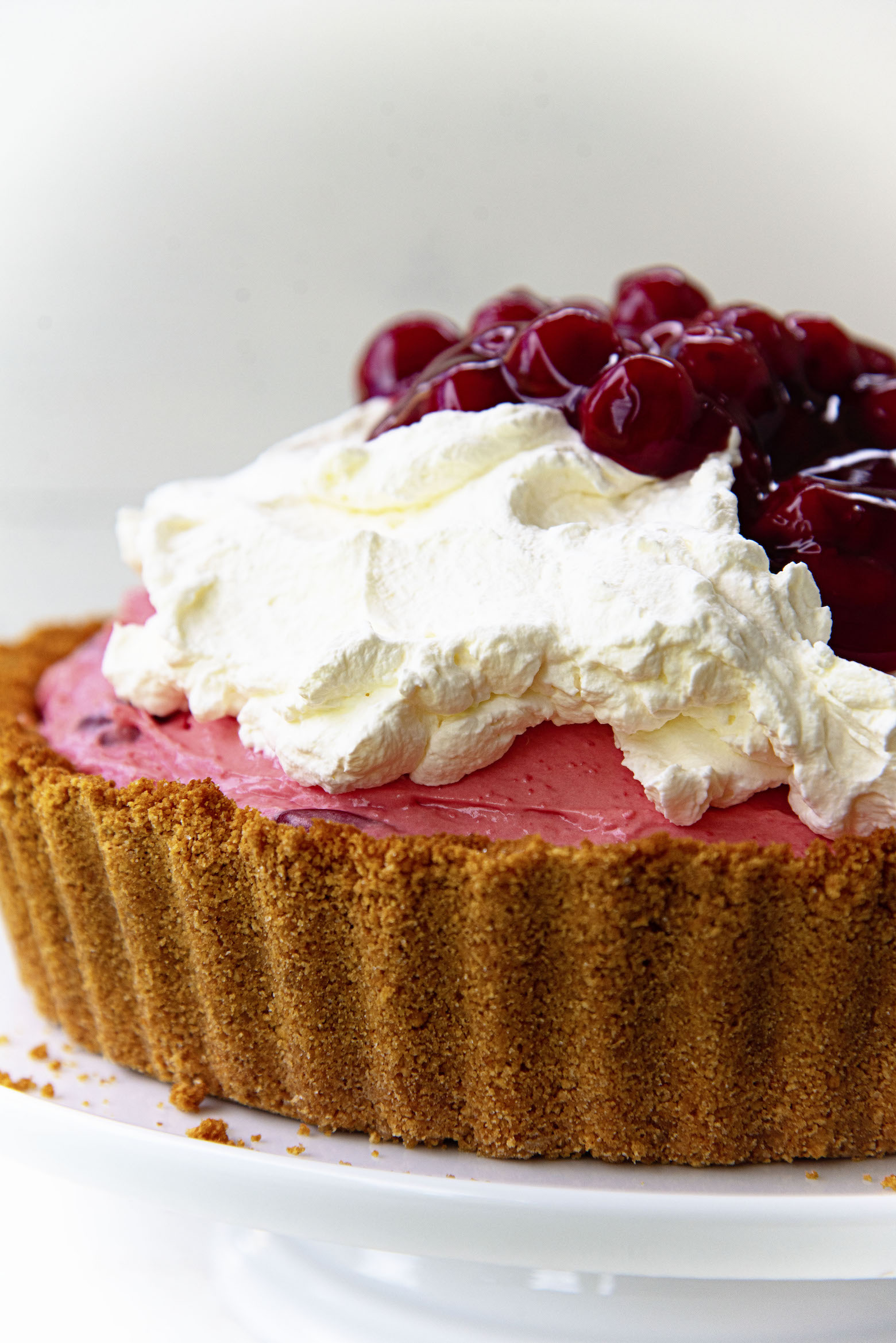 I also add pie filling to the top but that was just for photos.
However, feel free to add extra to yours as well.
Also make sure to use a TON of whipped cream because well, why not?
Last but not least…it's a great time to order my cookbook. 😀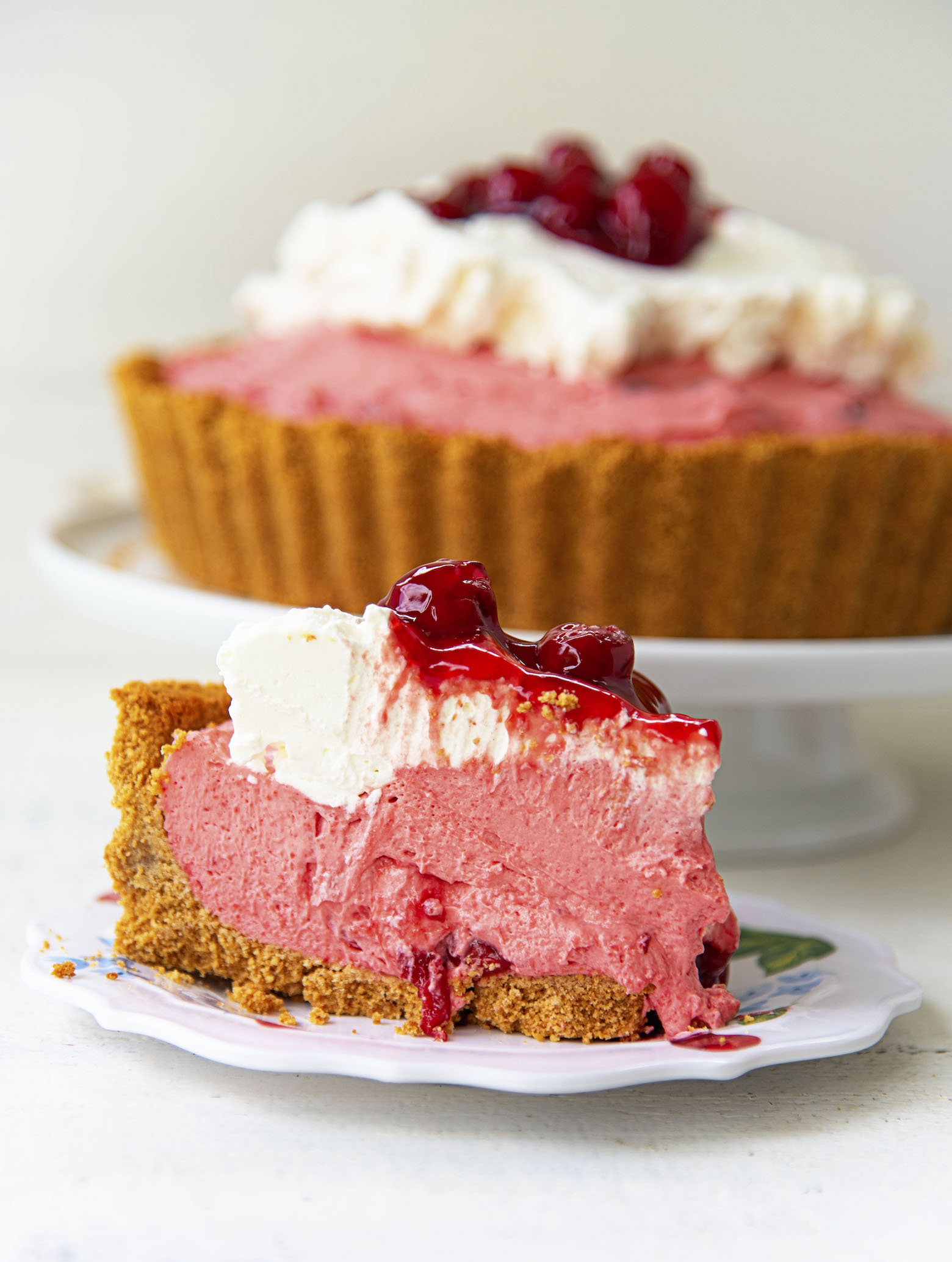 Want More Jello Recipes?
Creamsicle Marshmallow Jell-O Salad
Cherry Coke Float Jell-O Salad
Cranberry Marshmallow Jell-O Salad
Ingredients
For the Graham Cracker Crust:
1 ¾ cups crushed graham cracker crumbs
1/3 cup powdered sugar
7-8 TBSP melted unsalted butter
1/8 tsp. salt
For the Filling:
1 (6 ounce) package cherry Jello
1 cup boiling water
1 box Jello No Bake Cheesecake (11 oz) (only the filling not the graham cracker crust)
1 1/2 cups whole milk
1 (8 ounce) package cream cheese, at room temperature
½ tsp vanilla extract
1 can (21 oz) cherry pie filling
1 (8 ounce) carton of Cool Whip, thawed,
For the Whipped Cream:
1 cup heavy cream
3 TBSP powdered sugar
more cherry pie filling to garnish
Instructions
For the crust:
In a large bowl add the graham cracker crumbs, powdered sugar, and salt.
Add about 7 TBSP melted butter.
Mix until combined.
If it seems like it needs more butter add the remaining TBSP (mine too the full 8 TBSP).
Pour contents into a 9.5″ x 2″ Nonstick Tart Pan Quiche Pan Pie Pan with Removable Bottom. You can use just a 9 inch pie pan but you need to make sure it's at least 2 inches deep. This pie has a lot of filling. And I like that pan the best because of the removable bottom.
Press the contents to form a shell. The crust will go very high up the sides…you want this.
Bake crust for 15 minutes at 325F. Set aside.
For the Filling:
In a large bowl, dissolve Jello in water.
In a mixing bowl fitted with the paddle attachment, beat the cream cheese and vanilla until fluffy.
Stir in Jello and beat until smooth. If it's not looking smooth I often run it through the blender to make sure all the ingredients are fully combined.
In another large bowl whisk together the no bake cheesecake filling and the milk.
Add the no bake cheesecake filling to the jello/cream cheese mixture and whisk until fully combined and smooth.
Chill the mixture in refrigerator for about 30-40 minutes, so that when you lift it with a spoon it is clumpy.
Fold in the cherry pie filling and do your best to evenly distribute the fruit.
Fold in the Cool Whip until fully incorporated.
Pour into the graham cracker crust. I like to build mine up high in the middle for visual effect.
Refrigerate for 3-4 hours or until firm.
For the Whipped Cream:
Using a stand mixer (or hand mixer) beat the cream on high for two minutes.
Add the powdered sugar and beat until stiff peaks form.
Pile onto pie and top with extra cherry pie filling if desired.