Cherry Limeade Bundt Cake is made with Rainier cherries and limeade added to a classic buttermilk Bundt cake for a tasty summertime treat.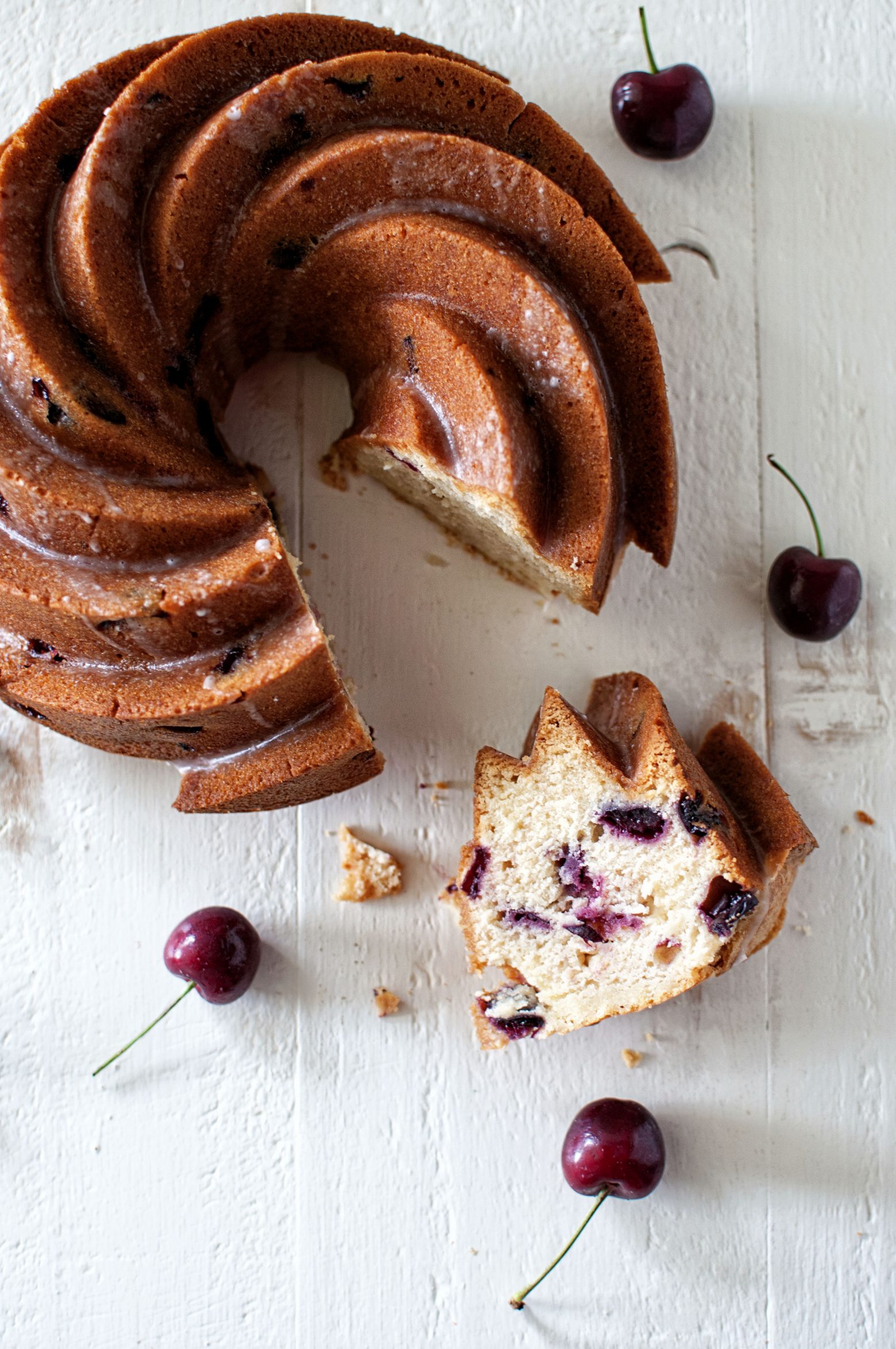 "No man ever steps in the same river twice, for it's not the same river and he's not the same man."-Heraclitus
That quote sits above my computer, well under the broken computer. 🙂
I've been thinking about it a lot lately and how it relates to blogging.
There has been a lot of lamenting about the good ol' days of blogging.
You know…Make Blogging Great Again. 😛
The only constant is change.
It's unfair to believe that blogging should be the same when I started 12 years ago. I am not the same.
My life is very much not the same. How we take in information has changed.
When we started out we it just for fun.
Now for many it's a business and therefore the stress of running a business comes along with it.
People actually left comments on the blog.
In all fairness, some people still do it but now with social media it tends to show up there and not on the actual blog.
Back then, what few food blogs there were, had no photos and just had recipes.
Now you almost have to come out of the gate with professional photos.
If I were thinking about starting a blog today I probably wouldn't.
It took me quite a few years of growing pains to make pretty photos.
I still have much to learn.
Back then, after I published a blog post that was it.
Nowadays I then have to put it on FB, IG, Twitter, and Pinterest.
I should be doing Live feeds on FB and Snapchat…but I just haven't yet.
Companies that work with you want to know how many readers you have.
Certain ad networks won't work with you if you don't have enough traffic.
Traffic is very important to people.
It's not important to me…I'd rather have a great connection with a few then 100K people who really don't care about what I put on this blog.
Bloggers these days (not me) use VA (virtual assistants) to schedule social media (and often answer on social media) and other blog upkeep.
I keep trying to teach at least one of the dogs to do this but so far no luck.
Bloggers have groups where they go around and leave comments on each others posts or share their stuff on FB since the average reader no longer does this but companies want you to have comments.
A lot of bloggers do videos now.
I'm not a fan.
I never liked doing overhead shots step by step and to me that's all it is.
Now I definitely see where it could come in handy for certain recipes (like a braided bread) but most bloggers actually hire companies or an individual to make the video…and I just don't have that kind of income.
Blogs used to say something.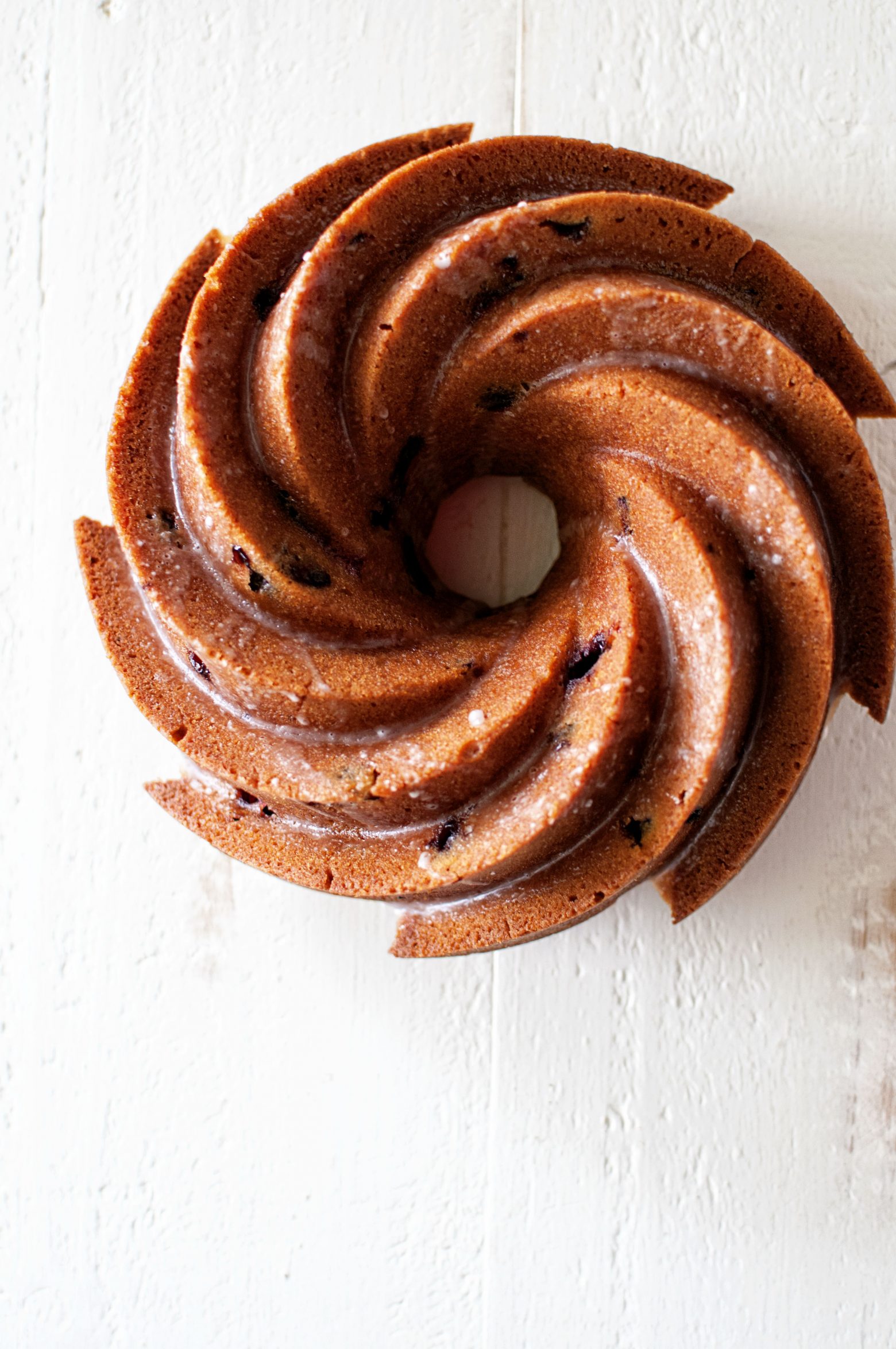 Often I had readers who came not for recipes but to read what I wrote.
Now I get mean comments about shut up and just give me the recipe.
So I get why people want to get back to how it used to be.
But reality is that we are constantly evolving.
I often wonder what blogging will be in 12 more years…or if it will even exists.
One thing that hasn't changed is my desire to share recipes with you. 🙂
So let talk cake. Cherry Limeade Bundt Cake to be exact.
Stemilt (not sponsored) sends me fruit from time to time.
I'm happy to take it as I know I will use it and all the fruit I have gotten from them has been great quality.
Around these parts cherries are in season.
I was sent dark sweet cherries (used in this recipe) and Skyler Rae cherries which are Rainier cherries but sweeter…I just cut those up and ate them as is.
When I lived in Phoenix I lived on Sonic Cherry Limeades (sadly no Sonic is near me here). This cake is my tribute to the drink I love so much.
While the drink uses maraschino cherries, I went with fresh.
The buttermilk makes this cake dense but moist.
The glaze is a must by the way as it really is where you taste the limeade flavor.
Because I know people will ask, THIS is the Bundt pan I used.
Last but not least…it's a great time to order my cookbook. 😀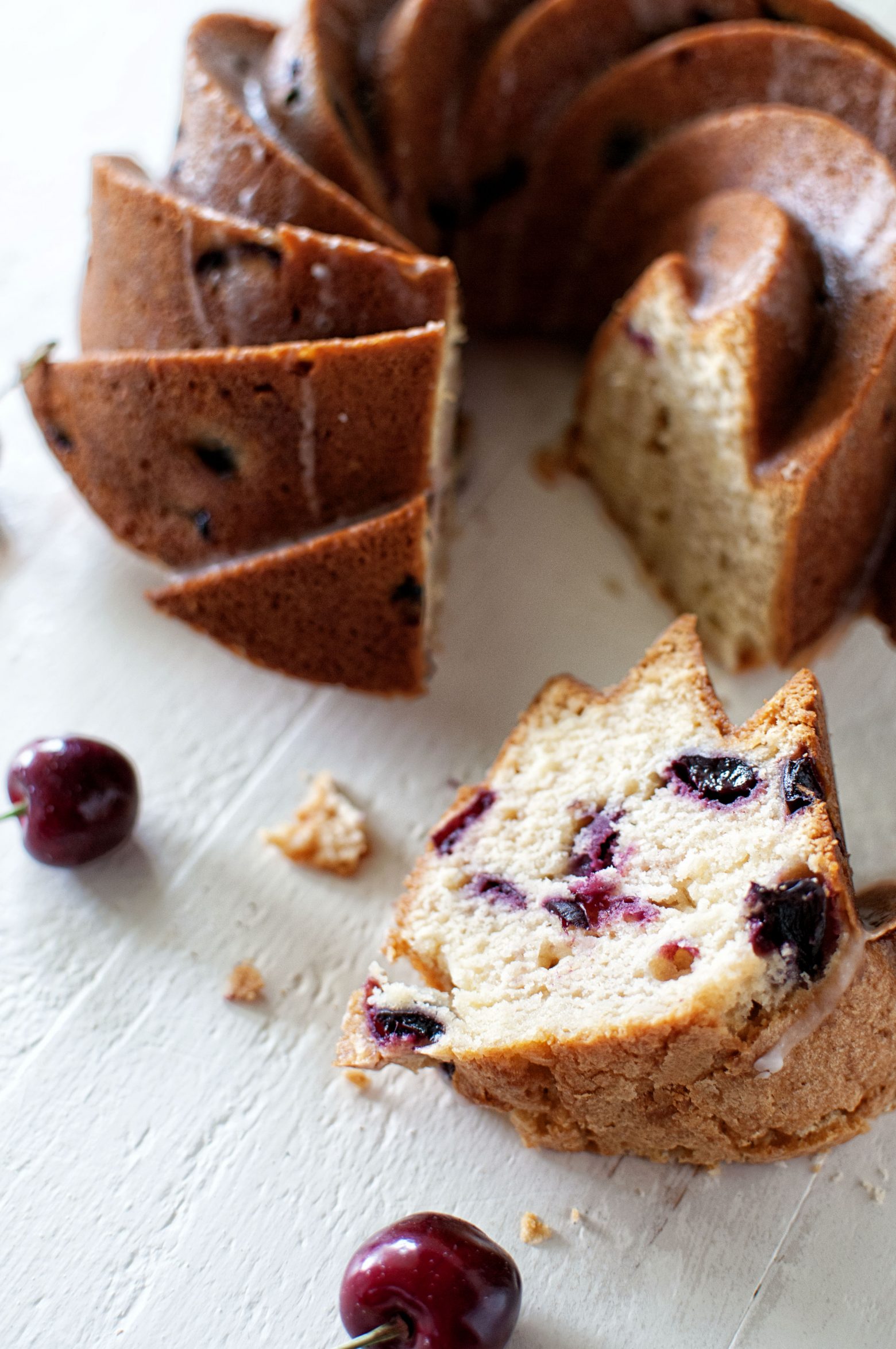 Want More Cake Recipes?
Bourbon Brown Butter Chocolate Chip Cake
Strawberry Lemonade Bundt Cake
Whiskey Glazed Apple Buttermilk Pound Cake
Ingredients
For the cake:
1 cup unsalted butter, at room temperature
2-1/2 cups granulated sugar
4 large eggs
1 tsp. vanilla extract
zest of one lime
3 cups all-purpose flour
1/4 tsp. baking soda
3/4 cup buttermilk
1/4 cup frozen limeade concentrate
1 1/2 cups Dark Sweet Cherries (pitted and cut into pieces) coated in 1 TBSP flour
For glaze:
2 cups powdered sugar (sifted)
1/4 cup limeade (more to thin)
Instructions
For the cake:
In a large bowl, cream butter and sugar until light and fluffy.
Add eggs, one at a time, beating well after each addition.
Scrape down bowl after each addition.
Beat in vanilla and zest.
In a small bowl add the buttermilk and limeade, whisk together.
Combine flour and baking soda; add alternately with buttermilk/limeade mixture and beat well.
Fold cherry pieces into batter.
Pour into a greased and floured 10-in. fluted tube pan.
Bake at 325° for 70 minutes or until a toothpick inserted near the center comes out clean.
Cool in pan for 15 minutes before removing to a wire rack to cool completely.
For the glaze:
Whisk together the powdered sugar and limeade until smooth.
Add more limeade if too thick.
Pour glaze over cake.