Chai Spice Brown Butter Carrot Cake: The addition of chia spice adds and extra kick to this classic carrot cake recipe topped with brown butter cream cheese frosting.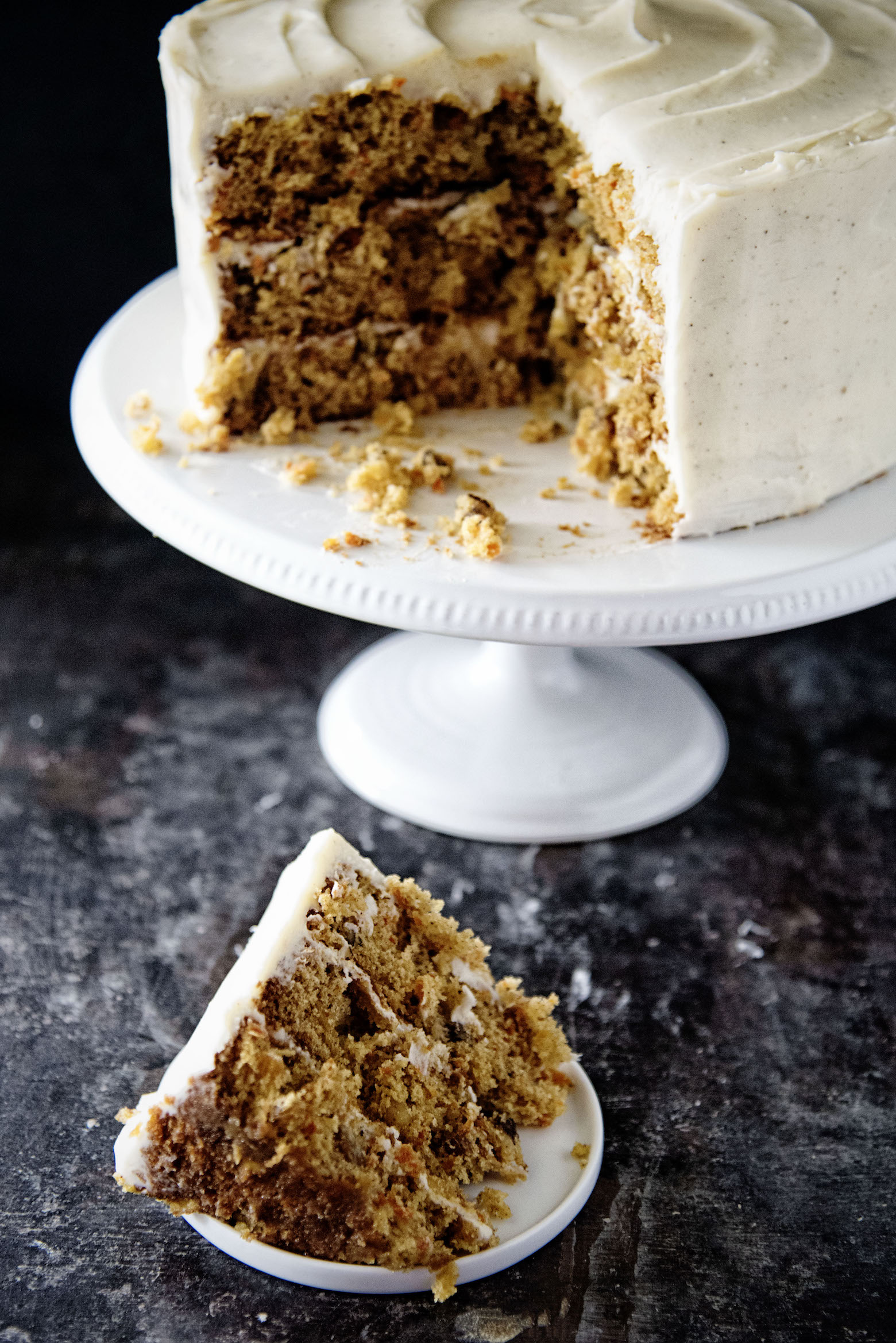 My mother raised me that if 10 people were coming to your party then cook for 100.
I guess it's good I never went into catering or else I would have lost money like crazy. 😛
So whenever I have people over for a meal I tend to go a little crazy.
Or a lot crazy. 🙂
My friend and her fiance were over this past weekend.
She's crazy like me and collects rescue spaniels.
So you know she is awesome. 😀
I offered to make some food and she was like oh don't go to the trouble.
Promptly reminded her that I like to cook and bake so it wasn't an issue at all.
She said okay but maybe just dessert.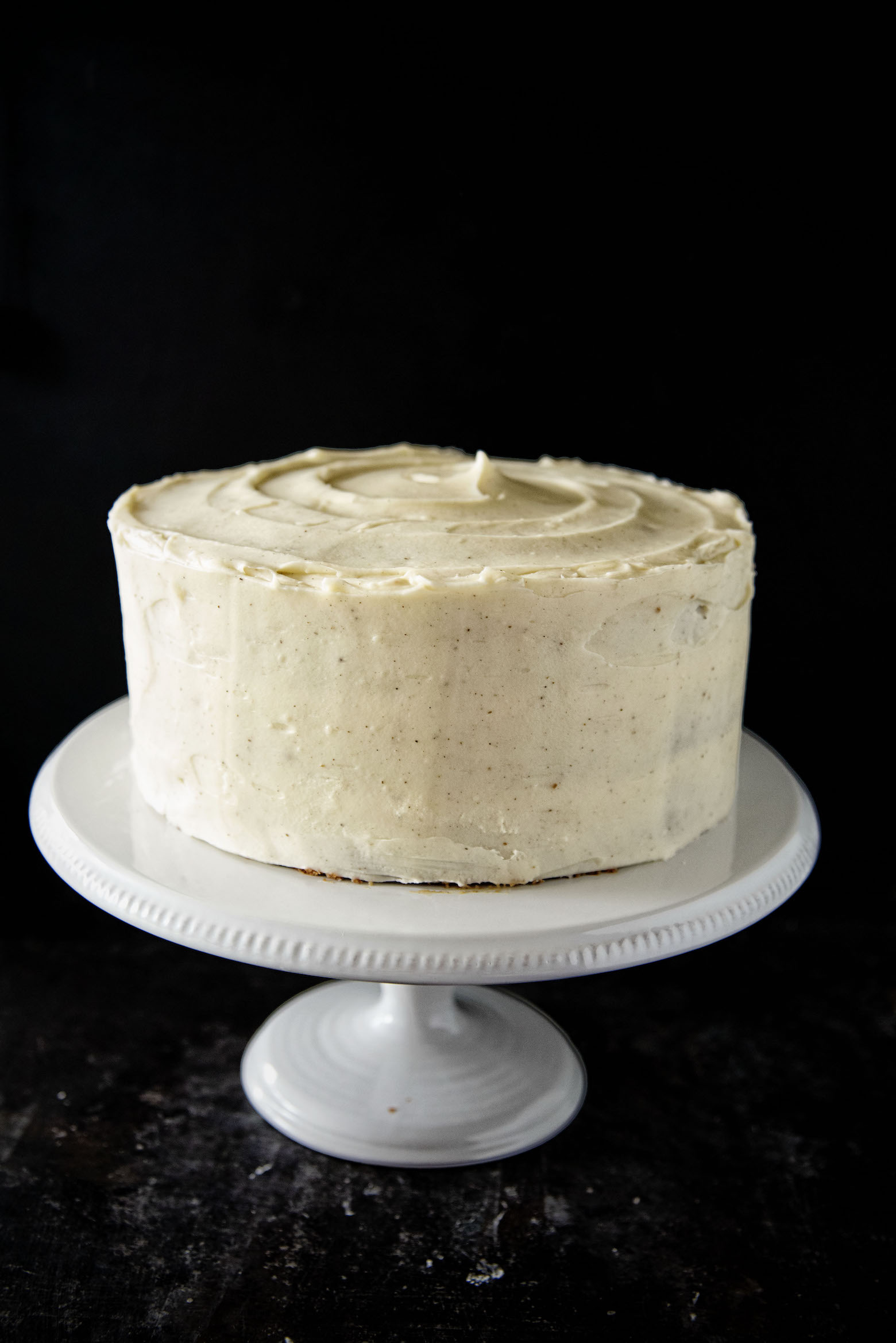 I asked her what her favorites were.
Carrot cake. Cheesecake. Apple crisp.
So I made Chai Spice Brown Butter Carrot Cake.
I made cheesecake (recipe will be on the blog soon).
And a variation of this pie.
Also made this soup and some quick pasta.
Kind of overwhelmed her with my dessert buffet for four people but she loved it.
This carrot cake is basically a classic carrot cake but with the addition of chai spice which adds a nice dimension to the cake.
The brown butter makes the cream cheese frosting even that much better.
Just make sure you brown it and get it cool enough by placing it in the fridge for a bit before using it to make frosting.
P.S. It's a great day to buy my cookbook.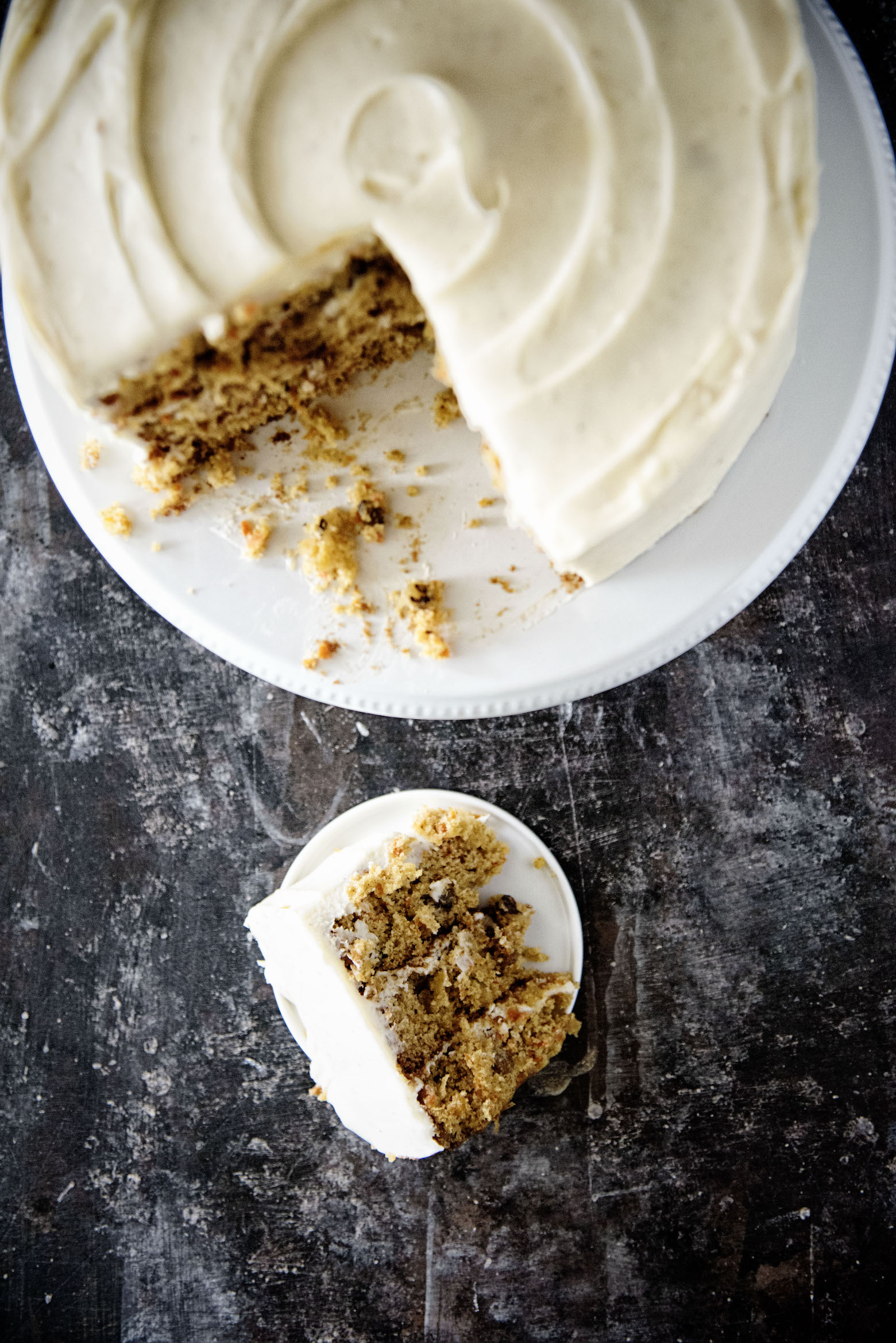 Want More Cake Recipes?
Chocolate Salted Caramel Popcorn Layer Cake
Strawberry Lemonade Layer Cake
Chocolate Peanut Butter Stout Layer Cake
Vanilla Cheesecake Funfetti Pink Ombre Layer Cake
Ingredients
For the cake:
3⅓ cups all-purpose flour
2⅓ cups  granulated sugar
1 cup golden raisins
¾ cup chopped walnuts
1 TBSP ground cinnamon
2 tsp. baking soda
1½ tsp. kosher salt
2 tsp.baking powder
2 tsp. chai spice
4 cups finely grated carrot
2 (8-ounce) cans crushed pineapple, drained
4 large eggs, lightly beaten
1 cup canola oil
2 tsp. vanilla extract
Cream Cheese Frosting:
2 (8-ounce) packages cream cheese, at room temperature
1 cup  unsalted butter, browned and refrigerated until soft
4 cups powdered sugar
Instructions
For the cake:
Preheat oven to 350°F.
Spray 3 (9-inch) round cake pans with baking spray with flour.
Line bottom of pans with parchment paper, and spray pans again.
In a large bowl, stir together flour, sugar, raisins, walnuts, cinnamon, baking soda, baking powder, salt, and chai spice.
Add carrot, pineapple, eggs, oil, and vanilla, stirring until well combined.
Divide batter among prepared pans.
Bake until a wooden pick inserted in center comes out clean, about 25 minutes.
Let cool in pans for 10 minutes.Remove from pans, and let cool completely on wire racks.
For the frosting:
In a large bowl, beat cream cheese and browned butter with a mixer at medium speed until smooth.
Beat in vanilla.
Gradually add powdered sugar, beating until creamy, 4 to 5 minutes.
Spread Cream Cheese Frosting between layers and on top and sides of cake.
Refrigerate until ready to serve.