This Caramel Turtle Pumpkin Crumb Cake is filled with pecans, chocolate chips topped with chocolate pecan crumb top and covered in caramel glaze.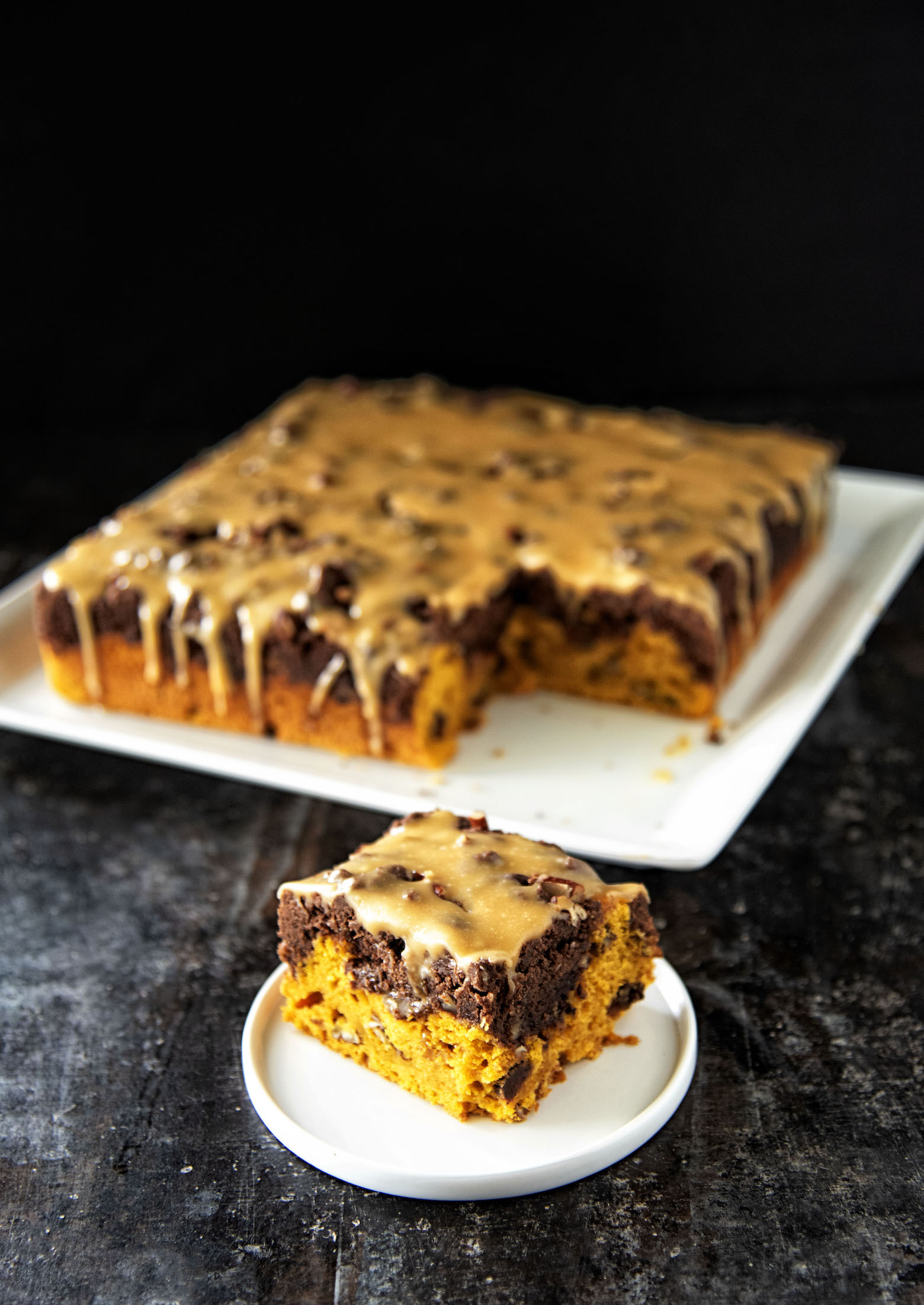 I own way too many Fall baking magazines.
It's kind of an obsession of sorts.
Each year around this time I'm out searching around for more. 🙂
And while I certainly use some of the recipes, I'm usually just looking to be inspired by them.
This recipe is based on one of my own but I did get inspiration from looking at about 15 magazines. 🙂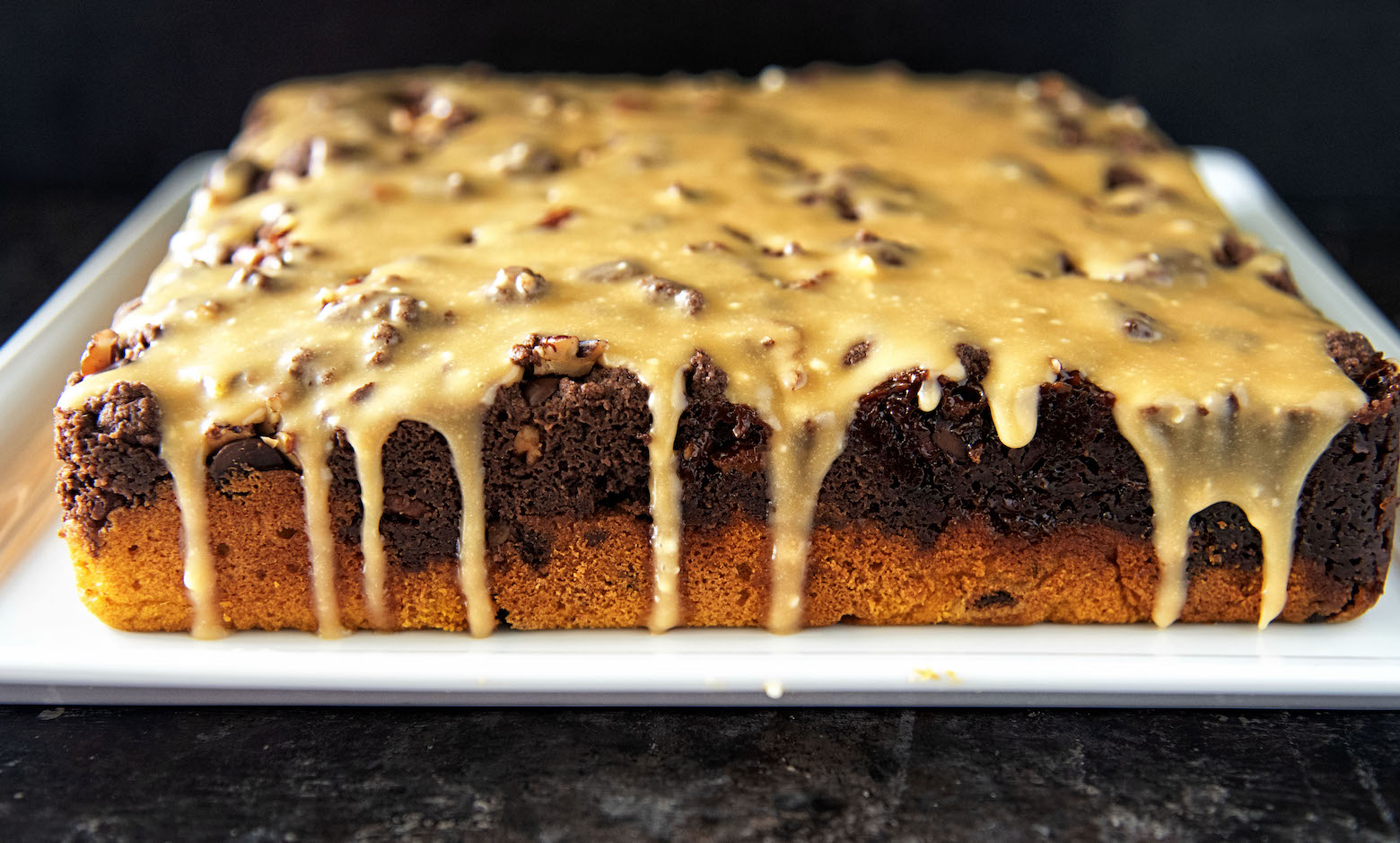 Besides magazines the other obsession this time of year starts.
Cookbooks.
Yes, late September and October are when publishers tend to publish their baking cookbooks.
And I can't wait.
I have a few I'm waiting around for on pins and needles and here they are:
First: Tartine: Revised Edition: A Classic Revisited: 68 All-New Recipes + 55 Updated Favorites (Baking Cookbooks, Pastry Books, Dessert Cookbooks, Gifts for Pastry Chefs)
Second: Pastry Love: A Baker's Journal
Third: Poilâne: The Secrets of the World-Famous Bread Bakery
Fourth: Bake from Scratch (Vol 4): Artisan Recipes for the Home Baker
And Five: Midwest Made: Big, Bold Baking from the Heartland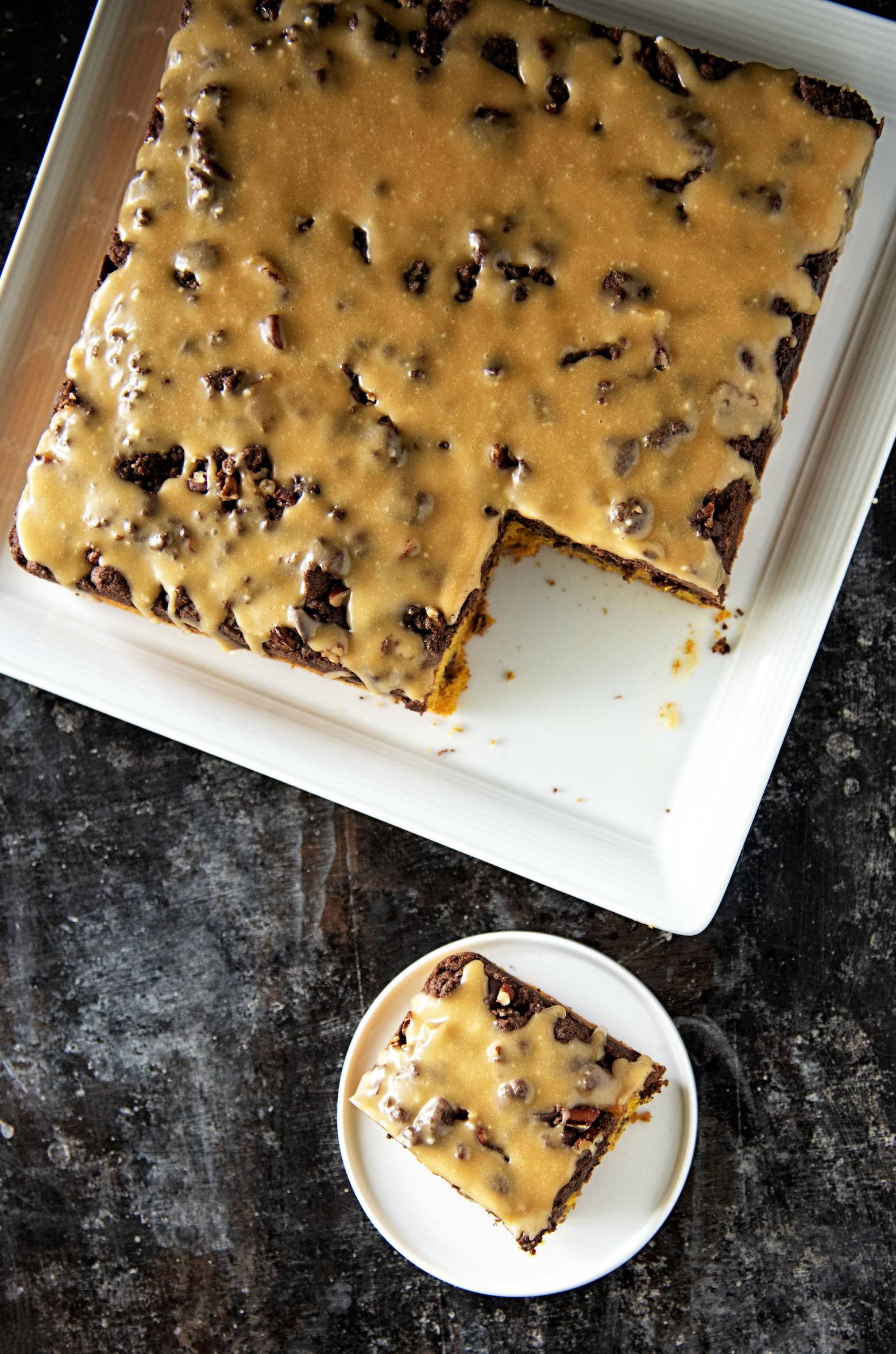 Granted I have a MUCH larger list but for right now those are the ones I am most excited about in baking.
Notice I didn't say desserts or just regular cookbooks. 🙂
Between the cooler weather, hockey starting up, and it's baking cookbook season…I'm pretty giddy these days.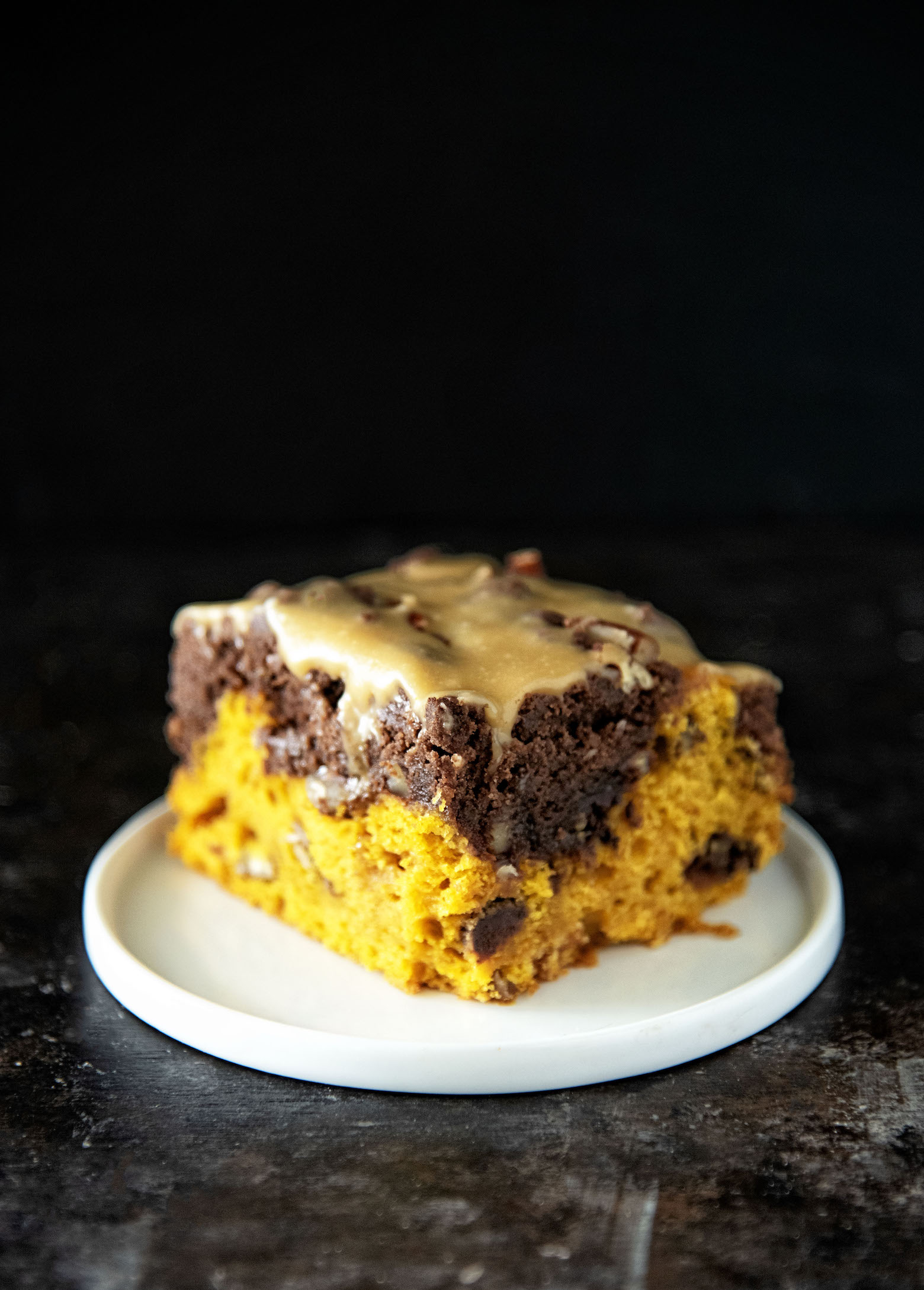 The name turtle was always odd to me.
I know how it gets its name since the candy of caramel, pecans, and chocolate are shaped to kind of look like turtles.
But really I don't find the name all that appetizing, though I certainly find the candy appetizing.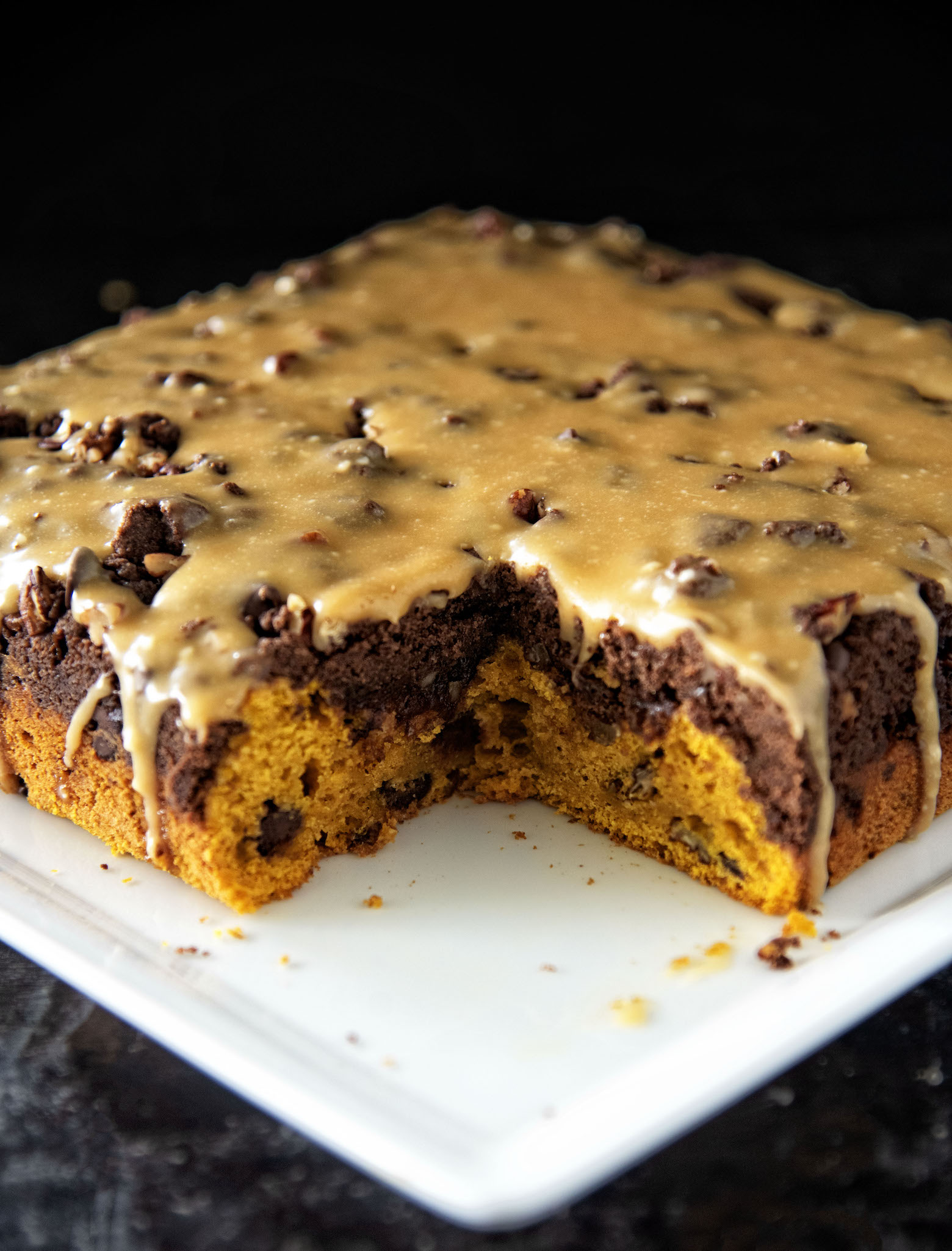 This Caramel Turtle Pumpkin Crumb Cake is an adaptation of a cake I already made.
The pumpkin part only changed by adding some chocolate chips and pecans.
More pecans and chocolate chips were added to the crumb topping as well as the addition of unsweetened cocoa powder.
And of course all covered in a caramel glaze.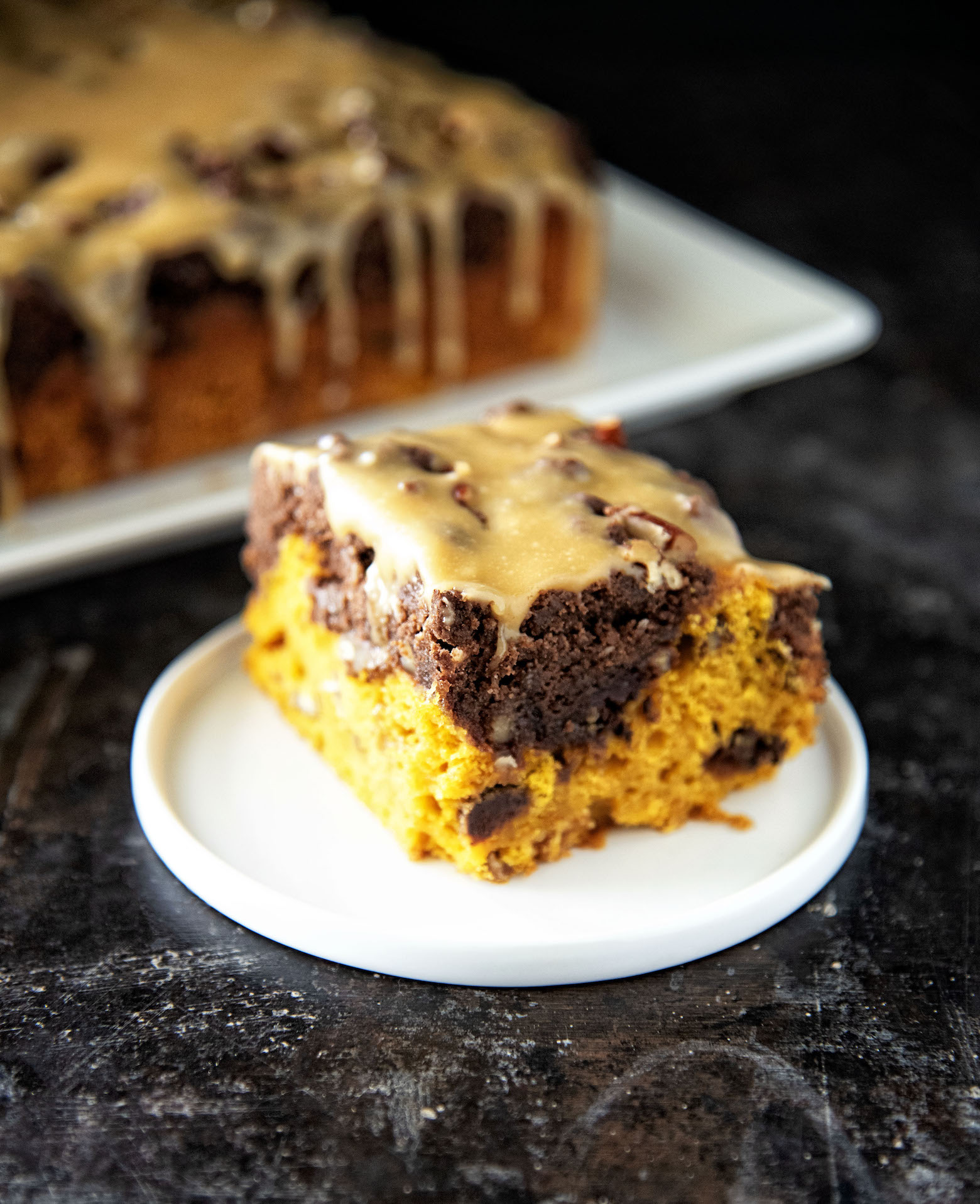 Want More Recipes? Try these:
Brown Butter Pumpkin Pie Layer Cake
Salted Caramel Frosted Pumpkin Cupcakes
Apple Cider Whiskey Glazed Pumpkin Pull Apart Bread
Ingredients
Crumb Topping:
1/3 cup granulated sugar
1/3 cup brown sugar, packed
¼ tsp. salt
1/4 cup unsweetened cocoa powder (I used Rodelle)
8 TBSP unsalted butter, melted and cooled
1 ¾ cup cake flour
1/3 cup semisweet chocolate chips
1/3 cup pecans, roughly chopped
For the Cake:
½ cup unsalted butter, at room temperature
1 cup granulated sugar
2 large eggs
1 cup full fat buttermilk
1 1/4 cups pumpkin puree
½ tsp. vanilla bean paste (I used Rodelle)
2 tsp. Pumpkin pie spice
2 ½ cups cake flour
2 tsp. baking powder
½ tsp. baking soda
Pinch of salt
1/2 cup semisweet chocolate chips
1/2 cup pecans, roughly chopped
Glaze:
3 TBSP heavy cream
1/3 cup caramel sauce
2 TBSP unsalted butter, melted
1 ½ cups powdered sugar
Instructions
For the Crumb Topping:
In a medium sized bowl, put sugars, unsweetened cocoa powder, and salt and stir until combined.
Add the melted butter and then cake flour and mix (hands work best for this).
Toss in the pecans and chocolate chips and mix in.
Set aside.
For the Cake:
Preheat oven to 325F.
Spray baking spray a 9-x-9-inch pan or two loaf pans.
In a stand mixer with a paddle attachment cream together the butter and sugar until light and fluffy, about 3 minutes.
Using a separate bowl add the buttermilk, pumpkin puree, vanilla bean paste, pumpkin pie spice, and eggs and whisk until fully combined.
Grab another bowl and add flour, baking powder, baking soda, and salt.
Alternate adding dry ingredients, then wet, then dry, then wet, and finish with dry.
Mix on low until fully combined.
Be careful to not over-mix.
Fold in the chocolate chips and pecans.
Using a regular size ice cream scoop, scoop out three scoops per pan.
Even out with a spatula.
Evenly divide crumb topping (as evenly as you can) into pieces over top of the batter.
Bake for 45-55 minutes depending.
Check by using a wooden skewer or knife to see if it comes out clean.
Let cool on wire rack.
For the Glaze:
Simply whisk together the cream, caramel sauce, butter, and powdered sugar in a medium bowl.
When cake is cool pour glaze over the top of them.
Let it firm up.
Cut into pieces and enjoy.
This post contains links to an affiliate site. I do earn a small percentage of the sale (if you buy) that cost no extra to you.