These Caramel Turtle Cheesecake Bars have a caramel chocolate pecan cookie base topped with cheesecake and caramel turtle candies.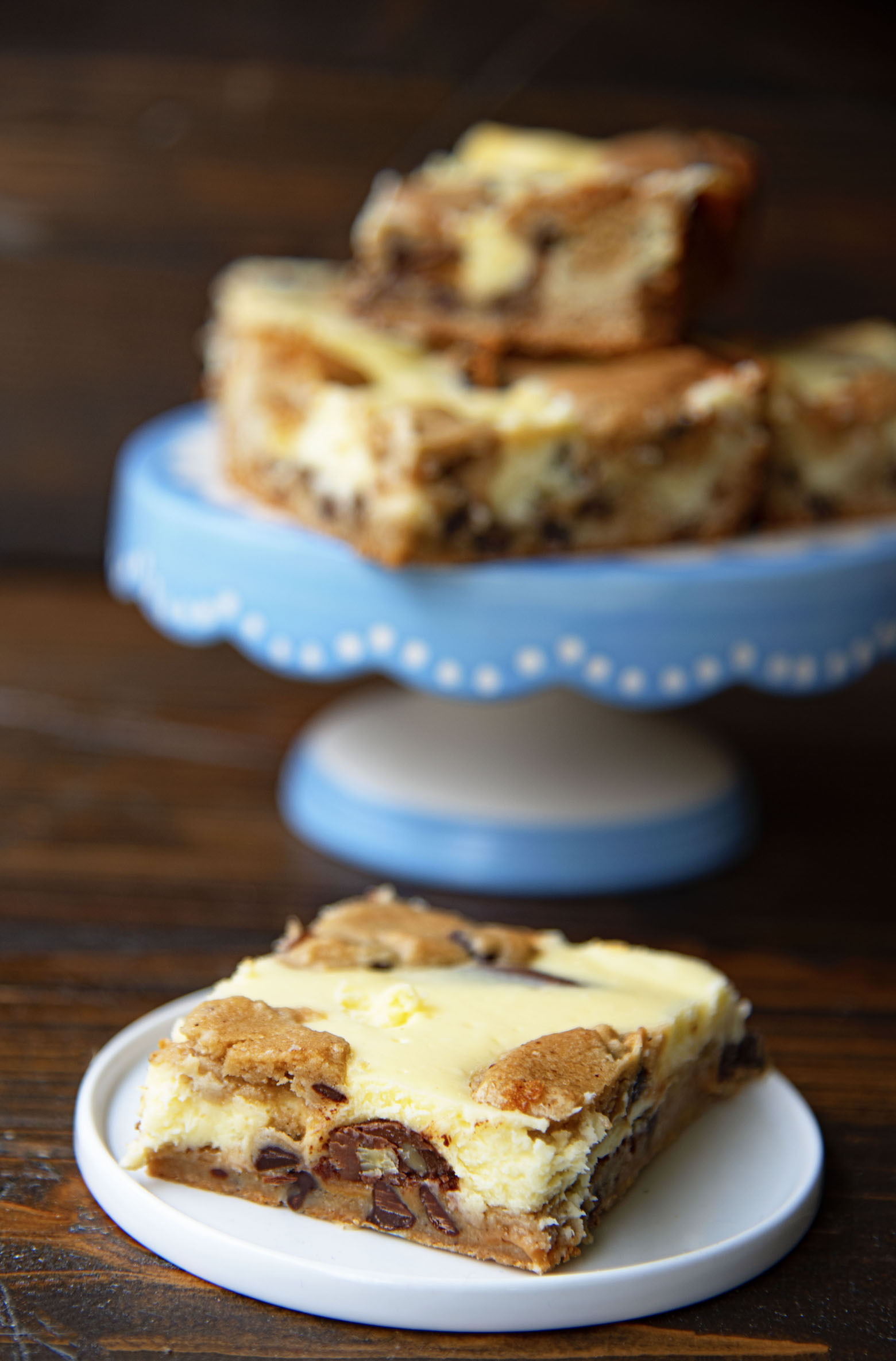 These Caramel Turtle Cheesecake Bars are a tad overkill but let's face it, I specialize in overkill. 😀
If you are unfamiliar with caramel turtles, no they are not actually turtles.
They are just candy that kind of look like turtles.
The candies have pecans that stick out and look like feet and a head.
The center is soft caramel.
And it has an outer chocolate "shell" so to speak.
The candy has been around for over 100 years now (since 1916) so you know they have to be good to stand the test of time.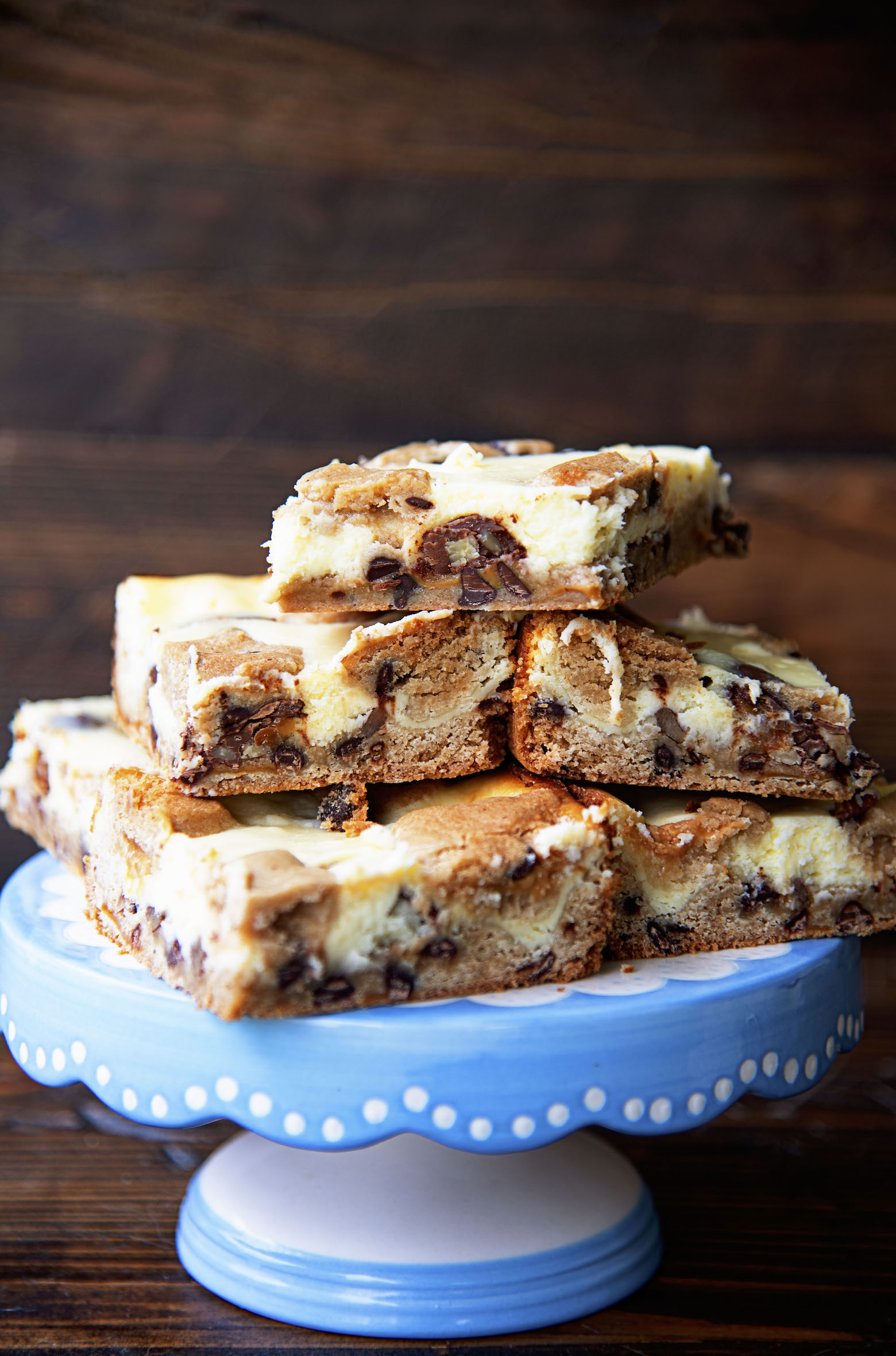 Ever since the candy came about, the combination of pecan, caramel, and chocolate is known as turtle or caramel turtle.
And it's wildly popular in cheesecake form.
The Cheesecake Factory even has a version of it.
Many years ago I made Peanut Butter Cup Cheesecake Bars and decided to do a version of those in turtle form.
Because I needed a portable dessert.
Since I make treats every week for the hockey team, cheesecake bars are way easier to bring than having to pass out plates and forks to serve cheesecake. 🙂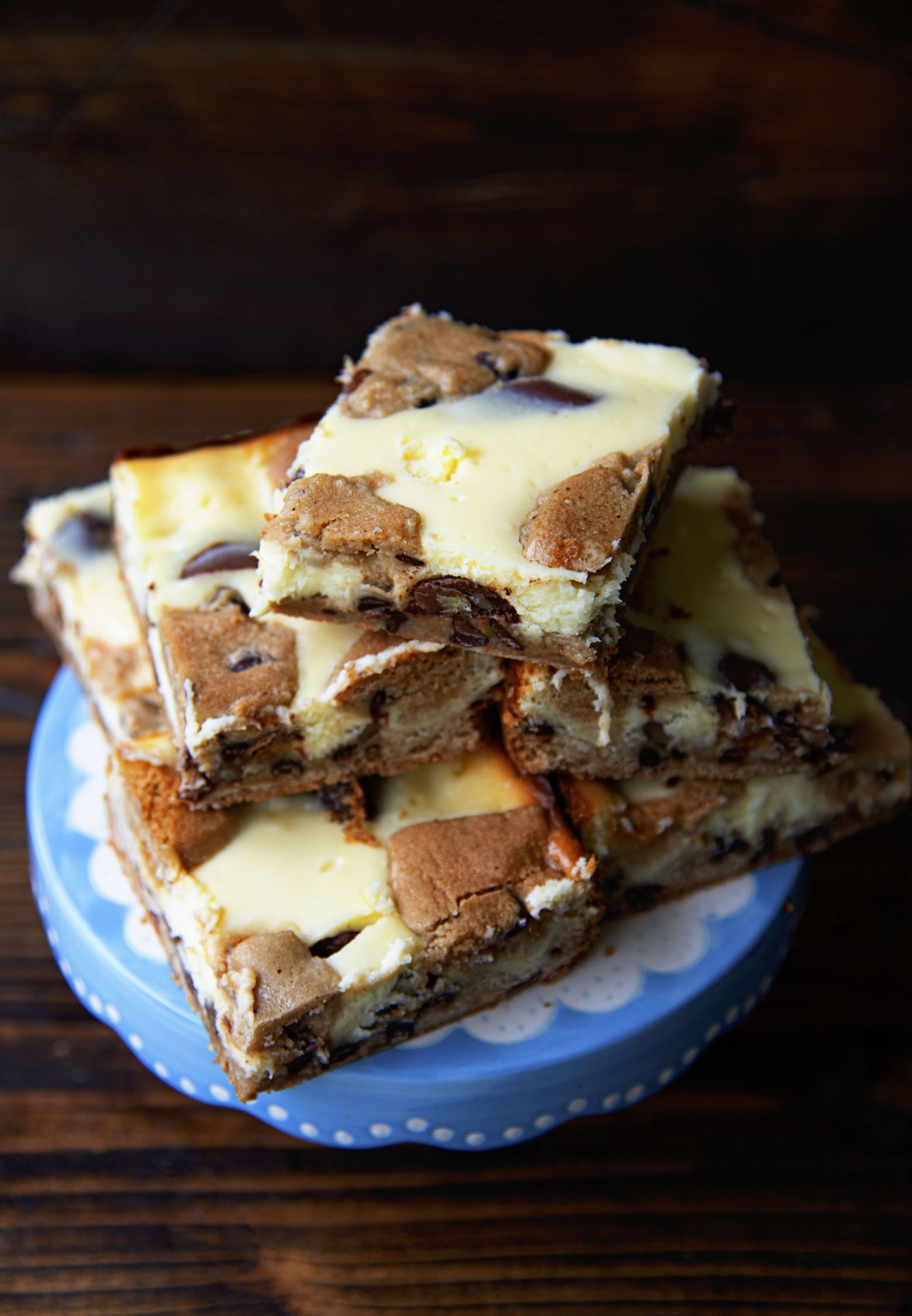 You want to make sure to use soft caramels for this.
I don't consider Kraft Caramels to be soft enough for this.
Plus the wrapping for those caramels is such a pain. 🙂
They are great for doing things like caramel apples but in baked goods they tend to harden up.
Kraft makes caramel bits but I don't think they are the right kind of caramel for these bars.
I used my own that I had made but I also like Werther's Soft Caramels as well.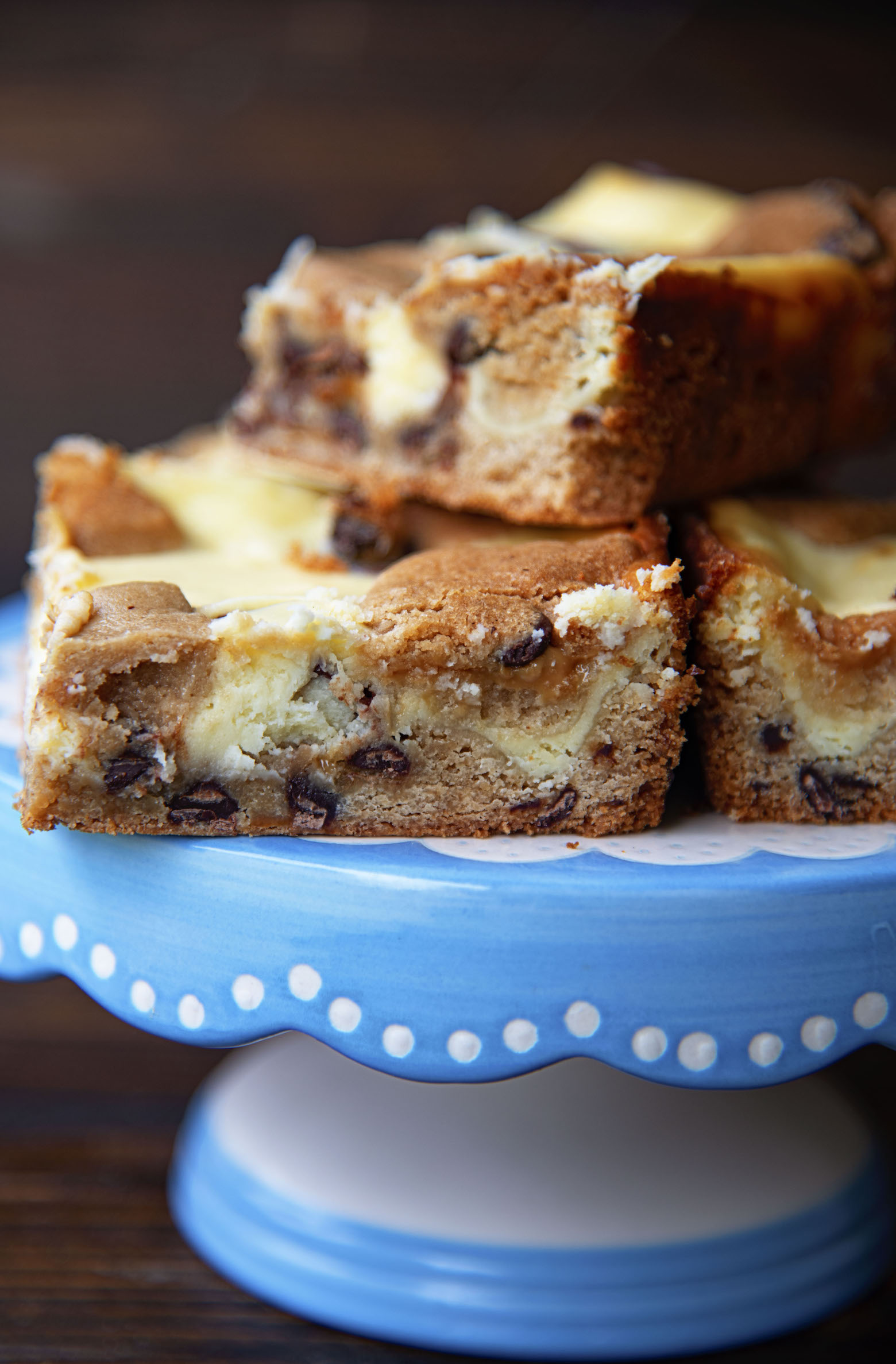 I used unsalted pecans in this recipe.
But if you like the salty sweet combo you can always use salted nuts in place of unsalted.
And if you don't like nuts you can leave out the pecans.
If you do that you are going to have to switch out the caramel turtle candies.
I would use something like Rolo candies instead.
Though unwrapping those are a huge pain. 😀
Or maybe chopped up Milky Way pieces.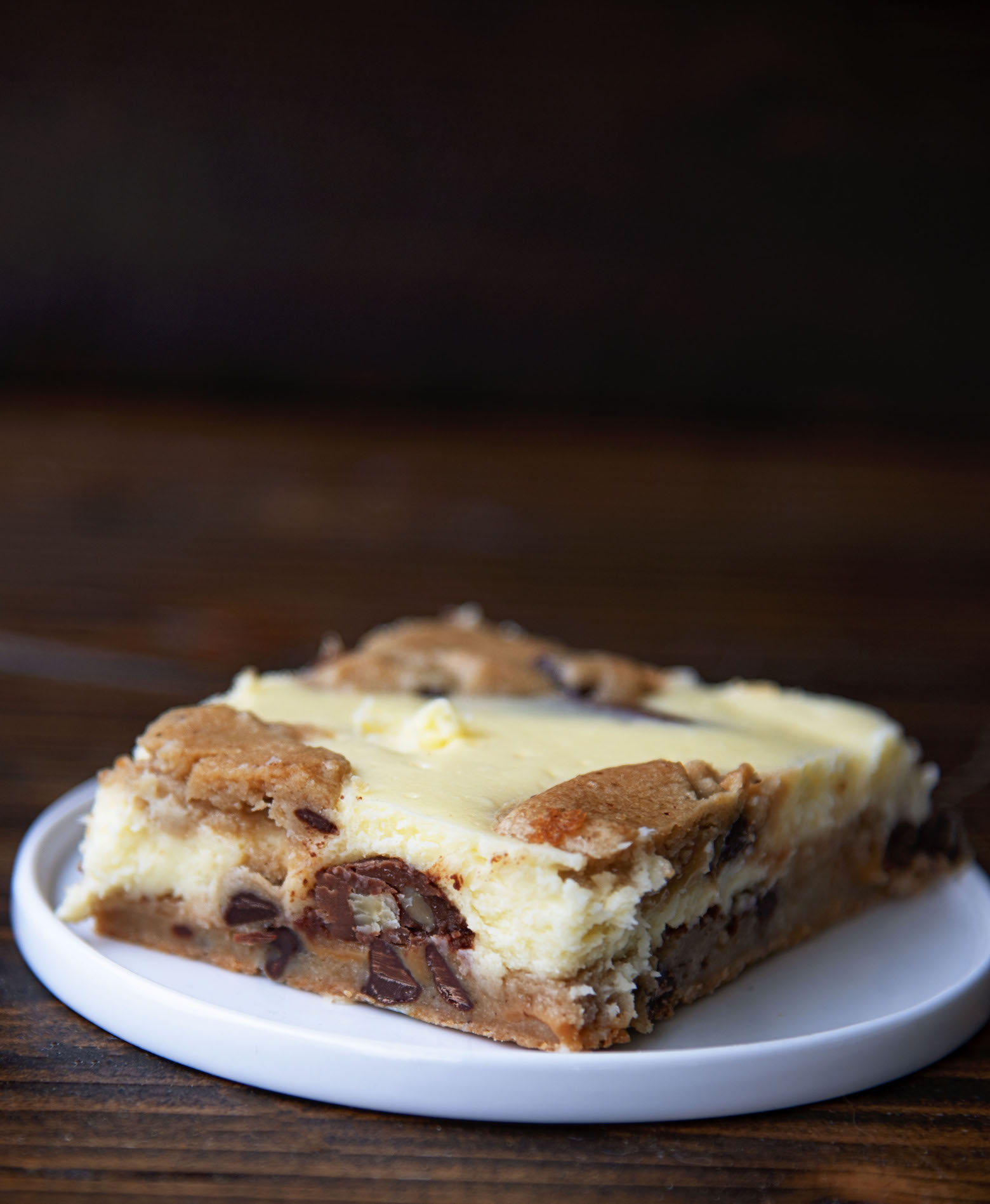 What type of chocolate chip should I use?
This is a total preference call.
Caramel turtles usually come in milk chocolate.
And since you are using 15 turtles in this recipe you may want to stay using all milk chocolate.
But if you think that might make it sweet you can always go semisweet chocolate chips instead.
I would shy away from using white chocolate as that would be way to sweet.
And if I think something is too sweet then it's super sweet.
Regardless of how you make them…you should make them.
They are so yummy!
P.S. It's a great day to buy my cookbook Holy Sweet!
Want more Bar recipes?
Strawberry Lemonade Lemon Bars
Chocolate Chunk Churro Cookie Bars
Butterscotch Walnut Meringue Bars
Ingredients
For the Cookie Base Layer:
1 cup salted butter, at room temperature
3/4 cup granulated sugar
3/4 cup brown sugar, packed
2 large eggs
2 2/3 cups all-purpose flour
1 tsp. baking soda
1/2 cup mini chocolate chips
1/2 cup chopped unsalted pecans
1/2 cup chopped soft caramels
Cheesecake Layer:
16 oz. cream cheese, room temperature
2/3 cup granulated sugar
2 large eggs
1 tsp. vanilla bean paste (or extract)
15 caramel turtle candies
Instructions
Preheat oven to 350F.
Butter a 9-x-13-inch baking pan.
Using a stand mixer with a paddle attachment, cream the butter and sugar until light and fluffy, about 3 minutes.
Add eggs and beat until fully incorporated. Scrape down bowl and beat for another 30 seconds.
Add dry ingredients and mix until fully incorporated.
Add chocolate chips, pecans, and soft caramels and mix until incorporated.
Divide cookie dough so that ¾ of the dough goes into the bottom of the pan, the remaining ¼ will go on top. Place the remaining ¼ dough into another bowl and clean out the mixing bowl to use for cheesecake. Press the cookie dough into the pan to make an even bottom layer.
Using the stand mixer, beat cream cheese and sugar on medium-high speed until light and fluffy, about 3 minutes.
Add the eggs and vanilla, and beat until fully incorporated and smooth.
Add flour and beat until fully incorporated and smooth.
Top the cookie dough layer with the caramel turtles, I did five rows of three turtles.
Pour cheesecake batter on top of turtle candies and cookie dough in prepared pan.
Take the remaining cookie dough and roll into small balls (or just do spoonful drops). Place them randomly on top of the cheesecake batter but make sure they are not touching.
Bake for 40-55 minutes (depending on oven).
Remove from oven and let cool on a wire rack to room temperature. Then put in fridge for 1 hour.
Cut into squares (about 12 large or 24 small) while cold but actually let come to room temperature to serve.