Caramel Rum Pina Colada Bundt Cake: Moist and dense pineapple upside down coconut pound cake topped with rum glaze and toasted coconut caramel sauce.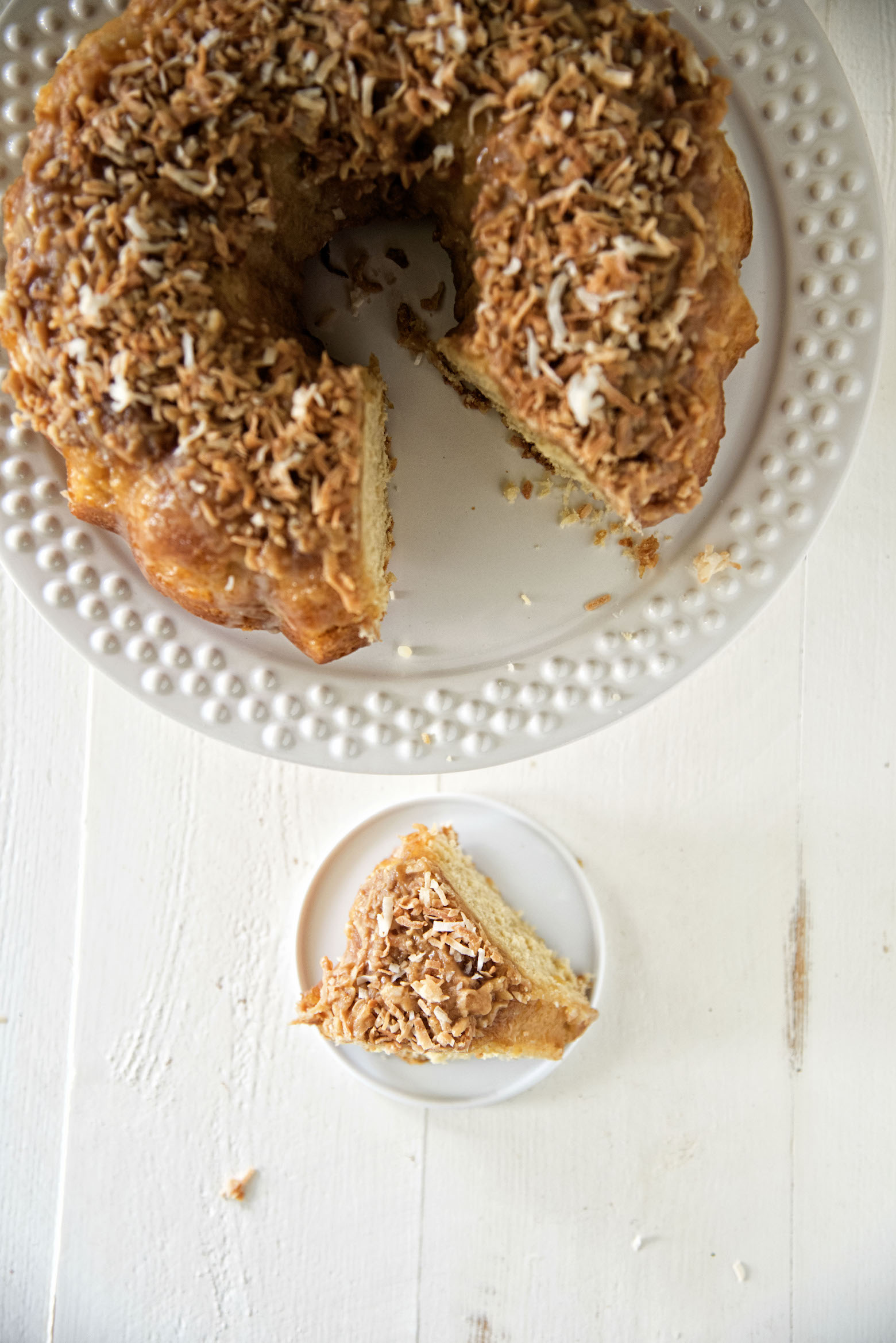 When you have a major health crisis it tends to nudge you to change the way you eat.
For us that meant moving towards a plant based, whole grain diet.
It's what was suggested when we left the hospital.
What was suggested by the cardiologist.
In researching we found that while they did not suggest going vegan all the cardiologist we talked to were indeed vegan.
Not only for heart health but for stroke and cancer prevention.
So we sat down and thought about it and decide we would do our best at being flexitarian.
Now you may say that's just an omnivore and you are right.
Except that we eat plants probably 99.5% of the time with the other .5% coming from animal products.
We do that because certain situations arise and the world is not always vegan friendly, especially restaurants.
Restaurants almost always have a vegetarian option and that is usually macaroni and cheese. 🙂
Last night we went to a friends party.
We had originally planned on eating beforehand but we had a little house crisis (oh the joys of homeownership) and we did not get to eat.
When we got there they had veggies and ranch dip, chips, and pizza.
I could have eaten plain veggies but I was hungry because with all that had gone on that day I didn't really eat.
And so we ate cheese pizza.
No big deal.
It did cause my allergies to flare up as I do have a cow dairy allergy but it's a mild one and so I just rolled with it.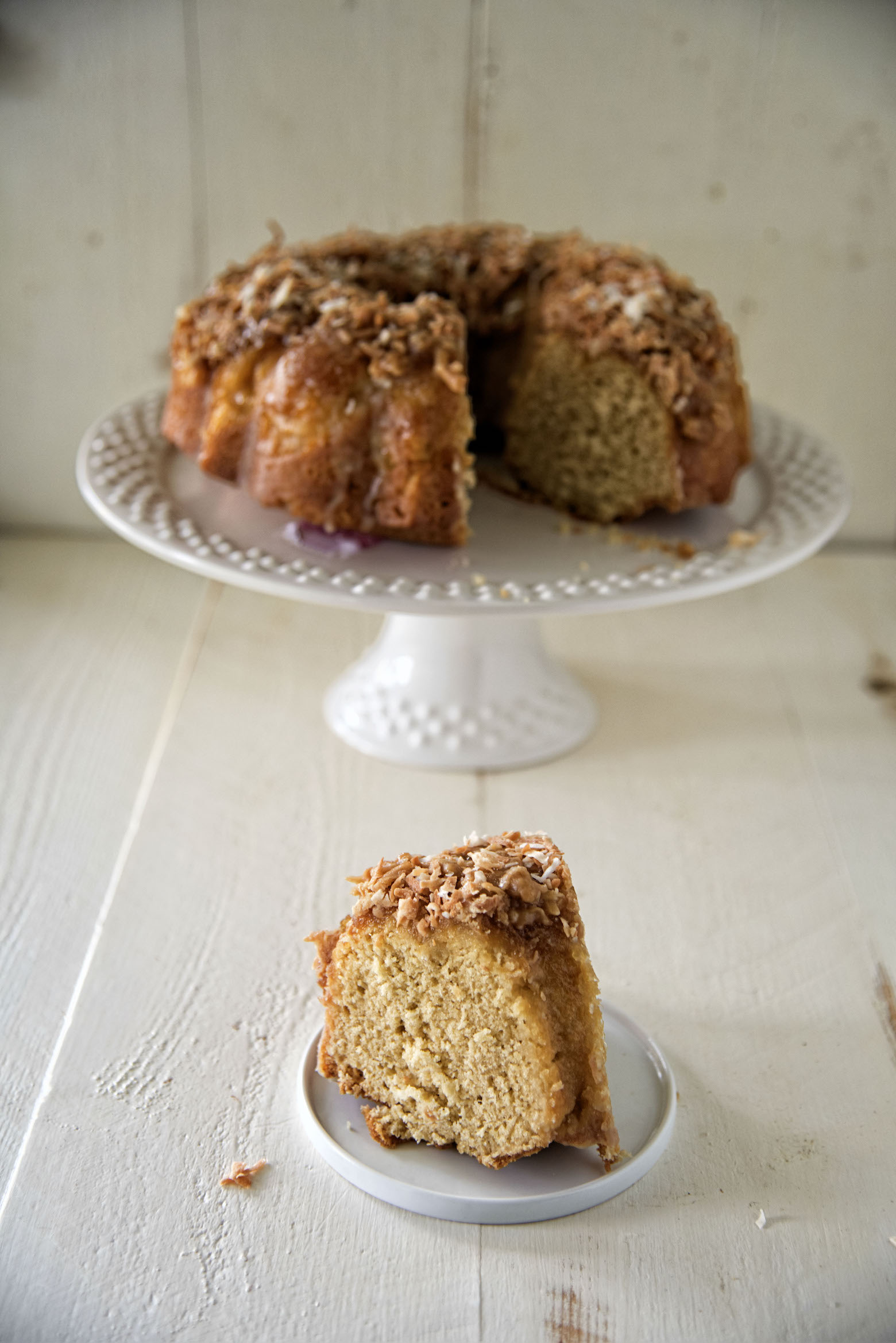 What is crazy is how very opinionated people are about how we eat.
On the Internet I search for recipes just like you all do when you come here.
Vegans are in two separate categories.
Ethical and for health.
They don't like each other and they fight.
It's odd.
Vegetarians aren't doing enough according to the vegans.
Still eating dairy, eggs, and honey.
One woman informed me because I eat honey from the guy down the street (because local honey is super helpful for allergies) that I was a bee raper.
I've been called a lot things in my life but bee raper was a new one.
Being allergic to bees I'm quite sure I have never been close enough to a bee to actually rape one…I try really hard to be nowhere near them in fact.
Paleo people freak out and say you have to have meat to survive.
Ketogenic people freak out and tell you that you are all stupid and nutritionist and doctors know nothing and they know it all.
They are as bad as the Vegans to be honest.
Here's the deal.
I don't care.
I do not care how you eat or why.
This Caramel Rum Pina Colada Bundt Cake is another reason I am flexitarian.
Most baked goods are vegetarian in nature…though not when I throw bacon in them. 🙂
I made this cake for the party I mentioned. It had a tiki theme and so I went with a tiki themed dessert.
Man this cake was good.
I love pineapple upside down cake and this kind of starts off that way.
Then a rum glaze.
And then this toasted coconut caramel sauce that I was like oh yeah, this I why I still will eat butter and heavy cream.
So go make this cake and go and live your life and I will go on living mine.
You know….raping bees.
P.S. It's a great day to buy my cookbook Holy Sweet!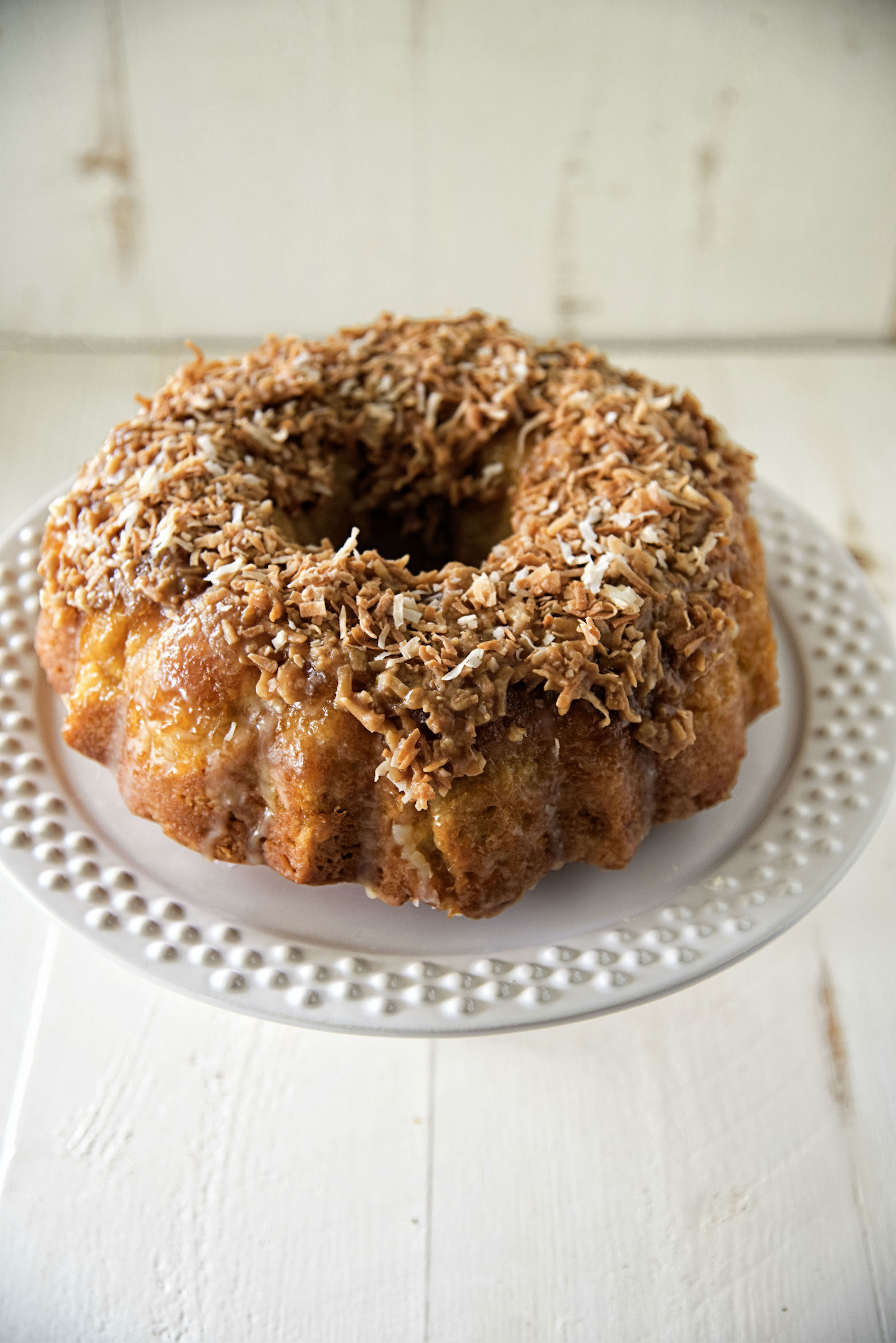 Want More Cake Recipes?
Bourbon Brown Butter Chocolate Chip Cake
Strawberry Lemonade Bundt Cake
Whiskey Glazed Apple Buttermilk Pound Cake
Ingredients
Cake:
For the Top:
3 TBSP unsalted butter, melted
2/3 cup brown sugar, packed
12 oz. crushed pineapple, drained
For the batter:
1 cup unsalted butter, at room temperature
1 cup granulated sugar
1 cup brown sugar, packed
3 large eggs
2 egg yolks
1/2 tsp. Vanilla extract
1/2 tsp. Coconut extract
3/4 cup full fat buttermilk
3 cups all-purpose flour
1/2 tsp. Baking soda
1/2 tsp. Baking powder
1/2 tsp. Salt
3/4 cup unsweetened coconut flakes, finely ground
Rum Glaze:
4 TBSP unsalted butter
1/4 cup pineapple juice
1/4 cup spiced dark rum
1/3 cup granulated sugar
For the Toasted Coconut Caramel Sauce:
1/2 cup butter
1 cup brown sugar, packed
1/3 cup heavy cream
2 TBSP rum
1 cup toasted coconut
Instructions
For the cake:
Preheat oven to 350 F.
Butter a bundt pan liberally using a pastry brush.
Sprinkle pan with brown sugar, then spread the pineapple over it evenly. Set aside.
In a medium bowl, sift together flour, baking powder, baking soda,  and salt. Set aside.
In the bowl of a stand-mixer fitted with a paddle attachment, beat together butter and sugars, slowly increasing the speed to medium and beating about 5 minutes, until light and fluffy.
In a small bowl, beat together the eggs, egg yolks, and extracts.
Drizzle mixture into the creamed butter, scraping the sides as needed.
Once the eggs are completely incorporated (it should resemble moist icing), gently mix in ⅓ of the flour mixture, then half of the buttermilk.
Repeat a second time.
Add the remaining flour and stir until just combined.
Fold in the coconut.
Spoon the batter into the prepared bundt pan (it will be very thick).
Bake for 45-60 minutes until a skewer inserted in the center comes out clean.
Let completely cool before glazing.
For the Glaze:
Combine the sugar, butter, and ¼ cup pineapple juice in a small saucepan and place over medium heat.
Stir until the sugar melts, about 5 minutes.
Remove the pan from the heat and whisk in the rum.
Brush the syrup over the surface of the cooled cake liberally using a pastry brush.
For the Toasted Coconut Caramel Sauce:
Combine the butter, cream, and brown sugar together in a small saucepan over high heat.
Bring to a boil, stirring the mixture to dissolve the sugar (about 2 minutes).
Remove from heat and whisk in the rum. Let cool, then whisk in the toasted coconut.
Spoon the glaze over the top of the cake. For stronger rum flavor, allow cake to rest overnight under a covered dome.