This Caramel Apple Walnut Tart is filled with dried apples and walnuts and of course caramel all poured into a shortbread crust.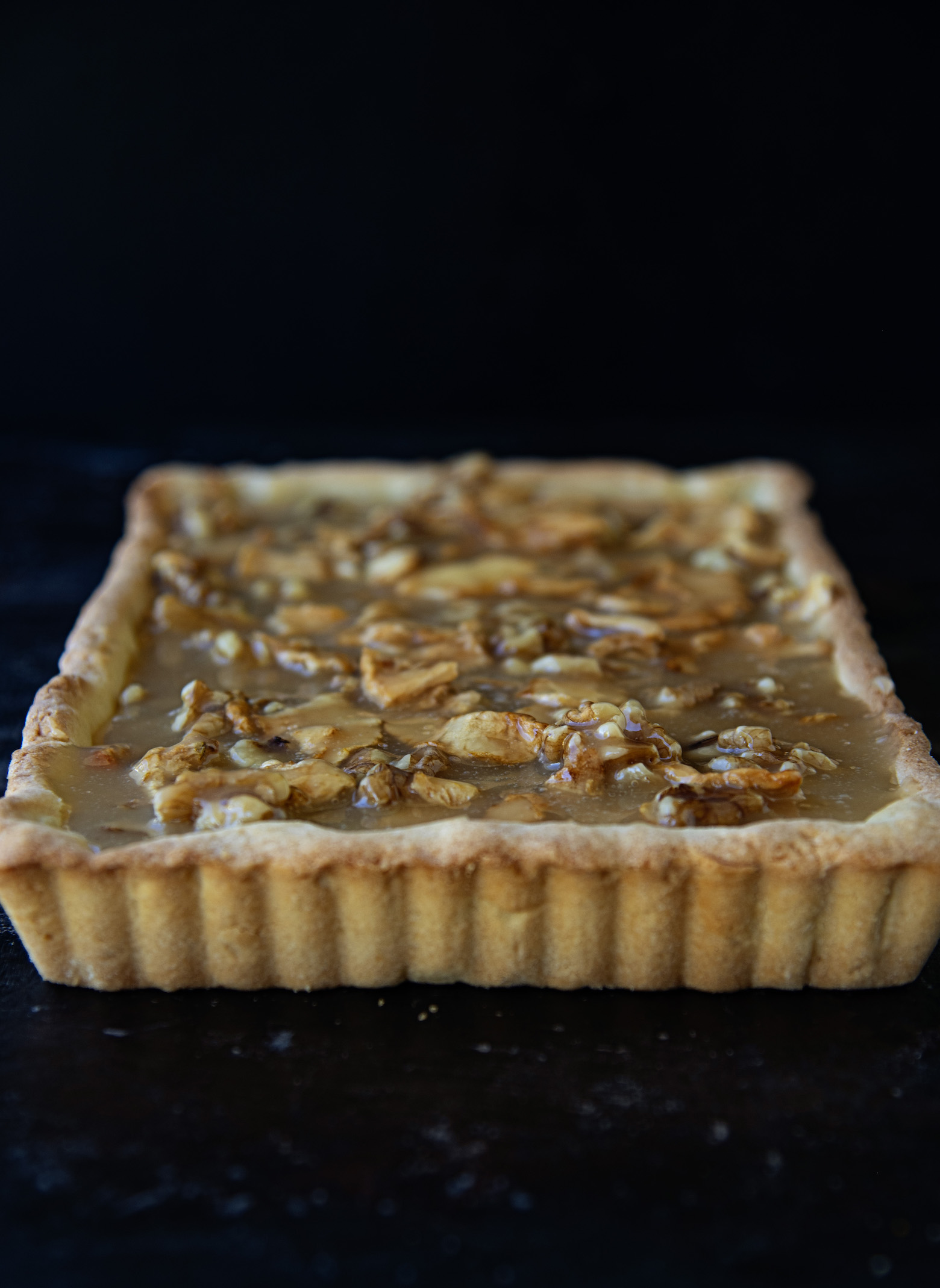 I figure a caramel apple post is the perfect time to talk about the dentist.
Since many a person has pulled out a tooth eating a caramel apple. 🙂
Now I am dental phobic.
How phobic?
I have to be sedated to even get in the building.
Partially because of childhood dental trauma.
And partially because I'm genetically screwed when it comes to my teeth.
My mom and dad are a perfect example of how genetics play a part in your teeth.
Mom was always the super brusher and mega floss queen.
She carried dental floss everywhere with her and embarrassed us so by dragging it out.
Yet, no matter how obsessed she was with all her dental stuff she constantly had issues no matter what.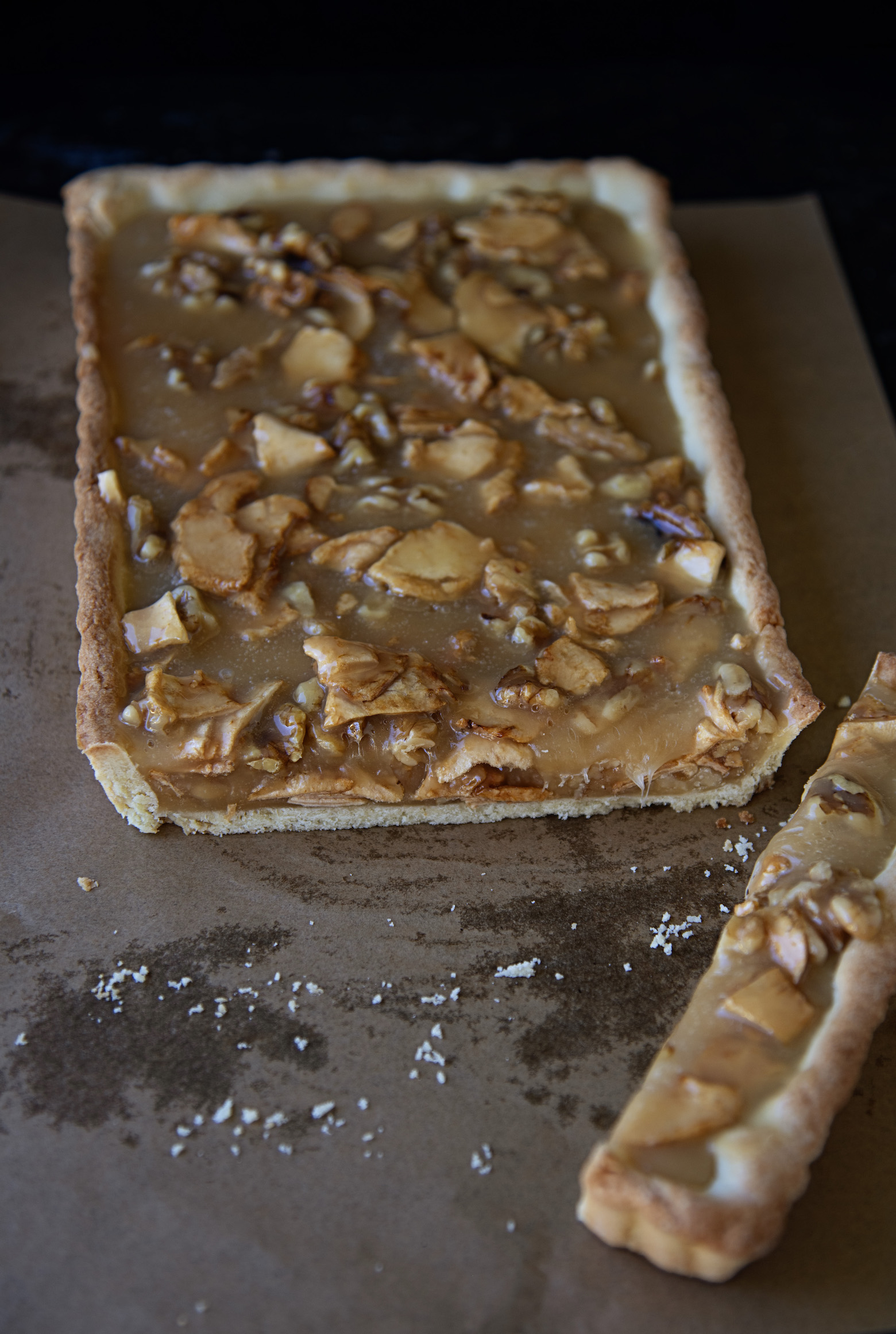 Then there was my dad.
He could not have brushed his teeth for 10 years straight and still have no tartar or cavities.
My mom and him would go to the dentist and she would get lectured at for not taking care of her teeth.
As where my dad would get glowing reviews.
FYI- lecturing people won't help.
Everyone tells you how important your teeth are.
That it can lead to so many other health issues.
YET if you are lucky enough to even have dental insurance through your work it covers very little.
Most people get no more than $1,500 a year.
Our dentist tells us we have the best dental insurance available (we get $3,000 a year) and yet out of pocket cost are incredibly high.
Do you know how much a dental bridge implant is?
More than my car.
So if it's so vital it should become part of our regular health care coverage?
I think it's a question more people should be asking.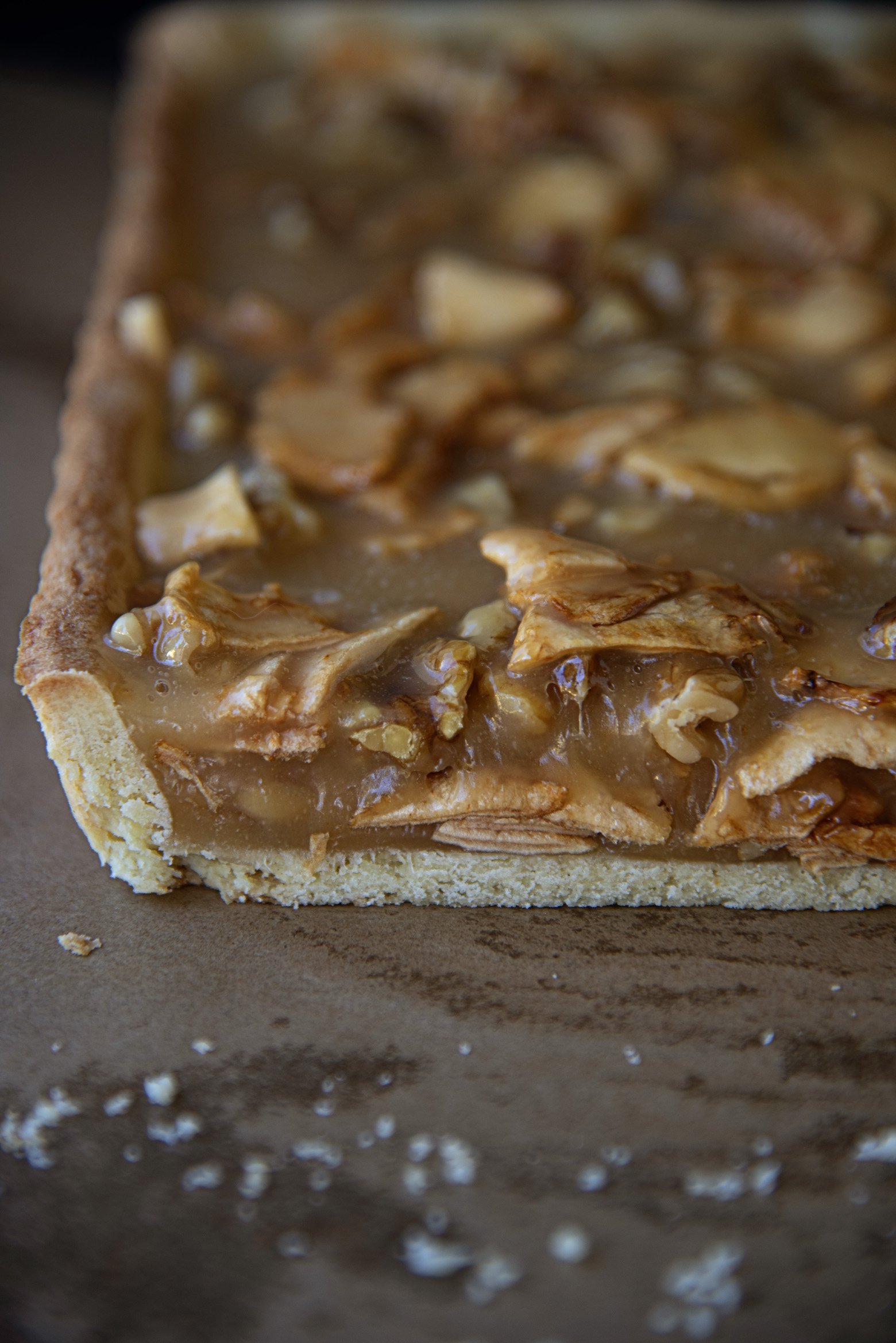 Which brings me to this Caramel Apple Walnut Tart.
Because it might be a dentist nightmare. 🙂
Not really.
The caramel isn't that sticky pull out your teeth kind you get at the fair.
But still has the flavors of it.
I made this tart several ways.
First trying with fresh apples which just caused the caramel to seize up.
I played with freeze dried and that make the caramel grainy.
So dried apples it was.
The crust is shortbread like.
I tried several different crust with this and it's the one I like the best.
Last but not least…it's a great time to order my cookbook. 😀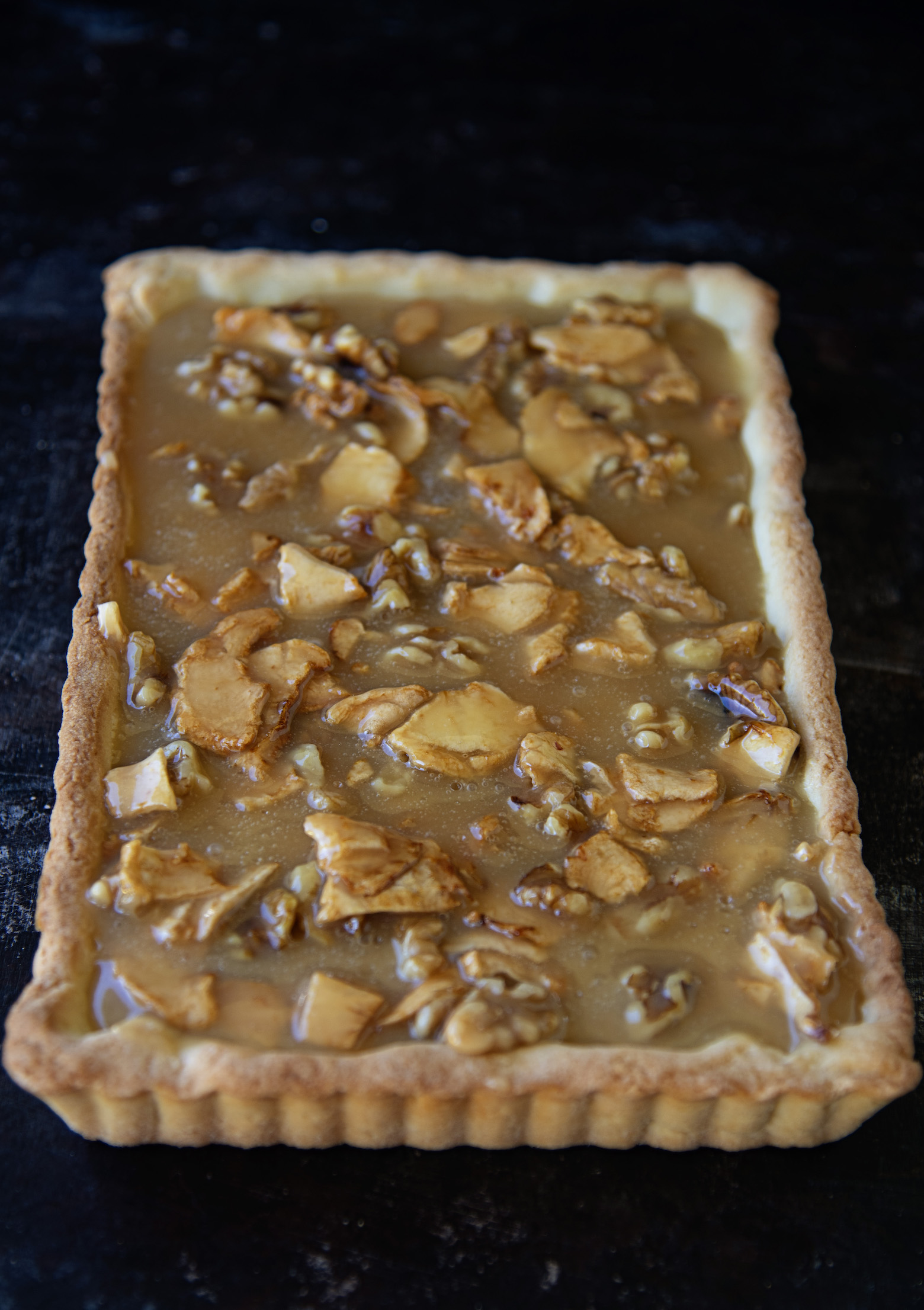 Want More Caramel Apple Recipes?
Salted Caramel Apple Fritter Bread
Caramel Apple White Chocolate Fudge
Salted Caramel Apple Sweet Rolls
Mini Caramel-Glazed Honey Crisp Apple Bread
Ingredients
Fro the Crust:
1 1/4 cups all-purpose flour
1/2 cup powdered sugar
1/4 tsp salt
1/2 cup cold butter, cut into small cubes
1 large egg
For the Filling:
2 cups granulated sugar
1/2 apple juice
1/2 cup heavy cream
1/2 cup light corn syrup
8 TBSP unsalted butter
1 1/2 cups dried unsweetened apples
1 1/2 cups walnuts
Instructions
For the Crust:
Process flour, sugar, and salt in a food processor for a few seconds until combined.
Add butter and pulse until mixture becomes crumbly and resembles coarse meal, about 15-20 pulses.
Add egg and keep pulsing until the dough is no longer dry and starts to clump together, about 10-15 seconds. Do not process to the point that a large ball of dough is formed; rather the dough should be quite crumbly with large clumps.
Turn dough to a lightly floured surface and form into a rectangle if using a square or rectangular tart pan or a ball if using a round.. It should come together easily without being sticky. Flatten dough slightly with your hands. Wrap with plastic wrap and refrigerate for at least 1 hour.
To roll out the dough: 
Take dough out of the fridge and let it sit on the counter for a few minutes to soften slightly for easy rolling.
On a lightly floured surface, roll the dough out into a 8-x-11-inch rectangle or 11-inch circle, then place gently into a 9-inch tart pan
With a sharp knife, trim the edges of the pastry to fit the tart pan.
Cover pan with plastic wrap and place in the freezer until firm, about 30 minutes. Frozen dough is less prone to shrinking while baking.
To bake the crust: Preheat oven to 375F and place rack in the center.
Press parchment paper or aluminum foil tightly against the crust, covering the edges to prevent them from burning.
Fill with pie weights/dried beans/uncooked rice, making sure they're fully distributed over the entire surface.
Bake crust for 20 minutes, until foil no longer sticks to the dough. Transfer crust to a wire rack and remove weights and foil.
Then place back into oven and bake for another 10 minutes or until golden brown.
Transfer to a wire rack and let cool completely.
For the Filling:
Place sugar, water, and corn syrup in a small skillet over medium heat.
Swirl pan lightly to mix.
Simmer mixture until it turns the color of iced tea, about 5 minutes.
Remove caramel from heat; stir in the butter.
Add cream; stir until caramel is smooth.
Add dried apples and walnuts and then pour caramel filling evenly into baked tart shell.
Allow tart to cool completely.
It's going to have a candy bar texture. You can cut it easily but the caramel will not run…will be more like the inside of a Snickers bar.