Caramel Apple Cracker Toffee: Easy to make toffee using salted crackers, brown sugar, butter, and freeze dried apple all topped with white chocolate and caramel pieces.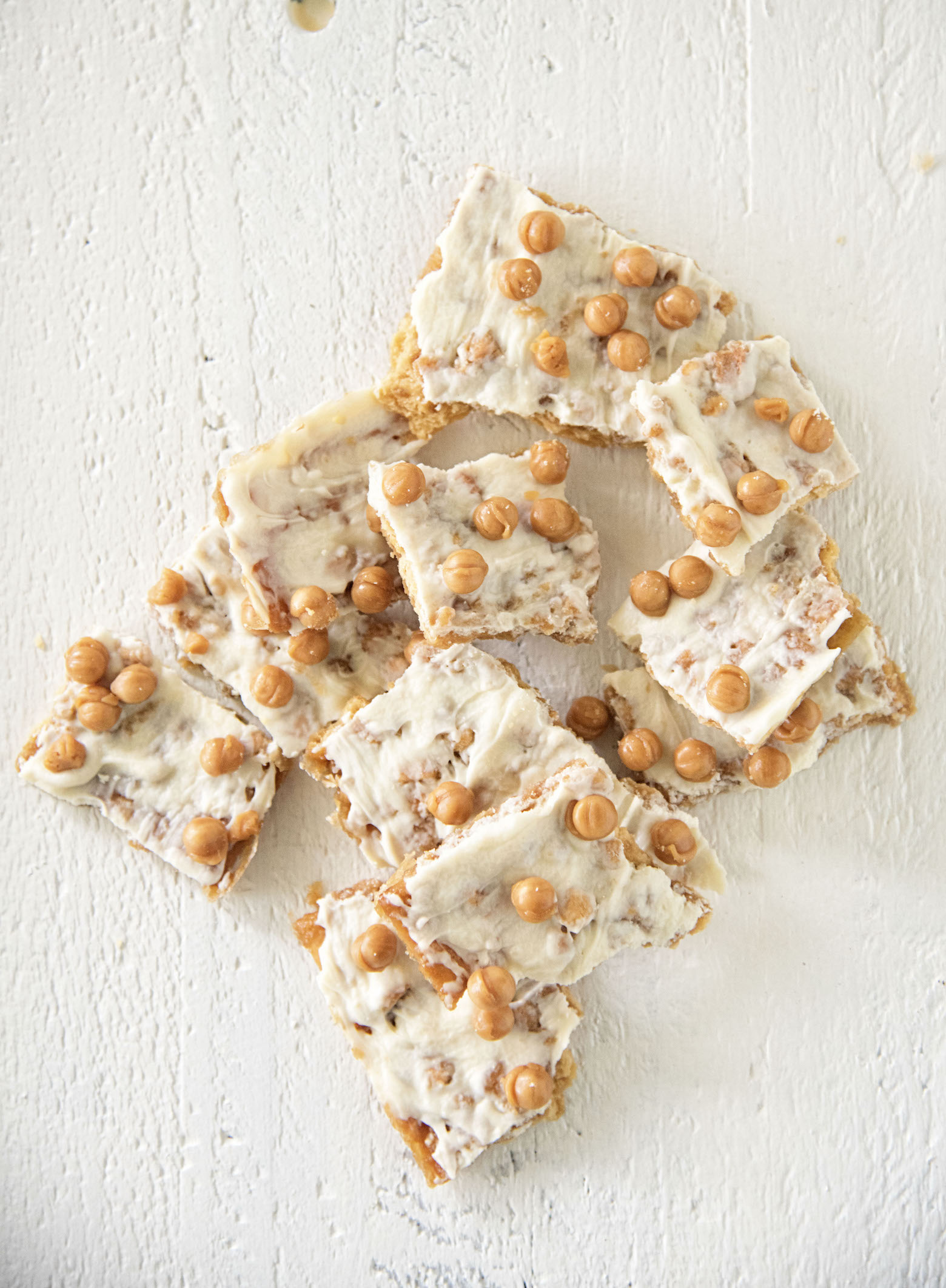 My parents had been asking me for awhile if I watch The Incredible Dr. Pol and I told them I did not.
Wasn't even sure we got that channel…we don't have cable, we do Hulu and Sling.
Turns out we do get it on Hulu.
Which works out nice for me since after visiting my parents and watching it there with them, I'm now addicted to the show.
I have learned a few things in watching it though.
Growing up I always wanted pygmy goats.
And now I want them again. 😀
Dr. Pol is awesome…but Dr. Emily is a badass.
She's my hero on that show.
I am glad I don't eat meat anymore after watching some of the farm stuff.
People on the show buy a lot of sick puppies from bad breeders.
It's very hard for me when a farm animal isn't going to make it and the farmer is like oh well I guess we eat it then.
I want Dr. Pol's energy.
Every time someone has to put their animal down I bawl my eyes out.
Horses are high maintenance.
Cows are beyond gassy.
You can learn a lot by sticking your arm up an animal's butt.
They care a lot about animals.
All animals.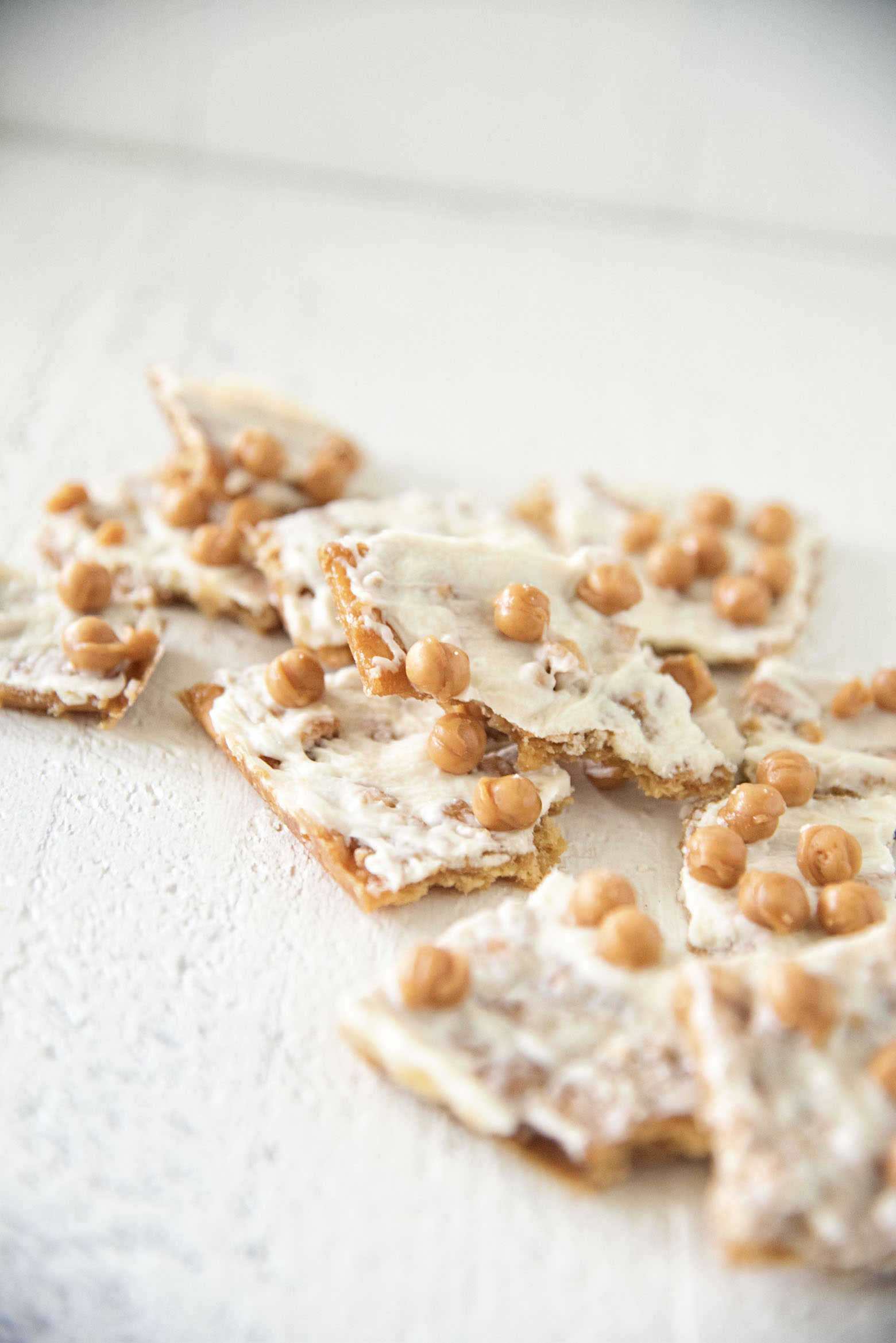 Whenever one of my animals is sick and we are at an Urgent Care or ER situation I usually follow up with a thank you tray of goodies.
One thing I usually have on there is cracker toffee.
Because everyone loves it and it's super easy to make.
I went with a fall themed flavor this time around making Caramel Apple Cracker Toffee.
Using freeze dried apples added to the brown sugar mixture.
These are dangerous.
I was eating so much of it last night I wasn't sure I would have any left to photograph.
You can find freeze dried apples at Trader Joe's and Target or you can buy them in bulk online here.
P.S. It's a great day to buy my cookbook Holy Sweet!
Want More Caramel Apple Recipes?
Salted Caramel Apple Fritter Bread
Caramel Apple White Chocolate Fudge
Salted Caramel Apple Sweet Rolls
Mini Caramel-Glazed Honey Crisp Apple Bread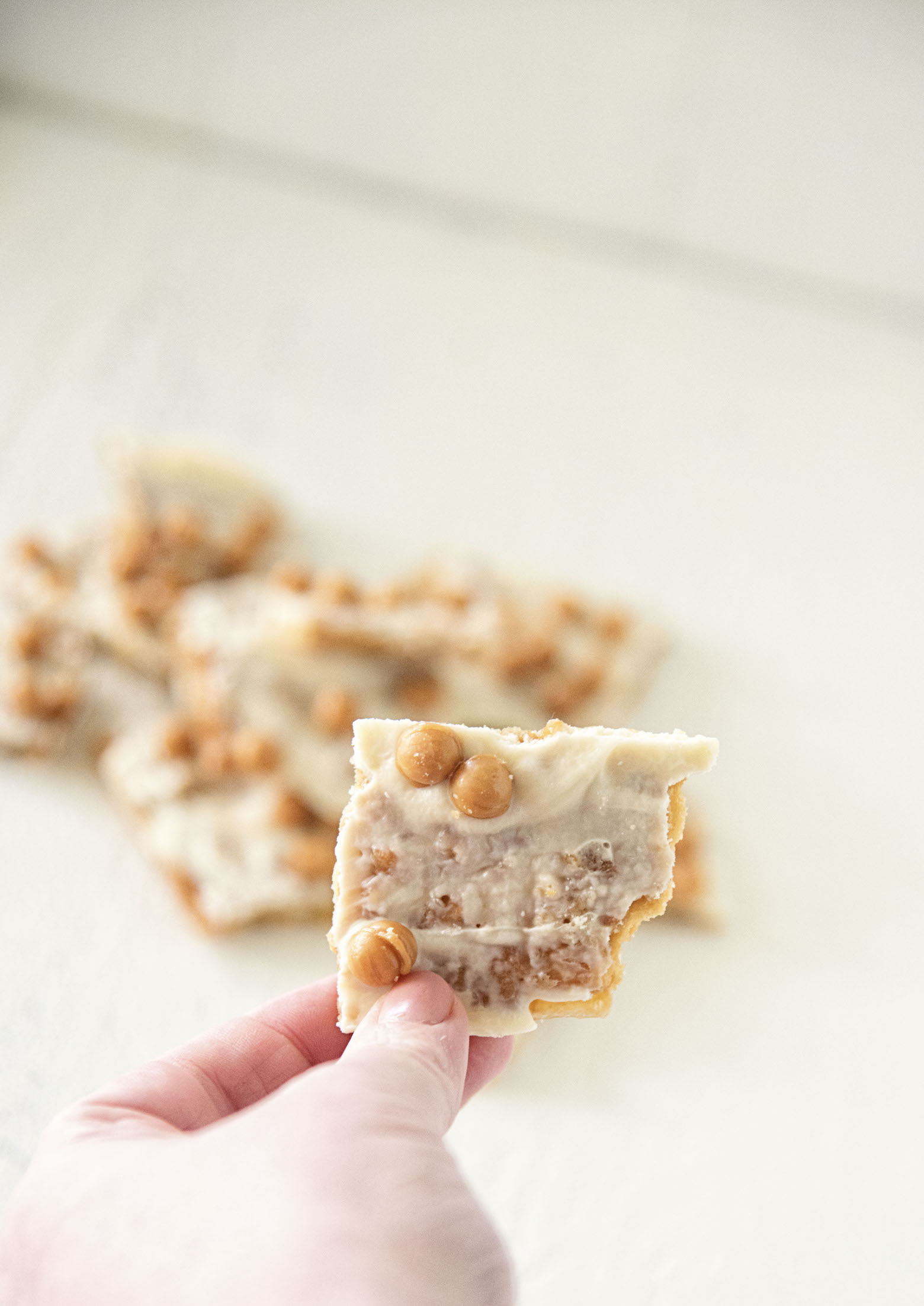 Ingredients
1 cup butter
1 cup brown sugar
Enough crackers to make a layer on a cookie sheet (I use Kebbler Club Crackers because they are buttery and rectangular), about 2 sleeves of crackers
1.25 0z (one bag) freeze dried apples (you can use Trader Joes or Target's Simply Balanced)
1 12-ounce bag of white chocolate chips
1 bag Caramel Bites
Instructions
Place freeze dried apples into a food processor and pulse until it forms a powder. Set aside.
Preheat oven to 350F.
Line a cookie sheet with foil(this is a must).
Bring the butter and brown sugar to a boil in a saucepan and simmer it for about 5 minutes.
Put a layer of crackers on the cookie sheet, close together.
Add the apple powder to the brown sugar mixture and mix until fully incorporated.
Pour the brown sugar/apple mixture over the crackers.
Spread as evenly as possible.
Bake for 6-10 minutes. I do the 10.
Remove and immediately pour the white chocolate chips over the crackers, evenly distributing them. Let sit for about 30 seconds.
Then with the back of a spatula I move the white chocolate chips just a little bit. I wait another 30 seconds and repeat.
Start to slowly move the chocolate around being careful not to move the crackers.
I let is sit for another 30 seconds and at this point it pretty much spreads like frosting.
It still gets messy…it's fine.
Top with caramel bite pieces.
Firm up in fridge for about 30 minutes and then break into pieces.