This Caramel Apple Cinnamon Roll Cake is filled with caramel glazed fresh apple and topped with a cinnamon topping and glaze.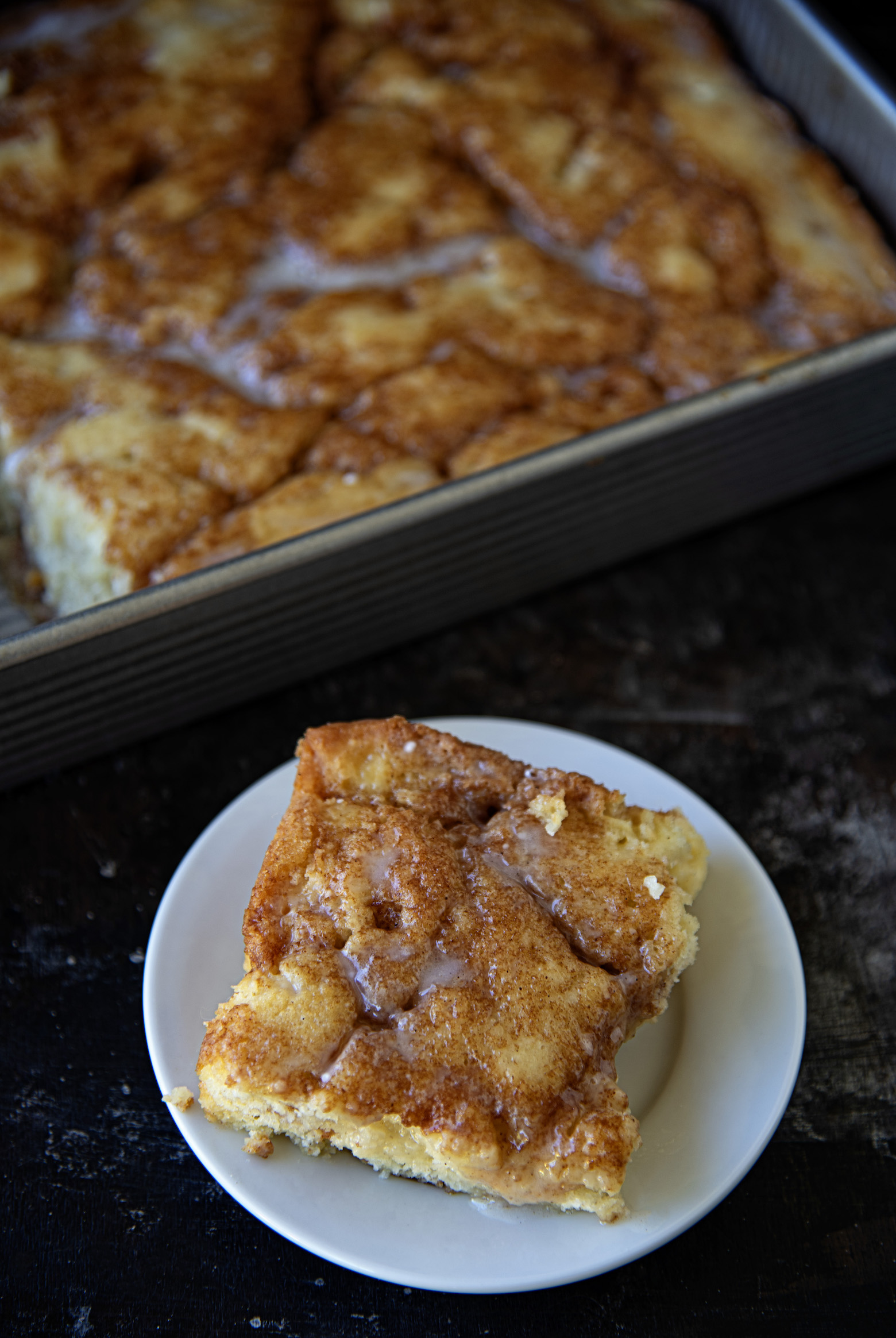 Earlier last week before we knew exactly when our dog Mickey would be crossing over the bridge, I had made an appointment to pick apples.
That sounds odd but our friend's farm does it that way and we appreciate it.
Less interaction with people which we prefer given today's circumstances.
While we have an overloaded apple tree in our backyard the apples it's producing this year are lackluster to say the least.
My husband said they tasted like apple skin and water.
Not exactly what you want in a pie. 🙂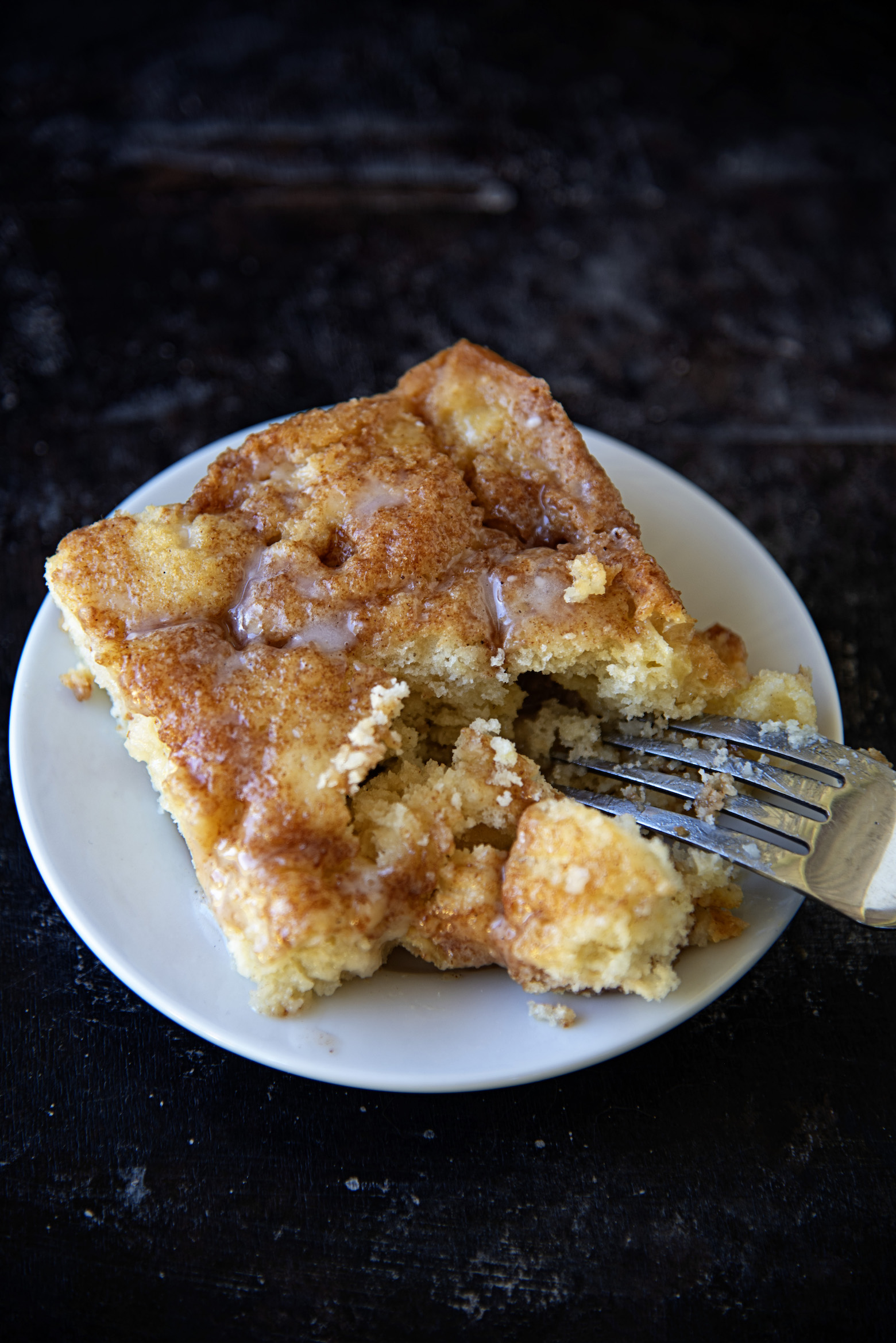 Our appointment was for Saturday morning and we said goodbye to Mickey early Friday night.
I thought about cancelling.
Puffy red eyes and a mask don't make that great of a look.
But we had cooler temps with some gray skies and I figured the fresh air would do me some good.
What I love about the apples at this farm is that they varieties are usually ones you don't find in the store.
With the exception of Honeycrisp because everyone loves those. 😀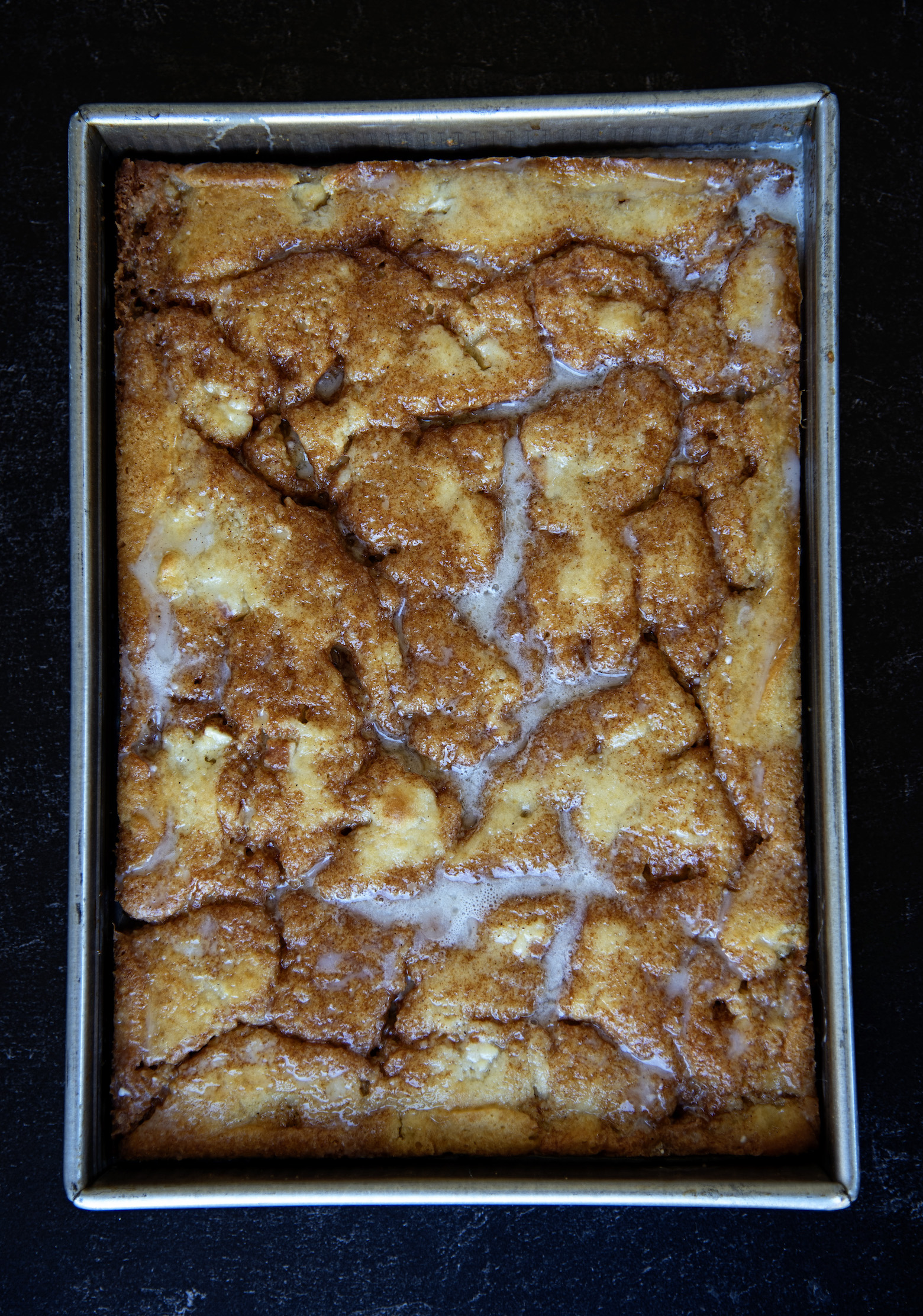 I loaded up my apple basket full to the rim.
My husband gave me the do you really need that many apples look.
He got the yes I do my dog just died look back.
And so we left with a ton of apples.
Which of course means apple recipes galore coming your way.
So get ready. 😀
It's still weird baking in the kitchen without him.
I had gotten used to just not being able to get into certain drawers or having to stretch as far as I could to get a bowl from a cabinet.
Could I have moved him?
Yes, but in the weeks following up he was just so tired and I didn't want to disturb him.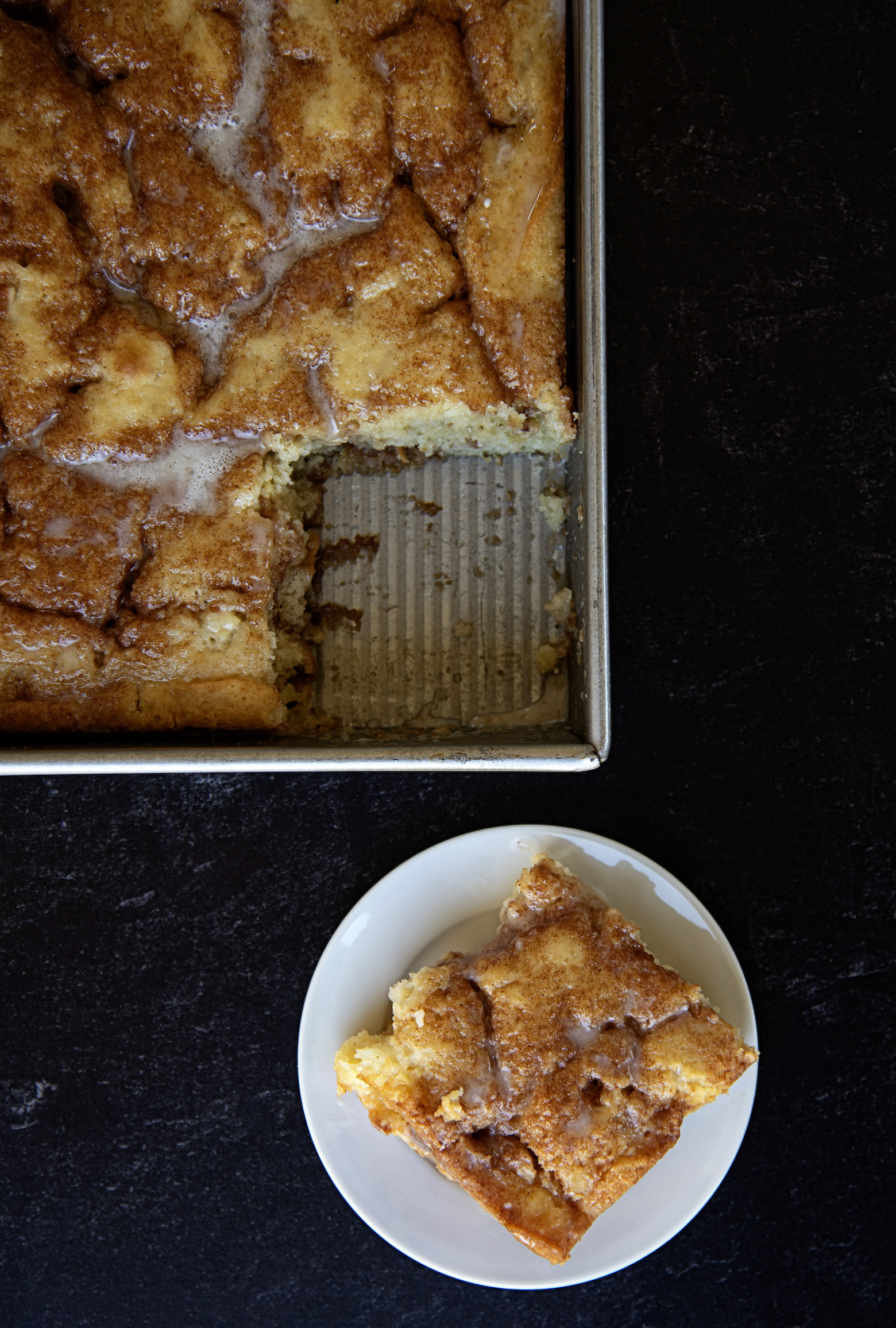 This Caramel Apple Cinnamon Roll Cake is pretty simple to make.
It has four steps but all four are pretty easy.
I just used store bought caramel sauce but if you would like to make your own feel free to go for that.
If you have apple picking in your area I suggest heading over and supporting a local farmer over getting your apples at the store.
Thanks to all those who have reached out with kind words about Mickey.
I know most of you know our dogs are our world.
Best thing you can do to help…is to buy my cookbook.
The more I sell the more treats for them. 😀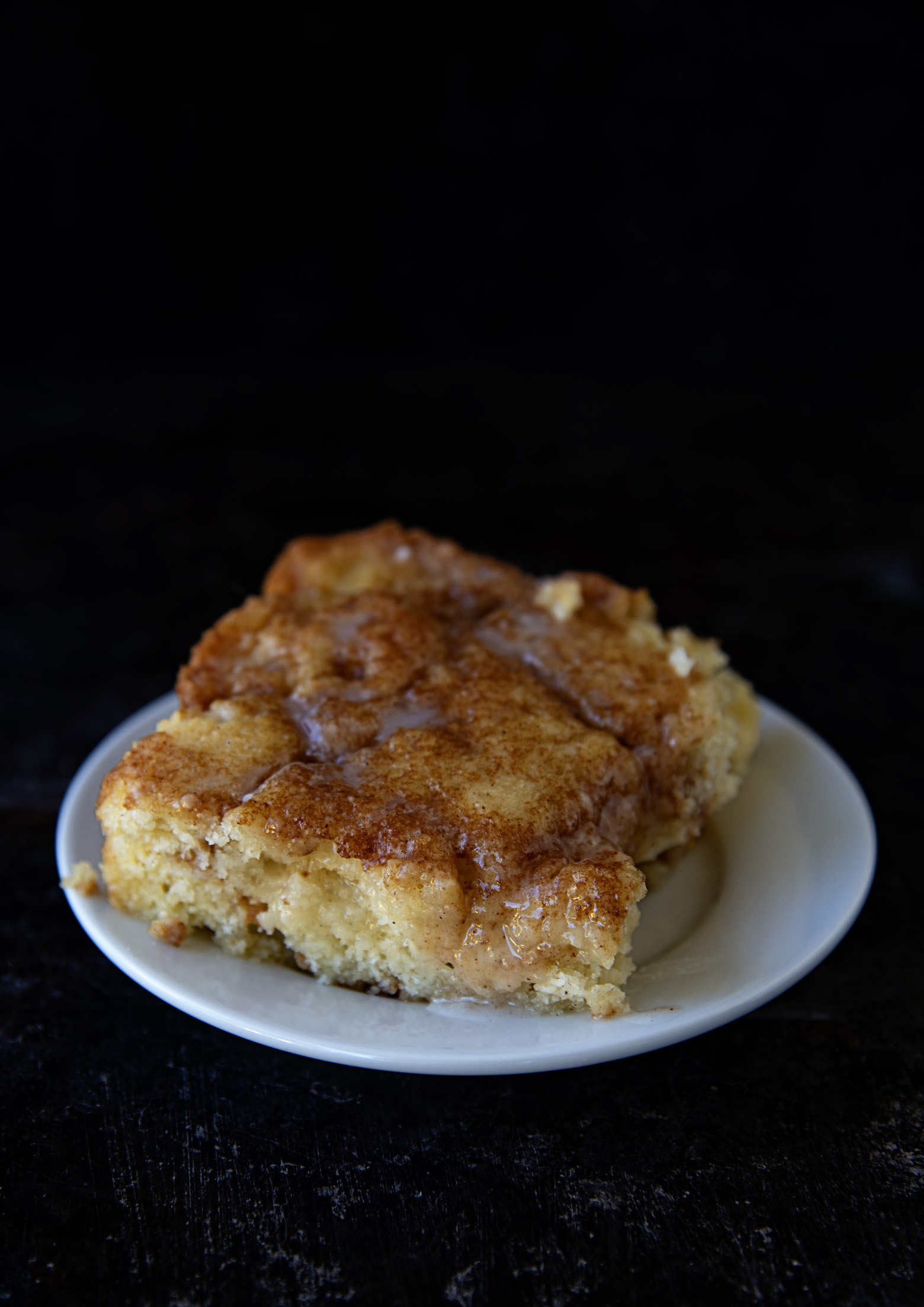 Want More Apple Recipes?
Salted Caramel Apple Sweet Rolls
Salted Caramel Apple Fritter Bread
Caramel Apple White Chocolate Fudge
Mini Caramel-Glazed Honey Crisp Apple Bread
Ingredients
For the Cake:
3 cups flour
1/4 tsp. salt
1 cup granulated sugar
4 tsp. baking powder
1 1/2 cups whole milk
2 tsp vanilla bean paste
2 Eggs
1/2 cup unsalted butter, melted
2 cups fresh apple, peeled and diced
1 cup caramel sauce
For the Topping:
1 cup unsalted butter, at room temperature
1 cup light brown sugar
2 TBSP flour
1 TBSP cinnamon
For the Glaze:
2 cups Powdered Sugar
1 tsp vanilla extract
4 TBSP apple cider
2 TBSP caramel sauce
Instructions
Using a stand mixer with the paddle attachment add the flour, salt, sugar, baking powder, milk, eggs, and vanilla bean seeds.
Once thoroughly combined, slowly stir in the melted butter.
Put apple pieces into a medium size bowl.
Heat caramel sauce for 30 seconds in microwave.
Pour over the apple pieces and mix until combined.
Fold caramel apple pieces into the batter.
Pour into the prepared 9×13 baking pan.
For the Topping:
In a large bowl mix the 1 cup unsalted butter, brown sugar, flour and cinnamon together until well combined and creamy.
Drop evenly over the batter by the spoonful and use a knife to marble/swirl through the cake. The cake batter will move around…that is fine.
Bake at 350 for 28-32 minutes or when a toothpick inserted near the center comes out nearly clean.
For the Glaze:
In a medium bowl, mix the powdered sugar, vanilla, apple cider, and caramel sauce together with a whisk.
Drizzle evenly over the warm cake.
Serve warm or at room temperature.