These Caramel Apple Cheesecake Cups are made with freeze dried apples and caramel bits and then covered in more caramel.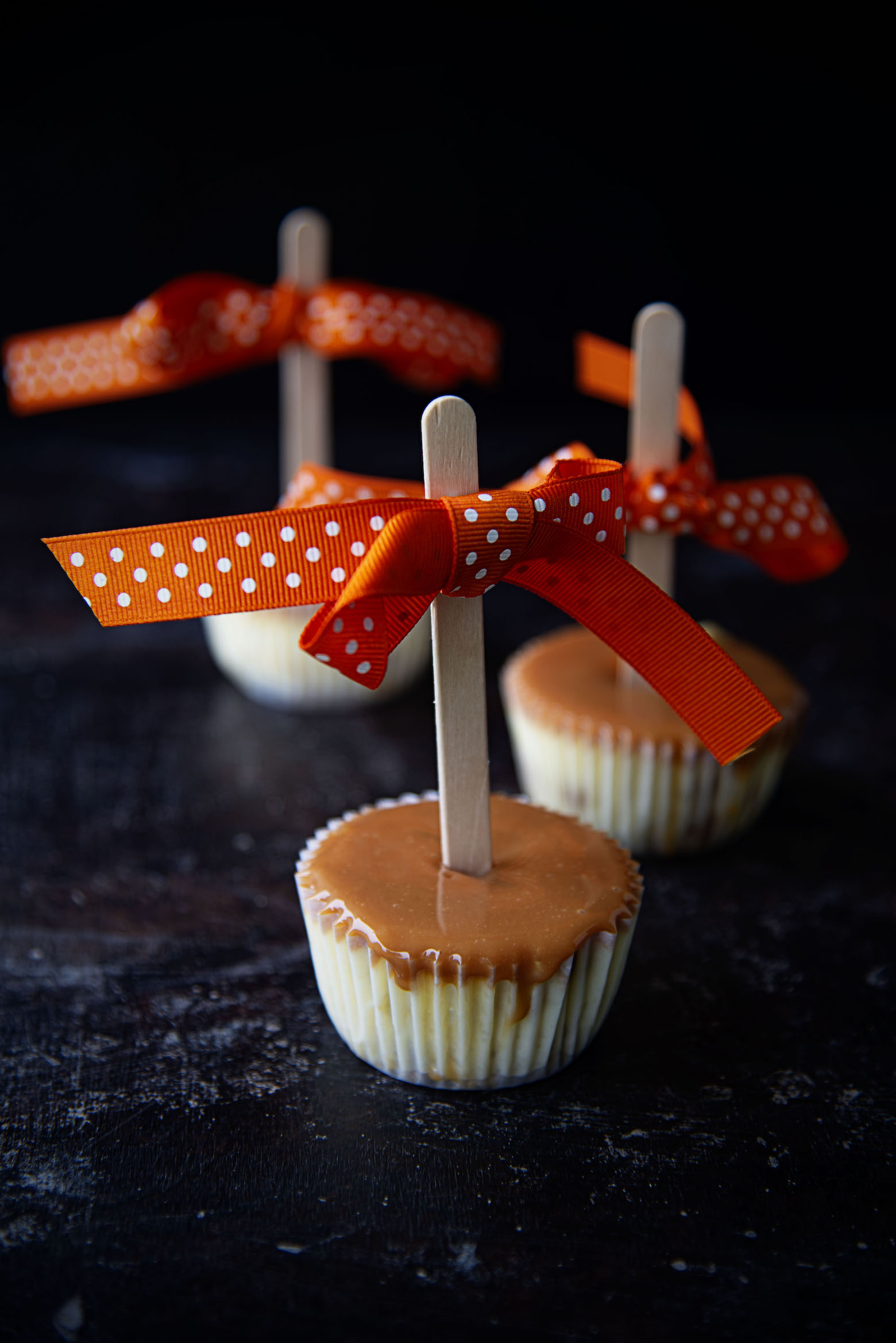 "This post and recipe was created for #HalloweenTreatsWeek!
I was sent samples by some of the sponsor companies but as always opinions are 100% mine."
Some people see caramel apples and don't think of Halloween right away.
But I do.
See growing up when you still had Halloween parties at school someone's mom always made caramel apples.
And I so look forward to that.
It was one of the things my mom did not make.
We also stuck our head in large buckets of water filled with apples and went bobbing for them.
I did not look forward to that. 😀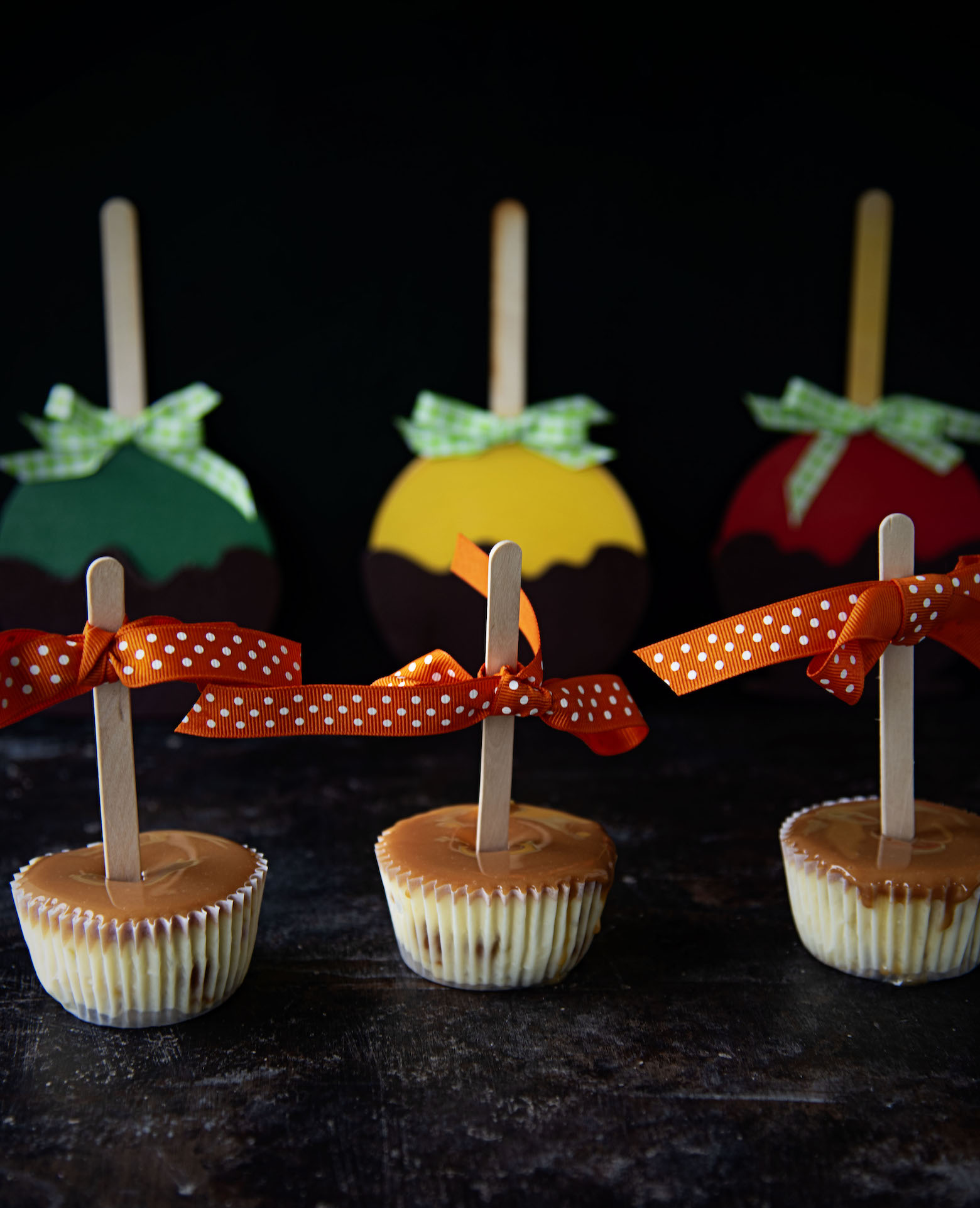 Then a giant razor blade in caramel apples (and then candy later on) scare happened and all the caramel apples went away.
And it sucked.
I'm old enough that caramel apples (homemade) and popcorn balls (homemade) used to be given out during Trick or Treating.
You thought nothing about eating them.
In fact, you looked forward to it.
We won't talk about the evil raisins and pennies that people handed out.
Or worse we had a dentist on our route who gave out tooth brushes!!!
I would totally take one now though…they are great for scrubbing grout. 😀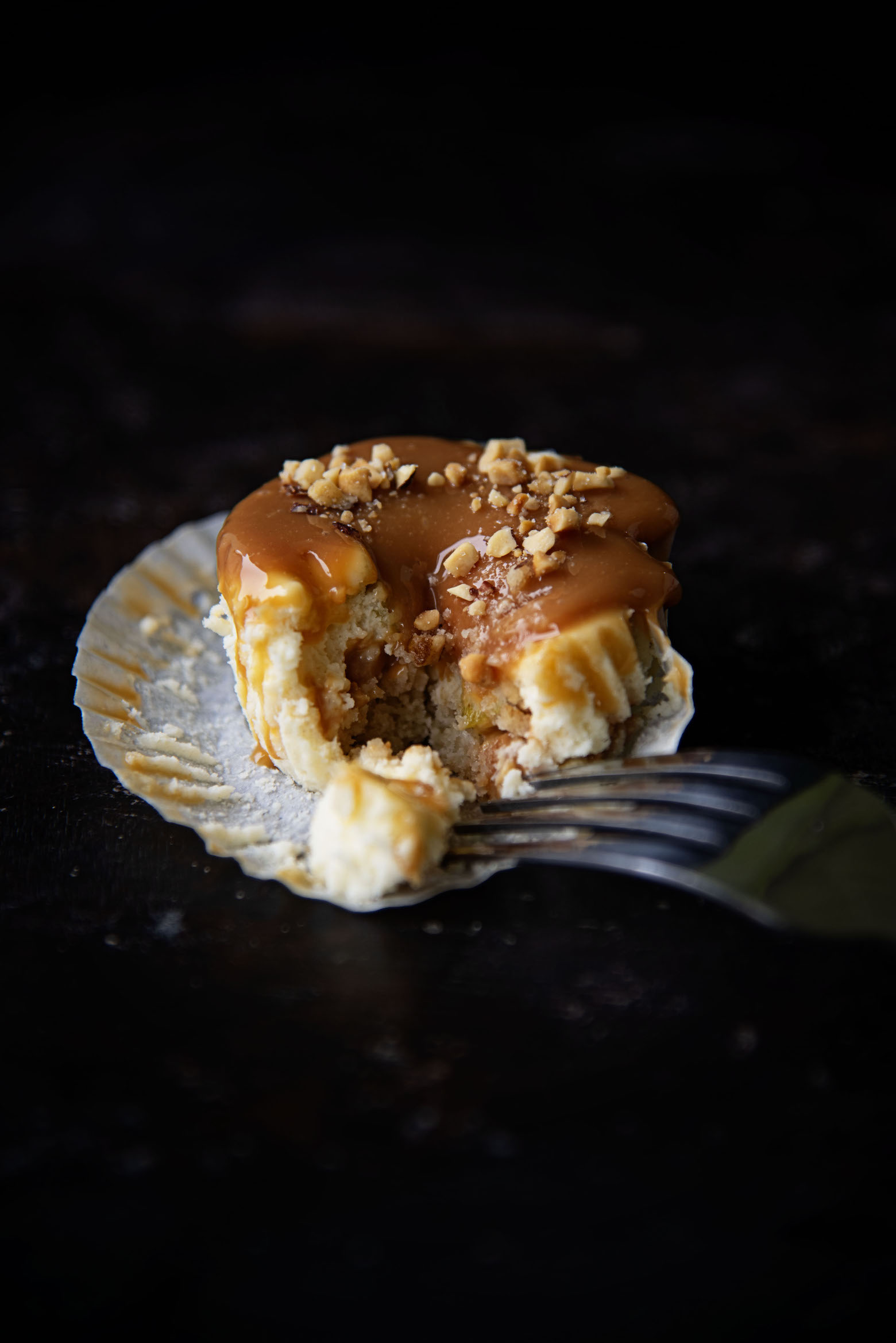 So these Caramel Apple Cheesecake Cups are my ode to the Halloween parties I had as a kid.
I would have totally loved these if someone's mom brought them.
They have Pecan Sandies cookies for a bottom mostly because that was the only shortbread my store had.
And well, they go well with these.
But you can use a golden Oreo or shortbread as well.
I did have to trim to cookie to fit into the muffin tin.
As for the filling it is basic cheesecake mixed with freeze dried apples and some Caramel Bits folded in.
Then topped with the type of caramel you find caramel apples dipped in to.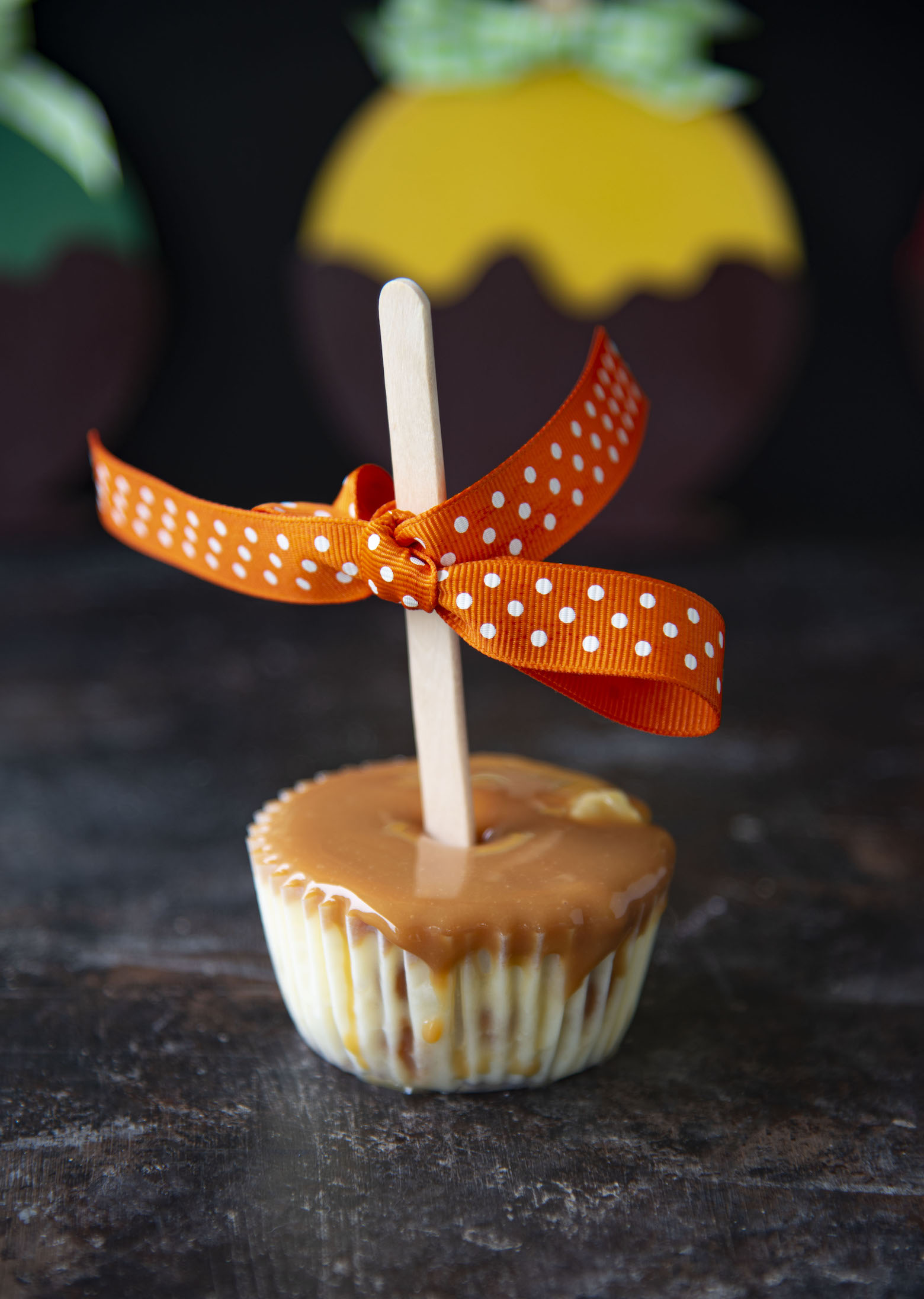 Take a look more spooky Halloween recipes from our #HalloweenTreatsWeek Bloggers today: 
Halloween Cookies & Bars:
Halloween Brownies:
Halloween Pies & Tarts:
Halloween Breakfast: 
Halloween Drinks:
Sweet Halloween Treats: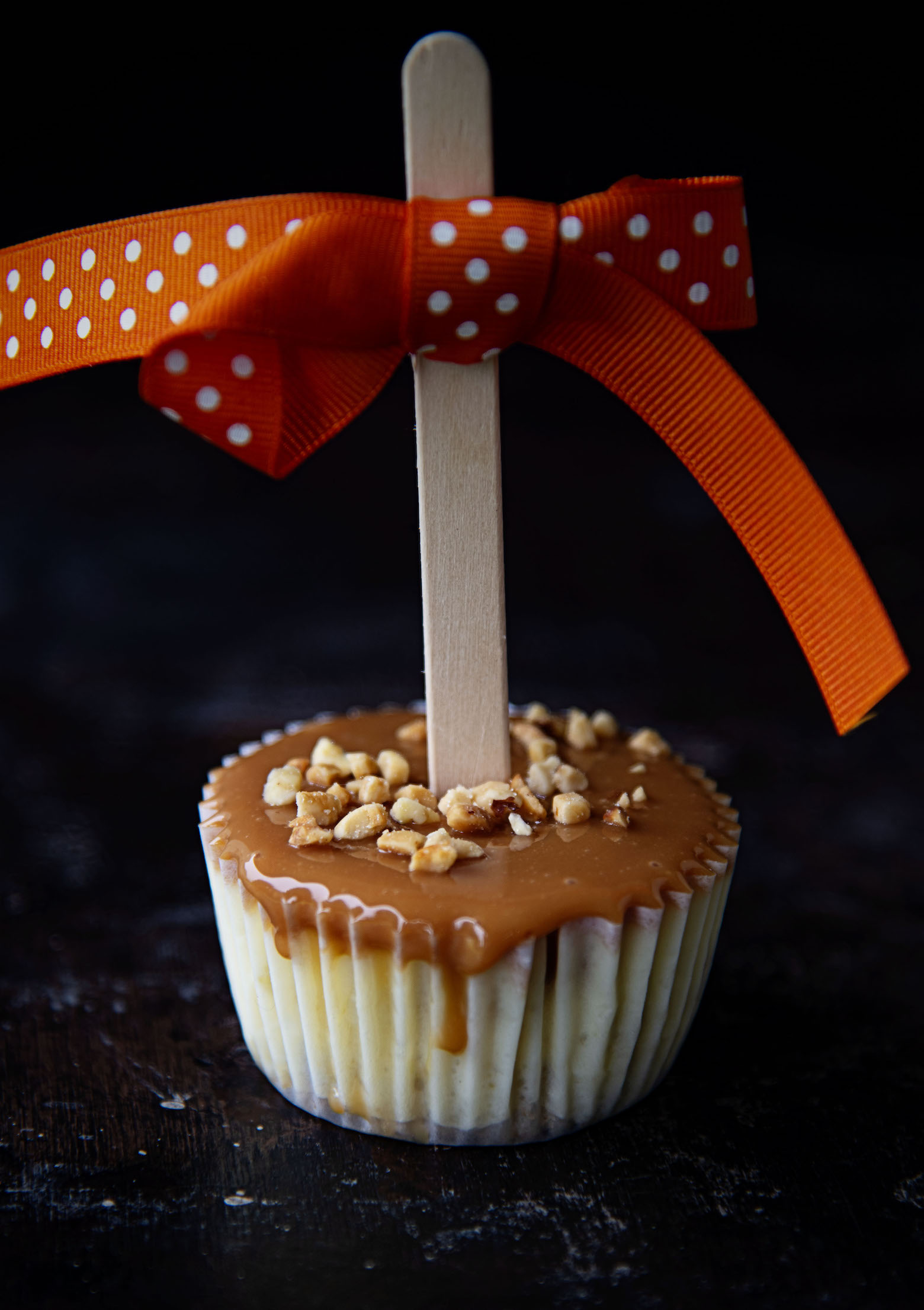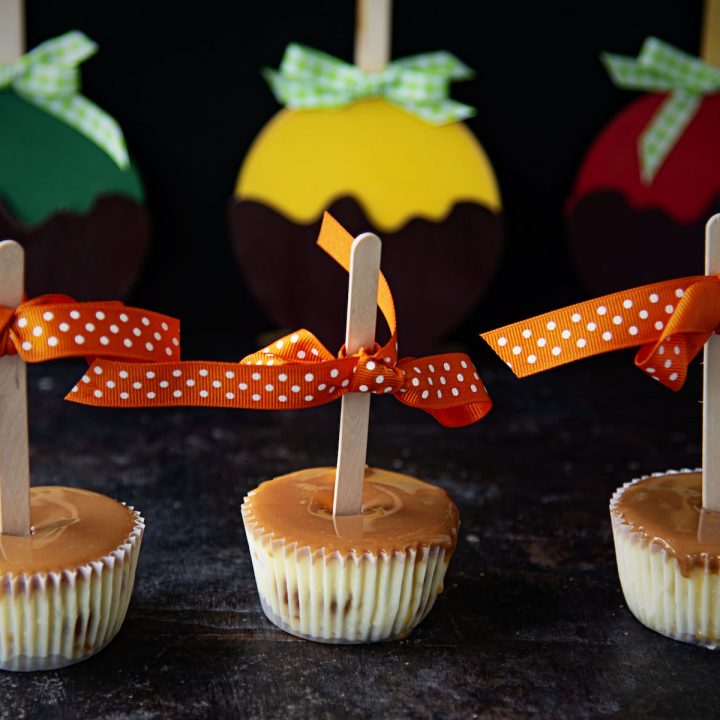 Yield:
12 cheesecake cups
Ingredients
For the Cheesecake Cups:
12 Pecan Sandies (I trimmed mine to fit in the muffin tin)
16 ounces cream cheese, at room temperature
½ cup granulated sugar
2 eggs
1/2 tsp. vanilla extract
½ cup sour cream
2.5 oz freeze dried apples, roughly crushed
1 cup Kraft Caramel Bits
1 TBSP flour
For the Caramel Topping:
11 oz Kraft Caramel Bits
2 TBSP water
Instructions
For the Cheesecake Cups:
Preheat oven to 275F.
Line muffin tin with cupcake liners (preferably white).
Place a Pecan Sandy (I had to trim mine with a knife a little to fit) at the bottom of each cupcake. Set aside.
Using a stand mixer, beat cream cheese and sugar on medium-high speed for about 5 minutes.
Add eggs, one at a time, beating for about 1 minutes. Scrape down the bowl after each addition.
Add in the extract and mix until fully combined.
Add the sour cream and beat until incorporated.
Mix in the freeze dried apple pieces.
In a medium sized bowl toss together the 1 cup of Caramel Bits and the 1 TBSP flour until the bits are coated with flour.
Fold in the flour covered Caramel Bits.
Fill cheesecake batter until the top of the cup.
Bake for 22 minutes, rotating half way through.
Remove from oven and let cool to room temperature.
For the Caramel Topping:
In a medium saucepan over medium-low heat melt the Caramel Bits and water until the mixture becomes smooth.
Spoon caramel over the top of each cheesecake cup.
Chill in fridge in muffin tins for at least 4 hours or overnight.
Happy Halloween!
Spooky Season is here and it is time for 2020's #HalloweenTreatsWeek event! #HalloweenTreatsWeek is a yearly Halloween blogging event that is hosted by Angie from Big Bear's Wife  & its a creepy and haunting week-long event is filled with some amazingly wicked Halloween treats, recipes and some frightfully fun giveaways.
"When witches go riding, and black cats are seen, the moon laughs and whispers 'tis near Halloween."