This Caramel Apple Cake is a buttermilk based cake with a spiced apple filling and topped with a boiled caramel frosting.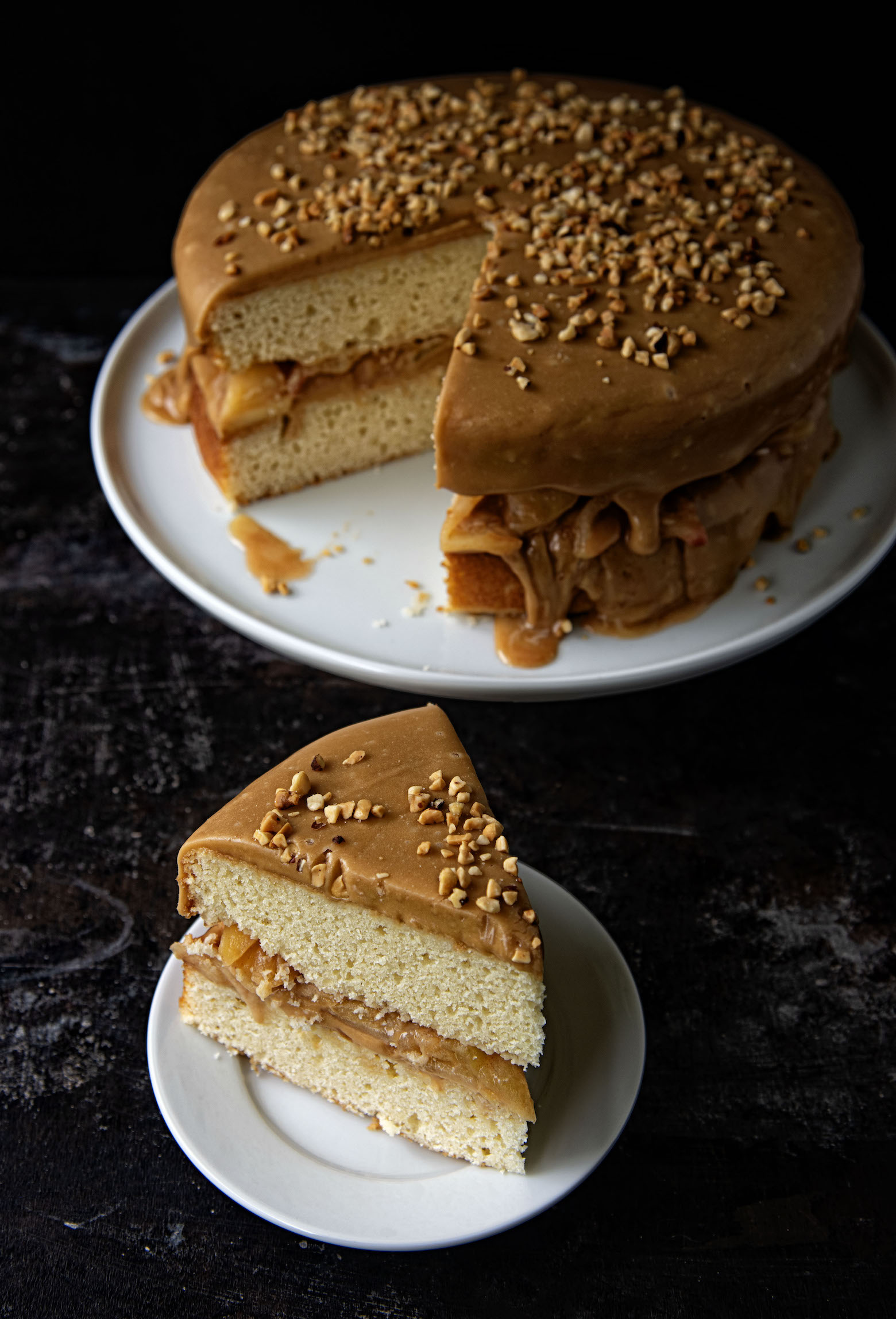 Just like everything else this year, Halloween will most likely look different.
It won't look that different for me because I don't have kids.
I dress up my dogs for Halloween but only for about two minutes to get photos for their Instagram account.
I live out in the sticks.
We don't have street lights or sidewalks.
So we don't get trick or treaters.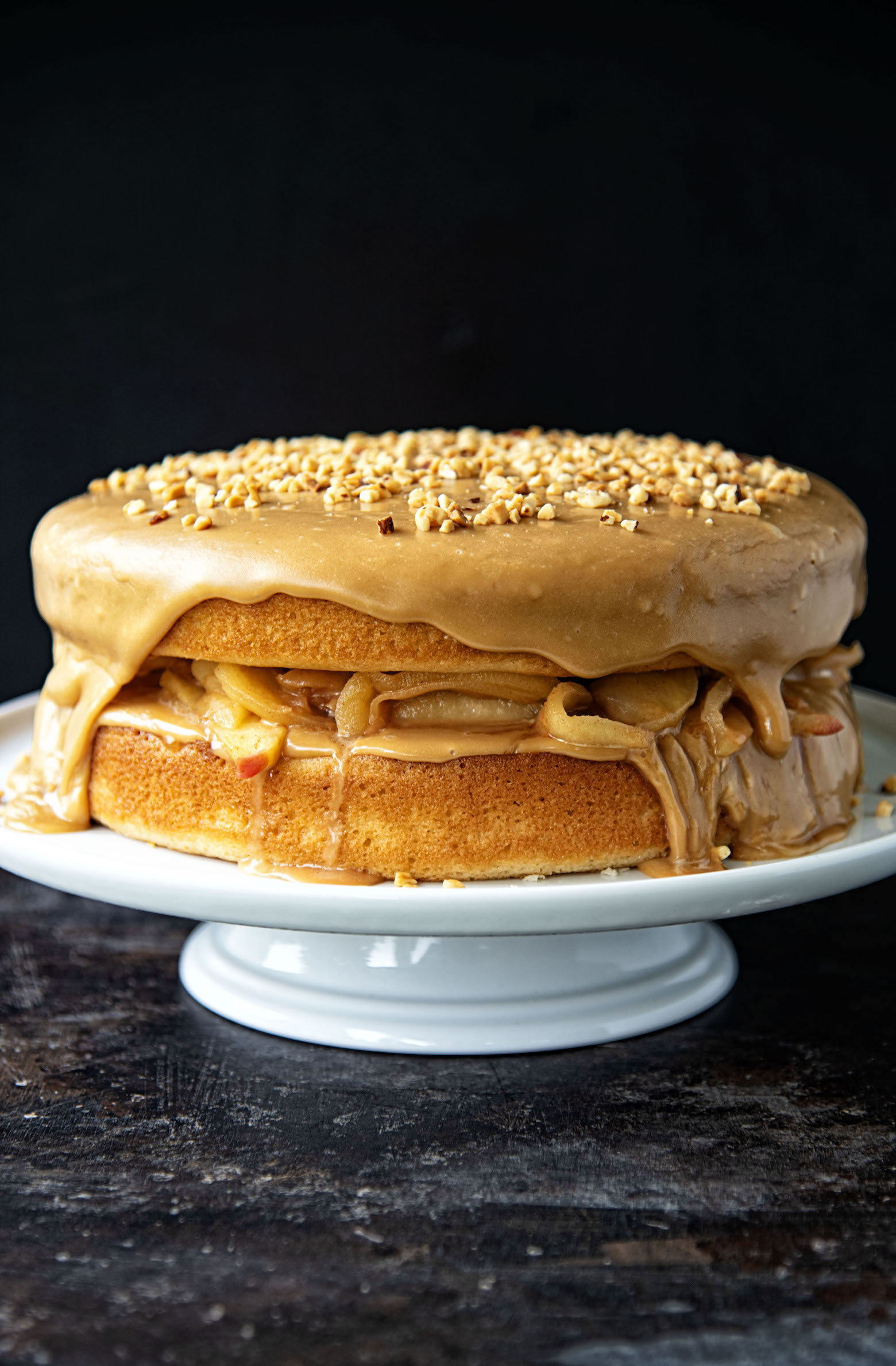 However, I still buy candy just in case 400 children plan on showing up.
Therefore other than it being obvious I'm buying Halloween candy for myself and not the hundreds of pretend children flocking to my house, things will be the same.
But I have plenty of friends trying to figure out how to make it special for their kids who would normally go out trick or treating.
The idea that I like the most and actually hope catches on is that of the Halloween Basket.
Similar to that of an Easter Basket.
There are so many pluses to this.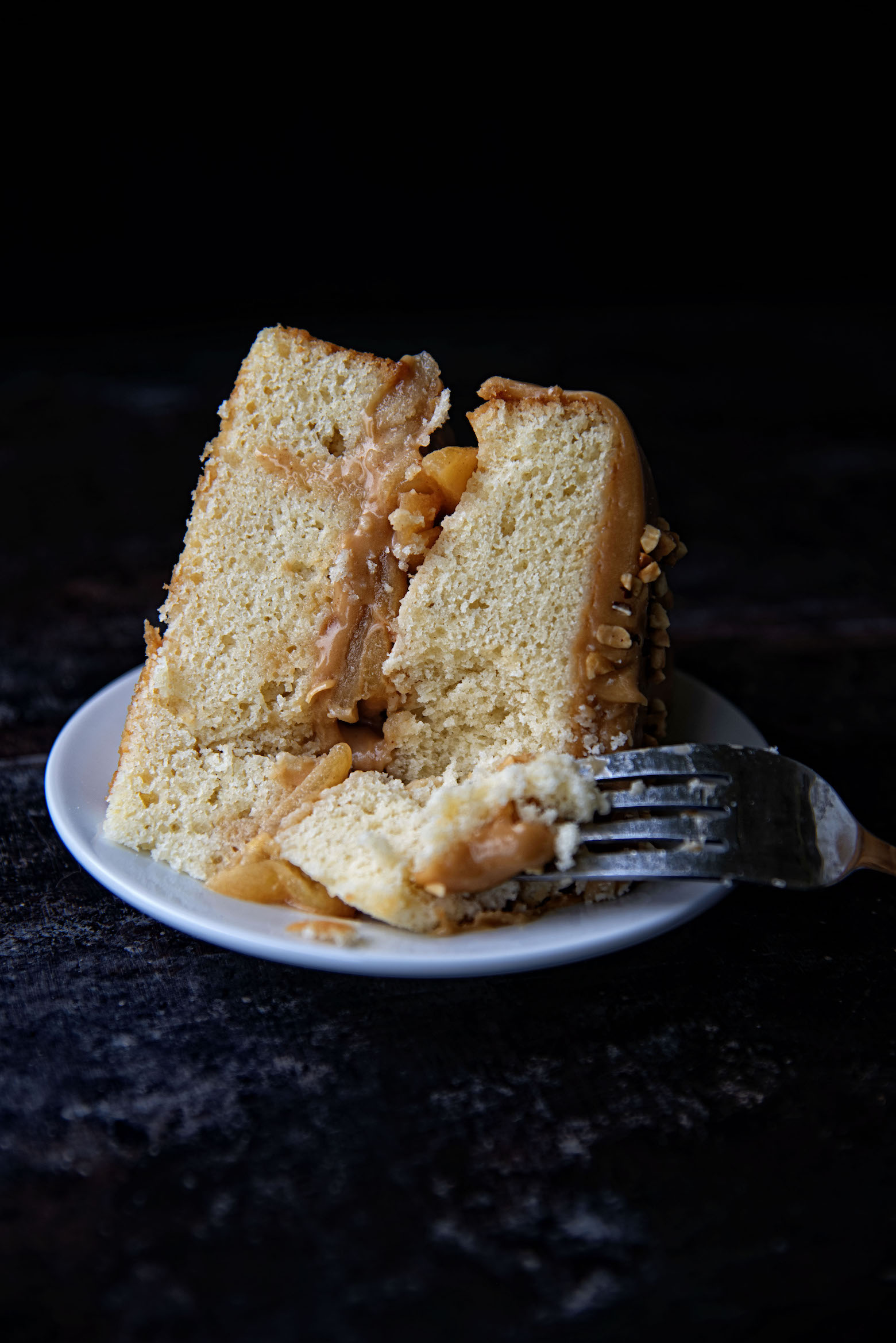 Your child can still wear their costume.
They don't however have to walk in the rain.
Or out in 35F weather.
Or if you were like me growing up in Arizona, sweating to death in your costume.
You won't have to hear them complain about how uncomfortable their costume is.
And you won't have to listen to them complain that their feet hurt or they are tired.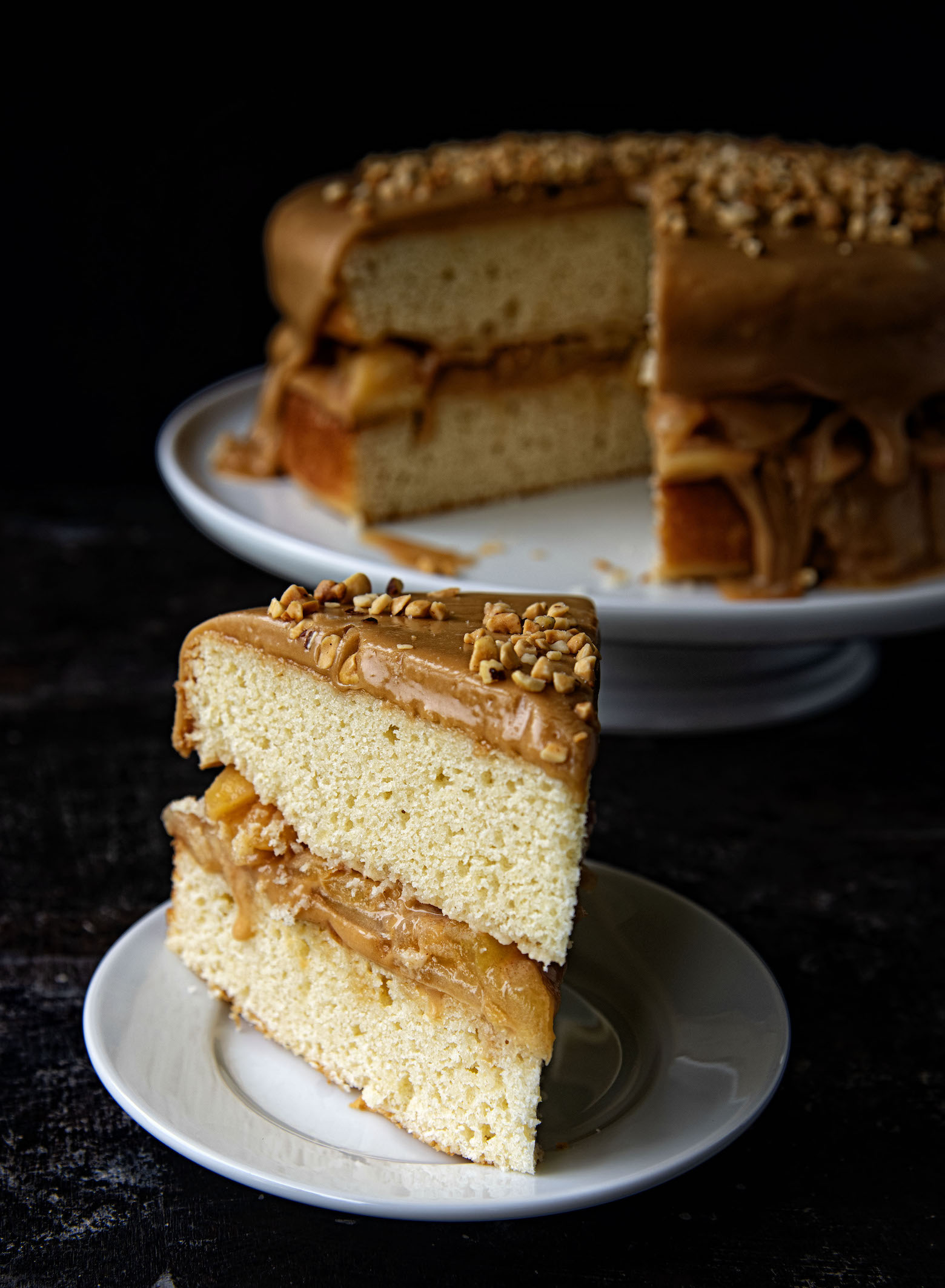 With the basket you are the one buying the candy.
So there will be no oh darn someone gave us raisins (those people are evil by the way).
If your child has peanut allergies you don't have to worry getting candy they shouldn't have.
You can be the cool house that has full size candy bars because you are only buying for one house. 🙂
Buy candy you want.
And even maybe candy your children want. 😛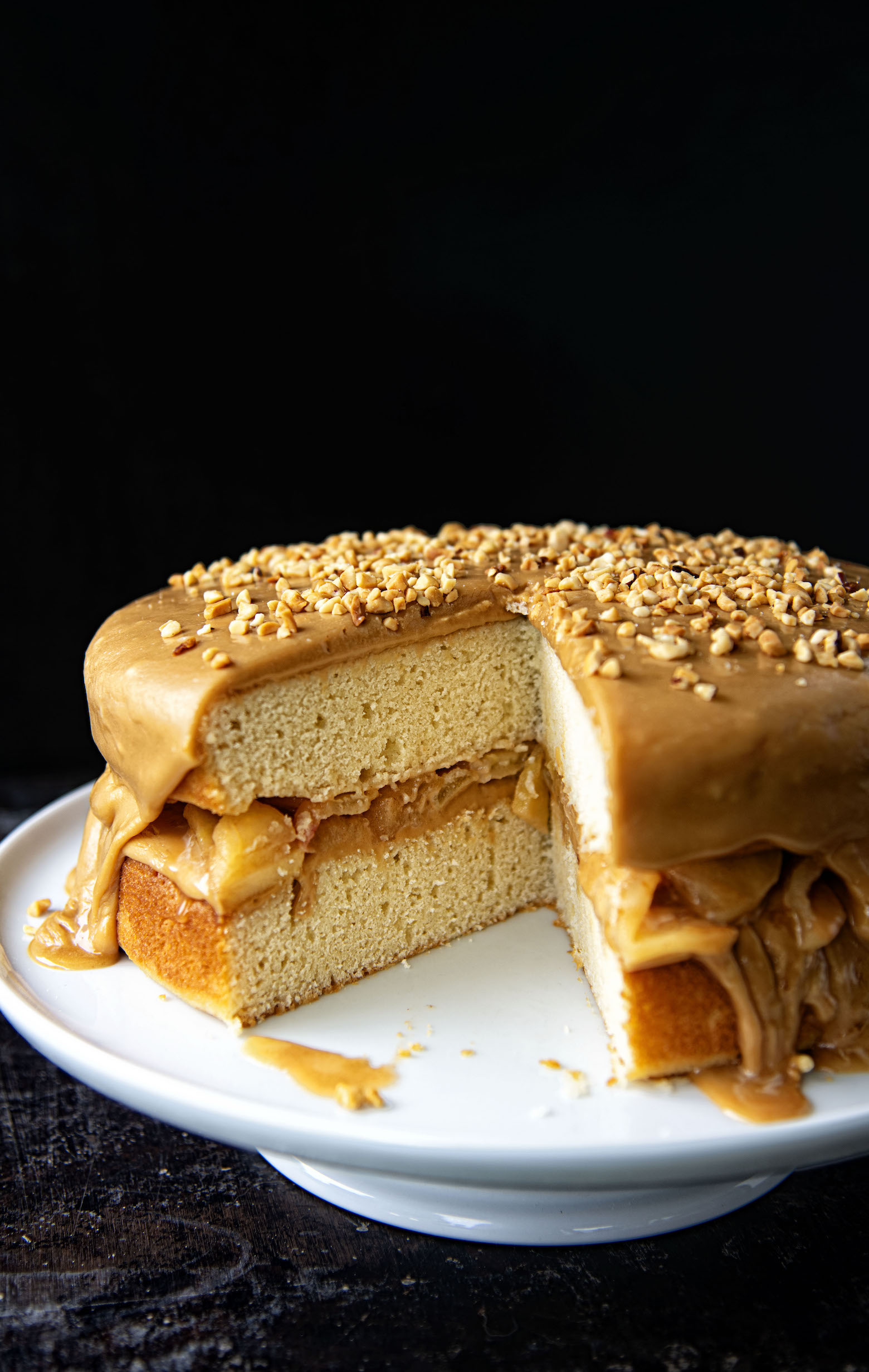 You can also have yourself a little family party and serve this Caramel Apple Cake.
A light and fluffy buttermilk cake.
With spiced apples in the middle.
Along with a yummy boiled caramel frosting.
Make sure to use full fat buttermilk for the frosting.
Also know that the frosting will be runny…it's supposed to be.
You are almost glazing it.
If you are not a fan of peanuts you can easily leave them off.
However, if you do use them you need to press them into the cake.
Otherwise they won't stay on.
P.S. It's a great day to buy my cookbook.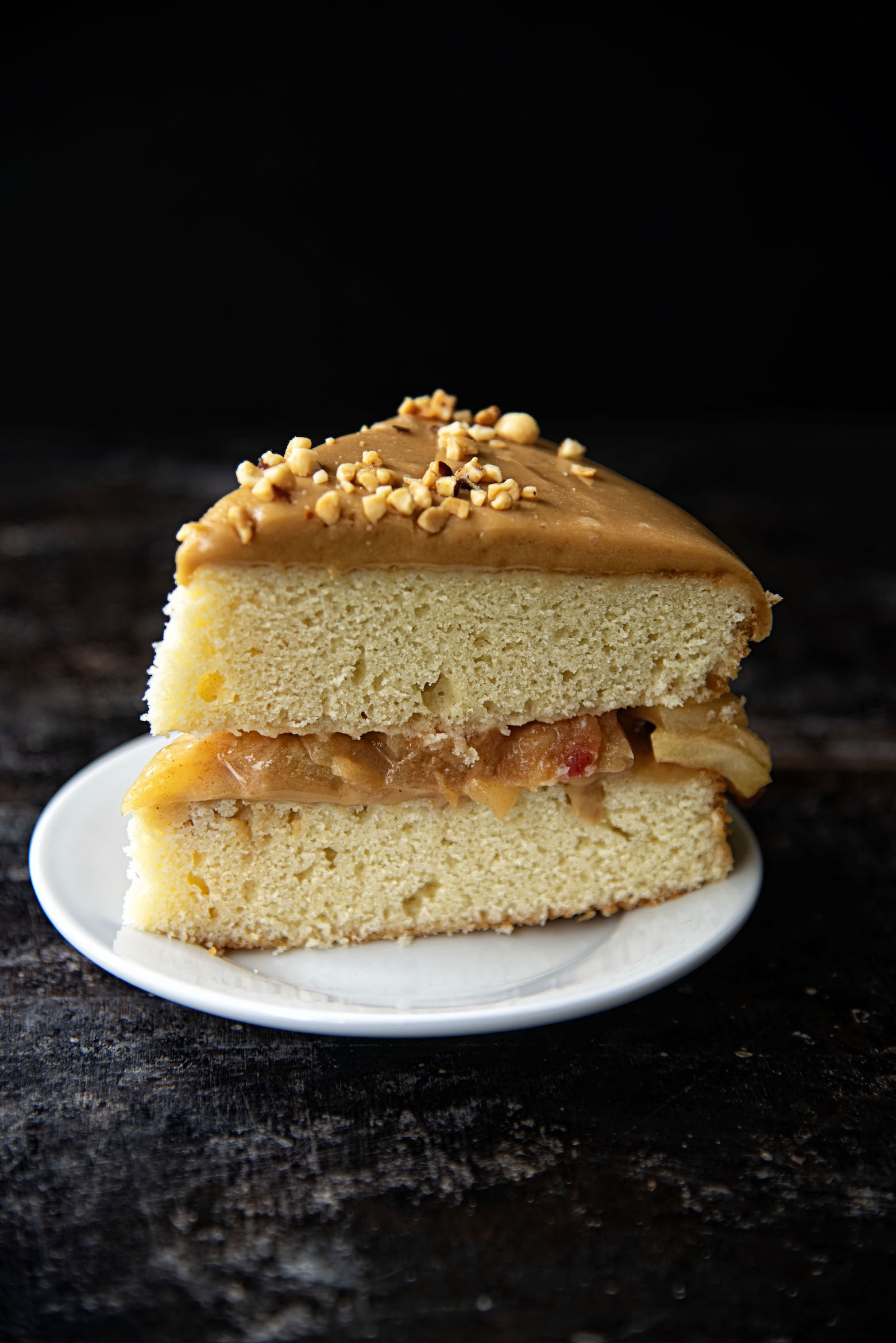 Want More Caramel Apple Recipes?
Salted Caramel Apple Fritter Bread
Caramel Apple White Chocolate Fudge
Salted Caramel Apple Sweet Rolls
Mini Caramel-Glazed Honey Crisp Apple Bread
Ingredients
For the Cake:
2 cups granulated sugar
3 /4 cup unsalted butter, at room temperature
5 egg whites, lightly blended
2 3/4 cups all-purpose flour
1/2 tsp baking soda
1/2 tsp salt
1 cup buttermilk
2 tsp vanilla extract
For the Apple Filling:
2 TBSP unsalted butter
3 Granny Smith apples, peeled, thinly sliced
1/4 cup granulated sugar
1 tsp ground cinnamon
1 tsp lemon juice
Pinch of salt
3 TBSP apple juice
For the Caramel Frosting:
2 cups granulated sugar
1 cup unsalted butter, cubed
1/2 cup buttermilk
1 tsp baking soda
1 tsp lemon juice
Pinch of salt
For Garnish:
chopped dry roasted peanuts
Instructions
For the Cake:
Preheat oven to 350F with rack in the center. 
Grease two 9″ round cake pans with nonstick spray. 
Line with rounds of parchment paper, spray again. 
Cream sugar and butter in a large mixing bowl until light. 
Gradually add egg whites, beating until well blended. 
Sift flour, baking soda, and salt. 
Combine buttermilk and vanilla. 
Add 1 /3 of the flour mixture to the butter mixture; mix just until blended. 
Add 1 /2 the buttermilk mixture and blend just to incorporate. Scrape the bowl, add half the remaining flour, and blend. 
Scrape bowl again, then add the remaining buttermilk. 
Fold in the last of the flour by hand, making sure no flour is at the bottom. 
Divide batter among prepared pans. 
Bake for 30-35 minutes, or until a toothpick inserted in the center comes out clean. 
Cool cakes on a rack for 5 minutes, turn out onto a cooling rack, and peel off the parchment. 
Cool before filling and frosting.
For the Apple Filling:
Sauté apples in butter over medium-high heat with sugar, cinnamon, lemon juice, and salt. 
Cook until fruit begins to caramelize around the edges, about 15 minutes. 
Stir periodically, but not so much that the apples don't caramelize. 
Deglaze with juice, stir, and cook another 2–3 minutes, or until liquid is nearly (but not totally) evaporated. 
Cool apples before filling cake.
For the Frosting:
Boil all ingredients (except for the peanuts) in a tall, heavy saucepan over medium heat, stirring until butter melts and mixture starts to boil. It will boil up pretty high so make sure you have a TALL saucepan.
Cook, stirring occasionally, until icing caramelizes, about 8 minutes. 
Remove from heat and cool 5 minutes. It will continue to caramelize off heat. 
Beat icing with a hand mixer until lighter in color and thick, about 5 minutes. It should be liquid enough to drip down the sides of the cake. 
To Assemble Cake:
Spread about one cup of icing over one of the cake layers. 
Push the frosting to the edges but don't force it to drip over as it will happen naturally when the apple filling and the second cake layer are positioned on top. 
Carefully arrange the apple filling on the frosting. 
Get the apples as close to the edge as possible without spilling over. 
Place the second cake layer on the first, then pour the remaining frosting on top. 
Working quickly, spread it to the edge and gently push it over so it drips down.
Finally, press the nuts into the icing on top don't just sprinkle them on or else they will not stay on. 
Notes
Recipe from Cuisine at Home Magazine