This Belgian Waffle Maple Fudge is white chocolate based fudge flavored with maple syrup and waffle favoring loaded with waffle cone pieces.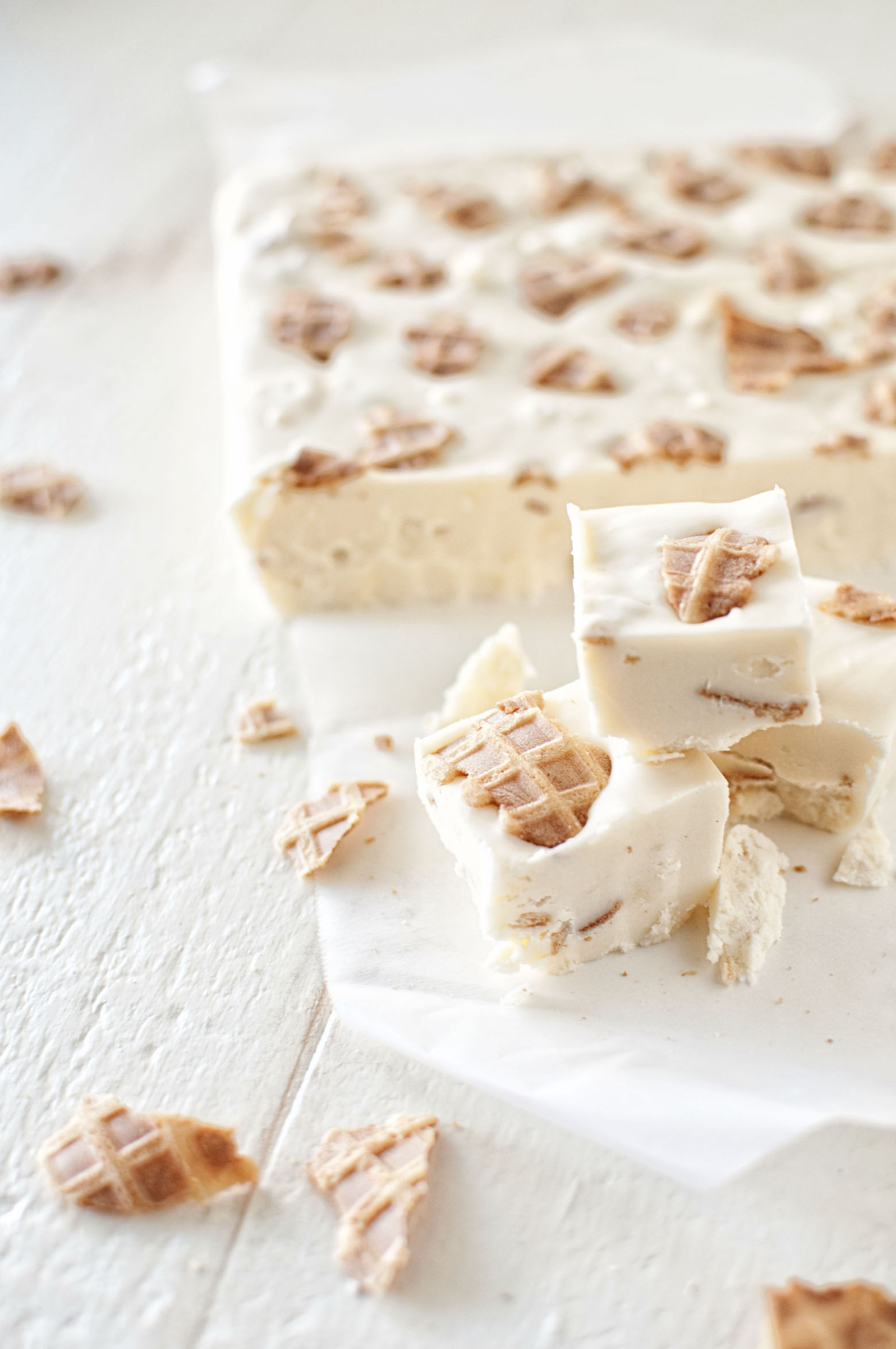 A couple years ago I really got into making fudge.
Like really into it.
And just like so many things on this blog I didn't want to just do normal fudge.
I had a reader ask me to make Swedish Fish fudge and I could not for the life of me really figure out how to do that.
Until I found Wizard Labs.
They had hundreds and hundreds of flavors and their small bottle (8ml) was only $1.49 each. So yeah, I went a little crazy and bought quite a few flavors.
Then when I actually got the products and started using them I really went crazy and ordered a whole bunch more.
When I started making more and more fudge with their products I had to link you all to them because that was where to get it.
One time I joked that I sent so many of you there that they should have an affiliate program.
If you don't know what an affiliate program is, it's basically where you click on the link, decide to buy, and I get a small percentage of the sale, it doesn't cost you a thing and you support this blog a little.
Well, because I was sending them traffic they took notice and reached out to me.
This is actually how most companies find me because I'm already using and promoting their product.
We got to talking, they had never done anything with bloggers, and had never done affiliate programs with anyone but they appreciated my genuine love of their product and they decided to give it a go.
SUPER nice people by the way…which makes me like them even more.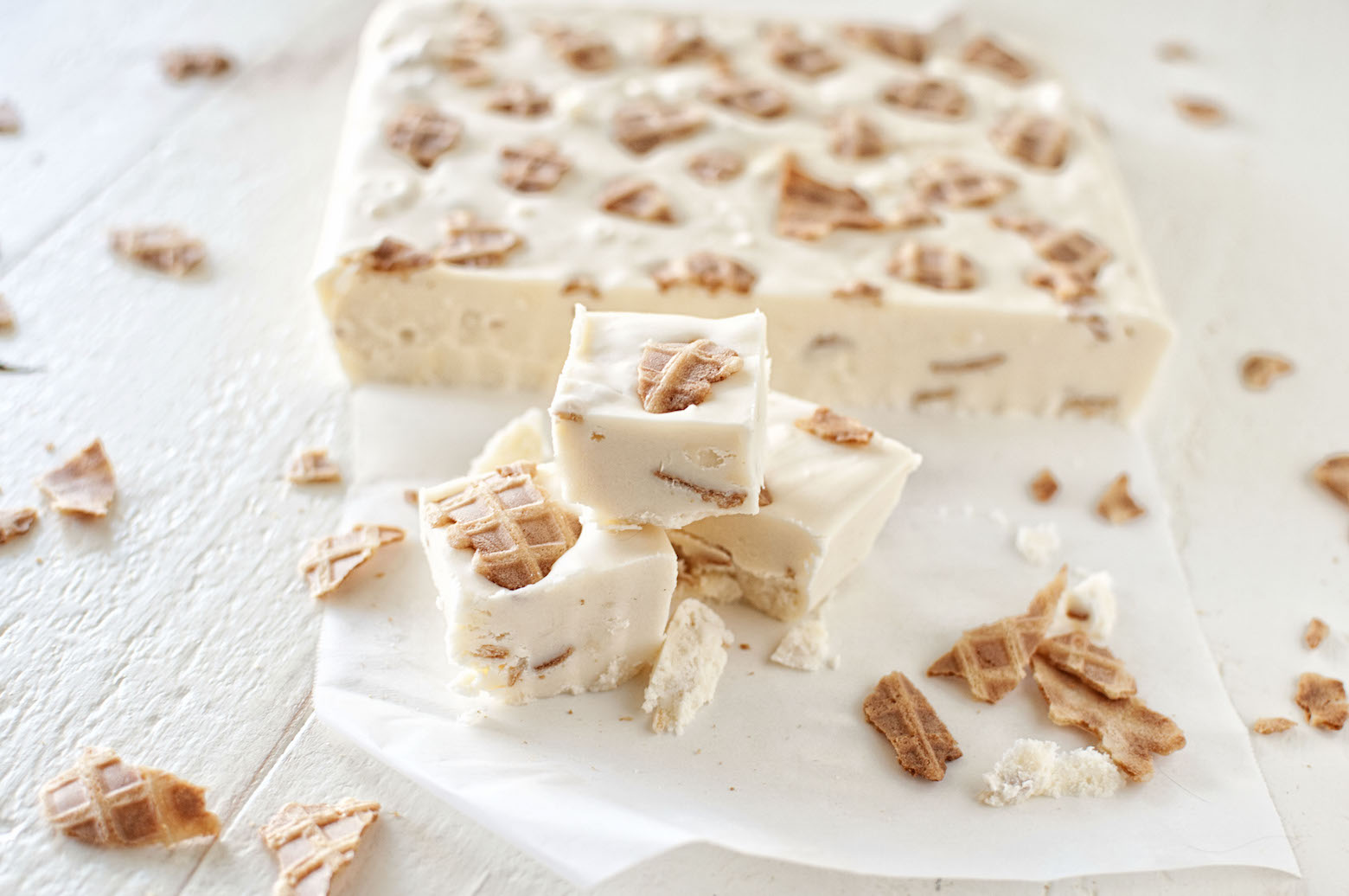 So just know that when you see me link to them I will get a small percentage of the sale if you buy.
Now, given that most bottles are $1.49 you can imagine that this is not a get rich scam for me. 🙂
They had sent me a some flavorings I didn't have yet in order to get inspired to make more fudge.
Expect a lot more recipes using their products.
One of the flavors I had asked for was Belgian Waffle.
To make Belgian Waffle Maple Fudge.
I thought about going super weird and doing like chicken and waffles (which for the record they have that flavoring) but my husband was like absolutely not…and I agreed. 😛
But then I got to thinking about waffles covered in maple syrup.
The flavoring itself has a hint of maple in it but it's very subtle.
You really do feel like you are biting into a bit of breakfast.
After making these I totally want to add some crumbled bacon on top which my husband did think was a good idea.
Anyway, if you want to make this fudge you can get the flavoring here.
Just be warned their flavors become addicting.
I believe the Belgian Waffle flavor is sold out in the smaller bottle, but you can get just waffle (which would work fine) flavoring as well.
And FYI, this is not a sponsored post…I'm promoting them all on my own.
P.S. It's a great day to buy my cookbook Holy Sweet!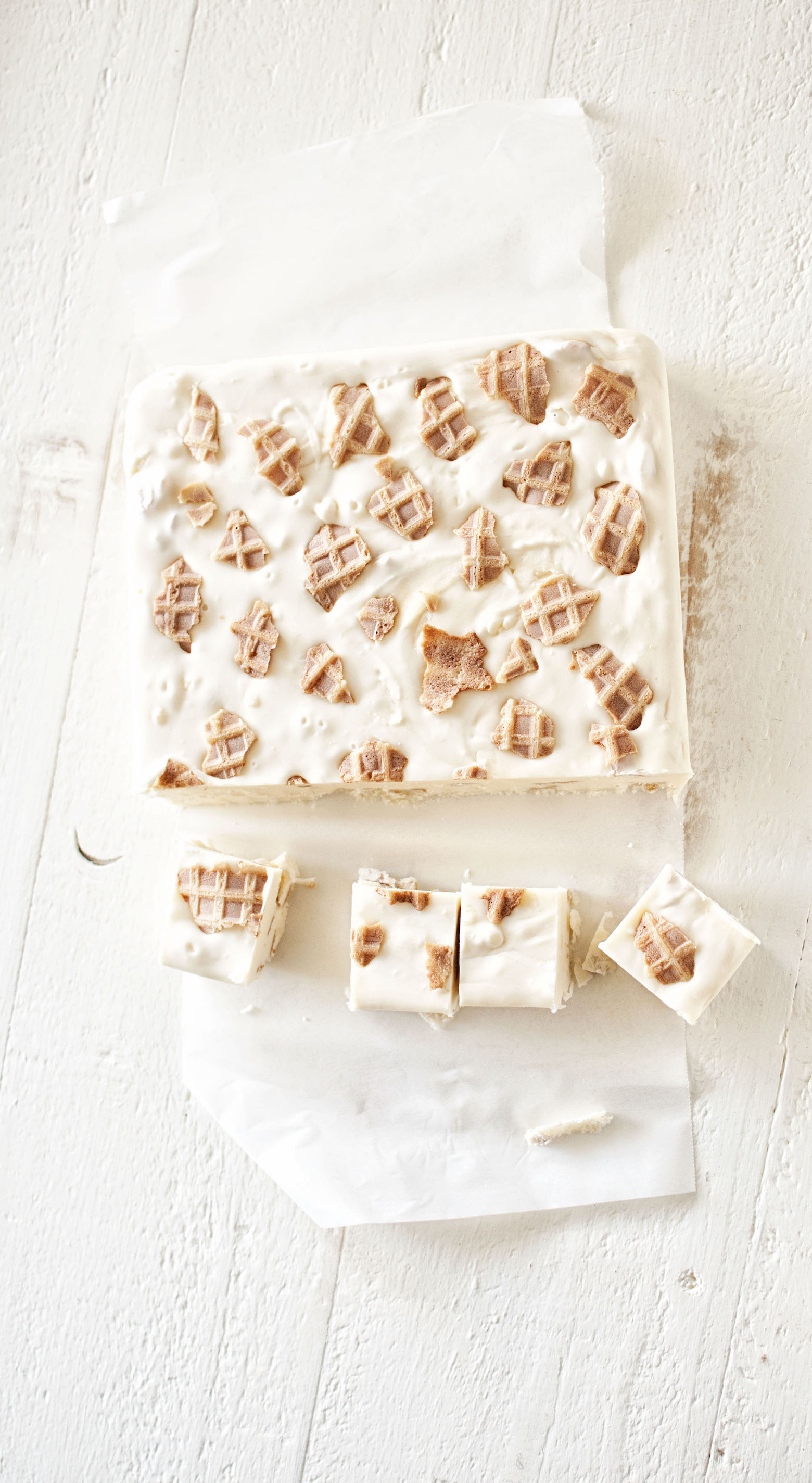 Want More Fudge Recipes?
Monster Cookie Chocolate Fudge
Pineapple Upside Down Cake Fudge
Ingredients
2 cups granulated sugar
4 oz. unsalted butter
⅓ cup heavy cream
1/4 cup real maple syrup
2 cups white chocolate chips
1/2 tsp. Belgian Waffle Flavoring
7-ounce jar marshmallow crème
1/3 cup waffle cone, in pieces
Instructions
Line an 8×8 inch pan with parchment with an overhang so you can lift the fudge out later and coat with baking spray.
Combine sugar, butter, heavy cream, and maple syrup into a large heavy bottomed sauce pan and bring to a boil over medium heat.
Once boiling, attach a candy thermometer and reduce the heat to a hair above medium low and cook for 7-10 minutes until your thermometer reads 234°F (soft ball stage) , stirring constantly.
Once you reach 234F remove from heat and add the white chocolate chips, stirring vigorously with a wooden spoon until the chocolate has melted and the mixture is smooth.
Add the Belgian Waffle Flavoring and marshmallow crème and mix until well blended.
Fold in waffle cone pieces.
Pour into prepared pan.
You can decorate the fudge with more waffle cone pieces if desired.
Let cool to room temperature. Then lift out of the pan and onto a cutting board. Cut into whatever amount you want. I think I got about 24 pieces.