These Candy Corn Caramel Thumbprint Cookies are a vanilla colored shortbread thumbprint cookie with a candy corn caramel filling.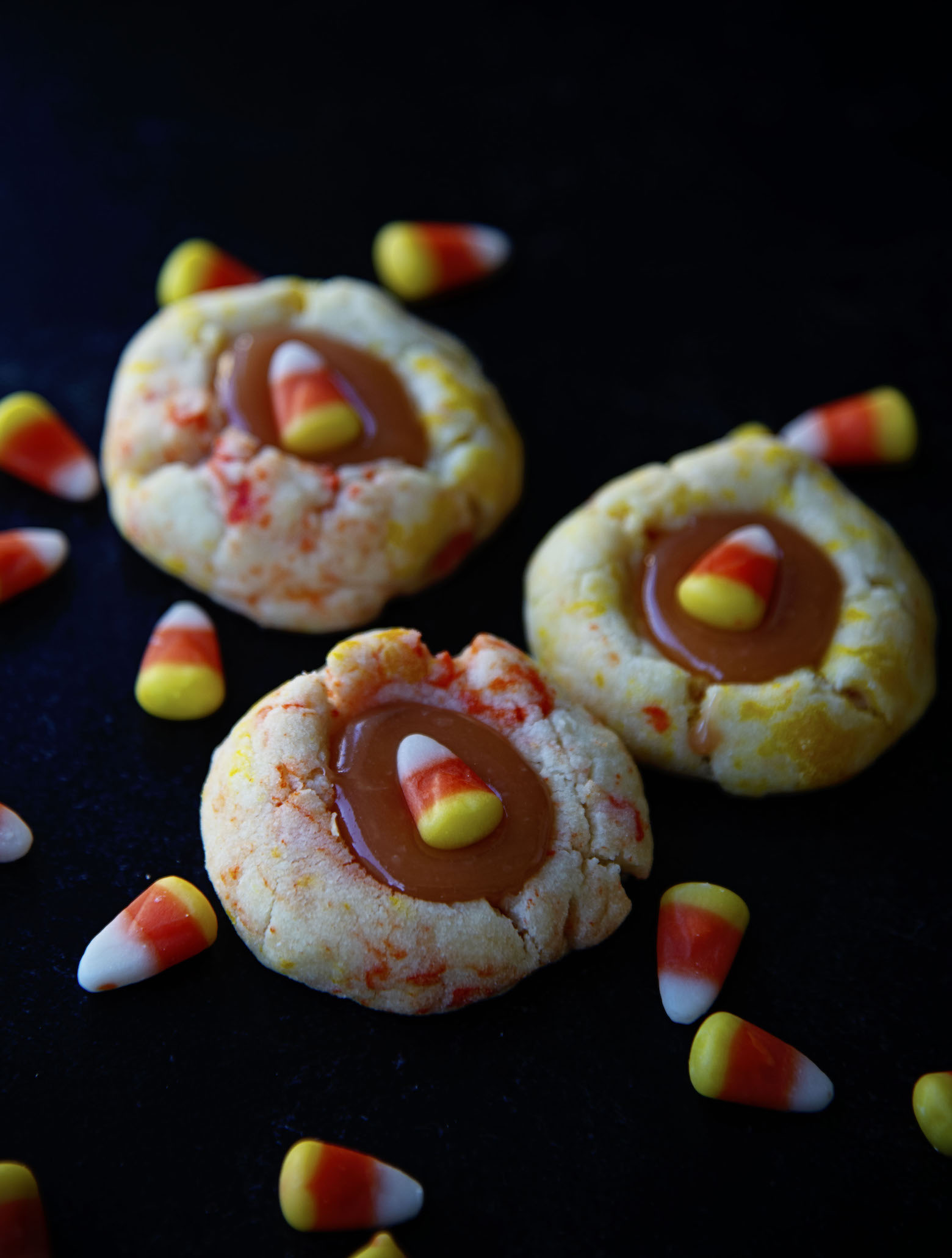 "This post and recipe was created for #HalloweenTreatsWeek!
I was sent samples by some of the sponsor companies but as always opinions are 100% mine."
In this post I used Dixie Crystals Sugar granulated sugar which was sent to me by Dixie for free for participating in #HalloweenTreatsWeek.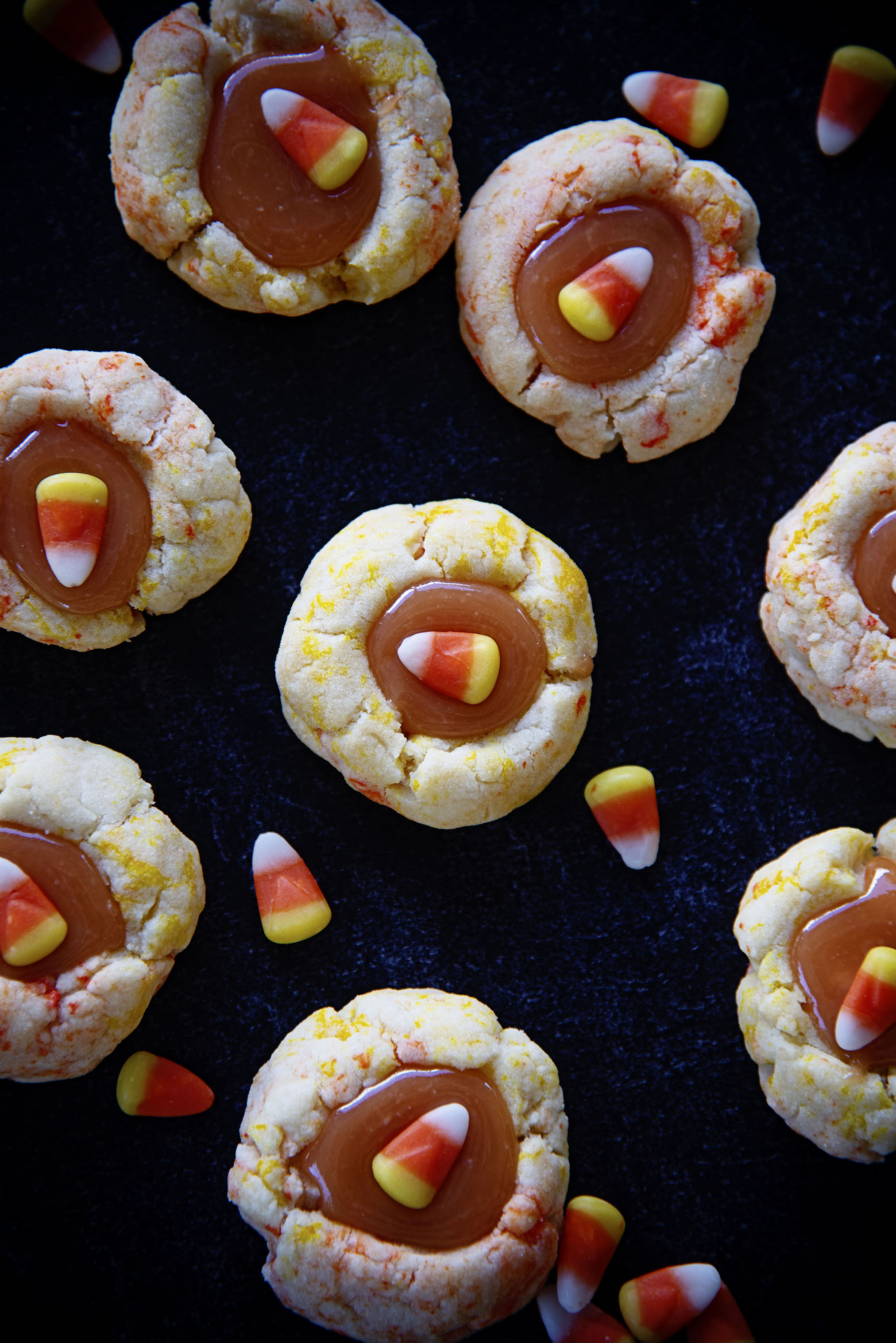 It wouldn't be Halloween Treats Week without me making something with candy corn.
Now people either love it or hate it but obviously I love it.
This time I made Candy Corn Caramel Thumbprint Cookies.
The cookies are just a vanilla shortbread cookie with some yellow and orange specks throughout the cookie.
Since it is shortbread the dough will crumble.
Just do your best to keep them from cracking.
As you can see from the pictures that is easier said than done.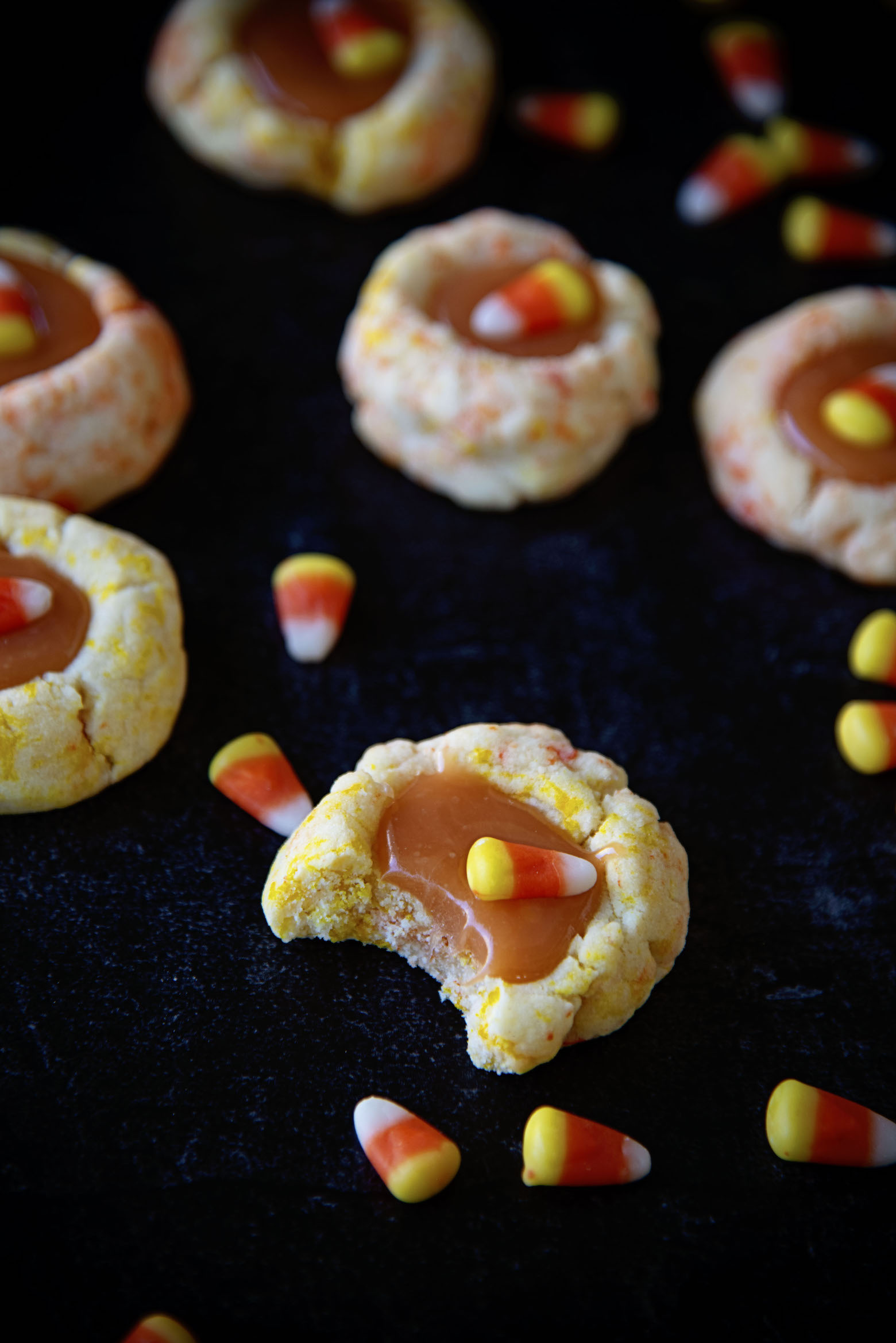 The real star of the show is the caramel in the middle.
The cream for the caramel filling is infused with the candy corn.
So you get a hint of candy corn flavor but not that sweetness overkill that everyone thinks of with candy corn.
If you want more candy corn flavor you can always add more candy corn to the middle of the thumbprint.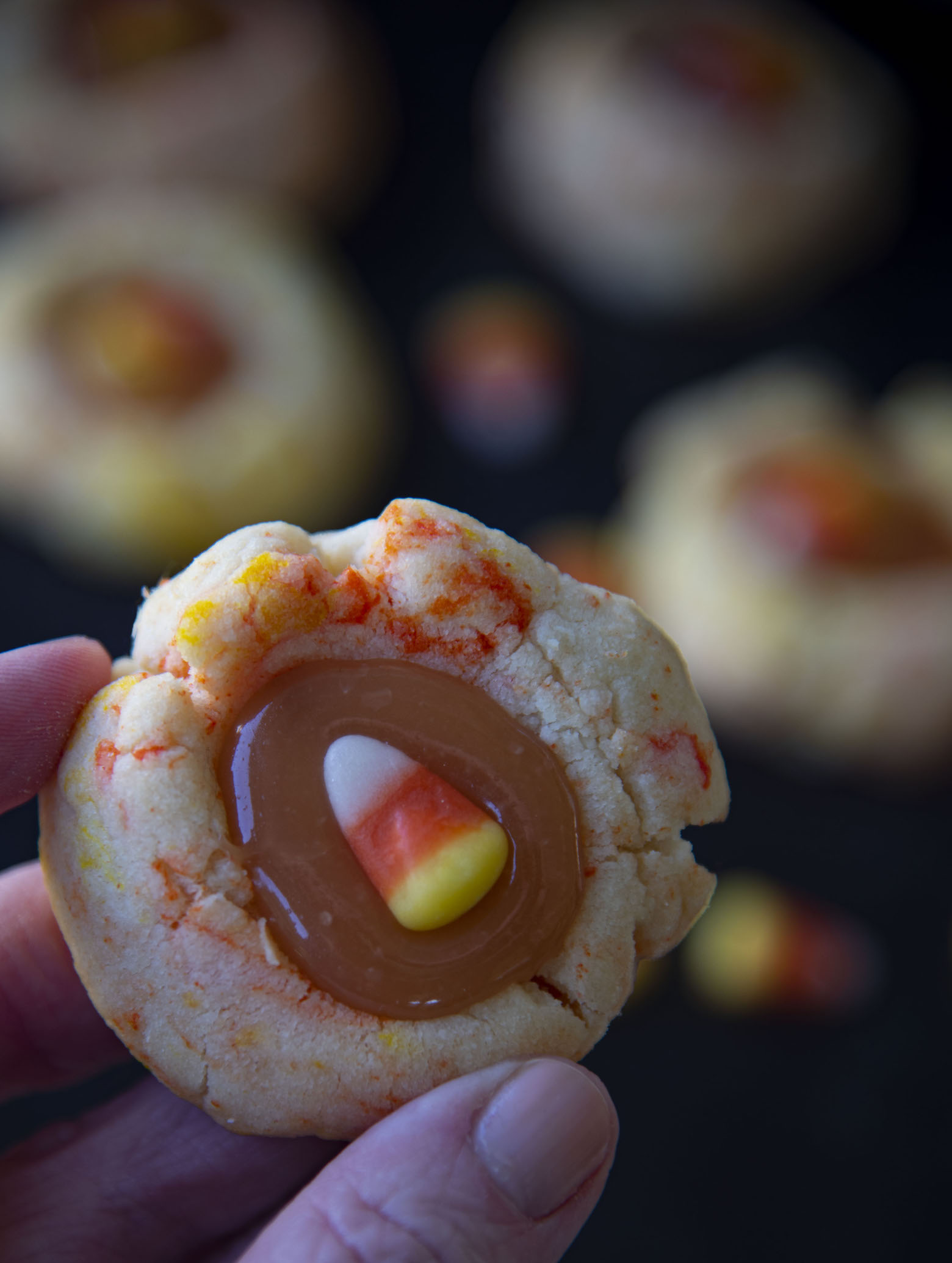 Tips for making successful Caramel:
1. Get a good thermometer.
There are a lot of variety of thermometers out there for candy.
I prefer a digital laser thermometer but you can use the old fashioned kind that hand on the side of the pot.
2. When making candy, especially fudge but even caramels I like to use a superfine sugar.
If you don't want to spend the extra money (like me) for the special sugar just put it in the food processor and pulse a few times.
3. Have all your ingredients out and measured before you start.
Candy making is about timing and if you have to measure out as you go there is a good chance things won't turn out.
4. Be patient. This one is hard for people.
I taught Jr. High for years so I have a lot of patience.  
Candy making takes time.
5. Don't stir. You will want to but don't do it.
6. Don't scrape the bottom.
Often in the caramelization process the bottom of the pan will get a little more brown than you want.
So don't scrape that into the pan.
Just let what caramel comes out…come out.
7. Don't touch.
You may be tempted to stick your finger in there to see how it taste.
It tastes like burnt off finger if you stick your finger in there.
P.S. It's a great day to buy my cookbook.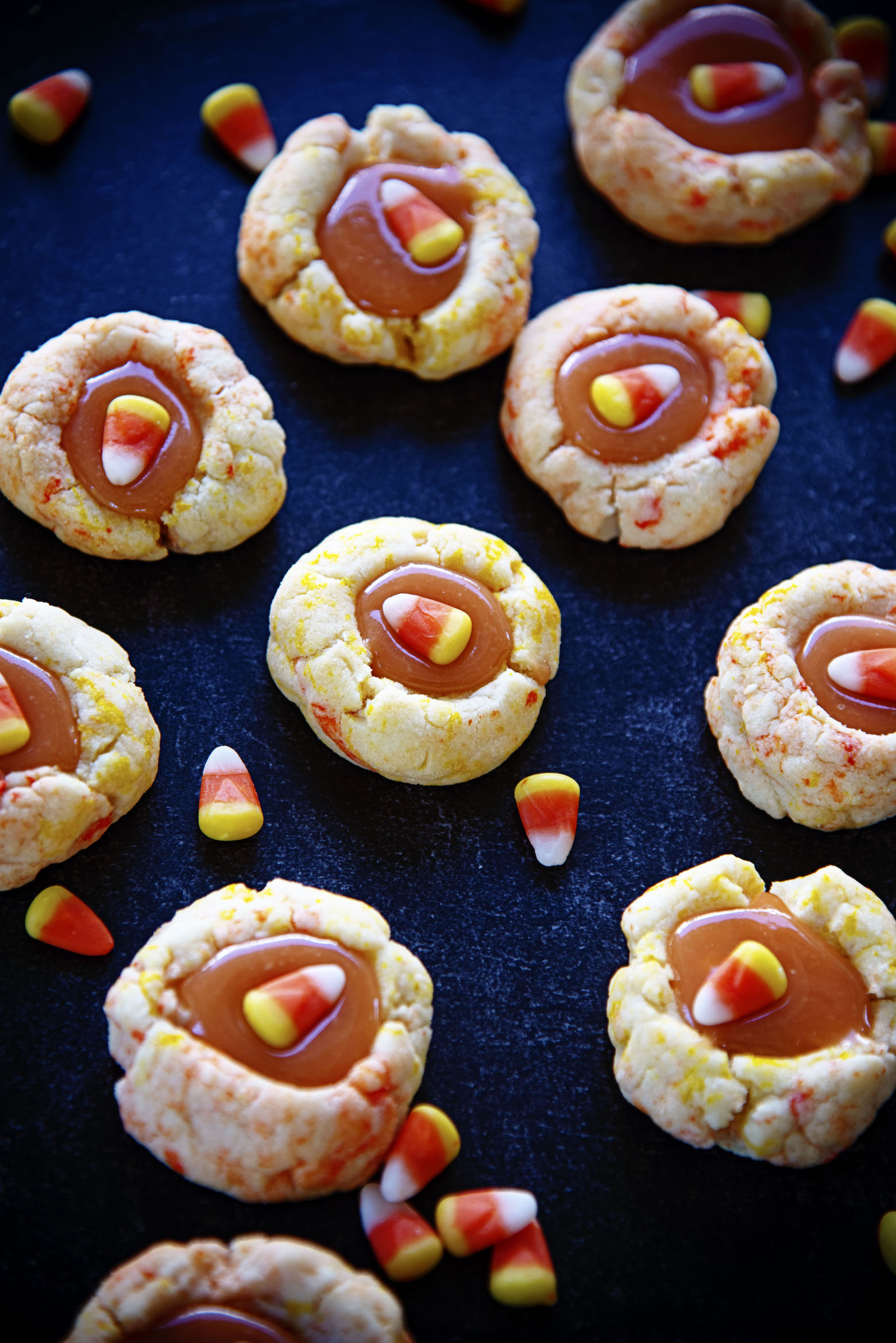 Want More Candy Corn Recipes?
Candy Corn Pound Cake
Pretty Candy Corn Layer Cake
Yummy Candy Corn Creme Brulee
Candy Corn Ice Cream
Magical Candy Corn Flan Magic Cake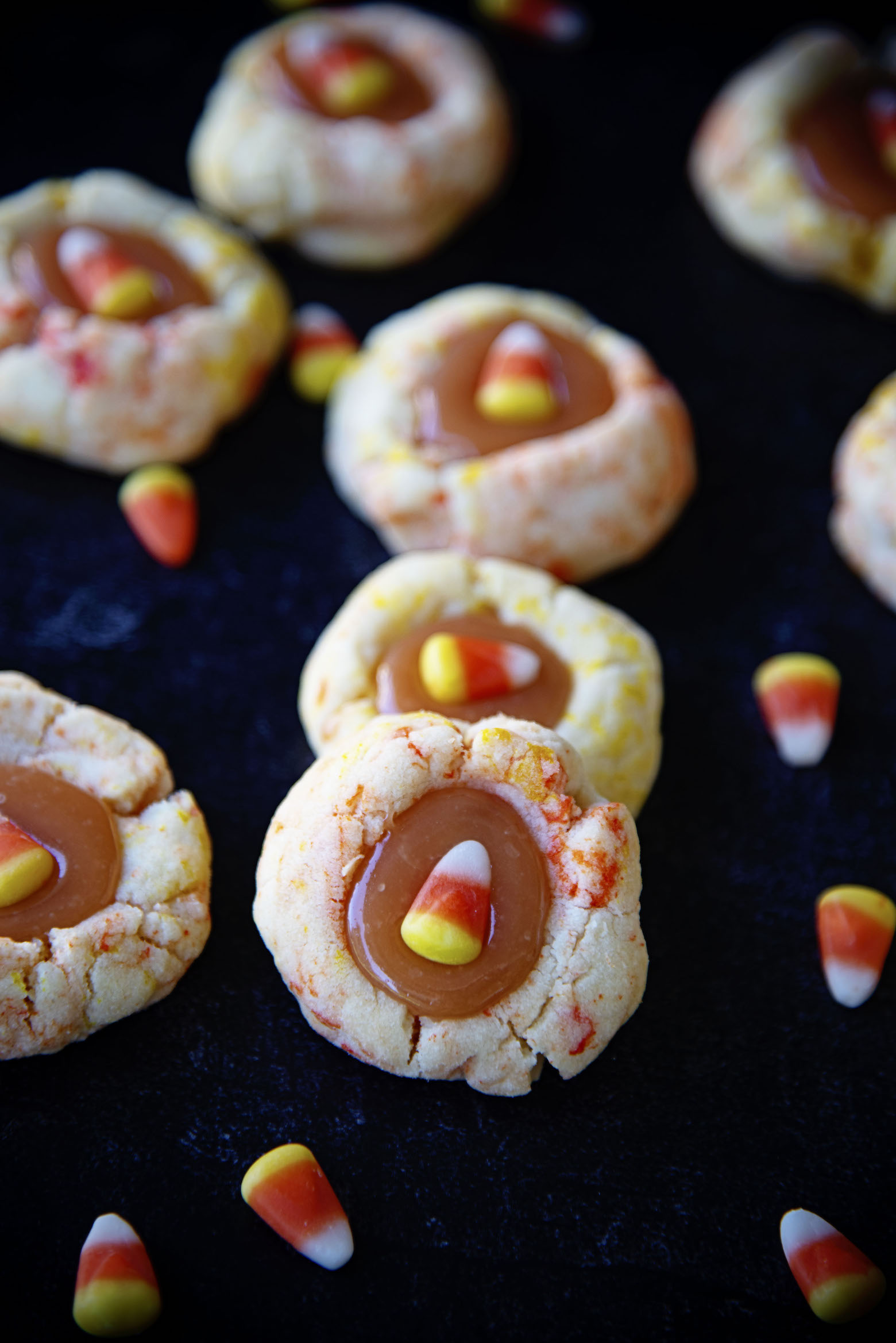 Check out all of these great #HalloweenTreatsWeek recipes for today:
Ingredients
For the Shortbread Cookie:
1 cup unsalted butter, at room temperature
1 cup powdered sugar
1 1/2 tsp. vanilla extract
2 1/4 cups all purpose flour
orange food gel
yellow food gel
For the Candy Corn Caramel Filling:
1/4 cup candy corn
1/2 cup heavy cream
2 TBSP unsalted butter
1/4 tsp. salt
3/4 cup granulated sugar
2 TBSP light corn syrup
2 TBSP water
mini candy corn to garnish
Instructions
For the cookies:
Preheat oven to 350F.
Line two baking sheets with parchment paper.
Using a stand mixer with a paddle attachment cream together the butter and powdered sugar.
Add in the vanilla and vanilla bean seeds and mix until fully combined.
Add the flour and mix until it forms a dough.
Divide into two bowls.
Randomly drop some orange food gel into one and mix only slightly…you are not trying to color the whole dough just have specks of color.
Do the same with the other bowl using yellow food gel.
Shape dough into 1-inch balls.
Transfer cookies to the prepared baking sheets, spacing cookies 2-inches apart.
Using a 1-tsp measure, or your thumb, make an indentation in each cookie.
Bake cookies, one sheet at a time, until the edges are set, 14-16 minutes.
I like to at this time repress my thumb or tsp measure to make the indentation really big in the cookie when the cookies come out of the oven.
Transfer the cookies to a cooling rack.
For the Candy Corn Caramel:
In a 2-cup glass measuring cup, add the heavy cream and candy corn.
Heat for 1 minute and let sit until the candy corn starts to dissolve.
Mix.
If candy corn is not dissolved keep heating in 30 second increments until it's mostly all dissolved.
Strain out the remaining candy corn.
Add the candy corn heavy cream, butter, and salt back to the glass measuring cup.
Microwave in 30 second pulses until melted and steaming. Set aside.
In a 2-quart saucepan (seriously, don't use a smaller one-it boils up), add the sugar, corn syrup and water.
Turn the heat to high, and cook without stirring until it reaches between 290-295 degrees.
Turn the heat off.
Slowly stream in the heavy cream mixture, and whisk gently.
Turn the heat back to high, and cook without stirring until it reaches 250 degrees.
Spoon caramel into the thumbprint holes in the cookies.
Top with mini candy corn if desired.
Let set a room temperature for 1 hour while caramel sets up.
Welcome!!! It is almost Halloween which means it is time for this year's #HalloweenTreatsWeek recipe and giveaway event!!
#HalloweenTreatsWeek is a yearly Halloween blogging event that is hosted by Angie from Big Bear's Wife  & its a creepy and haunting week-long event is filled with some amazingly wicked Halloween treats, recipes and some frightfully fun giveaways.
"When witches go riding, and black cats are seen, the moon laughs and whispers 'tis near Halloween."
For the 4th annual #HalloweenTreatsWeek event we have 28 hauntingly talented bloggers that are sharing their favorite Halloween recipes throughout the week!
Follow the hashtag #HalloweenTreatsWeek on social media and look at the bottom of each post to see all of the Halloween recipes that we're sharing!
Prize #1 from Dixie Crystals
41 Pieces Silicone Bakeware Set
3 Piece Halloween Silicone Spatula Set
Nordic Ware Haunted Skull Cakelet Pan
Giveaway open to US Residents 18 years or older. All entries will be verified. No PO Boxes Please. Prizes will be sent directly from sponsor to winner, bloggers are not responsible for prizes. This giveaway runs from October 11th – October 15th at 11:59PM EST. Winners will be selected soon afterward and contacted by e-mail. Winners will have 48 hours to respond or a new winner will be chosen. There are a total of 1 (ONE) prize pack and therefore we will have a total of 1 (ONE) winners. No purchase necessary. Void where prohibited by law.
Disclaimer: These posts and recipes are part of the week-long event, #HalloweenTreatsWeek but all opinions are 100% mine! We would like to Thank our amazing brand sponsors: Dixie Crystals that provided a prize pack for our giveaways and also sent some samples and products to the #HalloweenTreatsWeek bloggers to use in their recipes.