This Candy Corn Caramel Tart has a buttery base topped with creamy caramel and lots and lots of candy corn.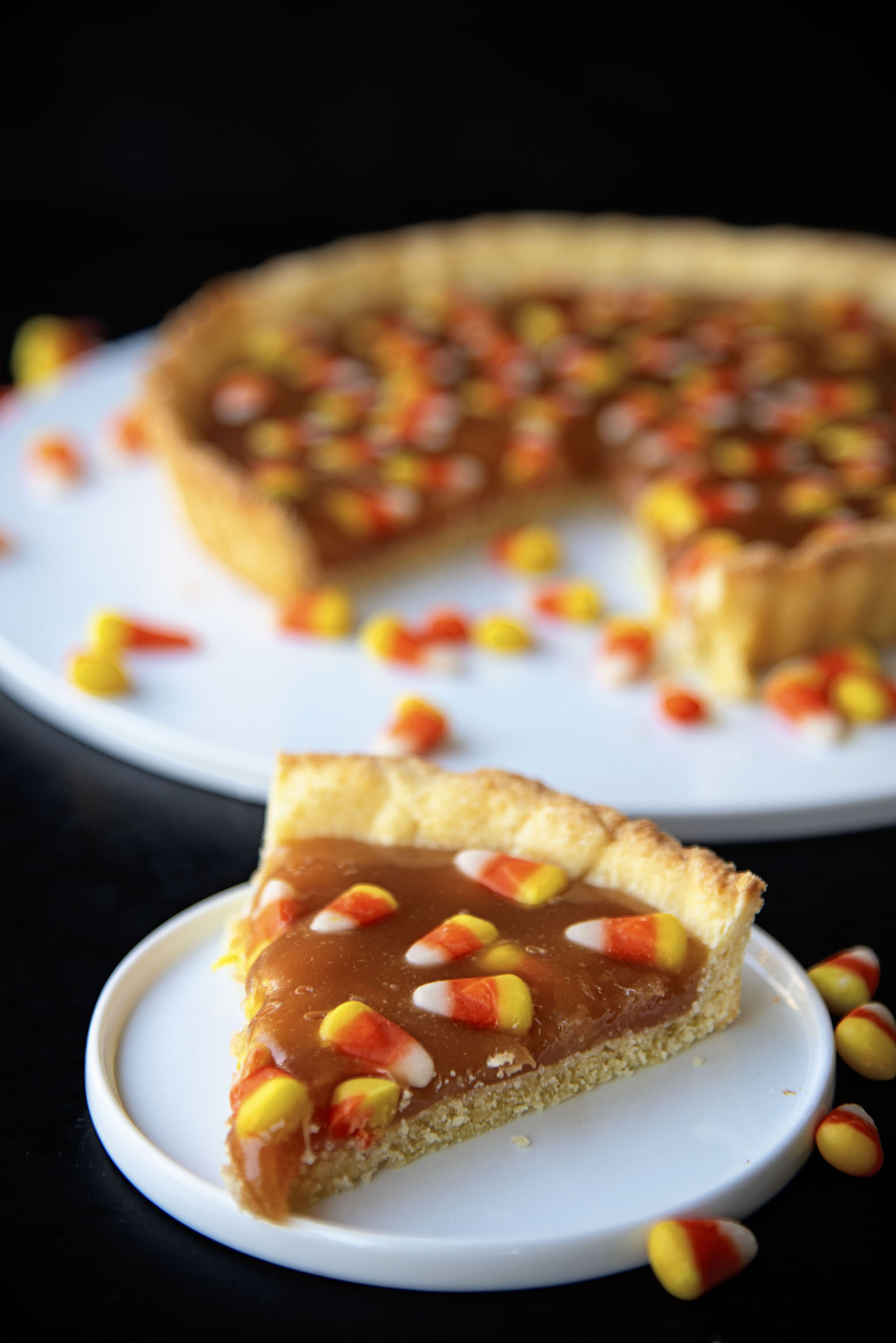 If you are a candy corn fan then you will love this Candy Corn Caramel Tart.
And if you are not a candy corn fan…you might be surprised.
Every year I make at least one thing with candy corn.
While I'm a big fan of it, my husband is not.
Yet, when I make things like this tart he likes it.
So this could convert you.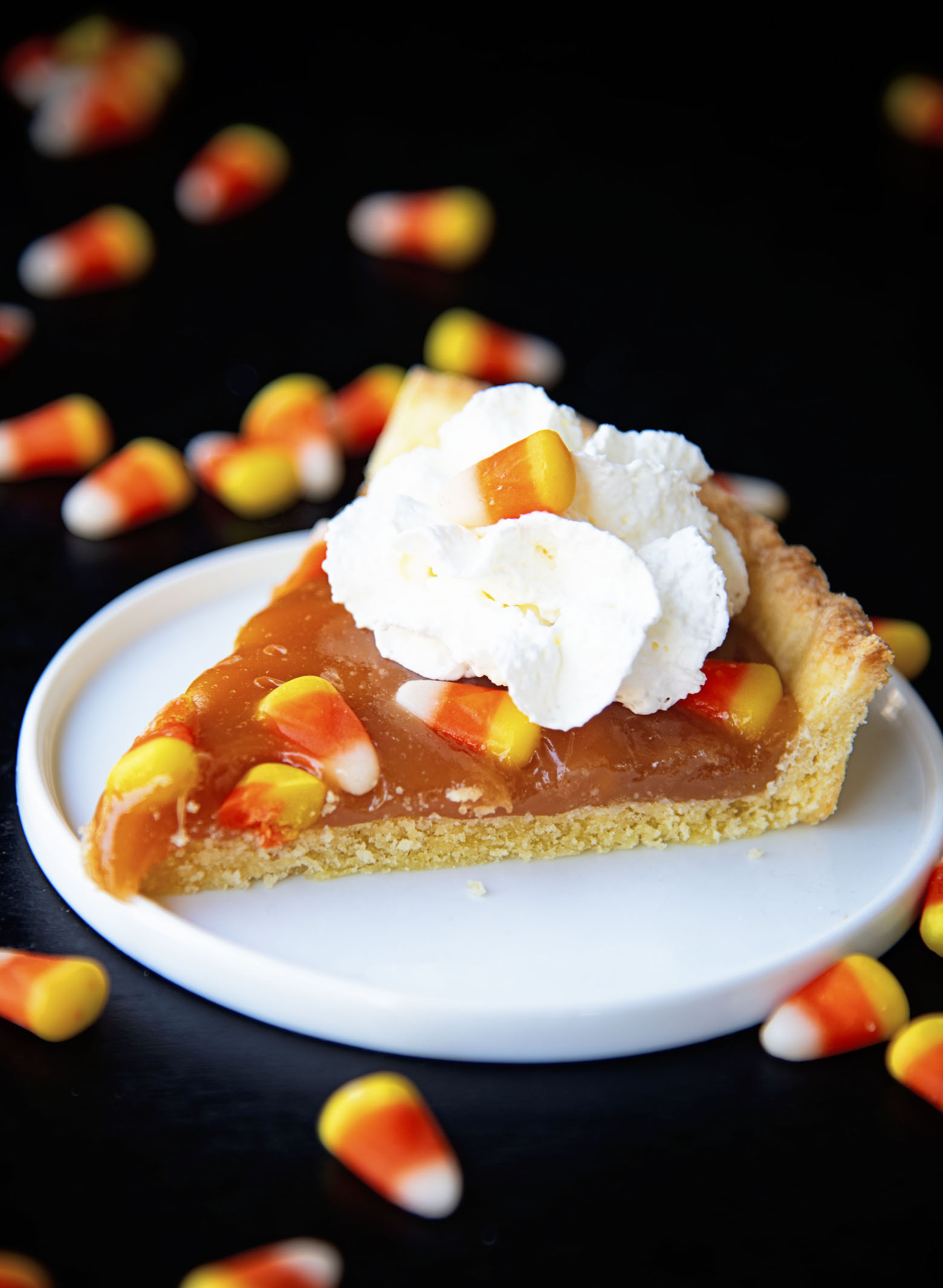 The base for this is Pâte Sucrée.
And though that means sweet dough, you will find that the dough is not that sweet.
What I love about this dough is that it does not require you to pre-chill it.
You can make it and use it right then and there.
However, you do need to chill it once you get it in the tart pan.
But only for 15 minutes so it's rather quick.
The other thing I love about this dough is that it's forgiving.
If it rips or there is a hole, you just patch it with more dough.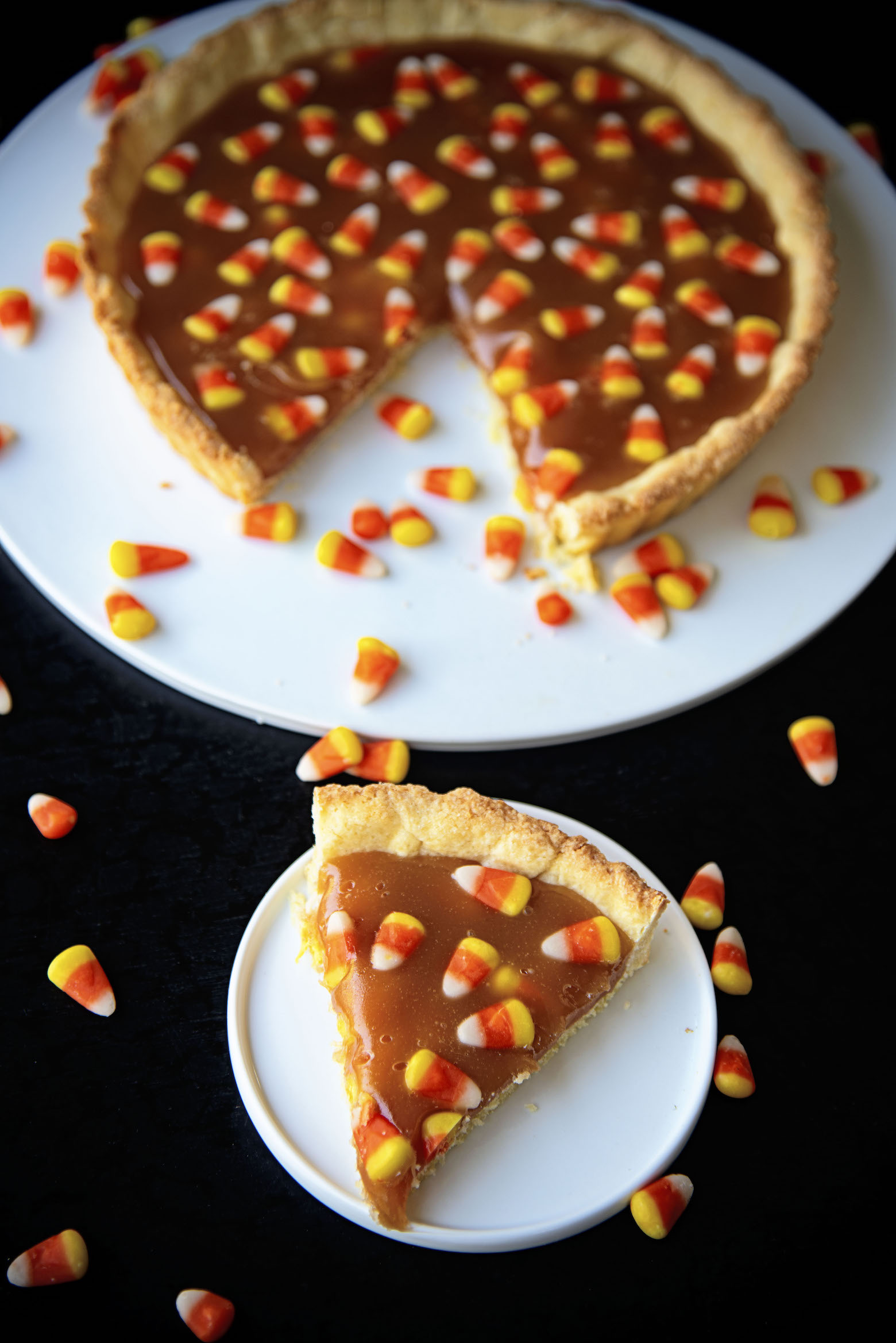 Do you have to use candy corn?
While I love this with candy corn you could use other candy.
You are after all just pouring caramel over it.
Try chopping up mini candy bars. Maybe some M & M's.
Whatever you think would go well with caramel.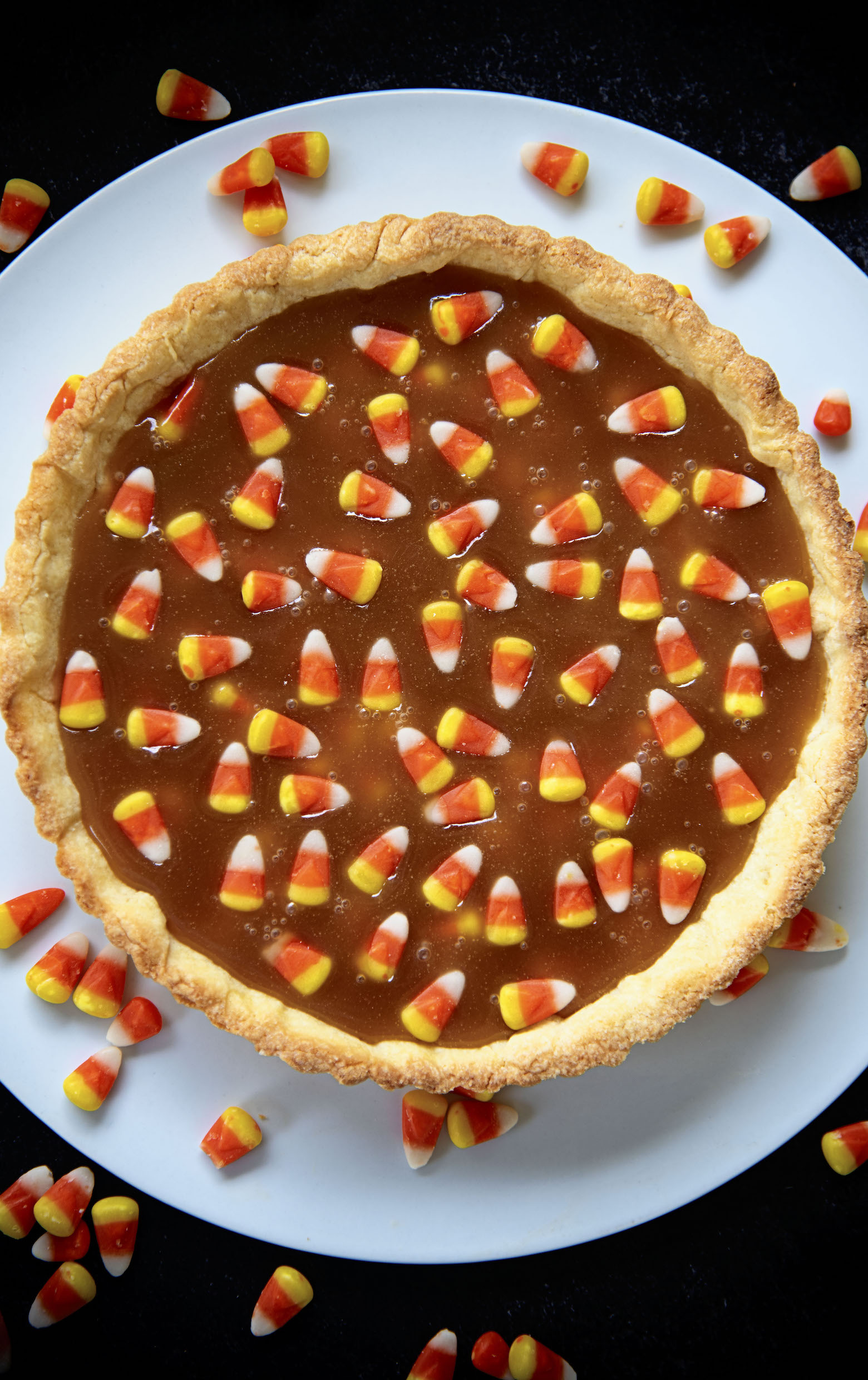 If you want some contrast to the sweet candy corn, consider sprinkling a little flaky sea salt before the caramel fully sets.
P.S. It's a great day to buy my cookbook.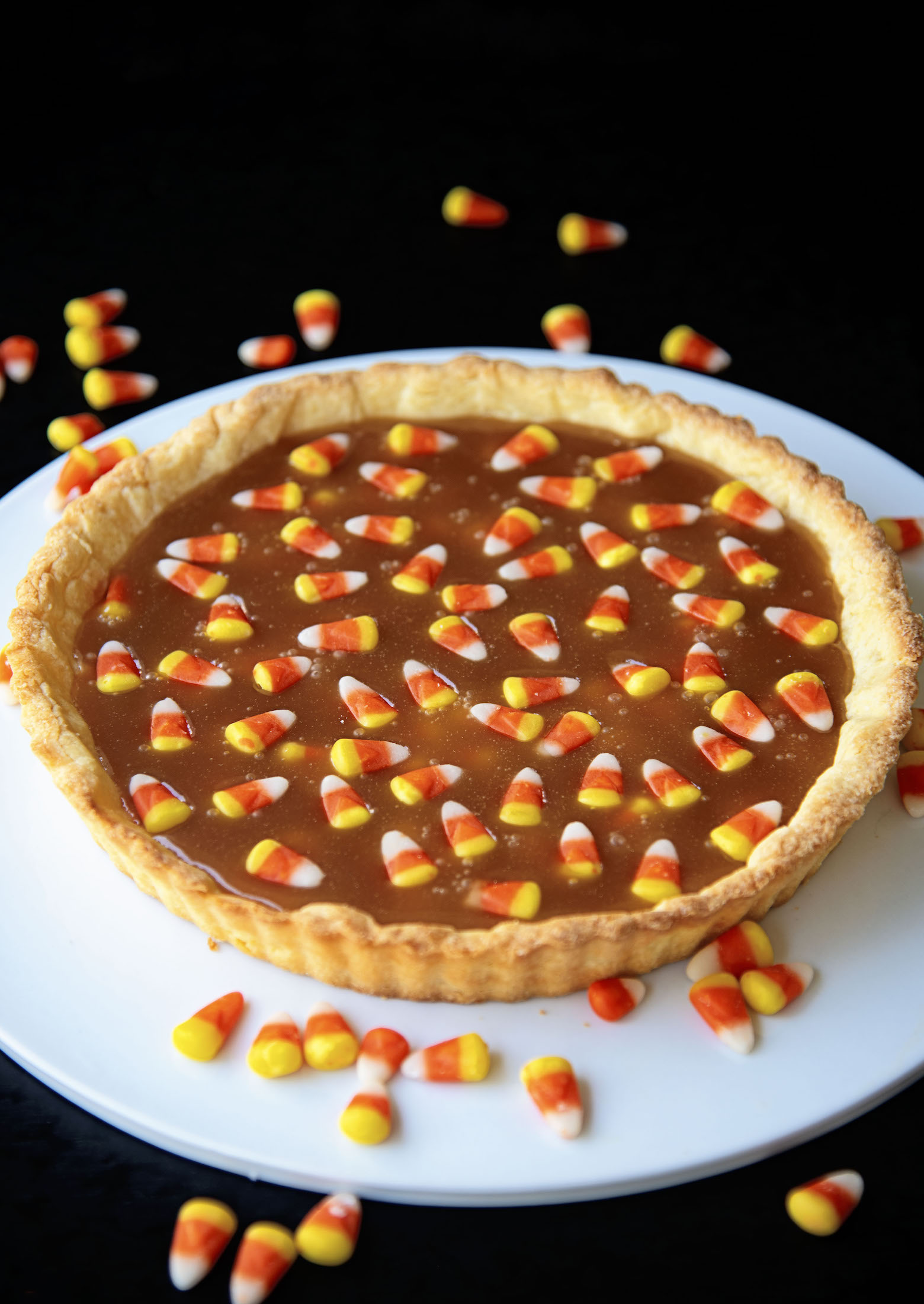 Want More Tart Recipes?
Mini Bailey's Irish Cream Mocha Cheesecake Tarts
Ingredients
For the tart shell:
1 cup all-purpose flour
4 TBSP granulated sugar
½ cup butter unsalted butter, cut into small pieces
4 egg yolks
pinch of table salt
For the filling:
1 cup granulated sugar
4 TBSP water
¼ cup heavy cream
4 TBSP light corn syrup
4 TBSP unsalted butter
1 cup candy corn
Instructions
Preheat oven to 375°.
For the Tart Shell:
Whisk together flour, sugar, and the table salt in a small bowl (or use food processor)
Add the butter.
Using a pastry blender, cut butter into flour mixture until mixture resembles coarse meal. You can also use a food processor and pulse.
Add egg yolks.
Knead lightly until dough comes together or use the pulse setting.
On a well-floured surface, roll into a 10-inch circle.
Place circle of dough into a tart pan with a removable bottom.
Press dough against sides of the pan.
Trim away and discard excess dough.
Chill shells until firm, 15 minutes.
Bake pastry shell 15-20 minutes; cool.
For the Filling:
Place sugar, water, and corn syrup in a small skillet over medium heat.
Swirl pan lightly to mix.
Simmer mixture until it turns the color of iced tea, about 5 minutes.
Remove caramel from heat; stir in the butter.
Add cream; stir until caramel is smooth.
Scatter 3/4 cup of the candy corn on the bottom of the tart.
Pour the caramel into the tart.
Top the tart with the remaining 1/4 cup candy corn.
Allow tart to cool completely.
It's going to have a candy bar texture. You can cut it easily but the caramel will not run…will be more like the inside of a Milky Way Bar.

HAPPY HALLOWEEN!!!
Check out all of these great #HalloweenTreatsWeek recipes for today
Welcome to 2022's #HalloweenTreatsWeek event!
#HalloweenTreatsWeek is a yearly Halloween blogging event that is hosted by Angie from Big Bear's Wife . This event is an online, week-long event that is filled with some amazingly wicked Halloween treats and recipes from some fantastic Halloween loving bloggers!
For this years 5th annual #HalloweenTreatsWeek event we have 20 hauntingly talented bloggers that are sharing their favorite Halloween recipes throughout the week!
You can following the hashtag #HalloweenTreatsWeek on social media to collect all of these frightful recipes to use at your own Halloween parties and events!