These Candy Cane Sweet Rolls are filled with candy cane infused pastry cream and chocolate chips all covered in a candy cane icing.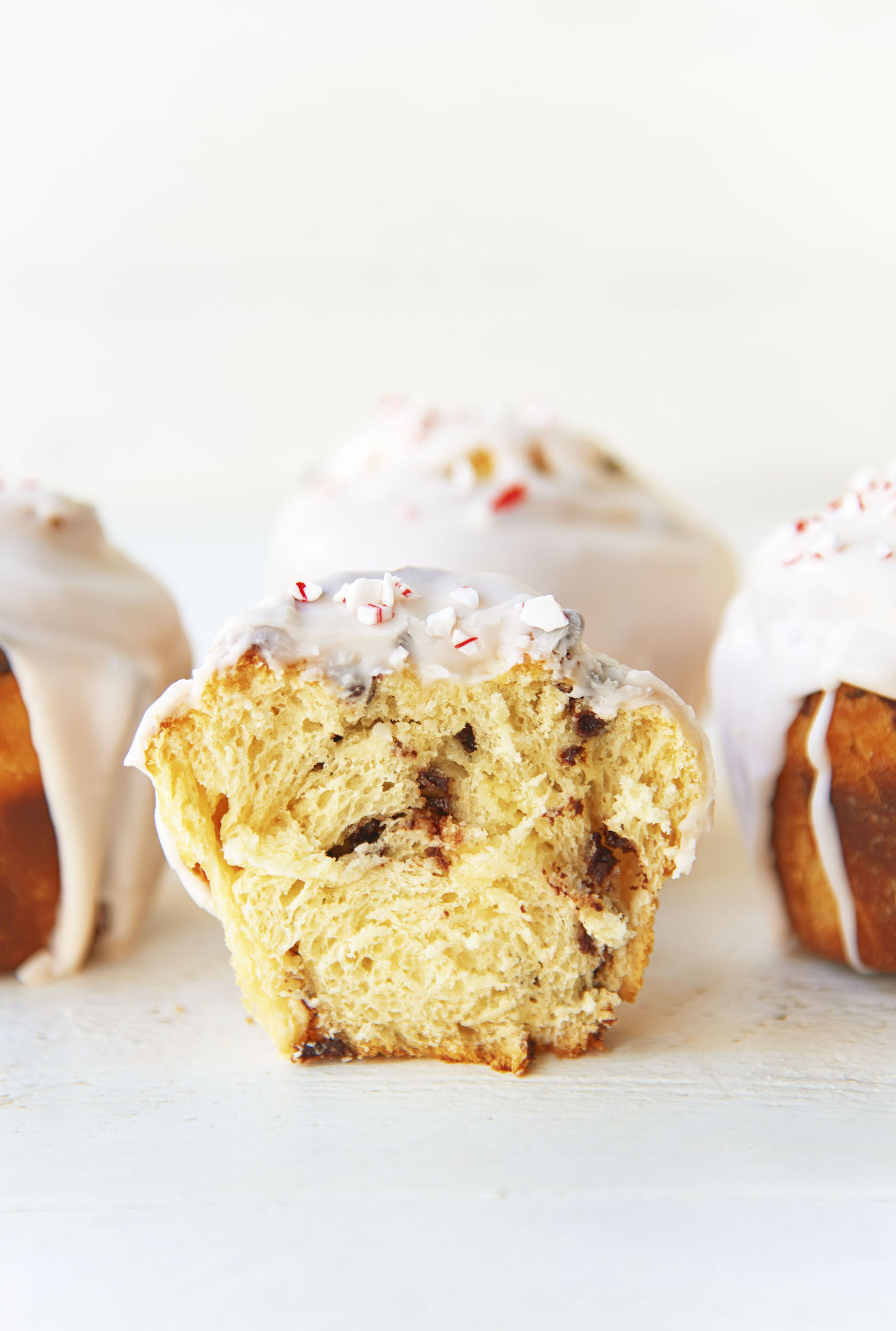 I love to infuse milk and heavy cream with candy and these Candy Cane Sweet Rolls are perfect example of that.
I love it because you can get a hint of the flavor without it being overpowering.
It's why so many people who hate candy corn love my candy corn ice cream.
Because infusing takes away from the overall sweetness of the candy corn.
The same goes for the candy cane.
While not at sweet as candy corn, candy canes can be a little overpowering in their own way.
So infusing the milk with them instead of just putting candy canes in the filling makes a difference.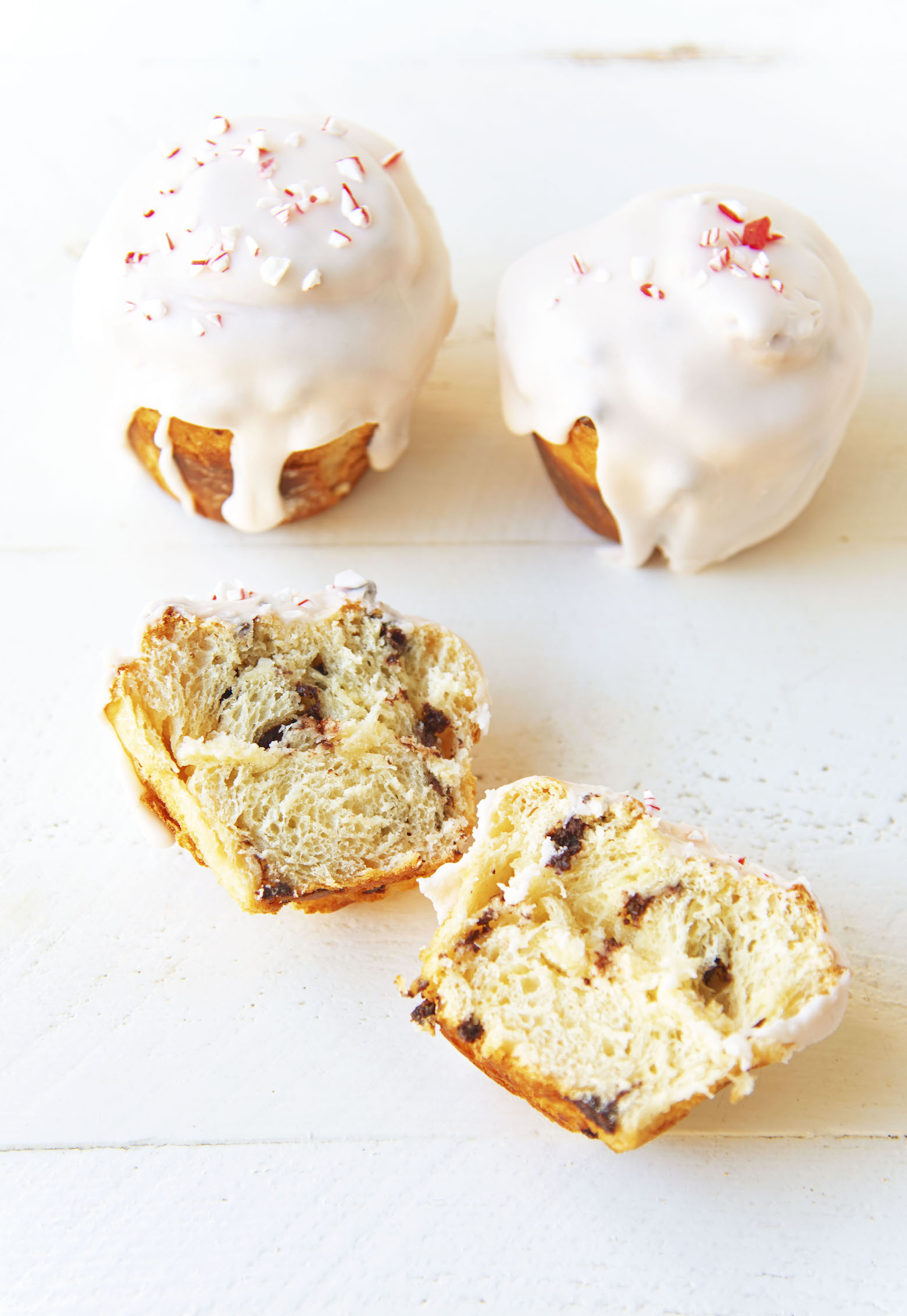 The other thing we need to do more of is put pastry cream inside of baked goods.
I know some are intimidated by it but really you shouldn't be.
Part of why pastry cream scares people is it seems like nothing is happening when you are making it.
It doesn't seem to come together.
And then all of a sudden it does.
But now it seems clumpy.
Guess what, you just whisk that and it goes smooth!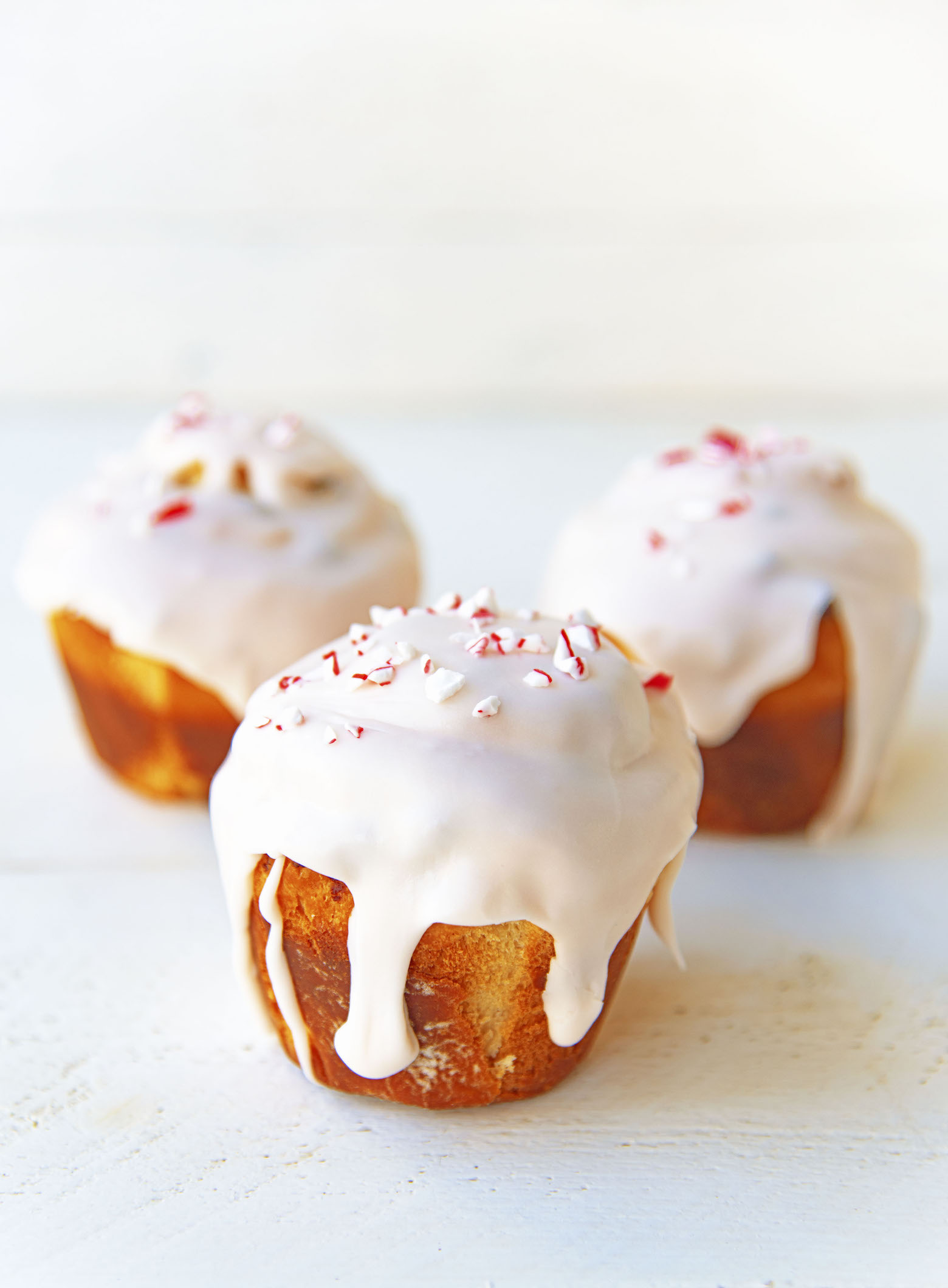 Do I have to bake these the day of?
You can make these up to the point of making the rolls.
Then instead of proofing for another 90-120 minutes you place them in the fridge for 8-12 hours.
If you do that you will want to let them come to room temperature before baking them off.
If you refrigerate them the dough will develop a little more flavor.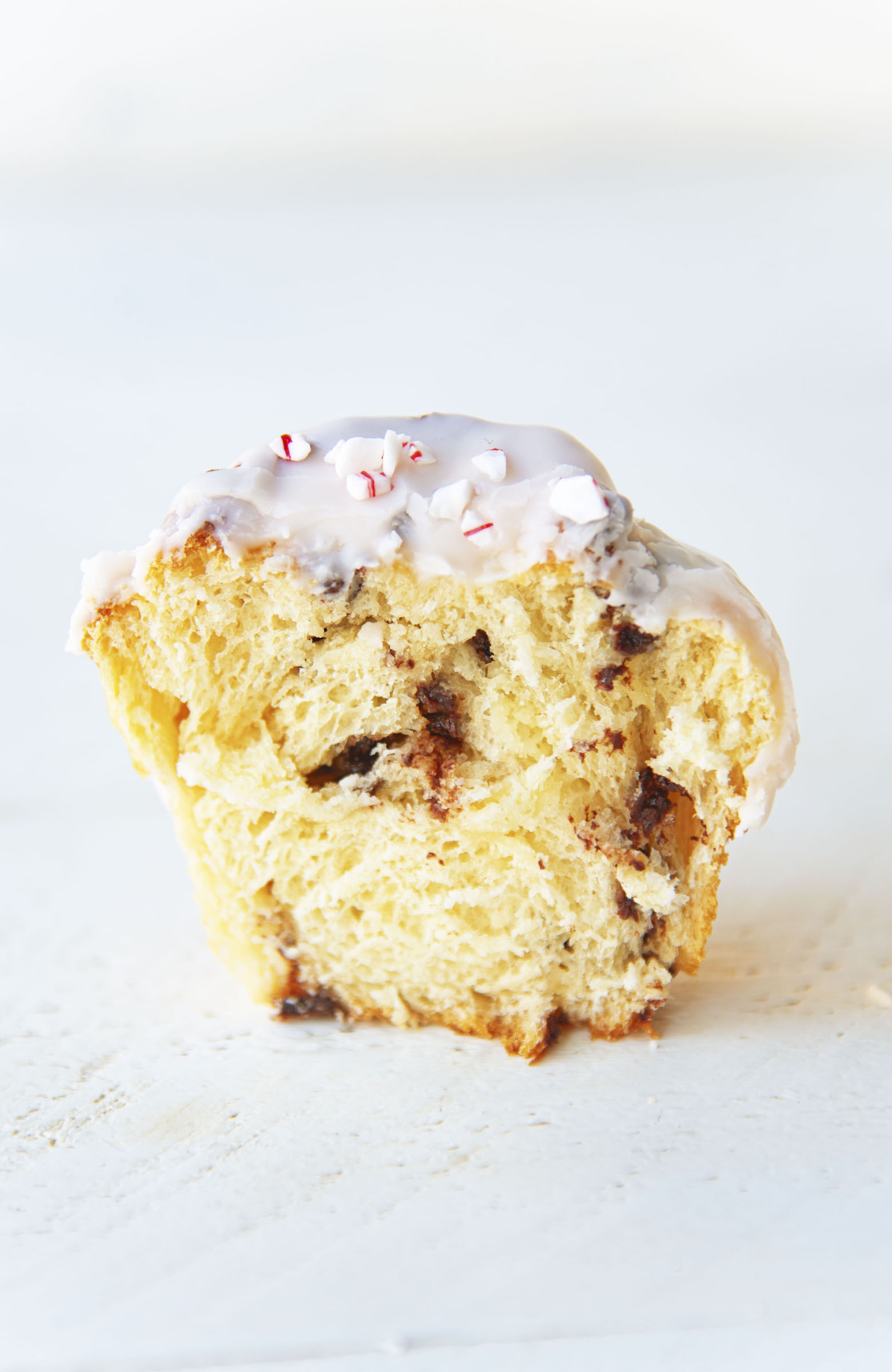 Things to Remember when Baking with Yeast:
Don't be afraid of it.
A lot of people are intimidated by yeast and end up not making yummy recipes because of it.
If your yeast baked goods are not rising it is most likely two culprits.
You didn't check the expiration date.
Or the water was too hot.
The expiration date is important and not a guideline.
Yeast is a living thing and it does expire.
So always check the date.
The other big killer of yeast is water way too hot.
If it's too hot for you to touch, then it's too hot for the yeast.
Dough not rising and you checked the date and you didn't use too hot of water/milk?
Most likely it's just cooler in your house then you realize.
My yeast bakes always take longer to rise if I don't use my proofer.
Yes, I own a proofer and I love it. But if I do room temperature it's never the 75F when I bake…unless of course it's summer.
But I most bake with yeast in the fall and winter.
P.S. It's a great day to buy my cookbook Holy Sweet!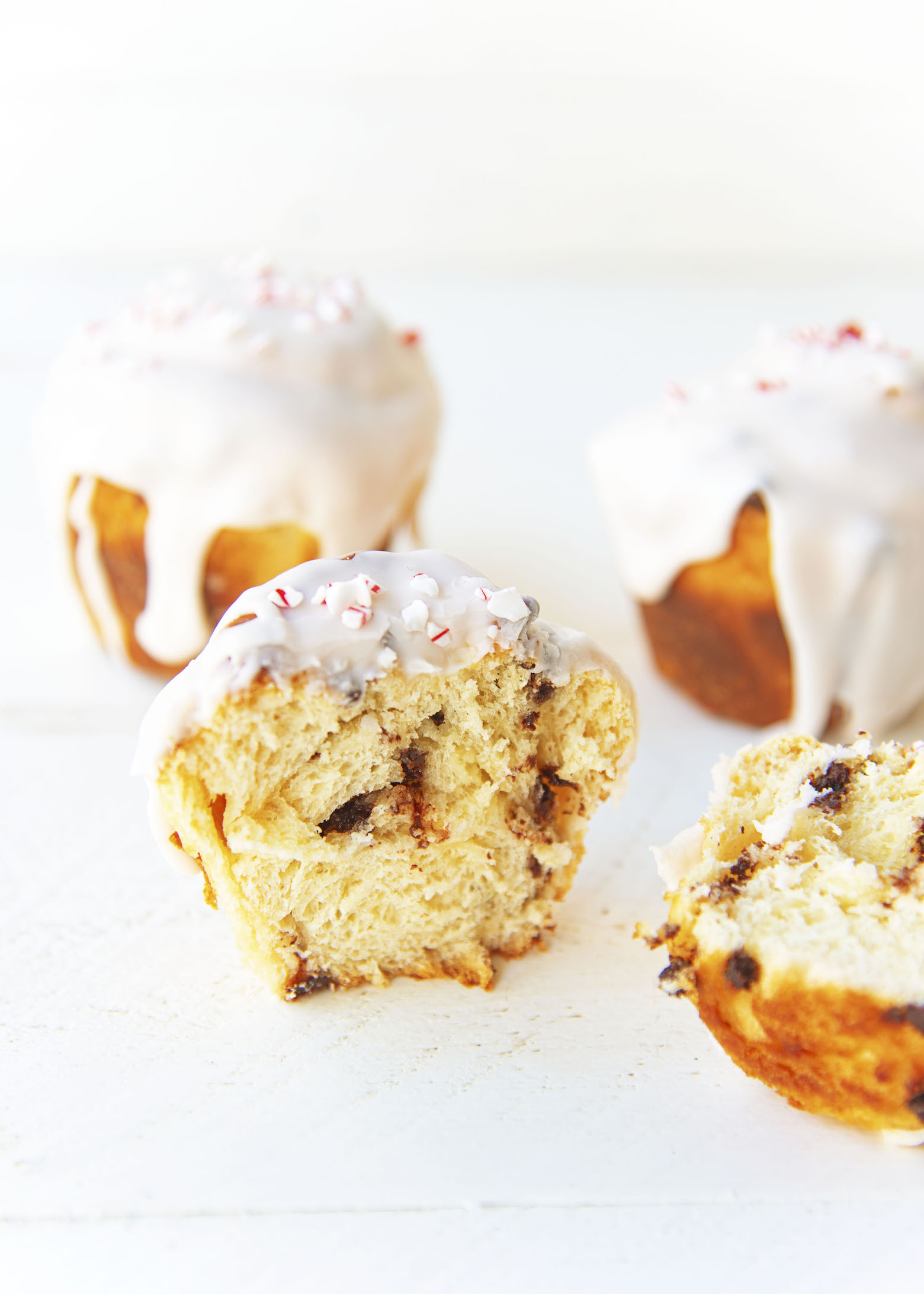 Want More Sweet Roll Recipes?
Bourbon Brown Sugar Caramel Peach Sweet Rolls
Salted Caramel Apple Sweet Rolls
Cinnamon Sugar Apple Babka Buns
Coconut Cream Pie Breakfast Buns
Ingredients
For the Candy Cane Infused Milk:
1 cup candy cane pieces
2 cups whole milk (do not use skim or 2%)
For the Candy Cane Pastry Cream:
1/2 cup heavy cream
1/2 cup candy cane infused milk
3 egg yolks
1/4 cup granulated sugar
1/8 cup corn starch
Pinch of salt
For the Dough:
1/2 cup warm candy cane infused milk, 110 – 115F
1 TBSP active dry yeast (I used Red Star Yeast Platinum)
1/2 cup whole fat buttermilk, at room temperature
2 large eggs
1/2 cup plus 1/2 tsp granulated sugar, divided
1 tsp. salt
1 tsp. vanilla extract
6 TBSP unsalted butter, melted and slightly cooled
3 1/2 – 4 cups bread flour
1 cup mini chocolate chips
For the Glaze:
2 TBSP melted butter
1 ½ cups powdered sugar
6 TBSP Candy Cane Infused Milk
Instructions
For the Infused Milk:
Using a medium saucepan heat the milk and the candy cane pieces together.
Bring to a boil and then take off of heat.
The candy cane pieces should dissolve.
If the candy does not dissolve place over heat and stir until it does. Set aside.
For the pastry cream:
In a saucepan, combine the candy cane infused milk and heavy cream. Bring to a simmer.
In the bowl of a stand mixer fit with the whisk attachment, combine the egg yolks, sugar, corn starch, and salt. 
Whisk on high until light and fluffy.
Turn the mixer speed to medium and carefully pour the hot milk/cream mixture down the sides of the bowl into the egg yolk mixture. 
Whisk until fully combined.
Transfer the custard back to the saucepan, scraping the sides of the bowl to get all the cornstarch into the saucepan. 
Whisk over medium/low heat until the mixture thickens, to the consistency of mayo.
Transfer to a large bowl. 
Cover with plastic wrap, making sure that the wrap touches the surface of the cream to keep a skin from forming. 
Refrigerate until cold, about 2 hours.
For the Rolls:
Using a stand mixer with the paddle attachment add the yeast, warm infused milk, and 1/2 tsp. granulated sugar.
Let rest for 5-10 minutes to proof…the batter will puff up. If it does not then your yeast is bad and rolls won't rise so best to throw out and start again with different yeast.
Add in buttermilk, eggs, 1/2 cup granulated sugar, salt, vanilla, and melted butter and mix until fully combined.
Add in 2 1/2 cups of the flour and mix until fully combined.
Switch to a hook attachment then add another 1 cup flour. Knead mixture until combined.
Continue to knead on low speed about 5 – 6 minutes while adding a little more flour as needed to reach a soft and moist dough (Dough shouldn't stick to the sides of the bowl but does stick to the bottom).
Transfer dough to an oiled bowl, cover with plastic wrap (I find press and seal works best)  and let rise in a warm place until doubled in volume, about 1 1/2 hours.
Punch dough down.
Dust a working surface lightly with flour and turn dough out onto surface.
Sprinkle top of dough with a little flour then roll dough out into an 20 by 18-inch rectangle.
Spread the pastry cream evenly over entire surface.
Then sprinkle the mini chocolate chips over the pastry cream. 
Beginning on an 18-inch side tightly roll dough into a cylinder. Pinch the seam to seal (brushing a little egg white underneath helps if needed or I just use a toothpick).
Cut into 12 equal portions using a large sharp knife (they should be 1 1/2-inch each).
Arrange rolls, spacing evenly apart and divide the rolls up between two greased 9-x-13-inch pans or use cupcake liners and place them in two standard muffin tins.
Cover with plastic wrap loosely.
Let rise in a warm place until doubled in volume, about 1 1/2 hours. Preheat oven to 350F near to the last 20 minutes of rolls rising.
Bake rolls in preheated oven until centers are no longer doughy, about 25-30 minutes.
For the Glaze:
Simply whisk together the butter, powdered sugar, and candy cane infused milk in a medium bowl.
When rolls are cool pour glaze over the top of them.
Let it firm up, which will take about 30 minutes.