This Cake Batter Angel Food Cake is light and fluffy and filled with colorful sprinkles. All topped with a Strawberry Jam Icing.
One of the things I dislike doing in the baking realm is separating eggs.
Unfortunately for me, Angel Food Cake takes a lot of egg whites.
A lot.
Which means a lot of separating eggs.
Carefully.
Since egg whites don't like to whip up when there is any trace of fat in them.
I joked to my husband that I must really love him because I had to separate out 12 eggs to make this Cake Batter Angel Food Cake.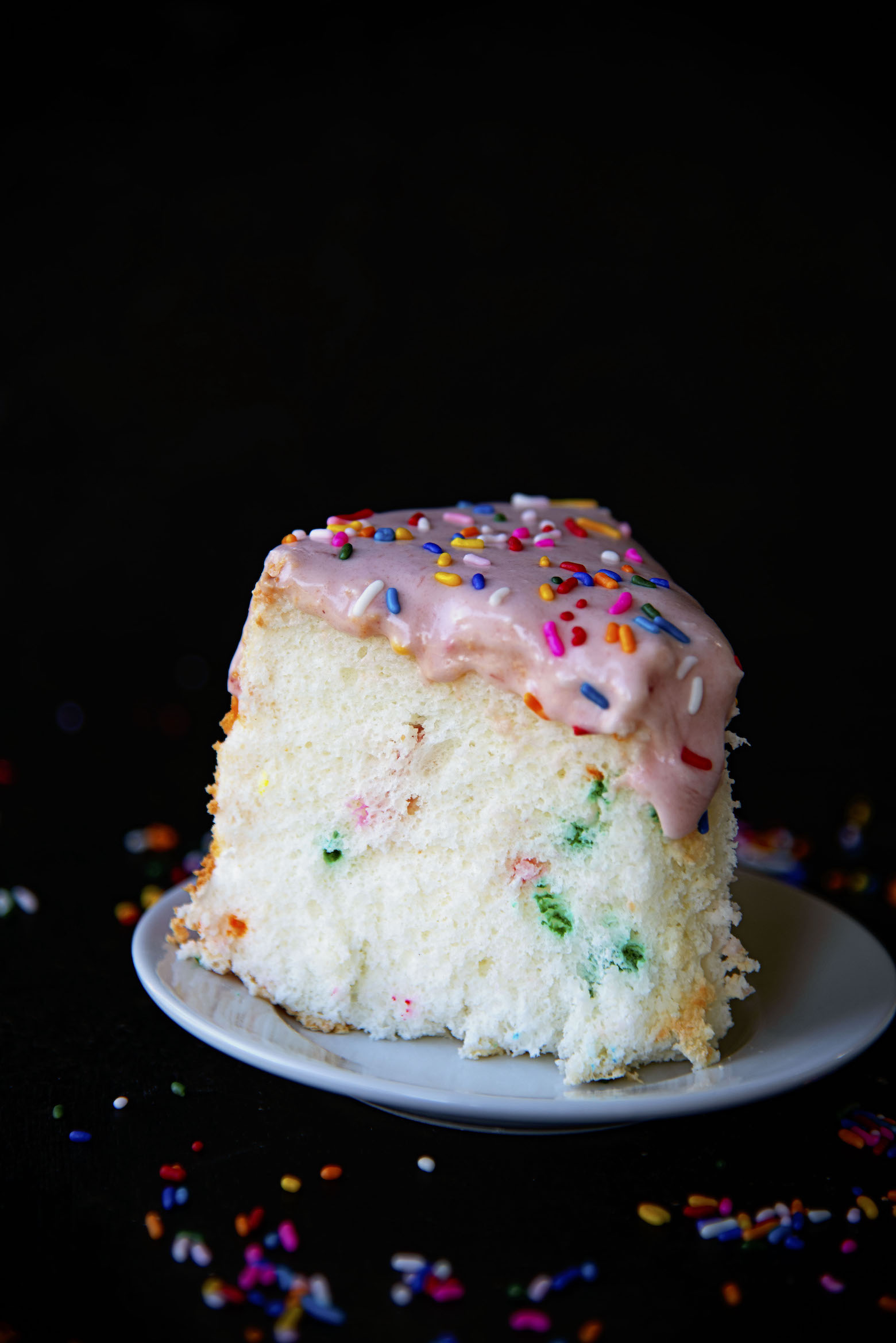 But it was for our anniversary so it was worth the effort.
A lot of people steer clear of Angel Food Cake for that reason alone.
Well, not so much the tedious task of separating the eggs but the what on Earth do I do with 12 egg yolks now?
Because you don't want them to go to waste.
Easy.
Make my Double Key Lime Pie. Or Pastry Cream. German Buttercream for a cake works as well.
Definitely don't let them go to waste.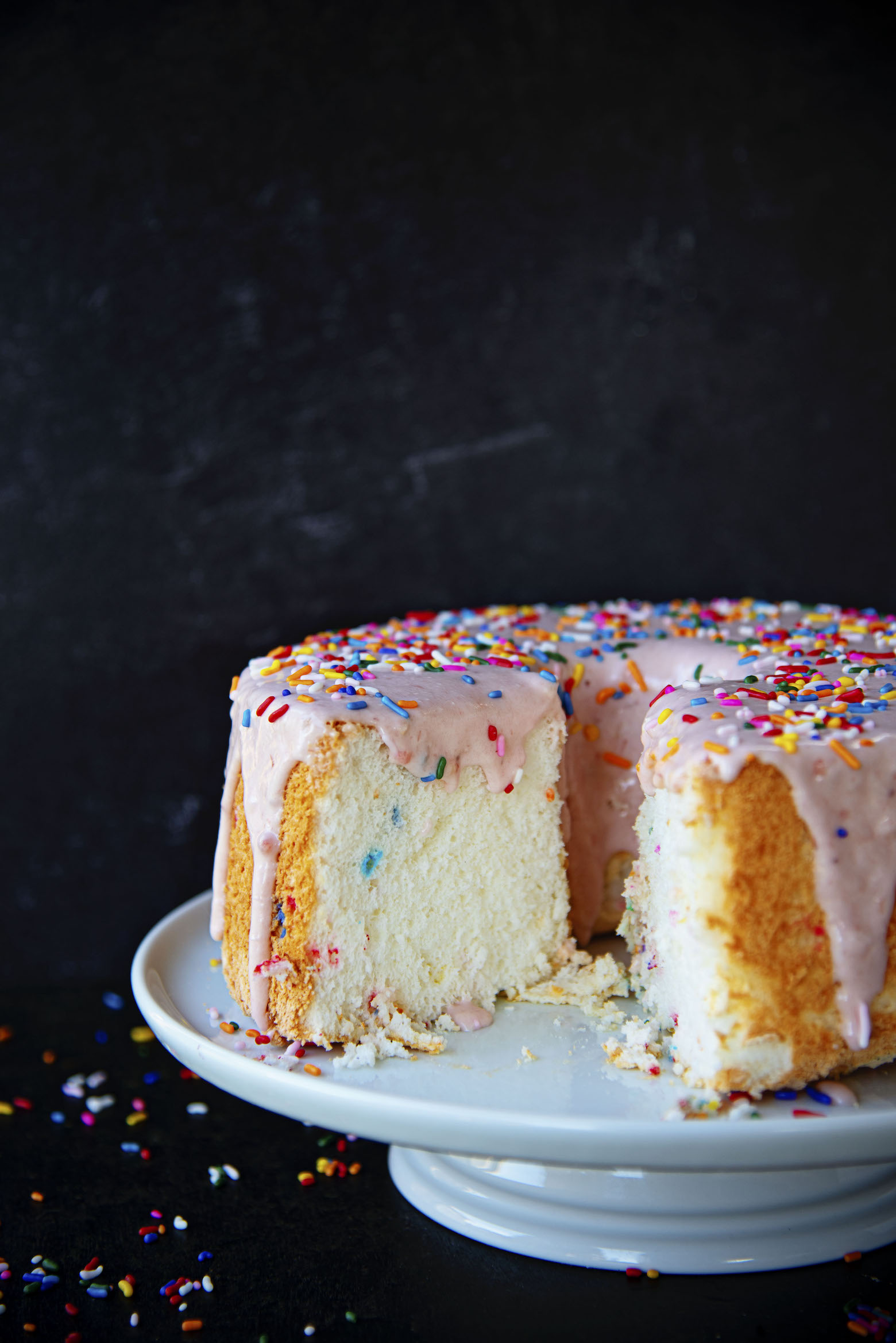 I know someone will ask so yes, you do need the buttery sweet dough emulsion.
It is what gives the cake that Funfetti flavor.
If you don't use it the cake will still be tasty but it will be vanilla flavored.
People always write me and thank me for introducing them to that emulsion.
They buy it specifically for a recipe on here but then end up using it in so many other recipes.
Readers come back and tell me they are so glad I got them to buy it. 🙂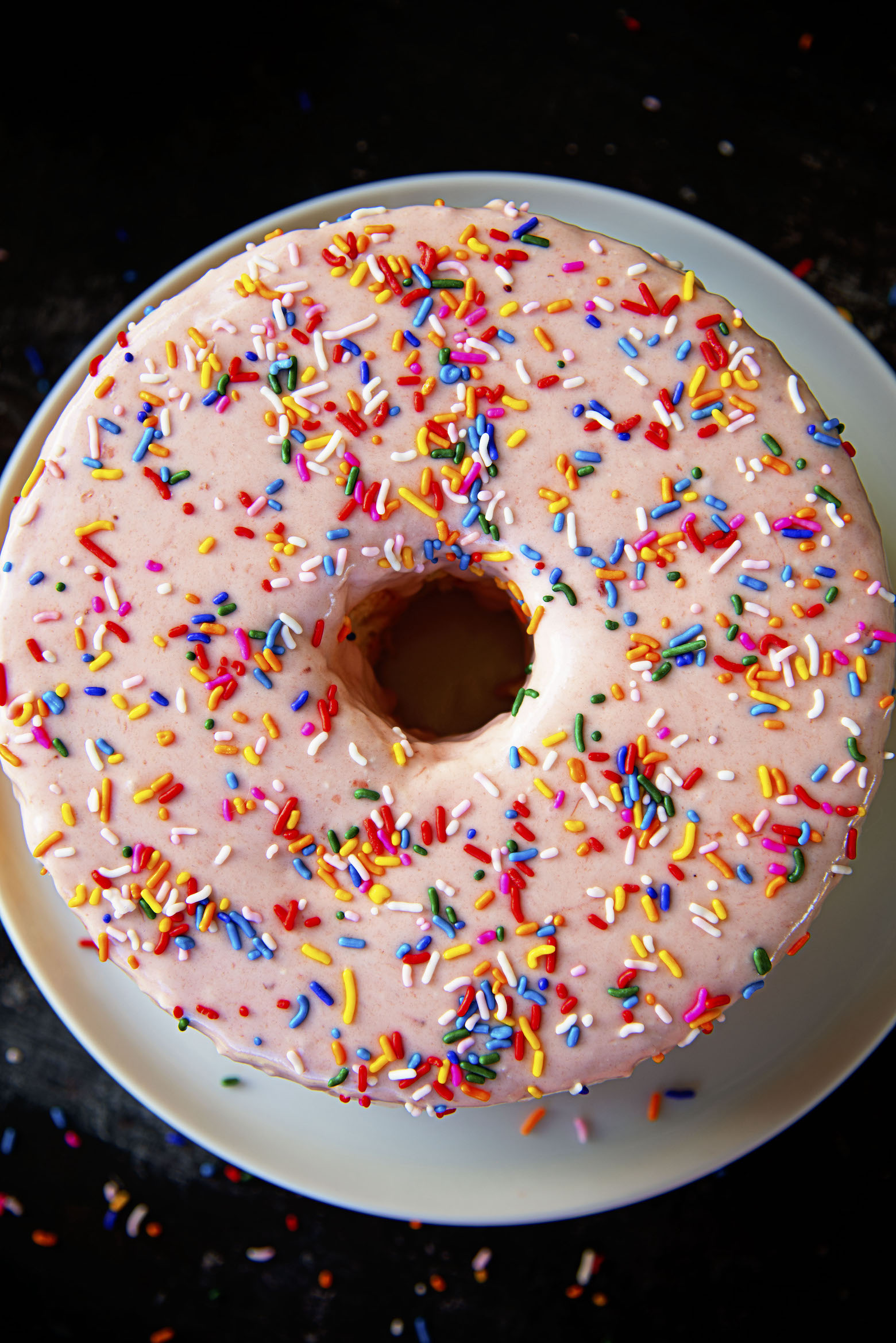 I chose to use a Strawberry Jam Icing for this.
Mostly because I wanted it to look like a giant sprinkle donut.
And it does. 🙂
But if you don't want to use jam just sub the amount of jam for milk.
It's a great day to buy my cookbook.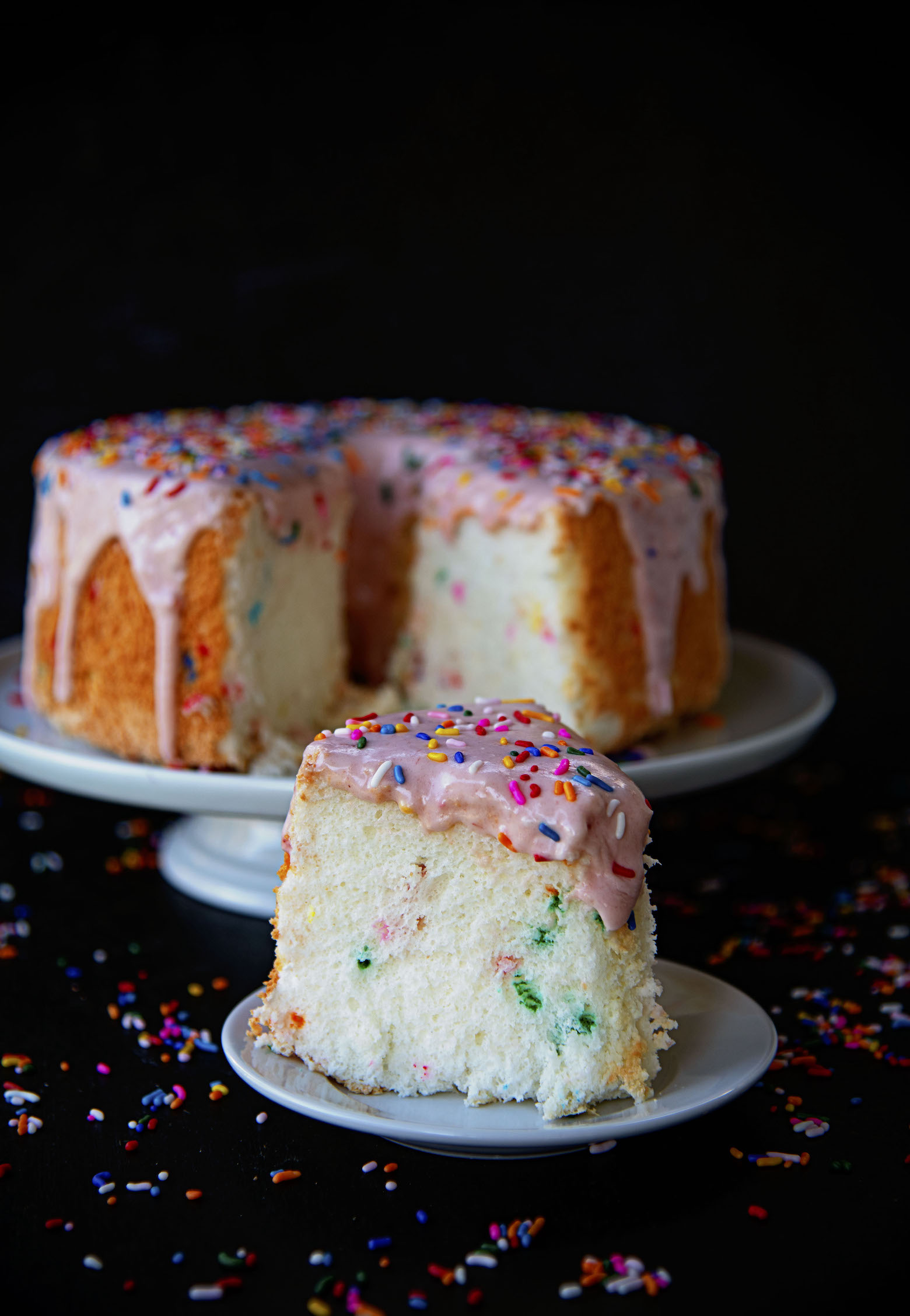 Want More Angel Food Cake Recipes?
Ruby Red Grapefruit Glazed Angel Food Cake
Cherry Cheesecake Angel Dessert
Ingredients
For the Cake:
1 and 3/4 cups superfine sugar
1 cup + 2 TBSP cake flour
1/4 tsp salt
12 large egg whites, at room temperature
1 and 1/2 tsp cream of tartar
1 tsp vanilla extract
1/3 cup rainbow sprinkles
For the Glaze:
3 TBSP unsalted butter, at room temperature
1 ½ cups powdered sugar
1/3 cup strawberry jam
milk to thin
rainbow sprinkles for garnish
Instructions
For the Cake:
Adjust the oven rack to the lower middle position and preheat oven to 325°F.
Using a stand mixer fitted with a whisk attachment, whip egg whites and cream of tartar together on medium-low until foamy, about 1 minute.
Switch to medium-high and slowly add the 1 cup of sugar one TBSP at a time.
Whip until soft peaks form, about 5-6 minutes.
Add the Buttery Sweet Dough Bakery Emulsion and vanilla extract and beat just until incorporated.
Combine the remaining 3/4 cup of sugar with the salt the cake flour.
In 3 additions, slowly sift the flour mixture into the egg white mixture using a fine mesh strainer, gently folding with a rubber spatula after each addition.
To avoid deflating or a dense cake, don't add the flour mixture all at once. Sift and very slowly fold in several additions.
Pour 1/3 of the batter and carefully sprinkle 1/3 of the sprinkles on top of the batter.
Then add another third of the batter and 1/3 of sprinkles.
Then add remaining batter and sprinkles.
Spread carefully with a spatula to smooth the batter into an ungreased 9 or 10 inch tube pan.
Bake the cake until a toothpick inserted comes out clean, about 40-45 minutes. Rotate the pan halfway through baking.
Remove from the oven, then cool the cake completely upside-down set on a wire rack, about 3 hours.
Once cooled, run a thin knife around the edges and gently tap the pan on the counter until the cake releases.
For the icing:
Whisk all the ingredients together and drizzle over the cake.
Add as many sprinkles to the cake as desired.
Notes
Adapted from Sallys Baking Addiction