Bulgur Wheat Apple Cider Walnut Bread: Dense sandwich wheat bread using bulgar wheat flavored with apple cider and walnuts.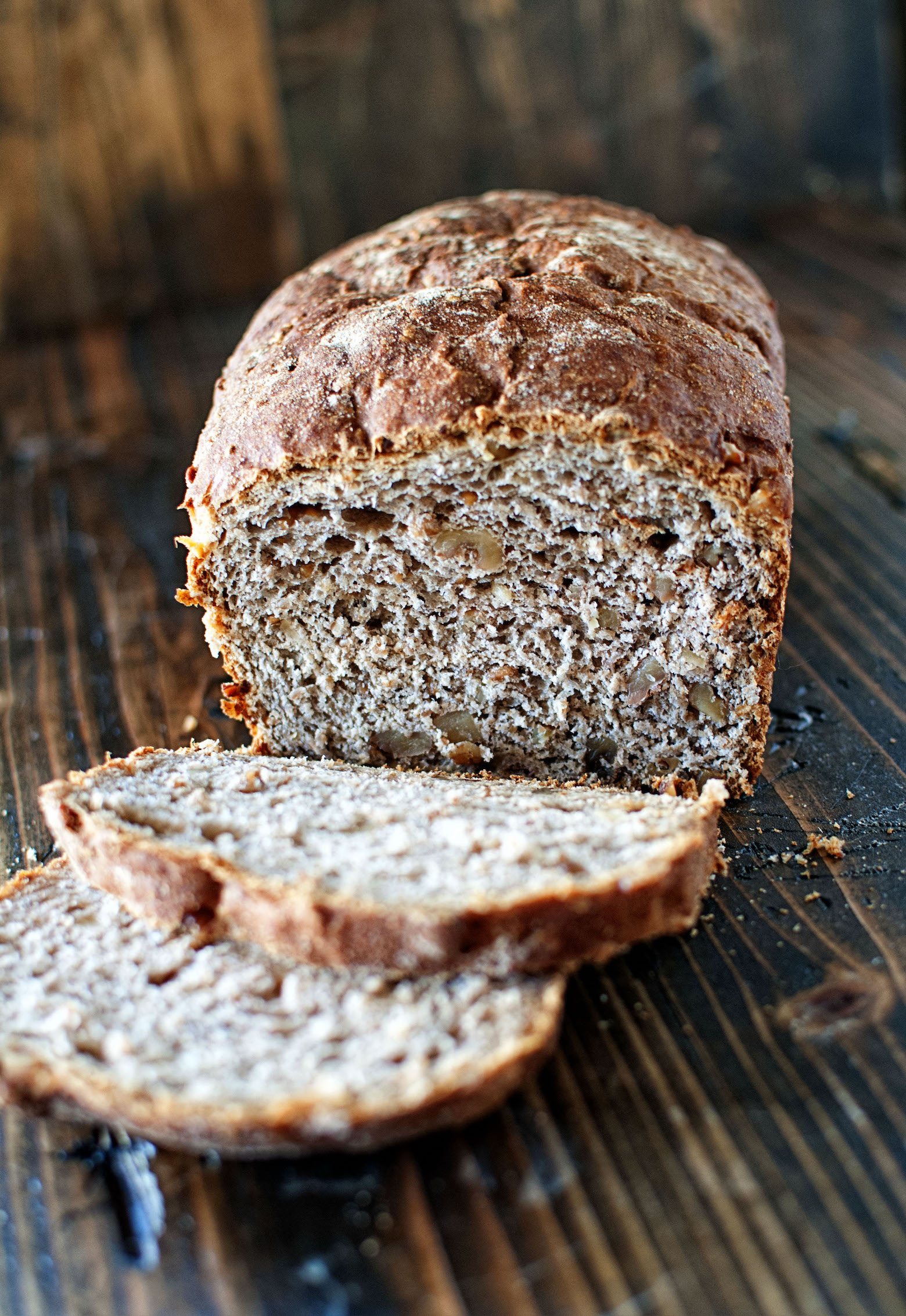 I've teamed up with Red Star Yeast to bring you this post. I was compensated for this post but the thoughts, bad grammar, overuse of emoji's are all mine.
Please support companies that support this blog!
I'm not sure if it's because rentals and apartments have such crappy ovens or if it's just the excitement of owning my own place, but I always want to bake bread when I own a home.
Granted I have only owned two homes…but still. 😀
When we started house hunting I noticed more and more I was collecting cookbooks that were mostly about making bread.
But then we finally got moved in and pretty much the hottest summer ever happened.
So my desire to bake bread was right up there with going to a Justin Bieber concert.
There are many types of bread I like to make, but every week in the fall and winter months, I made my own sandwich bread.
Sometimes it's my go to Oatmeal Buttermilk Bread and other times it's what I call twigs and nuts sandwich bread.
The bread I couldn't stand as a kid and now prefer. 😀
No matter what bread I am making…if it calls for yeast you know I'm using Red Star Yeast.
And if you read this blog for the last few years then you know I am using Red Star® Platinum Superior Baking Yeast®.
It really has changed my yeast baking game.
While I am quite sure that as the years go on I become better at making bread, I also believe it's this yeast that really helps my breads turn out.
Years ago when my husband first showed interest in baking bread I reached out to Red Star Yeast.
I asked if they had interest in partnering with us and they did.
It's been a fun adventure and now that we are settling into the house I know my husband is going to want to dive into more complicated breads and fermentations.
He has lucked out in having the Red Star® Platinum Superior Baking Yeast® from the beginning as well as a personal tutor live and in person. 🙂
One of the great perks of having a hubby who is comfortable with baking with yeast now is that when you have to run your dog to the emergency vet and your husband texts you that the oven timer went off what was I cooking?
I was able to say oh I need you to punch down the dough, shape it for a loaf, and then let it rise for an hour.
Instead of freaking out or saying how he just goes and does it. 🙂
This Bulgur Wheat Apple Cider Walnut Bread is definitely a fall/winter bread as it is quite hardy.
It's a little dense in comparison to your average sandwich bread but I really like that about it.
While I use it mostly for sandwiches I do love it with just a little butter as a side for butternut squash soup.
I made grilled cheese and apple slaw sandwiches with my bread this time around.
The slaw is just store bought with the additions of two apples I sliced matchbook thin and used my favorite poppy seed coleslaw dressing.
My husband added chicken to his as well.
On a side note the dogs really enjoyed the grilled cheese as well.
The dogs were able to steal and inhale half the sandwich before I was able to photograph it for this post. 😀
So if you are going to be getting your fall baking on I highly suggest getting yourself some Red Star Yeast and making this bread.
P.S. It's a great day to buy my cookbook Holy Sweet!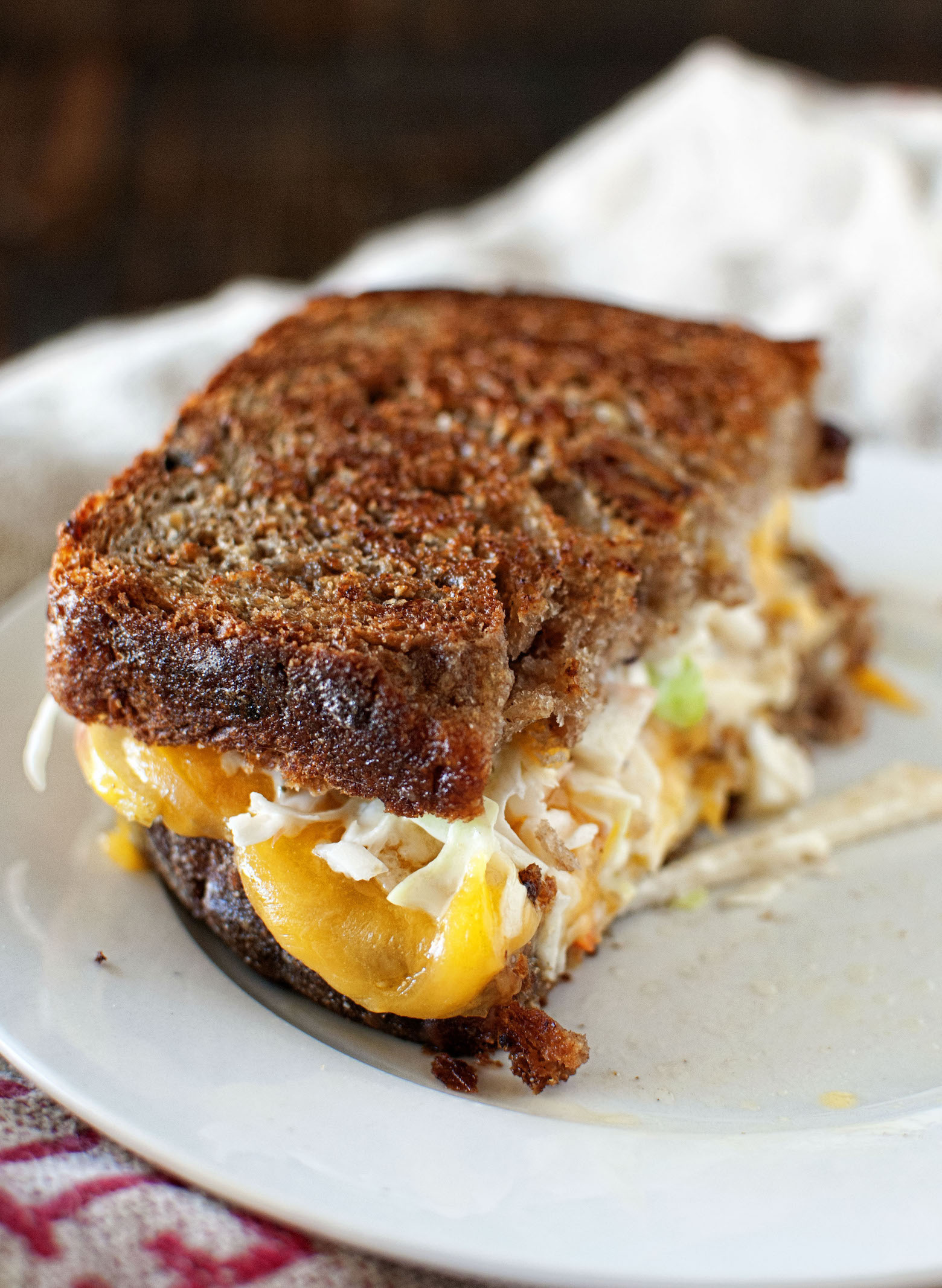 Want More Bread Recipes?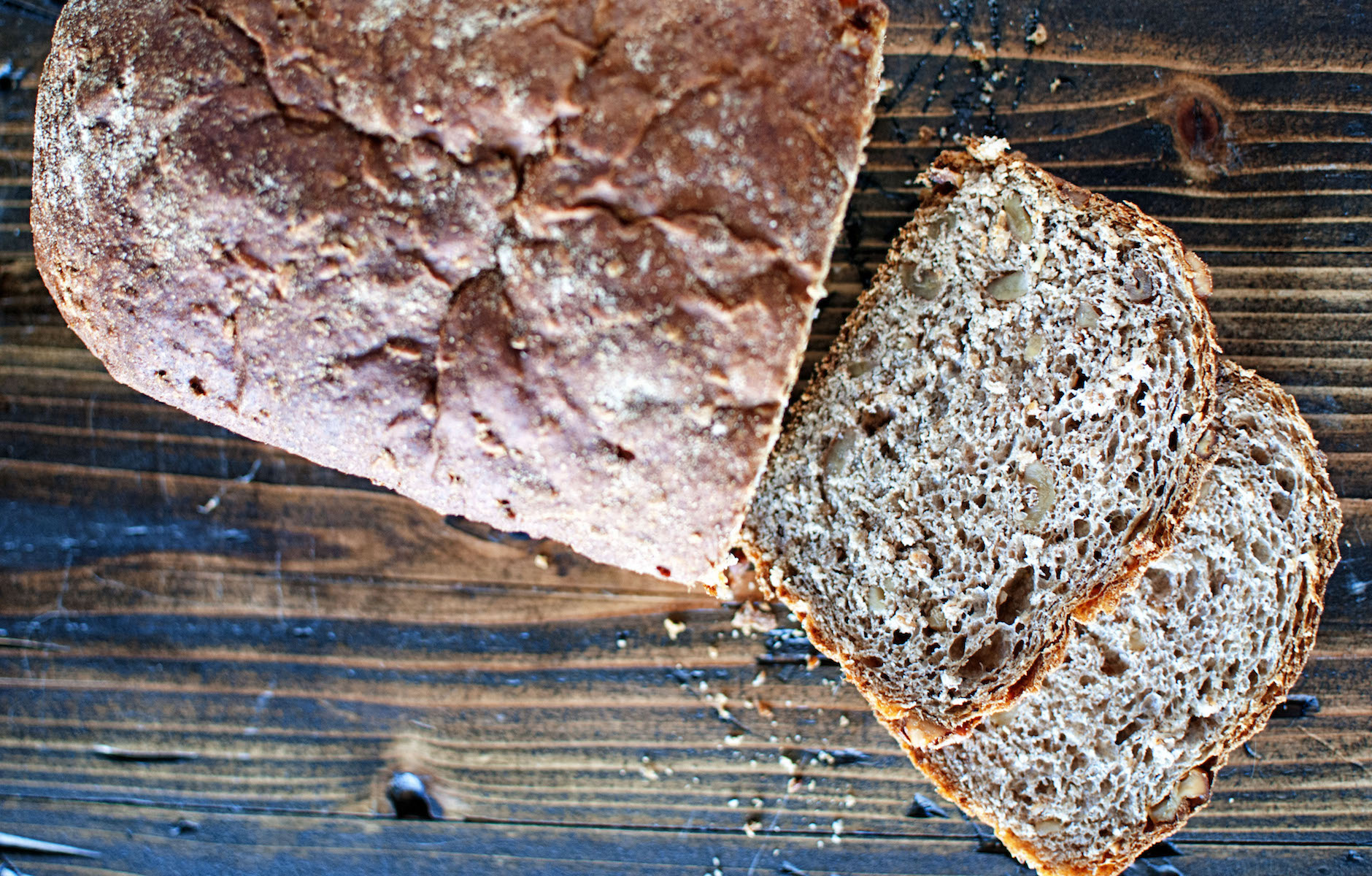 Yield:
1 (9 x 5-inch) loaf
Ingredients
3/8 cup bulgur wheat
1/2 cup boiling apple cider
1 ½ cups walnuts chopped
1 ¼ cups cold apple cider
2 1/4 tsp. Red Star® Platinum Superior Baking Yeast®
2 TBSP Brown Sugar
1 cup plus 1 TBSP coarse whole-wheat flour
2 3/4 cups all-purpose flour
2 tsp. salt
½ cup canola oil
Instructions
Place bulgur wheat in a small bowl and cover with 1/2 cup boiling cider.
Stir with a spoon and let sit with cover on for 10 minutes to let liquid get absorbed.
Place the remaining 1 1/4 cups apple cider in a medium saucepan and warm over low heat, just until it is warm to the touch.
Pour warm cider into the bowl of a stand mixer.
Add yeast and brown sugar and mix with a whisk until yeast has dissolved.
Let mixture stand for 5 minutes.
Add plumped bulgar wheat, 1 cup whole wheat flour, all purpose flour, salt and canola oil.
Using the hook attachment, mix on low speed for 1 minutes to combine ingredients. S
witch to a medium speed and mix for 10 minutes.
Dough will form a loose ball at the base of the hook.
Add walnuts and mix for 2 minutes.
Transfer dough to an oiled, medium bowl and cover with plastic wrap.
Let proof in a warm room, 70-75F, for 2 hours.
Dough will almost double in size.
Pull dough from the bowl onto a flour surface and punch it down with your hands to release the air bubbles.
Form dough into a 12 x 6 inch rectangle and position it so that a long side is facing you.
Fold the 2 short ends onto the top so they meet in the middle.
Starting with the closest end, roll dough away from you into a tight log.
Place loaf in an oiled 9 x 5 x 4-inch loaf pan and cover with plastic wrap.
Let proof at room temperature for 1 hour. Loaf will rise to slightly above the top of pan.
While loaf is proofing, preheat oven to 385F.
Remove plastic and dust top of loaf with remaining TBSP of whole wheat flour.
Place pan in center rack of oven and bake for approximately 50 minutes.
Finished loaf will be medium brown on top.
Let cool in the pan on a wire rack for at least 30 minutes, then run a sharp knife around the sides of the loaf to release it from the pan.
Invert pan to remove loaf.