This Brown Butter Peach Crumb Cake is filled with fresh peaches and topped with a brown butter crumb topping and brown butter glaze.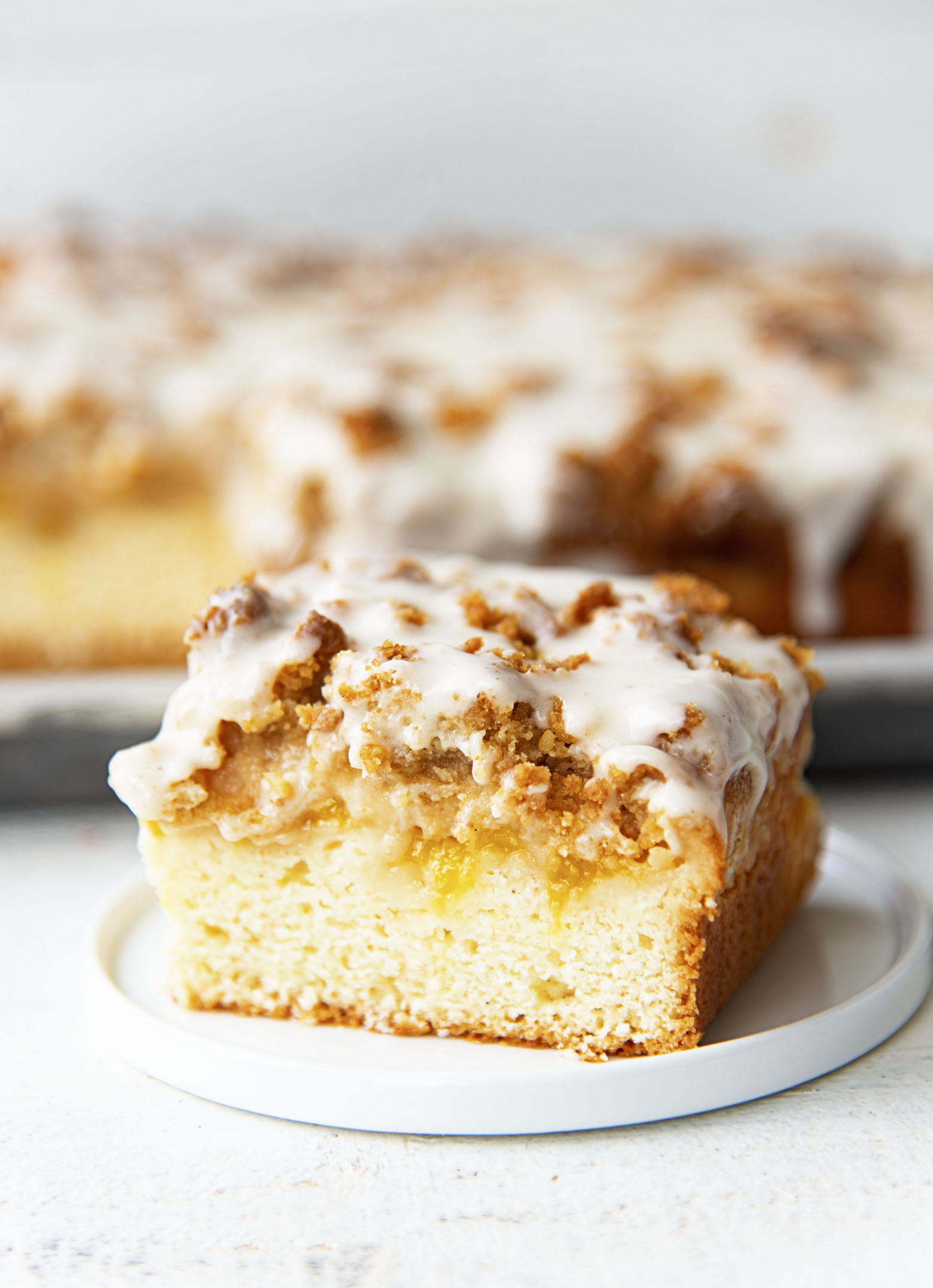 At least a few times a month someone will ask me or my husband if we can use some fill in the blank.
It's usually some sort of in season fruit or vegetables.
That they either grew or the went out picking and got too much of it and don't know what to do with it.
This week a friend of ours got ahold of peaches that you can't even get in the US usually.
They get grown specifically to ship to Japan.
This actually happens way more than you would think.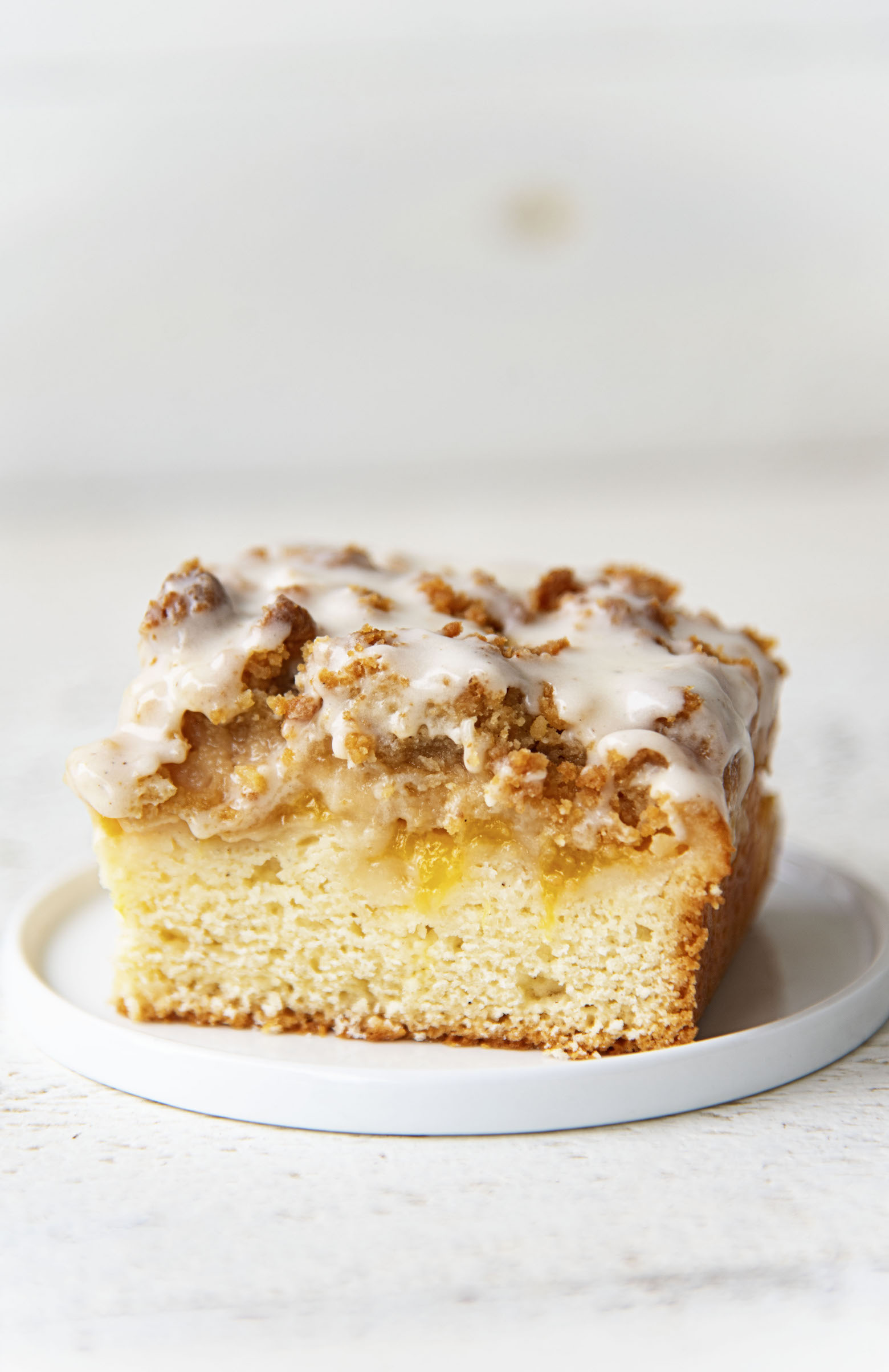 There are varieties we never even see here because they don't really sell well here.
Though I must say I have no idea why we didn't get this variety of peaches because they are awesome.
Not to worry, any peach can work for this Brown Butter Peach Crumb Cake.
You can even use frozen peaches (not canned) if it's not peach season.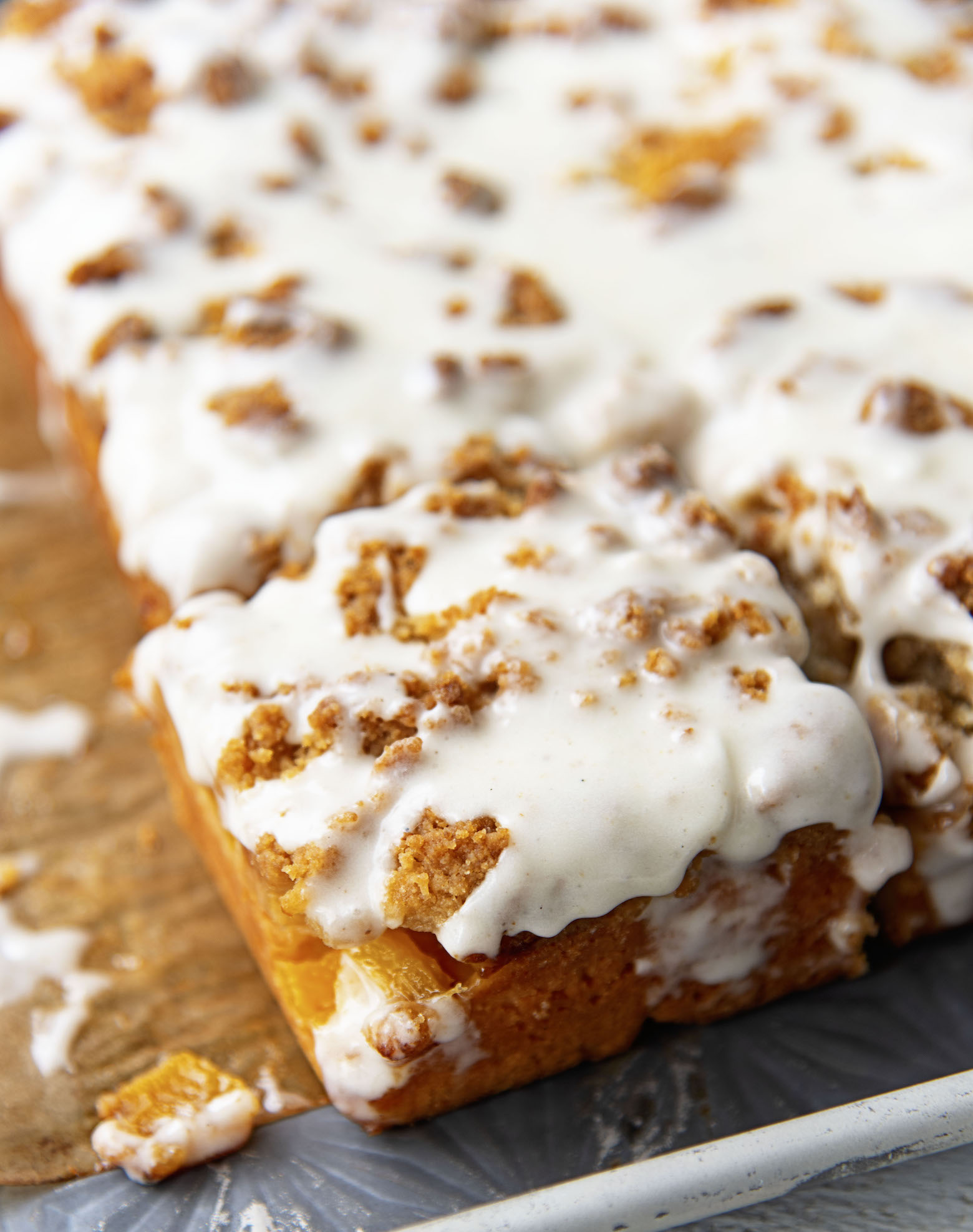 It takes about a minute to look at the archives of this blog to know that I love crumb topping.
I put it on a lot of baked goods.
Really thought about just making a peach pie with the peaches.
Then thought just a crumb topped cobbler.
But finally settled on a crumb cake.
You can skip the glaze if you want a less sweet crumb cake.
Though a brown butter glaze is not the sweet to begin with.
I use peach juice (or nectar) in the glaze. If you can't find that just use milk.
P.S. It's a great day to buy my cookbook.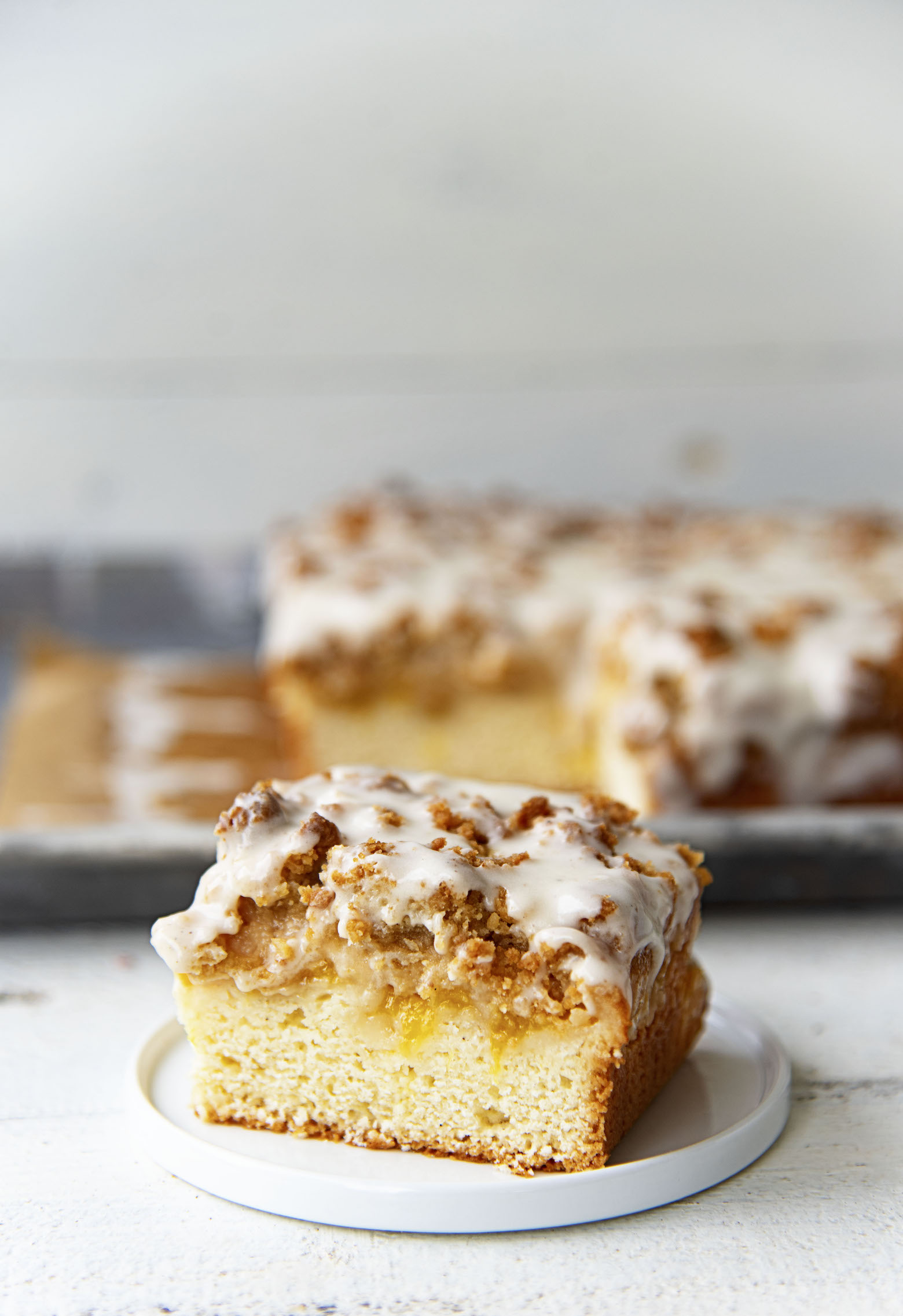 Want More Crumb Cake?
Caramel Turtle Pumpkin Crumb Cake
Fireball Glazed Snickerdoodle Crumb Cake
Crumb Topped Carrot Coffee Cake
Blackberry Brown Butter Crumb Coffee Cake
Ingredients
For the Brown Butter Streusel:
11 TBSP unsalted butter, diced
1 cup brown sugar, packed
¾ tsp kosher salt
1-½ tsp vanilla bean paste (vanilla extract can be substituted)
1-⅔ cups all-purpose flour
For the Cake:
2 cups all-purpose flour
2 tsp baking powder
½ tsp kosher salt
¼ cup unsalted butter, at room temperature
¾ cup granulated sugar
1 large egg, at room temperature
2/3 cup plus 2 TBSP full-fat buttermilk
1 tsp vanilla bean paste (vanilla extract can be substituted)
4 cups of ½" diced and peeled peaches
2-3 tablespoons of brown sugar
For the Glaze:
3 TBSP milk
3 TBSP peach juice
2 TBSP brown butter
1 ½ cups powdered sugar
Instructions
For the Streusel:
Add the diced butter to a small saucepan or skillet set over medium heat.
Stir with a whisk or swirl the pan occasionally to ensure the butter is melting evenly.
Once melted, the butter will sizzle, foam, and eventually start forming little golden bits on the bottom of the pan.
Continue cooking and stirring regularly until the butter has taken on an amber color and nutty aroma. Take care not to burn the butter.
Remove the pan from heat and pour the brown butter into a medium sized mixing bowl.
To the mixing bowl, add the brown sugar, salt, and vanilla bean paste, and stir to combine.
Add the flour and fold until large crumble clumps form and the flour is well incorporated.
Set aside in the fridge while you prepare the cake.
For the Cake:
Preheat the oven to 375 degrees.
Spray a 9" square or round baking pan with cooking spray and line the bottom with a square of parchment paper for easy removal, if desired.
Combine the flour, baking powder, and salt in a small bowl and set aside.
In the bowl of a stand mixer or a large mixing bowl, cream the butter and sugar together on medium speed until light and fluffy, about two minutes.
Add the egg and vanilla bean paste beat on low until well combined.
Scrape the bowl, if needed, to ensure that everything is evenly incorporated.
Add about ⅓ of the dry ingredients and beat on low speed to combine.
Add ½ of the buttermilk and beat to combine.
Repeat this process once more and then add the remaining dry ingredients, stirring on low to combine.
Scrape the sides of the bowl and fold in any unincorporated bits. Your batter will be quite thick.
Spread the batter evenly in the bottom of your lined pan.
In a separate bowl, toss the peaches together with the brown sugar, and spread this mixture on top of the cake batter.
Gently press the peaches into the batter a bit.
Crumble the brown butter streusel evenly on top of the fruit and place the pan in the preheated oven.
Bake for about 45-55 minutes, or until a cake tester inserted comes out clean. Allow to cool slightly before glazing.
Cake will keep best at room temperature, covered tightly in plastic wrap.
For the Glaze:
Simply whisk together the milk, peach juice, butter, and powdered sugar in a medium bowl.
When cake is cool pour glaze over the top of it. Let firm up, about 30-60 minutes.
Notes
Adapted from Cloudy Kitchen