This Bourbon Soaked Eggnog Fruitcake Pound Cake is a pound cake filled with bourbon soaked candied fruit, pecans with eggnog glaze.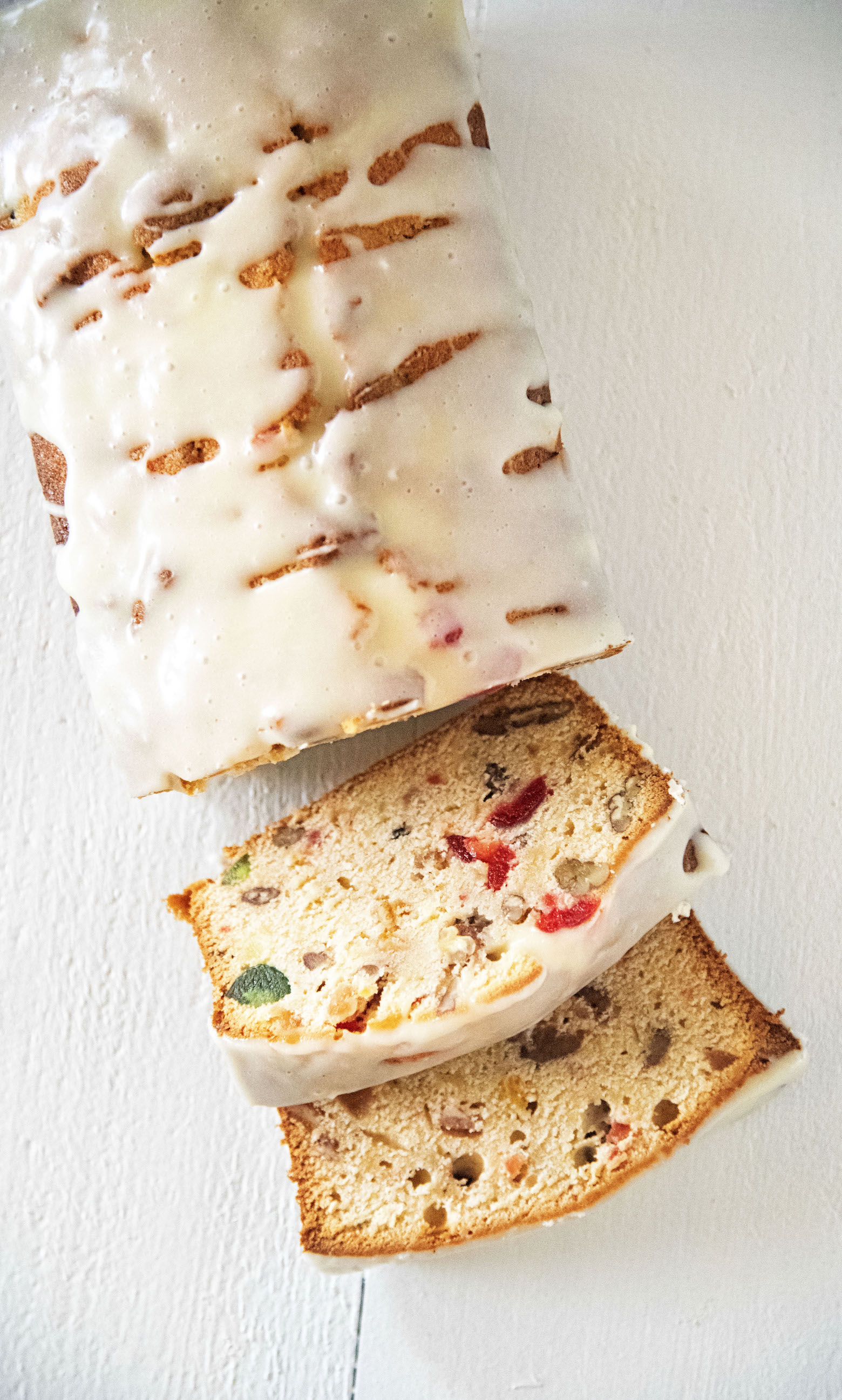 If you are reading this and it's before December 21st at around 5pm-ish PST know that I am running frantically around my house trying to clean.
The family comes on Friday.
Which is great.
Minus the fact that my mom and I have different clean definitions.
Mine definition is "Excuse the mess, our standards have lowered with each dog" and "there appears to have been a struggle".
My mother's definition involves my mother cleaning blinds with Q-tips and all my childhood toys going in tape outlines so everything was in its place.
Think Monica from Friends.
I aim for just slightly above terrifying for her. 🙂
With a super clean toilet. 😀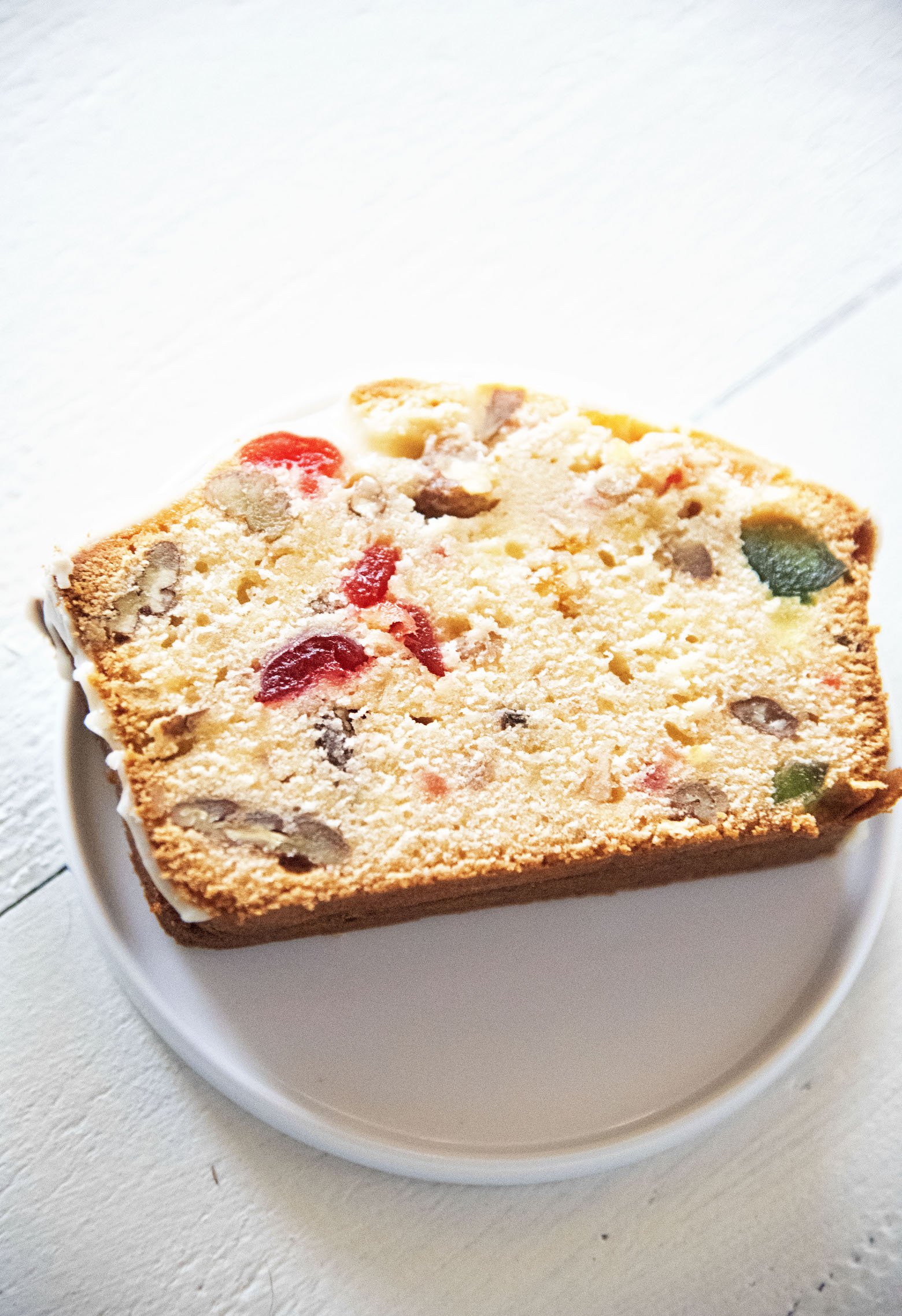 I just make sure to leave her cleaning supplies out.
Not because I want her to clean but because I know it will drive her crazy not too. 😛
Luckily, I don't take it personally.
And she doesn't actually bug me about it, I've just learned the signs over the years. 😀
But I so look forward to seeing them.
I always enjoy cooking with my mom so I can't wait for that.
This Bourbon Soaked Eggnog Fruitcake Pound Cake is a basic pound cake with holiday flare.
The same fruit I used for the cupcakes I used in here.
If you are not a fan of eggnog you can add milk or even more bourbon to make the glaze.
Serve with ice cream is my suggestion.
I served mine with a local spiked eggnog ice cream.
P.S. It's a great day to buy my cookbook.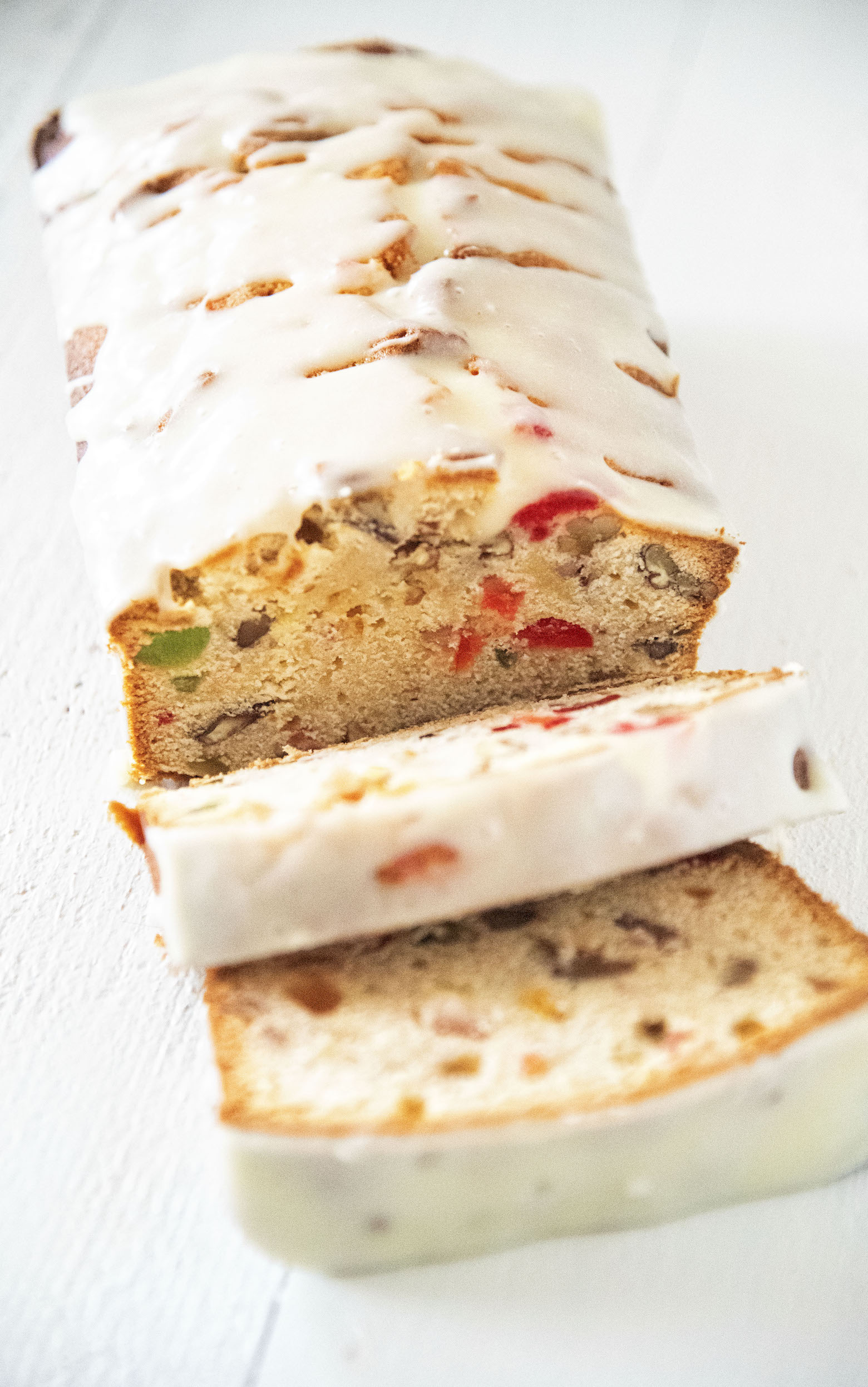 Want More Eggnog Recipes?
Chocolate Bourbon Eggnog Cupcakes
Gingerbread Oatmeal Eggnog Cream Pies
Ingredients
For the Cake:
1/2 pound unsalted butter, at room temperature
One cup +2 TSP granulated sugar
Four large eggs
1 tsp.vanilla extract
2 TBSP. Bourbon
1 3/4 cup all-purpose flour
1 tsp. Freshly ground nutmeg
1/8 tsp. salt
1 1/2 cups candied fruit, soaked in bourbon for 24 hours
1 cup unsalted pecans, chopped
For the Glaze:
3 cups powdered sugar
1/3 cup Eggnog
Instructions
For the Cake:
Preheat the oven to 350°F.
Strain candied fruit from bourbon and set aside. Discard all the bourbon except for 2 TBSP.
Spray a 9 x 5 x 3 inch loaf pan with pan spray and line it with a strip of parchment paper, running along the length of the pan. Spray the paper.
Using the stand mixer fitted with the paddle attachment, beat the butter on high speed until soft and creamy, about one minute.
Slowly add the sugar, beating continuously on high-speed. It should take about 5 to 6 minutes to add the sugar.
Scrape down the sides of the bowl with a rubber spatula.
The mixture should be fluffy, light, and creamy white in color.
Add the eggs, one of the time. Be sure that each egg is completely incorporated and scrape down the sides of the ball before adding next one.
Add the vanilla, bourbon, and nutmeg.
Slowly add the flour, 1/2 cup at a time, and then the salt.
Fold in the bourbon soaked candied fruit and pecans.
Pour the batter into the prepared pan.
Bake the cake for 50 to 70 minutes, or until a toothpick inserted in the center comes out clean.
Let cool in the pan on a wire rack for 5 to 10 minutes, then remove it from the pan and set it out on a rack to cool.
For the Glaze:
Whisk the Eggnog and powder sugar together until fully combined. 
If too thick add more eggnog. 
If too thin, add more powdered sugar. 
Glaze the pound cake. 
Let glaze set up for about an hour and serve.