This Bourbon Glazed Brown Butter Crumb Topped Pumpkin Cake is a spicy pumpkin cake with Brown Butter Crumb Topping all glazed with a bourbon butter glaze.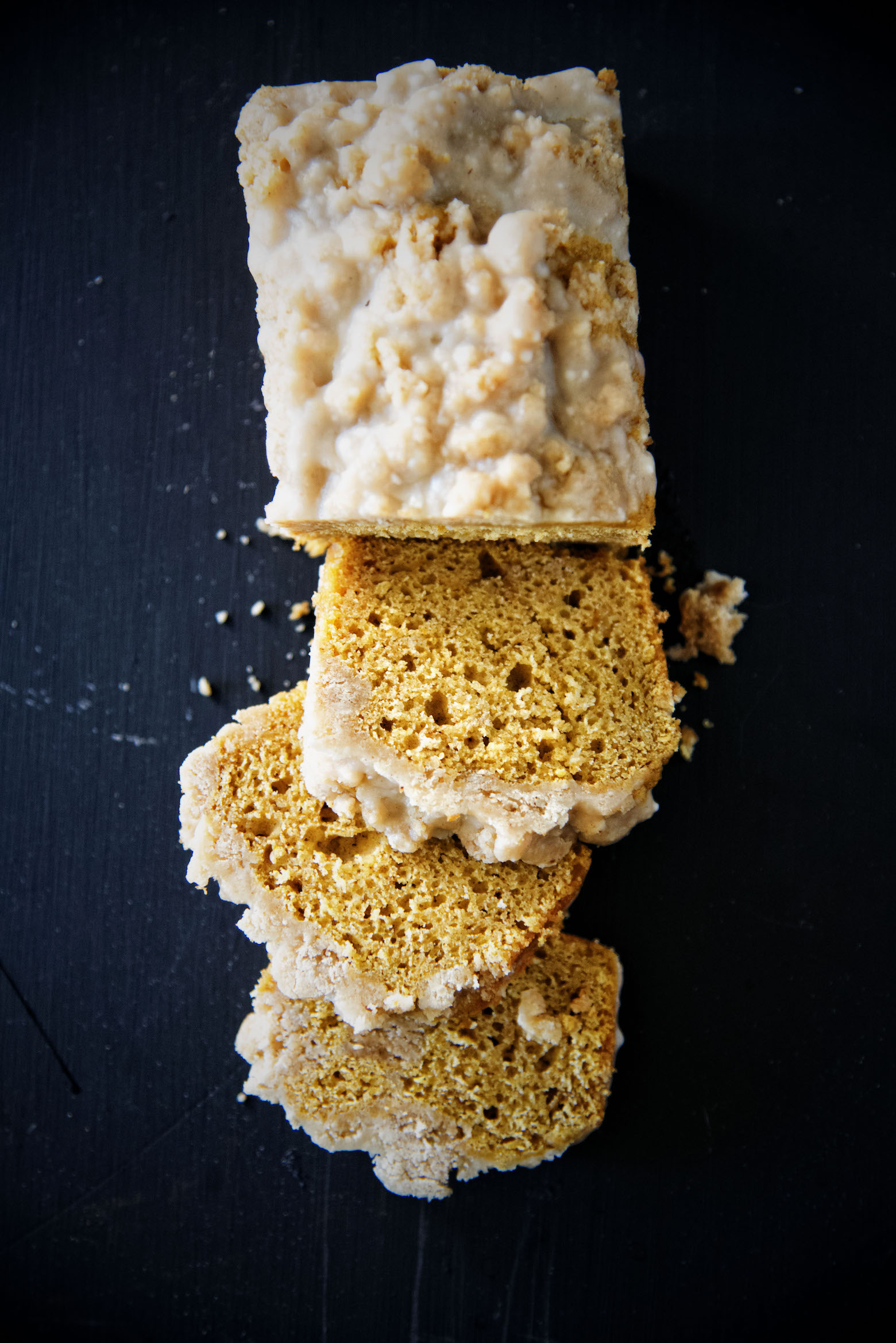 I have a love/hate relationship with Twitter.
Love that I can find out things going on the quickest there…whether local or national.
Example, last night there was a large fire in our area but could find nothing on the news about it.
But Twitter was nice enough to know what was going on.
The hate part of Twitter is it brings out the worst in people and not people (bots).
It's hard not to get sucked in to something that makes your blood boil.
Or the fun when you go on Twitter and see Mario Kart trending and think it's all innocent.
Only to find out that it's because Stormy Daniels wrote that Trump's penis was like the mushroom character in Mario Kart.
So now I can't play Mario Kart ever again.
Which is fine because we don't even own an X-box anymore now that they kids are all grown up…but still.
And you can't un-read that.
Therefore that image is there now. AHHHHHHHHH
Then you have people arguing with bots.
It takes like two seconds to check a person's profile.
If they have like no followers and all their tweets are retweets they are most likely a bot.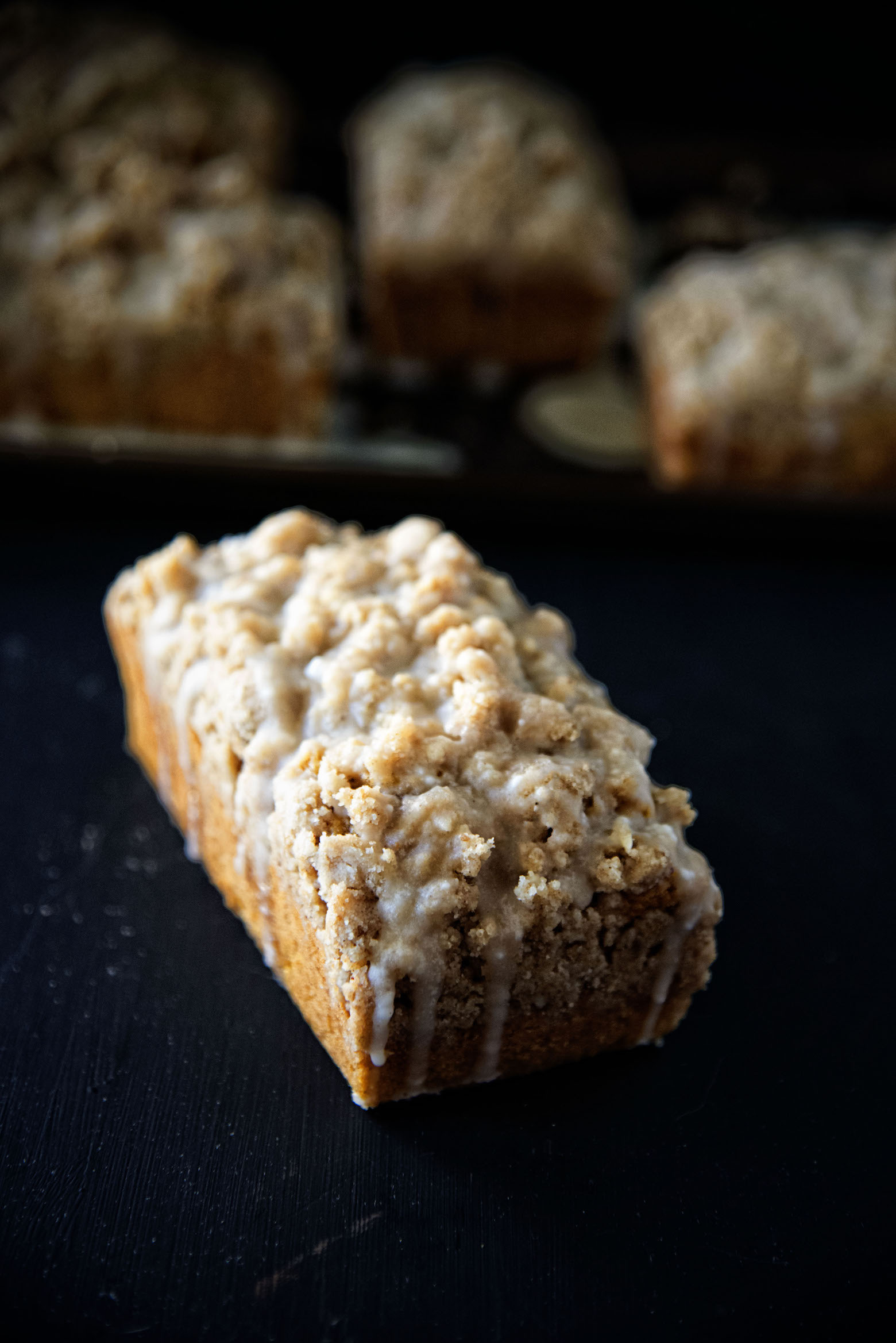 But like I said…for better or worse (most days worse) Twitter does stay on top of things. 🙂
In just a few short days fall will officially be starting.
While I have been fall baking for a few weeks now, I'm no longer getting flack about baking with pumpkin.
This crumb cake is sooo good.
A few years ago I went to adding a butter glaze to anything crumb topped because it taste good but also because it's holds the crumbs on the cake.
I almost always bake fall baked goods in mini pans.
Why mini?
Because it's easier to share that way.
Much more fun to get a mini loaf than me handing someone two pieces of large cake I cut.
The pans I use are these.
I love them. 
Use them all. the. time.
It's best to have two sets and that is what you want to get too. 
Hopefully you are ready for fall because it's here this weekend even if you're not ready. 😛
Be sure to order my cookbook.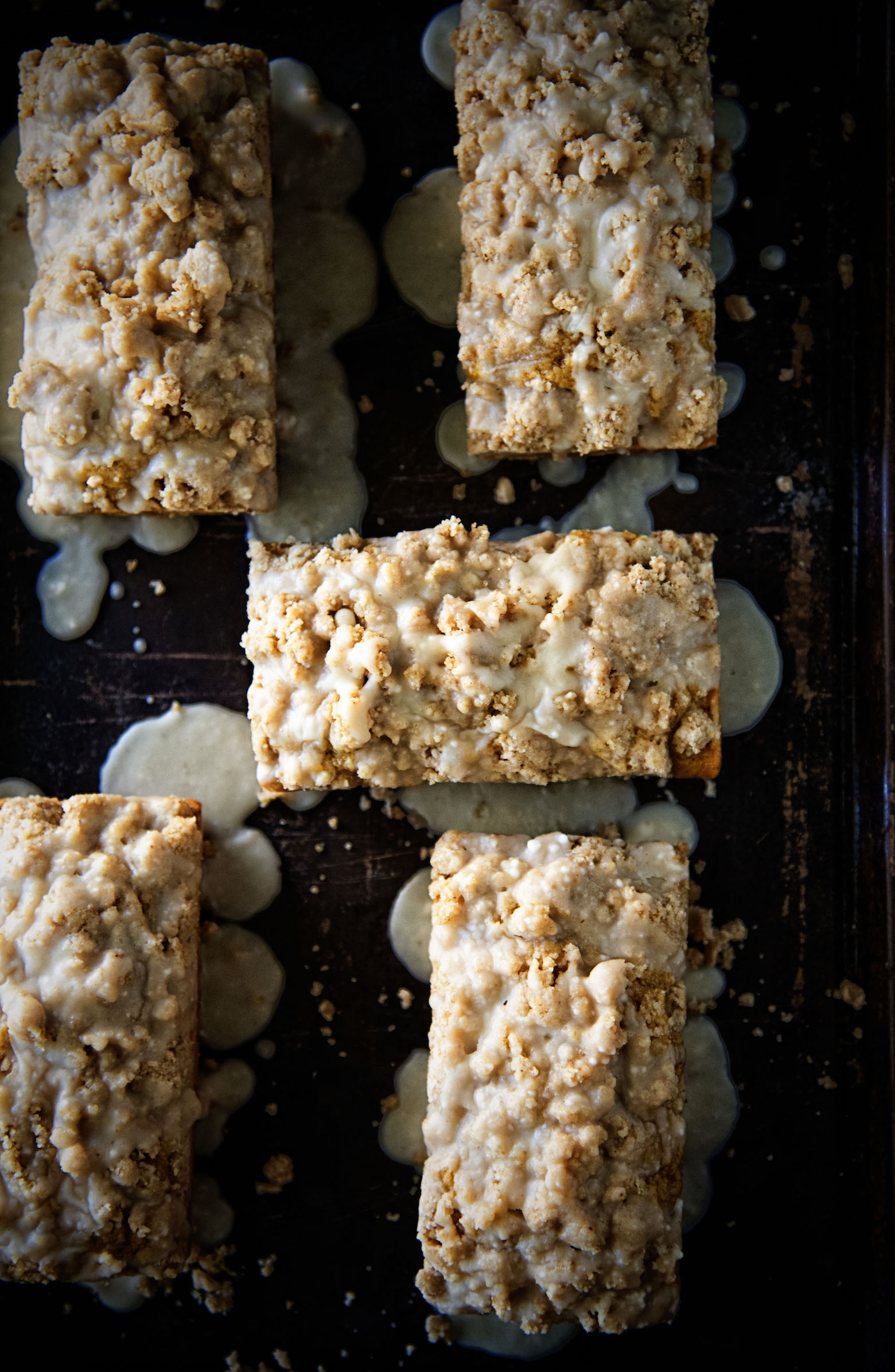 Want More Pumpkin Recipes?
Pumpkin Spice Latte Russian Tea Cake Cookies
Salted Caramel Frosted Pumpkin Cupcakes
Chocolate Cinnamon Frosted Pumpkin Cupcakes
Mini Pumpkin Toffee Bundt Cake
Ingredients
Crumb Topping:
1/3 cup granulated sugar
1/3 cup brown sugar, packed
¼ tsp. salt
¾ tsp. cinnamon
8 TBSP unsalted butter , browned and cooled slightly
1 ¾ cup cake flour
For the Cake:
½ cup unsalted butter, at room temperature
1 cup granulated sugar
2 large eggs
1 cup full fat buttermilk
1 1/4 cups pumpkin puree
½ tsp. vanilla bean paste
2 tsp. Pumpkin pie spice
2 ½ cups cake flour
2 tsp. baking powder
½ tsp. baking soda
Pinch of salt
Glaze:
3 TBSP heavy cream
3 TBSP Bourbon
2 TBSP melted butter
1 ½ cups powdered sugar
Instructions
For the Crumb Topping:
In a medium sized bowl, put sugars, salt, and cinnamon and stir until combined.
Add the browned butter and then cake flour and mix (hands work best for this). Set aside.
For the Cake:
Preheat oven to 325F.
Spray baking spray 5 mini loaf pans (Chicago Metallic Non Stick Mini Loaf Pans is what I use) and set them aside.In a stand mixer with a paddle attachment cream together the butter and sugar until light and fluffy, about 3 minutes.
Using a separate bowl add the buttermilk, pumpkin puree, vanilla bean paste, pumpkin pie spice, and eggs and whisk until fully combined.Grab another bowl and add flour, baking powder, baking soda, and salt.
Alternate adding dry ingredients, then wet, then dry, then wet, and finish with dry.
Mix on low until fully combined.Be careful to not over-mix.Using a regular size ice cream scoop, scoop out three scoops per pan.
Even out with a spatula.
Evenly divide crumb topping (as evenly as you can) into pieces over top of the batter.
Bake for 30-35 minutes depending.
Check by using a wooden skewer or knife to see if it comes out clean.Let cool on wire rack.
For the Glaze:
While cooling make glaze.
Simply whisk together the cream, Bourbon, butter, and powdered sugar in a medium bowl.
When cakes are cool pour glaze over the top of them.Let it firm up.