These Bourbon Frosted Fruitcake Cinnamon Rolls have candied fruit in the dough, classic cinnamon filling, and a whipped bourbon frosting.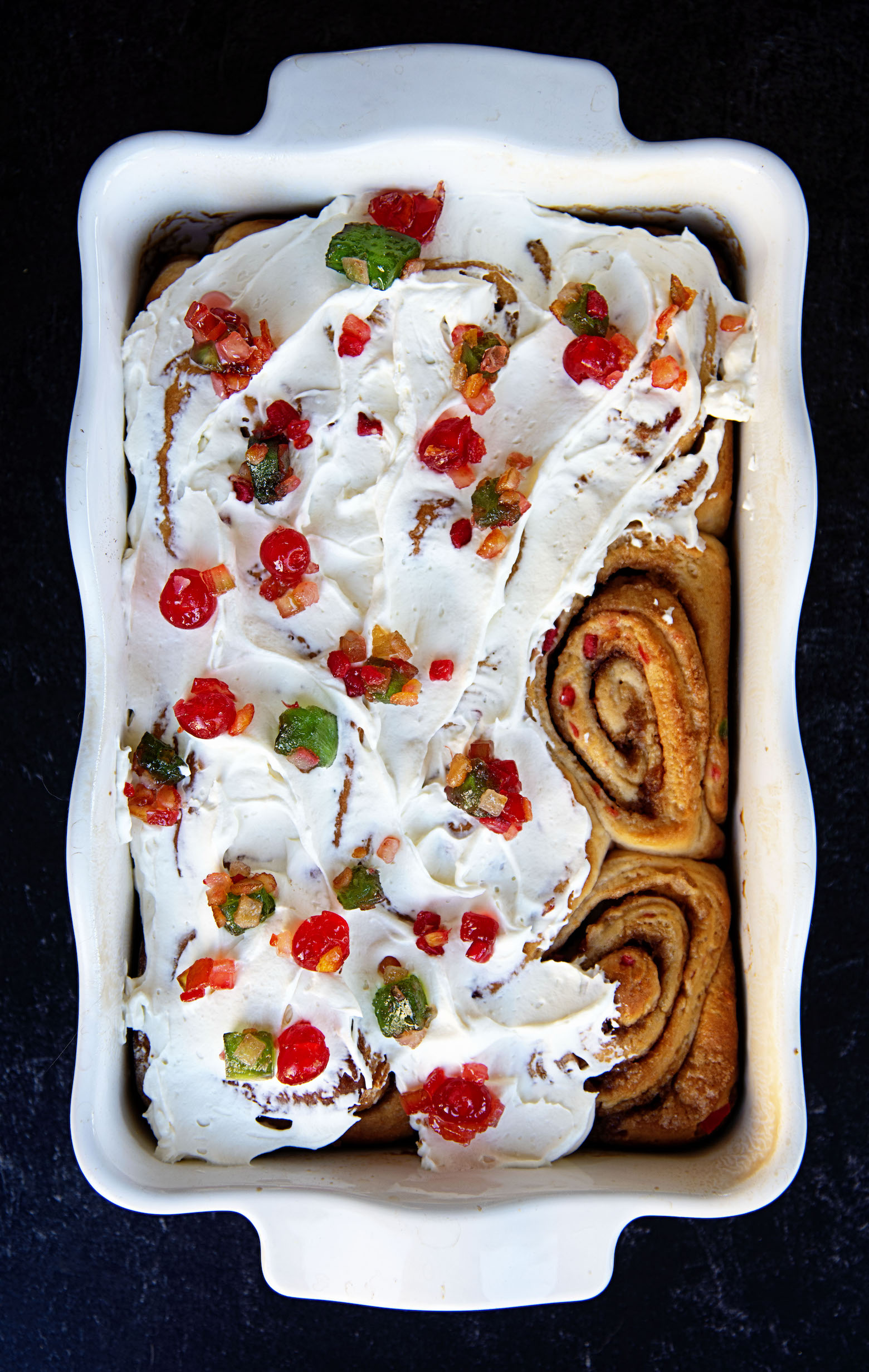 It's that time of year.
The time for glowing fruit.
Now for some reason people run from the neon fruit.
But not me.
I love it.
My husband loves it too, luckily.
The bright red cherries make me think of Rudolph.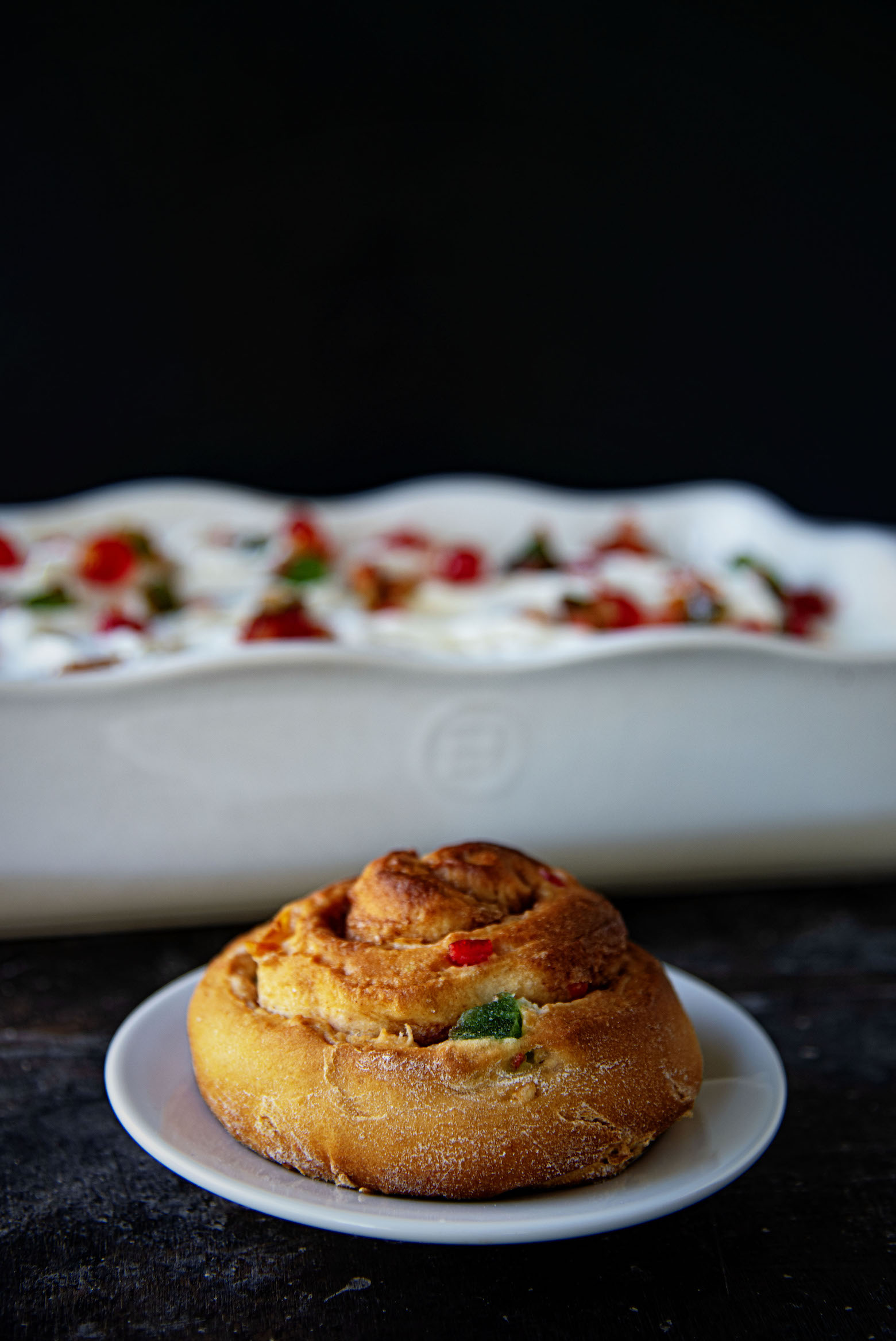 The neon fruit is simply candied fruit.
They just give it a day glow color to make it more festive.
And well, it is festive darn it all.
Forget the glow of a fire I want the glow of the fruit.
So just like I do every year…I make something with candied fruitcake fruit.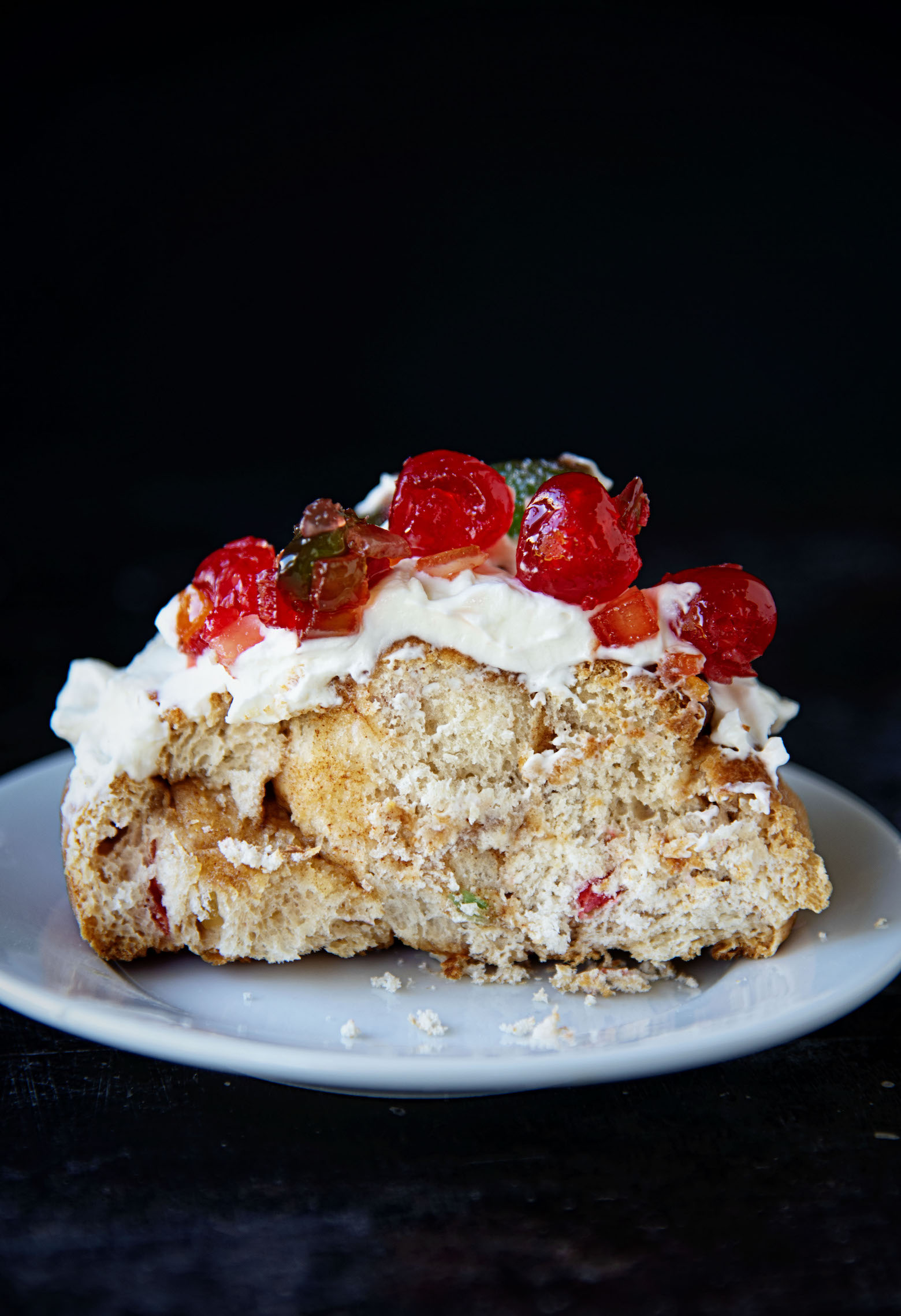 The blog is full of fruitcake recipes.
From an actual fruitcake… to what I do best.
Which is interpret fruitcake flavors.
And those experiments either turn out awesome or epically fail.
With little in between. 🙂
But it's worth it for when you get the awesome.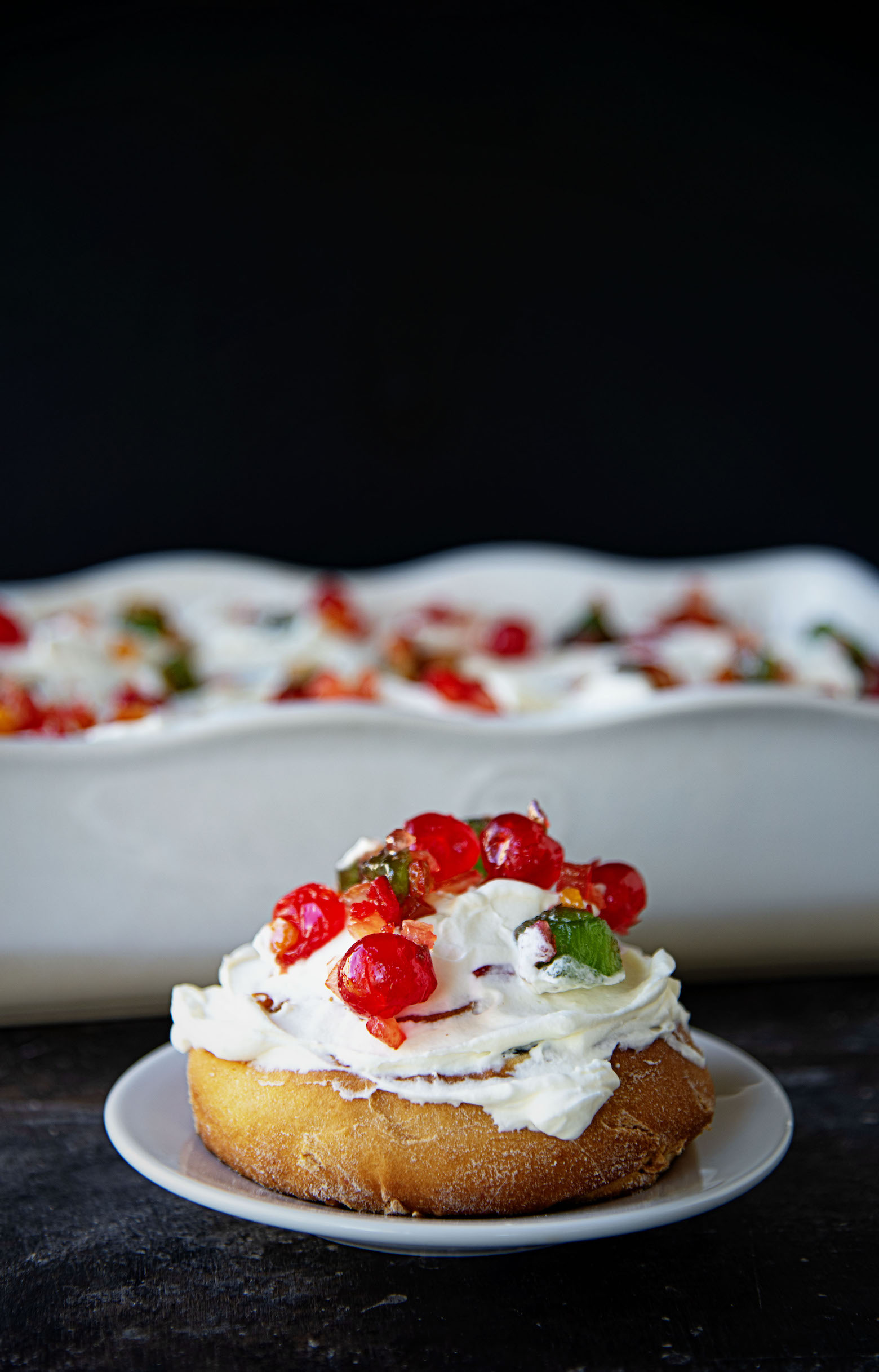 I wasn't too worried with experimenting with these Bourbon Frosted Fruitcake Cinnamon Rolls.
The only real unknown was going to be the frosting.
Which is based on the filling from The Grinch Vanilla Cake Roll.
When making the filling for that cake I kept wondering how it would work in place of cream cheese frosting.
The answer is very, very well.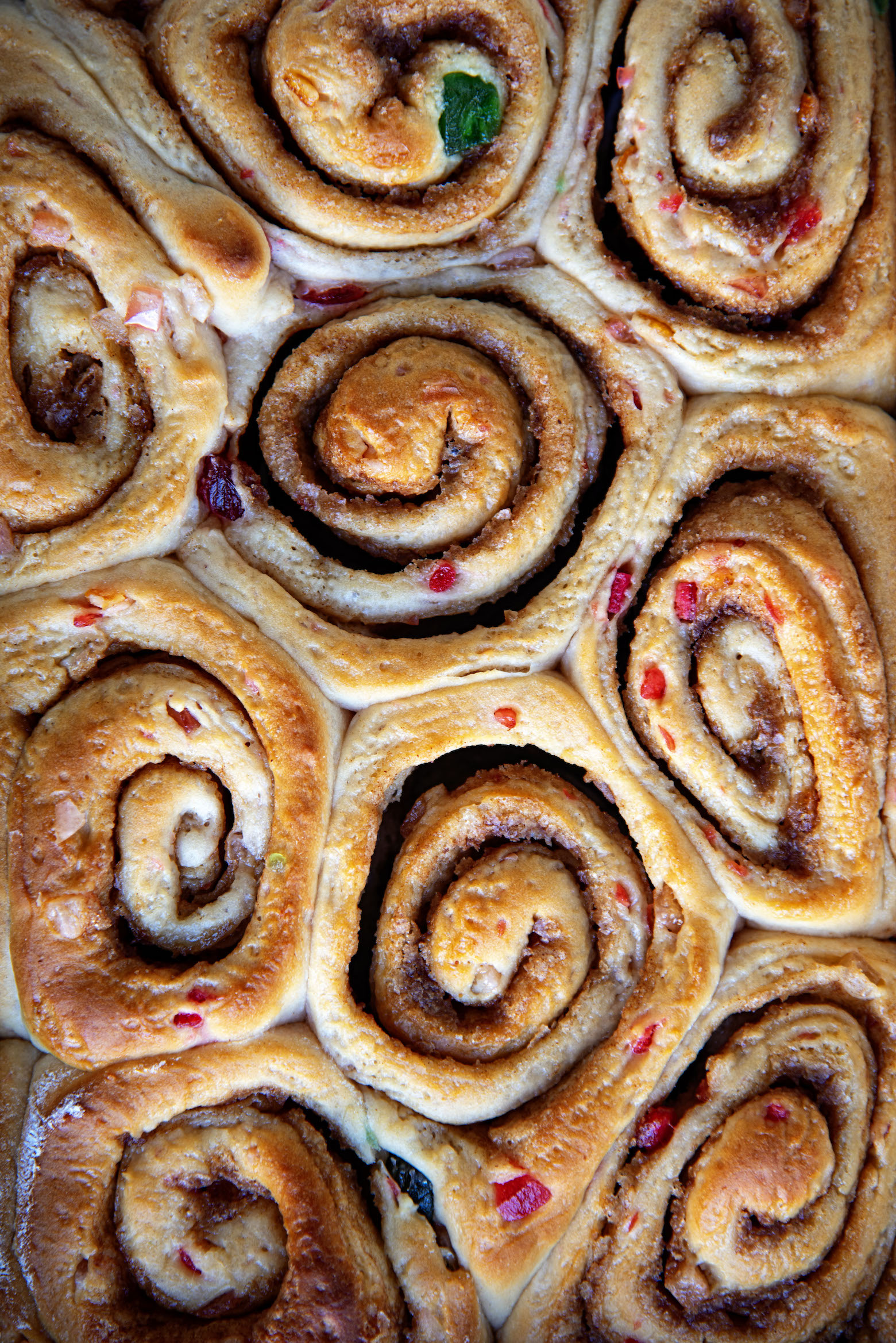 Your dough is going to take a little longer than most cinnamon rolls do to rise.
That's because of the very sugary fruit that is in it causes the dough to not rise as quickly.
Which is fine.
Make these on a day when you have some time to have a long rise.
Maybe sit down and watch some really cheesy Hallmark Christmas movies.
And then eat some rolls.
P.S. It's a great day to buy my cookbook Holy Sweet!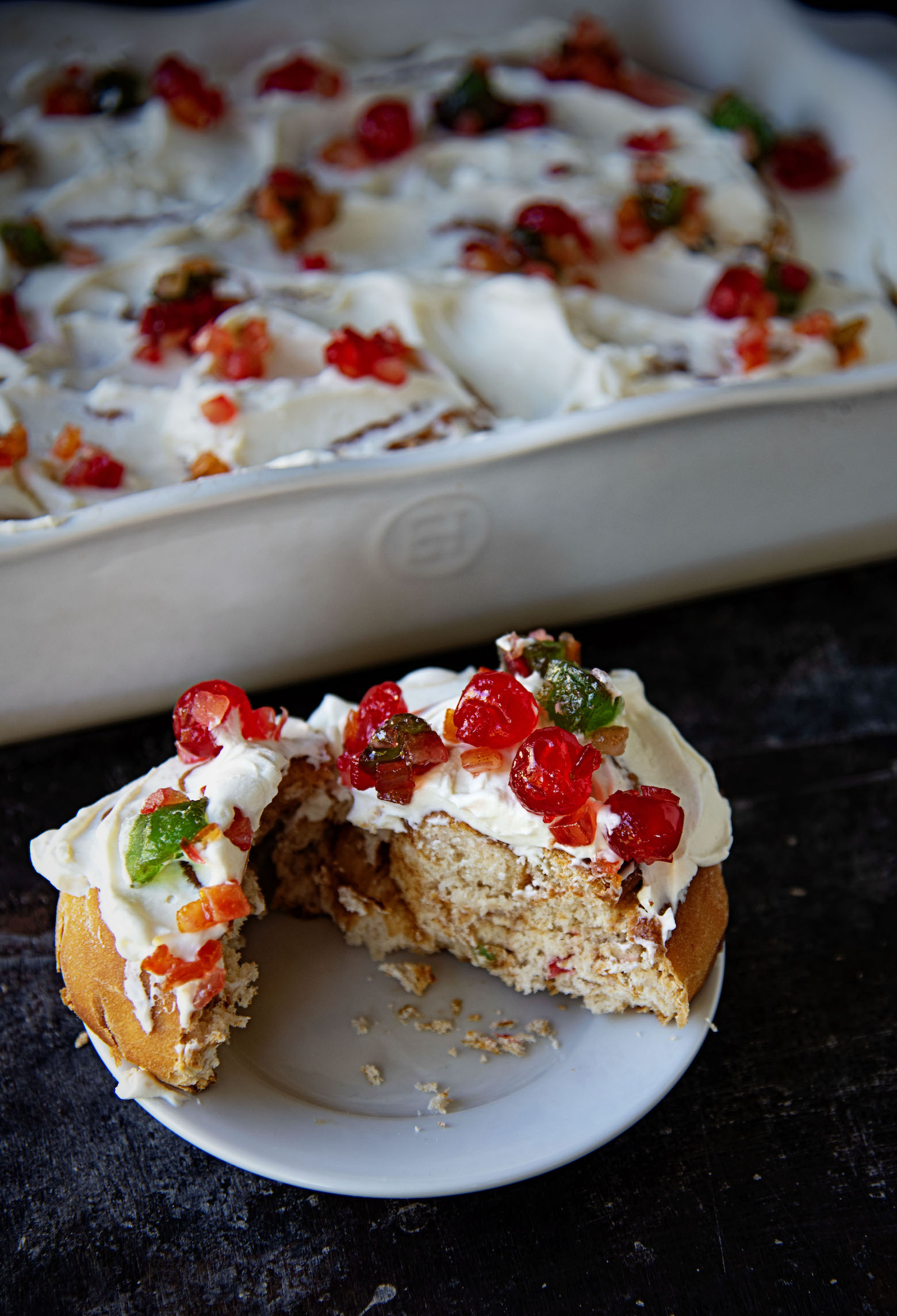 Want more Fruitcake Recipes?
Drunken Orange Cranberry Fruitcake
Orange Glazed Bourbon Soaked Fruitcake Cupcakes
Bourbon Soaked Eggnog Fruitcake Pound Cake
Ingredients
For the rolls:
1/2 cup warm water, 110 – 115F
1 TBSP active dry yeast (I used Red Star Yeast Platinum)
1/2 cup whole fat buttermilk, at room temperature
2 large eggs
1/2 cup plus 1/2 tsp granulated sugar, divided
1 tsp. salt
1 tsp. vanilla extract
6 Tbsp unsalted butter, melted and slightly cooled
3 1/2 – 4 cups bread flour
1 1/2 cups candied fruitcake mix
For the filling:
6 TBSP unsalted butter, super soft but not quite melted
1 cup packed brown sugar
2 TBSP cinnamon
For the Frosting:
1/2 cup cream cheese, cool but soft
1 cup powdered sugar
1 TBSP bourbon
1 cups heavy whipping cream, cold
more candied fruit for garnish
Instructions
Using a stand mixer with the paddle attachment add the yeast, warm water, and 1/2 tsp. granulated sugar.
Let rest for 5-10 minutes to proof…the batter will puff up. If it does not then your yeast is bad and rolls won't rise so best to throw out and start again with different yeast.
Add in buttermilk, eggs, 1/2 cup granulated sugar, salt, vanilla, and melted butter and mix until fully combined.
Add in 2 1/2 cups of the flour and mix until fully combined.
Switch to a hook attachment then add another 1 cup flour and the candied fruitcake fruit. Knead mixture until combined.
Continue to knead on low speed about 5 – 6 minutes while adding a little more flour as needed to reach a soft and moist dough (Dough shouldn't stick to the sides of the bowl but does stick to the bottom).
Transfer dough to an oiled bowl, cover with plastic wrap (I find press and seal works best)  and let rise in a warm place until doubled in volume, about 1 1/2-2 hours. Since there is high sugar content in there with the candied fruit the dough will take longer to rise. It will depend on the temperature in your.
Punch dough down.
Dust a working surface lightly with flour and turn dough out onto surface.
Sprinkle top of dough with a little flour then roll dough out into an 20 by 18-inch rectangle.
Spread the 6 TBSP softened butter evenly over entire surface (hands work best).
In a small mixing bowl whisk together brown sugar and cinnamon. Sprinkle and spread brown sugar mixture evenly over butter layer (try to leave about 1/2-inch border uncovered along all edges).
Beginning on an 18-inch side tightly roll dough into a cylinder. Pinch the seam to seal (brushing a little egg white underneath helps if needed or I just use a toothpick).
Cut into 12 equal portions using a large sharp knife (they should be 1 1/2-inch each).
Arrange rolls, spacing evenly apart. Cover with plastic wrap loosely.
Let rise in a warm place until doubled in volume, about 1 1/2-2 hours.
Preheat oven to 350F near the last 20 minutes of rolls rising.
Bake rolls in preheated oven until centers are no longer doughy, about 25-30 minutes.
Remove from oven and set on a wire rack while you make frosting.
For the Frosting:
Using a stand mixer with the whisk attachment beat the cream cheese and powdered sugar until smooth. Scrape down the bowl as needed.
With the mixer running on low, add the bourbon and stream in the heavy whipping cream.
Turn the speed up, and whip together until stiff peaks form.
Frost the rolls and top with more candied fruit.