This Bourbon Eggnog White Chocolate Cake is a white based cake with eggnog and bourbon topped with white chocolate bourbon German buttercream.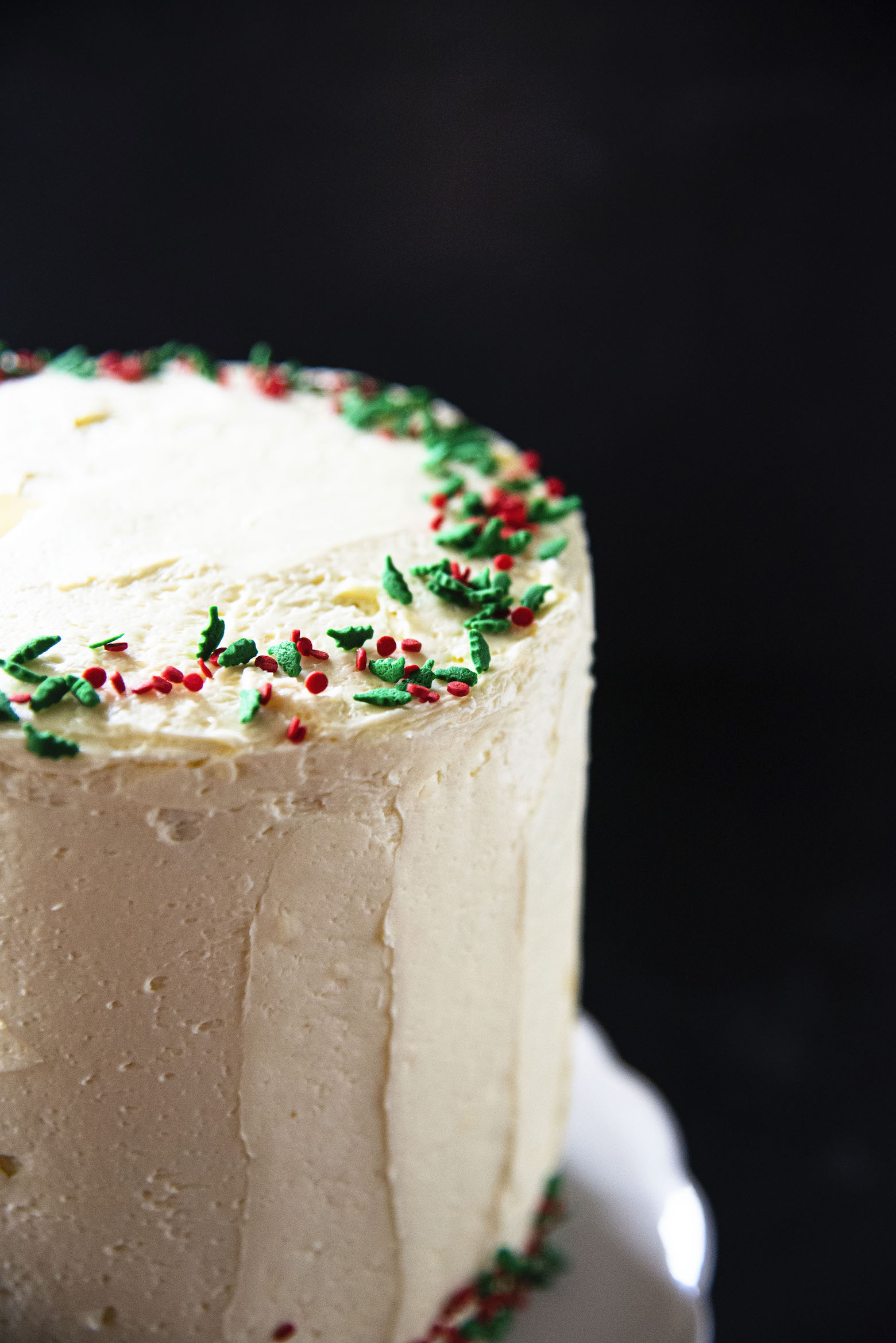 My tree is up.
Already it has improved my mood.
And while many love to jump in and talk about how it's too early to put the tree up I offer the suggestion of not putting YOUR tree up in YOUR house.
No need to worry about what fake forests I have going on in my home.
Our tree goes up early now every year not only because it brings me joy but because with the type of dogs we take in they don't always make it to Christmas.
But we still want Christmas memories with them.
And yes, that is a little sad.
But one thing about taking in the kind of dogs we do…you learn to live in the moment.
Make your Christmas memories when you can.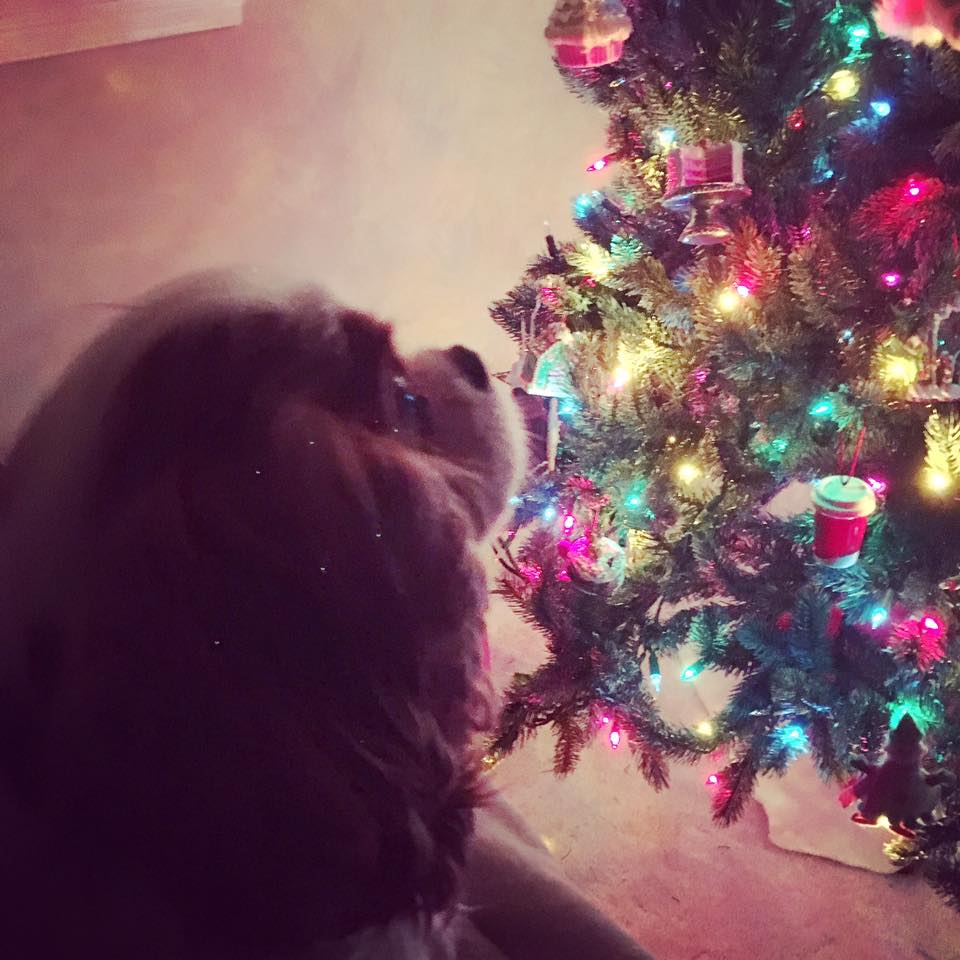 Our Holly LOVED Christmas trees.
She was a breeder release and most likely based on her scared demeanor lived outside in a kennel.
So her first experience with a Christmas tree was with us.
When it first went up all the lights were on so that I could see to put ornaments on and what not so she didn't seem all that into it.
We went to bed and the next morning I came down to let them out and I turned the tree on first. It lit up the room as it was still dark.
Holly immediately ran over to the edge of the couch where the tree was and stared at it. Just like in the photo.
She did this every day as if seeing it for the first time new each day.
Every day she would run to the tree in the morning and just stare and stare at it like it was the greatest thing in the whole world.
And to her it was.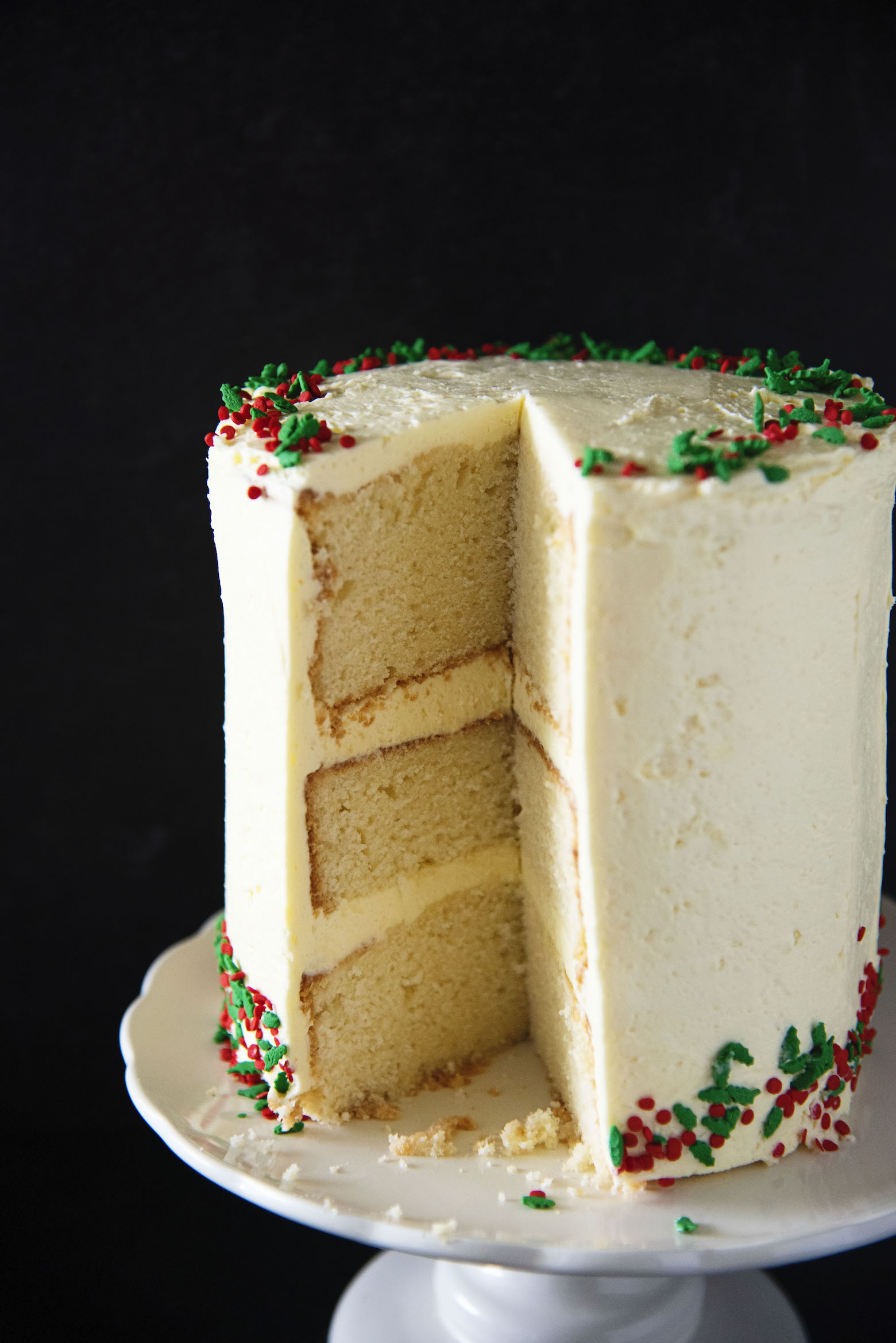 We only took the tree down (in April) because that was where the portable a/c was and it got warm.
As that year went on we learned that Holly was not responding well to her congestive heart medication like they had hoped.
How long she had left was a mystery.
In April when we took the tree down it had started to fall apart and after 13 years I decided it was time for a new one.
So when they had sales at the end of August I bought a new tree.
My husband asked when we were putting it up and I said just as soon as we don't need the a/c unit on anymore.
It was rather warm that summer and we did not get to get the tree up until the end of September.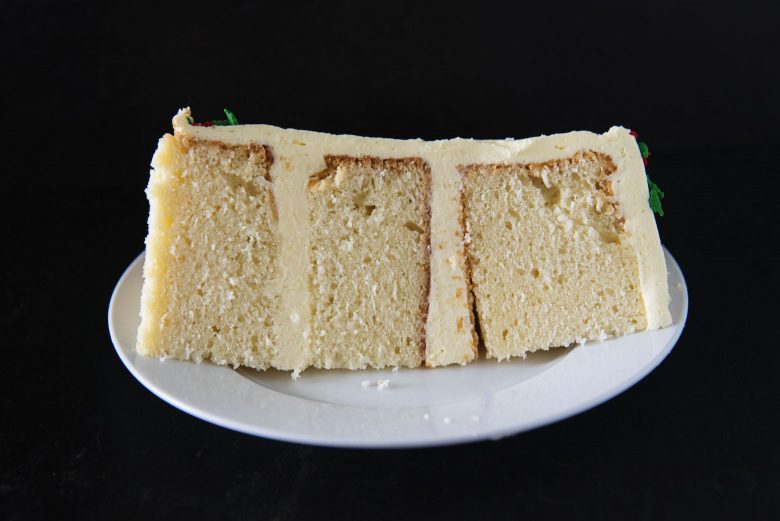 Just in time it would turn out.
As Holly passed just a few days after the tree went up.
But I was so happy that her last days were filled with her staring at the lights that brought her such joy.
My husband and I even drove all over the day we said goodbye to find a small tree to decorate and bring to her.
She left this Earth being held in my arms and gazing at the lights of the tree.
The veterinary staff at the ER were so touched by our gesture.
They still bring it up every time we are there.
So now Christmas trees just mean so much more to me.
They were always pretty but now they are just pure joy to me.
The joy she saw in them.
So if you get the urge to be unhappy that someone has their tree up…in their own house early try not to worry about it.
Just think of our Holly looking down and getting to look at one more tree all lit up.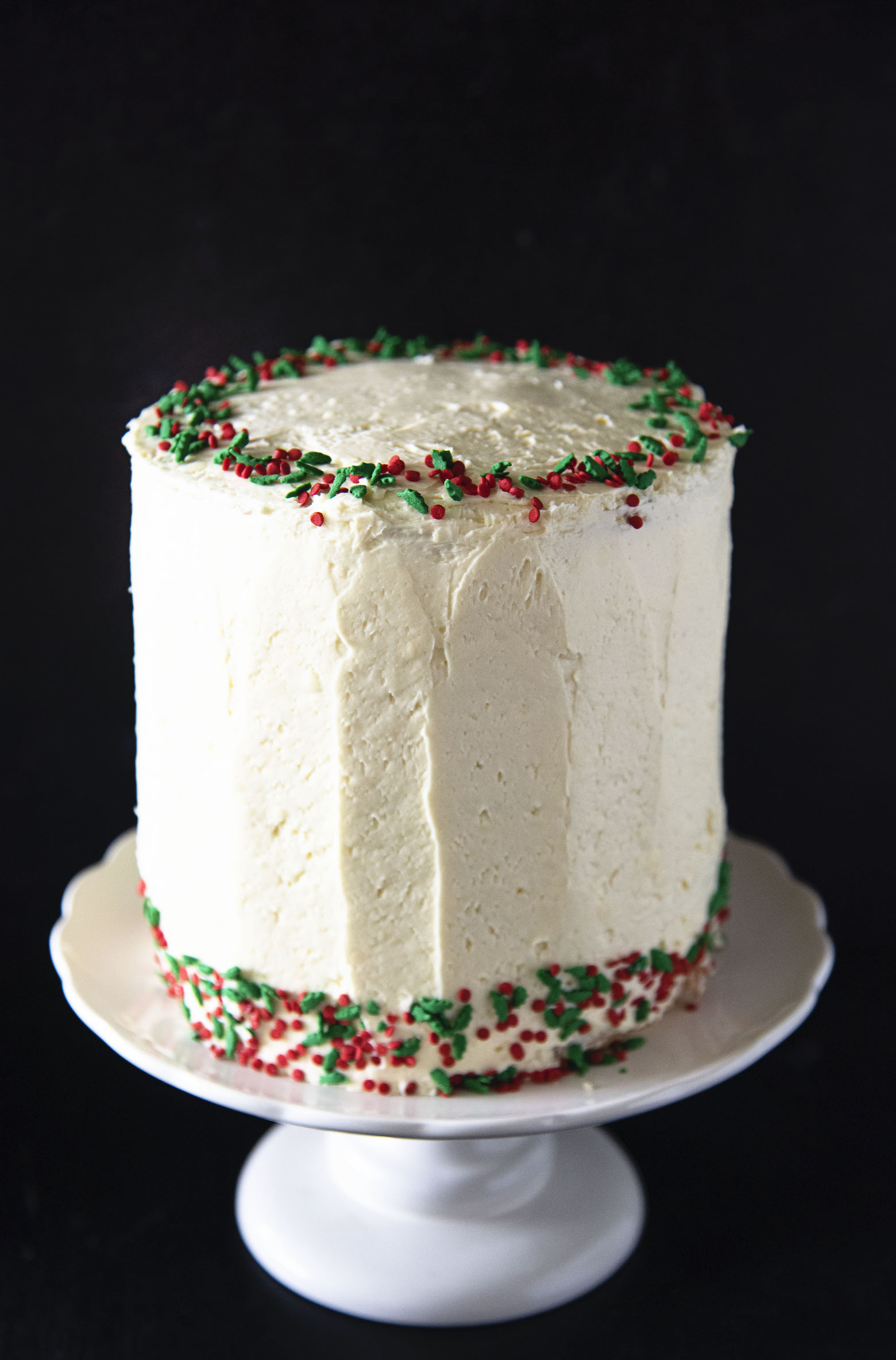 This Bourbon Eggnog White Chocolate Cake is really called The Holly Belle.
But I didn't figure on many people searching Google for The Holly Belle Cake. 🙂
It uses German buttercream which I am happy to see make a comeback lately.
Growing up I didn't know it was German buttercream.
It was called Pudding Buttercream.
But people stopped making it I think mostly just horrified of the calories.
Because I'm not gonna lie….the frosting has a few. 🙂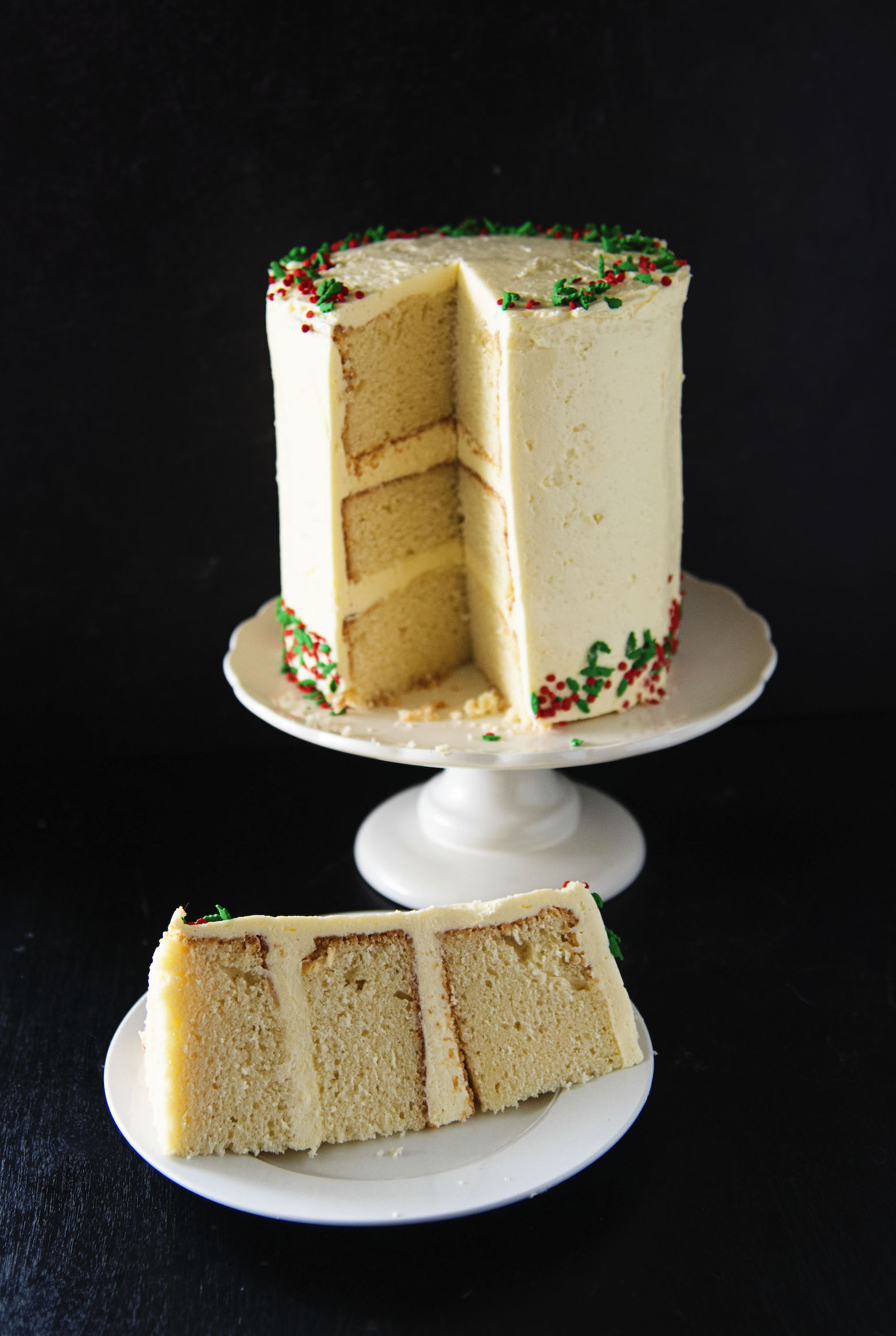 It's essentially pastry cream that is then whipped with 3 cups of butter.
Yes, three cups.
It's a frosting that is not very sweet and it frosts so very nice.
People usually fall in love with it…until they think about the calories. 🙂 But it's the holidays so it's totally worth it.
And as always it's a great day to order my cookbook.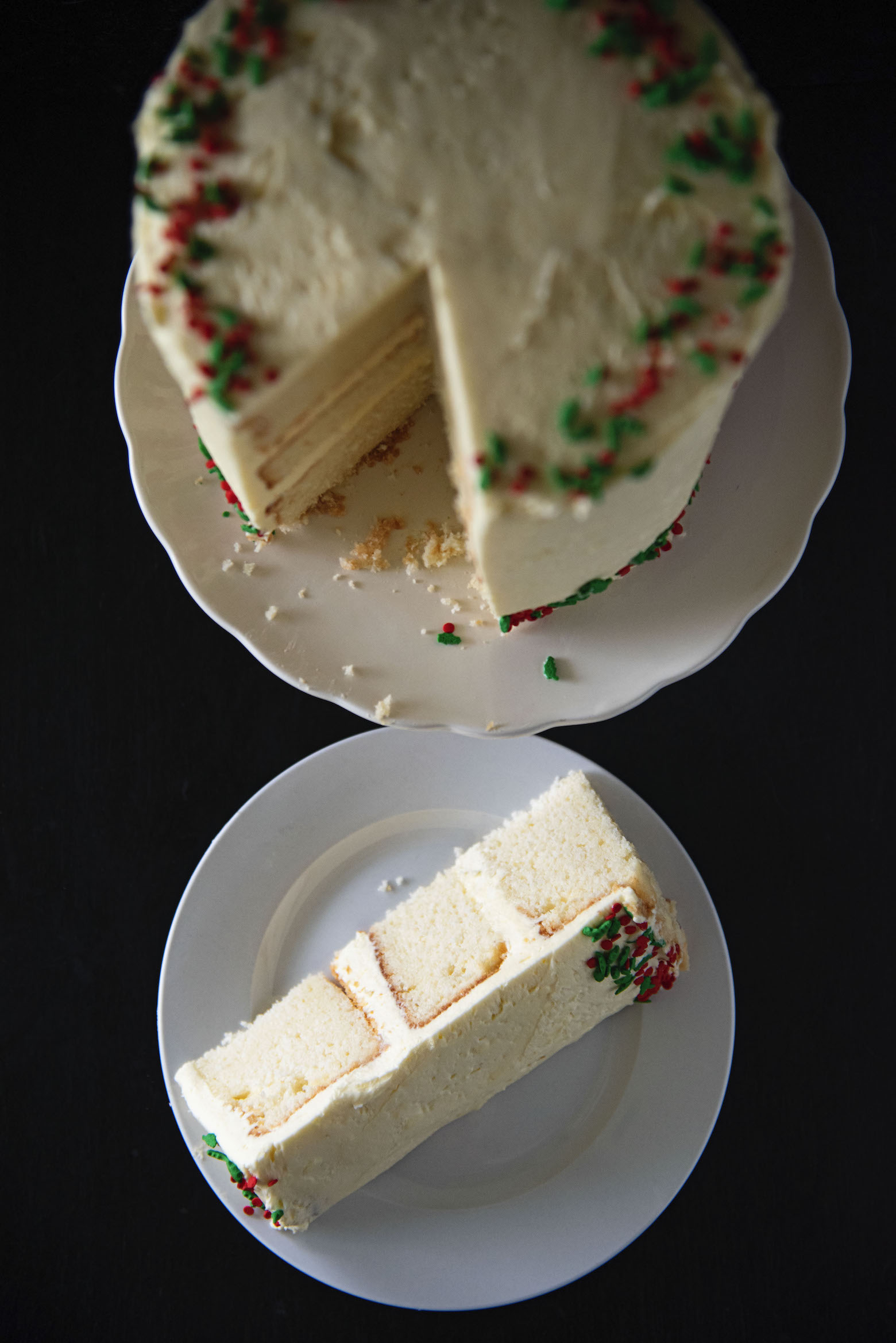 Want More Eggnog Recipes?
Bourbon Soaked Eggnog Fruitcake Pound Cake
Chocolate Bourbon Eggnog Cupcakes
Ingredients
For the Cake:
1 1/2 cups (3 sticks) unsalted butter, at room temperature
2 1/3 cups sugar
3 large egg whites
1 tsp. vanilla extract
2 TBSP bourbon
3 cups cake flour
3/4 tsp. baking soda
3/4 tsp.salt
1 1/2 tsp, baking powder
3/4 cup full fat buttermilk
3/4 cup full fat eggnog
For the Buttercream:
1 1/2 cups whole milk
1 TBSP vanilla bean paste
1 1/4 cups granulated sugar
3 TBSP corn starch
1 egg
2 egg yolks
3 cups (6 sticks) unsalted butter, at room temperature.
1/8 tsp. salt
1 cup white chocolate chips, melted
1/2 tsp. freshly ground nutmeg
3 TBSP bourbon
Instructions
For the Cake:
Preheat oven to 350F.
Have 1 rack one-third from the bottom of the oven and a second rack two-thirds from the bottom.
Line three 9-inch cake pans with parchment paper rounds and spray with baking spray or butter and flour. Do not skip the parchment paper. I know it can be a pain but it's more of a pain to scrap cake bits of the bottom of the pan. I used 6-inch cake pans for height for the photos. But I recommend using the 9-inch pans.
In a medium bowl, combine flour, baking soda, salt, and baking powder.
Using a stand mixer with the paddle attachment, beat together the butter and sugar on medium speed until light (will get pale in color) and fluffy (not marshmallow fluffy but more volume than when it started), about 2 minutes.
Using a spatula, scrape down sides and bottom of bowl and add egg whites, bourbon, and vanilla beating them for about a minute.
Add 1/3 of flour mixture to the bowl and beat on medium speed until fully incorporated.
Pour in the buttermilk and beat on low speed and make your way up to medium to avoid getting splashed by buttermilk if you start at medium speed.
Scrape down sides and bottom of bowl and add another 1/3 of the flour mixture.
Pour in the eggnog and again, beat on low speed and work up to medium speed to avoid getting splattered.
Add the remaining flour mixture to the bowl and mix until fully combined.
Batter will be thick and glossy just like a good fall edition of Vouge magazine. 🙂
Pour batter evenly into prepared pans, I like to use an ice cream scoop because the batter is so thick. In fact, if you can pour it then you have amazing skills I do not possess.
Set two cake pans on 1 oven rack and the third pan on the second rack, staggering them so cakes are not directly over each other.
Bake 25 to 35 minutes, until the tops are flat and browned. You cake on the second rack may need a few more minutes than the ones you had on top.
Cool cakes in pans for 10 minutes.
Invert onto racks to cool completely. (Cakes can be wrapped in plastic wrap and frozen for up to 3 weeks.)
For the frosting:
In a heat proof bowl, whisk together the sugar, corn starch, egg, egg yolk and salt, it will be thick and look grainy from the sugar. Don't worry that will go away once the warm milk is added.
In a medium non-stick saucepan, heat the milk and vanilla to just shy of a simmer, aka just starting to form bubbles. Remove from the heat.
Using one hand to whisk constantly, pour about a 1/2 cup of the hot milk mixture into the egg mixture. This helps to temper the eggs and stop them from scrambling. Add an additional 1/2 cup of hot milk to the egg mixture whisking the whole time until it's fully incorporated. Then pour the whole mixture (egg and milk) back into the saucepan. 
Heat the milk and egg mixture over medium heat, whisking constantly but slowly as if you whisk too quickly it won't thicken. Whisk until it begins to bubble, they are kind of big bubbles that sometimes make a burping sound. Be ready as it will thicken quickly.
Once it has thickened, cook for one minute, then remove from the heat.
Pour into a shallow dish, such as a pie pan (the more shallow the pan the quicker it will cool off…physics), and press some plastic wrap over the surface to avoid a skin from forming. Refrigerate until cold. 
Using a stand mixer with a paddle attachment beat 2 cups of butter until smooth. Remove from mixing bowl and set aside.
Using the same bowl you just mixed the butter in (don't need to clean it) add the whisk attachment and whip the custard mixture on medium until creamy and lump-free.
Add the two cups of mixed butter and mix on low until incorporated.
Next begin adding the remaining 1 cup butter, a few cubes at a time, until fully incorporated. Switch to the paddle attachment and beat for a few minutes until smooth and silky. Usually for this type of buttercream you either do all mix the butter before or all add the cubes. The person I learned to do this from used the partial mix and partial cube method. I have no idea why and she has since passed and I can't ask her. But it's always they way I have done it and my frosting turns out each time so it must be okay. 😛
Speaking of okay. You are probably going to freak a little when you start making this. It will look curdled and you will panic that you wasted all these ingredients. You need to just put your splash guard on your mixer and dial it up to high and just let it go. It does come together. I promise. Mine took about 5 minutes of really beating to come together.
Once the frosting has come together add in the melted and cooled white chocolate, nutmeg, and bourbon. Beat until it is fully incorporated into the frosting. Frosting should be super smooth.
Put it Together:
Level your cake layers using a cake leveler or a bread knife.
Place the first cake layer on a turntable or cake stand.
Smooth a thick layer of buttercream over the layer using an offset spatula.
Place the second layer on top, and again smooth a layer of buttercream. Place the final layer on top, ensuring that the edges are straight and aligned. Using an offset spatula, give the whole cake a thin coating of buttercream to form a crumb coat.
Put the cake into the fridge for 20-30 minutes to let the frosting set up a little.
Then go back and frost it how you like. I kept mine simple and added the holly sprinkles in honor of my Holly Belle the Christmas lover.