These Bourbon Eggnog Breakfast Buns have an eggnog bun base filled with brown sugar and cinnamon and covered in bourbon glaze.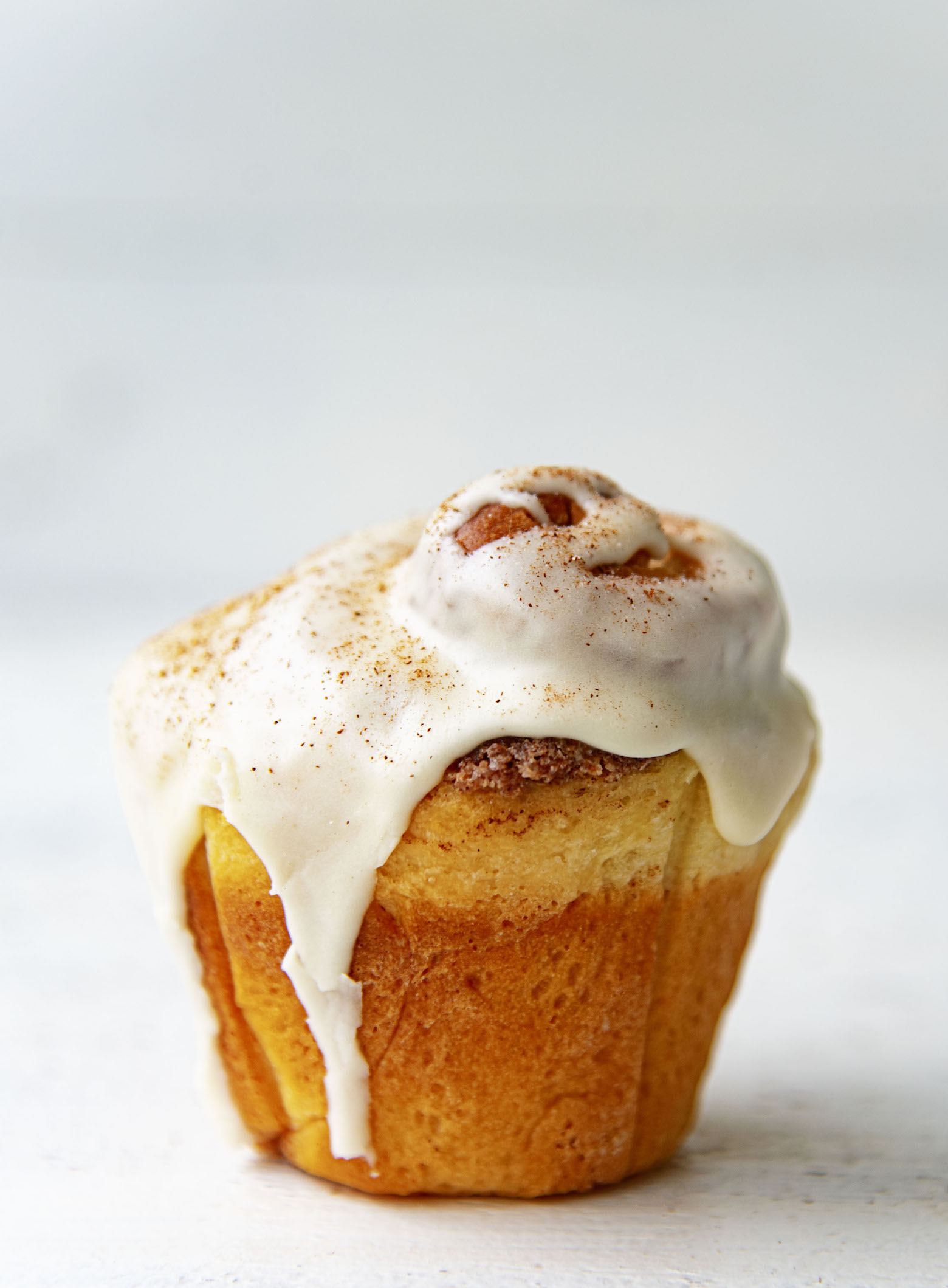 These Bourbon Eggnog Breakfast Buns are my way of using up my leftover eggnog.
Normally, I don't have leftover eggnog.
Because I buy it early and then use it in baked goods.
Then one year on Christmas Eve my dad who was here for the holidays asked if we had eggnog.
And we didn't.
So I sent my husband out to get some.
This year my parents were here again.
The first time in a few years.
So I was doing my best to guess what everyone might want to have around for the holidays.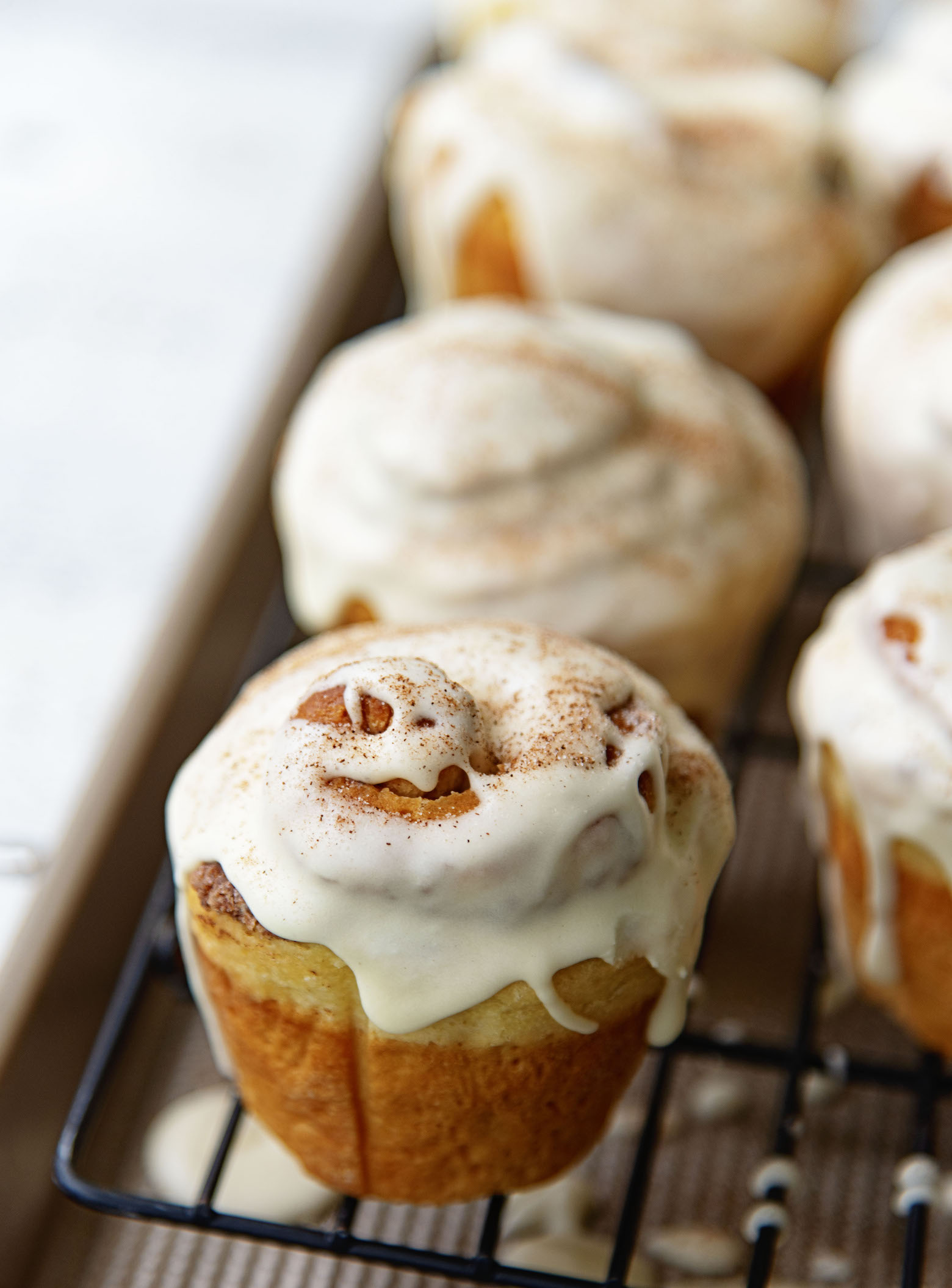 That included making sure I had all the regular Christmas cookies.
I made just plain ol' chocolate fudge because my mom normally does and did not this year.
So people were expecting it.
I made my Salted Cashew Crunch Toffee.
And I sent my husband to get eggnog.
Which he did.
The really good kind that our local dairy makes.
Hardly anyone ate cookies.
Or fudge.
Or toffee.
I mean they ate some.
Just not at the volume I planned for.
Sadly, I inherited my mother's gene of if four people are coming over make food for forty people instead. 🙂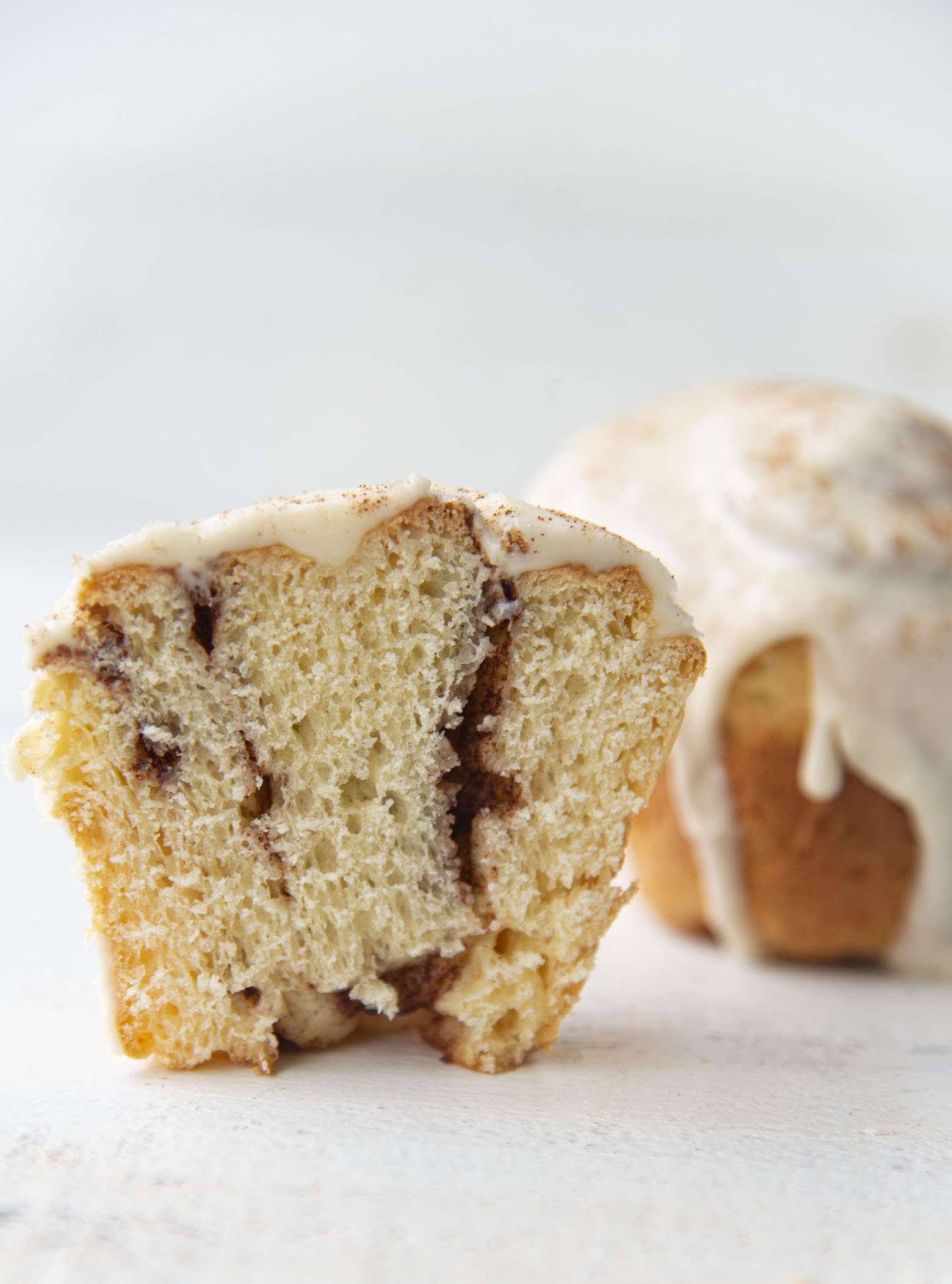 And, of course, because I made sure to have it this year, no one drank the eggnog.
So I have eggnog.
Quite a bit.
Which I will need to chip away at because I hate the idea of throwing it out.
And I know there are a lot of people in my situation.
Ones that buy it to have just in case.
Then no one drinks it.
And you hate to waste it.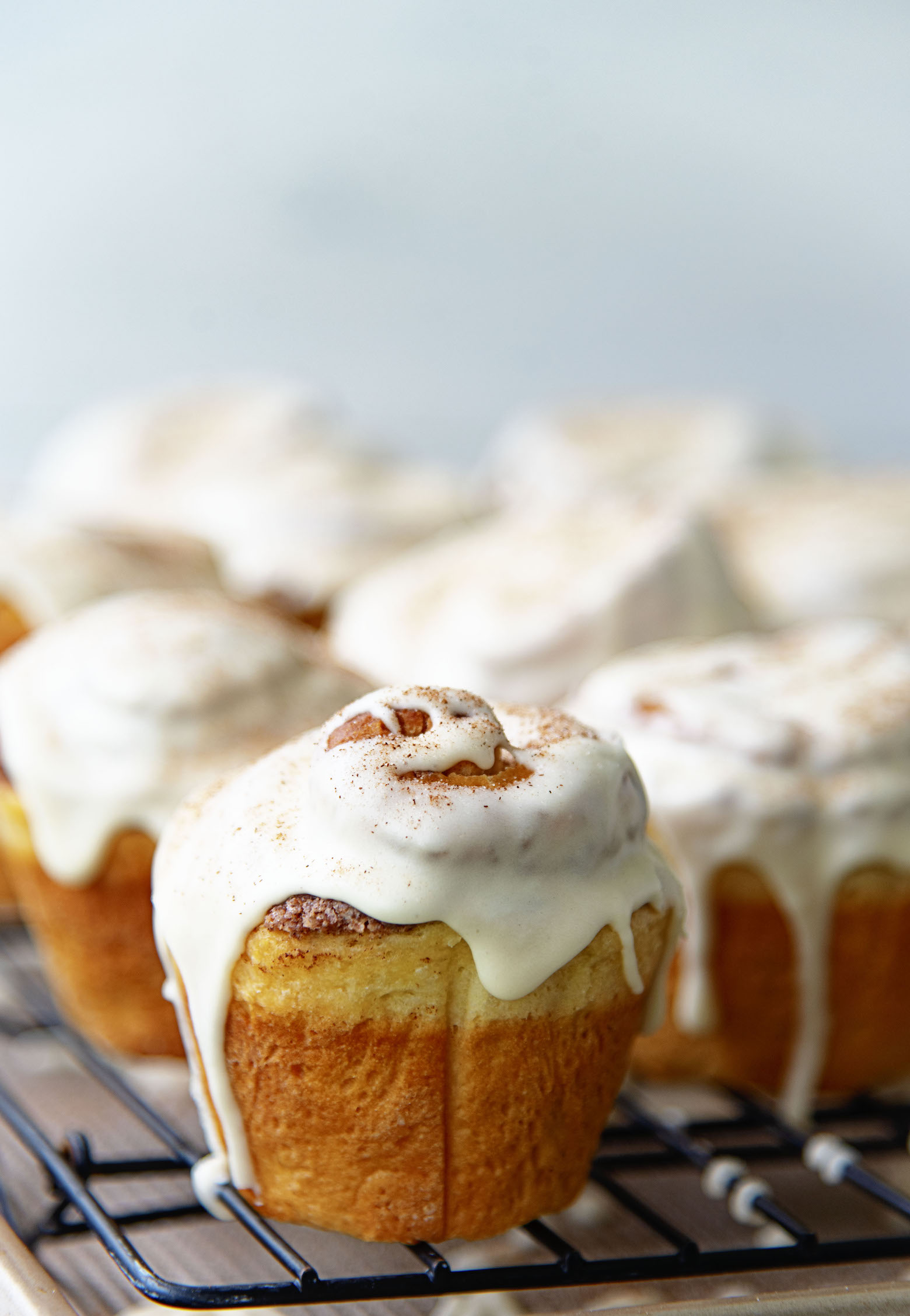 These make for a nice soft bun.
You can either make them in two pans where the buns will be touching each other.
Or you can make them in muffin tins like I tend to do.
Know that if you make them in the muffin tins the centers tend to pop up.
Which is why I make them like that.
Because I like the look of them that way.
They photograph much better.
But since most of you aren't making these buns for a blog the choice is up to you. 🙂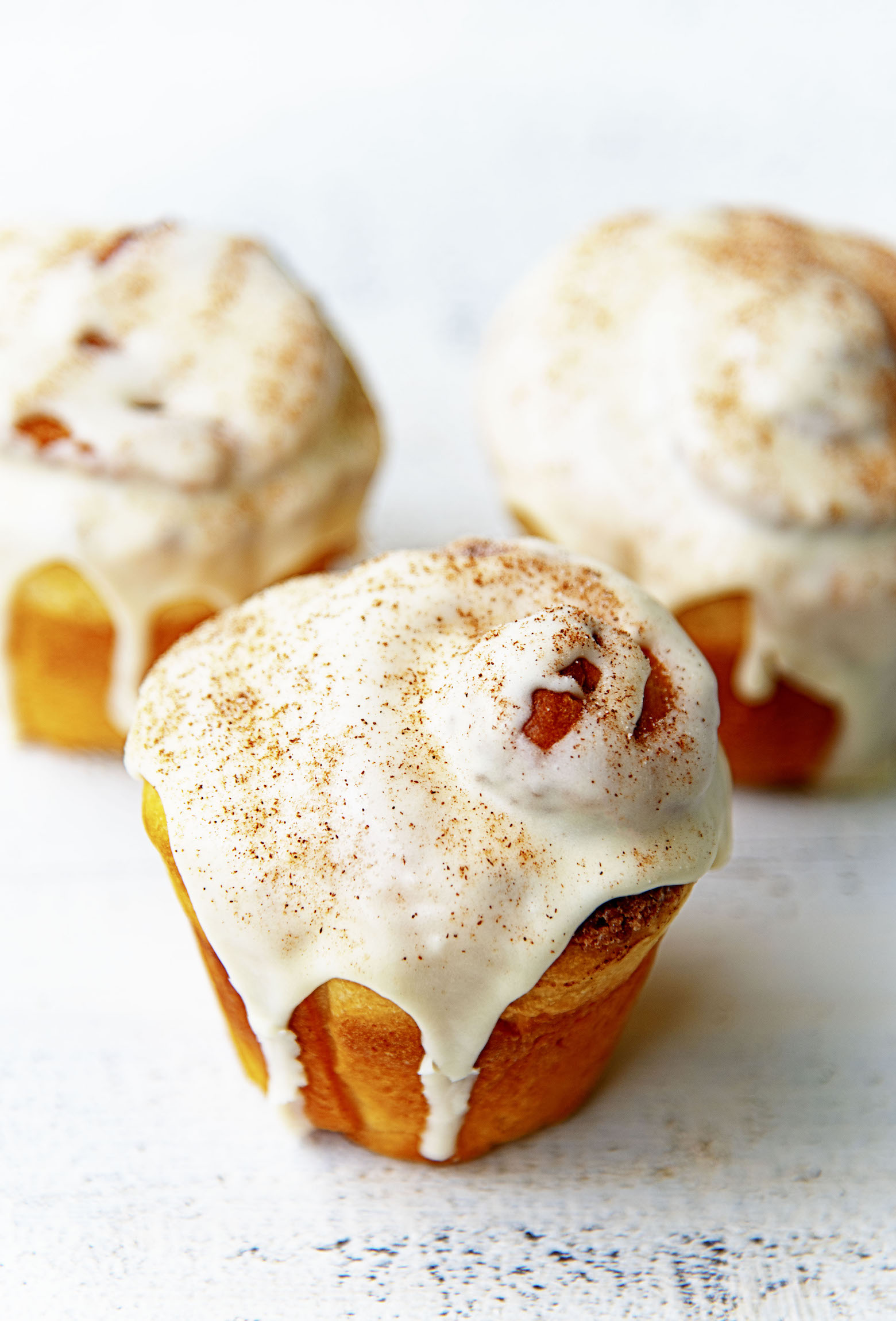 These are essentially cinnamon rolls with the eggnog swapped out for the milk.
If you plan on serving these to kids then I would swap out the bourbon in the glaze for milk or eggnog.
Because the bourbon in there is not cooked off.
And you DO taste it.
Big time.
I mean, I'm totally fine with you giving your kid the equivalent to probably about 1 tsp of bourbon per bun.
But I know some people would not be okay with it.
So if you have leftover eggnog like I do these are a great way to use some of it up.
It's a great day to buy my cookbook Holy Sweet!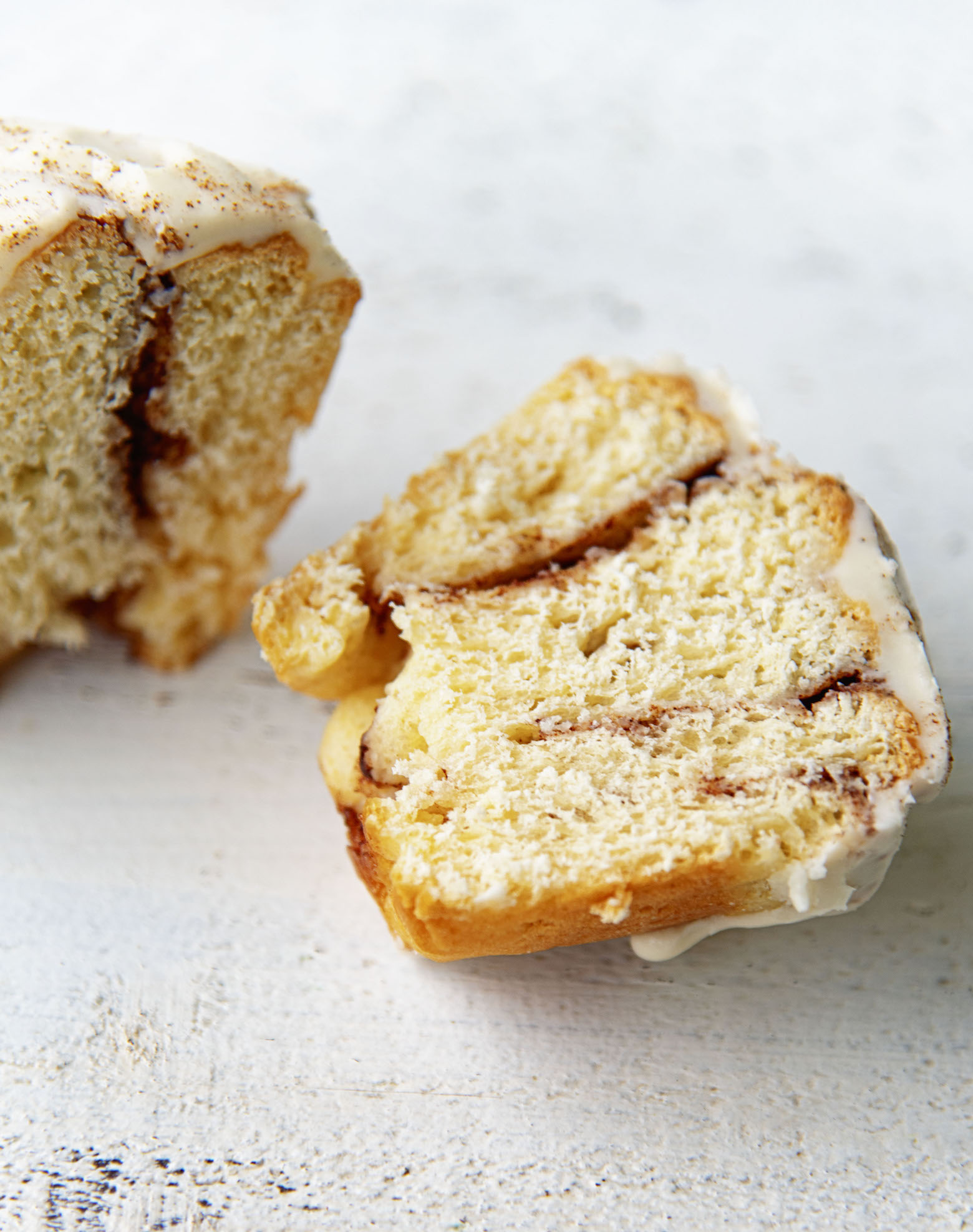 Want More Bun Recipes?
Peanut Butter and Jelly Sugared Buns
Coconut Cream Pie Breakfast Buns
Prosecco Strawberry Sugared Buns
Brown Butter Cinnamon Sugar Pumpkin Brioche Buns
Ingredients
For the rolls:
1/2 cup warm eggnog, 110 – 115F
1 TBSP active dry yeast (I used Red Star Yeast Platinum)
1/2 cup whole fat buttermilk, at room temperature
2 large eggs
1/2 cup plus 1/2 tsp granulated sugar, divided
1 tsp. salt
1 tsp. vanilla extract
6 TBSP unsalted butter, melted and slightly cooled
3 1/2 – 4 cups bread flour
For the filling:
6 TBSP unsalted butter, super soft but not quite melted
1 cup packed brown sugar
2 TBSP cinnamon
For the Glaze:
2 TBSP melted butter
1 ½ cups powdered sugar
6 TBSP Bourbon
Instructions
For the Buns:
Using a stand mixer with the paddle attachment add the yeast, warm eggnog, and 1/2 tsp. granulated sugar.
Let rest for 5-10 minutes to proof…the batter will puff up. If it does not then your yeast is bad and rolls won't rise so best to throw out and start again with different yeast.
Add in buttermilk, eggs, 1/2 cup granulated sugar, salt, vanilla, and melted butter and mix until fully combined.
Add in 2 1/2 cups of the flour and mix until fully combined.
Switch to a hook attachment then add another 1 cup flour. Knead mixture until combined.
Continue to knead on low speed about 5 – 6 minutes while adding a little more flour as needed to reach a soft and moist dough (Dough shouldn't stick to the sides of the bowl but does stick to the bottom).
Transfer dough to an oiled bowl, cover with plastic wrap (I find press and seal works best)  and let rise in a warm place until doubled in volume, about 1 1/2 hours.
Punch dough down.
Dust a working surface lightly with flour and turn dough out onto surface.
Sprinkle top of dough with a little flour then roll dough out into an 20 by 18-inch rectangle.
Spread the softened butter evenly over entire surface (hands work best).
In a small mixing bowl whisk together brown sugar and cinnamon. Sprinkle and spread brown sugar mixture evenly over butter layer (try to leave about 1/2-inch border uncovered along all edges).
Beginning on an 18-inch side tightly roll dough into a cylinder. Pinch the seam to seal (brushing a little egg white underneath helps if needed or I just use a toothpick).
Cut into 12 equal portions using a large sharp knife (they should be 1 1/2-inch each).
Arrange rolls, spacing evenly apart and divide the rolls up between two greased 9-x-13-inch pans or use cupcake liners and place them in two standard muffin tins.
Cover with plastic wrap loosely.
Let rise in a warm place until doubled in volume, about 1 1/2 hours. Preheat oven to 350F near to the last 20 minutes of rolls rising.
Bake rolls in preheated oven until centers are no longer doughy, about 25-30 minutes.
For the Glaze:
Simply whisk together the butter, powdered sugar, and Bourbon in a medium bowl.
When buns are cool pour glaze over the top of them.
Let it firm up, which will take about 30 minutes.