Bourbon Brown Sugar Caramel Peach Sweet Rolls: Delicious buttermilk sweet rolls filled with brown sugar and freeze dried peaches all drizzled with a bourbon peach caramel sauce.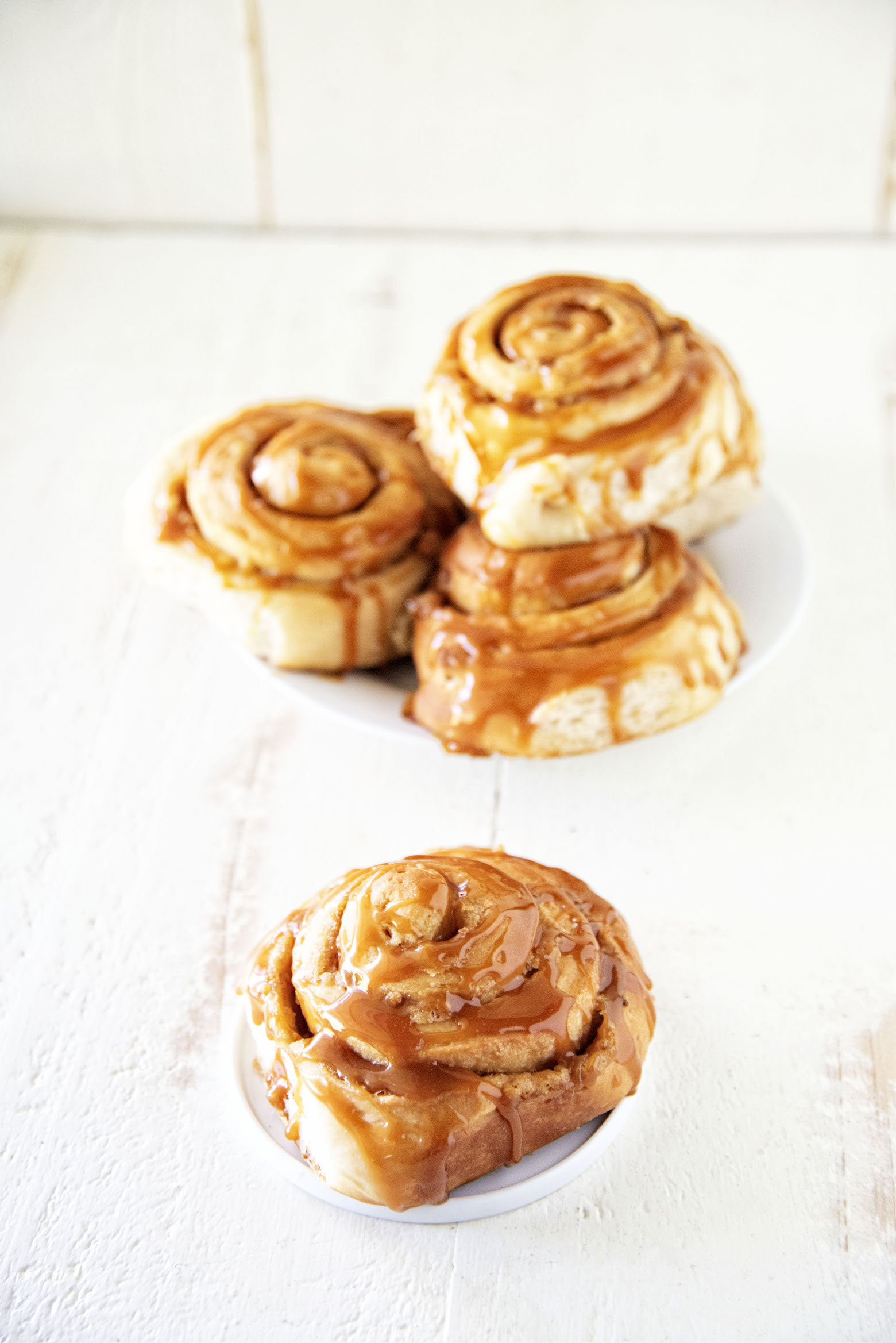 People often make fun of my husband and I because our dogs run our lives.
Now I don't mean that we have to come home every 4-5 hours to let them out…I mean they rule our lives.
Mostly their pill schedules rule our lives.
Since we take in special needs dogs, almost all of them are on some kind of medication.
Our one dog Mickey takes 21 pills a day.
All throughout the day.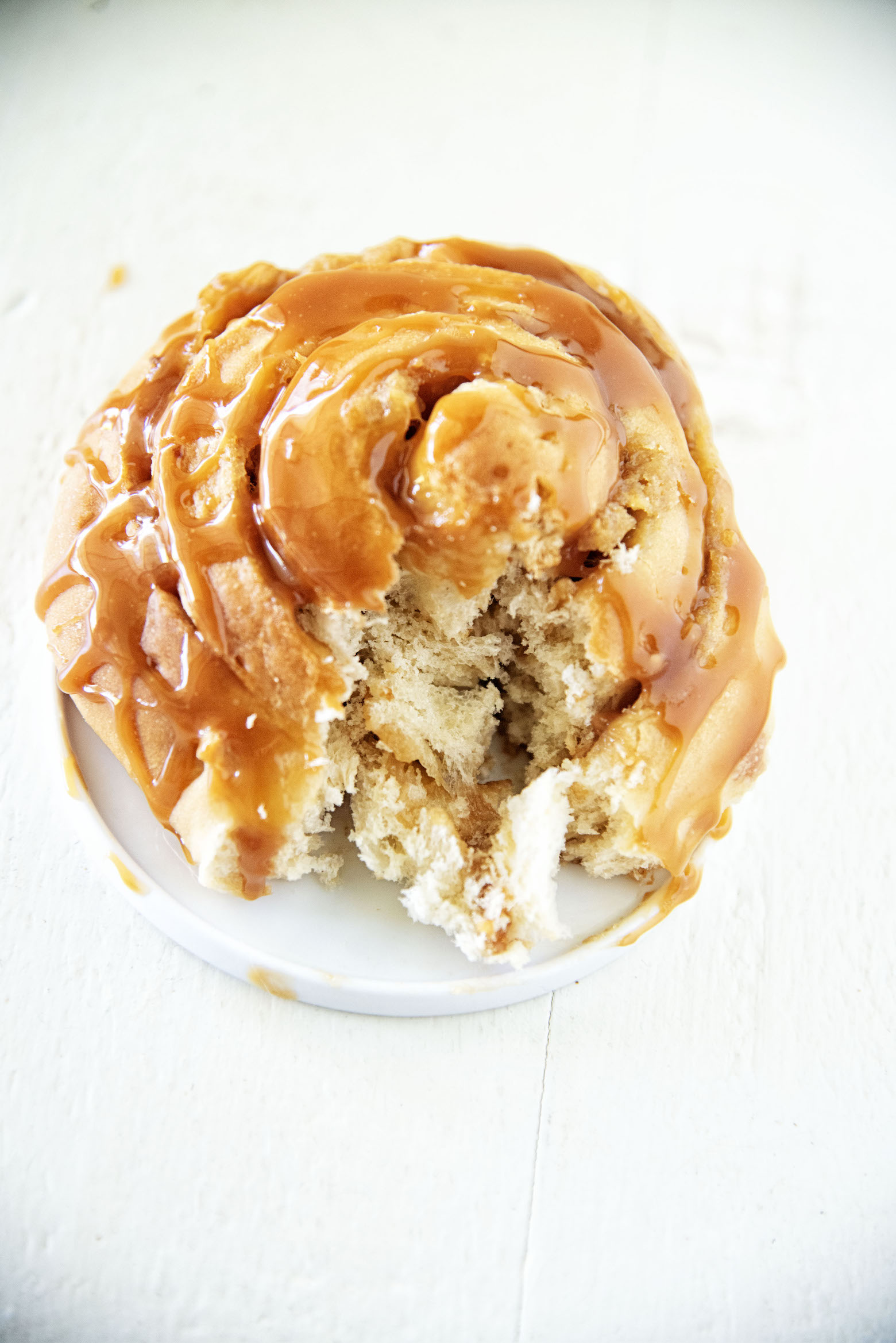 And these aren't just pills you can miss by an hour or two.
These are anti-seizure medication, heart medication, and pain medication.
Things you can't really mess around with.
And so our lives take planning.
Lots of planning.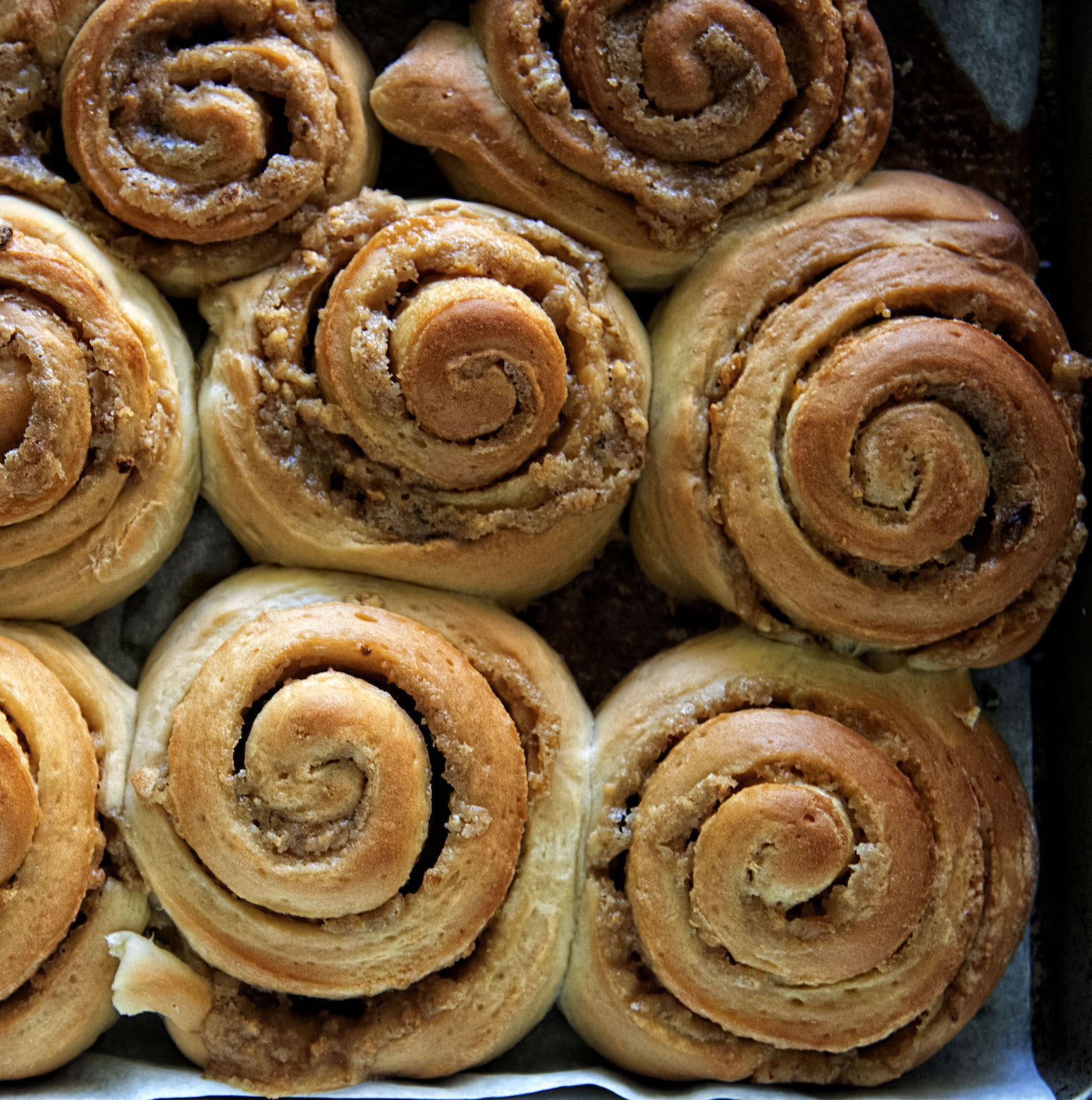 That doesn't mean we aren't spontaneous and decide to pop in the car and go out to eat or grab a drink.
It does mean we look at the clock and see how long we have to go do those things before another dog needs a medication.
It's really not ideal for some.
We totally get that.
Not all of us are made to do what we do.
Which is why we do it.
Because apparently we were made to do what we do.
We do have the patience to deal with it.
The bleeding hearts to take them in.
Both of us are homebodies by nature so we aren't missing out on all the Wunderlust that Instagram tells us we should be doing.
And if that bug does strike…well, we have a trailer we throw the dogs into.
But we are home a lot.
Which is why I have time to bake the way I do.
And why I love to bake with yeast.
Because it takes a little time and in between rises and proofing I get to snuggle some spaniels and the hubby. 🙂
It also means I get to eat delicious rolls.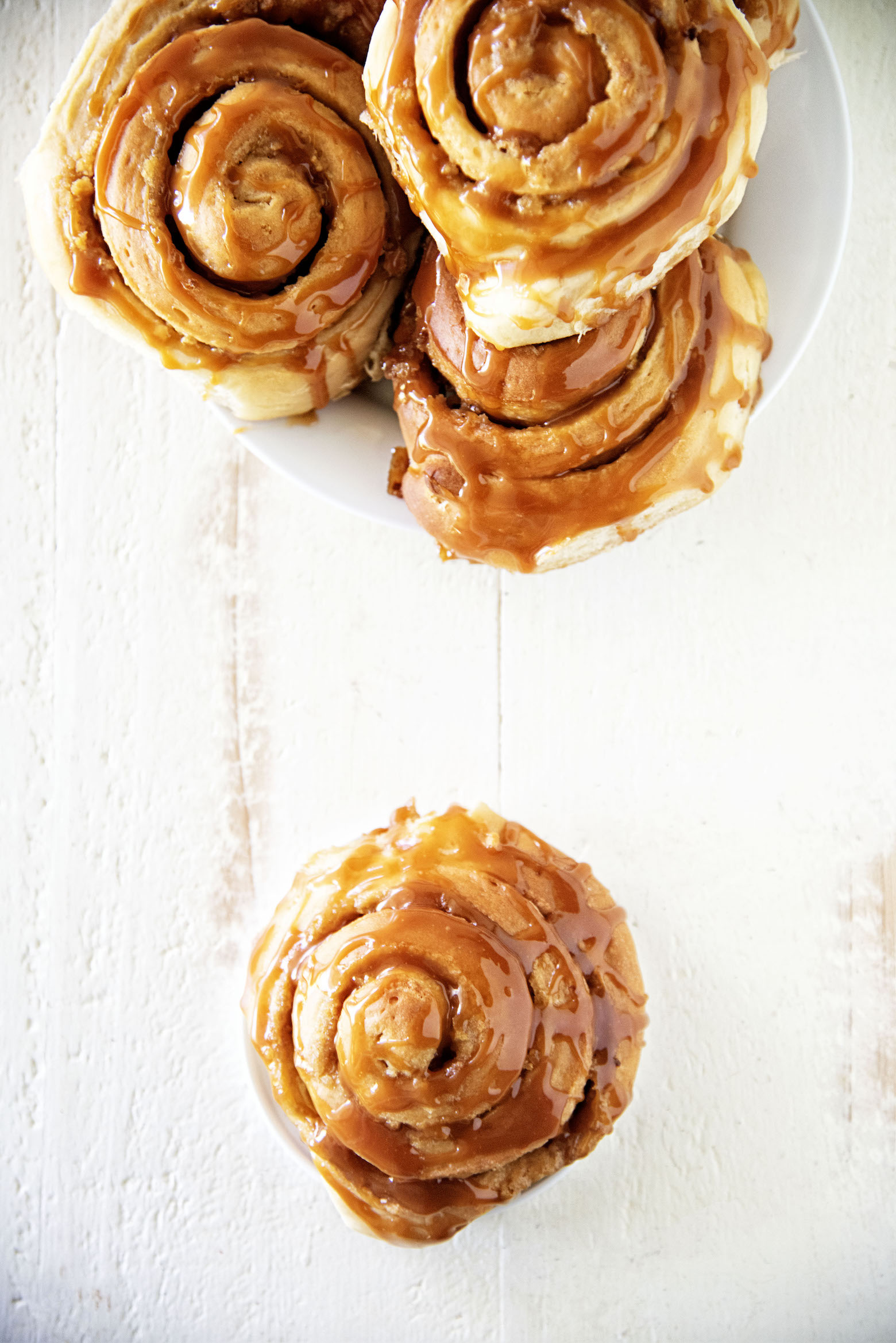 I've been working on these Bourbon Brown Sugar Caramel Peach Sweet Rolls for a couple weeks now and finally got the combo I like best.
Mostly just figuring out what sauce I wanted to go with these and if I wanted to keep them as a roll or as a sticky bun.
They are kind of both other than the buns don't sit in the sauce.
But the sauce it definitely sticky since it's a caramel sauce.
Most grocery stores carry peach nectar.
If you can't find it you can check the hispanic food aisle as it sometimes is there along with other nectar juices that you probably didn't know existed…like strawberry nectar.
Which is super tasty in drinks.
Just saying. 😀
And yes, this recipe uses freeze dried fruit. Again.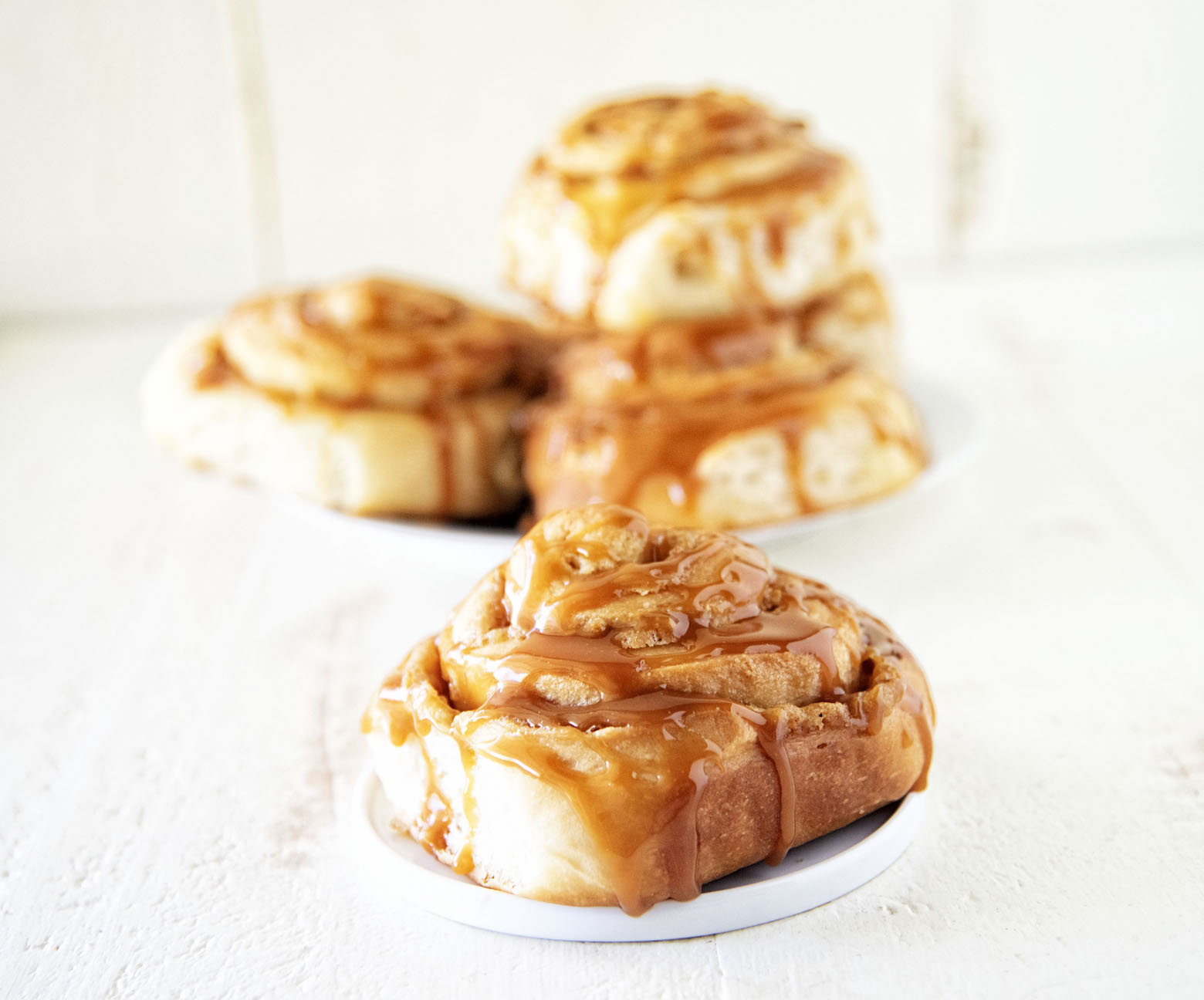 Why Use Freeze Dried Fruit?
I get the question all the time now because I use freeze dried fruit all the time.
So much so I buy it in bulk.
Freeze dried fruit is great because it has a very intense flavor.
With just dried fruit it can often take all the moisture out of the baked good because it absorbs the liquid as it bakes.
Fresh fruit in certain baked goods makes it too wet and juicy, or in the case of rolls, all the fruit falls out.
And it's available all year round.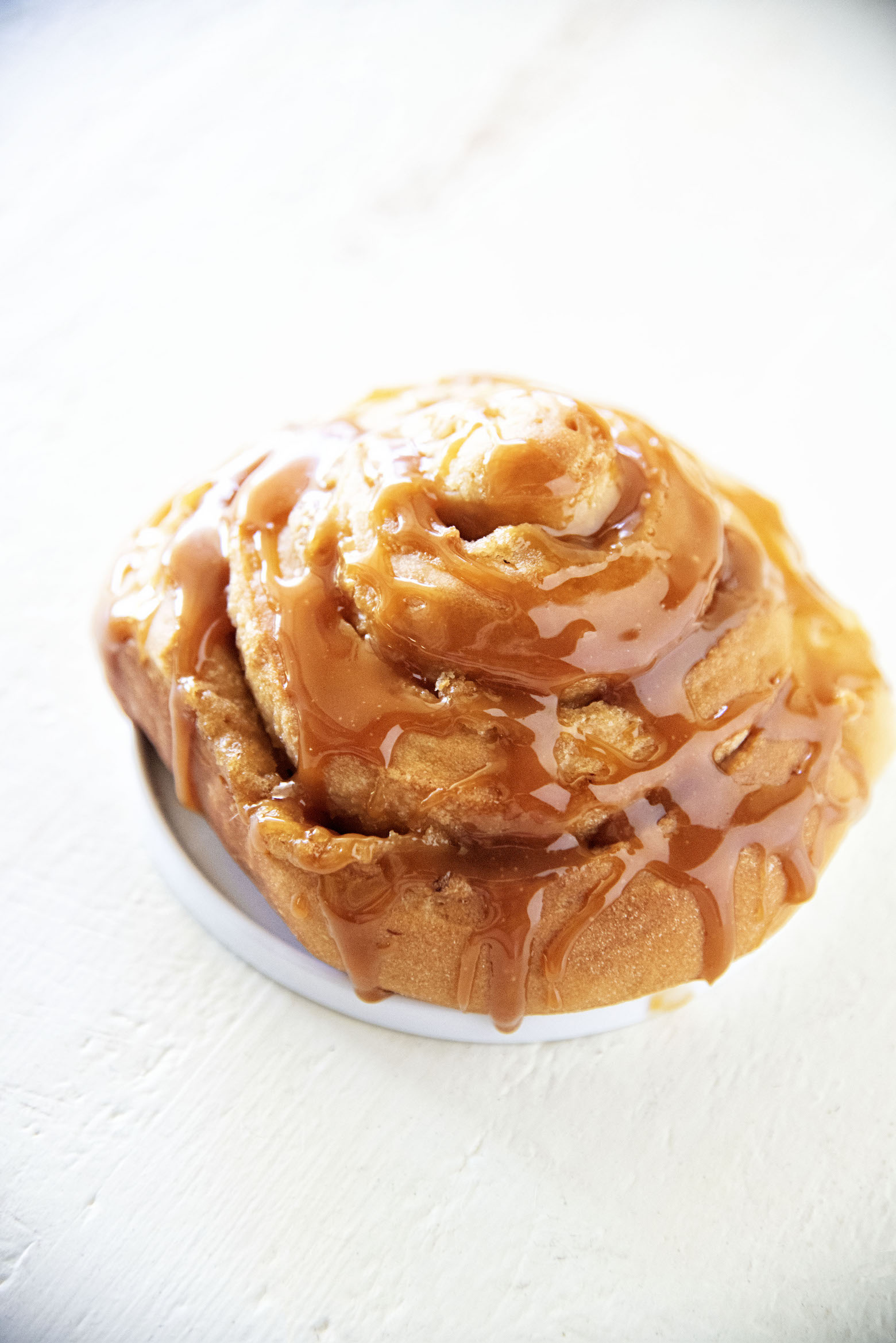 Want more recipes like this? Try these:
Salted Caramel Apple Sweet Rolls
Creamsicle Crumb Topped Cinnamon Roll
Cinnamon Toast Crunch Sticky Buns
Snickerdoodle Cookie Dough Cinnamon Rolls
Oatmeal Cookie Stuffed Cinnamon Rolls
Ingredients
For the Dough:
1/2 cup warm water, 110 – 115F
1 TBSP active dry yeast
1/2 cup whole fat buttermilk, at room temperature
2 large eggs
1/2 cup plus 1/2 tsp brown sugar, divided
1 tsp. salt
1 tsp. vanilla extract
6 Tbsp unsalted butter, melted and slightly cooled
3 1/2 – 4 cups bread flour 
For the filling:
8 TBSP unsalted butter, super soft but not quite melted
1 1/4 cup packed brown sugar
For the Bourbon Peach Caramel Sauce:
1 cup granulated sugar
3 TBSP peach nectar or juice
3 TBSP Bourbon
1/3 cup heavy cream
Instructions
Using a stand mixer with the paddle attachment add the yeast, warm water, and 1/2 tsp. brown sugar.
Let rest for 5-10 minutes to proof…the batter will puff up. If it does not then your yeast is bad and rolls won't rise so best to throw out and start again with different yeast.
Add in buttermilk, eggs, 1/2 cup granulated sugar, salt, vanilla, and melted butter and mix until fully combined.
Add in 2 1/2 cups of the flour and mix until fully combined.
Switch to a hook attachment then add another 1 cup flour. Knead mixture until combined.
 Continue to knead on low speed about 5 – 6 minutes while adding a little more flour as needed to reach a soft and moist dough (Dough shouldn't stick to the sides of the bowl but does stick to the bottom).
Transfer dough to an oiled bowl, cover with plastic wrap (I find press and seal works best) and let rise in a warm place until doubled in volume, about 1 1/2 hours.
For my rolls I used a jelly roll pan. But you can also do it by dividing the mixture up between two greased 9-x-13-inch pans.
Punch dough down.
Dust a working surface lightly with flour and turn dough out onto surface.
Sprinkle top of dough with a little flour then roll dough out into an 20 by 18-inch rectangle.
 Spread the softened butter evenly over entire surface (hands work best).
In a small mixing bowl whisk together brown sugar and crushed freeze dried peaches.
Sprinkle and spread brown sugar mixture evenly over butter layer (try to leave about 1/2-inch border uncovered along all edges).
Beginning on an 18-inch side tightly roll dough into a cylinder. Pinch the seam to seal (brushing a little egg white underneath helps if needed or I just use a toothpick).
Cut into 12 equal portions using a large sharp knife (they should be 1 1/2-inch each).
Arrange rolls, spacing evenly apart and divide among the two pans or the one sheet pan.
Cover with plastic wrap loosely.
Let rise in a warm place until doubled in volume, about 1 1/2 hours.
Preheat oven to 350F near the last 20 minutes of rolls rising.
Bake rolls in preheated oven until centers are no longer doughy, about 25-30 minutes.
For the Sauce:
In a medium saucepan add the sugar.
In the middle of the sugar add the peach juice and bourbon.
Cook over high heat.
Cook until the sugar is dissolved, washing down the side of the pan with a wet pastry brush.
Continue cooking, without stirring, until an amber caramel forms, about 6 minutes.
Remove from the heat and carefully stir in the cream.
Let the caramel sauce cool slightly and serve warm or at room temperature.